Mathew's Stardom 5 Star Grand Prix Blue Stars Results & Review: Final Day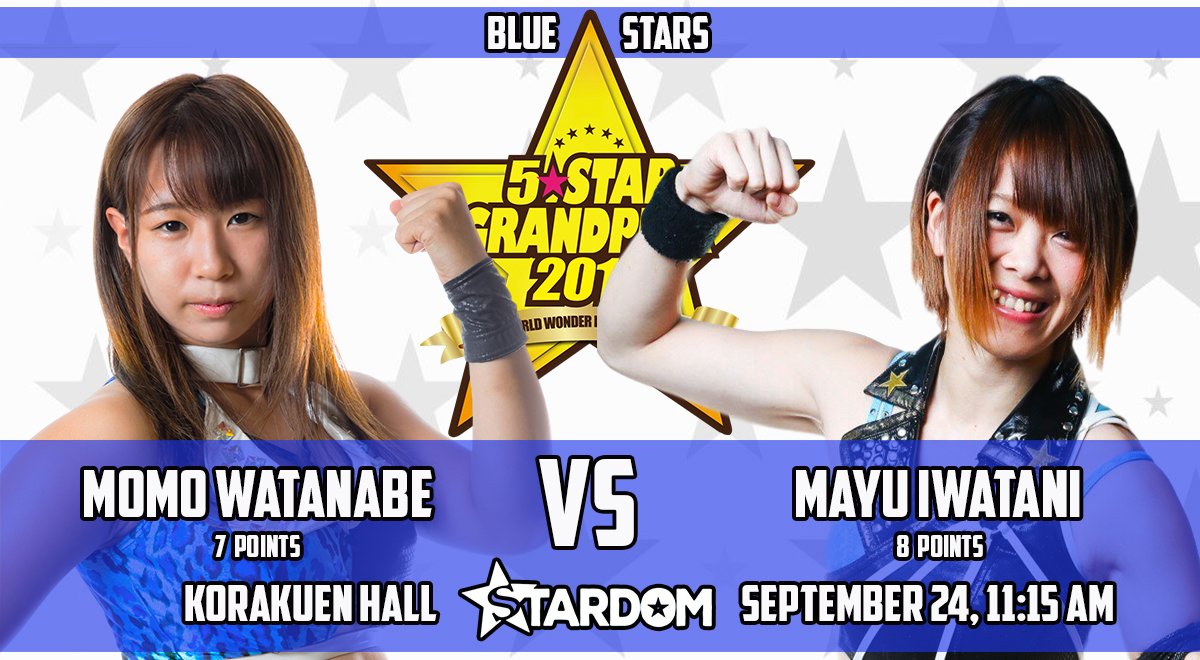 Well, everyone, this is the final day of the Five Star Grand Prix.
I hope you all enjoyed both me and Andrew's readings and since our final matches and the final day are all on the same show, we will be covering just our matches this time instead of doing a jointed show as we did for the previous ones and we'll both be covering the final round in both of our reviews so you can get the perspective from both our sides. Who will win Blue Stars block and who will walk out the winner?
Will my block finally win the whole thing or will Andrew beat me with a clean sweep? All of these questions and more will be answered right now as we…dive right in.
Grand Prix Blue Stars Match
Saki Kashima vs. Jamie Hayter
Review: Both of our women who are in last place are set to face each other in the opening match of the tournament. Even though they have no chance of winning the tournament and they're not fighting anyone that would ruin their chances of advancing, they would still have to fight each other and will give us a good match at least without worrying about points. Which of these two will no longer be in dead last?
Would you look at that, Saki changed up her attire and looks a lot better here. This match is honestly the worst one in my entire block and it's a real shame since both of them are talented, but it was just sloppy and poorly constructed. Saki did a botched Crucifix pin and the bell rang despite it being a two count and the referee had to correct the timekeeper, but that was one of the few problems with the match. None of them would help carry the other and it was poorly paced, but at least it was less than four minutes otherwise I probably would've given it a lower rating. Jamie barely held her up for a Suplex and hardly hits a Backstabber when she dropped her as she got the win. Think the only good thing I can say about this match is Saki's new makeover.
Rating: Vince Russo and a half (My first Vince Russo after I introduced this rating system)
Grand Prix Blue Stars Match
Kelly Klein vs. Nicole Savoy
Review: Right now, Kelly Klein has a chance to win the whole block right now since she has eight points and can go onto ten if she would somehow win and even if Mayu would defeat Momo tonight, Kelly would still advance due to her defeating Mayu in the tournament. Kelly's last opponent for the block is Nicole Savoy who has a middle record and she could spoil it for Kelly if she plays it right. Will Kelly win or will her goal be out of reach by the edge of her fingertips?
Okay, while this one wasn't that great of a match, it was at least much better than the first match is all I can say as much. Kelly was doing what she does best and it was overpowering the technical female any chance she would get or so she would think as Nicole found an opening on Kelly's leg, which is smart to take out someone bigger than you. It was a basic six-minute match and it was fine with what they did work with and Kelly was about to pick up Nicole to go for the Fireman's Carry, but her leg started giving out and that was all Nicole would need to put her in the Boston Crab as Kelly taps out meaning she's eliminated.
Nicole Savoy takes on Kelly Klein on the final day of the 5☆STAR Grand Prix 2018 and it's on https://t.co/q8dHnF58vW now! pic.twitter.com/08f9cZaVvg

— We Are Stardom (@we_are_stardom) September 25, 2018
Rating: Tony Schiavone and a half
Grand Prix Blue Stars Match
Hazuki vs. Natsu Sumire
Review: Nice Kelly was unable to win her match against Nicole, that means Hazuki now has a chance to advance and potentially win the whole thing if things work out in her favor. However, if she wants to get closer to advancing, she would have to defeat fellow Oedo Tai member, Natsu Sumire. This can work out in two ways, Sumire could eat the pin to help Hazuki advance despite it meaning she could fight their leader and Prime Minister for the title or she could fight and be the spoiler for Hazuki. What will Sumire do?
We have all of the Oedo Tai members here, Kagetsu, Sumire, Hazuki, Nao Yamaguchi, and Hana Kimura as they all do the dance together, this is awesome! However, Sumire would ruin the celebration as she attacked Hazuki from behind and the match starts. The match was just simply entertainment from Sumire's character and Hazuki showing why she's one of the companies top talents from her wrestling skills and how she can have control of the match so fluently to pretty much work with everyone. Sumire held herself pretty well when she was wrestling in the match and just played everything off exactly how she would in this type of match and I'm glad they actually had a match instead of her taking the pin and ending it. Hazuki gave Sumire a hard slap to the face and Sumire would give her one in return as Hazuki ran the ropes for Sumire to try and catch her into a cradle until Hazuki turned it around into the Hazukistral as she picked up the win and is now in first place! Sumire threw a tiny little tantrum before she shook Hazuki's hand and they hugged it out before leaving the ring. Great work ladies and Hazuki is one step closer and it all depends on how the last match plays out.
Rating: Eric Bischoff
Grand Prix Blue Stars Match
Mayu Iwatani vs. Momo Watanabe
Review: Since Hazuki was able to defeat Natsu Sumire, she has a good chance of making it to the finals but we have one more match to go before we can decide a clear winner. Mayu Iwatani's final match is up against the Wonder of Stardom Champion, Momo Watanabe. If Mayu somehow wins this match, she'll be able to move onto the final round but if Momo wins then it would mean there will be a tie between her and Hazuki with nine points each and it'll be interesting to see how management will decide who will advance there. Who will win it all, Mayu or Momo?
Soon after the bell rang, Mayu would start to go for the Dragon Suplex Hold and Momo would quickly reverse it to go for the Tequila Sunrise and I loved that was how they started this match off because it gave it that feeling that it could end at any given time if you're not careful enough. One thing I enjoy about this match is that we now get to see how Momo does against a top talent in a singles match since last time that happened was when she defeat Io Shirai, so now this is just another test to herself. The match was smooth, intense, and gave both women an equal amount of time to showcase their stuff together in the match to make them both look strong. Momo started to step it up when she hits the Somato to Mayu and doesn't stop there as she hits two more in a row to show how much she wants to win this match. I know I keep talking about how great Mayu is at selling and it still is with how she takes everything and selling the injuries of her elbow in the match, her selling is enough to tell the story of her matches and she just delivers in it. When they were outside the ring, Momo would hit her Package Driver on the floor and she brings her in to hit the Tequila Sunrise as Mayu kicks out of it. Momo went to go for another Tequila Sunrise but Mayu would roll under her to try and get the pin but Momo kicks out of it, but Mayu hits the Dragon Suplex Hold and just as the referee is counting, the bell rang meaning the match ended in a draw.
Since the match ended in a time limit draw, Mayu has nine points and Momo has eight points, meaning that Mayu and Hazuki are tied for first place. And now that both Mayu and Hazuki are tied for first place, it would go to the person that won the match involving these two, meaning that Mayu Iwatani has won the Blue Stars block and will now advance to the final round against the winner of the Red Stars block, which you should check out in Andrew's coverage or you're an idiot for missing out. Not all is lost for Momo Watanabe because in a press conference about a week ago, it was announced that Momo would be taking on Kagetsu and it'll be a title for title match and it will take place on the September 30th show. I'm sure it'll end in a time limit draw, but there are also different scenarios they could plan out if they do decide to go with one of them being a double crown champion.
It's Momo Watanabe vs Mayu Iwatani! The Wonder of Stardom champion vs The Stardom Icon! It's the 5★ STAR GP2018 and it's on https://t.co/q8dHnFmJUw now! pic.twitter.com/dW9JdE8aIj

— We Are Stardom (@we_are_stardom) September 26, 2018
Rating: Bruce Prichard
Final Blue Stars Standings:
Mayu Iwatani: 4-2-1 (9 Points) (Winner)
Hazuki: 4-2-1 (9 Points)
Kelly Klein: 4-3 (8 Points)
Momo Watanabe: 3-2-2 (8 Points)
Nicole Savoy: 4-3 (8 Points)
Jamie Hayter: 3-4 (6 Points)
Saki Kashima: 2-5 (4 Points)
Natsu Sumire: 2-5 (4 Points)
Grand Prix Final Match
Mayu Iwatani vs. Utami Hayashishita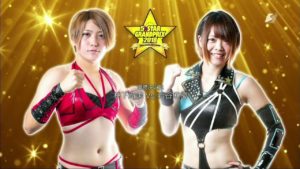 Review: It looks like I got one of my finalists right since I said Mayu and Konami would be fighting each other in the finals, but Konami was eliminated from the tournament and Mayu was able to advance due to a tiebreaker between her and Hazuki, so my top pick barely made it. Mayu Iwatani will be taking on the winner of the Red Stars block and Stardoms Super Rookie, Utami Hayashishita. I was very surprised to see Utami make it this far in the tournament since I expected her to have an average record, but she blew my expectations away as she only lost to Kagetsu and had two draws while she won the rest of her matches and even defeated Konami to advance to the finals. One of these two talented women will win and go on to fight Kagetsu for the World of Stardom Championship. Which one will win?
For those of you that do remember, I wrote an article about four months ago about the departure of Io Shirai in Stardom and I asked people who should take her spot as the top person and while it's now both Mayu Iwatani and Kagetsu, we'll soon have to look at the future of the company with Momo Watanabe being one of them, I saw another one right in front of me and that woman is Utami Hayashishita. Is it a bold thing to say? Probably and is she still green? Of course, she is, she's only been wrestling for about a month and a half, but she's already been in the ring with some of the best that the company has to offer and has been keeping up with them in a surprising pace to show that she is a quick learner. Utami just has the look of someone you see at first glance and go, "She's a star." and she is, in fact, a star in the making if you polish up her style a little bit more and in a couple of years, she could be the face of the company.
Onto the match now, Utami was again able to keep up with the best wrestler Stardom has to off and that right now is Mayu as they gave us fans a great match to end the whole tournament. Utami displayed her power with her strength and technical ability to wear and tear Mayu's body, especially her elbow which was exposed in the match and you can see the bandages surrounding it. Mayu has done an excellent job in the match to make Utami look like a real threat in the match with her selling and how she was telling the story in the ring, and that's one of the reasons why Mayu is great at what she does and has been for quite some time. Utami had Mayu up for the Torture Rack and she was gonna try to make her tap out but she decided to do a Reverse Samoan Drop which was a thousand times better than when Kona Reeves did it and Mayu was able to kick out of it. Mayu starts to get fired up as she would deliver a stiff kick to her head for a two count but quickly goes up the top rope to hit the Frog Splash as Utami kicks out again just barely. Mayu would pick Utami back up and she held her for the Dragon Suplex Hold and she hits it for the pin and Mayu has won the Five Star Grand Prix!
One year ago, she injured her elbow and was forced to vacate the World of Stardom Championship and for the past year, Mayu would try to prove herself in the ring to crawl all the way back to the top spot, she failed to capture the title twice, lost the Cinderella Tournament, and she now won the Grand Prix to show that she's the best Stardom has to offer. After the match, Mayu was presented with a robe and a crown that was placed on her head until it fell off of her, way to go. The rest of the participants would get a smaller trophy as a little participation thing as least while Mayu would get the bigger trophy. Mayu grabs the microphone to talk about that she won the tournament and how her journey has been for her these past few years about how she would start off in three-way matches and now she's on the top of the promotion. She said she had to talk about something important to the audience despite winning the tournament and it was about retirement, and how she's not gonna retire soon and her wrestling life is far from over, but she did have someone she would like to introduce to people. Arisa Hoshiki has made her return to Stardom!
Arisa was one of the first graduates of Stardom and has competed in their very first show, they also paired up together when they were rookies, but she left the company around 2012 and had the Saki Kashima route where she hasn't wrestled ever since. However, she said after being away from wrestling for six and a half years, the 23-year-old wrestler has announced that she will be making her return to Stardom and hopes to tag with Mayu again real soon. I think this is wonderful news and from what I have seen from her old matches, she was a lot of fun to watch and I can't wait to see what she'll do next. Mayu talked about how every time she wins a big match, someone would return to Stardom like how Yoko Bito came back when she won the Cinderella Tournament a couple years ago and now Arisa Hoshiki when she won the Grand Prix, so now she believes that if she keeps winning big matches that everyone will come back to Stardom. She's aware that Kagetsu and Momo are fighting in a few days in a double title match and she said she'll challenge the World of Stardom Champion whoever it is out of those two next month. So what's next for Utami? I thought it would be a good idea for her to win the Future of Stardom Championship as her first belt, but Andrew did bring up a good point about how while she does have the qualifications to go for the belt, it would feel a little bit of a downgrade due to the fact that she fought all of these big names and is now a well-established star in the making that it wouldn't feel right and he has a point there, plus she'd be too good compared to the others in that division with the exception of Starlight Kid and AZM of course. Since that's the case, maybe she could be the one that could possibly dethrone Momo if she still has her Wonder of Stardom Championship? Either that or go for the Goddesses of Stardom Championships if she can get a partner. Anyway, congrats to Mayu Iwatani, you have earned this and now go do what you gotta do and that is win it all next month.
Rating: Bruce Prichard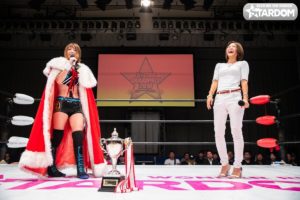 Overall: The tournament is now officially over as my block finally won the whole thing after losing the last three tournaments and it couldn't have happened to a better wrestler. Both blocks have had enjoyable matches with great stories and probably one of my favorite events this year and tied in G1 with tournament quality. Now that Mayu has won the Grand Prix, can she reclaim what's hers?
Favorite Match: Mayu Iwatani vs. Momo Watanabe
Least Favorite Match: Saki Kashima vs. Jamie Hayter
Score: 7.5/10