My Top 10 Best Factions of All Time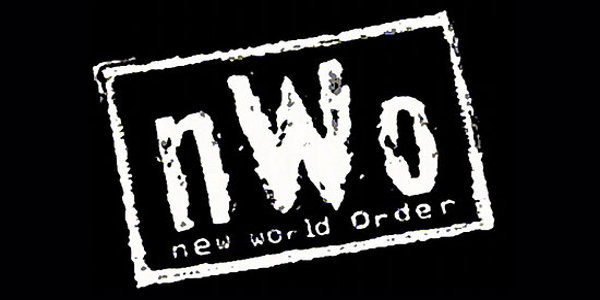 Recently, WWE.com released their list of the Top 10 Best Factions of All Time, and some of the results floored me. It never ceases to amaze me how much back patting and audience influencing the WWE tries to do. Just look at the list they put forth.
Right off the bat the WWE ruins their credibility and any impartialness they might have tried to demonstrate by listing The Undisputed Era as their Number 10 best faction of all time.
ALL. TIME.
We're talking almost 50 years worth of wrestling history here, at least! And a faction that is not even on the main roster, is not seen on television, is currently down one injured member, and is only months old is considered by WWE as a top ten best faction OF ALL TIME?!
So, while I don't usually write articles like this, these results and the fact that the WWE has actually tried to pawn them off as legitimate have motivated me to create my own list this week of the Top 10 Best Factions of All Time. I based my list and rankings on the group's impact on the wrestling business at their peak, their level of focus or involvement in their company's top angles and storylines, the accomplishments both of the group and the individuals within them while members, and the effect that association in siad group had on the future careers of its members.
So here is my list of the Top 10 Best Factions of All Time:
Honorable Mentions
The Corporation
Camp Cornette
Nexus
Ministry of Darkness
10. New Day– The New Day are the epitome of what a faction is intended to do for its members. The group is greater than the sum of its parts. Individually, Xavier Woods, Big E, and especially Kofi Kingston seemed destined for mid card mediocrity. In Kofi's case, he had already spent many years in limbo already, never able to quite crash the glass ceiling and reach that "next level." Together, in addition to adding a record tag team title run to their resumes, they have become bigger stars than any could have ever hoped to become on their own at the time of their formation. Like others on this list, their initial run as heels was so well done and entertaining that it got them over as one of the biggest babyface acts in the company, not to mention a top merchandise seller, and did so without any member gaining a singles title to their credit. All three men have become so identifiable as a unit, it's hard to see them being truly split up or seperated any time in the near future- which for the sake of their careers, might be best. "Power of Positivity" indeed!
9. Bullet Club– The OGBC makes my list not only for its prominence and longevity as a top faction in New Japan, but also for the way its impressive roster brought new American eyes to NJPW and the influence its alums are currently having on the wrestling world today. When you have names like AJ Styles, Finn Balor, Shinsuke Nakamura, Cody Rhodes, Kenny Omega, The Young Bucks, Gallows and Anderson, among others, on your roll call, you've had an impact. Plus, when is the last time you have seen a group from a foreign promotion have such a commercial presence when it comes to merchandise in the States?
8. Nation of Domination– The Nation is underrated as an all-time faction. Though it might not quite be on the level of other top groups, the NOD were a core focus of the WWF during the Attitude Era (the height of the company in terms of overall relevance), had memorable feuds with the likes of DX and the Undertaker, and helped to launch the rise of one of the greatest superstars of all time. Without the Nation, Rocky Maivia may not have found that perfect vehicle for a needed heel persona at the time that the Nation provided, and ultimately helped to catapult him into superstardom as The Rock. Plus, if you were watching the product at the time, you can't discount how much heat and controversy Faarooq and his original Nation cohorts were creating. It was uncharted territory for the WWF in that era.
7. Shield– I must give credit where credit is due. The Shield burst onto the scene, were immediate main event players upon their debut, and the success that its members have had individually in their careers cannot be discounted. There are very few factions that can claim that every one of its members has been WWE Champion. While the jury may still be out on Dean Ambrose, Seth Rollins and Roman Reigns are arguably the top two faces of RAW and possibly the company itself. Their current success has to give due reverence to the popularity and impact the Shield first had as a threesome.
6. Hart Foundation– The WWF struck gold with the Hart Foundation in 1997. And the dynamic of being THE heel stable of the year and huge heat magnets in the US, while at the same time the biggest baby faces ever in Canada was unprecedented. Don't believe me? Go back and watch some of those episodes of RAW from the summer of 97, and especially the Calgary Stampede PPV. The roster of members fit perfectly and they played off of each other very well. Even the addition of Brian Pillman, who wasn't technically a relative of the family, made sense and gave the group a bit of an edge that they needed for their era. They were perfect foils for guys like Steve Austin and Shawn Michaels. Heck, they even got The Patriot a run in the main event! While their lack of longevity knocks them down a few notches (the group only lasted about seven months), their impact and contribution to the eventual birth of the Attitude Era can't go unnoticed.
5. Evolution– when your group consists of Triple H, Ric Flair, Randy Orton, and Batista, can you NOT be in the top five of all time? Not only was Evolution a mainstay in the main event during its heyday, holding all three major titles at once (World Heavyweight, IC, Tag Team), as well as cementing the careers of group number 7 on my list during a comeback tour in 2014, it was the launching pad that Orton and Batista needed to elevate themselves as future big time players in the WWE- potential that both men clearly delivered on eventually as singles stars.
4. Heenan Family– there is no denying the level of stardom Hulk Hogan achieved in the 80's in the WWF. However, what is a superhero without super villains? Enter Bobby Heenan and the Heenan Family! The Family was the source of a steady supply of challengers for Hogan and other top stars of the 80's and early 90's, such as Ultimate Warrior and Big Bossman. Names to Heenan's credit include Rick Rude, King Kong Bundy, Haku, Barbarian, the Brainbusters, Mr. Perfect, and of course the man who challenged Hogan at the most important wrestling event ever at WrestleMania 3, Andre the Giant. This stable wasn't even included in WWE's list!
3. Four Horsemen– while I admit that my list is WWE/F heavy because of the fact that is the product I grew up on, no one can dismiss the impact of the Horsemen. Throughout all of their various incarnations, they were always a focus of the show and a presence in the main event- which happens when your leader is Ric Flair. They were part of some of the most memorable angles in wrestling and no doubt held, and continue to have, a special place in the hearts of NWA and WCW fans. They were the standard bearer for all other factions to come after them. Not all of their roster combinations were as great or as successful as the originals, but memorable nonetheless.
2. D-Generation X– when you talk about impact, you have to look at a group that were both the top heels and then the top babyfaces in the company during its hottest run. The original HBK/Triple H/Chyna/Rude version of DX almost single handedly brought the Attitude Era to the WWF in 1997 as its top heel act, only to then become one of the biggest acts in the company as baby faces after WrestleMania 14 when they added the New Age Outlaws and X-Pac after the departure of Michaels. It also launched Triple H into the next level in 1998, as he was no longer seen as HBK's sidekick. They remained relevant as a faction through the year 2000 and were part of many memorable moments, such as the "War on WCW" and Nation parody. While what they did in wrestling was historic, not to mention the positive effect the association had on the careers of X-Pac, Gunn, and Road Dogg, the cultural impact the group had may have been just as big. DX shirt sales were through the roof, and the crotch chop and "Suck It" catch phrase became part of the lexicon for the male demographic the WWF was targeting.
1. nWo– no group has had a bigger impact in wrestling as the New World Order. The departures of Scott Hall and Kevin Nash to WCW from WWF. The heel turn of Hulk Hogan. The 83 week win streak in the ratings war. When the nWo was on fire, it was an inferno. Plus, without the nWo's success, how do the careers of the likes of Sting and Goldberg unfold? Yes, there were some blunders and mistakes made down the road involving the group, but during the most competitive time in the business, no one faction single handedly turned the tide for its company the way the nWo did.
(NOAH) WEEKLY NEWSLETTER VOL.44 ~ 21ST JULY 2019
The Global Junior League is wrapping up, and Marine Day is celebrated by all! Hisame gives the overview on the NOAH course of action!

The Global Junior League is wrapping up, and Marine Day is celebrated by all! Hisame gives the overview on the NOAH course of action!
CURRENT TOUR RECAP
NOAH started the long trek to the finals (and the GHC Heavyweight Tag match championship) at Korakuen Hall on 15th July on Japan's "Marine Day" National Holiday. By the 16th they had moved up to Japan's North to the Shin Yuri Twenty-One Hall, with the dreaded "Demon Staircase from Hell". 19th July in Morioka, 20th in Akita and the 21st in Aomori.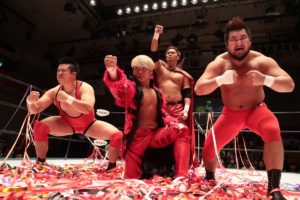 Kenoh debuted his new ring wear (its all red) and Kongoh got their first win over The Sugiura Army (who all came out wearing the "Company Dog T-shirts")
Kenoh has vowed to enter the N-1, win it, win the GHC Heavyweight at Sumo Hall, and then return to the provinces with the belt.
Naomichi Marufuji also debuted new ring wear. He said he changed it from red as red was Kongoh's colors, and he has gone with a black and metallic silver. Black and silver are LIDET'S colors, but Kenoh seems not to have picked up on that yet.
RATELS continued with their periodic squabble (which happens in leagues, and when one of them has a belt which another one challenges for) in a match that one fan termed "speed vs power" with Tadasuke taking on YO-HEY, and defeating him within ten minutes. Elsewhere for RATELS that evening, Daisuke Harada was bloodied by Yoshinari Ogawa, who in turn was bloodied by Harada when he threw him into a table. As YO-HEY said about the match (which he watched on the monitor), that Harada is known for bleeding, but for Ogawa, its very rare.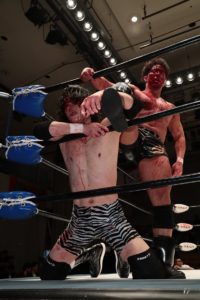 There was blood everywhere by the end of the match, all over the mat, the mats outside (in pools), and senior Referee Nishinaga's shirt was smeared with it. Yoshinari Ogawa won with a sneak roll up (see "Rat Boy" in dictionary), and Harada threw one of his famous tantrums and had to be pulled off Ogawa. Ogawa said afterwards that if you think what he did to Harada was bad then he was going to do worse to YO-HEY (who is "not on Harada's level"). YO-HEY gave a nonsensical confused and rambling promo (please DO NOT GET ME STARTED on it) about hitting Ogawa's nose on the right side. However, in the event of things, neither bled and it was YO-HEY who took the victory.
The bloodshed resolved nothing between Harada & Ogawa as on the 16th when Harada came out to second RATELS, friction once again rose between them, with a fight breaking out at the end of the match as Harada got into the ring to attack Ogawa.
In the main event at Korakuen when AXIZ clashed with the challengers to their GHC Heavyweight tag titles, Kaito Kiyomiya aimed a missile dropkick to Go Shiozaki's knee (despite promising that he wouldn't as he felt that a champion should be "emphatic" at times). Also in the match sparks flew between Chris Ridgeway and Naomichi Marufuji, who had a kick\chop war. After the match they both made the "single match" signal to each other, which is something that fans very much want to see.
After the match (and Go Shiozaki tapping out to Taniguchi), NOAH announced that Shiozaki would be missing time due to a shoulder dislocation. During this time, which was a time of worry for fans and Nakajima, Nakajima came out holding both the tag belts and to AXIZ theme music. Taniguchi made him tap out on the 16th to his modified camel clutch.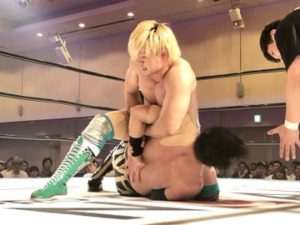 Kaito Kiyomiya has now turned 23 (17th July) and fans have started detecting a change of vibe him in, he seemingly has gone from the nice young (slightly naive) boy of 22, to more steely and less sympathetic person. This was seen when talking about Shiozaki's injury he said something to the effect of, "yeah, we all get injured, and while I sympathize, we are trying to have a title match here", and in the title match he attacked Shiozaki's damaged neck and shoulder. In Morioka, he was seen to have slight smirk on his lips (as opposed to his usual worried expression) when he held the belt up to Kenoh at the end of the main event, and Kenoh stalked off.
Go Shiozaki returned to action on the 20th July. He doesn't seem to have had any further problems, and he says he is fine, but fans think that he is probably a lot worse than he is making it out to be.
The afternoon at Korakuen belonged to the juniors with HAYATA vs Kotaro Suzuki putting on a stellar match, with HAYATA wearing Kotaro Suzuki down by letting him wear himself out. HAYATA wouldn't quit, he took everything that Suzuki threw at him, and likewise with Suzuki taking everything that HAYATA threw at him. The audience were firmly on the side of HAYATA (as opposed to NOAH's first born son), and just as Suzuki hit the Tiger Driver, the time ran out.
Hajime Ohara, it must be said, was not in a good way during the closing stages of Global Junior League as the problem with his neck and shoulder flared up again (it had plagued him during Global Tag League 2018 too), so while fans wanted to see him win, it was probably better that he didn't, especially as he is responsible pretty much for the planning of NOAH's Kawasaki event. During the match on the 16th, the referee was concerned and asked him if he was fit to continue.
The semi final night of Global Junior League 2019 and the GHC Heavyweight title match came on the 21st July 2019 in the Mutsu Grand Hotel in Aomori. It is a small venue, a hotel, which NOAH created a "big match" atmosphere at.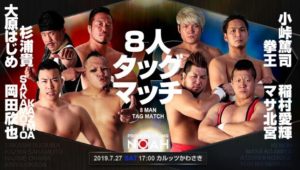 Takashi Sugiura & NOSAWA Rongai teamed up to take on Minoru Tanaka & Kinya Okada. After the match, which Sugiura naturally won, he said that he wanted Kinya Okada to enter The Sugiura Army. Kinya Okada did (and how could he refuse after being commanded by Takashi Sugiura), and he will have his first match as one of them on the 27th July at Kawasaki when they fight Kongoh. His joining The Sugiura Army is a good move as not only does it mean that he has the chance to be mentored by Takashi Sugiura, it also brings him into conflict with Yoshiki Inamura, who is in Kongoh, and calls him "my rival".
Global Junior League 2019 came down to HAYATA vs Tadasuke, following their wins over Hajime Ohara & Kotaro Suzuki (HAYATA, who was seconded by YO-HEY) and Tadasuke (who defeated Daisuke Harada earlier in the evening). When they met in the ring later, Tadasuke gave HAYATA the finger.
Daisuke Harada commented, "RATEL'S showdown in the final, I have nothing but jealousy."
AXIZ defended the GHC Heavyweight tag titles successfully against Kaito Kiyomiya & Shuhei Taniguchi, with Go Shiozaki getting the win with the lariat on Shuhei Taniguchi. They were challenged for the titles by The Return of The Dark Agents (Akitoshi Saito & Masao Inoue).
Title match will take place at NOAH's anniversary show on the 4th August.
EVENT RECAPS
Korakuen Hall, 15th July 2019 
Post match interviews
Shin Yuri Twenty-One Hall, 16th July 2019
Post match interviews
Morioka Gymnasium, 19th July 2019
Post match interviews
Serion Plaza, 20th July 2019
Post match interviews (AXIZ only)
Mutsu Grand Hotel, Aomori, 21st July 2019
NEWS
All Japan announced this week that the memorial for Atsushi Aoki will take place on the 11th August at Korakuen Hall. NOAH wrestlers have been announced to be participating in the event (although he was an All Japan wrestler, Aoki was NOAH  born) with Naomichi Marufuji, Takashi Sugiura, Shuhei Taniguchi and Hitoshi Kumano in attendance.

The main event will see Naomichi Marufuji team with Kento Miyahara and Yuma Aoyogi against Shuji Ishikawa, Shuhei Taniguchi and Suwama. Suwama has wanted a singles match with Marufuji since the Tokyo Sports Award in January, and says that he doesn't care about the other opponents, he wants Marufuji.
In the semi, Jun Akiyama will tag with Takashi Sugiura against Naoya Nomura and Hitoshu Kumano.
CURRENT CHAMPIONS
TOUR TIDBITS


~ NOAH have released a Sugiura Army "Company Dog" towel, which features both of Takashi Sugiura's dogs with his little toy poodle at one end and his beloved Shiba Inu at the other, both barking "Yip! Yip!"
~ HAYATA gave Kotaro Suzuki a slight black eye
~ Kenoh has said that HE will enter the N-1, and if LIDET don't let him, he will go ahead and do it anyway.
~ Yoshiki Inamura turned on Junta Miyawaki when Miyawaki came in to try and help him after the match in Morioka
~ Minoru Tanaka stole Rocky Kawamura's apples and ate one in the ring, and posted that the other one was for his lunch. When asked how they were by Rocky, he said they were tasty.
~ Kenoh's latest bout of paranoia is to claim that LIDET turned the microphone down on him during a promo.
~ Naomichi Marufuji scooped up the white and black feathers left in the ring from Kaito Kiyomiya and AXIZ'S jackets, and putting them in the palm of his hand, blew them into the crowd.
~ Mohammed Yone and Atsushi Kotoge did the Disco Fever vs Revolutionary Pose stand off. This hasn't happened for a while.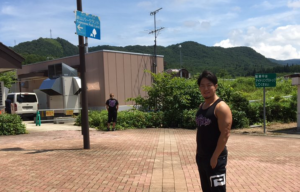 ~ RATELS went on a wander while in Akita, and came across a fenced off area because Bears were in the forest. YO-HEY joked that it was Hitoshi Kumano (who's surname means "Bear", and also incorporates bears into his persona\merchandise), doing a private autograph session. In one picture, in the background, HAYATA had his back to the camera while he stood by some bushes…
~ Minoru Suzuki vs Naomichi Marufuji will be their first match since the Suzuki Gun invasion of NOAH in summer 2016, although the match at TAKAYAMANIA 2 when this takes place, will not be a singles match.
~ Kaito Kiyomiya turned 23 on the 17th July
~ "The Tadasuke Women" were seen again in force at the Shin-Yuri Twenty One Hall. These middle aged to elderly women I believe are family and friends of Mohammed Yone, but they were given the name "The Tadasuke Women" after he played up to them last year. Minoru Tanaka, who sprained his ankle during the match, said that he had been distracted by them, hence the reason for his injury. Tadasuke behaved himself this year.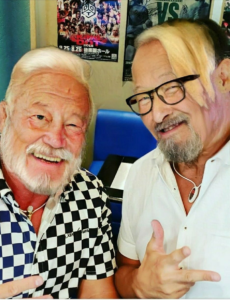 ~ Masao Inoue suffered the usual sneak videos from Naomichi Marufuji on NOAH's long bus journey (they have a twelve hour trip on the 22nd back to Tokyo), and then Marufuji bought out his new toy, "FaceApp" and made him into a woman (who looked a little like Betty Boop) and an old man. Marufuji also made himself into an old man, and then into woman. A photograph of himself and Takashi Sugiura as old grey men (looking like they where hosts of a daytime or direct to video art series) made Sugiura remark that they should challenge for the tag titles.
~ Referee Ben, who was kneeling at ringside, was knocked over by a dueling Chris Ridgeway and Tadasuke
BROADCASTS
NOAH's big Kawasaki Kultz event (and the GHC Heavyweight title, plus the final night of Global Junior League 2019) will air on the 2nd August on G+ at 8.30PM JST
NOAH will be broadcast live on Sunday 4th August at 11.30am JST on G+
LINKS
"Devil Form" Taniguchi – Onslaught on Shiozaki's Weak Point
PICTURE CREDITS: Noah.co.jp, Daisuke Harada, Naomichi Marufuji, Battle Sports
Andrew's Top 5 Matches: Week Ending 7/21/2019
The G1 Climax is in full swing, along with some other shows and matches. How much of the Top 5 does New Japan dominate?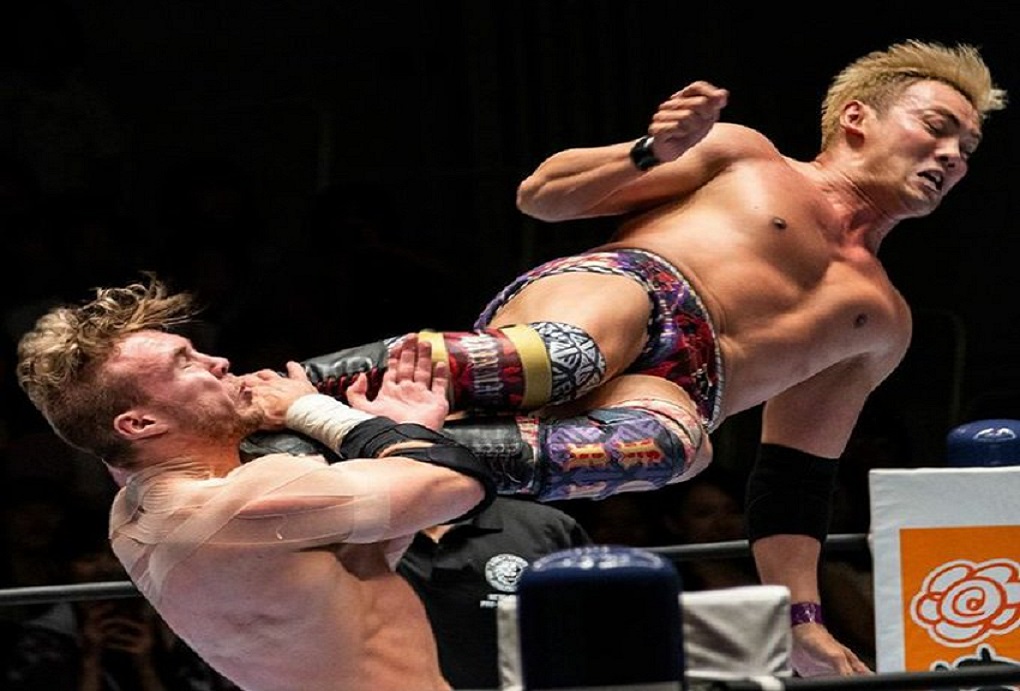 The G1 Climax is in full swing, along with some other shows and matches. How much of the Top 5 does New Japan dominate?
Well in a very close vote last week, NJPW G1 Climax 29 Night 3: Block A: Kazuchika Okada vs Zack Sabre Jr, edges out the competition by 1 vote.
This now makes for another interesting week. ROH had a free match that barely missed the cut, 205 Live had a great match, and to make sure that the week wasn't filled with only Japanese matches, we'll break out to 7 matches this week.
So let's see what we're working with!
5t. NJPW G1 Climax 29 Night 5: A Block: SANADA vs EVIL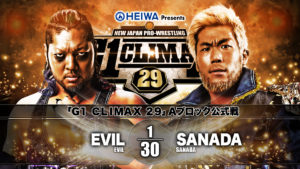 From My Analysis:
EVIL and SANADA have this brotherly rivalry in LIJ. Being former 2 time IWGP Heavyweight Tag Champions, familiarity is obvious. SANADA starts off the match quickly and this is definitely a match of quick bursts when the one gets an advantage. I guess they are transitioning SANADA away from the Paradise Lock since this is the second match where he had it mostly on, but "something happened" and the opponent gets out of the move. We get a bunch of great back and forth, but something that continues to plague SANADA is his limited moveset when it gets down to crunch time. EVIL pulled out a plethora of tricks, including using the referee as an anchor for the Magic Killer. Whereas, SANADA sticks to Dragon Sleeper variants, into Skull End attempt or a Moonsault. With how over SANADA is, I really expect him to start getting more crunch time maneuvers. EVIL wins and quickly wants to bury the hatchet by extending the LIJ fist bump. SANADA bumps fists, and all is fine in our ungovernable world.
Winner: EVIL via Everything is Evil
Rating: **** 1/4
5t. 205 Live: Chad Gable vs Jack Gallagher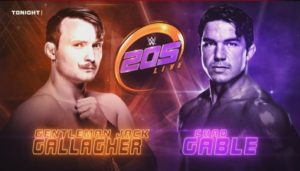 Snippet from Mitchell's Coverage:
Gable throat chops and rolling kicks! But Gallagher uses the ropes to rebound, for the Extraordinary Headbutt!! He falls to the cover, TWO!? Gable survives and Gallagher can't believe it! Both men slowly stir and head for each other. Gallagher grimaces as he SLAPS Gable. Gable SLAPS back and now it's a brawl! They throw forearms and elbows, then Gallagher fires off body shots and windmill fists! The ref counts and Gallagher stops. Gallagher whips Gable corner to corner, then runs in, but misses his dropkick! Gable catches Gallagher into the Canadian Rack! Dominator DDT! Cover, TWO!! Gallagher still lives and Gable is in shock!
Fans fire up as Gable drags Gallagher to a drop zone. Gable climbs up and moonsaults, to get boots to the gut! Gallagher hits his Extraordinary Dropkick!! Cover, ROPEBREAK!! Gallagher is the one in shock now! Gallagher drags Gable up and hoists him to the top rope. He clubs Gable over and over before climbing up top. Gable fights back with elbows, but Gallagher clubs him more. Gallagher still staggers down, but clubs Gable into the post. Gallagher climbs up again, stands up with Gable, SUPER BACK SUPLEX, becomes Gable's crossbody! Gable glares, rolls Gallagher, CHAOS THEORY!! Bridging cover, Gable wins!!
Winner: Gable via Chaos Theory German Suplex
Rating: **** 1/4
3t. NJPW G1 Climax 29 Night 4: Block B: Tomohiro Ishii vs Jay White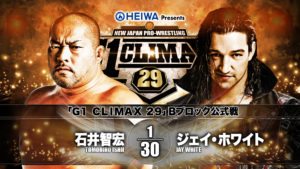 From My Analysis:
Jay White starts off against two of the heavier hitters from Chaos, his former stable. After taking Goto lightly, Ishii comes into this match after a big win over Jeff Cobb. White came into the match less relaxed, but still playing up his smarmy character. Ishii laid into Jay the whole match, where Jay tried to outsmart the Stone Pitbull, but Jay isn't as clever as he thinks he is. A great match with well placed false finishes and a lot of tension. Fantastic back and forth, plus Ishii picking up the win is something special.
Winner: Ishii via Vertical Drop Brainbuster
Rating: **** 1/2
3t. NJPW G1 Climax Night 6: B Block: Jon Moxley vs Tomohiro Ishii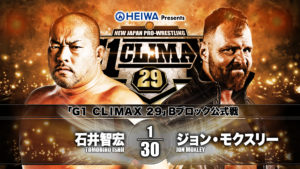 From My Analysis:
Moxley versus Ishii was the insane hard hitting match we expected. Ishii even flew. He hit a splash on Moxley through a table. The Stone Pitbull flew. Yes I realize there is a callback to Masato Tanaka in that move, but you don't understand, Ishii flew. Anyway, the beauty of Red Shoes as a referee is he understands each wrestlers personality, so he gives them a little more leash to do what they like to do. Moxley used weapons, Ishii egged it on, there were huge strikes, Ishii's torpedo style rising headbutts and just good violence. This was a bar fight and no one was upset. Moxley getting the win was a little surprising since most of us assume he won't be available for many if any later dates once AEW TV starts up. This was just a nice change of pace for the usual New Japan and/or Strong Style match.
Winner: Moxley via Death Rider
Rating: **** 1/2
3t. NJPW G1 Climax 29 Night 7: A Block: Will Ospreay vs Kazuchika Okada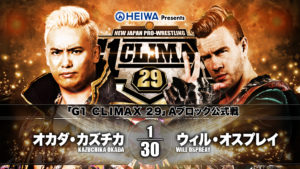 From My Analysis:
Okada and Ospreay were expected to blow the roof off, and well I'd say this was a damn good shot. Ospreay is obviously dinged up, but he fought through the pain and pulled off numerous flipping counters and found a few different ways to hit the Os-Cutter. They both let their personalities fly and this was a lot of fun to watch. Okada always has this older brother aura since he's the one that brought Ospreay to New Japan and Chaos, so whenever they get together, it's very much like two siblings trying to outdo the other. Ospreay had a great flurry at the end, flipping through a Rainmaker attempt, to try his Stormbreaker, but Okada flipped through that and hit a short arm lariat. Rolling Rainmaker and a normal Rainmaker later, Okada edges out the little brother. Great match.
Winner: Okada via Rainmaker
Rating: **** 1/2
Honorable Mentions:
Dragon Gate Kobe World Festival: Open the Dream Gate Championship: PAC (c) vs Ben-K
Winner: Ben-K via Ben-K Bomb
Rating: ****
NJPW G1 Climax 29 Night 6: B Block: Shingo Takagi vs Taichi
Winner: Takagi via Last of the Dragon
Rating: ****
ROH: The Briscoes vs RUSH & Dragon Lee
Winner: RUSH via Horns of the Bull
Rating: ****
NJPW G1 Climax 29 Night 7: A Block: Kota Ibushi vs SANADA
Winner: Ibushi via Kamigoye
Rating: *** 3/4
NJPW G1 Climax 29 Night 4: Block B: Taichi vs Tetsuya Naito
Winner: Taichi via Last Ride
Rating: *** 3/4
NJPW G1 Climax 29 Night 6: B Block: Tetsuya Naito vs Hirooki Goto
Winner: Naito via Destino
Rating: *** 3/4
NJPW G1 Climax 29 Night 5: A Block: Zack Sabre Jr vs Hiroshi Tanahashi
Winner: Tanahashi via Triangle Counter Pin
Rating: *** 3/4
Dragon Gate Kobe World Festival: Ultimo Dragon, Dragon Kid & Masato Yoshino vs Shuji Kondo, Masaaki Mochizuki & Takuya Sugawara
Winner: Ultimo via La Magistral
Rating: *** 1/2
NJPW Climax 29 Night 6: B Block: Jeff Cobb vs Juice Robinson
Winner: Cobb via Tour of the Islands
Rating: *** 1/2
NJPW G1 Climax 29 Night 4: Block B: Juice Robinson vs Hirooki Goto
Winner: Juice via Pulp Friction
Rating: *** 1/2
NJPW G1 Climax 29 Night 7: A Block: KENTA vs EVIL
Winner: KENTA via Go 2 Sleep
Rating: *** 1/2
IMPACT!: Mash-Up Finals Elimination Match: Eddie Edwards & Moose vs Willie Mack & Michael Elgin vs Jake Crist & Wentz vs Sami Callihan & Tessa Blanchard
Winner: Sami & Tessa
Rating: *** 1/4
NJPW G1 Climax 29 Night 4: Block B: Jon Moxley vs Jeff Cobb
Winner: Moxley via Draping Death Rider
Rating: *** 1/4
NJPW G1 Climax 29 Night: A Block: KENTA vs Lance Archer
Winner: KENTA via Game Over
Rating: ***
NJPW G1 Climax 29 Night 5: Shota Umino & Jon Moxley vs Tomohiro Ishii & Yuya Uemura
Winner: Shooter via Fisherman Suplex Hold
Rating: ***
NJPW G1 Climax 29 Night 4: Minoru Suzuki, Yoshinobu Kanemaru, Zack Sabre Jr & Lance Archer vs KENTA, Clark Connors, Karl Fredricks & Hiroshi Tanahashi
Winner: Kanemaru via Deep Impact
Rating: ***
IMPACT!: Trey & Dave Crist vs Sami Callihan & Tessa Blanchard
Winner: Callihan via Piledriver
Rating: ***
NJPW G1 Climax 29 Night 7: Taichi, Minoru Suzuki & Yoshinobu Kanemaru vs Toru Yano, Hirooki Goto & Yuya Uemura
Winner: Kanemaru via Deep Impact
Rating: ***
WWE SmackDown Live: The New Day vs Randy Orton, Elias & Samoa Joe
Winner: Orton via RKO
Rating: ***
2. Dragon Gate Kobe World Festival: Open the Twin Gate Championship Triple Threat: KAI & YAMATO (c) vs Eita & Big R Shimizu vs Naruki Doi & Kaito Ishida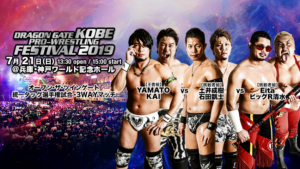 Well we bring ourselves back to Dragon Gate. This show featured the return of Ultimo Dragon after quitting 15 years ago and an Open the Dream Gate match where PAC finally lost. So I was interested in the show for those two reasons, and then decided to watch this as well.
From what I could gather, the story was the Doi and Ishida were the scheduled opponents, but Shimizu and Eita shoehorned themselves into the match in typical heel fashion. It added an interesting dynamic since Doi and YAMATO's teams are fan favorites, so it gave everyone an easy focal point for hatred.
The match started with one man from each team in, but broke down a little bit when the dives and tandem attacks began. The beauty in this match was watching how perfectly YAMATO and Doi work together. Even though they weren't on the same team, there were numerous times the 4 faces ganged up on the heels. Doi would pull off a move and YAMATO would fly in at the perfect time from off camera for nice tandem strikes.
However, the heel team doesn't respect Ishida and took every opportunity to separate him from Doi and pick at the weak link. Eventually Ishida gets pinned, and it comes down to the champions against the heels. Some decent back and forth, more chairs than an Applebees and one very cocky Salamander later, and we have new champions!
The beauty in this match was really how buttery smooth the transitions and strikes were with Naruki, YAMATO and either of the heel wrestlers. Just a damn entertaining match…but Shimizu needs a new finish. The Shot Put Gummy Bear Bouncing Chokeslam needs to get retired.
Winner: Eita wins via Salamander
Ratings: **** 1/2
1. NJPW G1 Climax 29 Night 5: A Block: Kota Ibushi vs Will Ospreay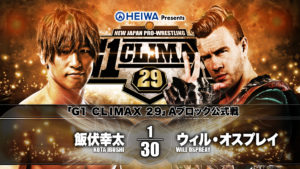 From My Analysis:
There have been well known injuries for both of these men, and they played into the story of the match well. Focusing on each other's injuries, calling back to their Wrestle Kingdom match and just a generally high energy and high impact match. Watching this match, you have to assume one of them will die with their style, but it is damn entertaining. Everyone expected this to be a great match and it delivered.
Winner: Ibushi via Kamigoye
Rating: **** 3/4
Thoughts:
Hey, there's been a lot of wrestling this week and most of what I've seen is from New Japan. Yes, primarily because I'm covering it for the site, but it's also the G1. I'm just happy that 205 Live and Dragon Gate managed to make a big enough splash to get in the Top 7…5…numbers.
I guess I have to pick one, but that's not really easy. Umm…ya know, I did find myself enjoying the Twin Gate match quite a bit, save for Shimizu's Gummy Bear bouncing slam. So I'll give my vote for, Dragon Gate: Open the Twin Gate Championship Triple Threat: KAI & YAMATO (c) vs Eita & Big R Shimizu vs Naruki Doi & Kaito Ishida.