Press Release: New Women's Pro Wrestling Weekly With IMPACT's Allie
The Chairshot was issued the following press release for the newest episode of Women's Pro Wrestling Weekly with a special guest from IMPACT Wrestling, Allie:
IMPACT KNOCKOUT ALLIE IS THE SPECIAL GUEST ON WOMEN'S WRESTLING WEEKLY & TALKS ABOUT HER RELATIONSHIP WITH ROSEMARY AND GAIL KIM AND PLANS ON HOW TO GET THE IMPACT KNOCKOUT BELT BACK
FOR IMMEDIATE RELEASE
WPW Weekly Hosts, TK Trinidad,  Evan T Mack and Sarah The Rebel Break Down Women Wrestling News For The Week
PRESS RELEASE- Los Angeles
Get it on YouTube:https://youtu.be/kRHZd3veVIU or download the podcast version on iTunes:https://itunes.apple.com/us/podcast/womens-pro-wrestling-weekly/id1354335221?mt=2 with highlights below:
Allie Talks About What She Doesn't Share on Her Hit YouTube Channel:
I don't show or share too much personal information when it comes to me and my relationships. Me and my husband work together on Impact Wrestling and we work the indies together. So people kind of know us from there. But when it comes to our personal life; I sort of try to keep that separate because some things are sacred and it's so important to keep your privacy, especially in this day in age where everything is so accessible. So I try to keep that a little separate and I don't show him to often, just once in a while.
Allie Shares Her Passion for Mental Health Issues:
Something that is really important to me that I want to speak openly about is mental health issues. That is something I want to speak more openly about and devote more time on my channel specifically for those things. They are very sensitive and very important and I don't feel right just throwing up a video. It's something I want to spend a lot of time on. So, that is something I hope to get into in the near future.
Allie Talks About Her Relationship with Rosemary and Gives Us An Update on Her Injury:
She is good. She is coming along. In a short amount of time, she has really healed up quite well and hopefully, she will be back at it soon.
Allie Talks About What Has Changed in the Wrestling Scene Since She Started:
The attitude toward women's wrestling has changed quite a bit since I've started. It feels now that there is… kind of this place craved out for us and we are being showcased a lot more and I think it is generally a lot more respected. When I came in, I looked up to Trish, Jazz, Molly, Lita and Ivory and that generation. Then there was a transition from wrestling to more of the modelling aspect to it. I don't want to knock it. I think there is a place for everyone in wrestling. But  I know specifically in my head, I wanted to be taken seriously as a wrestler.
Allie Talks About WWE's Women's Pay Per View:
I think it's really amazing and exciting that WWE is doing the pay-per-view. Because I think that it shines a light on these athletes that so deserve it. WWE is a huge company and there are eyes on it all the time so if they doing something so big and bold like having an all women's pay-per-view; people are going to pay attention to that. So it helps all of us overall.
Allie Talks About Her Relationship with Gail Kim:
I looked up to her (Gail) so much. To step in the ring with her at TNA and to have a match with her at Bound For Glory… it blows my mind that this has all happened in such a short amount of time. She offers advice all the time. She is one of the most giving and patient, encouraging people I've ever worked with male or female. She really wants us to work hard and represent the division well. I feel blessed and lucky to be able to work with her.
Allie Talks About Channeling Rosemary for Her Match With Su Yung:
It was a meeting of the minds coming together and having this idea. And they approached me about it and said we are thinking of doing this. I sat with Rosemary for a long time and we talked about it. And it certainly helped me to present that so well because I know her so well and I worked with her for a very very long time.
Allie Talks About Taking Acting Classes:
I found that the classes have helped a lot with backstage segments and promos and pre-tapes and things like that.
Allie Talks About Avenging Rosemary:
I really want to get my hands on Su Yung and avenge Rosemary. That is my number one goal right now… getting back in the ring with Su for sure.  Su and then we will get to Tessa.
Allie Talks About Tag Team Belts at Impact:
I would love it. I mean how awesome would it be if there was an actual team demon bunny? I think if the fans demanded it and we had enough of us to create the division…. It happened before so why not again?
Get it all on this week's brand new episode of AfterBuzz TV's WPW Weekly. Two words for you…DOWNLOAD IT!
Continue following TheChairshot for all the latest skull smashing opinion, news, reviews and so much more! @theCHAIRSHOTcom on Twitter
Always #UseYourHead
WWE News: Royal Rumble Kickoff Matches Revealed, Updated Card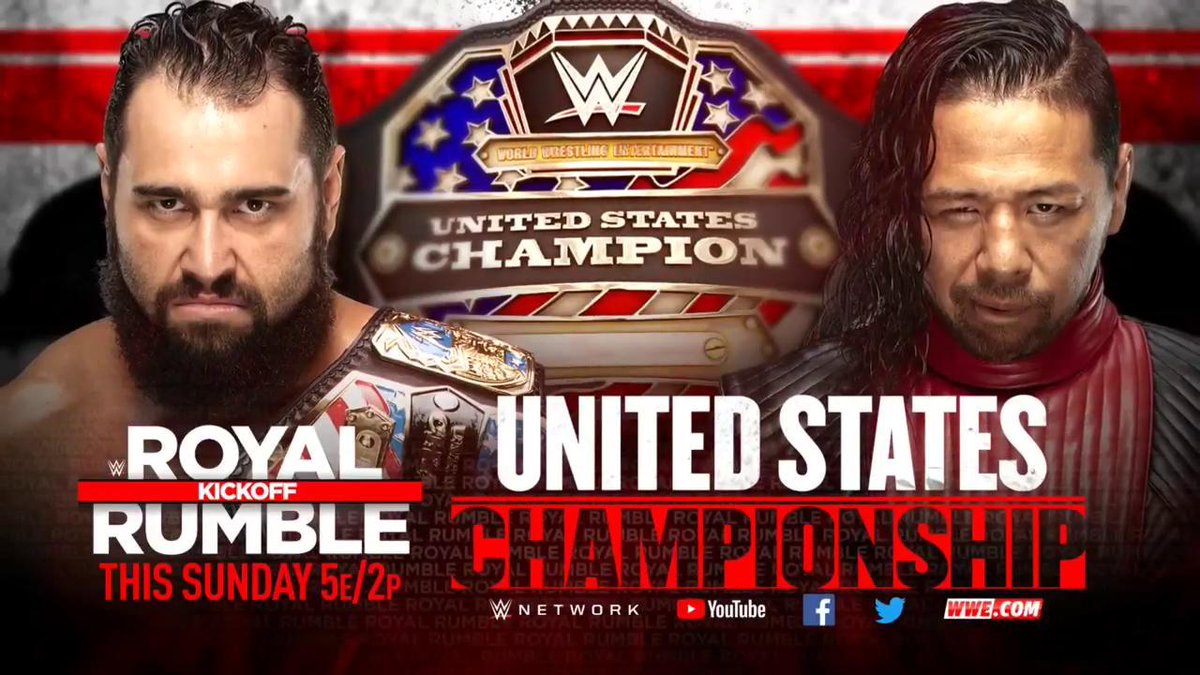 A look at the updated lineup for Sunday's Royal Rumble!
Now that WWE's Monday Night RAW and SmackDown Live are in the books, the WWE Universe's attention turns to this weekend's big events, more specifically Sunday's Royal Rumble pay-per-view.
Since WWE revealed a number of participants this for the Women's Royal Rumble Match this past Sunday on Twitter, there haven't been nearly as many updates to the card as we saw the previous couple of weeks. That's not to say there weren't any however, as it looks like WWE may be removing John Cena from the Men's Royal Rumble (see the latest here), while Titus O'Neil declared his entry this past Monday on top of Alexa Bliss announcing her return for the women's side, as well as Lacey Evans revealing she too will enter.
Tonight during SmackDown Live, WWE officially moved two matches over to the Kickoff which will now see Rusev defend the US Title against Shinsuke Nakamura, plus a Fatal 4-Way for the Cruiserweight Championship when Buddy Murphy faces Hideo Itami, Kalisto and Akira Tozawa.
Here's a look at the updated card for Royal Rumble this Sunday, airing live on pay-per-view and the WWE Network at 7PM EST with the Kickoff beginning at 5PM and also available on YouTube, Facebook and Twitter:
Men's Royal Rumble Match
R-Truth (#30), Drew McIntyre, Xavier Woods, Big E, Kofi Kingston, Jeff Hardy, Bobby Lashley, Dean Ambrose, Jinder Mahal, Seth Rollins, Rey Mysterio, Andrade, Samoa Joe, Baron Corbin,
Elias, Apollo Crews, Mustafa Ali, John Cena, Titus O'Neil
Women's Royal Rumble Match
Carmella (#30), Natalya, Bayley, Ember Moon, Ruby Riott, Sarah Logan, Liv Morgan,
Lacey Evans, Alexa Bliss, Alicia Fox, Mickie James, Mandy Rose, Sonya Deville, Lana,
Charlotte Flair, Dana Brooke, Zelina Vega, Nia Jax, Tamina, Billie Kay, Peyton Royce, Naomi, Nikki Cross
Universal Championship
(C) Brock Lesnar vs. Finn Balor
WWE Championship
(C) Daniel Bryan vs. AJ Styles
RAW Women's Championship
(C) Ronda Rousey vs. Sasha Banks
SmackDown Women's Championship
(C) Asuka vs. Becky Lynch
SmackDown Tag Team Championship
(C) The Bar vs. The Miz & Shane McMahon
Kickoff – United States Championship
(C) Rusev vs. Shinsuke Nakamura
Kickoff – Fatal 4-Way for the Cruiserweight Championship
(C) Buddy Murphy vs. Akira Tozawa vs. Kalisto vs. Hideo Itami
WWE News: Update On JoJo's Recent Absence From WWE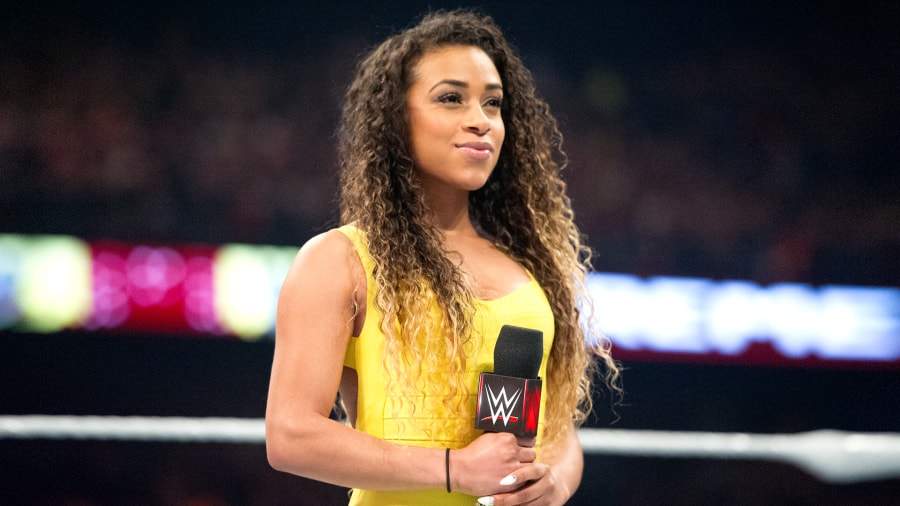 Where has JoJo Offerman been lately?
Over the past couple of weeks, some members of the WWE Universe have taken notice that the usual Monday Night RAW ring announcer, JoJo Offerman, has been absent from the program and instead Mike Rome has stepped in to fill the duties.
There have been some rumors that perhaps JoJo had left the company or perhaps was in some hot water, however that doesn't seem to be the case. According to PWInsider, JoJo has merely been off the road recently to deal with what's being called a "personal situation", but it's not known when she will be back.
Of course we learned today that she will not be at Sunday's Royal Rumble in Phoenix, Arizona, as WWE announced that Mike Rome and regular SmackDown Live ring announcer Greg Hamilton would be emceeing the event.
After first joining the company in 2013 and being a cast member on the inaugural season of E! Network's Total Divas, JoJo's in-ring career was short-lived and she quickly was moved into the ring announcer's role. She would start in NXT before being moved to the main roster in 2015.