The Good, Bad, and Ugly Post-Hell In a Cell 2018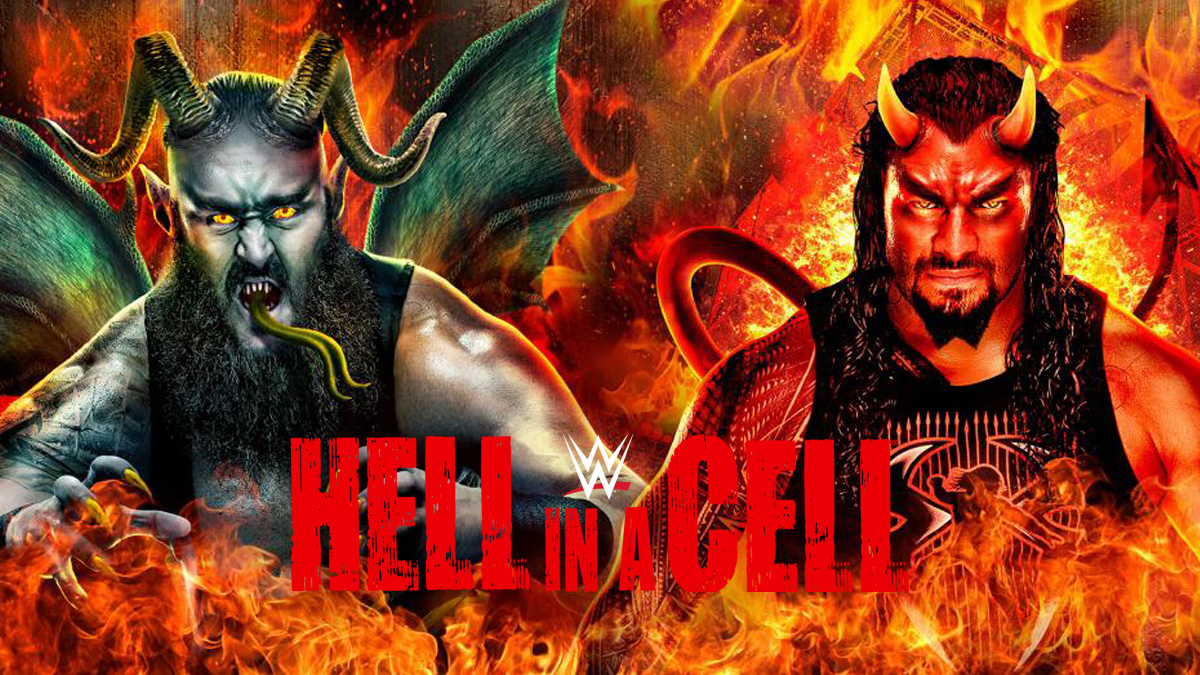 How did the famous, spectacular Hell In a Cell 2018 go?
Well let's begin.
THE GOOD
Jeff Hardy vs. Randy Orton (Hell in a Cell Match): Jeff Hardy is a maniac and what better violent, sadistic person than Randy Orton to play with.  These veterans wasted no time showing us what they are made of, in this Hardcore, TLC, Hell In a Cell Match.   They beat the ever loving hell out of each other, the crowd was gasping for air.  I was actually surprised they opened with this match as I knew it was going to be fantastic.  It has the chance to completely steal the show off of the bat.  The Superplex even had a little extra flavor to it, and the ladder was used in multiple unique ways and painful to watch.  Borderline torture inflicted by Orton, as a screwdriver was even incorporated set Jeff Hardy off on a violent vengeful rage.  This bloody, extreme, opening match, had false finishes, near falls and delivered on all levels.  After an intense drop inside the Hell in the Cell through a table by Jeff Hardy leaving him badly injured, The Viper Randy Orton picks up the victory.
SmackDown Women's Championship:  Charlotte Flair (c) vs Becky Lynch:  Very technical match, however not smooth sailing as they seemed to not be in sync with one another.  Whenever Becky Lynch went hard, and wasn't trying to be fancy it looked great, but whenever the two respected former friends tried to do something out of the ordinary it just didn't work out.  The crowd was behind the Lass Kicker the entire time, except for the always present Wooo! on Charlotte Flair's high spots.  As the match went on it did improve and although it didn't deliver to its full potential, the crowd was into it, and the right Woman Won, Congrats to the Irish Lass Kicker and all around Superstar, Becky Lynch, you most definitely deserve it!
Raw Tag Team Championship:  Dolph Ziggler & Drew McIntyre (c) vs. Seth Rollins & Dean Ambrose: The crowd absolutely went ballistic for Rollins and Ambrose.  They are as over as Vince wants Roman Reigns to be.  This match was expertly done, as the talent is over the top.  Rollins looked particularly sharp, as he just seems to improve every event.  Drew McIntyre is also going to just get better, he is simply going to rise to the top if he continues to work at this level.  Bravo on the ending, it was just amazing, the kick from the suplex following the Superplex was a phenomenal finish.  Dolph Ziggler and Drew McIntyre retain the Raw Tag Team Titles.
WWE Championship — AJ Styles (c) vs. Samoa Joe:  I for one was not in any way excited for this match.  I just want WWE to wrap it up already, and give some fresh talent their due.  Before it even started I didn't even think AJ Style's perfect hairdo could save it.  It had its highs, as these two are some of the best in the industry.  It had its lows like the weak strikes, and the rolling shin kick from Samoa Joe.  Overall, the feud is just overplayed, and it should have already concluded.  The only save sake was AJ Styles is a tremendous Champion and leader.  Samoa Joe, who played one of Kakamora (coconut pirate) from Moana, is killing our beloved Champion.  It was over, AJ going to sleep, then almost stealing the Rowdy Piper vs Bret Hart finish, AJ Styles rolls back for the pin.  AJ Styles retains the WWE Championship.
THE BAD
SmackDown Tag Team Championship — New Day (c) vs. Rusev Day: As predicted this was a very predictable action packed match…On the pre-show, which as you know drives me crazy.  We had the usual interruptions and blatant disrespect shown to the tremendous talent involved.  Even with the insanely talented Kofi Kingston, Big E and Rusev Day, the fact that this is on the Pre-show and predictable outcome left a bad taste in my mouth, New Day retains.  I am hoping this means that something is new is up the WWE Machines sleeve in the near future for all involved especially Rusev.
Raw Women's Championship: Ronda Rousey (c) vs. Alexa Bliss:  Tonight was not their best.  Alexa Bliss' posse is a sad sight, and really adds no value and even hurts her.  Alexa Bliss and Ronda Rousey are great talents with no limits to their potential, but this match was just nothing special.  It was nice to see the Goddess get some offense on the Rowdy one, in fact she had a lot of offense surprisingly, and WWE finally showed that Ronda Rousey was human.  It really hurt that this was a predictable finish though as WWE would never consider Ronda Rousey dropping her belt so quickly.  Congrats to Rowdy Ronda Rousey on retaining her title in this hard fought match via you guessed it submission.
THE UGLY
Daniel Bryan & Brie Bella vs. The Miz & Maryse: The "Yes" movement is alive and well.  The only save sake to this waste of time would have been a short match, however we just were not that lucky.  This match was the definition of Cheese.  It was tough to watch.  The crowd was into it but that was because Daniel Bryan is simply untouchable, and everyone loves to hate The Miz.  Nothing to write home about, it was predictable, and cliché, the ugly duckling of the card.  With literally the worst roll up in history, I mean it, Maryse pins Brie Bella for the "W".
WWE Universal Championship:  Roman Reigns (c) vs. Braun Strowman (Hell in a Cell Match):   First, let me say, always good to see Mick Foley, especially in a match he made famous.  Pretty warm reception for "The Big Dog" surprised me right away, also that he is undefeated in Hell In a Cell.  This was a hard hitting, action packed, battle of the titans.  It delivered.  It had a great pace, the two big men used their surroundings effectively, and it just was plain entertaining.  For their size they can go, they are two of the top wrestling stars in the world.  It was also great to see the Hell In a Cell serve its purpose and keep the extra crap from entering the match.  The action on top of the Cell had me like most of us on the edge of my seat.  The double bump from Rollins and Ziggler was legit, and looked great.  Then it happened.  Brock Lesnar kicked in the door, beat the hell out of everyone, and caused havoc.  I certainly didn't see this coming as I'm sure no one did.  However, that is where this spectacular match was ruined.  For some reason, only Vince knows why, they called the match.  It ruined a great story, great show, and my night.  This match because of this stupid, senseless finish, is now an Ugly way to end this chapter on an otherwise Good night!
Overall, more good than bad, it was enjoyable, fun and had some tremendous high spots.  WWE is the cream of the crop no matter how you look at it, and I will never miss a show.  Until next time, as always say "I see said the blind man" maybe someday I will tell you why, but here is a hint, "You're Fired."