Top 5 Matches: Week Ending 9/16/2018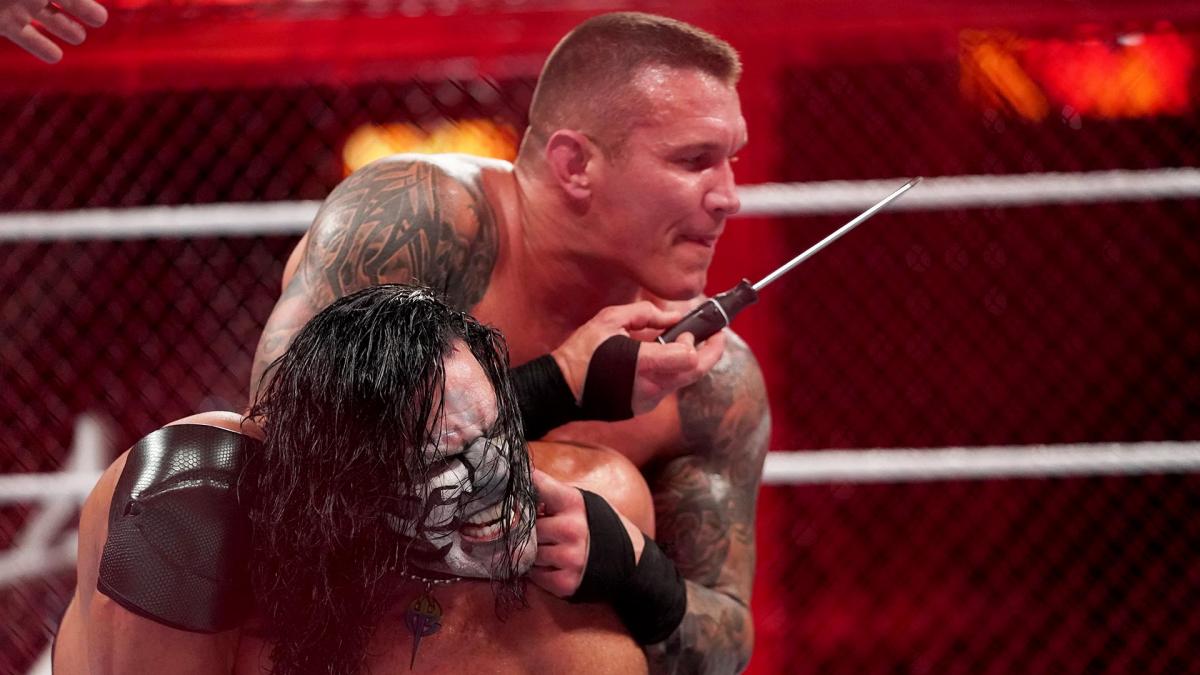 Another week and a busy weekend is upon us. Aside from the normal daily TV, the Destruction tour of New Japan starts with the official shows, All Japan's Royal Road Tournament starts, Stardom 5 Star Grand Prix is still going and Hell in a Cell rounds out the weekend. So with all those big events, this should be a good weekend.
Before we get to the Top 5, let's go over who won last week. For what I think is a first, MLW Fusion Tag Team Chamionship Match: Rey Fenix & Pentagon vs Rey Horus & Drago, wins the week and continues our interesting month.
Speaking of interesting month, WWE put on a tremendous show compared to a mediocre at best New Japan show. So, let's see what the Top 5 looks like.
5. WWE Hell in a Cell Match: Randy Orton vs Jeff Hardy
Well we get one of the Hell in a Cell matches right off the bat, and it's the one that' has the crazy guy. So this one should be interesting.
Umm…damn. The match was very deliberately paced as you can anticipate with a Randy Orton match, but the creativity and callbacks were great. The brutality of the match was actually pretty solid given that WWE has scaled down quite a bit.
Hardy was utilizing ladders and chairs, but one of the highlights has to be Orton grabbing a screwdriver from the toolbox. I personally immediately knew where that was going, and it didn't disappoint. Orton puts the screwdriver through Hardy's earlobe gauges and starts twisting the screwdriver as a callback to when he first went after Hardy on SmackDown.
Surprisingly, Hardy fired up nicely after that, whipping Orton with his studded belt, a chair and then setting up two ladders and a table. At first I thought he was gonna try the leap frog Swanton he's done in the past, but Hardy noticed there wasn't enough clearance in the cage. So he grabs the structure and starts swinging back and forth. Right before he lets go, Orton rolls off the ladder and Hardy crashes through face first.
The referee tries to call a stoppage, Orton demands he count the pinfall. So Orton wins via pinfall and Hardy gets stretchered out. Damn good match though.
Winner: Orton via Pinfall
Rating: **** 
4. Stardom 5 Star Grand Prix: Kagetsu vs Jungle Kyona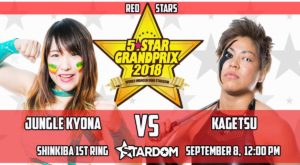 Kagetsu has an interestingly subtle promo, basically surmising that Kyona reminds her of herself from before, so she wants to win fair and square. Kyona on the other hand, is her usual energetic and fun self just looking forward to someone breaking the tie for the lead in Red Stars. So, who comes out of this match with the lead?
Well these two definitely didn't disappoint. They've been two of the more consistent Red Stars competitors and we can see why. Most of this match was just very nicely matching each other blow for blow and seeing who'd stop getting up. Of course when it spills to the outside we get a bit of Oedo Tai interference, but Kyona fights back nicely and at some point tosses Kagetsu from the entrance ramp into the waiting arms of the rest of her faction members.
Each woman hit most of their signatures, but they did good to protect certain moves. My personal highlight was when Kyona was trying to Powerbomb Kagetsu, Kagetsu kept fighting back, so Kyona pulled a Kawada and just dropped Kagetsu straight down for the Ganso Bomb. We saw a few submission attempts from both, but as the time counts down Kagetsu gets erratic.
She lands a Michinoku Driver and goes up for the Oedo Coaster (450 Splash), hits her move, but after the 1 count, time runs out. So it's a good way to protect the champion and her finisher, as well as give an interesting wrinkle to a fairly straight forward tournament so far. Damn good match.
Winner: Time Limit Draw
Rating: **** 1/4
3. Hell in a Cell WWE Championship Match: Samoa Joe vs AJ Styles (c)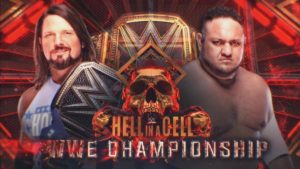 One of the better storylines coming into the show, so this was definitely one many were looking forward to. Does Styles put his family or his title first?
AJ came out irate and took it to Joe pretty quickly. Samoa Joe eventually got the advantage on the outside, but the whole match was a nice back and forth.
Styles pulled off his Asai DDT and Springboard 450, but Joe kicked out. Joe teased the Muscle Buster again, but Styles managed to slip out and counter it into a Styles Clash attempt, but Joe got away from that. Either way, pacing was solid, the near falls mattered and both men had a legitimate chance of winning…which makes the ending interesting.
Joe goes to try and sink in the Coquina Clutch, Styles floats over for a pin and the referee counts the pinfall for Styles. Joe argues that Styles tapped, we didn't see it until a different camera angle proves that Joe was right. Styles has a moment in the ring where he sees the replay, but still holds up the title anyway. So this just makes the story deeper of what AJ cares about more. Because right now…it looks like the title matters more.
Winner: Styles via Pinfall
Rating: **** 1/4
Honorable Mentions:
AJPW Royal Road Tournament: Kento Miyahara vs Yoshitatsu
Winner: Miyahara via Shutdown German Suplex Hold
Rating: ****
WWE Hell in a Cell Raw Tag Team Championship Match: Dolph Ziggler & Drew McIntyre vs Dean Ambrose & Seth Rollins
Winner: Ziggler via Claymore
Rating: ****
205 Live: Drew Gulak & Jack Gallagher vs Akira Tozawa & Cedric Alexander
Winner: Gulak via Gu-Lock
Rating: *** 3/4
NJPW Destruction in Hiroshima: YOSHI-HASHI, Kazuchika Okada & Jay White vs Hiroshi Tanahashi, Togi Makabe & Tomoaki Honma
Winner: Tanahashi via Roll Up
Rating: *** 1/2
WWE Hell in a Cell Raw Women's Title Match: Ronda Rousey (c) vs Alexa Bliss
Winner: Ronda via Arm Bar
Rating: *** 1/2
Stardom 5 Star Grand Prix: Utami Hayashishita vs Jungle Kyona
Winner: Time Limit Draw
Rating: *** 1/2
205 Live: Buddy Murphy vs Gran Metallik
Winner: Buddy Murphy via Murphy's Law
Rating: *** 1/2
WWE Hell in a Cell: The Miz & Maryse vs Brie Bella & Daniel Bryan
Winner: Maryse via Dirty Pin
Rating: *** 1/4
AJPW Royal Road Tournament: Yuma Aoyagi vs Ryoji Sai
Winner: Sai via
Rating: *** 1/4
Stardom 5 Star Grand Prix: Natsuko Tora vs Tam Nakano
Winner: Natsuko via Splash
Rating: ***
2. NJPW Destruction in Hiroshima IWGP Heavyweight Championship: Kenny Omega (c) vs Tomohiro Ishii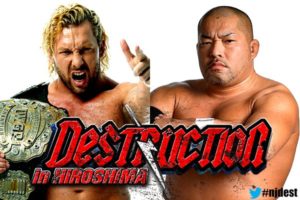 Ishii was the first man to beat Kenny Omega in the G1 this year, and that had the champ go on an odd slide. So with only one defense against Cody under his belt, Omega still has a lot to prove as a champion. Does Omega get dethroned fairly quickly or do we get Omega defending like most people think?
Well this match was…fine. Sadly that's all I've really got as a general description. Nothing about this match went over the top as special. The biggest moment was a partially missed Double Footstomp from Omega to Ishii ricocheting off the announce table, cause, Japanese tables don't break. Which is something he's done in the past, so really, even the biggest spot wasn't different.
I feel part of the problem was that no one had faith in Ishii winning the match. It took 90% of the match for the crowd to kinda support Ishii's near falls and close offense, and it still didn't sound too convincing. So yeah, a basic Omega match and a basic Ishii match is really what we got here. They've had a better matches in the past, including their G1 match and US Title Tournament match.
Also it can't be ignored, whoever they have doing commentary with Kevin Kelly, was awful. Cliche, generic and worthless commentary.
Winner: Omega via One Winged Angel
Rating: **** 1/4
1. WWE Hell in a Cell SmackDown Women's Championship Match: Charlotte Flair (c) vs Becky Lynch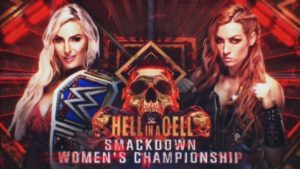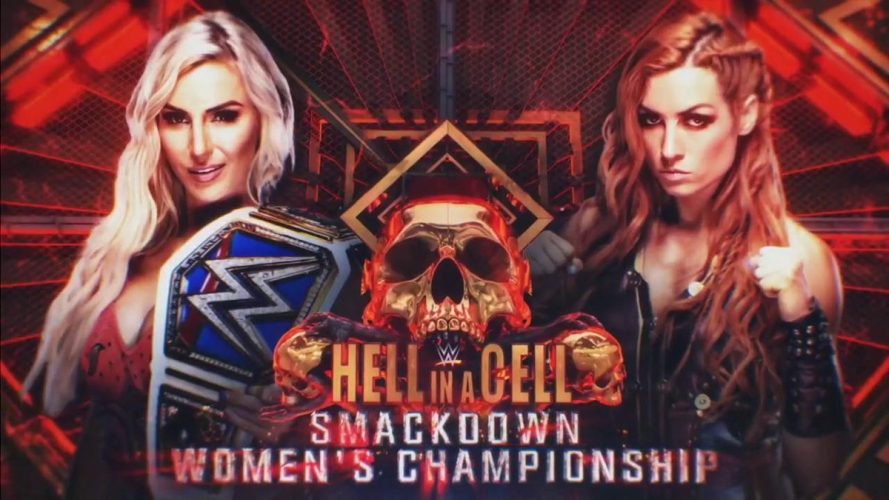 Well the best friends split because one feels like they are always in the shadow. We've seen this story before, but it should be interesting to see how this one plays out. Does Becky prove that she's really the best?
Am I watching a WWE show? I mean, the main card opener was great, and this match was fantastic. Becky came in with a very specific strategy to leave Charlotte with one arm, but Charlotte played the face in peril nicely. The action stayed mostly in the ring save for some apron exchanges, but still, wow.
Charlotte misses her Moonsault, Becky tries to take advantage of it with the Disarm-Her, but Charlotte powers through. Becky even tries an Arm Bar, which Charlotte powers out of, but the whole thing was entertaining. Just when we think that Charlotte has Becky dead to rights, Becky rolls through the Spear with Charlotte and picks up the flash pinfall.
Becky got the belt, the IWC rejoices…until they don't.
Winner: Becky via Spear Counter in Pinfall
Rating: **** 1/4
Thoughts:
Well damn, WWE knocked down a Japanese match into an Honorable Mention! The world is ending! RUN AWAY!
Okay seriously though, Hell in a Cell was damn good, and the show put out some quality matches for the week. So my pick for the week will be, SmackDown Women's Championship Match: Charlotte Flair (c) vs Becky Lynch, all hail our new Irish champion. Now let's get to hoping the rest of the Destruction main shows are better or the Royal Road Tournament picks up as it continues.
Until next week, Always Use Your Head.