Top 5: Wrestling Commentator Catchphrases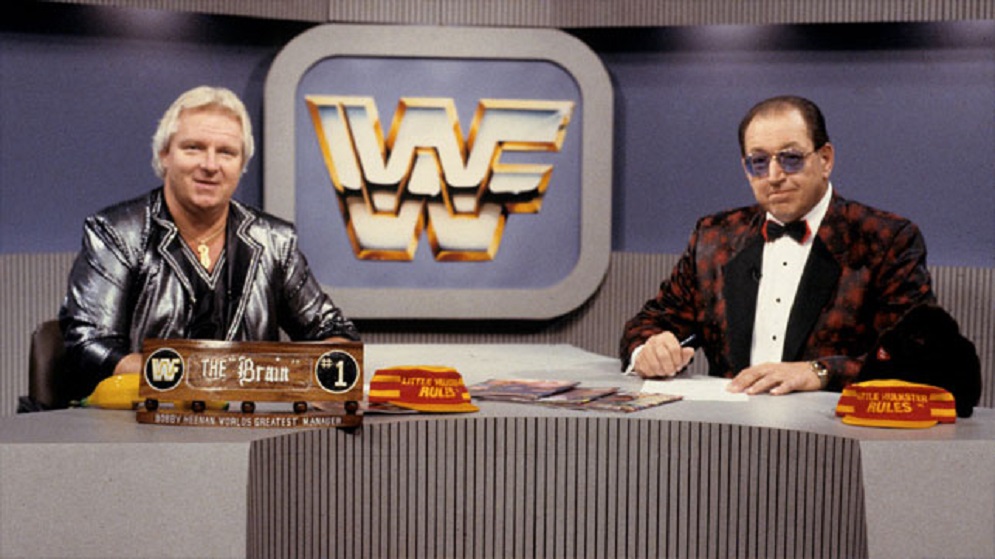 Commentators are among the most important people in the wrestling business. They serve as a connection between the fans & the characters they see on television every week. They help us understand why the wrestlers do what they do, and explain what exactly it is that they're doing. They're salesmen for their companies that we get to know on a personal basis due to our exposure to them for hours at a time every week.
Every commentator has certain phrases that they fall back on. Jim Ross had so many that I think he filled a book with them. Michael Cole has quite the list of them himself. Just think about whatever promotion you enjoy watching, and before long some of the phrases the commentators would say every week will pop into your head. We tend to forget most of them as time passes, but some stick with us forever.
Here are the Top 5 Wrestling Commentator Catchphrases.
5. "SLAP THE PORPOISE!" – Mike Hogewood
When Ring of Honor started producing a weekly show that aired on HDNet in 2009, they acquired the services of Mike Hogewood as their play by play announcer. Hogewood had worked in sports broadcasting for years, specifically on events featuring Atlantic Coast Conference teams. It was his first time calling pro wrestling though, and it was an odd fit. The Hog stood out in an announcing scene where older & not exactly cosmetically pleasing gentlemen like Jim Ross were being phased out in favor of younger folks. He ended up as a bit of a throwback to the days of announcers like Bob Caudle & Lance Russell, who excelled more at the emotional aspect of commentary than calling the holds & explaining the angles.
Hogewood is most remembered by fans for his call of "SLAP THE PORPOISE!", which he would typically utilize once a week at the end of a squash match. Like Hogewood himself, it seemed completely random & stood out from everything else going on at the time. The Hog passed away this week at the age of 63, and wherever he's going you know the porpoises have to be nervous.
4. "WHAT A MANEUVER!" – Vince McMahon
I think that Vince has spent more time on my television screen than any other human being. Us oldsters remember him commentating on WWF television for decades prior to his run as Evil Boss. Vince doesn't get the love that other old school announcers like Jim Ross & Gordon Solie do, and a lot of it has to do with the idea that he didn't call the names of the moves. Typically he'd just scream this out whenever a wrestler did something extra fancy. The phase was so ingratiated into young wrestling fans' minds that CM Punk repeated it to Vince himself years after his commentary career ended.
3. "PUPPIES!" – Jerry "The King" Lawler
In 2018, the last thing pro wrestling needs is an announcer screaming about the presence of a female's breasts. Back in 1998, it fit the mood. Lawler had a legendary wrestling career prior to arriving in the WWF, and I'd say he's one of the best workers I've ever seen as far as getting a reaction out of an audience by doing the least goes. We all remember him as the horny color commentator during the Attitude Era. He seems to be ok with this.
Yes, Brian Christopher did a country rap album, and yes Jerry was on one of the songs. The things you learn on YouTube.
2. "OH MY GOD!" – Joey Styles
I don't think I've seen opinion change on an announcer as much as it has on Joey. Back in the 1990s, most observers would have told you he was one of the greats due to his work with ECW. His work in WWE wasn't quite the same, and now he can't even get booked anywhere since he tried to use politics to get himself over when he was told not to. Anywho, the phrase he yelled in ECW whenever things got out of control, which was fairly often, became quite the thing for the longest period of time. Joey admitted that he wished he had copyrighted it, though nobody's sure if you can copyright God or not.
Then again, the Republicans seem to think they have. Uh oh, political commentary is what got Joey blackballed so I better be quiet.
Honorable Mention: "HOLY F**********************CK!" – Dave Prazak
I feel like IWA Mid-South Dave Prazak was the best possible Dave Prazak. When he was in ROH he had to mind his Ps & Qs. As the lead SHIMMER announcer & promoter he can't get too crazy, and frankly, while the action is good it rarely calls for profanity. In IWA, where people were doing crazy things on a regular basis for no apparent reason, he could cut loose & react the same way we do sitting on the couch.
Honorable Mention: "SOMEBODY CALL 911!" – John House
While we're talking deathmatch promotions, I think any fan of Combat Zone Wrestling that's seen most of their history would agree that the most entertaining announce team was House & Eric Gargiulo. They were there for the apex, and they had a litany of catchphrases. Eric was known for "EXCUSE ME" before Vickie Guerrero was, and House would yell for somebody to call 911 after every crazy bump, which was pretty often. CZW was never more fun than when those two were on the call.
Honorable Mention: "DANGEROUS" – Gabe Sapolsky
I think Gabe would be the first to admit that he wasn't a great announcer. Once he brought in the likes of Prazak & Lenny Leonard, he put himself in the booth as little as possible. One call he brought to the table sticks with any early Ring of Honor fan. Anytime somebody landed on their head Gabe would yell one word, usually preceded by whatever the move was. It was silly, but it caught on to a certain degree.
1. "WILL YOU STOP!" – Gorilla Monsoon
Anybody who knows me through this whole wrestling thing likely knows that my favorite announce team of all time is Gorilla & Bobby "The Brain" Heenan. Those two were just magic together, something that I'm not sure will ever be replicated in this genre. Whether it was a WrestleMania or a forgettable house show, listening to them talk amongst themselves was never dull. They knew just how to push each other's buttons. Whenever Bobby got too ridiculous, Gorilla was sure to interject with a WILL YOU STOP.
We're all prone to declaring that our childhood memories are better than anything else ever, and maybe I'm doing that here. Maybe you think something before or afterwards was much better. In my opinion, WILL YOU STOP is the best announcer catchphrase of all time and there isn't anything close.