Top 5: Wrestling Haircuts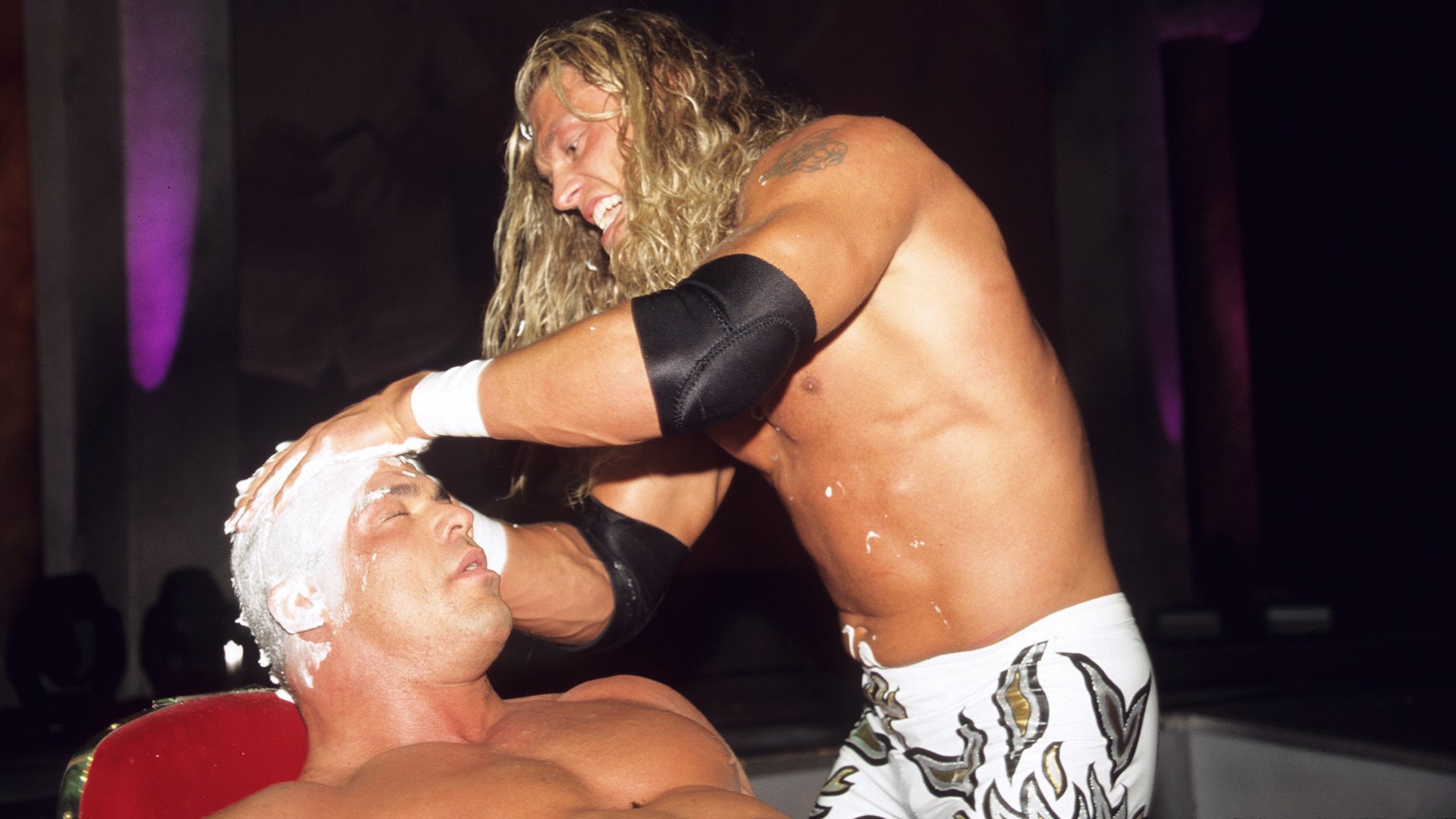 Have you noticed a trend? Lots of wrestlers are shedding their hair. Sometimes it's voluntary, like with the Constable Baron Corbin deciding he wanted to look more business-oriented. Sometimes it's not, like with Sami Callihan at Impact Wrestling's Slammiversary, Faby Apache at AAA's TripleMania & the team of Matt Taven & Volador Jr. at CMLL's Anniversario.
Losing one's hair can be depressing. It can also be financially rewarding though. We've got a little of both going on here with the Top 5 Wrestling Haircuts.
5. Molly Holly gets her WrestleMania payday
Back in the days before the Women's Evolution, it was nearly impossible for women to get on the WrestleMania card unless T & A was involved. As a serious wrestling program light on the types of things Vince McMahon & Kevin Dunn like out of the women, Victoria vs Molly Holly wasn't a guarantee for WrestleMania XX. It took Molly saying that she would agree to have her head shaved as part of a pre-match stipulation for her & Victoria to get on the card. Talk about going all out.
4. Andre is relieved of his dignity
It wasn't too often that anybody got the better of Andre the Giant. To get some heat on Big John Studd heading into WrestleMania, Bobby Heenan orchestrated an attack by Studd & Ken Patera on Andre which culminated in Studd cutting the long locks Andre had sported for most of his wrestling career. Vince McMahon screaming about how Andre was being raped of his dignity wouldn't fly in 2018, but it added more seriousness to the moment.
3. Kurt Angle loses his hair forever
To be honest, Kurt Angle's haircut at the hands of Edge wasn't all that dramatic. The guy barely had any hair to begin with. I give him credit though, as he's the only person I can think of in the history of wrestling that kept a bald head for the rest of his career after losing a hair match. Granted, it was mostly due to his receded hairline, but I still give the man credit.
Well, he did try to work a toupee gimmick for a little bit, but it ended in embarrassing fashion.
2. Raven gets scalped
This has to be the grossest headshaving I've ever seen. As James Mitchell explained it in a shoot interview with Ring of Honor, there were two sets of clippers at ringside during Raven's match with Shane Douglas. One was the safe kind you typically see, and the other was the crazy unsafe kind that was still at ringside when Mitchell got ready to do the deed. That was one serious looking razor, but I'm not sure Mitchell pressing down on the dude's head helped the situation.
Honorable Mention: Hulk Hogan loses his mustache
You got Kevin Sullivan in drag. The only reason this didn't make the list proper is they stopped at the mustache. If they had shaved the skullet too, you know this would have been number one. Bobby Heenan & Mongo McMichael's commentary on this was incredible too.
Honorable Mention: A TRANQUILIZER GUN!
The set-up on this thing. Kurt Angle went to the trouble to hide a tranquilizer gun under the announce table, which neither Michael Cole nor Tazz noticed the entire time they were sitting out there. Mark Jindrak has to run to the back to get a couple different styles of clippers, which makes me wonder why Kurt didn't hide them under the announce table too. The fact that Angle's henchmen were Jindrak & Luther Reigns. There's a lot to take in here. It was hurt by the ridiculousness and the fact that Big Show had short hair for years before randomly coming back with it grown out. You had to figure that wasn't going to last, especially with that big bald spot in the back.
Honorable Mention: Vince loses the Battle Of The Billionaires
I'm not allowed to talk politics here, so I'll refrain from further comment.
1. Brutus Beefcake finds his gimmick
It was WrestleMania III in the Pontiac Silverdome. "Rowdy" Roddy Piper was retiring for the first time & his hair was on the line in his retirement match with "Adorable" Adrian Adonis. Brutus Beefcake had had a falling out with his former tag team partner Greg "The Hammer" Valentine & was trying to establish himself as a babyface. What better way than to display your hair cutting skills on the grandest stage of them all? Piper retired for the first time on top, Beefcake got a gimmick that kept him in a good spot on the WWF babyface roster for years, and Adonis…well, he didn't get much out of this. It worked for the Barber though!
King's WrestleMania Rewind: Charlotte Flair vs. Asuka from WrestleMania 34
Chris king is back with one of the most underrated matches in WrestleMania history–Charlotte Flair vs. Asuka!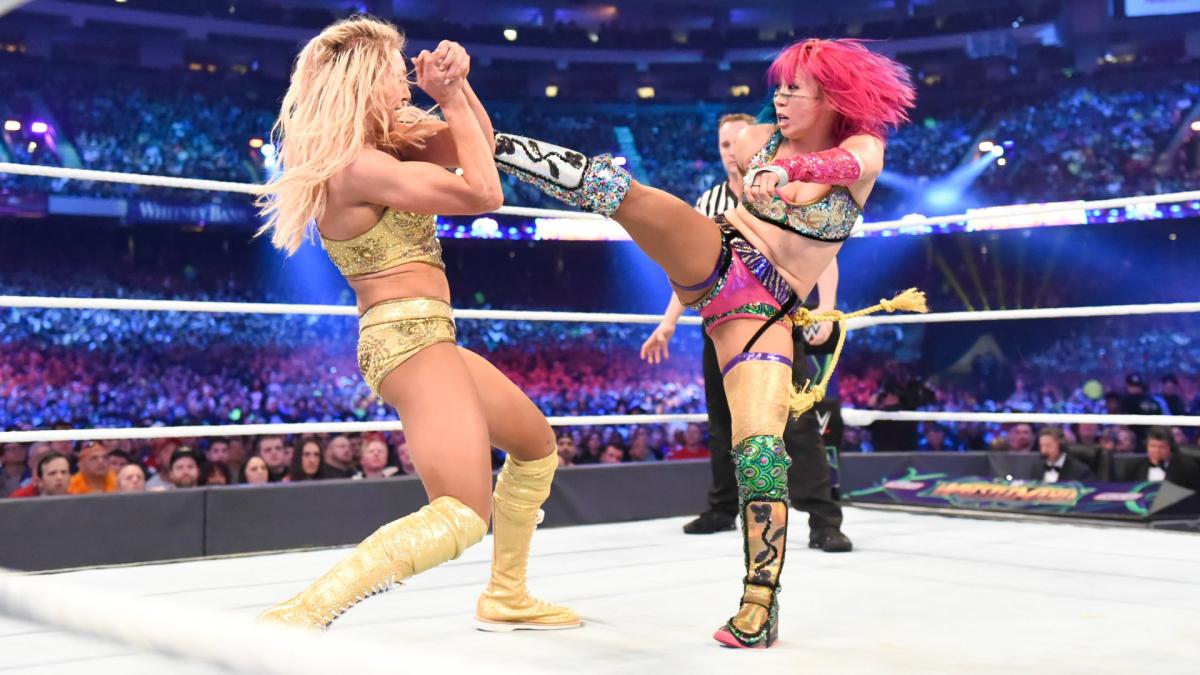 Chris king is back with one of the most underrated matches in WrestleMania history–Charlotte Flair vs. Asuka!
We look back at Charlotte Flair vs. Asuka at WWE WrestleMania 34. 'The Empress of Tomorrow' put her unprecedented and historic undefeated streak of 914 days on the line against 'The Queen's' SmackDown Women's Championship.
For years, this was considered a dream match while Asuka dominated the roster in NXT, while Flair won numerous championships on the main roster on both Raw and SmackDown. The Empress made her long-awaited debut on the September 11th episode of Raw and began to tear through the competition.
Asuka outlasted all twenty-nine other women in the historic first-ever Women's Royal Rumble match to challenge for the title of her choosing. At Fastlane, she made her choice.
The WWE Universe was so excited for this match myself included. Both superstars delivered a fantastic performance on the Grandest Stage of Them All executing counter after counter. Asuka showed off some nasty-looking kicks to her opponent, and Flair hit a thunderous Spanish Fly off the top rope. Flair was seconds away from defeat at the hands of The Empress but she locked in Figure Eight and Asuka was forced to tap out.
I can't even begin to explain how shocked I was at this outcome, as nearly everyone expected The Empress to continue her undefeated streak and walk away with the women's title. This controversial decision was the downfall of Asuka's momentum. She would ultimately win the SmackDown Women's Championship at the 2018 TLC pay-per-view in the triple-threat ladder match.
Fast forward to this year when Asuka has recently returned with her Japanese-inspired persona Kana. Kana is dangerous and ruthless and is heading into a championship with Bianca Belair at WrestleMania 39. The Empress has regained all her momentum and is highly favored to walk away with the Raw Women's Championship. Let's hope that Asuka and Belair can tear the house down and deliver an A+ grade match both women are fully capable of.
King: Dominik Mysterio Needs To Do This At WrestleMania
Chris King is here with what WWE should do with Dominik Mysterio at WrestleMania in his long-awaited match against his father Rey Mysterio Jr.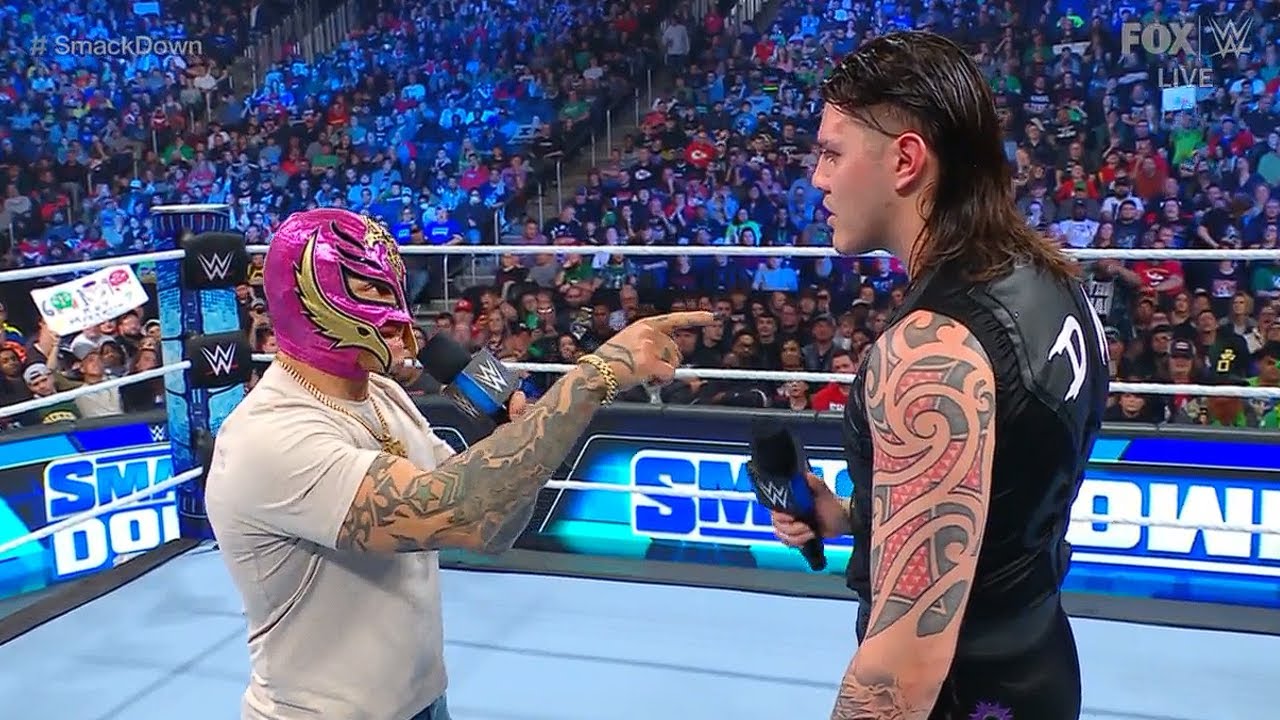 Chris King is here with what WWE should do with Dominik Mysterio at WrestleMania in his long-awaited match against his father Rey Mysterio Jr. 
On this week's episode of Friday Night SmackDown, Rey Mysterio finally snapped and beat some sense into his disrespectful punk-ass kid Dominik. The member of the Judgement Day came out to push his father again for a match on the Grandest Stage of Them All, this time with his mother and sister at ringside. The ungrateful punk told his mom to "Shut Up," as a father even I wanted to jump through the screen and whoop his ass.
Back in October of last year, Mysterio made the emotional decision to possibly quit the company but, instead, Triple H persuaded the Lucha libre superstar to move over to SmackDown to avoid his son. This came after Dominik shockingly turned on his father at Clash at the Castle. Mysterio did everything he could to refuse his despicable son's challenge for Mania but, a man can only be pushed so far. Mysterio will be inducted into the 2023 WWE Hall of Fame and I expect Dominik to embarrass his father during his speech to further this personal feud.
Yes, the WWE Universe hates Dominik and wants to see him get the ever-loving crap kicked out of him but, this feud is missing a special ingredient to capitalize on the biggest heat possible. Throughout this feud, Dominik has made mention of the legendary Eddie Guerrero on several occasions going back to the "iconic" 2005 feud.
I know WWE might not want to go this route but, Dominik MUST come out to Eddie Guerrero's theme at Mania. The disrespectful punk needs to come out in a lowrider to garner nuclear heat. It doesn't matter if The Judgement Day comes out and causes interference for Dominik to get the win, all that matters is that both superstars get the biggest payoff of this nearly year-long feud. Just imagine the Roman Reigns heat after he defeated The Undertaker and multiply that by ten. Dominik portrays the perfect heel and he truly is the missing ingredient that The Judgement Day needed to grow and evolve into a top faction.