Vince McMahon Is Not Trying To Kill Independent Wrestling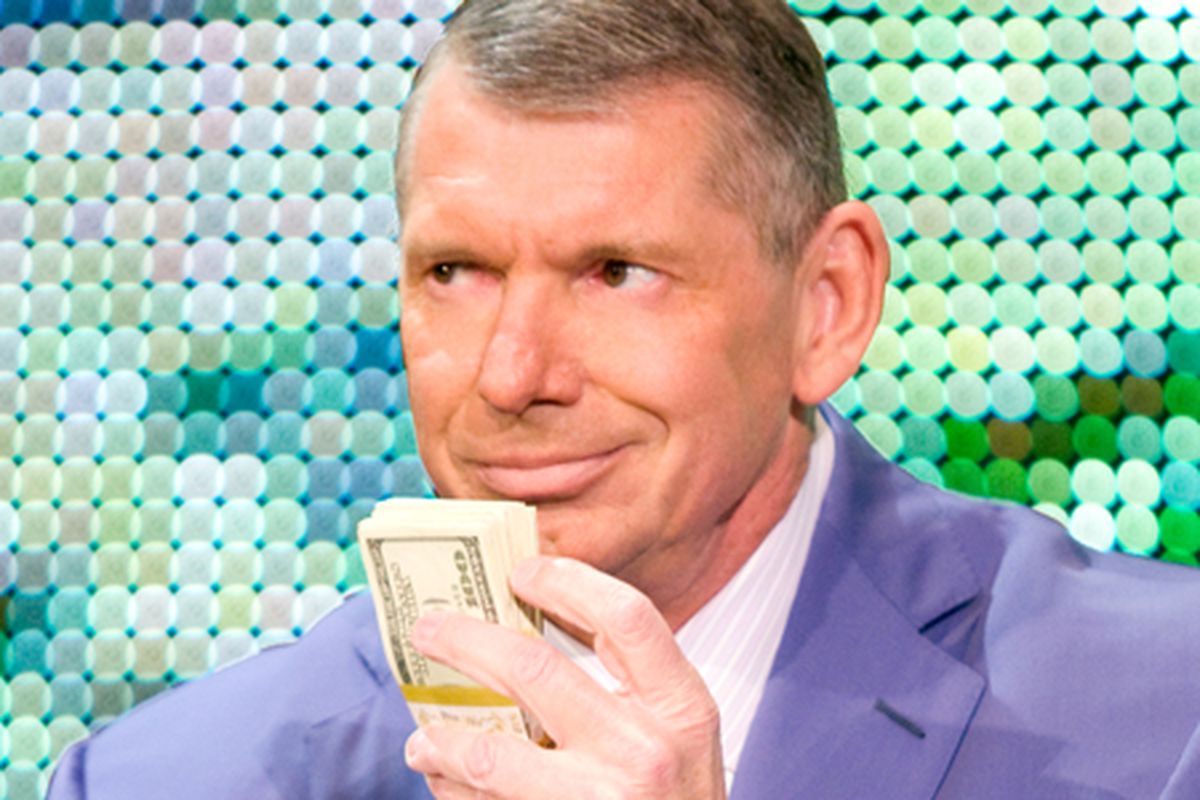 So, one of the topics that seems to come out of the success of All In is WWE's relationship with the indys and it seems that a lot of people think that Vince McMahon and WWE are trying to kill off the indys because they're afraid of competition. That's right, Vince McMahon, owner of the largest wrestling company in the United States, if not the world, broker of billion dollar TV deals, and creative genius behind WrestleMania, Monday Night RAW, and hundreds of iconic characters, is scared of competition from promotions like Ring of Honor and TNA and that All In shows that indy wrestlers don't need WWE to be a success.
Well, if you believe that, I've got some property in Arizona with a lovely ocean view for sale. Yes, All In was very successful, no one's arguing that, but the ideas that WWE is afraid of competition or that any wrestler on that card wouldn't jump at the chance to wrestle in WWE is so ridiculous, it's laughable, as is the overused comments about WWE raiding other companies for talent or 'stealing' talent.
This idea that WWE is afraid of competition goes back to the Monday Night Wars between WWE and WCW, though it has its roots in the expansion of the WWF in the 80s, and it's total nonsense. Vince didn't want to put the territories out of business, he wanted to compete because that is the essence of capitalism, for better or worse. This narrative that everything in the territories was great until mean old Vince destroyed everything has some basis in truth, but the idea that Vince didn't want to compete is not true.
According to Jericho, Vince's first reaction to All In was express regret that Cody and the Bucks hadn't come to him for advice because he would've told them that September was awful for promoting, which it is. He wasn't worried or scared, he wanted it to succeed. He helped Paul Heyman keep ECW afloat because he could see that there was a lot of potential in it and that they were producing great stars.
Here's what people don't get about Vince McMahon: Vince McMahon is HYPER-competitive. He competes with anyone and there are plenty of stories about this need to compete to go around. Vince isn't afraid of competition, he LOVES competition. This is a man who, by his own admission, used to pick fights with Marine recruits on weekends as a teenager. The situation with during the Monday Night Wars was about surviving on Vince's end. He had no issue with Nitro until they started threatening to put WWF out of business. He's not worried about Ring of Honor or TNA hurting his business because A. They aren't an actual threat to WWE. and B. He loves competition. A good chunk of WWE's young talent has worked Ring of Honor, TNA, or both.
As for 'talent raiding' or 'talent stealing', you can't steal someone who wants to go. If the talent WWE is signing didn't want to go, they wouldn't be signing. Going to WWE has always been the goal of professional wrestlers since the sixties and while it is possible to have a great career without performing for WWE, it's also true that working for WWE, even for a year, can help an indy performer's career and pay.
One of the most absurd things I've heard is how indy guys don't need to go to WWE because they make enough money in the indys and/or money isn't as important to them as performing. Anyone who tells you that they're doing something for the love of performing either has someone else bankrolling them or isn't very good at what they're doing. Making money has always been one of the chief considerations of any professional wrestler or performer, for that matter. Listen to all the old-timers talk about the territory days, being champion was not as important as making money, and that's still true. Yes, the top guys can make a pretty good living, but they are also working for several different promotions at the same time to make that money. Also, many wrestlers have real life considerations, like a family, a house, and paying their bills. It's part of the reason why guys with families will stay in WWE, even if they aren't on top like they were in the indys, because they can support their families and be home more often than working for several promotions at a time allows.
WWE Week in Review April 15-April 21, 2019, Non-Shake Up Edition
Aside from all the Superstar Shakeup action, what happened on the non-main roster WWE shows? Tiffany breaks it down!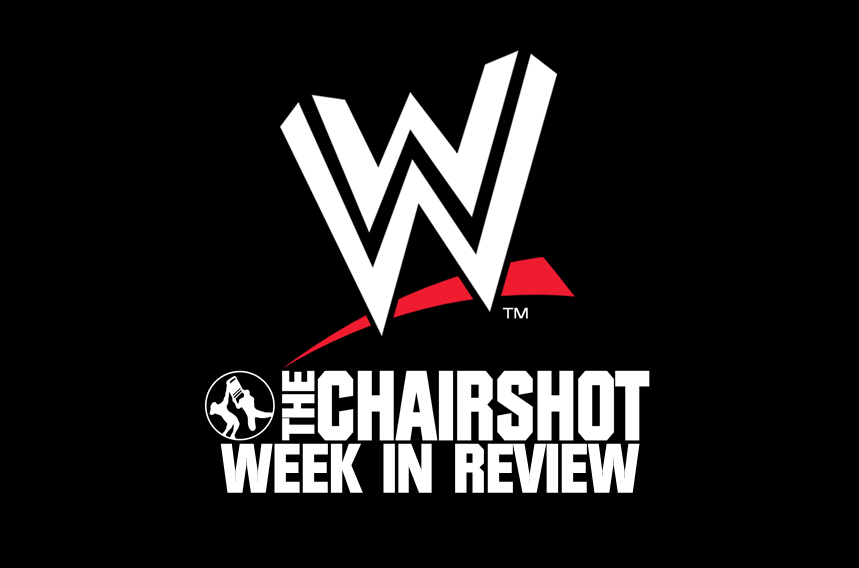 Aside from all the Superstar Shakeup action, what happened on the non-main roster WWE shows? Tiffany breaks it down!
205 Live
Gran Metalik vs Ariya Daivari vs Mike Kanellis vs Akira Tozawa: I have no idea why this match happened since it wasn't an official #1 Contender's match, but that doesn't mean it wasn't a great match and Daivari winning it was a HUGE surprise to me, and I can't wait to see if he can back up his mouth.
The fact that Mike Kanellis had the match won and it was stolen by Daivari revives my hope that Mike Kanellis will be turning babyface, especially since Cedric Alexander has been drafted to RAW. I think Kanellis has what it takes to be a great underdog babyface, he just needs the right opportunity to do it and 205 being without its other TOP babyface is the perfect opening.
Oney Lorcan vs Cedric Alexander: One thing I hated about this match is that the feud leading up to it wasn't given more time. This could've been a blockbuster non-title feud if WWE had left Cedric on 205 Live, where he belongs.
All that said, it was a fantastic match and it gave Cedric the send off from the fans that he deserved, I just wish it hadn't happened because I think the cruiserweight guys are going to get lost on RAW and SmackDown, which is what 205 was supposed to keep from happening.
NXT UK
Gallus vs Humberto Carrillo and Raul Mendoza: This week's shows were done at WrestleMania AXXESS, which is why 205 Live's own Humberto Carrillo got to team up with his sometime partner, Raul Mendoza, to take on Gallus in a fantastic match that actually went better than expected, in my opinion. Matches with wildly different styles can be a slow going trainwreck, but this was a wonderful match to watch and drives home that Gallus aren't just big blowhards, they're also great athletes. I was a little disappointed that Carrillo and Mendoza lost, but it's clear that NXT UK has big plans for Gallus, which I'm thrilled to see unfold.
Kassius Ohno: As someone who HATES it when people mispronounce things, I applaud Ohno for his pronunciation correction. Other than that, I wasn't impressed by the promo. Ohno's playing the role of arrogant heel very well, especially discounting Ligero because someone who has a crazy schedule can't possibly put on a quality match every night, is just silly for an indie guy to say. Guess we'll see what the Leeds Luchador has to say.
Dunne vs Walter: I think I've been pretty clear about the fact that I'm a big Jordan Devlin fan, so I was thrilled with his promo on Dunne vs WALTER. I'm still hopeful that he'll get another title shot, whoever has the title.
Dave Mastiff vs Kona Reeves: This was an odd one because Kona Reeves hasn't exactly been a NXT mainstay since his debut and his job this week seemed to be becoming Dave Mastiff's dinner. To give the Keanu Reeves wannabe his due, he did try to compete, but the Black Country Bomber was a little too big for him. Mastiff winning wasn't a shock, but it needs to lead to something bigger sooner or later.
That said, I'm intrigued by the possible Mastiff/Wolfgang feud being teased. A brawl between two huge men, who can move like cruiserweights sounds like a lot of fun.
Mark Andrews and Flash Morgan Webster: So, the challenge has been accepted and we'll get The Flying Welshmen vs Moustache Mountain next week!
Rhea Ripley vs Kacy Cantanzaro: This should've been a great rematch from the Mae Young Classic, instead Kacy got squashed like a bug by Ripley, who seems to have a bigger chip on her shoulder than normal. At least Kacy has a…friend, of sorts, in Piper Niven, who scared Ripley off.
Grizzled Young Veterans vs Amir Jordan and Kenny Williams: Did that just happen?! Did I just watch Jordan and Williams, the most unlikely to succeed tag team get a win, even on a technicality, over the NXT UK Tag Champs? Did that just happen?! It did and it was FANTASTIC! I've become a big fan of Jordan and Williams, and while they didn't get a pinfall victory over the champs, the fact that GYV took the loss rather than be pinned is enough for me! Go Lucky Bad Boys!
NXT
Velveteen Dream vs Buddy Murphy: I think I've said before that I'm not a Velveteen Dream fan, but that doesn't mean I don't think he's talented and he definitely showed it against Buddy Murphy. I was a little puzzled by Murphy going back to NXT and I still am, but it was a great match by both guys and that's really all that matters.
Street Profits vs War Raiders (or whatever they're called): This is another 'What's going on here' moments because the Street Profits haven't been on NXT all that much, but they're getting a title shot next week. I guess the Undisputed Era is going to have to wait for another go.
Johnny Gargano vs Undisupted Era: At least Gargano got the hero's welcome he deserved as NXT Champion. I do like Cole's whining that Gargano got lucky, completely ignoring the fact that he and Gargano knew that they would have to beat the other man twice to win, it was funny, as was Gargano's pointing out that Cole was being an idiot for the same reason. It's nice to have a smart face that can rile up the heel once in a while.
I also liked that we got more signs of unrest in UE with Gargano and Regal stirring the pot. I'm stoked for Gargano vs Strong, especially to watch Cole seethe.
Dominik Dijakovic vs Aaron Frye: There's not much to say about this since Dijakovic hit one move and it was done. The promo was much more interesting given that Dijakovic has Velveteen Dream in his sights.
Aliyah and Vanessa Borne: I love these two because they're so obnoxious, but not in the annoying way the IIconics are and I loved their excuses for Aliyah's loss last week. I can't wait for next week's tag team match since it seems like Candice LeRae seems to finally be being treated as more than Gargano's perpetually worried wife.
Shayna Baszler vs Kairi Sane: This was such a good match and allows Sane to be written out of NXT to got to SmackDown, while maintaining Baszler as a heel. It also paves the way for Baszler vs Shirai by having Shirai by having Shirai save her friend, even if it meant Sane lost any more chances at the title. It was the perfect way to end the Baszler/Sane feud while creating a new feud, so no complaints.
Shield's Last Ride
After six and a half years, two reunions, two betrayal, and twenty-three cumulative championship reigns, the Shield has come to the end of the road…at least for now. Seth Rollins and Roman Reigns are heading to different shows, while Dean Ambrose has chosen to walk away from WWE and find a new path. In honor of the moment, WWE chose to air Ambrose's last WWE match and let the WWE Universe say goodbye to one of the greatest factions in the history of Professional Wrestling.
Advanced Warning: If you haven't figured out that I'm a huge Shield and Dean Ambrose fan, I'm not sure where you've been, but I will be a blubbering mess and this might not be very coherent, but I will not apologize for that.
Elias: Gotta love Elias' never say die attitude towards performing. He managed to throw PLENTY of shade at the Shield and everyone else. Him being a primadonna to Balor about the interruption was fun and we found out Balor can wrestle in a leather jacket, but he still needs a more supportive jock strap. Balor getting the win wasn't a surprise but it was a really great, if odd match due to some spots.
Riott Squad vs Bayley and Ember Moon: God, I'm going to miss the Riott Squad together! Why did WWE have to split them up?! Them 'singing' with Elias was hilarious! The match against Ember and Bayley was great, but I missed what Liv did to get expelled from the match, and costing her team the win. Still, great match and we get to see a great potential team in Bayley and Ember.
Shield Promo: For old time's sake, we got a vintage Shield promo. It doesn't matter what they said, because it was just nice to get that promo.
The Shield vs Drew McIntyre, Bobby Lashley, and Baron Corbin: Well, it's come down to this. After six and a half years, the Shield rode into battle together one more time.
To be honest, this match was too hard to watch. The Shield renewed my active interest in WWE, rather than just half-heartedly watching it when I remembered or not at all. Dean Ambrose has been my hero since I laid eyes on him because he wasn't what I expected a WWE Superstar to look or sound like. I was intrigued and then I fell in love, in a platonic, non-creepy, sense, with him. My online friends will attest to my cheering, ranting, raving, and screaming for Dean when it looked like he was getting gypped by WWE. That renewed interest lead me to becoming a writer about wrestling, something I never thought anyone would ask me to do. The idea that the man that reactivated my interest and love in wrestling is leaving, even if it's just for now, has been hard to take and accept.
That said, it was a great match, with everyone hitting their best moves. The fact that it was about the Shield as team, rather than Ambrose, which lead him to letting Seth get the pin and making the final speech about Roman, Seth, and the Shield, rather than himself, makes me respect Jonathan Good all that much more.
I wish Dean all the best, he's come a long way from his days of nearly bleeding to death for $20 and it looks like he'll have a great future ahead of himself, whatever happens, but I fervently hope that I will see him again in a WWE ring. Thanks for the memories, Dean, and ALWAYS believe in the Shield!
Top 5 Matches: Week Ending 4/21/2019
Andrew brings us the Top 5 Matches of the week! Did you see all of these? Do you agree?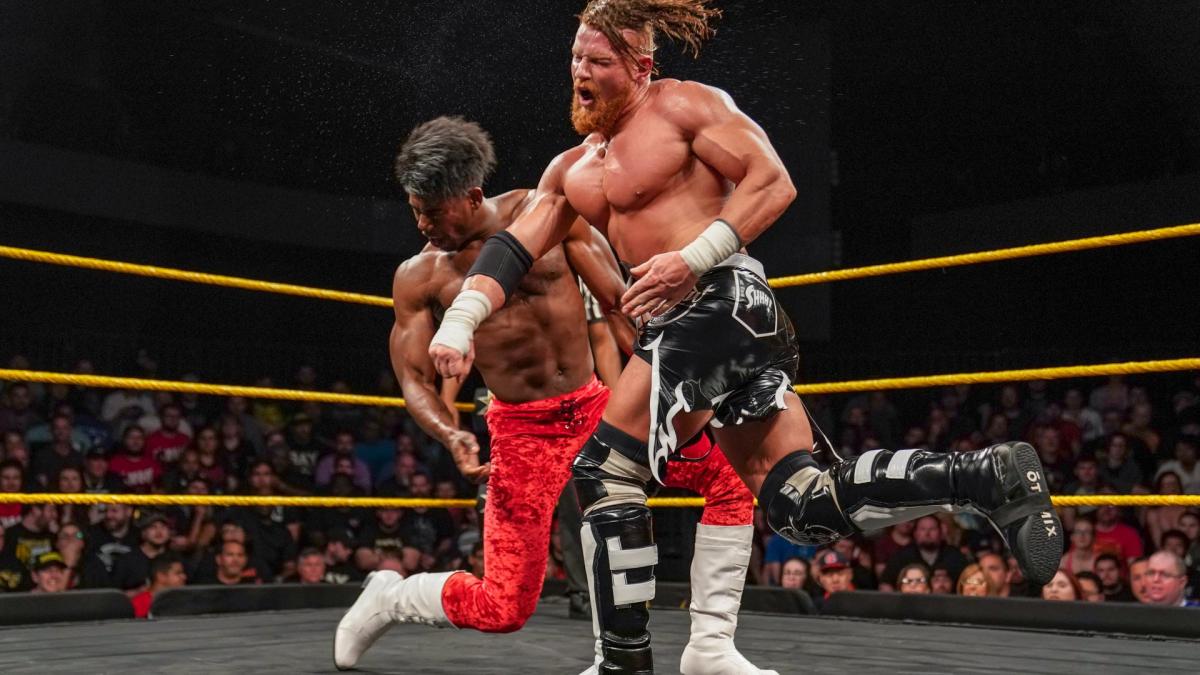 Andrew brings us the Top 5 Matches of the week! Did you see all of these? Do you agree?
No big PPVs, so that means a quiter week? All Japan still has the Champion Carnival, so let's see how much of that dominates the Top 5 matches of the week.
The match that won last week was the rematch that out performed the WrestleMania match, 205 Live: Tony Nese vs Buddy Murphy.
So now let's see if Buddy Murphy can make it two weeks in a row?
5. WWE Raw: Andrade w/Zelina Vega vs Finn Balor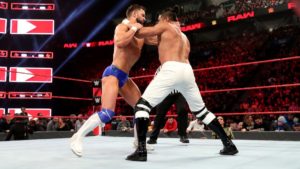 Snippet from Mitchell's Coverage:
Both men are slow to standing but Finn is up first. Vega coaches Almas up but Finn Slingblades him down! Finn grits his teeth to aim at Almas. Almas stands in one corner, and comes back with a handspring PELE! Cover, TWO!! Vega is furious while both men are down. Almas sits up first and drags Finn to a drop zone. Almas climbs up while fans rally. MOONSAULT! But Finn moves, and gets up knees for the second! Finn shotgun dropkicks Almas down! He aims at Almas but Almas trips him up! Almas climbs up from the other side and puts Finn in the Tree of Woe. Almas leaps but Finn gets clear. Finn gets up to kick Almas away! Finn climbs again and fans fire up, COUP DE GRACE misses! Boot feint to elbow! Hammerlock, cradle counter! TWO, but Finn clotheslines Almas out!
Finn gets that knee working but Vega is in his way again. He just FLIES over her! Direct hit on Almas! He puts Almas in but Vega gets away with a headscissor! Almas puts Finn in then drags him up, hammerlock, LA SOMBRA DDT! Cover, Almas wins!!
Winner: Andrade via Hammerlock DDT
Rating: *** 3/4
4. Kento Miyahara vs Yuma Aoyagi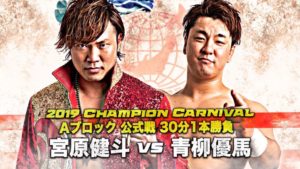 From My Champion Carnival Analysis:
Aoyagi is the last remaining member of Nextream, but Miyahara being the champion…everyone's going to want to step it up. Aoyagi took his sweet time stepping it up though. Kento manhandled him and Yuma looked outclassed for a while. Yuma caught Miyahara in End Game, and that was the closest he was to really winning the match. Yuma managed to pull off his triple German Suplexes, but nothing really looked to point in Yuma's favor. He showed some fighting spirit, but Kento just outclassed him. Good match, but only one real hold your breath moment to suspend disbelief.
Winner: Miyahara via Shutdown Suplex Hold
Rating: ****
3. NXT: North American Title: Velveteen Dream (c) vs Buddy Murphy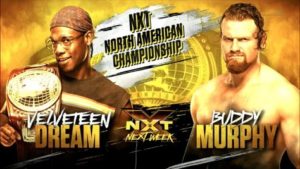 Snippet from Mitchell's Coverage:
 Dream and Murphy realize the other is also in, so they head for each other. Murphy swats at Dream then throws forearms. Dream hits back with body shots but Murphy throws another right. Murphy drags Dream up but Dream fires off! Murphy kicks low, DDT! Cover, TWO!! Dream survives and fans are loving this! Murphy drags Dream to a drop zone and climbs up again. Dream gets up fast but Murphy shoves him away! Dream gets up again but gets a SUPER Gourd Buster! Murphy adjusts and leaps, sunset flip, but DREAM VALLEY DRIVER! High stack, TWO!! Murphy lives and fans hope they "Fight Forever!"
Dream goes for a corner but Murphy anchors his feet. Dream stomps Murphy out then makes it to the corner. Murphy intercepts but Dream shoves him down. Murphy comes back, tucks Dream in, SUPERKICK to POWERBOMB! Cover, TWO!! Dream survives and Full Sail is thunderous! Dream crawls for a corner but Murphy pursues. Murphy kicks Dream down then joins him on the apron. Murphy boots Dream again, then a LEAPING knee trigger! Dream goes down and Murphy drags his dead weight back up. Champion's Advantage means this has to end in the ring, but the count is at 8! Murphy refreshes the count at 9! He puts Dream back in, but gets a guillotine Famouser! And then another Dream Valley! Dream keeps going, climbs up top, and hits PURPLE RAIN MAKER!! Cover, Dream wins!!
Winner: Dream via Purple Rainmaker Elbow
Rating: ****
Honorable Mentions:
ROH: Bandido vs PJ Black
Winner: Bandido via 21plex
Rating: *** 1/2
SmackDown Live: Finn Balor vs Ali
Winner: Balor via Coup de Grace
Rating: *** 1/2
AJPW Champion Carnival: Yuma Aoyagi vs Atsushi Aoki
Winner: Aoki via Rolling Cradle
Rating: *** 1/2
Shield's Final Chapter: The Shield vs Drew McIntyre, Bobby Lashley & Baron Corbin
Winner: Shield via Shield Bomb
Rating: *** 1/2
AJPW Champion Carnival: Zeus vs Atsushi Aoki
Winner: Zeus via Jackhammer
Rating: *** 1/4
NJPW Sengoku Lord IWGP US Title: Juice Robinson (c) vs Bad Luck Fale
Winner: Robinson via Pulp Friction
Rating: *** 1/4
CHAOS vs LIJ
Winner: Natio via Destino
Rating: *** 1/4
AJPW Champion Carnival: Atsushi Aoki vs Ryoji Sai
Winner: Aoki via Rolling Cradle
Rating: *** 1/4
NJPW Sengoku Lord: Chase Owens vs Mikey Nicholls
Winner; Nicholls via Mikey Bomb
Rating: ***
Impact: IMPACT Tag Team Titles: Eddie Edwards & Eli Drake vs Lucha Bros (c)
Winner: Lucha Bros via Spike Fear Factor
Rating: ***
SmackDown Live: Shinsuke Nakamura, Rusev & Cesaro vs Xavier Woods, Kofi Kingston & Kevin Owens
Winner: Owens via Stunner
Rating: ***
NXT: NXT Women's Championship: Shayna Baszler (c) vs Kairi Sane
Winner: Baszler via DQ
Rating: ***
WWE Raw: Lashley, Baron Corbin & Drew McIntyre vs Roman Reigns, Seth Rollins & AJ Styles
Winner: Styles via Phenomenal Forearm
Rating: ***
AJPW Champion Carnival: Yuji Okabayashi vs Gianni Valletta
Winner: Valletta via Chainwrapped Double Axehandle
Rating: ***
2. Defiant Wrestling Lights Out: PAC vs El Phantasmo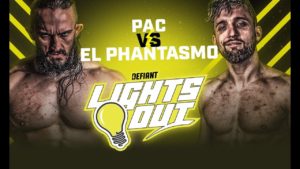 Given that El Phantasmo had some debut videos for New Japan, I was curious since I'm not overly familiar with him. This match was quite interesting. PAC took Phantasmo lightly for a lot of it, and since Phantasmo is known for his high flying, PAC had to keep him in his place.
I can best equate Phantasmo's style to that of Fenix. Lots of bouncing between middle and top ropes and some rope walking. To get to the match, it told a nice story. Phantasmo was proving he could keep up, but once he called PAC a bitch, then we got a nastier PAC. PAC nearly got disqualified holding Phantasmo against the ropes and snapping him in half with the Rings of Saturn. Phantasmo's best shot was a nice transition of moves with a Cobra Clutch TKO, into a Swanton Bomb, into a Best Moonsault Ever…but PAC kicked out.
This was just surprisingly more entertaining than I expected. PAC did pull off the win, but it definitely built to a great match.
Winner: PAC via R.E.D. Arrow
Rating: **** 1/4
1. NJPW Sengoku Lord: IWGP Intercontinental Championship: Zack Sabre Jr vs Kota Ibushi (c)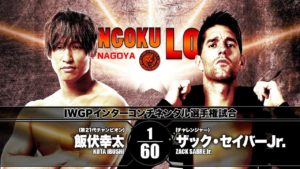 The beauty in this match was that most people end up wrestling a Sabre style match, but Ibushi pushed him out of his comfort zone. Sabre may have been more technical this match, but Ibushi forced him to strike more than we usually see, and that turned out to be Sabre's downfall.
Sabre had a few close moments, but the ropes ended up being Ibushi's best friend. When Ibushi was forced to tap into the "darker" side of himself, Sabre was selling the palm strikes like gun shots. Ibushi even distracted Red Shoes to get in a few more kicks in the corner. All in all, we saw most of the sides of the Golden Star in this match. His resolve, his love for Nakamura and Tanahashi and the attitude he picked up from his admiration of Nakamura.
For the first time they've wrestled outside of tournaments, this was amazing. Previously 2-2, now Ibushi holds the tie breaker and the belt. Naito comes out after to offer himself as the next opponent, Ibushi accepts.
Winner: Ibushi via Kamigoye
Rating: *****
Thoughts:
As much as I was impressed with PAC and Phantasmo, the Ibushi versus Sabre Jr match was beautiful. We all know that these two guys put together great matches, and this was no different.
Remember to vote along with everyone! Make your opinion heard and let us know which match was your favorite! Always Use Your Head!