WWE Hell In A Cell Results: Ronda Rousey vs. Alexa Bliss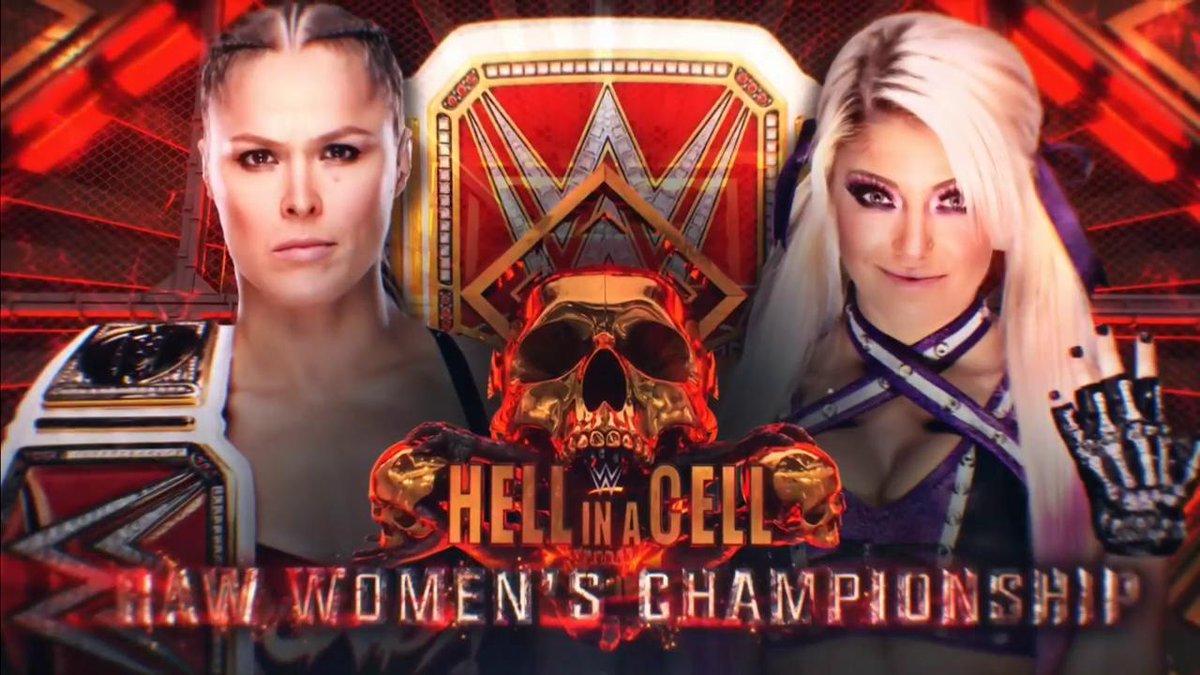 WWE presents Hell In A Cell tonight (September 16, 2018), emanating from the AT&T Center in San Antonio, Texas. Ronda Rousey defended her WWE Raw Women's Championship against former champion Alexa Bliss. Alicia Fox and Mickie James escorted Alexa Bliss to the ring, and "The Baddest Woman On The Planet" was accompanied by Natalya. For the third straight PPV, Ronda Rousey was in a championship match that was the second to last match of the night.
---


Check out Steven Mitchell's WWE Hell In A Cell Results & Report here!
---
WWE Raw Women's Championship Match
Ronda Rousey (champion) vs. Alexa Bliss
Official Result: Ronda Rousey forced Alexa Bliss to tap out to her armbar to retain the championship.
Matador defense by Ronda

➡️ https://t.co/ePt5TzD6sU pic.twitter.com/xrwRyTYPxb

— TDE Wrestling (@totaldivaseps) September 17, 2018
---
Join the discussion on Twitter using the hashtag #UseYourHead!
---
From Mitchell's WWE Hell In A Cell Results & Report:
Alexa keeps Ronda grounded, then bumps her off buckles. Alexa stomps another mudhole into those ribs, then drags Ronda up. Ronda fights back while Alexa is up top. Ronda climbs up to join Alexa, but Alexa resists the superplex. Alexa uses those body shots to escape, then tires a bomb. Ronda fights out of that with a punch and a kick, but then Alexa trips her up! She's in a Tree of Woe, and Alexa dropkicks the ribs! Cover, TWO! Alexa is furious as she puts Ronda in the abdominal stretch again. Natty and the fans keep rallying, and Ronda gets out. Ronda rolls but Alexa dropkicks her down again. Alexa rams Ronda ribs first into buckles! Then Alexa pulls Ronda against the post! She stops at 4, to pull again, and stops at 4. But then Alicia and Mickie get cheap shots in!
Natty snap suplexes Alicia, but Mickie is still in action. Ronda counters and then throws Mickie into a post! Ronda runs, double crossbodies take both Ronda and Alexa out! However, Ronda's ribs make it all the worse for her. Alexa crawls over, drags Ronda up, but Ronda small packages! TWO, but backslide, TWO! Alexa kicks the ribs yet again! Alexa keeps hitting the ribs, and then laughs at the wounded Ronda. But that pisses Ronda off! Ronda powers up, gut wrench powerbomb!! Ronda can't cover, her ribs hurt so much. But she powers herself, ready for more. She gives Alexa a taste of her medicine with all those body shots. Then she throws Alexa by an arm-drag, only to run into a mule kick. Ronda backs off from rib pain, but is ready for Alexa! ROWDY SLAM! And then, once again, ARM BAR! Alexa taps, Ronda wins!
News From Cook's Corner 3.8.21: Explosions R Us
Cook brings us all the explosive news! Big, small, literal, figurative…an explosion is an explosion…right?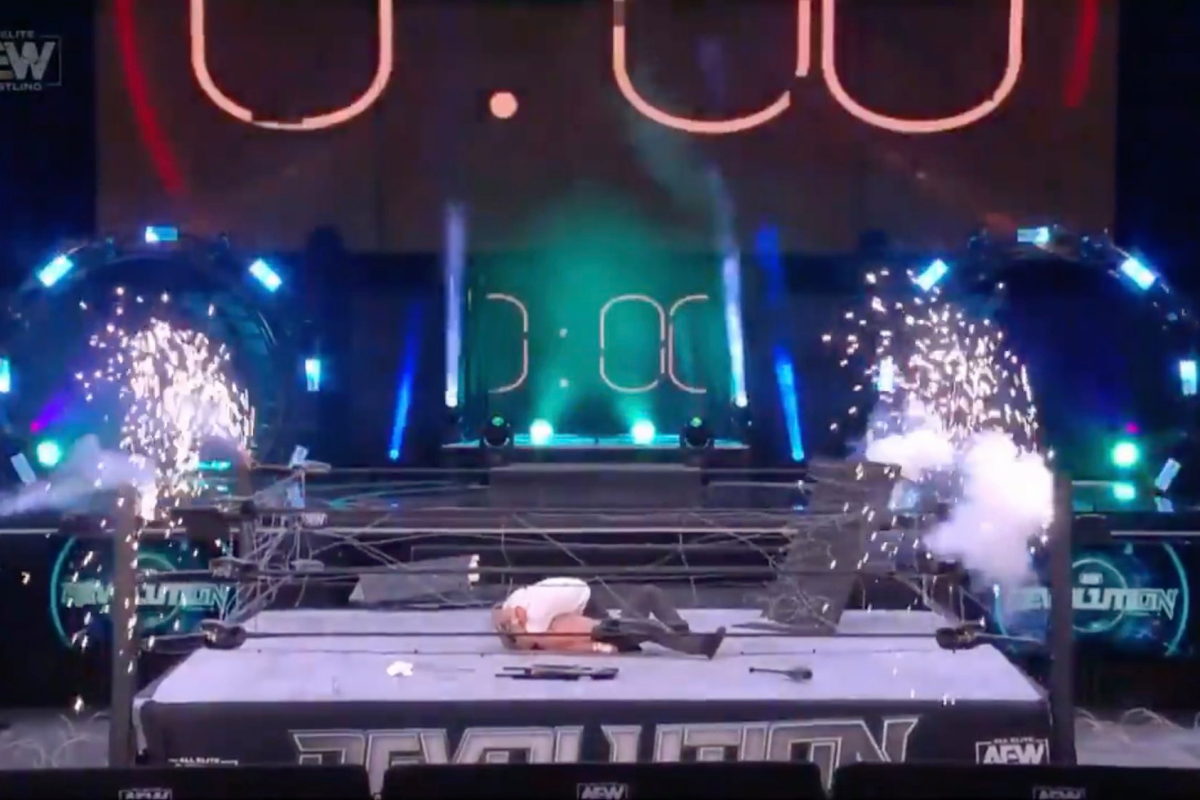 Hi, hello & welcome to News From Cook's Corner! So much going on in the world of wrestling this week that it's tough to keep track of it all. We do our best here, and pretty much anything I don't cover here is covered in a column or podcast here at the Chairshot.
I would say that the rest of March might be a bit busy for me due to college basketball, but the Louisville Cardinals men's team probably has two games left at most. One ACC Tournament game, then one game in whatever other tournament they make. Fun! At least the women should be able to make a pretty good run, and that won't affect things too much. Especially since I'm cutting back on the drinking and also not watching games out of the house anymore.
I might actually be productive this March! That'd be nice. Let's be productive and go through the news!
Was There A Revolution?
Yes there was! I was working during the first part of it, but we definitely need to talk about some of the major happenings of this show…
Hall of Fame Worthy Signing = Christian Cage
I'm never really a fan of hyping up surprise signings for major shows. Everybody gets their hopes up to the point where unless it's Ric Flair somehow in his prime again it ends up being a disappointment to most people. Pretty much every WWE Hall of Fame level talent not doing anything right now tried to make us think it was them on social media. It ends up being Christian Cage, complete with TNA theme song.
Definitely two schools of thought on this one. Christian has a lot of admirers that were happy to see him return at the Royal Rumble. They then wondered where he went afterwards. It makes sense. Christian had to leave WWE in the mid-2000s to get a real chance to shine as a main event level star. Now, he has to leave WWE again to get a real chance to end his career on his terms.
Then there are those out there making the TNA comparisons. It's a lazy talking point, but you're not going to get people off of it once it starts. As long as Christian adds to the shows and doesn't detract from them, I don't see the issue. I also think he's worthy of being in the WWE Hall of Fame, so I can't accuse AEW of false advertising here.
It has to be asked, though. How did WWE let this happen? How did they not make sure Christian was locked up after the Royal Rumble? Booking Edge & Christian against Roman Reigns & Jey Uso, or Jey & a returning Jimmy Uso, seemed like an obvious & logical way to keep the Edge/Reigns story moving. Seems like a missed opportunity for them, but I'm guessing that Vince McMahon doesn't see it that way.
Ethan Page Returns From The Dead
It's happened before. Allie died in Impact's Undead Realm, then re-appeared in AEW. Now it's Ethan Page. Maybe it's a Canadian thing? Page appeared in the Face of the Revolution ladder match, having a good performance but coming up short to Scorpio Sky. Page is a good talker and a solid in-ring talent, hopefully he won't get lost in the shuffle here.
Maybe he could form a team with his brother Adam Page. I just hope John Silver doesn't get confused now that there are two Pages. Actually, three when DDP is around.
Double or Nothing announced for Sunday, May 30
It'll be AEW's second straight Sunday PPV event, which Tony Khan says he'll only try to do on three-day weekends going forward. To which I say "What in the blue hell is a three-day weekend?" Must be nice! DoN will be going head to head with the Coca Cola 600, but apparently NASCAR has fewer crossover fans with AEW than boxing or UFC.
One bad exploding ring ruins the night
It's a shame, too. The inner blood mark in me was enjoying seeing the various clips of explosions & barbed wire & blood and all that stuff that "smart" fans are supposed to act like is garbage. What can I say, I'm a sick fuck. I don't need to see the blood & guts every week, but there's definitely a time & place for it. Kenny Omega & Jon Moxley's time & place was on Sunday night, and it seemed like a pretty exciting time for all involved…up until the finish.
According to AEW, this is the ring being "blown up".

You can recreate this with a few sparklers in the safety of your living room #AEWRevolution pic.twitter.com/CUbVuknBb7

— Wrestle Critic (@WrestleCritic) March 8, 2021
We all know how these things work. Opinions on wrestling matches & shows are largely based around the finish. A good finish can make us forget a match sucked. A good main event can turn a thumbs down show to a thumbs up. On the other side of the spectrum, a bad finish can turn us against a match, or against an entire show.
AEW Revolution would have been more well received had the closing explosion not been a dud. They should have just started firing off the explosives used for Cody's entrance again, that could have covered the ring stuff up. All it takes is one bad explosion to make people forget three & a half hours.
Maybe the moral of the story is to not have your show end with an explosion, but I don't want to entirely dissuade future pyromaniac wrestling promoters.
Is the "Wednesday Night War" Over?
Speculation is rife that NXT will be moving to Tuesdays in April, with the first Tuesday episode coming two days after WrestleMania. The idea of NXT switching nights has been talked about for the past several months now, and the rumors really picked up when it was announced that NBCSN would be closing up shop and some of their main properties would be moving to USA.
So Wednesday Night Hockey is a bigger deal than I thought it was. Who knew? That's what I get for sticking with Fox Sports Tennessee coverage of Nashville Predators games.
Nothing has been officially announced yet, but apparently William Regal has a "landscape changing announcement" scheduled for this week's NXT episode. Could be it. Could also be an announcement that they're going to put security guards in the NXT parking lot so people don't get beat up. Ya never know.
I'd like to wait until everything's official until we start speculating on the fallout, but I do get the feeling that AEW won't see as big an increase in viewers as you might think. I tend to think that wrestling fans that wanted to watch AEW on Wednesday night were already doing so. Maybe there's some NXT viewers that haven't checked out AEW yet, and maybe some of the holdouts in that older demo are swayed by AEW bringing in more people in their age group, but I'd pump the brakes on any idea of Dynamite getting those Raw ratings numbers.
NWA Update
Last week we knew that the NWA was holding tapings from March 21-21. We now know that the March 21 show will air on FITE, is called "Back For The Attack", and will cost viewers $19.99. We also know that NWA Powerrr will be back airing regularly on Tuesdays at 6:05 starting on March 23, and will be available on FITE "via a low-cost subscription bundle".
It's obviously risky putting all of your content behind a paywall. You can't even find the old episodes of Powerrr for free anymore. The idea seems to be that there are enough people that enjoyed what the NWA was doing pre-pandemic that a pretty good number will be willing to fork out whatever price it is per month to keep taking the ride. FITE has been a reliable streaming platform in my experience, so if you're going to try something like this they're probably the best bet. It definitely helps increase FITE's presence to add "exclusive home of the NWA" to their portfolio.
In other NWA-related news, Serena Deeb, AEW roster member & current NWA Women's Champion, recently had her left knee scoped. The Internet tells me that recovery from such a procedure takes approximately six weeks, so Deeb might not be available to work the coming TV tapings. They could use those tapings to build up a challenger for her, which I figure they will since taking the title off of her in the boardroom wouldn't make too many people happy.
Then again, Serena said she'd be back "before you know it". Theoretically she could return on an episode taped in advance and we wouldn't know it if there were no spoilers!
Joey Ryan Almost Got Back In The Business!
It was close! There was a show scheduled to run in Knoxville, Tennessee on March 20 called "Wrestling For Women's Charity". Sounds innocent enough, right? They posted their info on the social media with the venue address, ticket prices, streaming details, covid protocols (which, by the way, some of you Southern promoters seem to be doing a pretty poor job with your protocols from the clips I've seen. Not naming any names, but pretty much any show south of Kentucky with a recognizable star looks like a virus pit.), and the usual stuff. Of course there was a show poster, and one of the wrestlers on it just happened to be one Joseph Cornelius Meehan-Ryan.
This obviously got some attention, and the Internet started doing some digging around. What they found out was that the event was being run by Bar Wrestling, which is the fed that Meehan was running in Southern California prior to #SpeakingOut. Apparently the wrestlers involved didn't know about this, and started pulling out of the show. FITE, who was mentioned by the show as their streaming partner, said they wouldn't be airing the show. Tony Khan said that the AEW wrestlers wouldn't be participating, but offered to donate to the chairty. Then, Khan wondered if there was actually a charity, considering who was involved.
There was a charity! Since Joseph Meehan-Ryan claims to have found God since the fallout of #SpeakingOut (who apparently has commanded him to sue his fellow wrestlers), he was going to divert money to Project GRL, part of Joyce Meyer Minstries' missions arm. In case you're like me & wondering who Meyer is, she's one of those televangelists that flies around in private jets & owns several homes funded by the people sending her money for Jesus. It seems like a pretty lucrative deal if you can make it work.
The show was cancelled, but whoever was running the Twitter account had to get in one last shot:
"We apologize for riling everyone up. It is clear that we're in over our heads. We'll say that everybody booked was fully aware of all details including going through AEW's 3rd party booking system for talent. Rather than put talent in a tough situation, we've canceled the show."
Throwing everybody under the bus, which is 100% on brand for Meehan. People wonder if he'll use this as more evidence that he can't make a living and file some more lawsuits. Me, I'd prefer that he find another way to make a living, but I know that we'll be dealing with this guy trying to do things and suing people for years to come. Wrestlers will just have to be more careful about who they accept bookings from, which is probably a good idea anyway.
Another Week, Another Lawsuit
Last week, we talked about Kelly Klein filing a lawsuit against Ring of Honor, Sinclair Broadcasting Group & others concerning her alleged mistreatment by the wrestling promotion. This week, it's her partner in crime (are they still partners in areas other than crime? No idea.) Joey Mercury. We mentioned how one of the interesting parts of Klein's lawsuit involved challenging ROH's classification of her as an independent contractor, and Mercury's lawsuit addresses that as well.
Mercury claims that he was forced to resign, ROH refused to respond to his claims of an unsafe work environment, and that he was paid less than others with his job positions. He also says that he was misclassified as an independent contractor rather than an employee, which he figures he was since he was a producer.
I look forward to discussing another ROH lawsuit next week. Has Joseph Meehan-Ryan sued them yet? Surely he's got some beef with how he was used there way back in the day.
No More Thigh Slaps!
Vince McMahon has had enough. He has stands all he can stand until he can't stands no more. All these young kids slapping their thighs and legs when they kick somebody. No more! There are signs backstage now telling the wrestlers not to slap their leg when kicking.
Many people will be happy with this, as they feel that thigh/leg slapping is one of the things killing the business. It's never really bothered me, but I might just be used to it. I will say that leg slapping got Yoshihiro Tajiri over with me way back in the day. Did anybody ever time it better?
Welp, that's all the damage I can do here this week. Make sure to keep coming back to The Chairshot for your best show coverage, wrestling opinions and NFL quarterback top 5 lists! Thanks for reading, and keep your stick on the ice.
Mitchell's Talking Smack Report! (3/6/21)
Ding Dong, HELLO~! Talking Smack!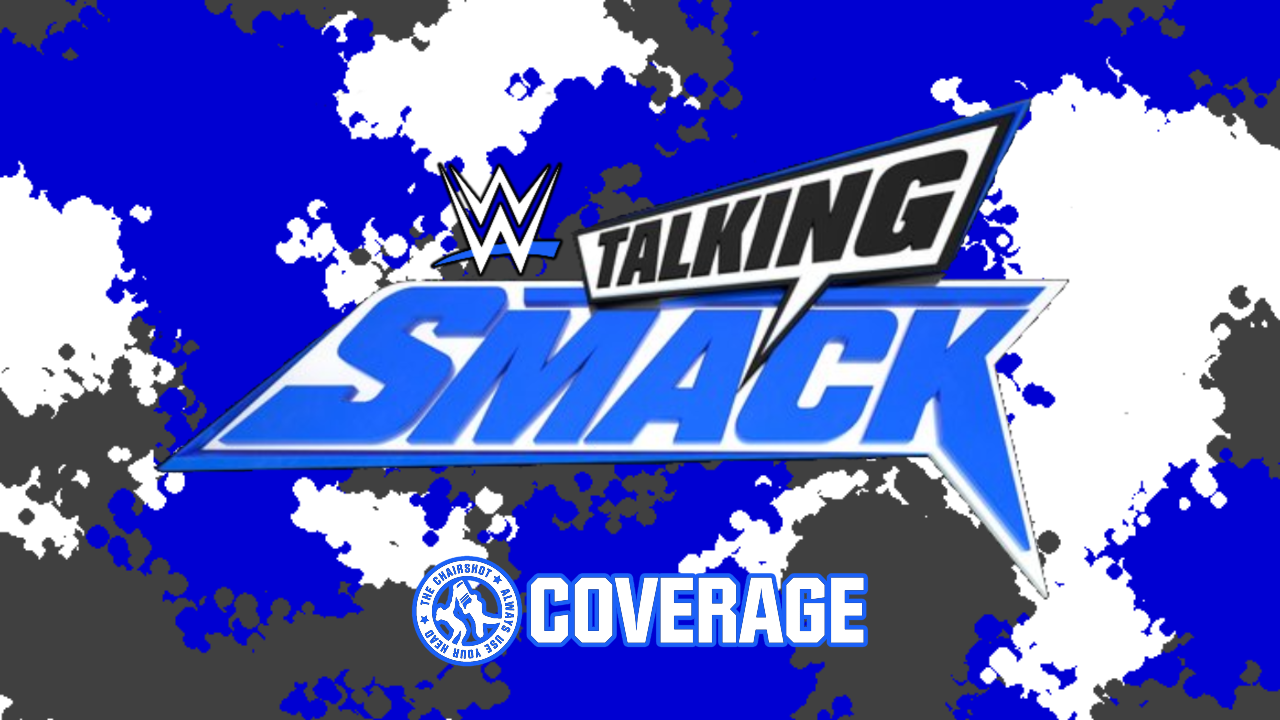 Talking Smack has the Role Model and royalty!
WWE is heading for the Fastlane, but DING DONG, HELLO~? There's Talking Smack first, with Bayley, the Mysterios and APOLLOOO~!
Kayla Braxton welcomes us back to the show!
We're on the Road to WrestleMania but we're going to stop at Fastlane first! And speaking of Fastlane, we saw Daniel Bryan celebrating atop the Steel Cage after defeating Jey Uso! That's because we will now get Bryan VS Roman at Fastlane for the Universal Championship! Does Paul Heyman have any comments? Kayla is for one proud of Bryan. Kayla congratulates her on her bias. He does have a bias, too, but that doesn't make him wrong.
"Daniel Bryan is a very interesting human being. He has everything a man could want: he has a wonderful wife who loves him; he has healthy children who adore him; he has the WWE Universe which appreciates his unique worth ethic; and now, he has a path to the main event of WrestleMania. Everything a man could want. Except what Daniel Bryan doesn't have is a strategy to beat Roman Reigns! That's where Daniel Bryan comes up short." Heyman assures us, as unique of a human and as much momentum Bryan has right now, Bryan is NOT man enough to beat Roman Reigns. He is not capable of taking Roman out of the main event of WrestleMania. All Bryan has now is "an ass-kicking at Fastlane that Roman Reigns will bestow upon him as a message to Edge."
Ladies and gentlemen, that is not a prediction, that is a spoiler. The Tribal Chief, the sun around which the WWE Universe shall continue to orbit is the Reigns-ing, Defending, Undisputed, Uncontroverted, WWE Universal Heavyweight Champion and T H E main event of WrestleMania, Roman… Reigns…! Kayla says we'll on the Talking Smack after Fastlane. Heyman says that shouldn't be her comment. She asked a question, he answered it, that's it. Stop flirting with him, he's married! But Kayla ignores Heyman and says we have our first guest, who has her own hit talk show, DING DONG, HELLO~! It's the longest reigning SmackDown Women's Champion ever!
Bayley joins Talking Smack!
Heyman greets Bayley with a kiss to her hand and she swoons?! Bayley says she'll show Kayla has it was, and kisses Kayla's hand. Kayla just says thanks, and Bayley can't believe it! This is why Bayley is here! She needs to improve this show! Heyman thanks Bayley for the honor of kissing her hand. Bayley thanks him for the honor of having her hand kissed. But Bayley is here because she'd love to take over. What? Well Bayley is the host of the newest and the best WWE talk show right now, and Heyman agrees. It is T H E E Best! Bayley feels she could add more flavor and entertainment, and viewership, to this show. If Kayla would like, she could be competition in the ring while Bayley joins Heyman here.
Heyman says Kayla did great on Raw Talk. From what he heard, he doesn't watch. Bayley takes a seat and complains about the chairs. Kayla says she did like Raw Talk because at least she had a cohost who understood what it was to be a cohost. Seriously? Bayley says she went on Raw Talk when this is her show? Bayley would never do that as THE host. Heyman says, "Ding dong, Hello!" Kayla is a ding dong, and he says hi to Bayley! Kayla brings up the Sweet Tweets and how the last one was apparently sour. What was it? Well depends, was Kayla "WWESuperfan?" But Bayley is wearing her host sweater, glasses and watch, so maybe she'll ask the questions here. Oh really? Well fine. Ask Kayla whatever you want. She can't say she'll answer but she'll try. Well that doesn't seem fair.
Bayley takes her glasses off to get serious, and she asks if Kayla was WWESuperfan, who tweeted that Ding Dong Hello is "an abomination, the worst thing you've ever seen in your life," because that's what that person said! Kayla can get in the cage and meet Bayley right here and now. Kayla confirms she is NOT WWESuperfan, but whoever they are, she applauds them. Kayla will retweet it. Oh, okay, fine then. Bayley breaks her glasses! Is she upset? No. Then will Bayley ask more questions? No, Kayla can ask. Kayla asks who Bayley would have as a guest, in the whole world, for Ding Dong Hello. The whole world? A line is forming from Jerry Seinfeld to Ellen to Wendy Williams to Ricki. Remember her? Ricki Lake! Bayley was trying to spark Kayla's brain there. Does Kayla do homework?
Heyman says Kayla is too busy going to Raw Talk on Mondays. Well, Kayla wants to make sure Bayley knows that Twitter account, EllenDegeneres1, is not the REAL Ellen. Yes, she is aware, because THE Ellen could just text Bayley. DING DONG, Bayley's a STAR! Kayla agrees, Bayley is a star, and Ding Dong Hello is a show. Wow, how rude. Kayla invited Bayley here! Well Bayley said she wants to take over so… Well now Bayley broke her glasses because of Kayla. Heyman apologizes on behalf of Kayla because she has no conscience. She cheats on Talking Smack with Raw Talk. He is protecting Bayley from Kayla, the "wanton pseudo-journalist who is besmirching" Bayley's reputation.
Bayley agrees, there should be brand loyalty. That is why Bayley is the Role Model and gets the Sweet Tweets, and still runs the show! So Kayla should get off the show so Bayley can run things with Heyman! Well Kayla says not anyone can do this job, it's not that easy. Bayley breaks what's left of her glasses and then takes her leave. Heyman asks what's going on with Kayla today. Kayla was just giving Bayley a chance to step up and prove she is a good host. Heyman agrees, Kayla should test Bayley in all aspects, and that includes getting into the ring.
Heyman claims that before the show started, Kayla got all snotty about Bayley and said she'd slap Bayley around in the ring. Lying is never good, Paul. Then Kayla needs to stop lying. Well this isn't a lie, our next guests are Nigerian royalty and his royal guard!
Apollo Crews (and the Elite Guard) join Talking Smack!
Heyman asks if it is okay to shake Apollo's hand. Apollo tells his guards it is okay, he is engaging. He and Heyman are okay. How is Heyman? He is doing great, now that he is in Apollo's presence. Apollo thanks Heyman and asks if Kayla is happy to be in his presence, too. She is! She is very impressed with seeing Apollo's change. How did it feel to finally introduce "the real" Apollo? It felt fantastic. This is who Apollo is and who he has been, but he's hidden it for so long. As he said on SmackDown, Apollo was embarrassed to embrace his roots because of how he'd be made fun of by the other children. They'd call him names, not embrace him, so he couldn't embrace his heritage.
But now, it feels good to be who he is. He loves it! He loves dominating people like he did Big E. Big E is home, and if he were smart, he'd stay home. But at the same time, Big E has something Apollo wants and that is the WWE Intercontinental Championship. Big E must come back and Apollo will hurt him again. Apollo's birthright is to be a warrior, like the Tiiv people. Apollo will live up to his family's greatness by taking the championship. Heyman says question asked and question answered, so next question. Kayla brings up how Apollo had chances to take the title and failed, so how- Apollo laughs and says he never failed. That loss was not a failure.
The difference is now, look at who Apollo is. Big E doesn't want to face Apollo after seeing what Apollo is capable of. The world knows what Apollo is capable of! And Big E will learn that again. Apollo wants Heyman to relax, they are fine. Heyman says he is very impressed by everything Apollo is doing physically, strategically, and in action. Apollo says Heyman understands. Big E will understand. Does Kayla understand? Is she really hearing what he is saying? We're just a week away from Big E's return, and Apollo will be waiting. Then Apollo will show the world just who good, how GREAT, Apollo really is. Apollo shakes Heyman's hand again and Heyman says he is in awe.
Kayla thanks Apollo for his time, and Apollo leaves with his guard in toe. Kayla will say that the last few times we've seen Apollo on Talking Smack, and Heyman's motivational speeches have perhaps helped light that fire in Apollo. Well like most women in Heyman's life, they don't give him credit when it is due. But Heyman has been right about great talent for over 34 YEARS. With that credibility, Heyman assures all of us that Apollo Crews is a main-event talent. "He's going straight to the top. Apollo Crews, 2021, will be a top tier WWE superstar, and that's also not a prediction. That's a spoiler." Kayla doesn't agree with the tactics, but she knows Apollo is someone to watch out for. But finally, a duo to watch for, it is the Mysterios!
Rey & Dominik Mysterio join Talking Smack!
Kayla thanks them for being here. Rey and Dom have found themselves in an "interesting" situation with Alpha Academy, Chad Gable & Otis. They have a target on the Mysterios, but do they know why? Heyman speaks up as someone who has known Rey for a long time. It is apparent there is a lot going on. All respect to Kayla, they don't need to be fielding questions. Rey has something he needs to say. So with that, Heyman lets Rey take the floor. Rey says that as we all know, he has been working very hard to teach his son how to be a man. They've been training so hard day in and day out, in the ring, to make Dom the best version of himself.
But on the other hand, Chad Gable is "puppeteering" Otis into doing his dirty work. Chad is making Otis his BITCH! Sorry for the language, but that is the heat within Rey. Rey says it's okay that for the past two weeks, Otis has dropped Rey and used that 300+ pounds to crush Rey's ribs. But that fires Rey up like they wouldn't believe. They have underestimated the Mysterios because Rey has been in the ring with some of the baddest men in the wrestling world! No matter how big, how heavy, how badass, Rey has found a way to take them down! "Chad, Otis, you have no idea the magnitude of the hurricane that's coming your way!"
Rey says it in Spanish, too, that they have no idea what it is to face a Mysterio. But they will feel the power of the 619. With that, Talking Smack closes. Will Rey & Dom have Alpha Academy's number?
---
My Thoughts:
A pretty good episode this week, though I don't remember any of this being advertised last night on SmackDown. Bayley trying to expand as a talk show host was a funny way for her to get on Kayla's nerves. I feel like Bayley should've read some of that supposed mean Tweet on SmackDown to set this up, as she could've said anything today and it would've been what it was. Maybe "WWESuperfan" continues to mean Tweet her and there's some big reveal of who it is, but at the same time, I don't know how that would go. Apollo had a good segment, partially reworking what he said on SmackDown, but maybe a little clumsily. Point is, Heyman got to comment that Apollo is going places, and I don't doubt it.
The Mysterios had a good closing segment, and I like that Heyman helped set it up because of that ECW connection. Rey Mysterio here adds a great bit of heat and depth to the story that had only been told in the ring so far. As I said for the SmackDown article, I am sensing a big stakes rematch of the Mysterios VS Alpha Academy, winners go to Fastlane to face the tag team champions, which might also annoy the Street Profits.