Booking the Entirety of Smackdown 1000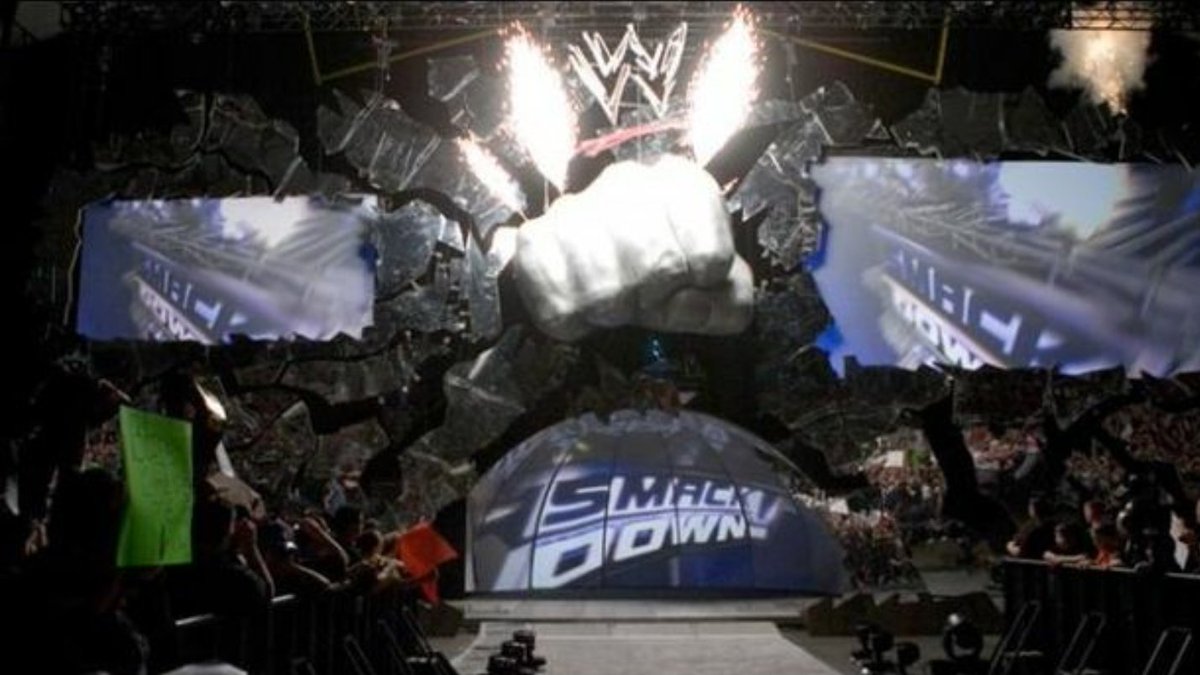 The 1000th episode of Smackdown is this Tuesday and it's been a highly anticipated show for weeks now. The reunion of all four members of Evolution is going to happen and Rey Mysterio vs Shinsuke Nakamura was just announced last week. There's sure to be more returns and surprises so let's see if I can make the most out of those within a two hour show. My goal here is to reminisce on the times and superstars we cherish while still making new stars.
John Cena's Open Challenge
He doesn't currently have a championship but John Cena made his WWE debut as a result of Kurt Angle's open challenge. That's why I would have John Cena open the show with an open challenge to all the current and former stars in the locker room. The man that answers the call is none other than Kurt Angle. When rumors of Kurt Angle returning to WWE started to surface a couple years ago I wanted him to answer John Cena's United States Championship Open Challenge as his method of return. Since that is no longer possible, Tuesday feels like the best way to revisit that historic segment from 2002.
Evolution segment sets up giant main event
For the Evolution segment I'd have all four members go to ring and cut a promo. They would be interrupted by New Day, who would then be interrupted by The Club (Gallows, Anderson, and AJ Styles). All three teams are going back and forth on the mic when the lights go out. Sanity's music hits and they decide they want in on the action. This now sets up the giant 12-man main event: Evolution (w/ Ric Flair) vs The Club vs New Day vs Sanity. Teddy Long can make the announcement of the tag team match because that's what he does best.
Becky Strikes Again
As the segment concludes and is about to go to commercial, Becky Lynch attacks Ric Flair from behind. This is just the next way for Becky to get under Charlotte's skin. Charlotte comes in to stop it but Paige needs to preserve their title match for Evolution. Paige announces that she's recruited a former women's champion to humble Becky. Beth Phoenix makes sense but Molly Holly is more synonymous with the Smackdown brand. We saw Molly return at the Royal Rumble so this isn't out of the realm of possibility. Becky Lynch defeating a legend one on one would further cement her current status as champion.
Evolution (cont.)
During the main event my plan would be for Sanity to win. At Raw 25, the Revival got utterly humiliated by DX so here's a chance to rectify that. If they're not ready to give Sanity that kind of a clean win, Undertaker can cost Triple H and Evolution the match. They're in the middle of a feud and there is no Smackdown celebration without an appearance from The Undertaker.
Eddie Guerrero Tribute
My original plan was for Andrade "Cien" Almas to pay tribute to Eddie but I eventually thought against it since he is his own person. Instead, after a commercial, a video montage should play of Eddie's best Smackdown moments. WWE is usually really good with their video packages and Eddie is one of Smackdown's most significant talents of all time. As the montage fades, Rey Mysterio's music hits to signal his match with Nakamura. Since Rey was his close friend, it would be really special to see some sort of tribute to Eddie on his ring gear or maybe he wins the match via Frog Splash. Perhaps we see Vickie Guerrero play a role in this instead. She's a former Smackdown General Manager so she deserves a spot in the show for multiple reasons.
Samoan Supremacy
I'm not sure if The Rock is scheduled to make an appearance but I need him for this segment. When looking back at the earliest memories of Smackdown, The Rock is all over them. I'd have him come down to the ring and talk about those memories and his legacy – saying it wouldn't have been possible without his Samoan ancestors. That's when Samoa Joe's music would hit. He'd make the obvious remarks of The Rock's Hollywood status and what not. Joe would then go on to say that the reason WWE brought him in was because they were tired of The Rock's and Roman Reigns' bloodline and needed a fresh start. After all, he has been one of main the faces of Smackdown for all of 2018. After another insult to The Rock's family, a fight would ensue which would require both guys to get pulled apart. The Rock could even take a shot at Joe's freshly injured knee before the scrap concludes.
A New Giant Emerges
One of the most iconic moments in Smackdown history is when Brock Lesnar's superplex to Big Show collapsed the entire ring. Since Big Show returned last week, he could stand in the ring while the clip of that match plays on the Titantron. Big Show lost in his return last week so his promo would have a reflective and somber tone. He would have the audience believe that he's about to retire. This would be the show to do it on, after all. However, before Show can conclude his speech, Lars Sullivan debuts. Sullivan declares that he won't allow Show to walk out until he puts him down himself. Lars wins via superplex and a star is born.
Edge and Christian's Cutting Edge Peep Show
I had a few big stars left over and this was the way to squeeze everyone in. Daniel Bryan is a guest on the Cutting Edge Peep Show. Edge and Christian are congratulating him on his recently earned WWE Championship match. Christian says him and Daniel Bryan are similar in the sense that they were once underdogs. Edge says he sympathizes with Daniel because he also had to retire early. Miz is annoyed and decides to crash the party. He cuts the promo of a lifetime of everyone in the ring and puts over Miz TV as the superior talk show.
A certain Rattlesnake in the back has heard enough. Glass shatters. Dads everywhere toss their children in the air out of excitement. Stone Cold Steve Austin is walkin' and talkin' all the way down to the ring. He is clearly fed up. Miz tries to talk over the entrance music and audience ovation to no avail. Austin gives a Smackdown-sized stunner to the Miz and the microphone goes flying. Austin, Bryan, Edge and Christian all celebrate in the ring as Miz lays lifeless. Miz tries to get up toward the end of the celebration but receives another stunner for his troubles. Everyone is happy heading into the main event.
Miscellaneous
The Fist
When lifelong wrestling fans think of Smackdown, they immediately think of the giant fist that used to be centered at the top of the stage. Tuesday is the ideal time to bring it back for one night.
Commentary Team
I'd like to hear some of the voices of Smackdown's past. Michael Cole and Tazz on commentary with Tony Chimel as the special guest ring announcer would be quite the nostalgia trip.
Hardy Boyz vs The Usos
The Hardy Boys are clearly one of the most crucial elements to the early success of not only Smackdown, but the history of the tag division. In a down year for Smackdown, the Jimmy and Jey Uso were considered by many as the MVPs of the brand in 2017. To my knowledge, these pairs of brothers have never actually squared off in the ring. Let's make it happen on Tuesday.
Missed Opportunity
As much as I loved King Booker's return to introduce New Day into the 5-Timer's Club, I wish there would have been a way to save Booker T for Tuesday night.
Opening Theme
I saw a poll going around Twitter asking for everyone's favorite Smackdown opening theme of all time. This got me thinking that it would be a fun idea to open the show with a mash-up of all the past themes and short clips of all the past title sequences edited together. It'll be a quick trip down memory lane to start the night.
King's WrestleMania Rewind: Eddie Guerrero vs. Rey Mysterio (WrestleMania 21)
In the next WrestleMania Rewind, Chris King takes us back to WWE WrestleMania 21, and Rey Mysterio vs Eddie Guerrero in a battle of tag team champions!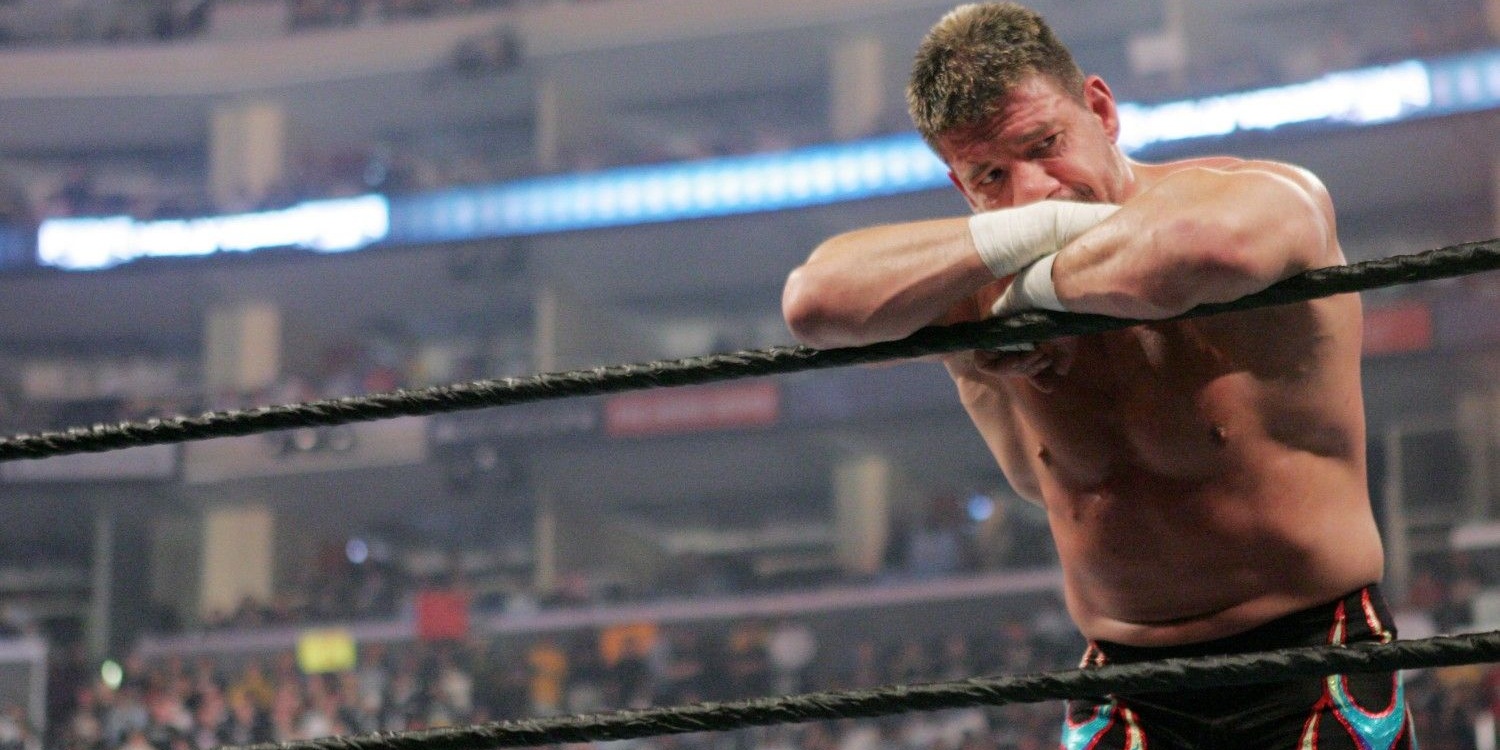 In the next WrestleMania Rewind, Chris King takes us back to WWE WrestleMania 21, and Rey Mysterio vs Eddie Guerrero in a battle of tag team champions!
Chris King is back with his third edition of WrestleMania Rewind. This week he's bringing us back to some 'Latino Heat.' We're rolling back to WrestleMania 21 where Eddie Guerrero faced longtime friend and rival Rey Mysterio.
This would be Guerrero's last Mania match caused by his unfortunate death. Over on SmackDown, Mysterio and Guerrero would become the tag team champions at No Way Out where they defeated MNM.
Chavo Guerrero would get into the head of Latino Heat by making him believe Mysterio was trying one-up his tag team partner. Chavo went as far as to tell his uncle to stop using the Guerrero name.
Guerrero would finally give in to his nephew's manipulation and went on to challenge Mysterio to a one-on-one match at WrestleMania 21. I For the first time in history, both tag team champions would face each other. Guerrero vs. Mysterio was the first match on the stacked card. Both partners threw everything at each other including the kitchen sink in a battle of one-up-manship.  In an incredible high-octane match that saw both superstars delivering counter for counter, Mysterio pulled off the win with a surprise pin roll up.
A few months later, what once was a friendly battle turned into a nasty fight involving the custody of Mysterio's real-life son Dominik Mysterio. After several torturous weeks, both former tag team champions would face off in a ladder match with the custody of Dominick on the line. I forgot how amazing this rivalry was and it's definitely worth a watch. Sadly, we would lose Latino Heat in November of 2005. There will never be another Eddie Guerrero. Viva La Raza!
King's WrestleMania Rewind: Stone Cold VS. Scott Hall (WrestleMania X8)
Chris King is back with another WrestleMania Rewind, looking at the NWO's Scott Hall battling Stone Cold Steve Austin at WWE WrestleMania X8 from Toronto!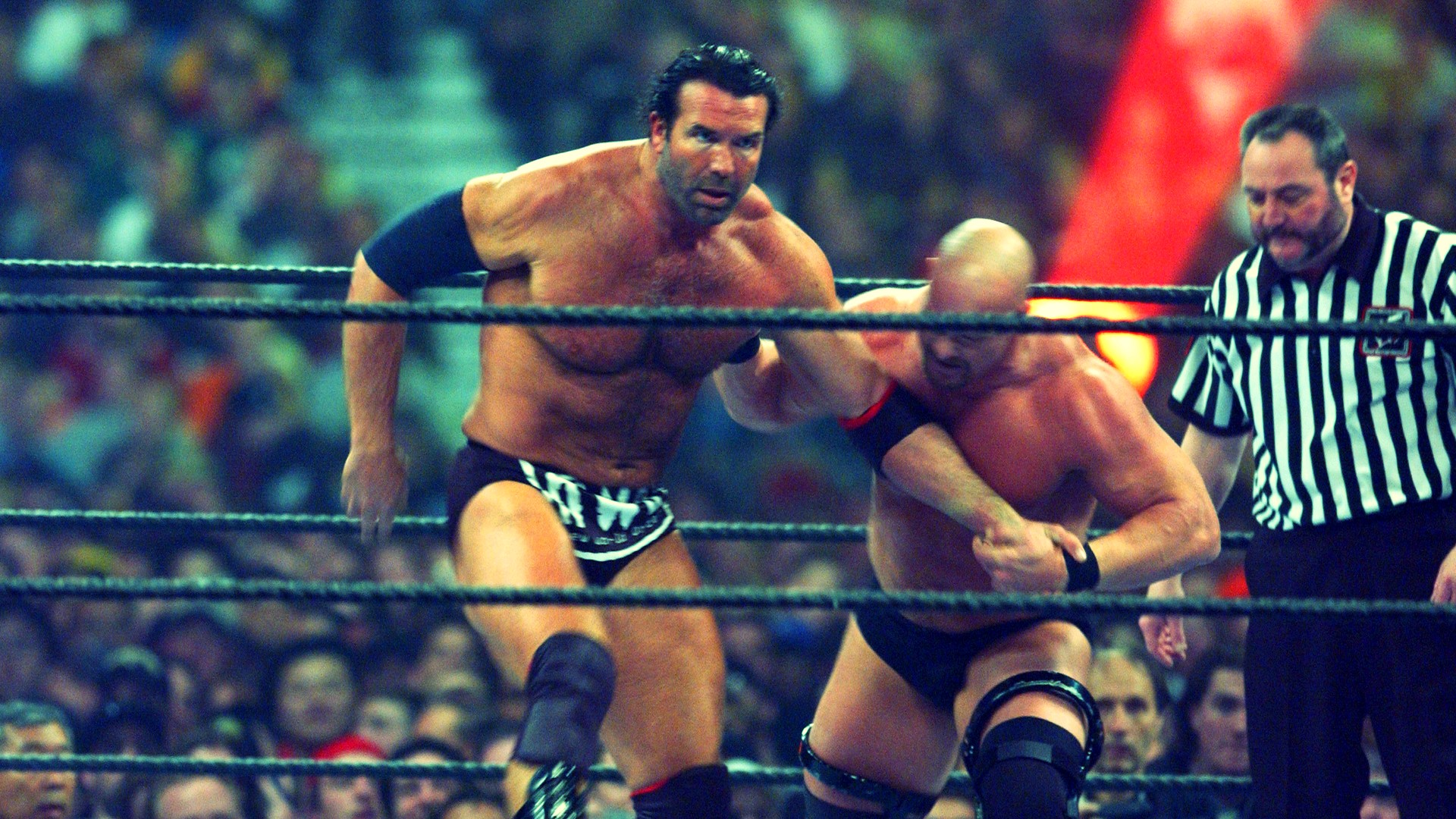 Chris King is back with another WrestleMania Rewind, looking at the NWO's Scott Hall battling Stone Cold Steve Austin at WWE WrestleMania X8 from Toronto!
Chris King is back this week with another edition of WrestleMania Rewind, where he is rewatching all the past Mania matches and feuds. This week you're in for a treat as we look back at 'Stone Cold' Steve Austin vs. Scott Hall at WrestleMania X8.
In late 2001, Vince McMahon bought out his competition WCW and acquired the rights to a plethora of talent including Booker T, Eddie Guerrero, Chris Benoit, and the iconic trio known as NWO. Hulk Hogan; Kevin Nash, and Scott Hall were hell raisers, and what better way to make a name for yourself than take out the two top superstars in the WWE The Rock, and Stone Cold?
The NWO cost Austin his chance at becoming the Undisputed Champion at No Way Out during his match with Chris Jericho. Adding insult to injury, the NWO spray-painted 'The Texas Rattlesnake' with their brand logo just like they did in WCW. As you can imagine, Austin was pissed and out for revenge against the group and primarily Scott Hall.
Hall would challenge Stone Cold to a match at WrestleMania 18. Both superstars beat the living hell out of each other leading up to this highly-anticipated match for who runs the WWE.
The glass broke and Stone Cold made his iconic entrance, and black and white NWO covered Halls' entrance alongside Kevin Nash. With the odds stacked against 'The Toughest S.O.B' could Austin or NWO prove their dominance? Sadly the NWO  broke up that very night when Hulk Hogan came to the aid of his adversary The Rock after their 'iconic' dream match. Stone Cold would ensure the victory with the Stunner. Hall would perform an Oscar-worthy sell over the finisher.
What a time to be a wrestling fan in the 2000s when nothing was impossible for WWE. Who would've thought WCW would go out of business and Hogan would make his long-awaited return to WWE?