Chairshot Classics: WWE United Kingdom Championship Special (5/19/17)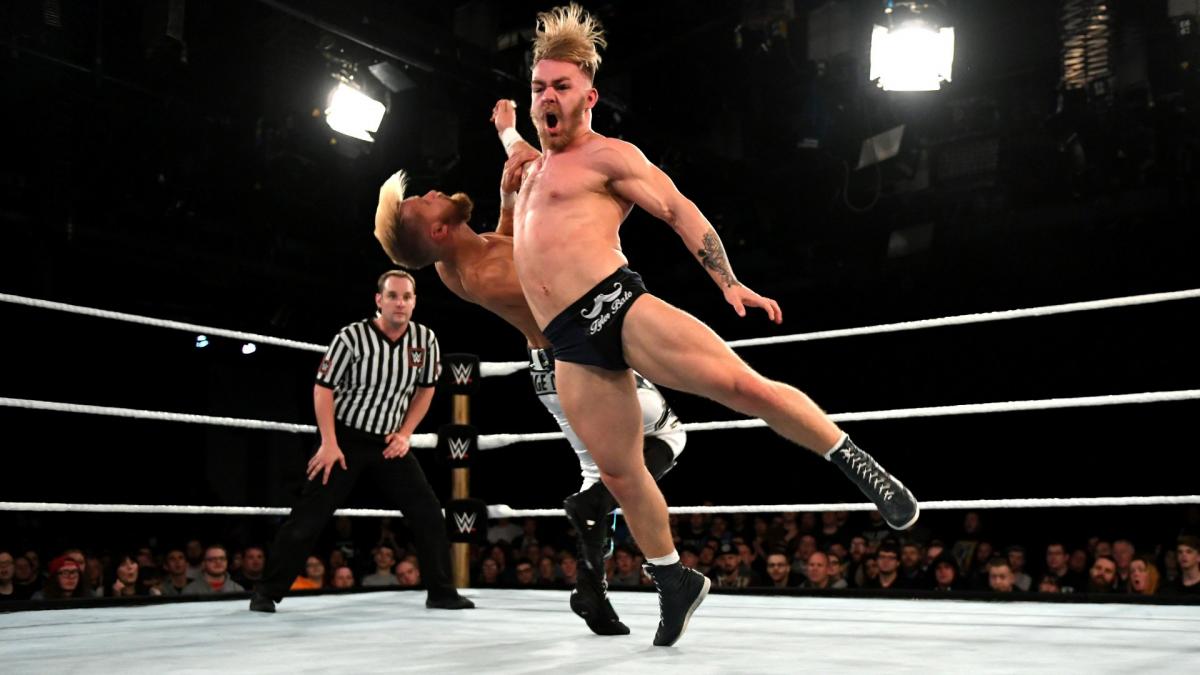 NXT UK will finally premiere next Wednesday at 3PM EST for us here in the United States, so today we're helping to get you ready as we revisit a WWE Network event that features some of NXT UK's top Superstars with the United Kingdom Championship Special! Months after the inaugural United Kingdom Championship Tournament, the WWE looked to keep the momentum of the new division going with this show from Norwich, England that featured new United Kingdom Champion Tyler Bate's first defense on WWE programming! Let's get into the action!
Open: Back in January, the WWE made history by crowning its first-ever United Kingdom Champion. Tyler Bate emerged from a two-day tournament with the title, but the event has also been life-altering for all of its participants. Now, the competitors all have their sights set on Tyler's championship, gunning for Bate at every opportunity to take the spotlight. Tonight, the world is watching a band of unknown UK grapplers, but now they're WWE Superstars with everything at stake.
Match #1: Wolfgang vs. Joseph Connors
Collar & elbow tie-up to begin, both guys jostling for position, Connors with a go-behind, but Wolfgang counters to a side headlock. Connors reverses out to a wristlock, The Regulator works back to his feet, gets caught in a side headlock, but pushes Connors off to the ropes. They collide shoulders and neither man budges, Connors goes back to the ropes, Wolfgang drops down, pops back up with a leg lariat, then shoots him to the ropes for a back body drop. Connors puts on the brakes and clubs him with a forearm, The Regulator absorbs it, ducks another shot and drills Joseph with a back elbow. Connors staggers to the corner and Wolfgang measures for a splash, Joseph side-steps it, hooks him for a suplex, but it's blocked.
The Regulator delivers a delayed vertical suplex of his own, covers for a 2 count, scoops Connors up for a body slam, then looks to go to the high-rent district. Connors knocks him to the floor with a forearm, Wolfgang hits his head on the apron coming down, Joseph builds a head of steam and scores with a baseball slide. He drives Wolfgang spine-first into the apron, drapes him across it to fire away with elbows, rams him chest-first off the apron, then slingshots in with a splash for 2. Joseph mocks The Regulator's howl, corners him and unloads with lefts and rights, drags him under the bottom rope in the corner, then wrenches Wolfgang up against the ring post. Connors slides into the ring, delivers a basement dropkick to drive Wolfgang back into the post, rolls out to retrieve him, tries to drag The Regulator up and gets pushed off to the ropes.
Wolfgang surprises him with a knee to the breadbasket, sets for a short-arm clothesline that's off-target, Joseph plants him with a release back suplex, goes into a lateral press and gains a near fall. Connors fires off right hands to the rib cage, slaps on a grounded abdominal stretch, releases the hold and cover for 2, then goes right back to it. The Regulator finds his footing, Joseph goes to the midsection with a kick, attempts to whip him to the ropes, Wolfgang reverses it and sends Connors hard into opposite corners. He elevates him with a back body drop off the rebound, lines Connors up for a splash in the corner, climbs to the top turnbuckle and connects with a double axe handle, but still can't put it away. Wolfgang looks to ascend the corner again, changes his mind and lifts Joseph for a fireman's carry slam, Connors fights it off catches The Regulator walking into the corner with a kick, then hops to the 2nd rope.
He comes off with a crossbody, The Regulator catches him in mid-air with a codebreaker, Connors just barely kicks out at 2 and Wolfgang goes back upstairs. Connors wisely rolls out to the apron, The Regulator drops back to the mat in pursuit, Joseph slingshots in with a flatliner for a near fall, continues to work over the abdomen area, Wolfgang pushes him away, presses Connors over his head, but can't hold him up. Joseph counters a right hand and delivers a sit-out spinebuster, still can't seem to finish it off and goes right back to hammering away at the ribs. He looks to the corner and climbs to the 2nd rope, comes off and gets split in mid-air by a spear, The Regulator heads up top now, connects with The Howling and that's she wrote.
Winner: Wolfgang (The Howling)
Match #2: TJP & The Brian Kendrick vs. Dan Moloney & Rich Swann
Moloney & Kendrick will kickoff the action, The Man with a Plan tries to get Swann into the ring, Kendrick nearly ambushes Moloney from behind, but gets caught in the act. The Man with a Plan quickly surprises Moloney with a kick and corners him, Moloney powers his way out, Kendrick sends him back in, then chokes him with his boot. He hooks on a wristlock, mocks Swann and makes a tag, TJP snapmares Moloney over, scores with a basement dropkick, then continues to taunt Rich. Tag back to Kendrick, The Man with a Plan grabs a double underhook, quick tag back out and The Duke of Dab delivers a snap suplex for 1.
Kendrick re-enters the match, continues targeting the left arm, fires off a couple of elbows and looks to hand-off Moloney to TJP. The Fil-Am Flash grabs for an arm, Moloney slips away, TJ ends up pummeling Kendrick's arm, finally noticing Swann & Moloney on the outside to realize what he's done. Kendrick & TJP exchange words, The Man with a Plan tags himself out, Moloney is there waiting on The Duke of Dab, battering him with right hands and driving him head-first off the top turnbuckle. He drops TJP throat-first across the 2nd rope, steps to the apron and drills him with a big boot, comes back inside to make a cover and gets a 2 count.
He makes a tag, hits a double atomic drop with The Outlandish One, they both mock TJP with a dab, then dump him to the outside. Kendrick charges in to help out, Swann splits him with an atomic drop, The Man with a Plan rolls to the floor, Rich builds a head of steam and Moloney launches him over the top with a somersault plancha. He tosses TJP back in and gets a count of 2, sends him to the ropes for a clothesline, The Fil-Am Flash slides under it, Kendrick makes a blind tag, The Outlandish One gets pushed towards the ropes and The Man with a Plan surprises him with a hot shot. He steps into the ring and puts the boots to Rich, hooks him for a snap suplex, hooks both legs for a near fall, then whips him hard into the turnbuckles sternum-first.
The Outlandish One starts to battle back and leaps towards his corner, Kendrick grabs him by the foot to prevent the tag, Swann catches him with an enzuigiri and we get tags on both sides. Moloney comes in with shots for Kendrick & TJP, drives The Man with a Plan into TJ, clobbers The Duke of Dab with a big boot and Kendrick gets spiked on his head in the process, then falls to the floor. Moloney bludgeons TJP with fists, sends him to the ropes and tosses him up for a flapjack, makes a cover, Kendrick slides back in to break the count at 2, but hits his partner on accident. Moloney clotheslines The Man with a Plan to the outside, connects with lefts and rights to The Fil-Am Flash, hits the ropes and Kendrick hooks him by the foot to create a distraction.
TJP makes Moloney pay with a spinning back kick, peppers him with punches, uses his boot to rake the face, then stomps away and tags out. Moloney starts to fight back and Kendrick surprises him with a drop toe hold, pummels him with heavy shots, brings TJP back in and he slingshots inside from the apron with a somersault senton, but still can't finish it off. The Duke of Dab goes to work on the arm with a hammerlock clutch, Moloney powers to his feet, hits a back suplex to break free and starts crawling towards his corner. Kendrick gets a tag and charges in for a cheap shot to Swann, The Outlandish One blocks it and returns with a right, Moloney elevates Kendrick with a back body drop, then makes the tag.
Rich steps in and builds momentum with multiple clotheslines, buries a spinning back kick to the breadbasket, hits the ropes for a standing somersault leg drop and gains a near fall. He looks to go up top and TJP creates a distraction, The Man with a Plan climbs up to meet him for a superplex, Rich counters into a super inverted atomic drop, hooks the leg, but TJ breaks the count at 2. Moloney rolls in and tries to dump The Fil-Am Flash to the floor, TJP hangs onto the ropes, avoids Moloney charging in and sends him flying to the outside. The Outlandish One grabs TJ from behind, Kendrick sneaks up and slaps Rich in the Captain's Hook, Moloney sliding back inside to break the hold.
He heads to his corner and gets the tag, fires away with rights to Kendrick, corners The Man with a Plan and goes to the 2nd rope, raining down more fists. Kendrick surprises him with a hot shot and has words with the official, TJP looks for the Detonation Kick to Moloney, gets pushed to the outside, Moloney lifts The Man with a Plan for a slam, he reaches out for The Duke of Dab and counters into a small package, stealing the win.
Winners: TJP & The Brian Kendrick (Kendrick/Small Package)