From Inspiration & Respect To Resentment & Hate: The Naito vs Tanahashi Story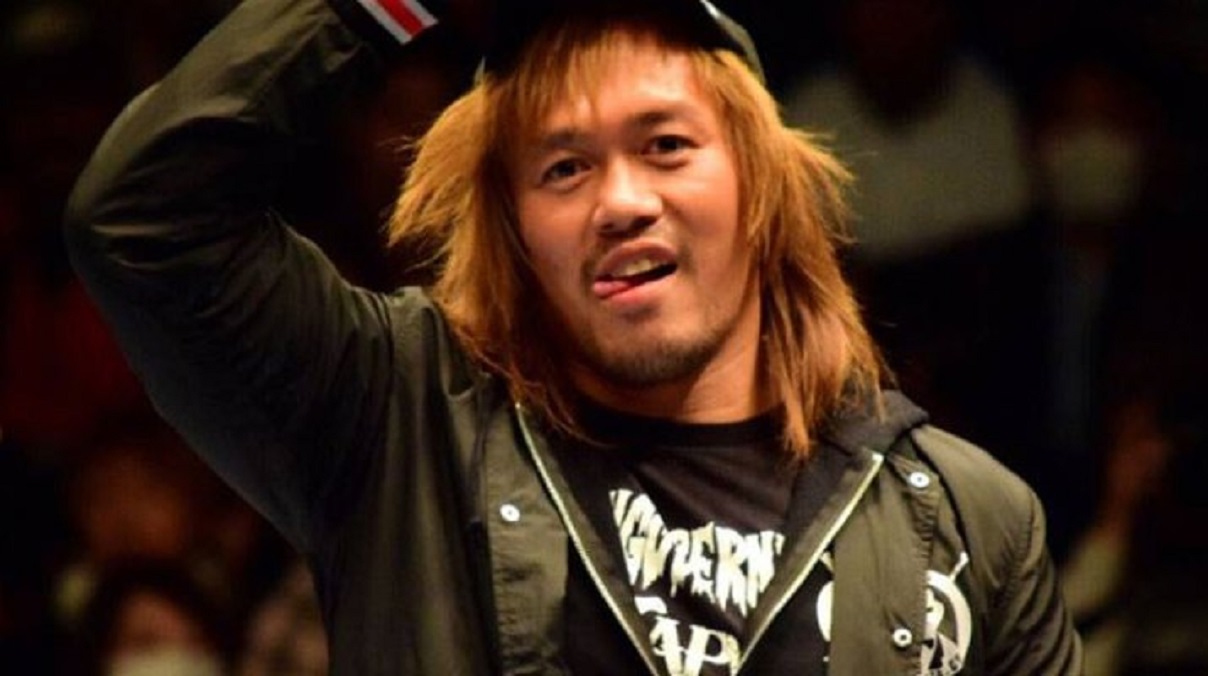 This is a story about two men.
One of them has cemented himself as the standard bearer for New Japan Pro Wrestling. He is the Ace of the universe, the one in a century talent shining brighter than light itself. 
The other was once called the Stardust Genius, now he is as ungovernable and Tranquilo as one can be. New Japan's fallen angel who reemerged as the anti-Ace.
One was destined to take the other's place, but faith decided things would be different. This is the story of Hiroshi Tanahashi and Tetsuya Naito.
Tell me, when was the last time you witnessed a rivalry so impactful it changed destiny itself? A rivalry so meaningful that, without it, Pro Wrestling would not be the same as it is today?
I am talking about what I would call "pillar rivalries." Rivalries that go on for years, that help creating and modifying the Wrestling landscape.
I believe the rivalry between Tetsuya Naito and Hiroshi Tanahashi is one of them. I tend to believe most people reading these lines will see it the same way, but, I also feel like it's been a bit overshadowed in the last year or so. We got the immense buzz surrounding the Okada-Omega bouts mainly, and Tanahashi renewing the now legendary rivalry with Okada this year. Now, Naito and Tanahashi have fought three times last year, so it's not been that long since they fought, but this is not actually the subject. I want to discuss the core of their rivalry, go back to how everything started and how it went, as I intend on reminding how big and important this rivalry is, in New Japan's recent history.
Let's go back through 11 matches, 8 years of rivalry, historic events, and decisive moments which made both Tanahashi and Naito who they are today.
We first need to go back to May 4th 2010. It is the second round of the New Japan Cup, Naito, who was still a member of No Limit at the time, faces Hiroshi Tanahashi for the first time in singles competition. As a first sign of what might be coming in the following years, Naito picks up the win. A few months later, Naito enters the first G1 Climax of his career, and faces off with Tanahashi again. The match would go to a draw this time around. You can already sense Naito is rising, as he was just starting to break out on his own. The two would face each other one more time in October, with Tanahashi finally equalizing the score as he beats Naito. Interesting, right ? The Ace of New Japan is already facing what seems like, the future ?
The year later, both men would face twice. Once again, Naito manages to pick up one of his biggest victories ever at the time, defeating the Ace in the G1 Climax, thus winning his block and going to the finals in record time, as the match lasted FIVE MINUTES. Not only that, but since Tanahashi was the Heavyweight champion at the time, Naito gained the right to face the champion again, for the title this time. Naito did not win the tournament, but he did get his shot at the IWGP Heavyweight championship at Destruction, in October. Tanahashi seemed to have taken his opponent lightly in the G1, and he would not make the same mistake twice. After 34 minutes of intense battle, Tanahashi, who early in the match was wearing down his opponent to show his dominance, manages to retain. Naito on the other hand, once again showed he was almost at the level he was one day destined to reach.
2012 comes around, Naito and Tanahashi only squared off once, again in the second round of the New Japan Cup, but it's Tanahashi who gets the upper hand. Later that year, Naito would need a knee surgery and miss around 8 months of action. Naito returned in June of 2013, and entered the G1 Climax quickly after. This is the peak of Stardust Genius Naito. He's still a fan favourite, and as he renewed the feud with Tanahashi, the Genius defeated the Ace to win the G1, and headline the main event of Wrestle Kingdom. Naito would achieve his dream, and he made it possible by defeating the man he had to surpass, or so he thought. This is the period where the rivalry, which so far did not include hate or resentment, would take another dimension. As most of you know, looking at the poor reception the match between then IWGP Heavyweight champion Kazuchika Okada and Tetsuya Naito received when both first faced off, New Japan decided to let the fans vote to see which match they wanted as the main event, this or the match between then IWGP Intercontinental champion Shinsuke Nakamura, and Naito's rival, Hiroshi Tanahashi. Nakamura and Tanahashi would get the main event spot, therefore stealing Naito's dream away from him. There lies the catalyst to the second part of our historic rivalry.
Let's jump to the summer of 2015, where Naito returns from Mexico, and he definitely changed. In Mexico, Naito became ungovernable. The Stardust Genius, the admiration towards Tanahashi, the respect, and inspiration the Ace was to him, all of it died in Mexico. Naito came back with an absolutely different mindset, as he was now representing Los Ingobernables in Japan. Naito entered the G1 Climax 25, and faced  his rival, the man he's in the shadow of. As Naito surprised Tanahashi with his new finisher, the Destino, Naito won. As Tanahashi would end up winning the tournament, the two faced each other once more this year, as Naito challenged Tanahashi for the right to main event Wrestle Kingdom 10. At the time Naito was absolutely disrespectful of the company and the fans, and Tanahashi was one of the first to oppose the new Ingobernable. King of Pro Wrestling comes around, and while the former Takaaki Watanabe returned as Naito's first ally as EVIL, Tanahashi managed to retain the rights of main eventing the Tokyo Dome, thanks to Shibata and Goto stopping the re-debuting EVIL and preventing Naito to get away with the win.
As Naito would then go on to fight Hirooki Goto at Wrestle Kingdom, winning the New Japan Cup and even claiming the IWGP Heavyweight championship, his vendetta is far from finished. Fast forward to 2017, January 4th. After defeating Michael Elgin for the Intercontinental championship in Kobe in September, Naito gets the opportunity to express his frustration towards the other element which stole his dream from him, the championship he now holds. Tanahashi would soon after make his return after being sidelined for a few months, and once more, the two rivals of destiny would face each other, in a fight with probably the most on the line since the G1 Climax 23.
This match at Wrestle Kingdom 11 is not just about surpassing the other, it's not about succession anymore. It's about hate. Naito can only hate Tanahashi, since he sees in him his past failures, his dream being crushed. On the other hand, Tanahashi, who, just like us, definitely saw in Naito the future of New Japan 4 years ago, but now, he hates the guts, the lack of respect Naito shows continuously. Adding the Intercontinental championship being at stake, and Tanahashi needing to prove he can come back strong after his injury, and you get a match where both individuals have a lot to prove, not just to the other, but to themselves. Ultimately, Naito vanquishes Tanahashi, and therefore shows he, as El Ingobernable, surpassed the Ace, and overcame one of his past demons.
Naito would then go a step further in terms of disrespect, as, with  months passing by, stating the championship he doesn't care about the championship he holds, and even worse, trying to destroy the belt. Ultimately, the one to step up to Naito is, again, Hiroshi Tanahashi. The Ace cannot stand Naito disrespecting the championship Shinsuke Nakamura made prestigious, and vows to take back the belt from Naito. The rematch happens at Dominion, where a determined Tanahashi wouldn't even let Naito take his time to get in the ring, being fed up with his rival's antics, and ultimately making him tap out to the Cloverleaf.

Both men would, of course, enter the following G1 Climax, and meet once more to decide who would win the A Block and face either Kazuchika Okada or Kenny Omega in the finals. Naito, solely focused on getting a second chance at realizing his dream, would be unstoppable during the tournament, and Tanahashi would lose to him in another incredible match. Naito would then win the G1 Climax for a second time, and by finally surpassing the man he could never really match before, earning once more the right to dream. Not only that, but as much as Naito acted with disrespect since coming back to New Japan, he, somehow, regained the love of the fans, and started fulfilling his own redemption story.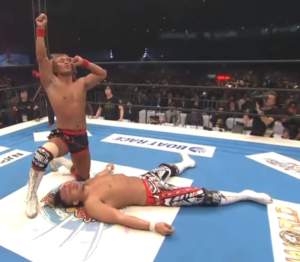 This tale of two men who are destined to face each other again and again, is why Pro Wrestling is such an magnificent form of art. The art of telling stories.
This story created a character, it greatly helped make a man who he is. It even helped cementing one of them as one of only few Wrestling living legends.
One would think the Naito and Tanahashi rivalry mainly benefited Naito, as without it, there would be no Ingobernable, hell, would have the Stardust Genius even existed in the first place?
Yet, if Naito never stepped up to Tanahashi for 8 years, going from upsets to decisive wins, and even a clash of ideas, would the Ace be the same?
  This is why this rivalry is so important and should never be sidelined for rivalries with less longevity and, possibly even meaning.
  Lastly, let's take a bet, shall we ? I am telling each and everyone of you readers, there will be one last chapter to this amazing story.
Andrew's Top Matches: Week Ending 6/16/2019
A jam packed week of matches displays a few of the more infrequent companies. Who made the Top 5?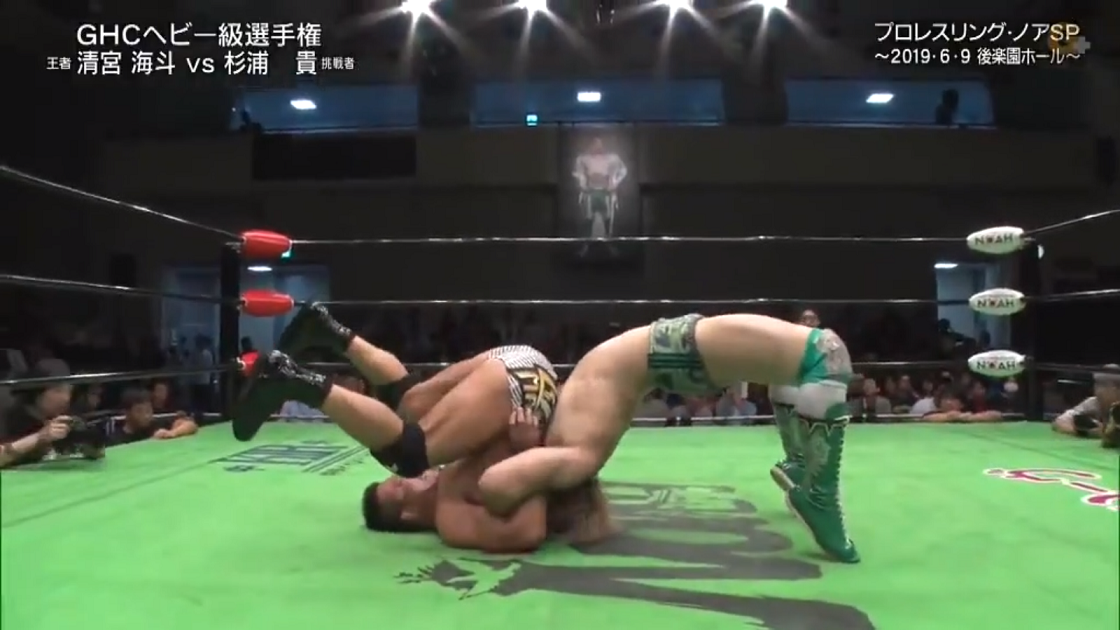 A jam packed week of matches displays a few of the more infrequent companies. Who made the Top 5?
Two big New Japan shows had them dominate last week. Funnily enough, one match dominated by amassing nearly 5 times as many votes as second place. The winner of last week's Japanese filled Top 5, NJPW BOSJ 26 Finals: Shingo Takagi vs Will Ospreay.
For anyone who was upset about the domination last week, well this is the week for you. We've got some WWE products, a little flavor from Mexico, and of course some matches from Japan.
Let's get down to business!
5. NXT UK: Imperium (WALTER, Marcel Barthel & Fabian Aichner) vs British Strong Style ( Pete Dunne, Tyler Bate & Trent Seven)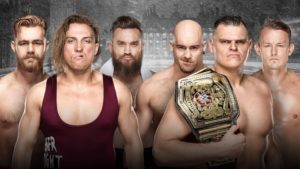 Snippet from Mitchell's Coverage:
Barthel throws Dunne out while Walter throws Seven. Walter stomps Dunne down while Barthel has Bate. Aichner tags in but Bate fights back. Bate boots but Barthel deflects that to ropes. Aichner gives Bate a draping backstabber! Barthel climbs to add double stomps! Aichner covers, TWO!! Bate survives and Glasgow loves it! Aichner is furious but he keeps focus on Bate. Tag to Barthel and they trash talk Bate in their respective languages. But Bate fires off with fast hands! Aichner kicks low and whips Bate, but Bate rebounds for DOUBLE LARIATS! Bate crawls but Walter intercepts, only to get the rolling kick! Hot tag to Seven!
Dunne tags in off Seven, Seven gives Barthel the Seven Stars Lariat! Seven DIVES onto Aichner while Dunne tags Bate. Dunne pump handles, Bitter End on Barthel! Bate climbs, for the corkscrew senton! Walter returns and barrels through Dunne to BOOT Bate! Dunne dropkicks Walter then slingshots out, only to miss. Walter runs at Dunne but Dunne sends him into steel steps! But then Walter back suplexes Dunne onto barriers! Wait, who is that coming down the ramp? He wears a hood and familiar mask… In the ring, Seven CHOPS Aichner. Aichner shoves Seven into the ref! Seven clotheslines Aichner and himself out of the ring! The mystery man enters the ring and targets Bate! It's ALEXANDER WOLFE!! The German Ax Man POWERBOMBS Bate! Glasgow boos but Wolfe grins. Barthel covers while Walter gets the ref in. Imperium wins!!
Winner: Imperium via Sit-Out Powerbomb
Rating: ****
4. AAA Verano de Escalando 2019: AAA Tag Team Championship: Lucha Brothers vs The Young Bucks (c)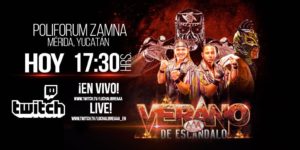 From Joe's AAA Coverage:
Lucha Bros jump the Bucks. Matt Jackson does 3 northern lights suplexes to Fenix then does one to Fenix and Pentagon at the same time. Matt does a baseball slide and then Nick does a dive over him. Matt unties Pentagon's mask and then beats him up in the crowd. Back in the ring they hit double super kicks. Pentagon hits sling blades on both Bucks. Fenix does a double cutter. They roll out and Fenix hits a huge dive and goes flying into the crowd while Pentagon hits Matt with the Pentagon driver. Matt hits a Canadian destroyer then a spear and Fenix breaks it up. Lucha bros go for super kicks but the Bucks reverse it into sharptshooters. Lucha bros break out and a ton of super kicks get hit. Nick hits a frog splash on Fenix and Penta runs up his back and hits a Canadian destroyer on Matt. Fenix then hits a stomp on the apron on Nick. Pentagon hits the package piledriver on Matt. He kicks out. Then Fenix and Pentagon do the combo package piledriver. Nick pulls the ref out. Nick does an asai moonsault to the ref and Fenix. Matt pulls off Pentagon's mask and kicks him in the groin and then they hit a Meltzer driver. Fenix pulls the ref out now. Fenix kicks Matt in the groin and then hits a cutter for a two. A new ref is out here now. They do the combo package piledriver again and Fenix hits a middle rope splash on Nick. Penta pins Matt. Pentagon pins Matt Jackson with a package piledriver combo.
Winner: Lucha Bros via Spike Fear Factor
Rating: ****
3. 205 Live: #1 Contender Fatal 4 Way: Drew Gulak vs Humberto Carrillo vs Akira Tozawa vs Oney Lorcan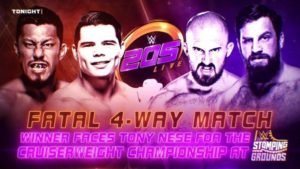 Snippet from Mitchell's Coverage:
Sacramento fires up behind Lorcan, but Ariya Daivari runs out to SMACK Lorcan with a chair!! The Persian Lion is a sore loser from his loss last week. The referee can't disqualify anyone but he does get Daivari to leave. That doesn't matter to Daivari, the damage has been done, and he laughs all the way to the back. This leaves Carrillo and Gulak in the ring. Gulak goes to throw Carrillo but Carrillo throws him out first. Carrillo turns around to get Tozawa's mule kick. Tozawa swings, misses, slides under and hits the rolling roundhouse! Nese is still watching as Tozawa climbs up top! Fans fire up but Carrillo kicks Tozawa down! Carrillo climbs but Gulak returns to shove him off! Carrillo hits barriers!
Gulak has Tozawa, but Tozawa fights back! They brawl up top and Tozawa clubs away. Fans "AH! AH!" along with him, but Gulak just headbutts Tozawa to stop him. Gulak adjusts, for the SUPERPLEX! But both men cradle the other!! Three count, but who wins!?
Winner: Tozawa & Gulak via Simultaneous Pin
Rating: ****
Honorable Mentions:
NOAH Misawa Memorial 6.9.2019: Naomichi Marufuji vs Go Shiozaki
Winner: Shiozaki via Gowan Lariat
Rating: *** 3/4
NXT: Submission Match: Drew Gulak vs Kushida
Winner: Kushida via Hoverboard Lock
Rating: *** 1/2
NJPW Kizuna Road: IWGP Jr Tag Team Titles: Roppongi 3k (c) vs El Phantasmo & Taiji Ishimori
Winner: ELP via CR2
Rating: *** 1/2
205 Live: Chad Gable vs Jack Gallagher
Winner: Gable via Countout
Rating: *** 1/2
AAA Verano de Escalando 2019: Tessa Blanchard & Daga vs Taya Valkyrie & Laredo Kid
Winner: Laredo Kid via Laredo Fly
Rating: *** 1/2
NJPW Kizuna Road: LIJ vs Kota Ibushi, Yuji Nagata, Tiger Mask IV, Jyushi Thunder Liger & Shota Umino
Winner: Shingo via Pumping Bomber
Rating: *** 1/2
IMPACT: Michael Elgin vs Willie Mack
Winner: Elgin via Elgin Bomb
Rating: *** 1/4
NJPW Kizuna Road: DOUKI, Yoshinobu Kanemaru & Taichi vs Tomohiro Ishii, Tomoaki Honma & Ren Narita
Winner: Taichi via Superkick
Rating: *** 1/4
WWE Raw: Bobby Lashley, Samoa Joe & Cesaro vs Ricochet, The Miz & Braun Strowman
Winner: Ricochet via 630 Senton
Rating: *** 1/4
NXT: Undisputed Era (Roderick Strong & Kyle O'Reilly) vs Oney Lorcan & Danny Burch
Winner: Burch via Distracted Roll-Up
Rating: *** 1/4
NJPW Kizuna Road: Minoru Suzuki, Lance Archer & Zack Sabre Jr vs Kazuchika Okada, YOSHI-HASHI & Toa Henare
Winner: Archer via Claw
Rating: ***
IMPACT: Jordynne Grace vs Madison Rayne
Winner: Rayne via CrossRayne
Rating: ***
2. Stardom Shining Destiny: Wonder of Stardom Championship: Tam Nakano vs Arisa Hoshiki (c)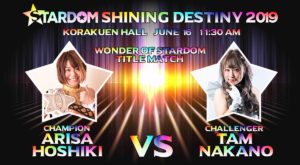 The backstory is interesting for the match. Arisa returned to Stardom about 6 months ago and has been part of the STARS faction, the same faction as Tam. Tam is an awkward girl who just wants to prove herself. Io pushed her before she left (see the Exploding Baseball Bat Match), Mayu saved her from humiliation when she was kicked out of Oedo Tai. So Arisa joining STARS and becoming quite friendly with Mayu, never sat well with Tam. Then during this years draft, Arisa was taken before Tam. This is their chance to express their feelings through a fight, since words don't seem to be doing the job.
Tam came out with a stoic and distant look in her eyes, while Arisa was her typical upbeat self. It almost looked like Tam was distracted by her own determination to prove herself. Arisa smiles as she hits you, she's having fun, she enjoys the sport. This was notable since Tam was straight faced through the first half of the match. Once it spilled to the outside and Tam his a German Suplex on the apron, the tone shifted.
Tam was smiling through the ropes down on Arisa, but not chiding, like she started having fun. The two had a big exchange of strikes and smiles, before Arisa started to harden a little. Tam knew to dodge the Brazilian Kick, but everything else was a great back and forth. Arisa and Tam trade running Knee Strikes, top rope attempts and Arisa tries to submit Tam, but she gets out of it.
We see the fight come to an end after the second time Arisa caught Tam with the Brazilian Kick. They have a moment after the match where Tam tells her that she's not allowed to lose that belt to anyone besides her, or she'll boil her. They even posed with their STARS faction, embracing with the Wonder of Stardom belt between them…and Starlight Kid keeping Tam standing.
This was a hard fought match, with a unique story that you'd see in anime but not often in professional wrestling. The concept of, words weren't enough, so maybe they could communicate better in the ring. It's quite poetic if you think about it.
Winner: Hoshiki via Brazilian Kick
Rating: **** 1/4
1. NOAH Misawa Memorial 6.9.2019: GHC Heavyweight Championship: Kaito Kiyomiya (c) vs Takashi Suigiura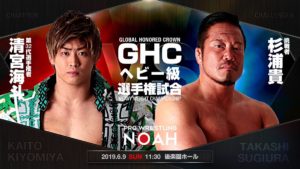 Now as we all know from Hisame's Newsletters, the June 9th show wasn't televised until June 13th, hence why it qualifies for this week's matches. Sugiura has been a great mentor to the young champion Kiyomiya. But since their tag team dissolved, Sugiura has taken to tough love. Earning his opportunity by pinning the champion a few weeks ago, Sugiura looks to become a 5 time GHC Heavyweight Champion.
Kaito came out with a lot of energy. He was trading with The Killing Machine, and holding his own, even trying to focus the left arm to take away some of his power, but the champion took a beating for a while. Kaito managed to fight out of everything Sugiura threw at him. Front Neck Lock, Olympic Slam and even a Guillotine with Body Scissors.
Kiyomiya eventually found an opening when Sugiura went for the Avalanche Olympic Slam, but Kaito turned it into an Avalanche Reverse DDT. Being Misawa's Memorial show, Kaito hit a few Emerald Flowsions and it was only appropriate that Sugiura pulled out the ole Misawa Rolling Elbow, to rock the young champion and give hope that the old vet would pick up the win. But in a feat of beautiful camera work and great resolve from Kiyomiya, he pulls off the Tiger Suplex Hold, right in front of the portrait banner of Misawa. Almost as if Misawa gave the match his blessing.
Brutal match that proved the young champion has guts and could easily be a Match of the Year candidate.
Winner: Kiyomiya via Tiger Suplex Hold
Rating: **** 1/2
Thoughts:
A lot of good stuff this week! AAA managed to make an appearance outside of TripleMania, NOAH saved some great matches for the memorial shows and 205 Live looks to be almost back on track.
However, my vote will go to, Wonder of Stardom: Arisa Hoshiki (c) vs Tam Nakano. Though it wasn't the highest rated match, I really enjoyed the story and how it told the story throughout the match and even the promo afterwards. Arisa has cemented her return and her position as a prominent player. Tam felt like she got better overnight last year during the 5 Star Grand Prix and she continues to prove she's figured it out. If she can manage to stay healthy (she has a history of missing a few shows here or there with little nagging injuries), she might finally get a singles title.
Let's learn geography with @tmtmtmx and @P_chan_panko! 🐼🌏 #StardomWorld #スターダム

➡️ https://t.co/ISZG1AqN5o pic.twitter.com/UOjuIdiCbW

— TDE Wrestling (@tde_wrestling) June 12, 2019
(NOAH) WEEKLY NEWSLETTER VOL.39 ~ 16TH JUNE 2019
The second Mitsuharu Misawa Memorial show is now in the books! Titles changed hands, and Global Jr League participants were announced! Read up with all of the Pro Wrestling NOAH happenings!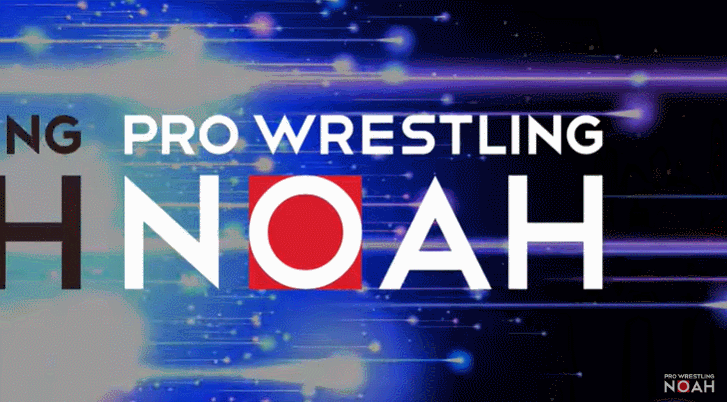 The second Mitsuharu Misawa Memorial show is now in the books! Titles changed hands, and Global Jr League participants were announced! Read up with all of the Pro Wrestling NOAH happenings!
CURRENT TOUR RECAP

NOAH held the ten year anniversary event of Mitsuharu Misawa's death in Osaka. The venue was more than just a popular choice in a metropolitan area, it was the last arena that Mitsuharu Misawa had visited on 11th June 2009 before the accident in Hiroshima on the 13th.
The usual ceremony was carried out beforehand; his spirit was welcomed to the ring as the GHC Heavyweight champion, Spartan X played and the fans threw green and white streamers which had his name on it. The roster stood around the ring, ironically, Takashi Sugiura was standing next to Kaito Kiyomiya in a fusion of the old and new NOAH.
The event was sold out, standing room only quickly filled, and one fan said that when coming back from the bathroom, they couldn't get back to their seat.
Kinya Okada (who has been missing due to an injury that NOAH have never specified) returned to his hometown to face Yoshiki Inamura. Inamura had warned Okada that while he may have the power of the local fans on his side, he should not expect to win.
Okada didn't win, but Inamura was left saying that he felt his power. Now the feud between the two of them can begin.
Akitoshi Saito was understandably the most emotional during the event. I don't think he slept well the night before, especially since he was up to see the dawn (and awake before it), but he had also caught a rainbow which he took as a good omen. After his match, he broke down hysterically as he faced Misawa's portrait.
Chris Ridgeway and Hitoshi Kumano finished their partnership, with Ridgeway thanking Kumano for teaming with him and teaching him along the way, but he was a singles wrestler and that is where he is heading now, especially since Global Junior League is coming up. During the match, he and Kenoh had a kick war, but Kenoh's focus was on Kaito Kiyomiya who he squared up with at the beginning.
As far as Kiyomiya goes, no challenger for the championship has come forward yet. As for Ridgeway, he was going to have another role to play in the evening.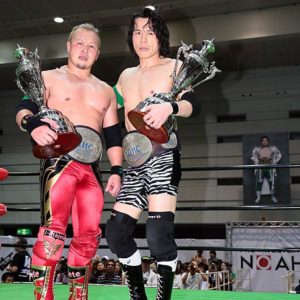 Stinger defeated HAYATA & YO-HEY and bought their dream of a third consecutive victory to a halt. After the match (in which the audience were whipped up into a fever by the close falls and the drama, plus YO-HEY using the rarely seen Bamboo Dragonfly), Yoshinari Ogawa made a short speech to the fans. He asked everyone to "never forget that there was a wrestler called Mitsuharu Misawa".
After the match (which was one by Kotaro Suzuki using Misawa's Tiger Driver 91, which Ogawa said sarcastically he had stolen, much to Kotaro's indignation), Stinger introduced their new member.
Their new member in all ways is a far better fit than YO-HEY (who no one really knew why he would want to betray RATELS, and it was never really said) both in terms of style, temperament and skill set. Their new member, is Chris Ridgeway. Fans were a little shocked at first, but they knew it is a good thing, especially as there is a lot to learn from Stinger, especially Yoshinari Ogawa.
YO-HEY later posted that he was disappointed to lose, and he found the league tiring. After having a lung injury, and coming back so soon, this is not surprising.
According to an article from Tokyo Sports, Kotaro Suzuki is still seeking a single match with Naomichi Marufuji.
Naomichi Marufuji was defeated by Shuhei Taniguchi, who made him tap to his modified camel clutch in seventeen minutes and 52 seconds. Marufuji had expected to defeat Taniguchi, but after losing via submission (which is rare, and not even Ogawa could do this), he reflected that he needed to find himself after losing to both Go Shiozaki (on the 9th June) and now Taniguchi.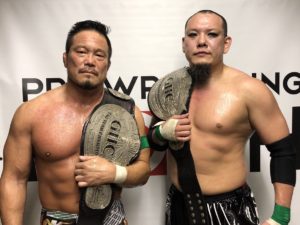 AXIZ (Katsuhiko Nakajima and Go Shiozaki) clashed with The Sugiura Army (Takashi Sugiura and KAZMA SAKAMOTO) in the main event. It was a brutal match, but ultimately The Sugiura Army prevailed when Sugiura won via TKO by using the front neck lock choke on Nakajima.
After the match, AXIZ limped into the interview area (Shiozaki supporting Nakajima), with Nakajima asking for a rematch.
Sugiura granted it, but he warned that he wasn't going to choke Nakajima this time, he was going to make him submit, or he was going to pin him.
AXIZ will get their rematch for the tag belts on the 27th June

EVENT RECAPS
Post match promos ~ Global Junior Tag League 2019, Korakuen Hall
Final night of Global Junior Tag League\Mitsuharu Misawa memorial
Post match interviews ~ Global Junior Tag League 2019, Osaka

NEWS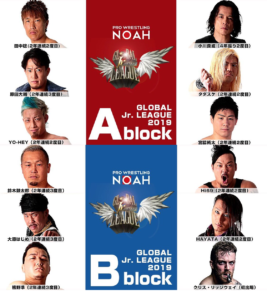 GLOBAL JUNIOR LEAGUE RETURNS
Hot off Global Junior Tag League, the juniors get about three dates of being friends (or not) with each other, before Global Junior League starts on the 27th June at Korakuen Hall. The league will run for ten dates, and finish on July 27th at Culttz Kawasaki. There will be a small "NOAH The Spirit" interim date in between.
The participants for this year have been announced as such:
BLOCK A: Minoru Tanaka, Daisuke Harada, YO-HEY, Yoshinari Ogawa, Tadasuke, Junta Miyawaki
BLOCK B:  Kotaro Suzuki, Hajime Ohara, Hitoshi Kumano, HI69, Chris Ridgeway, HAYATA
CURRENT CHAMPIONS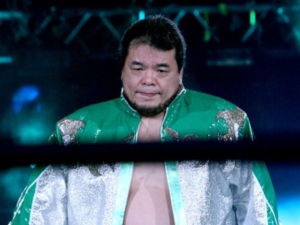 THE TESTAMENT OF MISAWA
On the 10th anniversary of Mitsuharu Misawa's passing, Line News carried out in depth interviews with Akitoshi Saito, Naomichi Marufuji, Kotaro Suzuki and Yoshinobu Kanemaru about what happened on the night of the 13th June in Hiroshima, and as a result what happened was probably the most revealing and comprehensive account.
In an interview with Tokyo Sports shortly before his death, Misawa spoke candidly to them. He knew that he was not going to reach his next birthday, he knew that his body was falling apart (he had bone spurs in the neck, and visual problems in one of his eyes), but he couldn't retire. Not just yet. He had one final task to complete (namely putting Go Shiozaki over). and then it would be done.
It seemed that Misawa had known this even before the interview with Tokyo Sports, around about 2007 or so, he had written a letter to the opponent who would face him in the ring for the last time, and handed it to a trusted source to deliver the letter when his premonition came true. The letter was given to Akitoshi Saito, who has kept it with him on tour for the past ten years, and had read it each day. The letter is not one of recriminations, but one of apology. Misawa wrote in it that he forgave his opponent, and he wanted him to carry on wrestling.
The article weaves the stories of Marufuji, Saito, Kotaro and Kanemaru together. It starts from the accident, with Kanemaru noticing that Misawa wasn't moving, Kotaro taking charge, Marufuji's mad dash to Hiroshima when he heard the news (despite a knee injury), and understandably Saito's shock. The article explores individual memories of Misawa, the fallout of his death, and then where they are ten years later.
The article is a long one, and often an emotional one, but I urge you to read it. It is not just a story of wrestling and wrestlers, it is a story of loss, strength in adversity, and the triumph of human spirit.
TOUR TIDBITS
~ 50 Funky Powers have neon blue and purple streamers
~ Naomichi Marufuji said that he wants to get "public broadcast" back (he means either a streaming service or a weekly show like NOAH once had)
~ Kenoh told "the assholes of Osaka" to go home and get a dictionary if they didn't know what "Kongoh" meant (FYI, it means "diamond")
~ Junta Miyawaki turned 22 on the 14th June.
On the way back from Osaka, Masao Inoue fell victim to Takashi Sugiura's camera, and was photographed at the urinal (there is disturbingly a whole gallery of these, and this one had Kotaro Suzuki in the background). However, Sugiura didn't stop there, and Inoue was filmed getting onto the bus (which seemed pretty empty as I guess most people had either gone home via the Shinkansen or stayed in Osaka) with an ice cream cone.
Marufuji joined in the fun by photographing Inoue, to which Sugiura told him to quit stealing his subject. Marufuji replied (and please bear in mind they were on the same bus and in close proximity to each other) that since Inoue was so interesting, maybe Sugiura would like to switch seats?
Sugiura said that he assumed Marufuji was being funny, as Inoue had never been interesting.
BROADCASTS
The 13th June Mitsuharu Misawa memorial show from Osaka, will be shown on the 22nd at 10pm on Samurai TV. This will be the final night of Global Junior Tag League 2019.
Riki Choshu's Power Hall (featuring Go Shiozaki and Yoshiki Inamura) will be broadcast live on the 26th June on Samurai at 6.30pm
The opening night of Global Junior League (Thursday 27th June 2019, Korakuen Hall) broadcast at Friday 5th July on Samurai.
LINKS
Ogawa & Kotaro gain their first victory in Junior Tag League
Sugiura chokes Nakajima to take the GHC Tag Championship
Shiozaki's answer to that ten years, to have a match that Misawa would approve of
"Iron-Man" Kobashi sends encouragement to favorite pupil, "KENTA! Use your instincts, and go wild!"
Naomichi Marufuji about KENTA'S New Japan entry, "Don't you ever be buried"
10 Years after Misawa's death, Noah's full house, and a limited resurrection of the green mat
PICTURE CREDITS: Noah GHC, LINE News, PKDK
GIFS taken from Battlemen on Samurai TV
Newsletter by Hisame