From Inspiration & Respect To Resentment & Hate: The Naito vs Tanahashi Story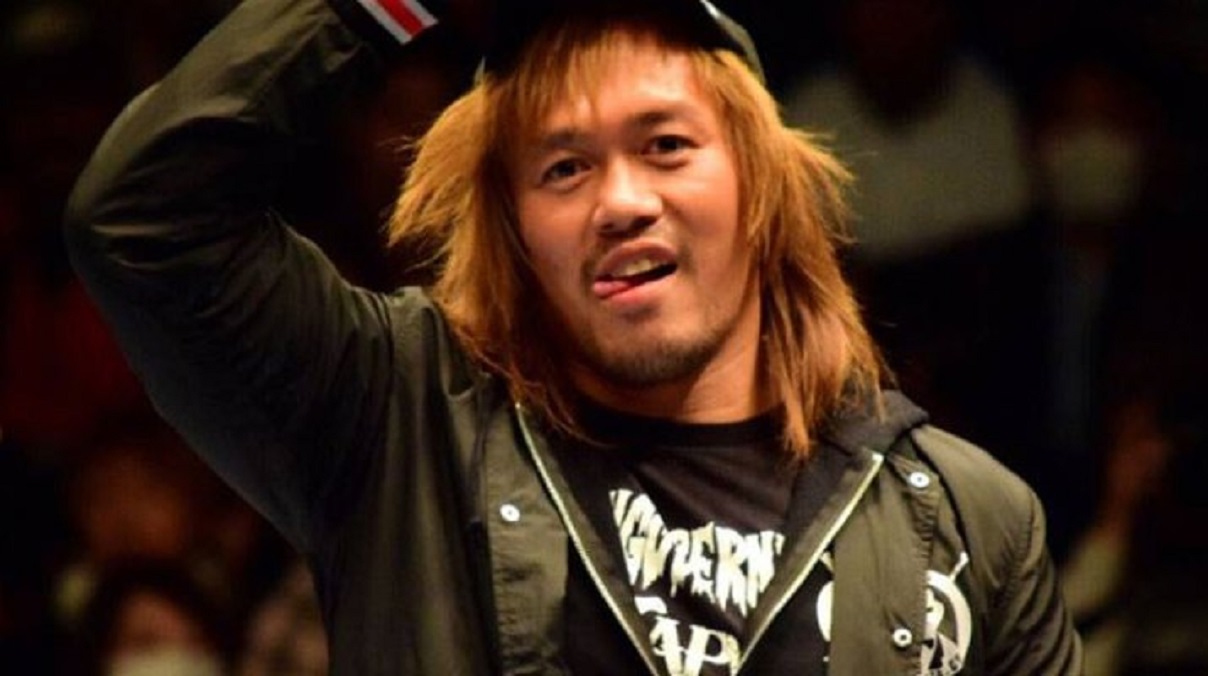 This is a story about two men.
One of them has cemented himself as the standard bearer for New Japan Pro Wrestling. He is the Ace of the universe, the one in a century talent shining brighter than light itself. 
The other was once called the Stardust Genius, now he is as ungovernable and Tranquilo as one can be. New Japan's fallen angel who reemerged as the anti-Ace.
One was destined to take the other's place, but faith decided things would be different. This is the story of Hiroshi Tanahashi and Tetsuya Naito.
Tell me, when was the last time you witnessed a rivalry so impactful it changed destiny itself? A rivalry so meaningful that, without it, Pro Wrestling would not be the same as it is today?
I am talking about what I would call "pillar rivalries." Rivalries that go on for years, that help creating and modifying the Wrestling landscape.
I believe the rivalry between Tetsuya Naito and Hiroshi Tanahashi is one of them. I tend to believe most people reading these lines will see it the same way, but, I also feel like it's been a bit overshadowed in the last year or so. We got the immense buzz surrounding the Okada-Omega bouts mainly, and Tanahashi renewing the now legendary rivalry with Okada this year. Now, Naito and Tanahashi have fought three times last year, so it's not been that long since they fought, but this is not actually the subject. I want to discuss the core of their rivalry, go back to how everything started and how it went, as I intend on reminding how big and important this rivalry is, in New Japan's recent history.
Let's go back through 11 matches, 8 years of rivalry, historic events, and decisive moments which made both Tanahashi and Naito who they are today.
We first need to go back to May 4th 2010. It is the second round of the New Japan Cup, Naito, who was still a member of No Limit at the time, faces Hiroshi Tanahashi for the first time in singles competition. As a first sign of what might be coming in the following years, Naito picks up the win. A few months later, Naito enters the first G1 Climax of his career, and faces off with Tanahashi again. The match would go to a draw this time around. You can already sense Naito is rising, as he was just starting to break out on his own. The two would face each other one more time in October, with Tanahashi finally equalizing the score as he beats Naito. Interesting, right ? The Ace of New Japan is already facing what seems like, the future ?
The year later, both men would face twice. Once again, Naito manages to pick up one of his biggest victories ever at the time, defeating the Ace in the G1 Climax, thus winning his block and going to the finals in record time, as the match lasted FIVE MINUTES. Not only that, but since Tanahashi was the Heavyweight champion at the time, Naito gained the right to face the champion again, for the title this time. Naito did not win the tournament, but he did get his shot at the IWGP Heavyweight championship at Destruction, in October. Tanahashi seemed to have taken his opponent lightly in the G1, and he would not make the same mistake twice. After 34 minutes of intense battle, Tanahashi, who early in the match was wearing down his opponent to show his dominance, manages to retain. Naito on the other hand, once again showed he was almost at the level he was one day destined to reach.
2012 comes around, Naito and Tanahashi only squared off once, again in the second round of the New Japan Cup, but it's Tanahashi who gets the upper hand. Later that year, Naito would need a knee surgery and miss around 8 months of action. Naito returned in June of 2013, and entered the G1 Climax quickly after. This is the peak of Stardust Genius Naito. He's still a fan favourite, and as he renewed the feud with Tanahashi, the Genius defeated the Ace to win the G1, and headline the main event of Wrestle Kingdom. Naito would achieve his dream, and he made it possible by defeating the man he had to surpass, or so he thought. This is the period where the rivalry, which so far did not include hate or resentment, would take another dimension. As most of you know, looking at the poor reception the match between then IWGP Heavyweight champion Kazuchika Okada and Tetsuya Naito received when both first faced off, New Japan decided to let the fans vote to see which match they wanted as the main event, this or the match between then IWGP Intercontinental champion Shinsuke Nakamura, and Naito's rival, Hiroshi Tanahashi. Nakamura and Tanahashi would get the main event spot, therefore stealing Naito's dream away from him. There lies the catalyst to the second part of our historic rivalry.
Let's jump to the summer of 2015, where Naito returns from Mexico, and he definitely changed. In Mexico, Naito became ungovernable. The Stardust Genius, the admiration towards Tanahashi, the respect, and inspiration the Ace was to him, all of it died in Mexico. Naito came back with an absolutely different mindset, as he was now representing Los Ingobernables in Japan. Naito entered the G1 Climax 25, and faced  his rival, the man he's in the shadow of. As Naito surprised Tanahashi with his new finisher, the Destino, Naito won. As Tanahashi would end up winning the tournament, the two faced each other once more this year, as Naito challenged Tanahashi for the right to main event Wrestle Kingdom 10. At the time Naito was absolutely disrespectful of the company and the fans, and Tanahashi was one of the first to oppose the new Ingobernable. King of Pro Wrestling comes around, and while the former Takaaki Watanabe returned as Naito's first ally as EVIL, Tanahashi managed to retain the rights of main eventing the Tokyo Dome, thanks to Shibata and Goto stopping the re-debuting EVIL and preventing Naito to get away with the win.
As Naito would then go on to fight Hirooki Goto at Wrestle Kingdom, winning the New Japan Cup and even claiming the IWGP Heavyweight championship, his vendetta is far from finished. Fast forward to 2017, January 4th. After defeating Michael Elgin for the Intercontinental championship in Kobe in September, Naito gets the opportunity to express his frustration towards the other element which stole his dream from him, the championship he now holds. Tanahashi would soon after make his return after being sidelined for a few months, and once more, the two rivals of destiny would face each other, in a fight with probably the most on the line since the G1 Climax 23.
This match at Wrestle Kingdom 11 is not just about surpassing the other, it's not about succession anymore. It's about hate. Naito can only hate Tanahashi, since he sees in him his past failures, his dream being crushed. On the other hand, Tanahashi, who, just like us, definitely saw in Naito the future of New Japan 4 years ago, but now, he hates the guts, the lack of respect Naito shows continuously. Adding the Intercontinental championship being at stake, and Tanahashi needing to prove he can come back strong after his injury, and you get a match where both individuals have a lot to prove, not just to the other, but to themselves. Ultimately, Naito vanquishes Tanahashi, and therefore shows he, as El Ingobernable, surpassed the Ace, and overcame one of his past demons.
Naito would then go a step further in terms of disrespect, as, with  months passing by, stating the championship he doesn't care about the championship he holds, and even worse, trying to destroy the belt. Ultimately, the one to step up to Naito is, again, Hiroshi Tanahashi. The Ace cannot stand Naito disrespecting the championship Shinsuke Nakamura made prestigious, and vows to take back the belt from Naito. The rematch happens at Dominion, where a determined Tanahashi wouldn't even let Naito take his time to get in the ring, being fed up with his rival's antics, and ultimately making him tap out to the Cloverleaf.

Both men would, of course, enter the following G1 Climax, and meet once more to decide who would win the A Block and face either Kazuchika Okada or Kenny Omega in the finals. Naito, solely focused on getting a second chance at realizing his dream, would be unstoppable during the tournament, and Tanahashi would lose to him in another incredible match. Naito would then win the G1 Climax for a second time, and by finally surpassing the man he could never really match before, earning once more the right to dream. Not only that, but as much as Naito acted with disrespect since coming back to New Japan, he, somehow, regained the love of the fans, and started fulfilling his own redemption story.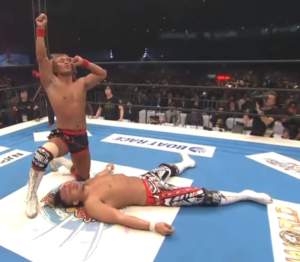 This tale of two men who are destined to face each other again and again, is why Pro Wrestling is such an magnificent form of art. The art of telling stories.
This story created a character, it greatly helped make a man who he is. It even helped cementing one of them as one of only few Wrestling living legends.
One would think the Naito and Tanahashi rivalry mainly benefited Naito, as without it, there would be no Ingobernable, hell, would have the Stardust Genius even existed in the first place?
Yet, if Naito never stepped up to Tanahashi for 8 years, going from upsets to decisive wins, and even a clash of ideas, would the Ace be the same?
  This is why this rivalry is so important and should never be sidelined for rivalries with less longevity and, possibly even meaning.
  Lastly, let's take a bet, shall we ? I am telling each and everyone of you readers, there will be one last chapter to this amazing story.
---
Always Use Your Head and visit the official Pro Wrestling Tees store for The Chairshot All t-shirt proceeds help support the advancement of your favorite hard-hitting wrestling website, The Chairshot!

---
Levin's SmackDown Live Review (10/16/18)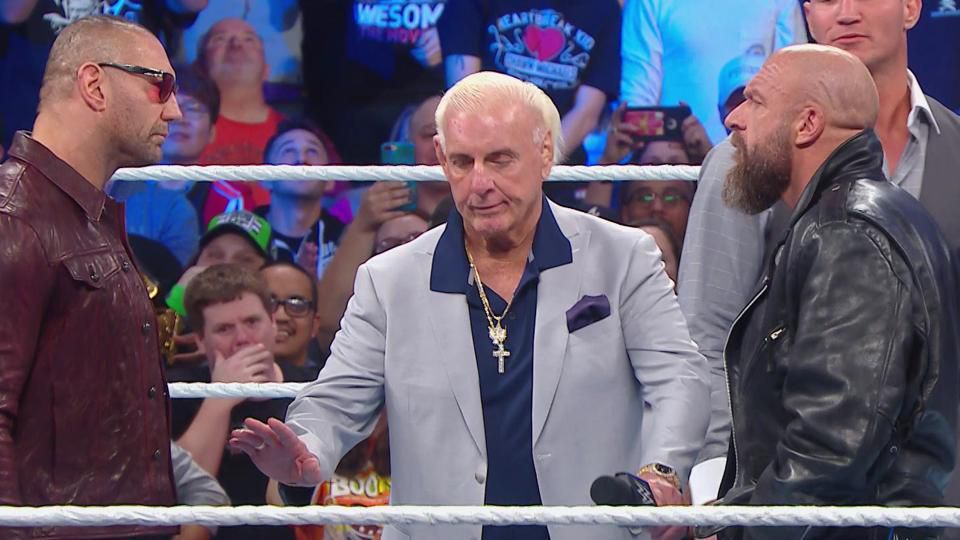 After watching parts (thank you Comcast) of SmackDown Live's 1,000th show, it is clear to me the company may not be done promoting matches in the future that feature stars of the past.
While I was not able to witness the entire show, the parts I did see left me thinking (out loud) whether WWE's commitment to showcasing part-time performers is truly worth the battle? Does the fan base gain anything from seeing older rivalries renewed? Do the current stars on the roster feel slighted in the least by having to share time with restructured programming?
The reunion of Evolution may be the reopening of Pandora's Box. The confrontation between Batista and Triple H could once again lead to a confrontation in the ring potentially at the Royal Rumble or as an addition to the card at WrestleMania 35. The back and forth between "The Animal" and the "King of Kings" was expected once Randy Orton spewed his venom about Batista leaving the company to pursue acting.
That's part of the script we all expected. The confrontation and vibe given off as Batista and Triple H "hugged it out" may have been part of the spot, but there are some undertones the company might want to save for another time and date. The use of veterans who have reemerged of late – with Undertaker and Trips in Australia and a tag team match between 'Taker and Kane and DX (Triple H and Shawn Michaels) may be great on paper, but it is also a hard sell since the announcers have downplayed Michaels' return to the ring.
Does a Batista-Triple H return match do anything for you? Are you entertained enough to think it is worth a long storyline? Batista has teased a return to the ring, much like The Rock has commented on social media how he cannot wait to get back to the company that made him a millionaire many times over. History tells us certain feuds stand the test of generational gaps.
Triple H and Undertaker is one. The Rock and Steve Austin – if it ever happened – is another. Given that both performers are still in amazing shape this advanced in their careers, is there any reason to think a match wouldn't sell? Probably not. Finding the right place and time to sell it is the key to its success. SmackDown Live has done such a phenomenal job of using two hours of "wrestling" effectively and has clearly become the "go to" program on WWE's circuit. Making sure this match gets the proper attention without sacrificing other wrestlers or programs is key.
I suspect the talk of a WWE "reunion" with Batista and Triple H will heat up in the next few weeks. A match looming in the coming year is almost as easy to predict as The Rock and Roman Reigns in a "match for the ages." The problem is the heat each wrestler brings must match the in-ring performance. We all know Triple H can carry his end of the deal. It remains to be seen if Batista, who has been off in Hollywood making movies, can do the same thing.
As a fan, I sure hope he can.
---
Always Use Your Head and visit the official Pro Wrestling Tees store for The Chairshot All t-shirt proceeds help support the advancement of your favorite hard-hitting wrestling website, The Chairshot!

---
WWE Evolution and Crown Jewel: Two Sides Of The Same Coin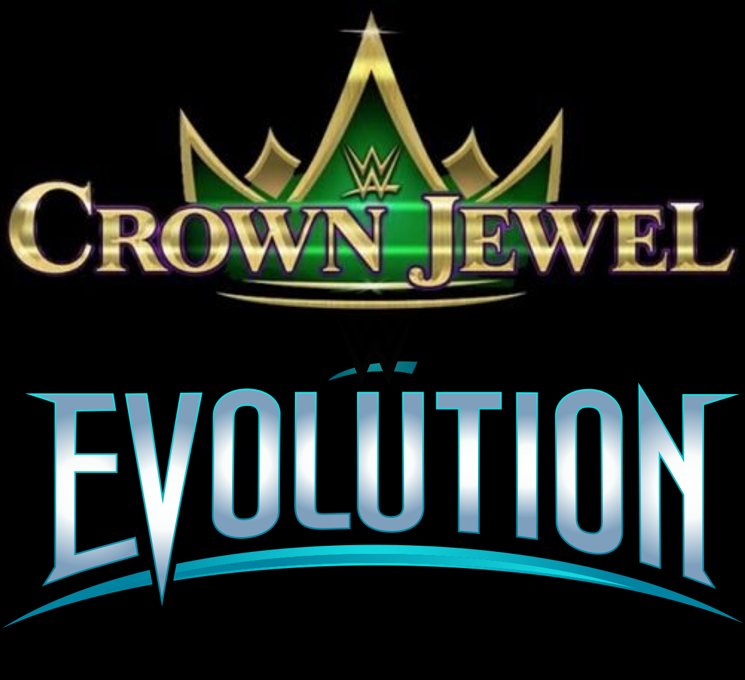 Juan Carlos Reneo takes a look at the differences–and also the similarities–of WWE Crown Jewel and WWE Evolution.
The next two PPVs that WWE will produce are very interesting by themselves. Crown Jewel has become a PR nightmare of WWE because of the latest news related to Saudi Arabia. Meanwhile Evolution, a show a lot of people are hopping to see, has become in a way ''celebration'' of women's wrestling. Interesting enough these two shows are close to one another, making it bizarre for WWE by having praise for making evolution and a lot of bad publicity because of Crown Jewel.
In paper the WWE-Saudi Arabia deal, receiving from 450 to 500 million dollars for a 10-year deal look great but the deal had its main problem which was Saudi Arabia's treatment on women and LGBTQ community, two communities in which WWE represents with campaigns and events. Crown Jewel as of this moment will still be celebrated despite the media and even senators of the United Stated pressuring WWE to cancel the show because of recent events. Vince McMahon who is known as stubborn man has his plan to go to Saudi Arabia and do Crown Jewel even if people and wrestlers of WWE like it or not.
Evolution at first looked like an apology PPV given to the female roster for not being able to compete in Saudi Arabia because of the laws of the country. When we first heard of Evolution people (I include myself) were excited for the concept of this PPV and a way to give the spotlight to the great female roster WWE has right now. But all the excitement and focus of Evolution went away when WWE announced the show Crown Jewel that would be celebrated only 5 days later and making Evolution into ''look we are progressive now but in 5 days we are not progressive anymore''. Evolution now has become a bad apology for WWE making a deal with a country that is not fan to put it in nice words of the LGBTQ community and women despite they stating they are making cultural changes which in most cases is not true.
Timing has not been a friend of WWE lately, with first the idea of Evolution and Crown Jewel being only a few days apart and seeing the current events that happened. The hashtag #CancelCrownJewel has become very popular in the last coupe of days, but will this pressure cancel the show? When fans pointed out to WWE and Snickers why WWE shouldn't name a battle royal after the wrestling legend Moolah, it was the right thing to do so there is a record of WWE doing the right thing in recent history.
We also must see the legal nightmare for WWE if they decide to cancel the Crown Jewel show. WWE and Saudi Arabia would enter a tenacious legal battle that most likely would see Saudi Arabia standing tall over WWE. The promotion of Vince McMahon is a corner right now that they were destined to be in from the moment they decided to accept the deal with Saudi Arabia.
Will WWE do the right thing? The best answer I could give to anyone who asked me this question is most likely not, in WWE money speaks over moral integrity, which for all of us fans and followers of the product of WWE should not be a surprised.
---
Always Use Your Head and visit the official Pro Wrestling Tees store for The Chairshot All t-shirt proceeds help support the advancement of your favorite hard-hitting wrestling website, The Chairshot!

---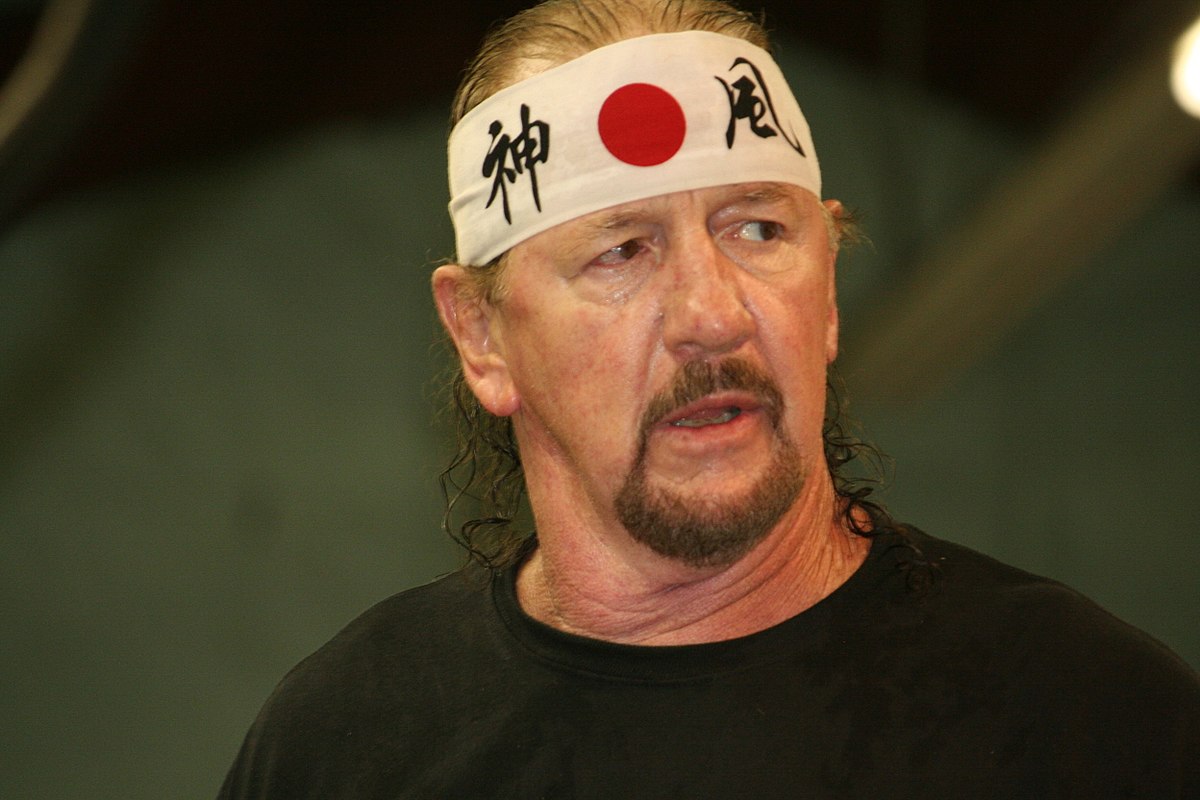 A couple of weeks ago, I suggested that WWE could use this time of year, where business is traditionally down anyway, to try some things they hadn't done before. They've gone a different direction. WWE is bringing back every legend & part-timer they can find to try & get some attention from a public more interested in the NFL, NBA rumors, the new TV season, Kanye West & almost anything else going on.
We've got Shawn Michaels coming back to team with Triple H against Undertaker & Kane for that sweet Saudi blood money. Trish Stratus & Lita have come back to take on their old rival Mickie James & her good friend Alexa Bliss, who honestly is just lucky she has the promo ability to be involved at this point. Brock Lesnar is hanging around because the price is right, along with John Cena finishing people off with the SIXTH MOVE OF DOOM.
I mean, it's a strategy. It's not one that I find particularly entertaining, but WWE has found success with it in the past. And let's be honest, it's one that the fans endorse every year with their money, their cheers & their chants. Every year at the Hall of Fame ceremony, there's thousands of fans breaking into speeches with "ONE MORE MATCH". Why wouldn't WWE listen to these people that paid way too much money to sit in an arena & watch speeches? It makes perfect sense. People don't care about the current WWE Superstars. They want to see the guys & gals from their childhood. WWE will bring the ones that are available.
But let's not single WWE out here. Every wrestling promoter that has ever run a show has attempted to draw money from nostalgia at some point. Most indie feds book old WWE guys to draw a house. Once somebody appears on that television, there's a certain recognizability factor that can get them booked for years after Vince lets them go.
Here are the Top 5 Old Wrestlers.
5. Ric Flair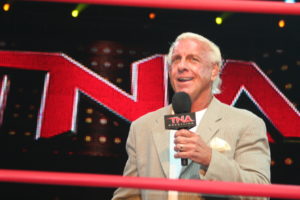 Ric was 40 years old during what many consider to be his peak in-ring performance year, 1989. He was a wily veteran throughout WCW's entire existence. He was supposed to be the guy that passed the torch, and he did on multiple occasions. Somehow, it always ended up back in his hands. It wasn't his fault that nobody could carry it the way he did.
The culture of WCW wore on Flair, and towards the end of the company's existence it seemed like he was near the end of his in-ring career. WWE breathed new life into him, and he had many more years of wily veteran left in him. He was just under 60 when he had his last WWE match, and just over 60 when he had his last wrestling match. He'd still be wrestling today if somebody would let him.
4. Jerry Lawler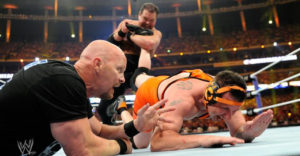 The King was never the best-looking athlete, but he was always a master of psychology. He knew what the people wanted to see, and the right time to give it to them. He knew the time & place where he needed to be the chickenshit heel, and where he needed to be the babyface that got beat up and then dropped the strap. He also threw one of the best punches in the business.
Even though Lawler is more remembered as a commentator than as a wrestler in WWE, he could always go into the ring when the time called for it. He was over the age of 60 when he was feuding with The Miz & challenging for the WWE Championship, and having the best matches of Miz's title run. A heart attack ended Lawler's WWE in-ring career, but he still competes on the indy circuit occasionally because it's what he knows & loves. Asking him to retire would be lunacy.
3. Minoru Suzuki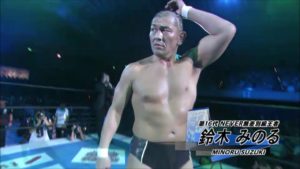 Suzuki hasn't been around as long as the other people on this list. He's only 50 right now. But I feel like if you had the term "old wrestler" or "grizzled veteran" in an encyclopedia, this man's picture would be next to it. He just looks like the kind of guy that represents the old school and would slap you if you didn't respect the business.
Suzuki is known as a co-founder of Pancrase, where he met most of the old-school MMA legends in the ring. Ken Shamrock, Bas Rutten, Frank Shamrock & Masakatsu Funaki were some of the names. He even met Jushin Thunder Liger in an MMA match. He eventually made his way to pro wrestling, first in All Japan & then in New Japan where he formed the Suzuki-gun faction. I figure if he asks you to join his faction, you pretty much have to out of fear.
2. Terry Funk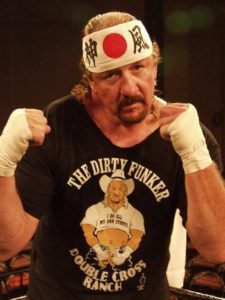 As the Funker got older, he got crazier. Funk was already a legend when he arrived in WCW in 1989 at the age of 45 to feud with Ric Flair. Once he got done with that legendary piece of business, he decided he needed to get hardcore in order to get with the times. He did deathmatches in Japan with some dude named Cactus Jack. He did moonsaults off the top rope. He became the patron saint of Extreme Championship Wrestling.
Terry & his brother Dory Funk Jr. were an interesting pair. Dory never changed through the years. He always worked the same style throughout his entire career, which I'm pretty sure is still ongoing. Terry constantly changed. He always wanted to fit in with what was going on at the time. He was middle aged & crazy, and despite announcers' claims to the contrary, he was the toughest SOB in the business. When you're tough, you can go on a lot longer than people expect.
Honorable Mention: Mae Young
Mae didn't exactly have classic matches in her advanced years, but good luck finding a tougher old broad that ever set foot in the ring. Her willingness to take any bump & do any silly thing the writers could think of made her a staple of the WWF Attitude Era at an age where most wrestlers aren't even alive.
1. Nick Bockwinkel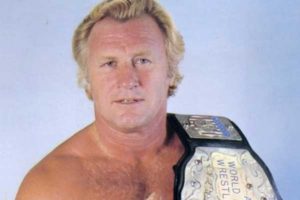 One of the criticisms of Verne Gagne's AWA was the fact that he stuck with the same guys on top forever. Longtime stars like Crusher, Baron von Raschke & Verne himself were in top spots on the card years after they should have been. When fans were looking for something new during the 1980s, all the AWA had for most of the decade were the guys that stuck around.
Bockwinkel was a good example of the AWA's tendency to push guys forever. When Verne didn't have the AWA Championship, it was usually Nick that had it. Sometimes it worked, sometimes it led to backlashes that made Jeff Jarrett seem like a popular NWA Champion. However, the difference between Nicholas & the others previously listed was simple: the dude could still flat-out go in the ring into his 50s. Most of what people have seen of Bockwinkel's work is from the 1980s, when he was in his late 40s & early 50s. His advanced ring psychology & technical wrestling skills made him seem ageless. His 60 minute draw with Curt Hennig in Las Vegas at the end of 1986, when Bockwinkel was 52 years old, is the best 60 minute draw I've ever seen. Hennig learned how to work on that night & others like it across the ring from Bockwinkel, and eventually became Perfect as a result.
Most of the people on this list evolved as they got older. Nick Bockwinkel was an evolved gentleman from the beginning.
---
Always Use Your Head and visit the official Pro Wrestling Tees store for The Chairshot All t-shirt proceeds help support the advancement of your favorite hard-hitting wrestling website, The Chairshot!

---