Is Intergender Wrestling Just Shock Value?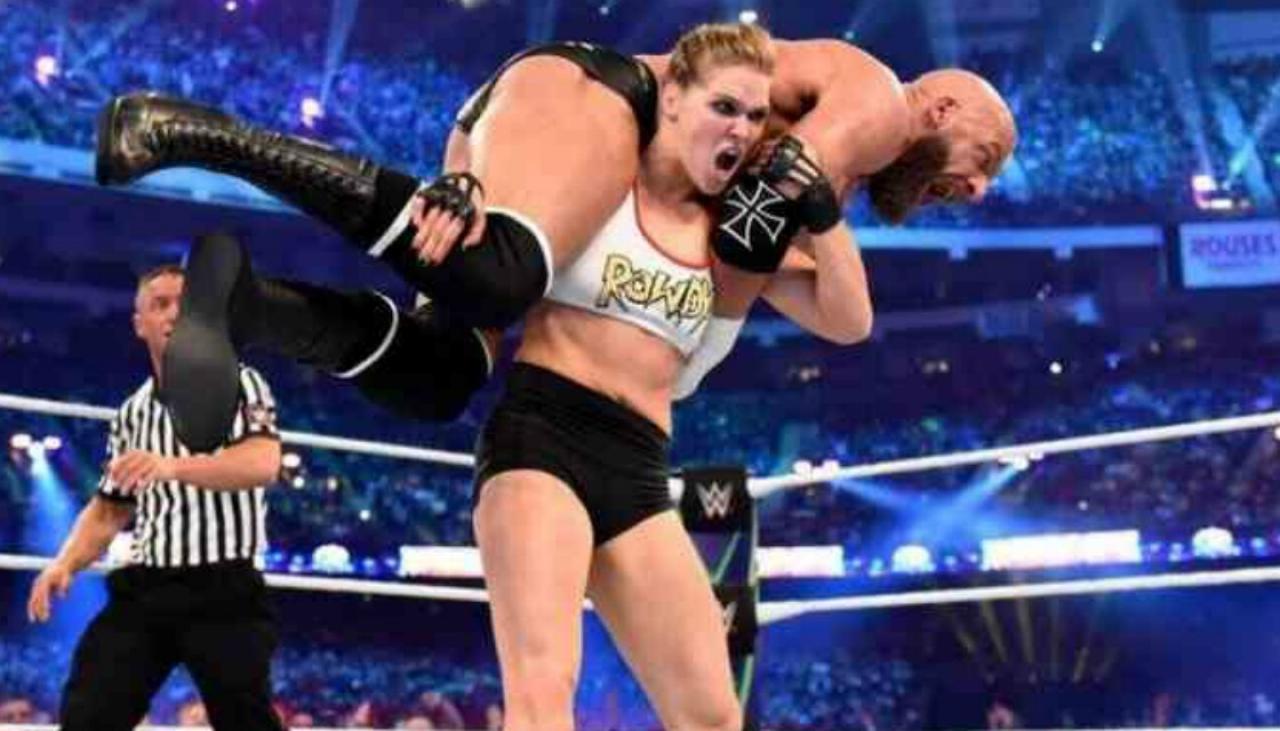 Did you see the interview with Triple H where someone asked him about intergender wrestling? His response was as follows: "It's just shock value. You don't need it. When it's done right, I do believe there is an exciting moment when it can happen, but it doesn't need to be the standard."
That answer made me love him even more. Not because I'm this WWE apologist, it's because I respect anyone who has common sense as a leader and a strong enough voice to express their reasoning.
Today's going to be a little more conversational and informal, is that okay with you?
I was so happy he said this, too.
I'm writing this from a hotel room in Las Vegas, ready to help with a taping of Ring Warriors on WGN. And in addition to that, I have an online mindset coaching group for wrestlers and sports entertainers. Where we don't just talk about moves and in ring psychology. But we talk about the hows and the whys." The high level psychology. Why things work and don't work. The mindset needed to succeed in wrestling as a job and as a career. Its a conversation that has been sorely missing in this industry, where for the most part, the prevalent advice at the local level is "say you have a lot of passion, starve, and hope someone takes pity on you and offers you a contract." I like to put the power back in the talents hands.
And that's what Triple H is doing here in this answer. Earlier on he says, "The women don't NEED the men as a shock value thing to get noticed." He's empowering the women by saying they stand on their own without intergender a wrestling.
And the reason I brought up my group a moment ago, and why I'm so happy Triple H said something, is because the members of my group are vetted and we only allow serious professionals into it. And even then, a very spirited debate broke out about intergender wrestling.
A few weeks back there was a 13 year old girl who cleanly beat a grown adult man at an independent wrestling show.
As always, my question is, "Why? Who does that serve?"
Some people said: The fans. It was entertaining.
Others said: "It shows that wrestling is for anyone, including girls, and encouraging young girls dreams."
Others told me: "Its sports entertainment and times have changed."
Tell me… besides the pure spectacle of it, do you honestly want to live in a world where we lower our standards so much that WrestleMania 50 is a 13 year old girl vs Brock Lesnar? And the girl wins?!?!
People go, "Yeah, but Braun Strowman brought out Nicholas at WrestleMania."
To that I say, "It was done right." There was a build. Nicholas didn't get physically involved. They didn't present Nicholas as an unstoppable hero for children everywhere. In context, it worked.
The problem I had with the 13 year old girl is not that she loves wrestling, is not that shes training, is not that shes in or involved in shows, its not that I want to ruin her dreams. Good for her.
Its that the people booking that segment mistook "bad business and bad booking" for making some type of progressive statement.
I want to set the stage for you. Its not like this 13 year old girl was afraid of the grown adult male she was in the ring with. She didn't act age appropriate. There was no interference to help her. There was no "shocking awesome moment."
The girl literally became Stone Cold Steve Austin and beat this guy clean in the middle.
And its not her fault! How can it be?
It is the fault of everyone who didn't know how to make that segment work.
If I'm the booker of a company, and someone says, "Hey, we have this girl. She's training. People follow her. Shes got 10,000 social media likes. She's 13. Can we incorporate her somehow as a favor?"
Of course I support that.
But what I support is doing it right.
There's no way in hell I don't veto the idea of her becoming a Steve Austin bad ass and whooping an adult male. Regardless of his flamboyant gimmick.
Maybe she's a manager or something. Maybe she's in a mixed tag like Nicholas and she's protected until the finish, and its this big dramatic moment.
But excusing horrible booking and bad execution as "progress" and "the business has changed" is going to set the bar so low that you're not even going to recognize the business at all in 5 years. You wont even be able call it wrestling anymore. It would be like some weird alternative performance art.
And the thing that makes me scratch my head is a lot of the people who advocate this stuff, at the other side of their mouth, say "I respect old school and WWE and sports entertainment killed the business. Support the territories and indi wrestling."
It doesn't make sense. There's no actual standard they hold themselves to. They just attach themselves to whatever is convenient for them to say so they can justify doing whatever.
They're "playing" wrestler.
I digress though. Going back to intergender wrestling in general, who does it really serve?
Do they put Brock Lesnar in there with the women at UFC?
"No that would be totally unfair."
Then why do it in wrestling?
"Well wrestling is an art and we can do whatever we want."
Okay, what about Vince McMahon? He does sports entertainment.
"Vince isn't true old school wrestling. Sports entertainment is killing the business."
Huh?
Then politically, the same people: "A man should never lay a hand on a woman ever."
Which I totally agree with. So then why intergender wrestling, then, when a man can beat up a woman?
Why intergender wrestling, when a 13 year old girl is put against a flamboyant grown man?
Is it somehow "progressive" for LGBT to have one of their people beat up by a little girl?
I don't understand the political stance on this at all.
Then they say:
"Its art we can do whatever we want. Its empowering."
Right. So "empowered man on woman violence." Empowered 13 year old girl beats up an LGBT guy. Got it. Makes sense. (Sarcasm)
So remind me… why don't you like sports entertainment though?
"Because its unrealistic and killing the business."
"…so why is it realistic for a 13 year old girl to beat up an adult male?"
"Don't question us, its our art."
I'm not arguing against intergender wrestling. I could care less. Vince wrestled Stephanie on PPV.
Ronda Rousey was in a mixed tag with Triple H.
Nicholas won the tag titles with Braun Strowman.
The difference is they all had context, a reason, and a payoff, and in most cases was a win win.
What I'm pointing out though is "standards" on the independent level are often a moving goalpost and people change their viewpoint just to justify whatever it is they're doing and hide behind calling it "art" or "politics" because its easier to go for shock value than it is to actually be a master of your craft.
Ps: The best booked intergender segment for my money is when Ronda unloaded on Triple H in the corner at WrestleMania. Totally made her a star and it was done Smartly.
Because it was one moment, and not the whole match.
Chairshot Staff Picks: Tables, Ladders and Chairs #TLC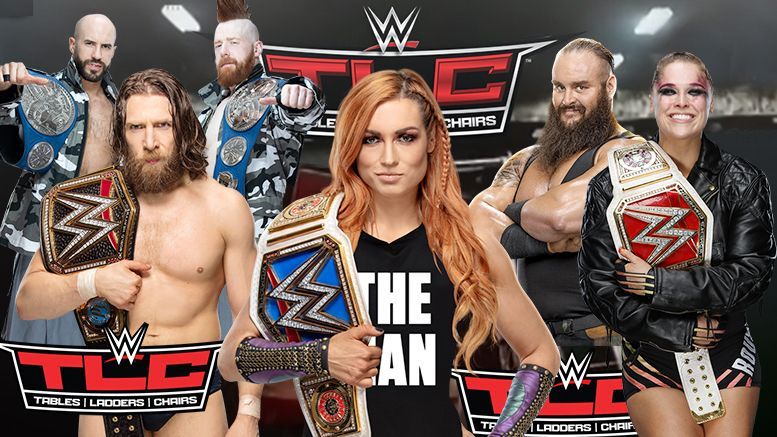 Another PPV, another Staff showdown! Who came out of Survivor Series with the best record, and how do our picks shape up against your own? PC Tunney will shed some light from his Magic 8 Ball.
Ladies and gentlemen, my name is PC Tunney! Welcome back to the Chairshot staff picks.  One of my favorite PPV concepts TLC, is upon us.  Last month the Chairshot staff went 8-3-1 as a whole(not bad!).  Andrew Balaz, Korey Gunz, Francesca Scopelliti and yours truly all went 9-3 for the Survivor Series weekend to sit atop our mountain of prognostication.  Another TWELVE match weekend.  Only this time it's all on one show.  So as I refrain from any super corny twelve days of Christmas reference, let's take a gander into the Chairshot crystal ball.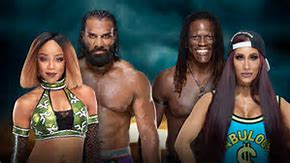 STAFF PICKS
Eric Ames: R Truth & Carmella
Tiffany Carter: Mahal & Fox
Rey Cash: R Truth & Carmella
Carol Cassada: R Truth & Carmella
Steve Cook: Mahal & Fox
Korey Gunz: R Truth & Carmella
Kristen Herzog: R Truth & Carmella
David Levin: R Truth & Carmella
Scott McLeod: R Truth & Carmella
Mitchell says: R Truth & Carmella
Miranda Morales: Mahal & Fox
Mathew Sarpraicone: R Truth & Carmella
Dave Ungar: R Truth & Carmella
Patrick O'Dowd: R Truth & Carmella
DPP: R Truth & Carmella
The Real C Platt: R Truth & Carmella
Andrew "snowflake(balls)" Balaz: R Truth & Carmella
Greg DeMarco: R Truth & Carmella
Tunney's Take: Until the WWE actually lets the men and women interact in the ring I will maintain my disinterest. I'll take the faces here. My pick is R Truth & Carmella
16-3 R Truth & Carmella #UseYourHead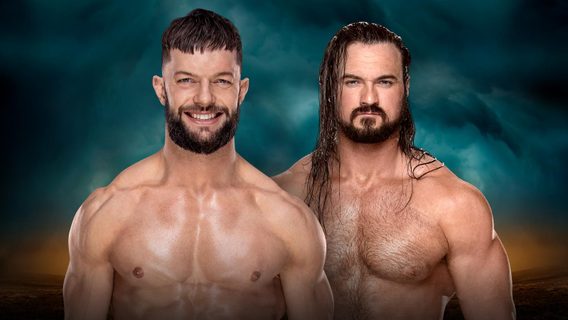 STAFF PICKS
Eric Ames: McIntyre
Tiffany Carter: Balor
Rey Cash: McIntyre
Carol Cassada: McIntyre
Steve Cook: McIntyre
Korey Gunz: McIntyre
Kristen Herzog: McIntyre
David Levin: McIntyre
Scott McLeod: McIntyre
Mitchell says: Balor
Miranda Morales: McIntyre
Mathew Sarpraicone: McIntyre 
Dave Ungar: McIntyre
Patrick O'Dowd: Balor
DPP: McIntyre
The Real C Platt: McIntyre
Andrew "snowflake(balls)" Balaz: McIntyre
Greg DeMarco: McIntyre
Tunney's Take: This one is a coin flip to me. My pick is Drew McIntyre
16-3 Drew McIntyre #UseYourHead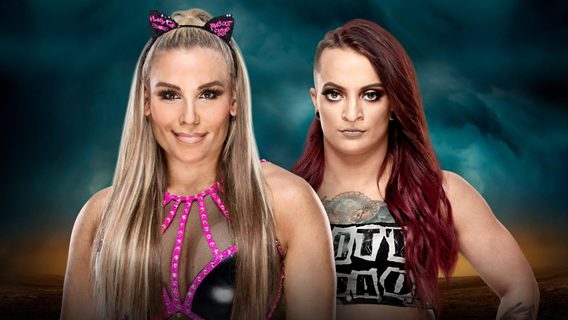 STAFF PICKS
Eric Ames: Natalya
Tiffany Carter: Ruby 
Rey Cash: Natalya
Carol Cassada: Natalya
Steve Cook: Natalya
Korey Gunz: Ruby
Kristen Herzog: Natalya
David Levin: Natalya
Scott McLeod: Ruby
Mitchell says: Natalya
Miranda Morales: Natalya
Mathew Sarpraicone: Natalya
Dave Ungar: Ruby
Patrick O'Dowd: Ruby
DPP: Natalya
The Real C Platt: Ruby
Andrew "snowflake(balls)" Balaz: Natalya
Greg DeMarco: Natalya
Tunney's Take: The Riot Squad plays a role here and Nattie gets a beat down. My pick is Ruby Riot
12-7 Natalya #UseYourHead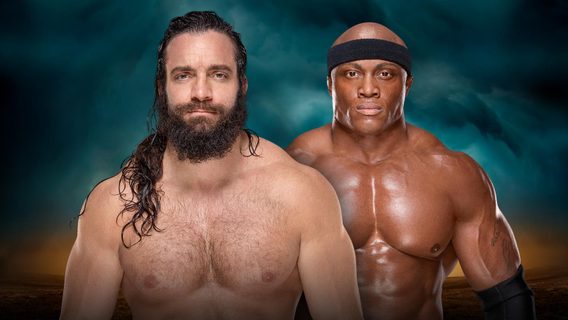 STAFF PICKS
Eric Ames: Lashley
Tiffany Carter: Lashley
Rey Cash: Lashley
Carol Cassada: Elias
Steve Cook: Elias
Korey Gunz: Elias
Kristen Herzog: Lashley
David Levin: Elias
Scott McLeod: Lashley
Mitchell says: Elias
Miranda Morales: Lashley
Mathew Sarpraicone: Elias
Dave Ungar: Lashley
Patrick O'Dowd: Elias
DPP: Lashley
The Real C Platt: Elias
Andrew "snowflake(balls)" Balaz: Elias
Greg DeMarco: Elias
Tunney's Take: Nothing like a guitar on a pole ladder match, LOL. Give me the conqueror of chords, the rajah of riffs, the notorious note strummer, the liaison of lyrics. My pick is Elias.
11-8 Elias #UseYourHead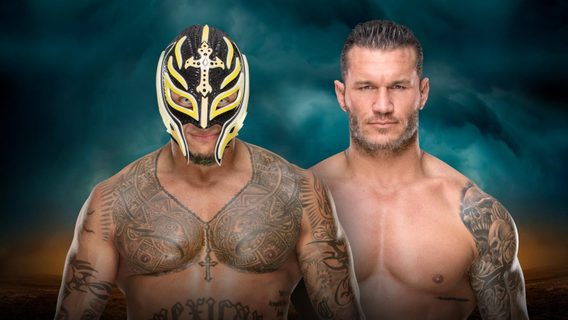 STAFF PICKS
Eric Ames: Orton
Tiffany Carter: Mysterio
Rey Cash: Orton
Carol Cassada: Mysterio
Steve Cook: Orton
Korey Gunz: Orton
Kristen Herzog: Orton
David Levin: Orton
Scott McLeod: Orton
Mitchell says: Orton
Miranda Morales: Orton
Mathew Sarpraicone: Orton
Dave Ungar: Mysterio
Patrick O'Dowd: Orton
DPP: Mysterio
The Real C Platt: Orton 
Andrew "snowflake(balls)" Balaz: Orton 
Greg DeMarco: Mysterio
Tunney's Take: I see Mysterio benefitting more from a victory here than Randy. My pick is Rey Mysterio.
13-6 Randy Orton #UseYourHead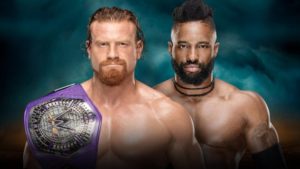 Buddy Murphy v Cedric Alexander – Cruiserweight title
STAFF PICKS
Eric Ames: Murphy
Tiffany Carter: Murphy
Rey Cash: Murphy
Carol Cassada: Murphy
Steve Cook: Murphy
Korey Gunz: Murphy
Kristen Herzog: Murphy
David Levin: Murphy
Scott McLeod: Murphy
Mitchell says: Murphy
Miranda Morales: Murphy
Mathew Sarpraicone: Murphy
Dave Ungar: Murphy
Patrick O'Dowd: Alexander
DPP: Murphy
The Real C Platt: Murphy
Andrew "snowflake(balls) Balaz: Murphy
Greg Demarco: Murphy
Tunney's Take: Cedric Alexander is not the man to take this title off Murphy's hands. My pick is Buddy Murphy.
18-1 Buddy Murphy #UseYourHead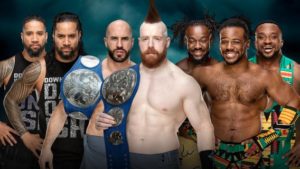 The Bar v The Usos v The New Day – SD Tag titles
STAFF PICKS
Eric Ames: Usos
Tiffany Carter: Usos
Rey Cash: Usos
Carol Cassada: Usos
Steve Cook: Bar
Korey Gunz: Bar
Kristen Herzog: Usos
David Levin: Bar
Scott McLeod: Bar
Mitchell says: Usos
Miranda Morales: Bar
Mathew Sarpraicone: Bar
Dave Ungar: Usos
Patrick O'Dowd: New Day
DPP: Usos
The Real C Platt: Bar
Andrew "snowflake(balls)" Balaz: Usos
Greg DeMarco: Usos
Tunney's Take: This one could really go in any direction depending on if any of the teams are leaving SmackDown. My pick is the Usos.
11-7-1 Usos #UseYourHead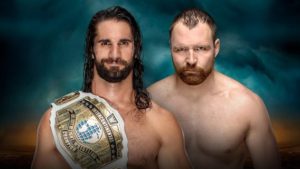 Seth Rollins v Dean Ambrose – Intercontinental title
STAFF PICKS
Eric Ames: Ambrose
Tiffany Carter: Ambrose
Rey Cash: Ambrose
Carol Cassada: Ambrose
Steve Cook: Rollins
Korey Gunz: Ambrose
Kristen Herzog: Ambrose
David Levin: Ambrose
Scott McLeod: Ambrose
Mitchell says: Ambrose
Miranda Morales: Ambrose
Mathew Sarpraicone: Ambrose
Dave Ungar: Ambrose
Patrick O'Dowd: Ambrose
DPP: Ambrose
The Real C Platt: Ambrose
Andrew "snowflake(balls)" Balaz: Ambrose
Greg Demarco: Rollins
Tunney's Take: I feel like we will get this match again at the Rumble. My pick is Seth Rollins.
16-3 Dean Ambrose #UseYourHead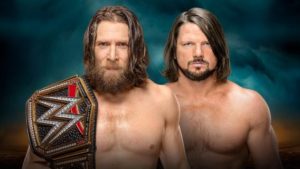 Daniel Bryan v AJ Styles – WWE title
STAFF PICKS
Eric Ames: AJ
Tiffany Carter: DB
Rey Cash: DB
Carol Cassada: DB
Steve Cook: DB
Korey Gunz: DB
Kristen Herzog: DB
David Levin: DB
Scott McLeod: DB
Mitchell says: DB
Miranda Morales: DB
Mathew Sarpraicone: DB
Dave Ungar: DB
Patrick O'Dowd: No Decision
DPP: DB
The Real C Platt: DB
Andrew "snowflake(balls)' Balaz: DB
Greg Demarco: DB
Tunney's Take: This title won't change hands until at least Mania. My pick is Daniel Bryan.
17-1-1 Daniel Bryan #UseYourHead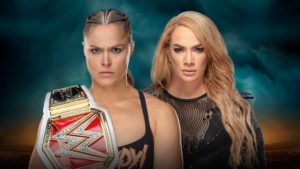 Ronda Rousey v Nia Jax – RAW women's title
STAFF PICKS
We ALL picked Ronda Rousey! 19-0 #UseYourHead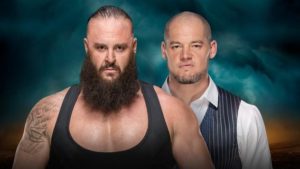 Braun Strowman v Baron Corbin – TLC match 
STAFF PICKS
Eric Ames: Braun
Tiffany Carter: Braun
Rey Cash: Corbin
Carol Cassada: Braun
Steve Cook: Braun
Korey Gunz: Braun
Kristen Herzog: Braun
David Levin: Braun
Scott McLeod: Braun
Mitchell says: Braun
Miranda Morales: Corbin
Mathew Sarpraicone: Braun
Dave Ungar: Corbin
Patrick O'Dowd: No Contest
DPP: Braun
The Real C Platt: Braun
Andrew "snowflake(balls) Balaz: Braun
Greg DeMarco: Braun
Tunney's Take: These Hands are on their way to Mania and the road starts here. My pick is Braun Stroman.
15-3-1 Braun Strowman #UseYourHead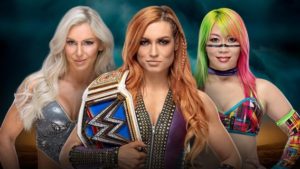 Becky Lynch v Charlotte v Asuka – SmackDown women's title
STAFF PICKS
Eric Ames: Asuka
Tiffany Carter: Becky
Rey Cash: Becky
Carol Cassada: Asuka
Steve Cook: Asuka
Korey Gunz: Becky
Kristen Herzog: Becky
David Levin: Becky
Scott McLeod: Asuka
Mitchell says: Asuka
Miranda Morales: Charlotte
Mathew Sarpraicone: Asuka
Dave Ungar: Becky
Patrick O'Dowd: Charlotte
DPP: Becky
The Real C Platt: Becky
Andrew "snowflake(balls)" Balaz: Asuka
Greg DeMarco: Asuka
Tunney's Take: My feeling is we see Becky v Asuka at Rumble and Charlotte wins the Rumble. My pick is Asuka.
9-8-2 Asuka #UseYourHead
Joe's Lucha Libre Weekly: News & Analysis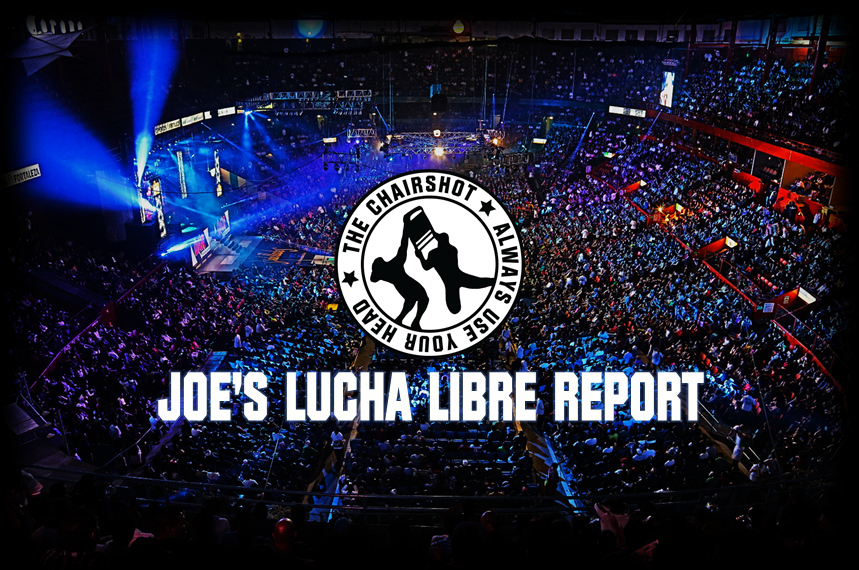 As the year winds down, we see all of our favorite companies setting up for 2019. Joe will give us a nice snapshot of where some of our favorite Luchadors are headed, down the home stretch of 2018.
CMLL
Arena Mexico Last Friday
Volador Jr and Ultimo Guerrero wrestled in the main event in a rare singles match with nothing on the line. It was a really good match that saw Volador winning. That's interesting and since he pinned the heavyweight champion, I wonder if that's a program that look for. Volador doesn't seem to be any less over since losing his hair so why not keep booking him strong? When he grows his hair back fully it could help a younger talent get over again. He's clearly talented enough to stay over. Atlantis, El Valiente, and Diamante Azul took on Rush, El Terrible, and La Bestia del Ring. This was a DQ finish which saw the former winning. It's typical for a Los Ingobernables match. There wasn't much else important on the show. It wasn't a huge show and only drew 6,000 fans. Looks like they're back to the pre LA Park numbers.
Arena Puebla Monday
The main event of this show was Volador against El Terrible. He challenged him on a previous show to a singles match because he's tired of the way Los Ingobernables acts during their matches. He won the match in a match that wasn't very good and featured a lot of posturing. The third fall was okay but it was really slow moving. Caristico, Angel de Oro, and Niebla Roja faced Cavernario, Hechicero, and Rey Bucanero. This was a really fun match. Caristico, Oro, and Roja have good chemistry together. They ended up winning the match in three falls.
Arena Mexico Tuesday
Atlantis, Diamante Azul, and Stuka faced Cavernario, El Terrible, and Euforia in the main event. It was an okay match. Atlantis was moving decently in this match. The former won the match when Atlantis got Cavernario in a torture rack. The co main event featured, Blue Panther, Blue Panther Jr, and Black Panther facing off against Mephisto, Luciferno, and Rey Bucanero. This also wasn't a bad match. Blue Panther can still go at a reasonably high rate for a man who is almost 60. He did two middle rope dives. But the latter team won with an elaborate submission, as Mexico is known for.
Arena Mexico Friday Preview
The main event for this show is Caristico, Volador Jr, and El Valiente vs Ultimo Guerrero, Sanson, and Cuatrero. An interesting pairing for the latter team. Also interesting to know that Rush will be on MLW live on Friday interest of being in Mexico.  The co main event is Angel de Oro, Niebla Roja, and Flyer vs Shocker, El Terrible, and Rey Bucanero. Sounds like a fun match up. There is a lightning match between Soberano Jr and Forastero. That should also be a fun match.
AAA
AAA had a show. Yeah, that had a show. Moose returned to AAA which is cool, I like Moose. Dr. Wagner, Psycho Clown, and Pagano faced Moose, Blue Demon Jr, and Rey Escorpion in the main event. It was a brawl like match where Pagano unceremoniously pinned Moose in the main event. The OGTs faced Porde de Norte in the co main event in which was a fun match. Aerostar faces Monster Clown in a strap match and he won. It was somewhat brutal but not as crazy as I've seen in AAA. It was pretty much a nothing show.
They have a show on Christmas. Branded as the AAA vs Elite. Elite being a dead brand they resurrected just for storyline reasons. I'm not watching that live probably because I'm not an animal. Psycho Clown, La Parka, and Pagano will face Electro Shock, Taurus, and Rey Escorpion in the main event. The co main event sees Averno, Chessman, and Super Fly face Australian Suicide, Golden Magic, and Jack Evans. Hijo Del Vikingo, Luchador Sorpersa, and Halcon 78 Jr face Emperador Azteca, Samoano, and Tonga. Faby Apache and Lady Shani face Lady Maravilla and Keyra. Chicano, Vanilla, and Villano III Jr face Chica Tormenta, Demus, and Toxin. Then there's a minis match.