Joe's AAA Review & Results (10/23/2018)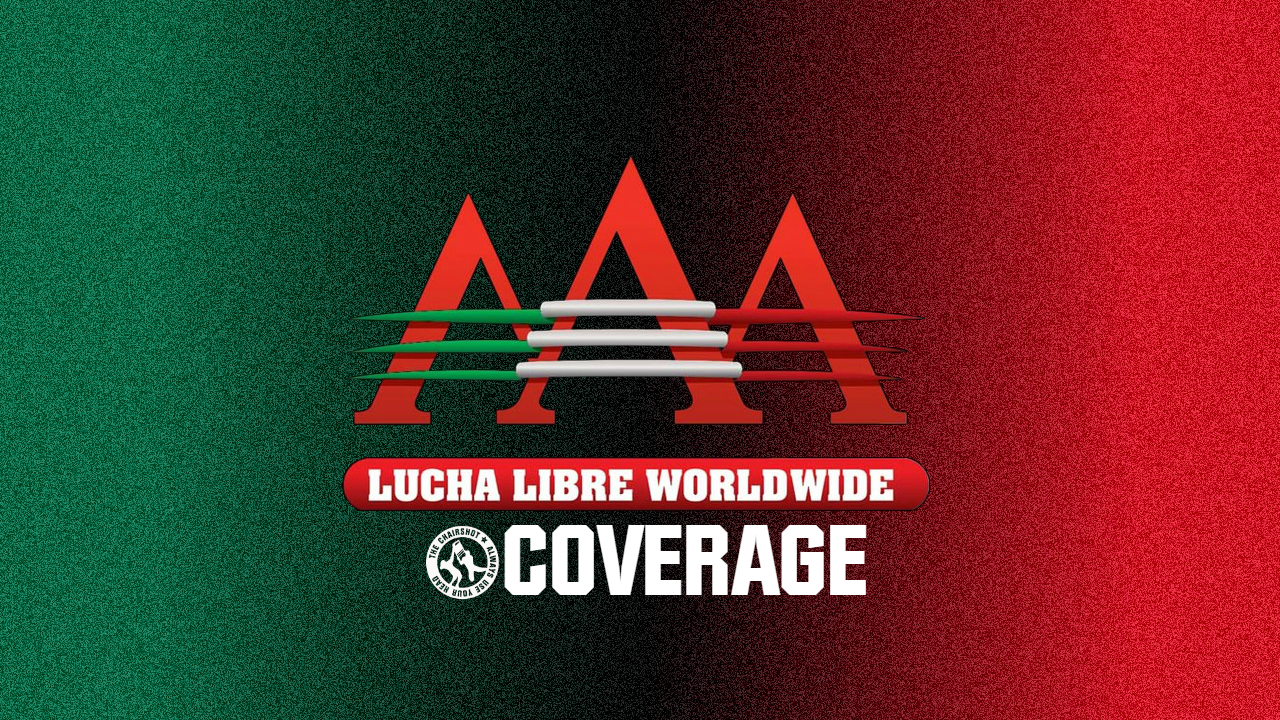 AAA Twitch Taping 10/19
This is the go home show to Heroes immortals or HeroesImortales on October 28th. If there are changing to matches I'll signify to drive home the point that AAA false advertises a lot.
Keyra, Starfire, and Lady Maravilla vs Faby Apache, Vanilla, and La Hiedra
Match starts with them all brawling immediately. The team of Starfire, Lady Maravilla, and Keyra are taking advantage of the early brawl and are beating up on the other team individually. A come back is made and the tide is turned, now the team of Apache, Vanilla, and La Hiedra have the numbers advantage. A tale of triple teams.
Order somewhat gets restored and Maravilla and Hiedra go at it. Next up is Vanilla and Keyra. Vanilla goes for a tornado dive but comes up short. Crowd didn't like that. Apache and Starfire square off now. Apache hits a head scissors take over and then gets a leg lock but it's broken up. Keyra, Starfire, and a surprise luchador will challenge Apache on 10/28 for her title. Keyra and Maravilla both hit spanish flies on Vanilla and Hiedra. Apache gets Starfire in a fireman's position and Starfire counters into a victory roll for the win. Starfire pins Faby Apache with a victory roll.
Post match the crowd is really hot for Faby. Apache says she's the champion and AAA is her house and essentially she'll prove it at HeroesImortales on October 28th.
Winners: Keyra, Starfire, and Lady Maravilla
Dr. Wagner comes to the ring now. He brings up Jeff Jarrett. Talks about what will happen at HeroesImortales. He gets interrupted by his son, El hijo de Dr Wagner Jr. Wagner Jr is making the crowd chant perro at his own son. Hijo de Wagner confronts his father in the ring and then attacks him. Psycho Clown comes out. Setting up the main event for later.
Golden Magic, Jack Evans, and Ciclon Ramirez vs Mocho Cota Jr, Carta Brava Jr, and Tito Santana
Golden Magic and Cota start out in the ring. Doesn't last long after they trade a few moves, Jack Evans and Carta Brava come in. Jack get the better of him. He hits a sunset flip, and springs him back up for a cross body by Ramierz. He takes out Carta Brava and gets in there with Tito Santana. It looks like he was supposed to monkey flip him but instead drove Santana's head into the mat. Cota and Golden Magic get back in and Magic hits a tornado dive off the top and follows up with an arm drag. He does a head scissors take over bringing Cota to the outside. He follows him and this leads to everyone brawling. Evans and Magic get taken out leading to Ramirez to get triple teamed. He gets cracked with a chair, no hands up at all. Very 1999.
Next to get teamed on is Jack Evans. A spine buster is hit on him and Santana hits a drop kick off the top to his.. ass. I guess. They do some odd pyramid spot where Ramirez, Evans, Brava, and Santana were all holding each other and Cota stood on their backs and Magic hit a springboard hurricanrana. Afterwards, Magic, Evans, and Ramirez hit dives to the outside. Back in the ring Ramirez hits a reverse head scissors on Brava, Evans, and Magic then hit double standing moonsaults on him. The pin gets broken up immediately.
Everyone is taken out except Magic and Brava. Magic hits a springboard tornado attack on him. He goes for a moonsault off the top but Brava gets the feet up. He gets a 2 count. On the apron Brava hits a back smasher on Magic. Santana gets Evans to the outside and hits a somersault dive through the middle rope. Evans did a poor job of catching him. Santana smacked hard on the floor. In the ring, Cota gets Ramirez to the top and hits a spanish fly for the victory. Mocho Cota Jr pins Ciclon Ramirez with a Spanish fly.
Post match Santana is still on the ground in pain while Cota and Brava are in the ring. They tell Santana to get up and come in the ring with them but he looks like he can barely stand. He immediately falls back to the mat to get checked on. He hit really hard on the floor and part of the barricade. Hopefully he's okay.
Winners: Mocho Cota Jr, Carta Brava Jr, and Tito Santana.
Demus (Metaleon), Imposible, and Emperado Azteca vs Aerostar, Bengala, and Hijo Del Vikingo
Okay. So Demus didn't come out. Metaleon is the name of the person who replaced him. They showed Demus' graphic and everything. Very unprofessional. Anyway match starts with Aerostar, Bengala, and Vikingo hitting hurricanrana's on their opponents. They go for dives but the other's are back in the ring and hit super kicks, then they go for dives. Metaleon and Vikingo are in the ring and Vikingo hits a springboard hurricanrana. He hits a head scissors then goes for a dive but he's intercepted by Imposible. Imposible then works him over for a bit.
Aerostar gets in there next to take on Imposible. He gets the better of him and kicks him to the outside but then Azteca hits a few tilt-a-whirl backbreakers on Aerostar. He pump kicks Aerostar to the outside bringing in Bengala to take him on. He arm drags him to the outside. Now Bengala must deal with Metaleon. The man who wasn't advertised in this match till the very last second. Talk about taking card subject to change to it's limit.
Vikingo gets in with him and gets the advantage on him. Rolling him into a leg lock. His teammates hit sunset flips for 2 counts. They all get up and start slapping each other in the ring. Aerostar hits a rolling cutter on Azteca. He goes to attack Imposible with a hurricanrana off the top but it's reversed into a power bomb. Bengala and Metaleon are in the ring and they trade some fighting spirit spots. Running into each other for clotheslines. Vikingo head scissors Azteca over the top. Aerostar hurricanrana's Imposible to the outside then hits a dive over the top.
This match is breaking down and getting a little sloppy. Vikingo hits a 450 dive to the outside on Metaleon and Azteca. Then Bengala hits a dive into the crowd on them. In the ring Aerostar hits a code breaker off the top rope on Imposible for the win. Aerostar pins Imposible with a code breaker off the top rope.
After the match Monster Clown comes out to attack Aerostar. He attacks him and keeps pulling at his mask. He made it stop lighting up at least. He couldn't fully get it off. Bengala and Vikingo debate making the save but Monster Clown has all his bases covered.
Winners: Aerostar, Bengala, and El Hijo del Vikingo