Joe's CMLL Review & Ratings (10/15/2018)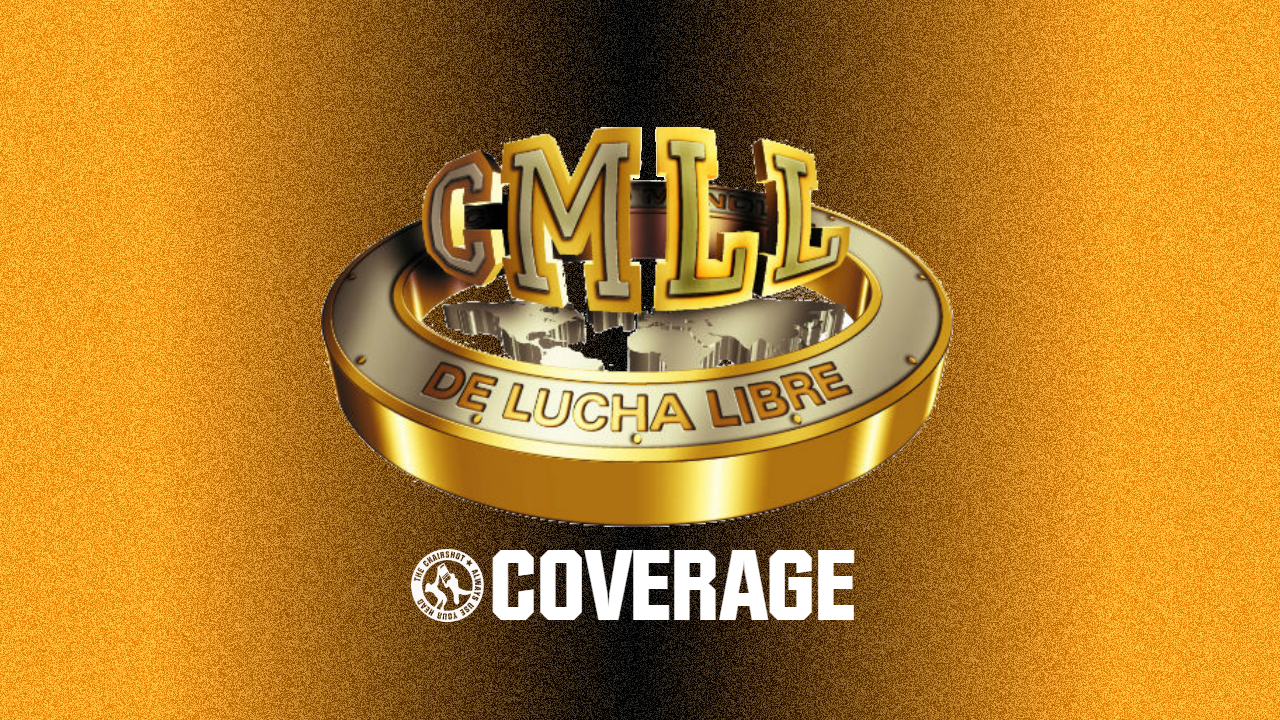 CMLL Arena Puebla Monday
Lestat, Rey Samuray, Asturiano vs Rey Apocalipsis, Joker, and Guerrero Espacial
Samuray and Joker start off and Samuray is so much taller than Joker. They start grappling on their feet which soon becomes mat wrestling. Asturiano and Guerrero make their way in and continue the trend of grappling. They hit a stale mate and shake hands bringing in Lestat and Apocalipsis. They pick up the pace as Lestat attacks his partners in the corner. Lestat gets Apocalipsis out of the ring, and hits Guerrero with a fireman's carry. Then Samuray hits a springboard 450 for the pin. Asturiano hits a lionsault on Joker for the fall. First Fall: Asturiano hits a lionsault on Joker for the pin.
Lestat and Apocalipsis start off the next fall. Lestat hits a hurricanrana and goes for a top rope dive but Rey's female companion covers him. Asturiano comes in with Joker briefly but he hits a pose and Samuray and Guerrero enter. Samuray hits a head scissors then a springboard arm drag, then feigns a dive. Lestat comes in with Apocalipsis. Rey has him in his corner and they take him out. Asturiano comes to make the save but he suffers the same fate. Samuray gets triple teamed until he's hit with a fireman's carry then a splash off the top by Joker which pins him. Lestat comes in and gets double teamed and then Guerrero submits him for the fall. Second Fall: Guerrero Espacial submits Lestat with a stretch for the fall.
Third fall starts with Lestat being triple teamed. Samuray makes the save and they start to exchange spots. Lestat comes in and hits a springboard leg drop on Apocalipsis but the count is broken up. Rey Samuray hits a lionsault but gets up after 2. Samuray hits a rotating dive off the top on Guerrero for the pin. Joker then hits him with a canadian destroyer for a pin. Apocalipsis and Lestat get in. Lestat hits a death valley driver. He goes to the top and misses the swanton bomb. Apocalipsis gets him in a leg roll which leads to an arm bar for the win. Third Fall: Apocalipsis submits Lestat with an arm bar.
Winners: Rey Apocalipsis, Joker, and Guerrero Espacial
Marcella, Lluvia, and La Vaquerita vs Dayls, Tiffany, Amapola
Tiffany starts with Vaquerita. They exchange submission holds and counters. Lluvia and Dayls make their way in. They start to work at a faster pace until Lluvia stops and takes her shirt off. Dayls doesn't let up and attacks her after. Lluvia hits a face buster and feigns a dive. This brings in Marcella and Amapola. Marcella hits a head scissor take over then a foot stomp from the top. The match starts to break down, Vaquerita hits a drop kick off the top, then Lluvia hits one in the corner on Dayls for the fall. First Fall: Lluvia pins Dayls with a corner drop kick.
Marcella starts with Tiffany and they're slapping each other in the chest to start. It quickly breaks down and all 6 women are in the ring. The two other are taken out and Vaquerita gets triple teamed. She gets taken out and Lluvia comes in and she gets drop kicked to the ramp. Marcella tries to help but she's drop kicked to the floor. Tiffany gets Vaquerita in a torture rack like submission for the fall. Second Fall: Tiffany submits La Vaquerita with a modified torture rack.
Third round begins with more triple teaming on Marcella. They take one out and move on to triple teaming the next. They make a come back and get a triple submission in the center of the ring but it's broken up. Marcella goes for a vertical suplex but Dayls reverses it into a small package for the win. Third Fall: Dayls pins Marcella with a small package.
Winners: Dayls, Tiffany, and Amapola
Diamante Azul, Kraneo, and Volcano vs Hechicero, Templario, and El Felino
Volcano starts off with Templario and I don't think you're going to see much mat wrestling with Volcano. Templario tries to move around Volcano but he can't because he's too big. Volcano hits a big boot on Templario sending him to the outside. All of them stare down for a moment before Azul and Hechicero come in. Hechicero tries to unmask him while they're grappling on the ground. Felino gets in their next with Kraneo next. Kraneo body slams Felino and is about to go for a splash but then Templario and Hechicero come in to attack him and this leads to a brawl. They hit Kraneo with a triple team spine buster but sell their backs afterwards. They get him in a triple submission afterwards. Hechicero hits a running knee on Azul and Felino pins him. First Fall: Hechicero hits a running knee on Diamante Azul and Felino pins him.
Second fall begins with them interacting with the midgets that are ring side. Hechicero and Templario hit a double suplex on Volcano. Hechicero, Templario, and Felino continue to triple team everybody. They start to make a come back and Kraneo hits Felino with a hip attack in the corner. Volcano hits a sit out press slam on Templario for the pin. Azul body slams Hechicero and Kraneo goes up to the top for a splash and pin. Second Fall: Kraneo pins Hechicero with a splash off the top.
Third round starts with Kraneo and Felino in the ring attacking each other. Kraneo hits a double splash on Hechicero and Templario after they try to double him. Templario then is in there alone with Volcano and he's trying to get him down again. He gets Templario out of there, Hechicero comes in and tries to hit a springboard attack but he's caught and slammed. Felino tries his hand but to no avail, and Volcano feigns a dive when Felino goes to the outside. I don't think we'll be seeing him dive. Templario is in there with Azul now. Azul gets off rapid fire tilt-a-whirl back breakers. Azul hits a hurricanrana on Hechicero then goes for a middle rope dive. Leading to Templario and Volcano in the ring again. Volcano hits a spine bsuter then his handspring splash. Kraneo sits on Felino after a failed sunset flip for the win. Third Fall: Kraneo sits out on El Felino after a failed sunset flip.
Winners: Kraneo, Volcano, Diamante Azul