Joe's CMLL Review & Results (10/22/2018)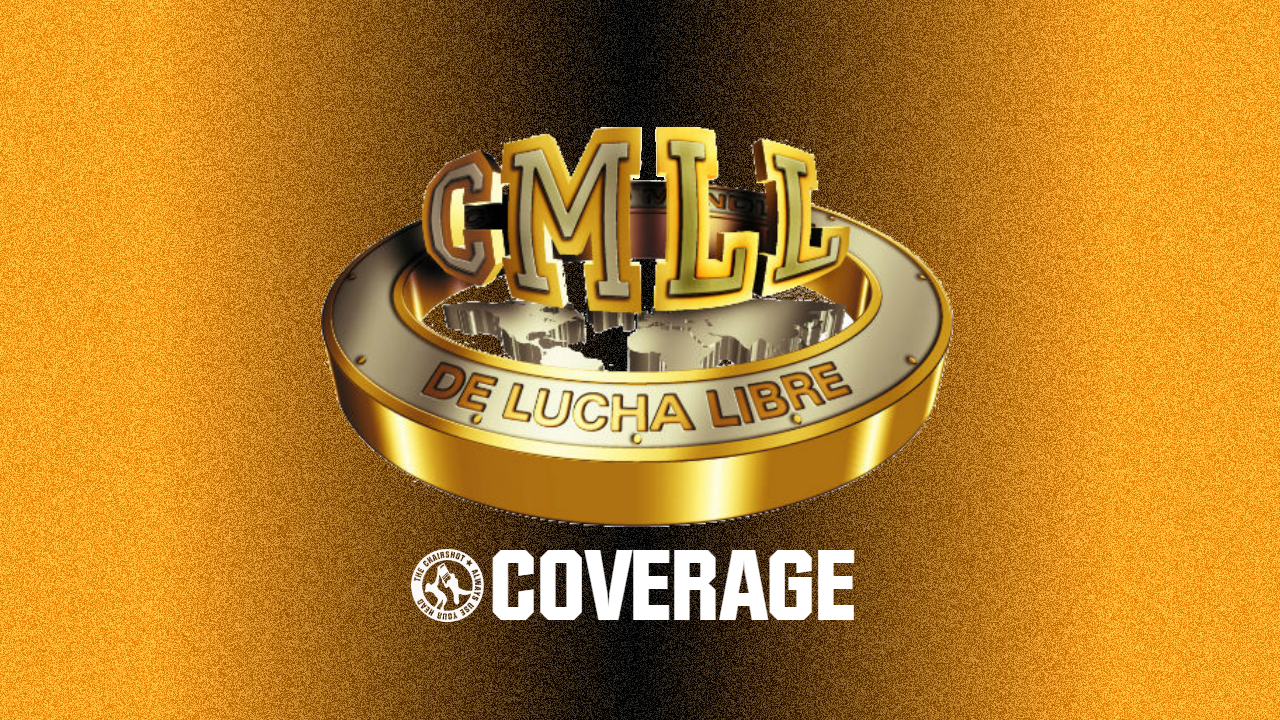 I wonder what was supposed to happen with Blue Panther Jr. Was it an angle so he didn't win but also didn't get eliminated? Dragon Rojo helps award Angel de Oro with the trophy and raises his hand.
They promote Dia La Muerta show or Day of the Dead show at Arena Mexico. Wonder if they'll do it on Friday the second or Thursday the first. They didn't really specify. I suppose they could do both. Now they're showing clips of the press conference earlier before the show involving Blue Panther.
Blue Panther, Black Warrior, Panterita del Ring, Euforia vs Mascara Ano 2000, Sanson, Cuatrero, and Forastero
Blue Panther comes out first and all the girls are dressed in Blue Panther inspired outfits. First they're doing a ceremony for him, giving him a plaque. Some of the family comes out, notably not there is Blue Panther Jr. I'm sure he's worried about his son right now. Panther has the mic and he basically says for 40 years everyone has been his friends and family. All of the fans and he thanks them a few times. We have Black Panther out there and El hijo de Blue Panther. So I suppose he has multiple sons. So Blue Panther Jr not joining must mean he's really hurt.
Now the entrances are starting.
We start with Black Warrior and Forastero in the ring. They do some grappling and reversals which leads to Panterita and Cuatrero to come in. They do some acrobatic grappling and finally Blue Panther is in there with Mascara Ano. They set up to wrestle but Ano retreats bringing in Sanson. Blue Panther gets jumped from behind causing everyone to come in and brawl. They knock Panther out and start teaming up on Euforia. They hit him with a few attacks and move on to Panterita. Forastero gets launched into Black Warrior in the corner for the pin. Mascara Ano also submitted Euforia but the ref wasn't even paying attention to it. First Fall: Forastero pins Black Warrior by being launced into the corner by Cuatrero.
They're brawling on the outside to start the second round off. They stomp Euforia in the corner and a drink is throw and hits Sanson right in the head. You see a security guy quickly go to find who did it. Haha. In the ring now they team up on Panterita. They continue their attack on Euforia hitting him with a drop kick. Blue Panther is trying his hardest to fight back but he can't. The rudos posture to the crowd and get heavily booed. It sounds like they have a packed house tonight. Finally a come back is made while they're posing. Euforia holds Forastero and Black Warrior leg drops him. Panterita hits a moonsualt on Cuatrero for the fall. Second Fall: Panterita pins Cuatrero with a moonsault.
In between rounds they brawl on the outside.
Forastero and Black Warrior start out in this round and they trade some moves back and forth. Sanson is now in with Panterita. Forastero tries to double him but Panterita hits a hurricanrana and arm drag on both. Then hits a double arm drag on them. Panterita does a middle rope dive into an arm drag on Sanson. Very impressive. Euforia and Cuatrero are next but soon Euforia hits him with a head scissors. He hits a big arm drag on Forastero. They hit a drop kick on Sanson and Panther goes for the pin but Mascara breaks it up.
Panther tricks Ano into falling to the outside and then hits a middle rope dive on him. Black Warrior then hits a middle rope headbutt dive on Forastero. Panterita now hits a middle rope dive on Sanson. And finally Euforia hits a middle rope dive on Cuatrero. Finally in the ring we have Blue Panther and Mascara. Mascara hits him with a shoulder block but when he picks up Panther he reverses it into a Fujiwara arm bar leading to Panther winning. Third Fall: Blue Panther submits Mascara Ano 2000 with a Fujiwara arm bar.
Winners: Blue Panther, Black Warrior, Panterita del Ring, and Euforia
Caristico, Pentagon Jr, and David Finlay vs Rush, El Terrible, and Cavernario
Caristico and Cavernario start the match off. They quickly start out doing acrobatic spots and in less than a minute things break down. Finlay and Terrible go at each other after Terrible attacked Caristico from behind. Pentagon and Rush stare each other down. Rush goes to the outside and starts beating on Caristico. Cavernario gets Finlay back in the ring. Rush helps the midget at ring side do a splash on Finlay. Rush, Terrible, and Cavernario hit drop kicks at the same time on Caristico leading to Rush pinning him. First Fall: Rush pins Caristico after all three hit basement drop kicks on him.
Cavernario holds Caristico in place while the midget performs a 619. They're all brawling on the outside now. Cavernario tries to remove Pentagon's mask. Los Ingobernables continues to work over everyone. Caristico finally makes a come back hitting a hurricanrana on Rush to the outside. Pentagon then super kicks him. In the ring Finlay pins Terrible with a stunner and Caristico does a flying head scissors into a Fujiwara arm bar on Cavernario. Second Fall: Caristico submits Cavernario with a Fujiwara arm bar.
They posture some to start this round. Pentagon does his cero miedo in Cavernario's face. Cavernario goes to do it but pokes him in the eye instead. Rush and Terrible start to stomp on Pentagon in the corner now. Pentagon makes a come back after a double team gone wrong. He hits a few sling blades then a super kick, then feigns a dive and hits a pose. Terrible and Finlay have a stare down then exchange strikes in the ring. They all stomp on Finlay in the corner while the ref isn't looking. Finlay is able to make a come back and hits an elbow on Terrible then poses to the crowd. Caristico is back in there with Cavernario. Caristico hits a head scissors then a springboard hurricanrana and then a dive to the outside on him. In the ring Terrible does a swing on Finlay and Rush hits him with a drop kick. Terrible pins him. Rush gets Pentagon in a tiger driver and pins him for the win. Third Fall: Rush pins Pentagon with a tiger driver.
They get a stretcher for Pentagon after. I think he's okay he was moving after. Maybe just a little dazed.
Winners: Rush. El Terrible, and Cavernario