Joe's Lucha Libre Weekly: News & Opinions (10/7/2018)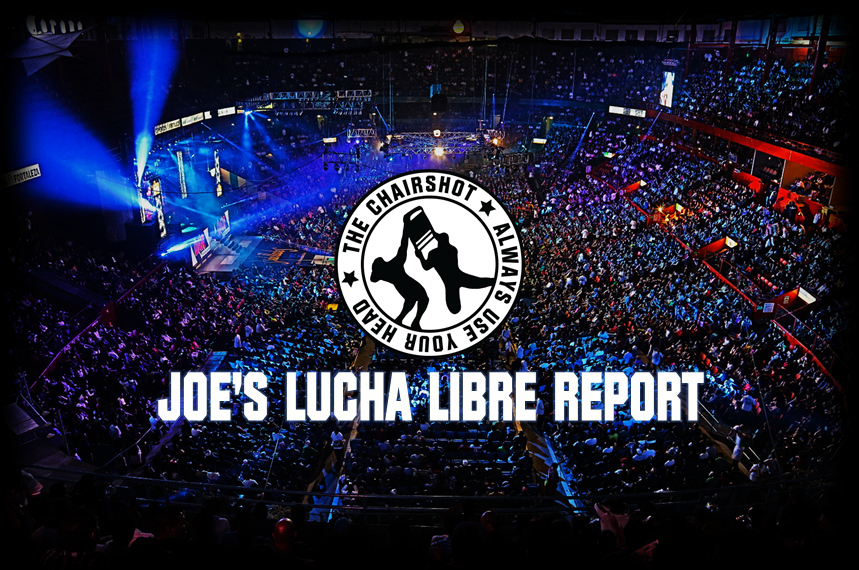 To start off, as of starting to write this, I was just at the MLW TV Tapings in New York, where I will discuss all things lucha libre, so if you do not want spoilers scroll past this first section.
MLW
After the first match on the show Konnan had come out to cut a promo saying that Pentagon and Fenix weren't here, basically because Salina de la Renta had them deported by ICE. Which is what she said when she came out. It got thunderous boos. Ricky Martinez was there and was stepping to Konnan but Konnan had a surprise for him. The debuting Puma King! They worked a fun match which Puma King ended up winning. Puma King has been having a lot of fun since leaving CMLL. The next luchador related match was El Hijo De LA Park vs Sammy Guevara. Guevara is AAA's light heavyweight champion. It was a fun excited match that the crowd was really in to. Hijo de LA Park won it. Just a side note, Teddy Hart hit a doomsday device canadian destroyer on Marko Stunt. I believe Marko Stunt is dead.
Next on the ledger was Daga vs Low Ki for the MLW world heavyweight championship. This was an incredibly stiff match. The chops were so loud you could almost feel it yourself. The finish was Low Ki "ripping" Daga's ear in half and then hitting his double stomp to the back of the head for the win. And in the main event of the show we saw PCO vs LA Park. The combined age of these men are over 100 years old. These men put on a show. Aside from the six man tag team match between Davey Boy Smith Jr, Teddy Hart, and Brian Pillman Jr against Rich Swann, ACH, and Marko Stunt. Park and PCO exchanged dives and spots that men their age had no business taking. Park ended up winning and kept talking on the mic after. The crowd threw money in the ring after and he thanked everyone for their dirty money. He thanked everyone for the opportunity and challenged Pentagon and Fenix for their tag titles in Chicago. That match is scheduled for November.
It was a really great show. MLW is super fun.
I have no seen Impact this week, but I know AAA's La Parka was on and Puma King as well.
CMLL
Puebla
Park and his son had a match with Rush and Cavernario. It was a super fun match, but in my opinion the six match last week had more heat with the crowd. There were a lot more anticipation with the crowd every time Park and Rush squared off one on one. This week Park and his son won. There was no promo afterwards, however. The show quickly went off the air. Park headlined the Puebla show on Monday. I've yet to get to these shows because I've been super sick. I might be a little late on everything this week.
Friday Show
This show saw Los Guerrero's finally beating the Kaos Klan for the trios title. After the match it was proposed that they do a 6 man tag match where all the hair and masks are on the line. So the losing team would need to shave or unmask. I have to assume this is set up for the Kaos Klan to lose since two members of Los Guerrero's have masks. Masks usually beat hair percentage wise. I believe the percentage is 90 percent of the time the mask wins. They promoted the Grand Prix next week which will be on Honor Club.
AAA
I don't wanna make it seem like I'm being lazy but pretty much nothing important happened at this show except for Blue Demon Jr returning. They advertised Dr. Wagner Jr being there for the main event as he was billed even though he wasn't there. AAA has a tendency to do shady promoting. Very WWE like in that sense. So there's a story here though, Dr. Wagner Jr wants to work an angle with his son, as in against his son. But Konnan felt that Hijo de Dr. Wagner Jr wasn't ready for the spot just yet. This apparently pissed off Dr. Wagner Jr and he claimed he was leaving AAA for good. Now he probably isn't going to, since he's still booked for the show on October 28th in a hair vs hair match. Clearly Wagner will win that match so it'll be funny to see if he doesn't show up for a match he's supposed to win. Anyway, the main thing on this show saw Blue Demon turning on Psycho Clown who was his partner in the tag match. So he comes back to a huge reaction and he's already a heel.
AAA hasn't announced when it's next card will be. The closest show they're promoting is October 19th with the headline being Psycho Clown and Dr Wagner vs Hijo de Dr. Wagner and Electro Shock. I can't imagine that's the only show in between now and the big show. Usually AAA just randomly springs on the next show like four days before it happens.
Here and There
I don't know if I have any news to report on. I'd recommend watching LA Park vs Pentagon on MLW TV which is Friday at 8 or Youtube at 6:05 on Saturday. CMLL is going to have it's Grand Prix which is happening as I'm writing this on Friday. It'll be on Honor Club and on demand.
(NOAH) WEEKLY NEWSLETTER VOL.14 ~ 14TH DECEMBER 2018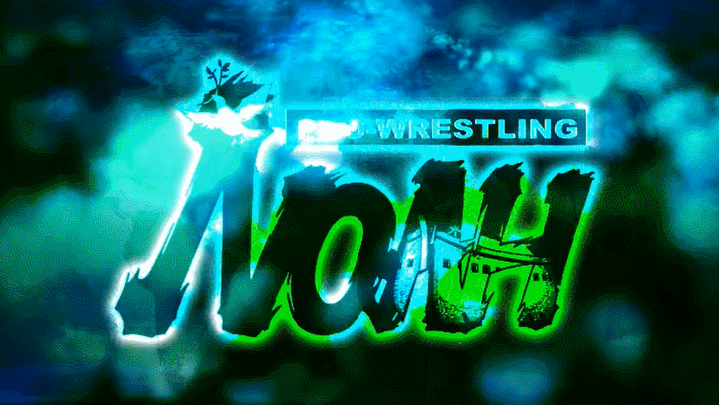 The endless well of NOAH knowledge, Hisame, bring us updates and news leading up to NOAH's final show of the year, Great Voyage in Yokohama Vol.2.
NEWS
TOKYO SPORTS PURORESU AWARDS 2018
Tokyo Sports announced their nominations for their annual end of year awards. NOAH have not been included since 2016 when Katsuhiko Nakajima won "The Fighting Spirit Award" and Naomichi Marufuji won "Best Bout".
Although Takashi Sugiura was a runner up nominee in "Outstanding Performance", this went to Naomichi Marufuji (who has won "Best Bout" in 2006, 2008 and 2016, "Outstanding Performance" in 2006, "Best Tag Team" (with KENTA) in 2003, and "Newcomer Award" in 1999). 
Kaito Kiyomiya has won his first award for "Fighting Spirit".
Kaito Kiyomiya, being Kiyomiya, at first couldn't believe it. He thought he had either been nominated for "Best Newcomer", despite having debuted three years ago, or that someone was joking.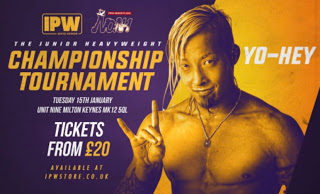 YO-HEY IN IPW
IPW have announced that YO-HEY is the second NOAH wrestler to compete in their Junior Heavyweight Championship Tournament on Tuesday 15th January 2019 in Milton Keynes, United Kingdom.
Tickets can be bought here
YO-HEY said when RATELS were due to come over in 2018 that he was excited as this would be his first time in England, and he wanted to meet Mr. Bean.
Yes. I guess a man described as a "childish buffoon who brings various unusual schemes and contrivances to everyday tasks" would get on very well with YO-HEY.
Expect another two NOAH names to (hopefully) be announced.
POWER HALL 2018
NOAH wrestlers have been announced for "Power Hall Year End Special" on December 28th.
Masa Kitamiya and Kaito Kiyomiya will be in "Timeless Masterpeice" (main event) teaming with Riki Chosu & Tatsumi Fujinami (Kitamiya) and NOSAWA and Kasai (Kiyomiya)
Katsuhiko Nakajima will be in a four man tag and renew his rivalry with Takuya Nomura in "Ultimate Collision"
Heisei Ishingun will reunite (Akitoshi Saito and AKIRA)
HAKATA STALENE CLOSED FOR REPAIRS
Hakata Stalene has been closed for renovation until March 2019. There is some concern that when it reopens it will not be used for puro, which will be not only disaster for the local residents, but promotions who come to the area too.
YO-HEY & HAYATA OUTSIDE PARTICIPATION
YO-HEY & HAYATA will be appearing in Kushinbo Kamen's New Year Produce on the 28th December, and they recorded this video message.
Question: how can someone covering their face by a hood, STILL look SO PHOTOGENIC?
CURRENT TOUR RECAP
NOAH wrapped up a short (compared to the frenetic pace of last year) "Winter Navigation 2018". Sadly due to the snowy weather rolling into the provinces (and I think as one fan said, not having a streaming service which severely impacts as people don't sometimes know what is going on), attendances have not been good with only one night in five being sold out.
Go Shiozaki and Katsuhiko Nakajima announced that they have split from "The Super New Generation Army" and stand as a team called "The Mid Generation" as they both debuted in 2004; so despite being part of the "Golden Era", they stand now in the era between the vets and the younger heavyweights. This makes more sense for both of them, Shiozaki in particular who was in a grey area being too old for the younger heavyweights and too young for the veterans.
I think this was probably always NOAH's intention to have them break away from the others at some point, especially now Kiyomiya is not so dependent on Shiozaki and needs less input. The GHC Heavyweight tag championships that Shiozaki has held recently have been for him to get other people (Kotoge & Kiyomiya) over in the heavyweight division, so this is one is for him to enjoy with a partner who certainly needs no favors.
Although the two are far too green to be involved in any storylines (as much as NOAH has them) or heated feuds, Kinya Okada and Yoshiki Inamura are slowly building into a feud, with Inamura refusing to shake hands with Okada the second time he lost to him and leaving the ring. Looking at the size of them, these two are going to be ultra heavyweights one day. 
Due to injury, Chinese athlete, Chang Yufeng, has been pulled from the NOAH cards and is working ringside duties. This means that Lin Dong-Xuan has had his first singles matches and faced Tadasuke on the 9th in the resulting card shake-up.
None of the champions or their challengers have managed to directly get the win over each other in any of the pre-matches.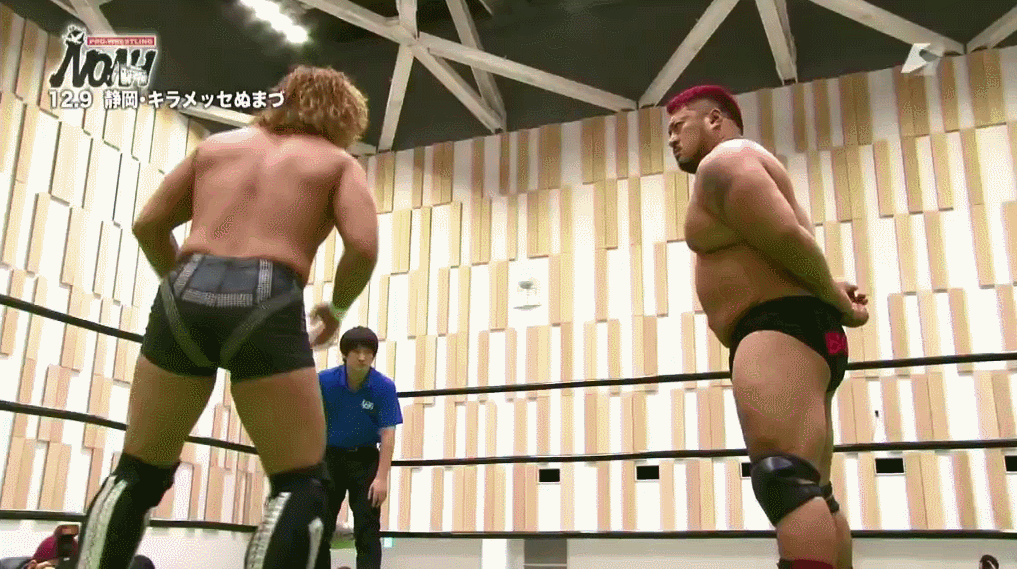 Yuji Hino made a definite impact (a Kotoge shaped impact) when Shiozaki and Nakajima clashed with himself and Taniguchi in their one and only pre-match by giving him "The Fucking Bomb". Hino (whom Nakajima has called The Hooligans "pet pig") has not been in NOAH due to his schedule since the 9th December. Nakajima says he will "silence his noisy oinking" at "Great Voyage in Yokohama Vol.2"
Hino then went on to insult most of The Hooligans (aside from KAZMA SAKAMOTO and Mitsuya Nagai). He's probably not going to take well to being called names either.
Kotaro Suzuki said something to the effect that Daisuke Harada walked in and took the seat he had left empty. Harada said this untrue as he came here from Osaka Pro, and that no one wants his damn seat anyway, they all have their own. Harada said he cannot afford to lose in Yokohama, after all, much more is on the line than just the belt.
Suzuki's last comment before the title match is that people should cheer for Harada (who he called "truly my puppet") because he was going to crush him and take everything from him.
Hajime Ohara hinted that there is a mini generational war going on among the juniors with Minoru Tanaka and Hi69 having the tag belts, and Kotaro Suzuki having the GHC Junior. There was tension between The Backbreakers and the GHC Junior Tag Champions at the match signing with Kumano and Tanaka squaring up. 
Minoru Tanaka likened the title match in Yokohama to be like a barbecue with butter falling into the fire, and told Hajime Ohara on the last night that he was the "burnt scum" of it when Ohara sarcastically told him to enjoy the taste of his barbecue.
Takashi Sugiura and Kaito Kiyomiya continued to stalemate, with Sugiura telling Kiyomiya that he had better bring his energy to Yokohama. In a post match promo on the 12th he said that he was going to "win a way that he cannot stand up" either by knockout, pin or referee stop.
GHC BELT NEWS
GHC Heavyweight Champion: Takashi Sugiura
GHC Junior Champion: Kotaro Suzuki
GHC Heavyweight Tag Champions: Go Shiozaki & Katsuhiko Nakajima
GHC Junior Tag Champions: Minoru Tanaka & Hi69
All titles will be challenged for on the 16th December at "Great Voyage in Yokohama Vol.2"
Kaito Kiyomiya will challenge for the GHC Heavyweight
Daisuke Harada will challenge for the GHC Junior
Yuji Hino & Maybach Taniguchi will challenge for the GHC Heavyweight Tag
The Backbreakers (Hajime Ohara & Hitoshi Kumano) will challenge for the GHC Junior Tag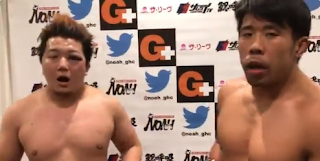 TOUR TIDBITS
~ President Uchida told Katsuhiko Nakajima that "I don't kick people, and laugh" when discussing teams for Masao Inoue's bowling tournament
~ Atsushi Kotoge got his cape back that Yoshinari Ogawa threw into the audience at Korakuen Hall
~ YO-HEY had planned to go buffo to use the dojo tanning machine, but unsurprisingly, December is too cold and the dojo doesn't have much in the way of either heating or air-con, and he apologized for the inconvenience of his not getting naked. Please let that be the end of his story.
~ Atsushi Kotoge started waving The Hooligans flag around (they had left it behind), his cloak also broke and Kumano took a secret picture of him fixing it.
~ Naomichi Marufuji has been able to start very light training. Makoto Hashi (old dojo friend from the AJPW days) has been helping him with physiotherapy (he trained as one when he retired from NOAH), and they talked of old times during the rehabilitation sessions.
~ Everyone in NOAH has a nickname, Kinya Okada's is apparently "Oka-chan"
~ Atsushi Kotoge was scolded for timekeeping by Go Shiozaki and then Takashi Sugiura for taking too long rushing around the hall
~ This was apparently Tadasuke's first time in a NOAH  ring against Takashi Sugiura (he showed "amazing power" when he lariated Sugiura according to a fan)
~ Kinya Okada gave a post match interview for his debut, he says he admires everyone, but he has no hero. He wants to be his own wrestler.
~ Hitoshi Kumano has picked up a nasty looking black eye during the last three days of "Winter Navigation 2018".
~ The top of Kinya Okada's head and hair vanished on the entry screen into the blue background due to a glitch, making him look like one of the "Coneheads".
~ Kaito Kiyomiya celebrated his third anniversary in wrestling on the 9th December
~ Masao Inoue told Quiet Storm not to chop him as "it hurts as its cold".
~ Kaito Kiyomiya really likes tomatoes (says he will be the only person eating them at a buffet, his fridge is full of them, ate them at an interview instead of an apple).
~ Hi69 celebrated his 37th birthday on the 12th December.
~ Katsuhiko Nakajima has had a new t-shirt released…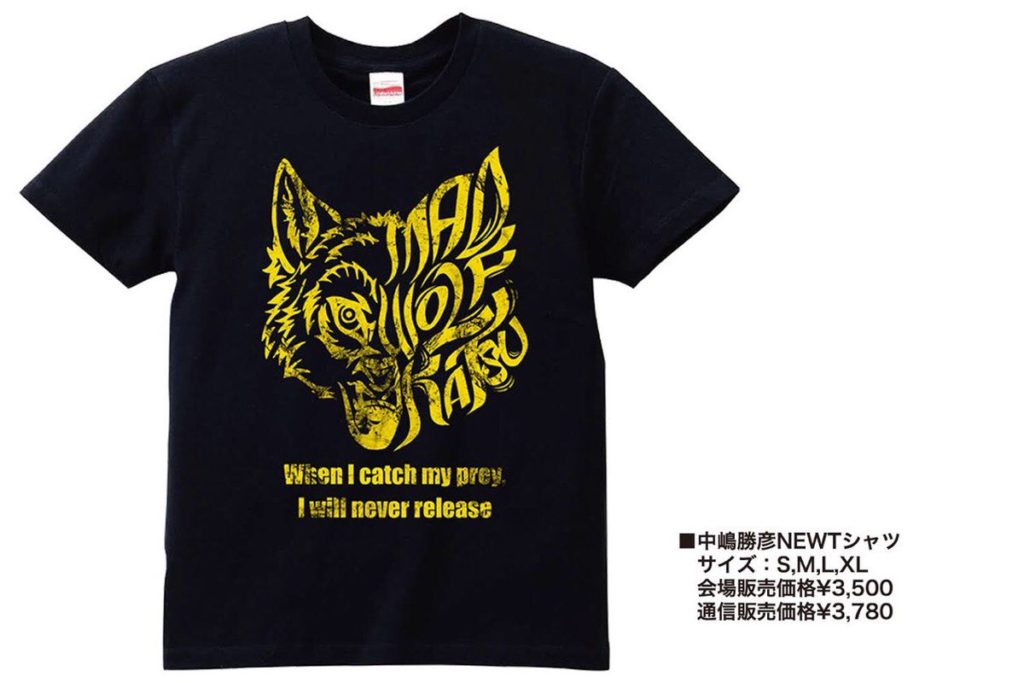 KING SHAMELESS CORNER
He's been good this week. Expect that to change after he's had to behave himself at Yokohama.
BROADCASTS
The event on the 7th December, will be broadcast on the 15th December
The event on the 16th December, will be broadcast on the 22nd December
BOOK CORNER
English translation of Naomichi Marufuji's biography "Heir to The Ark"
(Chapters 1 and 2 are complete, 3 is currently ongoing)
Review of "Anything is possible ~ The Eddie Edwards Story"
LINKS
"I have been with Noah for eighteen years, I have worn the belt and carried Noah" ~ mini interview with Takashi Sugiura. 
"I will change the scene with the win on the 16th December" ~ interview with Kaito Kiyomiya 
"I will not be beaten" ~ Kaito Kiyomiya pledges generation change by taking the GHC 
"Come At Me You Bastards" ~ Kenoh's column (December 2018) 
Image credit ~ NOAH GHC
With Yokohama being the last big event; how will the landscape shake up? Let us know on social media @theCHAIRSHOTcom and always remember to use the hashtag #UseYourHead!
Andrew's WWE TLC Results & Ratings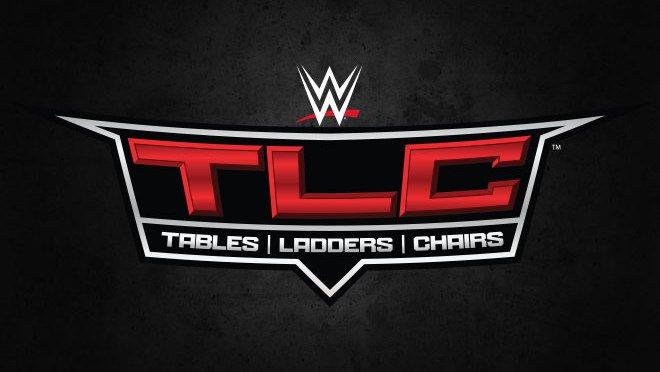 WWE's last PPV of 2018! Does TLC over preform or do we end with some more mediocre to sad trombone?





With the new year coming, let's try a new format for these reviews. TLC being the last PPV event of the year for WWE, off the back of lackluster Raws and a lot of negative buzz, let's see if this delivers despite the luke warm anticipation.
Results & Ratings:
WWE Cruiserweight Championship Match: Buddy Murphy (c) vs Cedric Alexander – Murphy retains via Murphy's Law @10:35 – *** 1/4
Hanging Guitar Ladder Match: Elias vs Bobby Lashley w/Lio Rush – Elias wins by retrieving the guitar @6:20 – **
MMC Finals: R-Truth & Carmella vs Jinder Mahal & Alicia Fox – Carmella wins via Code of Silence @5:50 – * 1/2
SmackDown Tag Team Championship Triple Threat: The Bar vs The Usos vs The New Day – The Bar retains via Brogue Kick (on Xavier Woods) @12:15 – *** 1/4
TLC Match: Baron Corbin vs Braun Strowman – Strowman wins by pinfall after numerous faces and Kurt Angle show up to beat down Corbin – N/A
Tables Match: Natalya vs Ruby Riott w/ Riott Squad – Natty wins via Avalanche Powerbomb through Table @12;40 – *
Finn Balor vs Drew McIntyre – Balor wins via Coup de Grace & Ziggler interference @12:20 – ***
Chairs Match: Randy Orton vs Rey Mysterio – Mysterio wins via Victory Roll off chairs @11:37 – ** 3/4
Raw Women's Championship: Ronda Rousey (c) vs Nia Jax w/ Tamina – Rousey retains via Armbar Submission @10:48 – **
WWE Championship: AJ Styles vs Daniel Bryan (c) – Daniel Bryan retains via Small Package Reversal @23:53 – ****
Intercontinental Championship: Dean Ambrose vs Seth Rollins (c) – Ambrose wins via Dirty Deeds @22:52 – *** 1/2 – TITLE CHANGE!
SmackDown Women's Championship Triple Threat TLC Match: Asuka vs Charlotte Flair vs Becky Lynch (c) – Asuka wins by retrieving the title @22:30 – **** – TITLE CHANGE!
Thoughts:
Cruiserweight match was fine but nothing special, ended a little abruptly and should have Alexander slide to the back of the line.
In typical WWE fashion once the face wins, the heel has to immediately get their heat back, and that was the end of the Elias match. Ugh.
No one wanted to see Mahalicia win, so hooray for the 7 second dance breaks!
The Bar win in a decent match, little clunky at times but you can't be upset with these three teams.
Braun found a way to shenanigans a win in a sling…no one is surprised, but the peasants rejoice!
Natty gets a feel good moment in a horrible mess of a match.
Ziggler is a face cause he paid the favor back to Balor, or wait, no the interview afterwards shows Balor didn't want the help. Umm…at least Drew is protected.
Orton rarely puts on a bad match, but this was a little too slow and methodical at points.
Nia needs to stop…just…and with Ronda staring down Tamina does that make her the next contender for the strap?
Styles/Bryan was easily the match of the night. Good story telling, good action in the match and the finish doesn't hurt Styles at all.
Seth can't sell. He gets his knee worked over, it "goes out" once, but then he never has an issue after the Sunset Flip Bomb callback. Oh, Ambrose won while doing painfully cliche heel things and looking as impressive as a remedial spelling lesson.
I like how they brought the Ronda thread to play in with both Becky and Charlotte. That saved a rather dumb looking spot by giving it a storyline pay off. Plus hey ASUKA WON! SO WUBALUBA DUB DUB BITCHES!
         That is all
Overall Rating: 6.25/10
The show ended fairly strong, but most of it was slow and felt more like a chore than entertainment. There were enough high points in the show where it obviously wasn't awful. But let's be honest, aside from the two title changes, this could easily be skipped and not impact a casual viewers understanding of the current landscape.
Let's hope they have better plans in the New Year!






How did you feel about TLC? Let us know on social media @theCHAIRSHOTcom and always remember to use the hashtag #UseYourHead!