Joe's Lucha Libre Weekly: News & Opinions (10/7/2018)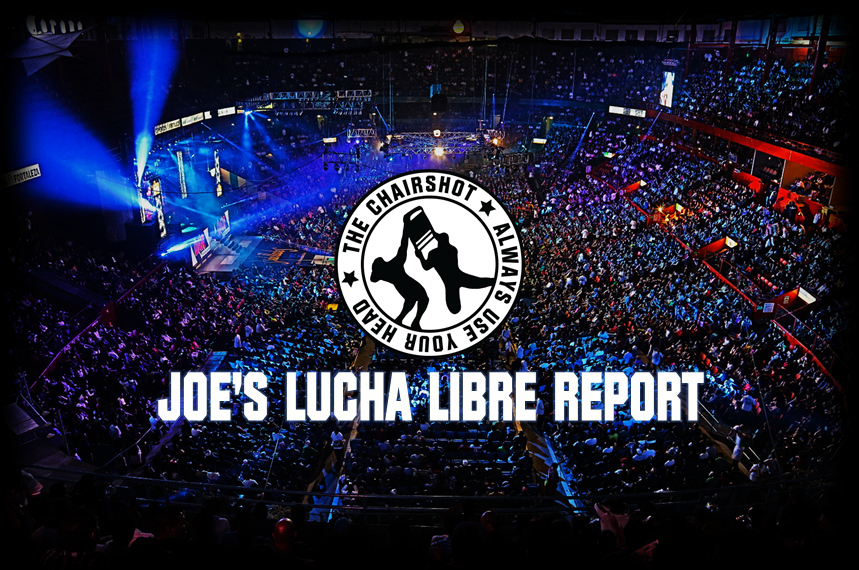 To start off, as of starting to write this, I was just at the MLW TV Tapings in New York, where I will discuss all things lucha libre, so if you do not want spoilers scroll past this first section.
MLW
After the first match on the show Konnan had come out to cut a promo saying that Pentagon and Fenix weren't here, basically because Salina de la Renta had them deported by ICE. Which is what she said when she came out. It got thunderous boos. Ricky Martinez was there and was stepping to Konnan but Konnan had a surprise for him. The debuting Puma King! They worked a fun match which Puma King ended up winning. Puma King has been having a lot of fun since leaving CMLL. The next luchador related match was El Hijo De LA Park vs Sammy Guevara. Guevara is AAA's light heavyweight champion. It was a fun excited match that the crowd was really in to. Hijo de LA Park won it. Just a side note, Teddy Hart hit a doomsday device canadian destroyer on Marko Stunt. I believe Marko Stunt is dead.
Next on the ledger was Daga vs Low Ki for the MLW world heavyweight championship. This was an incredibly stiff match. The chops were so loud you could almost feel it yourself. The finish was Low Ki "ripping" Daga's ear in half and then hitting his double stomp to the back of the head for the win. And in the main event of the show we saw PCO vs LA Park. The combined age of these men are over 100 years old. These men put on a show. Aside from the six man tag team match between Davey Boy Smith Jr, Teddy Hart, and Brian Pillman Jr against Rich Swann, ACH, and Marko Stunt. Park and PCO exchanged dives and spots that men their age had no business taking. Park ended up winning and kept talking on the mic after. The crowd threw money in the ring after and he thanked everyone for their dirty money. He thanked everyone for the opportunity and challenged Pentagon and Fenix for their tag titles in Chicago. That match is scheduled for November.
It was a really great show. MLW is super fun.
I have no seen Impact this week, but I know AAA's La Parka was on and Puma King as well.
CMLL
Puebla
Park and his son had a match with Rush and Cavernario. It was a super fun match, but in my opinion the six match last week had more heat with the crowd. There were a lot more anticipation with the crowd every time Park and Rush squared off one on one. This week Park and his son won. There was no promo afterwards, however. The show quickly went off the air. Park headlined the Puebla show on Monday. I've yet to get to these shows because I've been super sick. I might be a little late on everything this week.
Friday Show
This show saw Los Guerrero's finally beating the Kaos Klan for the trios title. After the match it was proposed that they do a 6 man tag match where all the hair and masks are on the line. So the losing team would need to shave or unmask. I have to assume this is set up for the Kaos Klan to lose since two members of Los Guerrero's have masks. Masks usually beat hair percentage wise. I believe the percentage is 90 percent of the time the mask wins. They promoted the Grand Prix next week which will be on Honor Club.
AAA
I don't wanna make it seem like I'm being lazy but pretty much nothing important happened at this show except for Blue Demon Jr returning. They advertised Dr. Wagner Jr being there for the main event as he was billed even though he wasn't there. AAA has a tendency to do shady promoting. Very WWE like in that sense. So there's a story here though, Dr. Wagner Jr wants to work an angle with his son, as in against his son. But Konnan felt that Hijo de Dr. Wagner Jr wasn't ready for the spot just yet. This apparently pissed off Dr. Wagner Jr and he claimed he was leaving AAA for good. Now he probably isn't going to, since he's still booked for the show on October 28th in a hair vs hair match. Clearly Wagner will win that match so it'll be funny to see if he doesn't show up for a match he's supposed to win. Anyway, the main thing on this show saw Blue Demon turning on Psycho Clown who was his partner in the tag match. So he comes back to a huge reaction and he's already a heel.
AAA hasn't announced when it's next card will be. The closest show they're promoting is October 19th with the headline being Psycho Clown and Dr Wagner vs Hijo de Dr. Wagner and Electro Shock. I can't imagine that's the only show in between now and the big show. Usually AAA just randomly springs on the next show like four days before it happens.
Here and There
I don't know if I have any news to report on. I'd recommend watching LA Park vs Pentagon on MLW TV which is Friday at 8 or Youtube at 6:05 on Saturday. CMLL is going to have it's Grand Prix which is happening as I'm writing this on Friday. It'll be on Honor Club and on demand.