Joe's CMLL Review & Results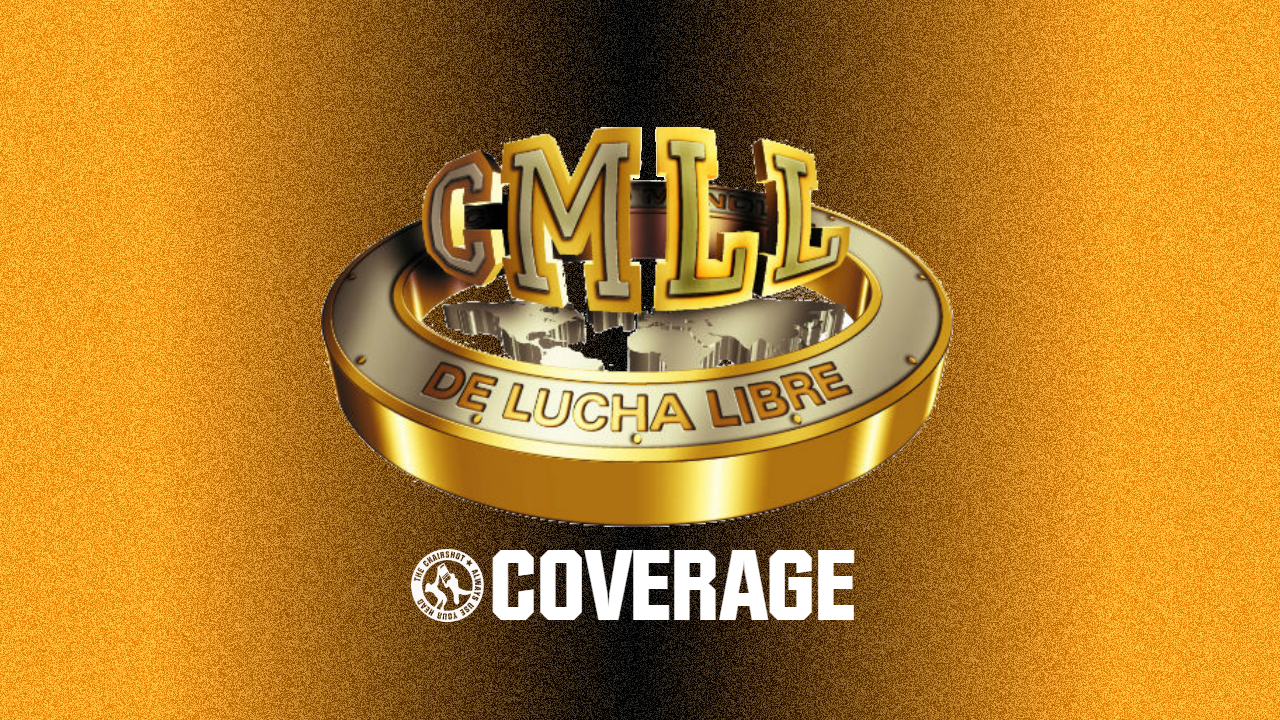 CMLL Arena Puebla Monday
Black Tiger and Astro vs El Perverso and King Rocker
Rocker and Black Tiger start out and they do some mat wrestling to start us off in Puebla. They disengage then re-enage a few times to see who's gonna get the better, of the two. Tiger gets him in a surfboard stretch. Rocker reverses him and gets him in his own surfboard stretch. They engage again for a fourth time. Finally tags are made to Perverso and Astro. They pick up the pace a whole lot and do a bunch of acrobatic spots. It breaks down soon after. Tiger launches Astro into Perverso for a drop kick and Tiger then rolls up Perverso with a victory roll while Astro submits Rocker with a standing arm bar. First Fall: Astro submits Rocker with a standing arm bar.
Perverso and Astro start the second round off. Astro hits a hurricanrana into the ropes, does a 619 and hits a hurricanrana again. Rocker comes in and he hits an arm drag on him, then a drop kick. Astro poses after. Perverso is in there now with Black Tiger. Perverso and Rocker try a double team attack but it fails. Tiger hits a head scissors on Perverso to the outside then shakes the refs hand. Astro comes back in with Rocker. They get rid of Astro after a double team attack and then move their attack to Tiger. They hit a back drop on him and throw him out of the ring. Rocker hits him with a drop kick in the corner for the pin. Rocker then hits a spine buster on Tiger and gets him in a sharpshooter arm stretch for the fall. Second Fall: King Rocker submits Black Tiger with a sharpshooter arm stretch.
Third round starts with Astro getting beat on. He gets thrown to the outside and they work over Black Tiger. A come back gets made and Astro works on Perverso hitting a back drop. Tiger gets Perverso in some kind of cloverleaf but Rocker breaks it up. Astro gets back in but is greeted with a spine buster into a cloverleaf but Tiger drop kicks Perverso to break it up. Astro and Tiger failed a double team attack on Rocker where Astro accidentally fell on Tiger. Perverso and Rocker just pin them. Third Fall: Perverso and Rocker pin them after a failed double team.
Winners: El Perverso and King Rocker
Super Astro and Oro Jr vs El Malayo and Toro Bill Jr
Malayo and Super Astro start the match off. They do some quick paced wrestling where Malayo uses his size to his advantage. Malayo gets him in a Gordy Special but Astro reverses it into a victory roll. After some more grappling they both shake hands and tag in their partners. Oro and Bill are in now. Oro gets him down first into a submission hold. They exchange some unique submissions but start to do some moves now. Bill hit a power slam for a close two. Bill however gets held up by Astro and Oro hits a neck breaker off the top for the pin. Oro then hits a fireman's carry on Malayo and Astro pins him with a splash off the top. First Fall: Super Astro pins Malayo with a splash off the top.
Astro and Bill start off the second round trading moves until Astro hits a drop kick then feigns a dive and hits a pose. After that ordeal Malayo works on Oro until Oro hits a hurricanrana and then he too feigns a dive and hits a pose. Bill and Malayo take out Astro and work on Oro until they are both in the ring and they hit spine busters on both. Malayo puts Astro in a neck crank and Toro Bill submits Oro with a leg lock. Second Fall: Toro Bill submits Oro Jr with a leg lock.
Third round begins with Oro getting double teamed. They take turns working on Astro and Oro. Bill launches Astro into Malayo and he's hit with a hurricanrana. Astro eventually hits one on Bill as well. Bill hits a back stabber on him as Astro attempts another move. Oro breaks up the pin then this a handspring elbow. He hits a rolling fireman's carry into a moonsault but Malayo breaks it up. Malayo hits an arm drag and tilt-a-whirl slam but Astro breaks up the pin. Astro hits a springboard head butt on him but Toro breaks it up. He catches Astro for a power bomb and the pin. Malayo catches Oro with a spine buster and Indian death lock like move for the win. Third Fall: El Malayo submits Oro Jr with an Indian death lock.
Winners: El Malayo and Toro Bill Jr
(Match Relampago) Marcela vs Tiffany
No match relampago graphic. However will I know the time then CMLL? They start out grappling, reversing each others position, some by technique other by hair pulling. A good portion of the match at this point is a ton of freestyle wrestling to gain the best position. Most freestyle wrestling I've seen in a lightning match. The pace gets picked up a bit, Marcela hits two arm drags which leads Tiffany to retreat to the entrance ramp. When she gets back in she beats up Marcela in the corner. Marcela counters her attack in the corner and reenters the ring hitting an arm drag then basement drop kick for a two count. She hits a handspring splash for a two count as well. Around the five minute mark Tiffany hits her with a bulldog from the corner. She instead of going for the pin is kicking Marcela's head. Tiffany hits a face buster and doesn't pin, but postures instead.
Marcela dodges an attack hits a clothesline and pulls at her hair. She throws her by her hair and they start brawling in the crowd. When they get back in the ring, Marcela gets a neck bridge pinning combination for a two count. Tiffany hits a spine buster and running senton for a two count. Tiffany places her on the top rope but Marcela pushes her off and hits a foot stomp. She goes up for another stomp, but Tiffany gets up in time to hit a slam off the top. Another close two. Two minutes left gets announced at this point but Marcela stomps on her then goes to the top for the top rope stomp for the victory. That was actually a very good match. Marcela wins with a top rope stomp.
Winner: Marcela