Joe's Lucha Libre Weekly: News & Opinions (10/13/2018)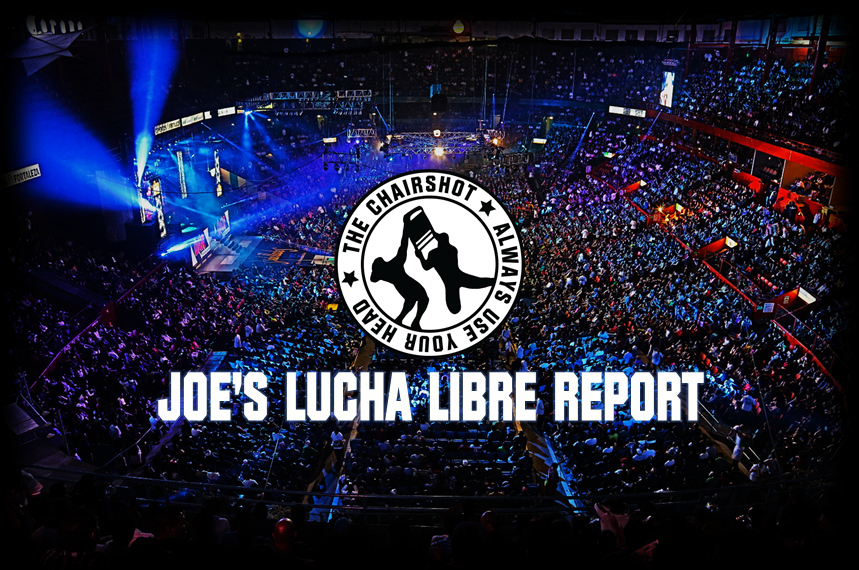 CMLL
Grand Prix
The Grand Prix was an interesting match. It's like a 9 on 9 elimination match between two teams and the last surviving guy is the winner. I wonder what would have happened if the last two surviving guys were on the same team? I guess they'd face each other. So we had team world vs team Mexico. It was interesting seeing a majority of people from the United States working as the evil foreigners. It took around 17 minutes for the first elimination, then we had a few rapid fire eliminations before it slowed down a bit. The final three competitors were Ultimo Guerrero, Euforia, and Michael Elgin. So we saw the heel World team having one competitor working against a double team attack. That's weird, but Elgin over came it all and won the Grand Prix. It seems like they're trying to position him as a baby face, however. He's going to face Ultimo Guerrero in a singles match on Friday at Arena Mexico.
Puebla
The story for this show was basically the Volador Jr vs Cavernario for the welterweight title. It was an alright match, they worked for around 20 minutes. The first two falls happened relatively quick and then for the final fall there was a lot of near falls until Volador hit him with the canadian destroyer for the victory. There was no promo or theatrics afterwards, like there usually is.
Arena Mexico Tuesday Show
The story of this show is the heavyweight tournament. They're gonna work a tournament styled match where the finalist will be set to fight in the future for the now vacant heavyweight title since Marco Corleone left the company. Mark Jindrak for you American fans. The participants in this match were Rush, Ultimo Guerrero, Diamante Azul, El Terrible, Kraneo, Shocker, Volcano, Rey Bucanero, Blue Panther Jr, Gran Guerrero, El Valiente, and Euforia. The final three were Diamante Azul, Ultimo Guerrero, and Rush. So for some reason Rush just removes Azul's mask and kicks him in the groin to set the final two. Very odd that he did that, but it plays into his random irrational no rules character.
Ultimo Guerrero will face Diamante Azul on October 16th on Tuesday in Arena Mexico for the vacant world heavyweight championship.
Preview of Arena Mexico Friday/NJPW
Significant matches we will see on this show will be Ultimo Guerrero vs Michael Elgin in the main event. In the Co-Main Event we will see LA Park, Mistico, and Volador Jr take on Cavernario, The Chris, and Ciber. Atlantis teams up with David Finlay and El Hijo de LA Park to face Shocker, Rey Bucanero, and Hechicero. Those are the matches on the top of the card but what should be a fun match with some future guys to watch for is Soberano, Esfinge, and El Audaz vs Dragon Rojo, Polvora, and Templario. The show will start at 9:30 Eastern Time. Another piece of news there is. Volador Jr and Soberano Jr will be competing in the New Japan Juniors Tag League. Significant here as Soberano basically said he wasn't the original choice, which means it was supposed to be Dragon Lee but he's still filming a reality show and has yet to be voted off to dismay of probably him and every Lucha Libre fan.
AAA
Not much news out of AAA, they haven't had a television taping for a while. They have the Heroes Imortales show on October 28th where they'll have the Antonio Pena world cup, plus Jeff Jarrett vs Dr. Wagner Jr in a hair vs hair match. We think. Dr. Wagner can be difficult to work with. Recently he wanted to feud with his son but Konnan didn't think his son was ready. However, on the last TV tapings (I think, AAA is very sporadic with their tapings) before the big show on the 28th, Dr. Wagner will team with Psycho Clown vs his son and Electro Shock. Other matches of note on the show include, Pagano and Joe Lider vs Taurus and Laredo Kid. Not a ton of star power for a co-main event.
To remind folks of the HeroesImortales card, Dr. Wagner Jr vs Jeff Jarrett in a hair vs hair match. The Antonio Pena world cup which will be a tournament elimination match I believe. Flamita and Bandido will take on Texano and Rey Escorpion and Andrew Everett and DJZ for the tag team titles. The second match on the show is just a triangle 3 on 3 on 3 match. Nothing really important in that match, then the first match to kick off the show is the women's title match. Starfire vs Keyra vs Faby Apache vs Luchador Sopresa, which means a surprise wrestler. My guess is on Scarlett Bordeaux unless she's on the Jericho Cruise. I'm unsure if she is. But if she isn't I'd imagine she'll be the choice. She recently just got the highest viewed video clip in AAA YouTube history so they love their blonde women with big butts there.