Kacy Catanzaro: The Future of WWE's Women's Division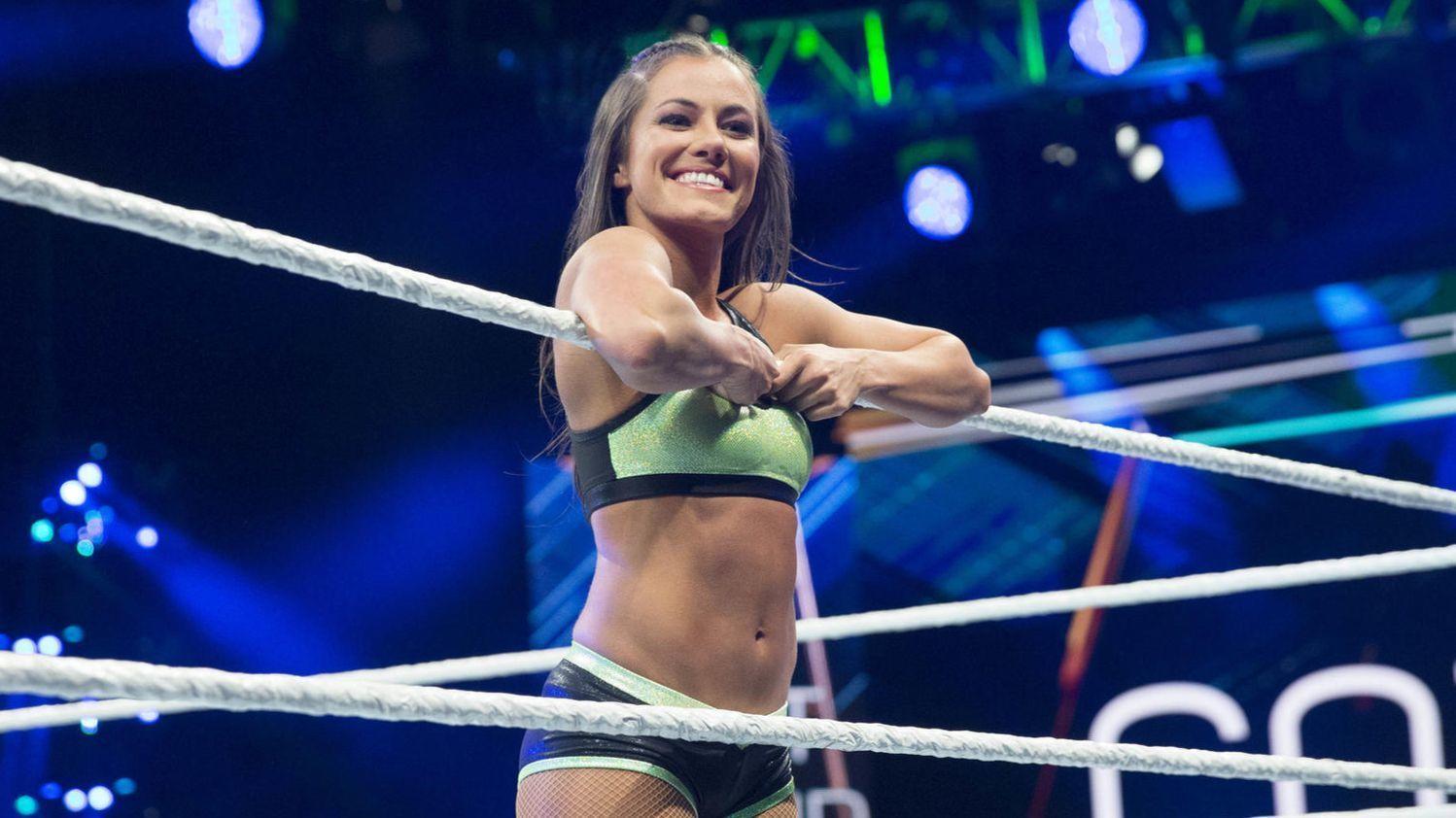 You ever get the feeling like you're looking into the future? As somebody that's watched way too much professional wrestling over the years, and way too many different promotions of varying quality, I've gotten that feeling on a number of occasions.
When you see somebody early on in their career, you can usually tell if they're going to make it or not. I first saw Karl Anderson working Northern Kentucky area flea markets, and knew early on that he was going to transcend that scene. His potential leapt off the page in comparison to the people he was working with. Anderson came from the same Cincinnati training school that Abyss did, and Abyss was another guy you could tell had potential early on. He was a solid big-man style worker from the first time I saw him. With his size & agility, somebody was going to find a use for him.
These are just a couple of local examples. Never mind all the people I saw come through Ring of Honor through the years, or the guys I watched when I was a ten year-old that I thought WCW didn't give enough opportunities to. Oh, and of course the first time I saw ECW was one of those times I thought I was seeing the future.
My favorite part of the Mae Young Classic is getting introduced to new names. Sure, it's great to see veterans like Meiko Satomura, Madison/Ashley Rayne, Nicole Matthews & Allysin Kay finally get their chance in WWE. It's nice to see some familiar faces like Serena Deeb & Kaitlyn re-appear. But the best part of the MYC is the talent I've been introduced to. Shayna Baszler, Lacey Evans, Rhea Ripley, Kairi Sane, & Toni Storm were folks I hadn't had the pleasure of watching wrestle before last year's tournament, and I'd say the WWE Universe is better with their inclusion. It's too early to say which names new to this year's Classic will join theirs as future WWE Superstars, but I think one is fairly obvious.
A lot of you were already familiar with Kacy Catanzaro prior to her signing with WWE. I'm not an American Ninja Warrior watcher, but she made history on that program by becoming the first woman to qualify for the finals & complete a city finals course. Succeeding in that endeavor takes an immense amount of mental toughness & athletic ability, two qualities that pay off well in pro wrestling. She was signed last year & has been training in the Performance Center ever since.
According to The Internet Wrestling Database, she's had a grand total of twenty pro wrestling matches. The match shown on this week's edition of the Mae Young Classic was her fifteenth.
I gotta tell you, when I saw this I was amazed by what I saw. I felt like I was looking at the future of women's wrestling. Hopefully, people reading this know about Ripley by this point. She's already one of the Top 5 Australian Wrestlers, and she's so ridiculously young. Last year she came in as a babyface, and now she's the heel carrying matches & doing a damn good job of it. The sky is the limit for her.
I wouldn't be surprised if Kacy ends up being a much bigger star though. For somebody in the infancy of her career, she already shows the potential to be a huge deal. Her moveset will immediately win most people over. We love people that can do flips. Most of Kacy's moves involve some crazy physical movement that most people aren't used to seeing in women's wrestling matches. She doesn't hit them 100% of the time, but she'll get more accurate with practice.
She's very small. Kacy is listed at five feet tall & 95 pounds, which is about the size & build you would expect from a professional gymnast. Back in the olden days this would disqualify Kacy from a wrestling career, but we're in a different day & age now. Men's wrestling has evolved to a place where smaller wrestlers are more competitive, and I figure women's wrestling will head in a similar direction. Kacy's movements in the ring compared to her peers remind me of the first time I saw Rey Mysterio Jr. Rey was much smaller than the people he wrestled for most of his career, but managed to be competitive due to the fact he could do things nobody else could.
Kacy can do things that nobody else in her class can do. People will be drawn to that.
Another great thing about being smaller than everybody else: you get all the sympathy. Well, unless you're Alexa Bliss and force everybody to hate you. Kacy hasn't cut very many promos yet, but so far she seems like a genuinely likeable person.
I'm sure WWE will beat it out of her eventually. They'll try to, at least. If they don't, they'll have a likeable female that does really fun moves on their hands. Not to mention, one that has a history with another show on the NBCUniversal family of networks. I think that would be a pretty big deal.
Here's the thing that really has me excited about Kacy. WWE's biggest female star right now is Ronda Rousey. She's getting cheered now, but anybody familiar with her knows that she's more believable as a heel. She's going to need somebody to throw around and beat up. Who would be better in that role than Kacy? Whatever name you throw at me would not get more sympathy or make a more exciting comeback than Mighty Kacy.
You heard it here first. Kacy Catanzaro will be the most popular female within WWE sooner than anybody expects.
Chairshot Classic: Andrew's 2019 AEW Double or Nothing Ratings & Analysis
Take a look back at AEW's first PPV effort, the 2019 Double Or Nothing in Andrew's Retro Ratings and Analysis!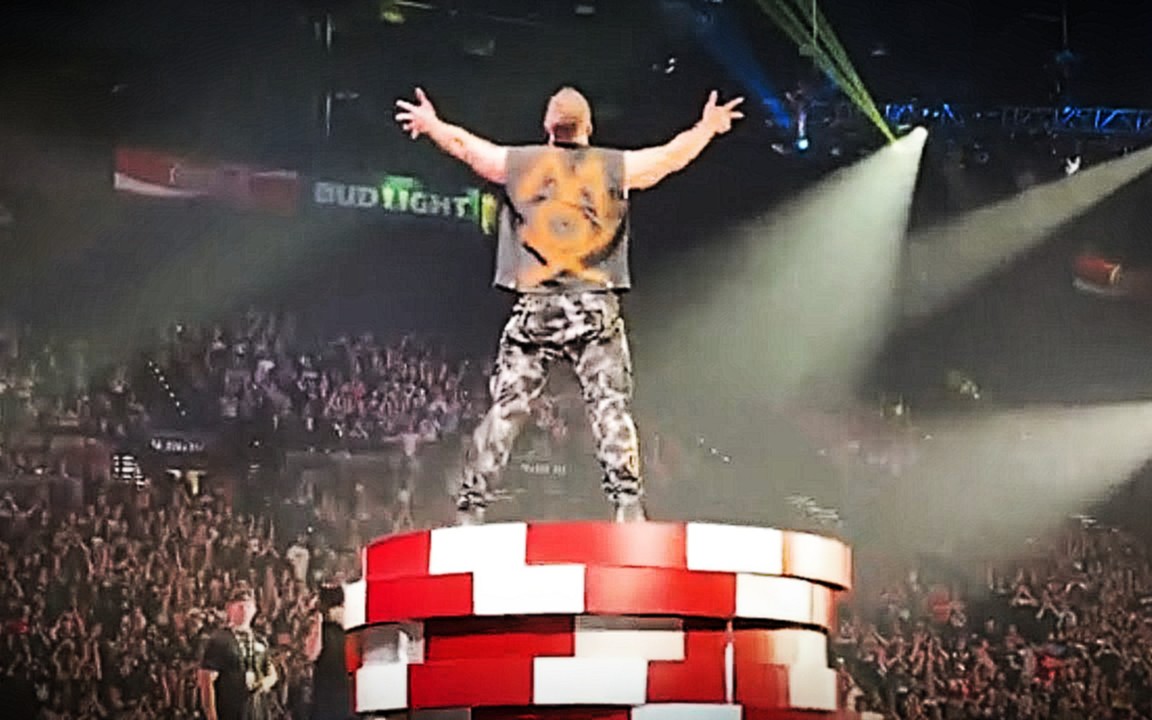 Take a look back at AEW's first PPV effort, the 2019 Double Or Nothing in Andrew's Retro Ratings and Analysis!
With AEW Double Or Nothing–the 2022 edition–on the horizon, enjoy this trip down memory lane as Andrew Balaz reviewed the inaugural Las Vegas AEW pay-per-view…spectacular?
Well this is history boys and girls. Good, bad or indifferent, it's the first show of the IWC's favorite t-shirt company. What becomes of Hangman since he's injured and PAC cancelled? What surprises will we get?
We all sit here with bated breath. Some want it to fail, many want it to succeed. Me? I just want it to not suck.
Let's see what we got!
Ratings:
Casino Battle Royal: Hangman Page wins @10:45 – **
Sammy Guevara vs Kip Sabian: Sabian wins Argentine Facebuster @9:55 – ***
So Cal Uncensored vs Strong Hearts: SCU wins via Best Meltzer Ever @14:00 – *** 1/2
Britt Baker vs Nyla Rose vs Kylie Rae vs Awesome Kong: Britt Bakers wins via Kneecap Brainbuster @11:05 – ***
Best Friends vs Angelico & Jack Evans: Best Friends win via Strong Zero @12:55 – ** 1/2
Riho, Hikaru Shida &  Ryo Mizunami vs Aja Kong, Yuka Sakazaki & Emi Sakura: Hikaru wins via Three Count @13:10 – *** 1/4
Dustin Rhodes vs Cody Rhodes: Cody wins via Crossroads @22:35 – *****
AAA Tag Team Championship: The Young Bucks (c) vs Lucha Brothers: Bucks retain via Meltzer Driver @25:00 – *****
Kenny Omega vs Chris Jericho: Jericho wins via Judas Effect @23:50 – **** 1/4
Analysis:
This was definitely a mess. A few spots, a bunch of messy spots and just generally awkward moments. Flying Brian Jr had a few decent spots, Luchasaurus looked good and Orange Cassidy is awful. Hangman being the 21st entrant made a lot of sense, but probably already upset a few people since it wasn't CM Punk or Jon Moxley. Of course Page won. He can fight with a bum leg, cause he has three of them. So yeah, not an awful match, but it had a lot of issues.
Sabian looked tremendous in this match. Guevara definitely did too much. Shooting Star onto Sabian draped over the outside barricade, a bad double Moonsault and standing Shoot Star hurt the match a little. But Sabian's technically proficient, charismatic and can hang in the air a bit too. So Sabian was the star here. Solid match.
Well now, this was great. Strong Hearts trio pulled off some great fluid offense and SCU did fantastic. This was just a great match, I can't really accurately describe more than great match. Best Meltzer Ever is a little dumb when it comes to names, but damn was this a good match.
So Brandi comes out in her gear to swerve us that she's adding herself to the match, but instead she adds Awesome Kong! So the Triple Threat turns into a Fatal 4 Way and it's not bad. A lot of the early portion is focused on taking out Kong, then Nyla becomes the target. Britt and Kylie are the ones left in the ring after the collateral damage. Kylie looks to be firing up for a finish, but Britt catches her in a Kneecap Brainbuster (Adam Cole's Last Shot in ROH).
Excessive spots, excessive near falls, I knew to expect it to a degree with these four, but that doesn't make it better. This was definitely an 'Indie style" match, but the crowd seemed to enjoy it. There was a lights out attack on both teams from…some team, with masked minions. The "Who Are You" chant kicks up and commentary doesn't lend any information. So that's really not helpful.
Everyone got their stuff in, we got to see a lot of personality from the different women and the action was solid. I also appreciated Emi Sakura trying to rally momentum doing We Will Rock You stomps (since she was dressed as Freddy Mercury). Save for the big mess up with the bell ringer calling the end of the match when the referee obviously held up 2 and said 2, just messed up the flow and gave away the finish since Hikaru's music played. Not bad, just the ending did kind of take the air out of a pretty good match.
Wow. Dustin and Cody brought it, Dustin bladed pretty deep, I think even Dusty would've blushed. New moves from Dustin like the Misawa style Apron Senton, a Code Red and a few classics. The blood, the desire to keep fighting, this was everything wrestling should be. It made sense for Cody to win the match of course, but wow after the match was a beautiful moment. Also call of the night might have to go to Excalibur when Cody hit a Pump Kick aka Bicycle Kick and you hear him say something like " He hit him with a BICYCLE".  In a huge homage to Dustin and Dusty's Heart to Heart promo, Cody tells Dustin he can't retire, because he needs a partner. He doesn't just need a partner, he needs his big brother. This was a great way cap off such a hard hitting personal match. Wow.
Belt reveal with a few extra curricular and Bret Hart. Much like Bret Hart, the belt doesn't do anything for me. It looks a lot like Big Gold, but it's so ostentatious it's hard to love it. Just too shimmery or whatever. It's not bad, but I in no way love the belt.
I'm very happy there was the unveiling ceremony between the Rhodes match and this one. Cause this was a great match and moving it out too quick could've hurt the crowd immersion. Great tandem moves, a decent thread of the ring rust playing a part against the Young Bucks early on and just generally great spots. There definitely was a lot of stuff, big spots and it was "spot monkey" style, but it all worked. The Lucha Brothers pulled out crazy moves to try and get the AAA belts back and the Bucks were trying to prove they still had it with most of the year off. Just really really good.
Well now Jericho and Omega pick back up where they left off. Referee Paul Turner allows for a lot of out of the ring shenanigans. Jericho busts Omega open, tries to use a table as a shield, but Omega still throws himself at Jericho.Jericho focuses on Omega's face with the Triangle Dropkick, a Lionsault went high and this was pretty damn solid. A few missteps and Jericho not countering the first One Winged Angel was car crash worthy, but aside from that, this was nice. Multiple Codebreakers followed by the new Judas Effect, leave Omega laying for the 1, 2, 3.
Jericho says AEW is for him not for fans, and he deserves a thank you. When the crowd pops, Jericho thinks it's for him, but Jon Moxley makes his debut through the crowd! Almost as if it were a reference to Lex Luger showing up on the first Nitro, it looks like Jericho basically says "You don't work here". Dirty Deeds to Jericho, Dirty Deeds to referee Paul Turner and Omega manages a burst of energy to brawl for a little bit. They end up on the poker chips, Moxley hits Dirty Deeds and then just dumps him off, onto some other stage item.
Overall Score: 8.5/10
Well damn, I was skeptical since All In didn't rate as highly for me as other fans, but this was great. Aside from a few personal gripes, and not really enjoying the cluster that was the Battle Royal, this was one of the better shows of the year thus far. Good surprises like Awesome Kong, Bret Hart and Jon Moxley. Jericho winning the main event breaks up The Elite getting the clean sweep, so that shows it's not as predictable as All In.
Oh and yes, I can't express how good the Rhodes match was. The match itself, the story it told, the promo after, everything was just beautiful. That is my number 1 match of the year personally, cause it was just too damn poignant.
Good job AEW. Great show, and the symbolic moment where Cody used the sledgehammer to break the replica throne Triple H used for his WrestleMania 22 entrance. It was awesome.
News From Cook's Corner 5.16.22: Headbutting Fools Since 2022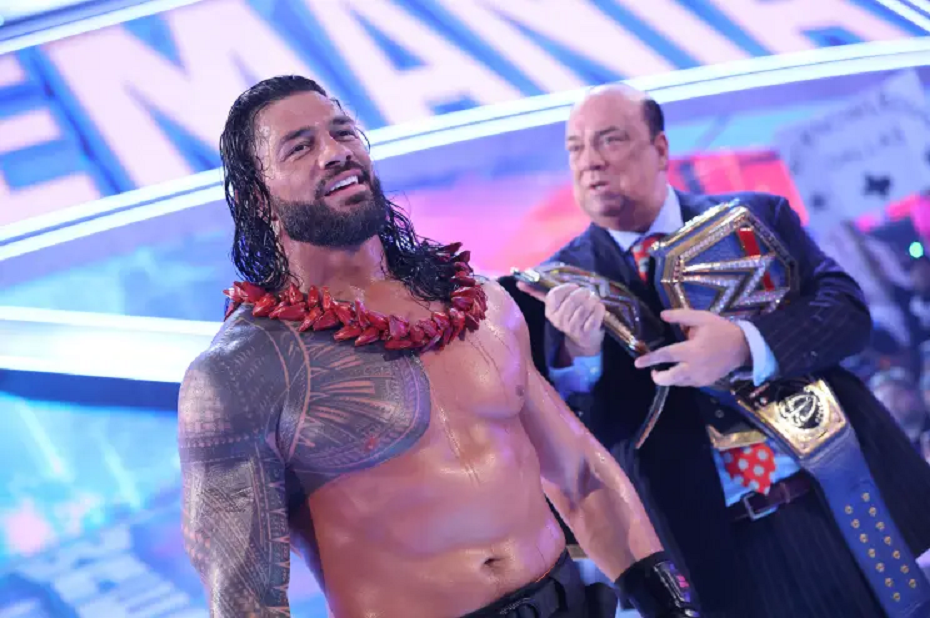 Hi, hello & welcome to News From Cook's Corner! Steve Cook here with you for the first one of these in quite some time. There's been a lot going on, most of which I don't plan on discussing live & in public if you will. Some stuff to deal with, and enough of it is dealt with that I can get back to doing my thing. Still some more stuff to deal with, but writing helps.
Another thing that helps? There's finally enough wrestling news going on for me to write up one of these things. Let's get to it.
Roman Going Part-Time?
An entrance so good… even @WWERomanReigns approves. @WWEUsos @HeymanHustle @tiktok_us pic.twitter.com/ba7lyqRyVp

— WWE (@WWE) May 15, 2022
Last weekend, Roman Reigns made some comments after a WWE live event in Trenton, NJ that made ears perk up. After his match, he talked about how it might be his last time appearing in Trenton, and that he was going through a new phase in life. Then after his match teaming with the Usos at WrestleMania Backlash, Reigns hinted that it might be the last time they all team together. Naturally, this led to everybody jumping to all sorts of conclusions. Some thought he was retiring. Others thought it was a new Paul Heyman-inspired worked shoot storyline, and nothing would really change.
As usual, the truth ended up somewhere in the middle. Reigns & WWE came to a new agreement, one that involves Reigns working far fewer dates than he has been. If you've been watching this stuff as long as I have, you know this was the most likely scenario. It's the natural progression of top WWE Superstars. Once they reach a certain height of stardom, they're not going to be working as often. Reigns has made no secret of his desire to get into acting, and Nick Khan has made no secret of WWE's desire to help Reigns in that endeavor. WWE has done right by Reigns, and Reigns has had his part in helping the company achieve record-setting profits.
Reigns will still be part of WWE's major events. He was pulled from advertising for many house shows, but is still advertised for Money in the Bank, SummerSlam & Clash at the Castle in Wales. He was on the most recent episode of SmackDown as well, though I think we can assume he won't be wrestling on that show anytime soon. Reigns' last match on SmackDown was back on December 3, 2021, when he put an unconscious Sami Zayn in a choke to win in a matter of seconds. He can do his lengthy entrance, talk after Paul Heyman and call it a night. Eventually, we won't get that quite as often.
WWE will be looking to elevate somebody into Roman's spot sooner rather than later. As things stand, there isn't really anybody on the roster on Roman Reigns' level. I'm more positive than most probably are on the idea of WWE elevating somebody to Reigns' level…if Reigns' career has proven anything, it's that Vince McMahon won't give up on a guy if he 100% believes in him. How many times could Reigns have been sent down the card due to subpar fan reaction? Vince never did, he was going to make the darn thing work.
There's also the pesky little thing of Roman being the WWE Universal Champion. He could drop it at one of those summer stadium shows, or he could hold onto it until he breaks Bruno Sammartino's record of 2,803 days. We know they're not going to elevate the Intercontinental & United States Championships, those things are never on Peacock and barely ever on television. I have to go along with Greg DeMarco's idea of creating Raw & SmackDown men's championships. The men would match the women then, and WWE could also sell new title belts. Reigns could still have the historical championship to defend once in awhile.
MJF: The story you'll get tired of long before 2024
MJF discourse is already painful and his contract doesn't expire for another 2 years

— Patrick🇮🇪  (@PatrickEireWres) May 15, 2022
I don't know if you've heard this or not, but MJF's contract with AEW expires in 2024. Fightful was sure to let us know this week that he's unhappy with his current status. I'm sure they believe their sources and are happy with themselves, but I have to wonder based off of one simple thing:
MJF is always working.
That's the thing old heads like me love about him. This kid is always working that gimmick. He's always the biggest asshole on the planet, except on Long Island, where he's still an asshole but accepted by his peers. I like that about him, but at the same time I realize that nothing he puts out there is legitimate. People wonder why wrestling news sources always get things wrong, and the reason is much simpler than they think: Wrestlers lie. Especially wrestlers as good at their job as MJF.
So I hate to be the bearer of bad news to my fellow IWC folks that think they have super insider knowledge, but the man is always working an angle. As long as they're ok with being used by him, it'll be ok.
Maybe MJF jumps to WWE in 2024. I have a tough time believing they'll push somebody of his body type as a top guy, but maybe I'm wrong. Maybe WWE pushes MJF into acting and everybody involved lives happily ever after. Can't rule that out. Until then, if I was MJF's current employer and had him locked in until 2024 and he was putting stuff out there about how he wanted to jump ship, I would have Wardlow powerbomb him into the sun. Just squash the shit out of him until he got the message. If he didn't get the message? That would be fine. I'd just feed him to everybody I could until his contract expired.
I doubt Tony Khan would be that petty. Then again, some of his social media activity indicates the opposite. Who knows?
Ric Flair Returning To The Ring?
Like I Said- It's All About The Fundamentals. If You Can't Punch, You Can't Kick, You Can't Work! WOOOOO! @TheLethalJay pic.twitter.com/1DxzGvQHab

— Ric Flair® (@RicFlairNatrBoy) May 13, 2022
On one hand, the idea of 73 year old Ric Flair returning to the ring seems completely insane. We're talking about somebody that barely avoided death a few years back, who hasn't wrestled since 2011, and that promoters started avoiding for some time after the Dark Side of the Ring episode about the Plane Ride From Hell aired.
On the other hand, it's not like Ric Flair hasn't gone against the grain before. He's also stated that he never wanted to retire from wrestling, and would be happy if he died in the ring. So when you think about it, it's not surprising at all that Flair would be pursuing a return to the ring. The question is who would go along with such a thing, and if everything could fall in line for it to happen. Dave Meltzer says the current plan is for Flair to team with FTR against the Rock 'N' Roll Express & "someone". Not sure who would be hosting such a thing, though the Big Time Wrestling promotion that just booked Mick Foley to manage FTR for a match comes to mind. I could also see GCW being all over something like this.
It's not like septuagenarians have never wrestled before. Most of your all-time legends were still kicking around years after people told them not to wrestle. Lou Thesz had his last match at the age of 74. Buddy Rogers almost had a match with Buddy Landell at 71 before the promotion that booked it closed. Jerry Lawler is 72 and still doing his thing on the indies. Terry Funk's most recent match was at 73. Jimmy Valiant was 77 for his retirement match. Heck, Canek is on the verge of 70 and just had a passable match with Psycho Clown at TripleMania. That being said, most of them didn't have Flair's medical history. Lawler had a heart attack, but he kicked out of it and also had the good fortune to not have addiction issues.
I will say that it would be a good thing for Flair if he focused his energy on getting into ringshape instead of indulging some of his demons. I see the clips of him working out with Jay Lethal and think that's a better usage of his time than what he'd be doing otherwise. So I'm all for Ric Flair training for a comeback. It's his life, after all. Who are we to tell him what to do?
Hot Take: Fans Should Not Headbutt Wrestlers
We've all heard the stories about rambunctious crowds in the good ol' days. Back when men were men, women were women & the sheep were scared, evil pro wrestlers used to be able to rile fans up to the point where they would need to fight their way backstage. We haven't seen it as much since the territory days ended, but there's still occasions where fans' suspension of disbelief leads to them going after the wrestlers.
One of them happened this past weekend in Augusta, Georgia. Wrestler Joe Black pulled the ultimate heel move: knocking somebody's hat off. The cad! The fan, whose punk card had been pulled in front of God & everybody, did what all of us would have done in that instance.
That's right, he delivered a headbutt!
Another angle of the fan incident with Joe Black tonight. pic.twitter.com/ocs4gass8K

— Cassidy Haynes of Bodyslam.net (@Casshooole) May 15, 2022
I must say, this is the first time I've seen a fan headbutt a wrestler. Back in the old days they had knives with them. It's usually tougher to get weapons into a wrestling venue these days, so ol' boy had to go a different route. Also, I'm pretty sure wrestlers didn't knock hats off of fans' heads back in the day, as they were trying to avoid getting knived.
Should Joe Black have knocked the hat off of Scooter's head? Probably not. I would prefer that wrestlers not touch fans except for a high five, and even that's questionable these days. On the other hand…dude, you're a fan. It's fun to get wrapped up in this stuff, but there's never a reason you should be looking to throw hands with any wrestler.
If you're going to attend a wrestling show soon, don't be this guy. A simple request from your favorite from back in the day.
Thanks for reading! I won't make any promises about when the next one of these things will be, but it should be sooner than three months. Until then, keep your stick on the ice.