(NOAH) WEEKLY NEWSLETTER VOL.3 ~ 28TH SEPTEMBER 2018
CURRENT TOUR RECAP
Following their five day in a row event, Noah have been inactive since Tuesday 18th September, and have been very much quiet over the last week.
Noah's next show will be held on the 29th September in Yokohama, where Kotaro Suzuki and Daisuke Harada will finally clash in the main event, this will be an epic encounter, as Daisuke Harada is of course the final outcome for the winner of the Global Junior League being the GHC Junior Heavyweight Champion, and Kotaro Suzuki has stated that all of the Noah Juniors are weak compared to when he was one, and he means even the freelancers are weak, an insult that Daisuke Harada is not going to take lying down.
Yoshinari Ogawa (who no-one, junior or otherwise, wants to mess with) isn't included in Suzuki's assessment.
Daisuke Harada and Kotaro Suzuki have clashed before (the last time was in January 2012), but this will be their first ever singles match as Noah tend to save singles for something special and don't routinely book them for normal tour matches. I doubt it will be their last match, singles or otherwise, Kotaro Suzuki is now on better terms with his home promotion (he is Noah born), and will no doubt be back in Noah from time to time after Global Junior League wraps up and will add the heel element that the division needs.
Global Junior League has only three dates left to run; September 29th, September 30th and October 4th, which is the final and will take place at Korakuen Hall.
Autumn Navigation will take place in October, with Global League 2018 (heavyweight division equivalent and run on a yearly basis) taking place as usual in the winter months from 30th October to November 25th.
Noah have not announced any names for Global League yet, and fans were hoping that Jun Akiyama might take part, however he has been injured, and I don't know whether he will be able to compete. Shingo Takagi has announced recently that he is leaving DRAGONGATE to become a freelancer, leaving fans to speculate that given both his friendship with Naomichi Marufuji (and his apparent conflict with Kaito Kiyomiya at the last "Power Hall"), he may compete this year.
Naomichi Marufuji will miss both Noah events on the 29th and 30th September as he will be competing outside the promotion. It will be interesting to see how Noah does for the two days he is not there.
NEWS

KOJI KANEMOTO & KOJI FUJINAGA APPEARING IN NOAH
The card is yet to be announced, but Koji Kanemoto and Koji Fujinaga will be appearing for Noah in Kobe (October 14th). Koji Kanemoto was last in Noah in 2010 when Naomichi Marufuji and Atsushi Aoki defeated himself and Tiger Mask for the GHC Junior Heavyweight Tag Team Titles (in 2011 Noah, All Japan and New Japan put aside their differences and came together for "All Together" which was a fundraiser for the earthquake and resultant Tsunami).
Koji Fujinaga I am afraid I don't know too much about, but he has never been in Noah before, and was the general manager of El Dorado at one point in the mid 2000s.

"COME AT ME YOU BASTARDS"
Kenoh wrote his bi-weekly column for "Puroresu Weekly".
As the last few themes have been about Takeshi Morishima (probably the only senior, aside from Jinsei Shinzaki, that Kenoh has any respect for), this week he took some fan suggestions and decided to talk about harassment and bullying in sports.
Non kayfabe he said that the people who do it are those who have powerful backers, personally he has never thought it a good idea to develop any kind of romantic, sexual or megalomaniac feelings for anyone else in your business, especially as he is one of the directors of his own dojo and teaches Kenpō (roughly described as a form of Shaolin Kung-Fu).
Naturally, this being Kenoh, this leads on to the fact that he starts ranting about Naomichi Marufuji (vice president of Noah) and President Uchida, using their power to keep him down.
Translated article can be read here
NAOMICHI MARUFUJI VS DOUG WILLIAMS
Naomichi Marufuji clashed with Doug Williams for one final time on Sunday 23rd September for IPW in Maidstone, Kent.
I would say that they have had better matches, but this should no way detract from the fact that this match would still rank among them. The action was fast paced, deliberate and well thought out with teased moves although sadly, we never got a Shiranui, although Doug took the gunshot sounding chops which had the audience recoiling.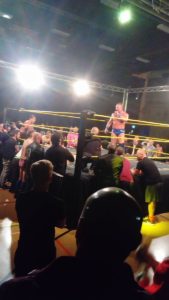 At the end of the match, (I won't spoil it for you as it will make tape), Doug got on the microphone and addressed the crowd and the IPW roster, most of whom had come out and stood around the ring, saying that he was honored to face Marufuji one last time in the "twilight of my career", they had been having matches for fifteen years.
Although Marufuji did not address the crowd, he did say later on Twitter that he would like Doug to come to Japan for one last time.
Getting to the UK wasn't too bad for him, but getting home was a nightmare, two hours into the flight the plane en route to Japan, turned around with engine troubles and bought everyone back to Thailand.
GHC BELT NEWS
Current champions
GHC Heavyweight Champion: Takashi Sugiura
GHC Junior Champion: Daisuke Harada
GHC Heavyweight Tag Champions: Naomichi Marufuji & Akitoshi Saito
GHC Junior Tag Champions: Minoru Tanaka & Hi69
Naomichi Marufuji said recently about the challenge for the GHC Heavyweight Tag Belts by "The Hooligans" that "The bald octopus isn't going to get his own way by demanding a title match".
(The "bald octopus" is Mitsuya Nagai)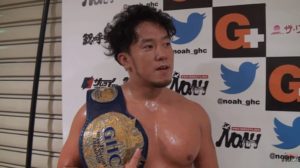 Daisuke Harada won the GHC Junior Heavyweight title from Taiji Ishimori on 1st October 2017, which means he will certainly go into the GHC Junior Championship match against the winner of Global Junior League having held it for more than a year. If he can hold on to it for another forty-five days after the 1st October, he will have beaten Taiji Ishimori's record in being the longest running GHC Junior Heavyweight champion.
In many ways other than holding the premier titles in their divisions which make them the faces, Harada is like Sugiura's equivalent; both have had lengthy title reigns, and both have a special look which indicates not to mess with them, Sugiura looking like he is going to kill you, Harada looking like a shark which smells blood, and both rarely (if ever) have bad matches, plus both of them are part of factions.
The GHC Heavyweight Championship match signing will take place on the 29th September 2018 in Yokohama before Noah's event there.
TOUR TIDBITS
Naomichi Marufuji turned 39 on the 26th September.
Noah's resident bookworm, Tadasuke, seems to be the only one out of Noah so far who has read "The Heir To The Ark".
Atsushi Kotoge will turn 33 on the 18th October, he will be holding a "Revolutionary Birthday Party" on October 28th. Katsuhiko Nakajima (looking tired) also held his own fan event this month which was a simple exercise class with a dinner afterwards.
Hajime Ohara will be holding gymnastic classes in Kawasaki in October.
"HEIR TO THE ARK"
The English translation of Naomichi Marufuji's autobiography "Heir To The Ark" continues (it is updated each day), the Epilogue is now done with Chapter One well underway. You can read what is available here.
Mitchell's WWE Monday Night Raw Results & Report! (12/10/18)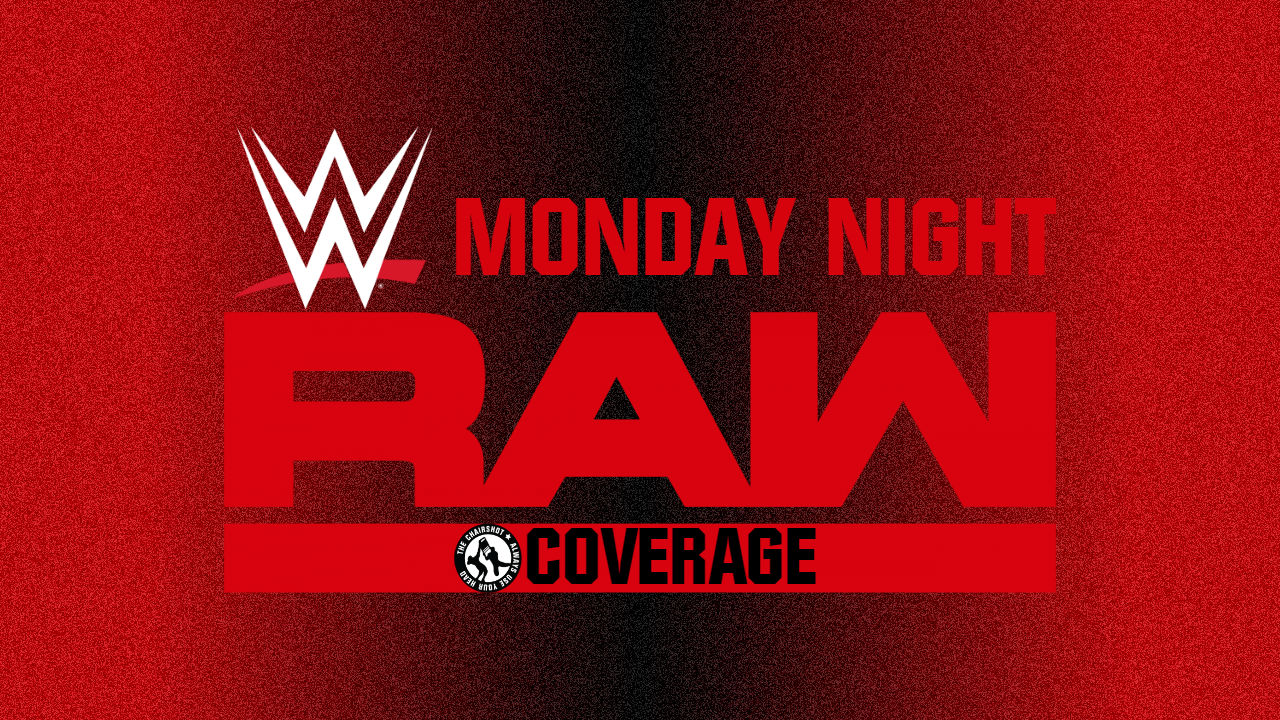 TLC is on the horizon, and Raw is in the home stretch! The Architect looks to speak on both the state of Monday Night Raw, and the Lunatic's state of mind!
OFFICIAL RESULTS
PLAY BY PLAY
Joe's AAA Review & Results (12/9/2018)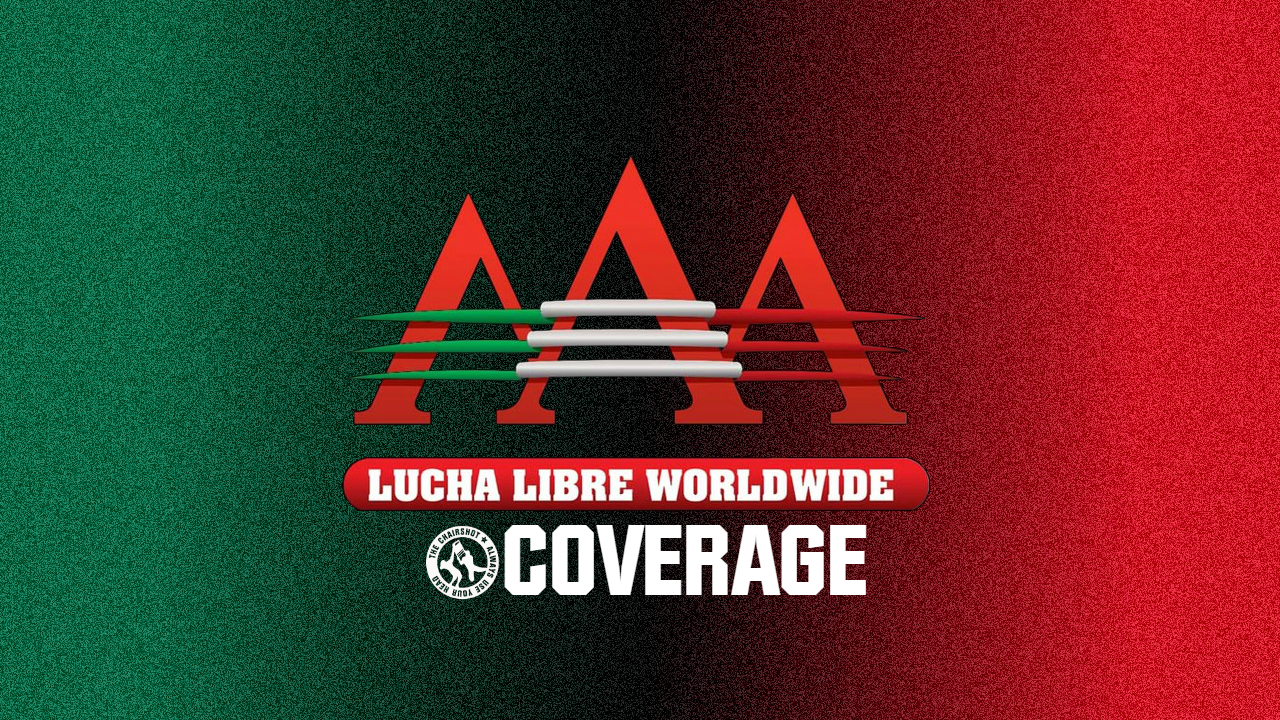 Joe Dinan checks in with your AAA review and results for the week ending 12/9/2018!
AAA on Twitch 12/8
La Parkita, Nino Hamburguesa, and Dinastia vs La Parkita Negra, Arkangel Divino, and Ultimo Maldito
The match starts with chaos. Everybody is doing moves to each other. Mini Parka and Parka Negra get in there and trade moves. Maldito and Hamburger Boy are in next and Hamburger boy hits a shoulder block. Negra hits a reverseranna on Parkita. They team up on Hamburger Boy. Boy counters with a headlock, head scissors take over on Negra and Maldito. Dinastia and Divino are in and Dinastia hits a power slam on him. Negra beats on Dinastia and Parkita works on him. Maldito then works over Parkita. Maldito hits a tiger pile driver on him. Dinastia hits a asai moonsault, then celebrates even though he hit his teammate. Divino does a moonsault off the top. They get everyone seated in the corner and Hamburger Boy does a running senton. Then he goes to the top and splashes them for the win. Hamburger Boy pins Parkita Negra with a top rope splash.
Winners: La Parkita, Nino Hamburguesa, and Dinastia
Starfire and Lady Maravilla vs Mamba and Lady Shani
Shani and Starefire start the match out with some grappling. Maravilla comes in quick to double Shani. Afterwards they double Mamba. Starfire hits a drop kick off the top. Mamba hits a big move on Maravilla and now they're getting the heat back doubling Starfire. We get back to normalcy in the ring. Shani hits a drop kick on Starfire. She gets to the top and hits a hurricanrana on Shani. Maravilla drop kicks Mamba to the outside and hits a cross body to the outside. Starfire hits a michinoku driver on Shani for a two count. Shani hits the Okada neck breaker and the ref counts slow. Shani argues with the ref and Starfire comes from behind and hits a german suplex for a fast count. Starfire pins Lady Shani with a german suplex and fast count.
Starfire wants a title fight after the match. Not immediately, in the future. They brawl after the match and promo.
Winners: Lady Maravilla and Starfire
Laredo Kid, Hijo Del Vikingo, and Myzteziz Jr vs Taurus, Australian Suicide, and Jack Evans
Match starts with Jack Evans and Laredo Kid. Evans gets crotched on the post and Kid drop kicks him. Vikingo and Myzteziz dive to the outside on the others. They triple drop kick Evans in the corner. Kid code breakers Suicide then holds him. Vikingo jumps off Myzteziz and stomps the back of Suicide. Taurus gets Myzteziz on his shoulders then catches Kid for a double fall away slam. Suicide does a press slam into a code breaker on Vikingo. He holds him and Evans hits a 450, then Taurus hits a splash. Taurus holds up Myzteziz, Evans on the top bounces off him and helps Suicide complete his pile driver on Vikingo. Vikingo makes all of them miss corner attacks. He does a moonsault off of Myzteziz and Kid's hands on the top, then they hit their own moonsault dives after that. Incredible spot, Luchablog has the gif of it on twitter, find it.
Myzteziz hits a Canadian destroyer on Evans but Suicide breaks up the pin. Suicide then does a springboard destroyer to him, but Vikingo breaks up the pin. He does knees to the corner but Taurus breaks up the pin. Taurus shoulder blocks Vikingo and sends him flying. Laredo Kid and Vikingo go for springboard attacks but get pulled out of the ring. Evans then hits an asai moonsault on everyone. They fight on the stage and throw Taurus and Evans off and do dives. Vikingo then does a Spanish Fly on Suicide off the stage on to the rest of them. Evans and Kid are back in the ring. Evans slams him and goes to the top but gets kicked. Laredo Kid hits the Laredo Fly for the win. Laredo Kid pins Jack Evans with the Laredo Fly. 
Winners: Laredo Kid, Hijo Del Vikingo, and Myzteziz Jr