(NOAH) WEEKLY NEWSLETTER VOL.4 ~ 5TH OCTOBER 2018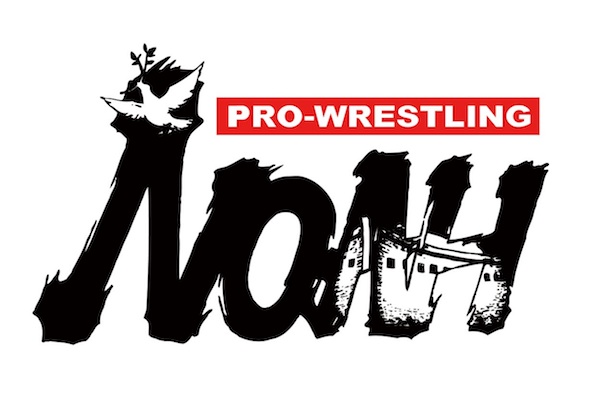 CURRENT TOUR RECAP
Noah have had excellent attendances recently, bad weather, transport difficulties and a weekday show, have not kept people away. Korakuen might not have been sold out for the final, but it was a damn good result for a Thursday night with the majority of people making a mad dash across Tokyo to get there after work.
Hopefully, the fans dedication to seeing Noah and their willingness to battle through Typhoon weather (the event on the 30th September was fast tracked because of it and fans were warned that the show might be cancelled half way through due to the weather), rush hour traffic on a weekday and face resultant travel difficulties, will make the network consider just what they are missing.
Naomichi Marufuji missed the last two nights of Global Junior League as he was appearing in WRESTLE-1 and then Kansai Pro, but he was back for the 4th October.
The GHC Heavyweight match signing took place on September 29th 2018 at Yokohama Radiant Halls. Nakajima appeared with the usual smirk, and refused to answer any questions and when prompted to speak, sat with an eerie grin on his face like he found the whole thing very funny. Takashi Sugiura (who arrived wearing the tired expression like that of a father that has been called too many times to the Principals office over the misbehavior of his son), told him and everyone else that the smile would be wiped off Nakajima's face when he got repeated elbows in it on the 4th October. That evening the veterans were obliterated by the "young people" as Yokohama went wild, Nakajima's comment on the match was, "Oh, that was fun".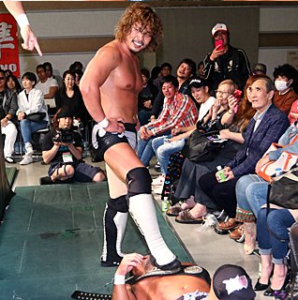 The clash on the 30th September, however, was very different. The battle damaged endoskeleton inside Takashi Sugiura rebooted itself, and Nakajima caught a beating (seriously, half the time Sugi looked like he was going to put him over his knee). In a very short match Sugiura caught Nakajima with the Olympic Slam, the ref counted three, and Sugiura continued battering on him until the ref pulled him off, and he stood with his foot on him as Nakajima had done to him, before Nakajima was carried off on the back of the Revolutionary Hero who was watching at ringside. Sugiura later said that Nakajima was like a fly who "fled when I tried to crush him", and vowed to crush him at Korakuen Hall.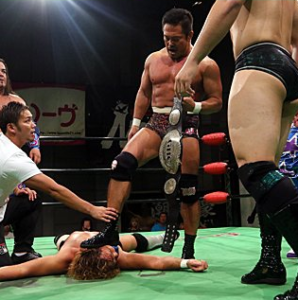 On the 4th October, evidently learning nothing from the 30th September, Katsuhiko Nakajima came strolling out to the ring, big smirk on his face, sinister new ring robe with faux wolfskin and sinister black pants, boots and kneepads. As soon as the bell rang, he lay down on the floor, resting his head on his hands and with his elbow bent, looking as if he were posing for a suncream or speedos advert.
Sugiura was not impressed.
It was a brutal match with kicks, elbows, slaps and slams (Sugiura did the turnbuckle brainbuster and held it for twenty seconds), and at one point Masa Kitamiya got involved which earned loud boos from the crowd, especially as Nakajima was using a wooden bar to choke Sugiura with. Eventually, Sugiura seized the chance for the ankle lock, and even bit into Nakajima's boot.
It was too much for Nakajima, and he tapped out.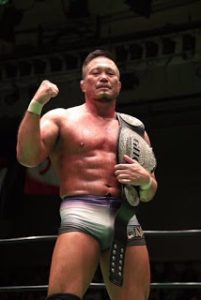 Afterwards most of the competitors for Global League got into the ring, (aside from the veterans that was, and those who were seconding Nakajima and the two who are coming in from outside promotions), and started yelling at each other and pointing fingers. Nagai got on the microphone first and said that the Hooligans were gunning for the GHC Heavyweight too, Kiyomiya told them that they would have to go past him first (Sugiura later said in an interview that he doesn't consider Kiyomiya a challenge, as he couldn't get past Kenoh to qualify for the number one contendership, so that's one down for him), and Sugiura told them all to keep their pants on, the league starts on the 30th October, and so "all you youngsters, you had better start practicing".
Naomichi Marufuji said he was going to finish this nonsense of The Hooligans on the 4th October, being too tired to deal with a "bald octopus and his worthless friends", so he made this picture of them asking them to turn up to the event like this (Marufuji seems to share Sugiura's obsession with bald people, and told Nagai to either grow hair down to his shoulders or get a wig if he wanted a title shot).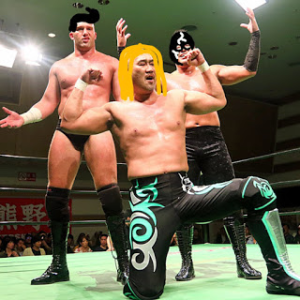 Nagai is not impressed by being called "a bald Octopus" and vowed to make Marufuji "regret the words you spewed".
On the 4th October, Naomichi Marufuji & 50 Funky Powers clashed with The Hooligans, who were more interested in attacking Marufuji than they were Saito, and he took the brunt of things in the match. Afterwards, The Hooligans (Cody Hall and Maybach Taniguchi holding up the belts) stood over them and unfurled their Hooligans flag.
Marufuji has to now give them a title shot, (although he says he is only doing it to crush them), and the two teams will meet in Kobe on the 14th October, before that Naomichi Marufuji and Maybach Taniguchi will have a rare singles match on the 7th October, with Akitoshi Saito facing Cody Hall.
Daisuke Harada faced off against his nemesis, Kotaro Suzuki on the 29th September in a very tense match, which ended with Kotaro Suzuki with the win. He stood over the fallen Daisuke Harada and said that he was going to "shine up that rusty belt" (I think he may also have called him a "Class A War Criminal", which seems a little extreme).
YO-HEY (watched by Kotaro Suzuki and Yoshinari Ogawa) faced Ikuto Hidaka for the semi-finals. YO-HEY seemed to have picked up a knock the knee during the match, (which Hidaka exploited), but he held on in there and refused to quit. The clock ticked away, near falls followed near falls, and then Hidaka locked in the Shinken Capture.
YO-HEY refused to quit.
The clock ran out and YO-HEY was awarded the win, which meant that he now had two jobs; to win Global Junior League and more importantly, to defend the honor of the Noah juniors against Kotaro Suzuki.
The showdown came on the 4th October, between the man who was not Noah born, but yet had the majority of the crowd behind him seeing him as representing Noah, and the man who is Noah born, but yet walked out of Noah, and therefore isn't considered to be Noah anymore. The match was harsh with a lot of near falls which kept the crowd on the edge of their seats, but Kotaro Suzuki prevailed, and won Global Junior League 2018.
RATELS were at ringside and attended to YO-HEY, when he was rolled out of the ring, YO-HEY could be seen putting his palms together to bow and apologizing to Daisuke Harada.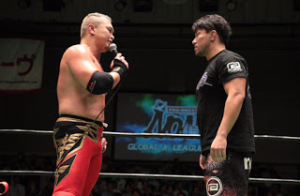 After the match Kotaro Suzuki challenged Daisuke Harada. He later said he didn't want the belt, but he had a plan for it, and he was bringing excitement to a division whose guys were bored and stuck in a rut.
All poor YO-HEY could say was "I'm sorry…I'm sorry".
Junta Miyawaki is still without his first win, but the day is coming nearer, Noah are teasing a lot of near falls though.
Both Kouki Iwasaki (who faced Kenoh on the 4th October, and wants to do again) and Hiroshi Yamato (WRESTLE-1) say that they would like to further participate in Noah. Iwasaki says he wants to face Kenoh again and "knock him down".
The wins of Takashi Sugiura and Kotaro Suzuki are the best outcomes for Noah.
The Junior division needs a proper heel, and while you could say they have Yoshinari Ogawa, Ogawa due to his age, status backstage in the company as the oldest active veteran (who is always referred to as "Mr. Ogawa" and treated with the highest respect), cannot enter a feud where his opponent runs him down, although he can go to toe to with the youngsters in the ring. Ogawa's main role is as a teacher, and the rookies who come from the dojo, always pass through him; and Kotaro Suzuki therefore fulfills the role as someone who is a "things were better in my day" heel, allied in some way with Ogawa (whose mouthpiece and whipping boy he can be), and who doesn't need to be treated with the same respect as Ogawa is. The fans accept Ogawa as "ratboy", it is inconceivable that he would enter a feud with the normal back and forth banter.
As for Takashi Sugiura, most of the Super New Generation Army (barring Kaito Kiyomiya, who isn't ready) have challenged him, as has Naomichi Marufuji. Global League resets this and now everyone battles for it, along with the new blood of The Hooligans and the two outside competitors. Takashi Sugiura has said that if he wins the league then he will chose his own challenger, and it will probably be someone from outside Noah.
Global League this year can be best summed up as "Global League 2018: Sugi's Gonna Kill Ya", but before that its on to Autumn Navigation.
NEWS
Koji Kanemoto will appear for Noah on the 14th October 2018, he will team with Minoru Tanaka and Hi69 vs RATELS (YO-HEY, HAYATA and Tadasuke)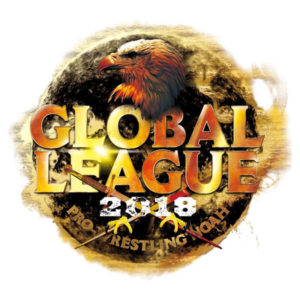 Global League participants and dates
BLOCK A
Naomichi Marufuji
Akitoshi Saito
Quiet Storm
Katsuhiko Nakajima
Kenoh
Masa Kitamiya
Mitsuya Nagai
Kohei Sato
BLOCK B
Takashi Sugiura
Mohammed Yone
Go Shiozaki
Atsushi Kotoge
Kaito Kiyomiya
Maybach Taniguchi
Cody Hall
Kazusada Higuchi
As excited as people are about Global League 2018, there is some disappointment as fans did hope to see Jay Bradley or Masato Tanaka.
Tuesday, October 30th – Korakuen Hall (18.30) ~ FIRST NIGHT
Thursday, November 8th – Korakuen Hall (18.30)
Sunday, November 11th – Matsuyama City Community Centre (17.00)
Wednesday, November 14th – Takamatsu Symbol Tower Exhibition Hall, (18.30)
Friday, November 16th – World Pavilion, Osaka (19.00)
Saturday, November 17th – Edion Arena, Osaka (18.30)
Sunday, November 18th – Kyoto, KBS Hall (3pm)
Wednesday, November 21st – Aizuwakamatsu City Cultural Centre, Fukushima (18.30)
Thursday, November 22nd – Miyagi, Sendai (18.30)
Friday, November 23rd – Yokohama Radiant Halls, Kanegawa (17.30)
Sunday, November 25th – Korakuen Hall, Tokyo (18.00) ~ FINALS
Holy War Vol.3 
Akira Taue was Toshiaki Kawada's next guest for his "Talk Battle" at Holy War Vol.3 (Kawada says that Vol.4 will either be this year or next year, with the two youngest on Noah's roster hoping that they will be on it again).
I think Kawada had hoped that Akira Taue would talk about his struggle of being Noah's president, but I don't think that Taue wanted to re-live the trauma by going through it again. For the record, Taue has only ever told tidbits about it, he's never done a sit down interview about it. The role turned him into an old frail man overnight.
The "Talk Battle" was very funny and very moving; they talked about Mitsuharu Misawa and how Taue was the one who invited Kawada to Noah (not Misawa), Taue's sumo days (which the fans wanted to hear more about), Taue called Kawada "a bullying mother in law" when he was being difficult and Kawada asked Taue to please stop smoking and cut down his drinking – Taue said he wasn't doing either, and no doubt 99% of the roster stubbed their cigarettes out when they heard Kawada say that. They told some funny stories, like the time when All Japan took the dojo to the seaside for summer training and Taue (known for his aversion to training) turned up without running shoes and with sandals because to his mind, "sandals are for the beach".
At the end of the event they played a medley of Jumbo Tsuruta's, Mitsuharu Misawa's and Kobashi's theme music (they found the first two very emotional).
GHC BELT NEWS
Current champions
GHC Heavyweight Champion: Takashi Sugiura
GHC Junior Champion: Daisuke Harada
GHC Heavyweight Tag Champions: Naomichi Marufuji & Akitoshi Saito
GHC Junior Tag Champions: Minoru Tanaka & Hi69
Either the winner of Global League 2018 (or a challenger that Takashi Sugiura appoints should he win the league) will be determined on the 25th November
Daisuke Harada will defend the GHC Junior Heavyweight belt against Kotaro Suzuki on the 30th October
Naomichi Marufuji and Akitoshi Saito will defend the GHC Heavyweight Tag Titles against Cody Hall & Maybach Taniguchi in Kobe on the 14th October
The GHC Junior Tag Championship has not been challenged for yet, although the boys from Zero One (Ikuto Hidaka and Takuya Sugawara) have hinted that they may challenge.
TOUR TIDBITS
Takashi Sugiura seemed in a very good mood after the title match, joking about why someone would want to beat up an old man.
Tadasuke made Yoshiki Inamura to do his entry with him. Inamura wasn't quite confident enough to do the headbanging and air guitar part though (HAYATA is on record saying it is embarrassing)
Atsushi Kotoge had dinner with "father and son" (Go Shiozaki and Kaito Kiyomiya)
Mitsuya Nagai came through the heavy door at Yokohama Radiant Halls to make his entry, and it slammed shut on Maybach Taniguchi behind him.
Katsuhiko Nakajima kicked Mohammed Yone's afro, and laughed.
KAZMA SAKAMOTO called Marufuji's picture of Nagai, Hall and Maybach "A Masterpeice".
Daisuke Harada addressed the crowd on the 30th September and thanked them for coming out in spite of the inclement weather, HAYATA, who was in the ring with him, said "Same". Considering Harada's address to the crowd in this manner, and his promotional work on radio shows and for tours, it would not surprise me if one day he took over Go Shiozaki's role as Head of the Noah Wrestlers Association.
Naomichi Marufuji says that he is fighting Kenoh on many fronts (Kenoh said in his last column about Marufuji's perceived political maneuvering, Marufuji said all he had done was fight to defend Noah)
Minoru Tanaka says that as a child he was "good at playing building blocks"
YO-HEY actually gave a coherent promo on October 1st, except when the wheels fell off at the end and he started talking about snowball fights
Naomichi Marufuji has been appointed "Tourist Ambassador to Konosu City, Saitama" on a two year term
Minoru Tanaka underwent emergency surgery due to a septic thumb
Kikutaro got scruffed by referee Shu Nishanaga (KENTA had him thrown out of SEM once); speaking of Kikutaro he proclaimed himself "The Ace of SEM" (SEM was disbanded in 2015), and I don't want to know why he was squeezing Atsushi Kotoge's balls.
SPECIAL 4 (Hi69, Minoru Tanaka, Yoshinari Ogawa and Seiya Morohashi) now come out to "Ultra Soul"
Hajime Ohara has proposed a "Team Kawasaki" with Ikuto Hideki (and possibly Hiroshi Yamato)
Mitsuya Nagai says that when Marufuji becomes bald he will put him in "The Bald Octopus Club"
Noah are calling some of the Global League tag matches "Voyage for Global League".
KING SHAMELESS' CORNER
Takashi Sugiura abstained from drinking alcohol for a week before the title match in case of head injury and\or concussion, but after the match and subsequent examination at the hospital he was given the all clear, and he went out to dinner afterwards and drunk alcohol. Having had a day of having to behave himself pretty much, he told Tokyo Sports (who call him "King Shameless"), that he had a wet dream when he woke up the next morning. I don't want to know any more.
EVENT RECAPS
September 29th, Yokohama Radiant Halls: 
September 30th, Ikos Ageo, Saitama
October 4th, Korakuen Hall 
Holy War. Vol 3 
LINKS
Naomichi Marufuji appointed Tourism Ambassador to Konosu City, Saitama 
SEM
Doug Williams has now retired 
"Heir to the Ark": Naomichi Marufuji's biography