(NOAH) WEEKLY NEWSLETTER VOL.4 ~ 5TH OCTOBER 2018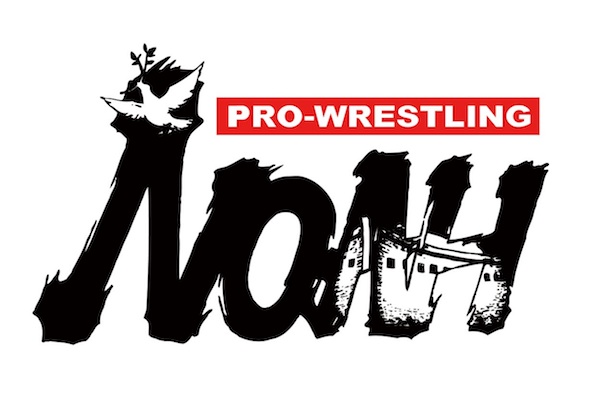 CURRENT TOUR RECAP
Noah have had excellent attendances recently, bad weather, transport difficulties and a weekday show, have not kept people away. Korakuen might not have been sold out for the final, but it was a damn good result for a Thursday night with the majority of people making a mad dash across Tokyo to get there after work.
Hopefully, the fans dedication to seeing Noah and their willingness to battle through Typhoon weather (the event on the 30th September was fast tracked because of it and fans were warned that the show might be cancelled half way through due to the weather), rush hour traffic on a weekday and face resultant travel difficulties, will make the network consider just what they are missing.
Naomichi Marufuji missed the last two nights of Global Junior League as he was appearing in WRESTLE-1 and then Kansai Pro, but he was back for the 4th October.
The GHC Heavyweight match signing took place on September 29th 2018 at Yokohama Radiant Halls. Nakajima appeared with the usual smirk, and refused to answer any questions and when prompted to speak, sat with an eerie grin on his face like he found the whole thing very funny. Takashi Sugiura (who arrived wearing the tired expression like that of a father that has been called too many times to the Principals office over the misbehavior of his son), told him and everyone else that the smile would be wiped off Nakajima's face when he got repeated elbows in it on the 4th October. That evening the veterans were obliterated by the "young people" as Yokohama went wild, Nakajima's comment on the match was, "Oh, that was fun".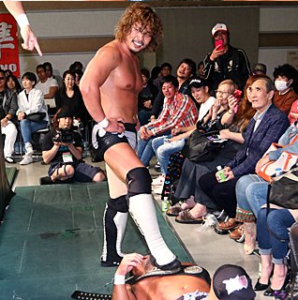 The clash on the 30th September, however, was very different. The battle damaged endoskeleton inside Takashi Sugiura rebooted itself, and Nakajima caught a beating (seriously, half the time Sugi looked like he was going to put him over his knee). In a very short match Sugiura caught Nakajima with the Olympic Slam, the ref counted three, and Sugiura continued battering on him until the ref pulled him off, and he stood with his foot on him as Nakajima had done to him, before Nakajima was carried off on the back of the Revolutionary Hero who was watching at ringside. Sugiura later said that Nakajima was like a fly who "fled when I tried to crush him", and vowed to crush him at Korakuen Hall.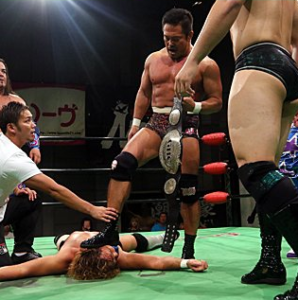 On the 4th October, evidently learning nothing from the 30th September, Katsuhiko Nakajima came strolling out to the ring, big smirk on his face, sinister new ring robe with faux wolfskin and sinister black pants, boots and kneepads. As soon as the bell rang, he lay down on the floor, resting his head on his hands and with his elbow bent, looking as if he were posing for a suncream or speedos advert.
Sugiura was not impressed.
It was a brutal match with kicks, elbows, slaps and slams (Sugiura did the turnbuckle brainbuster and held it for twenty seconds), and at one point Masa Kitamiya got involved which earned loud boos from the crowd, especially as Nakajima was using a wooden bar to choke Sugiura with. Eventually, Sugiura seized the chance for the ankle lock, and even bit into Nakajima's boot.
It was too much for Nakajima, and he tapped out.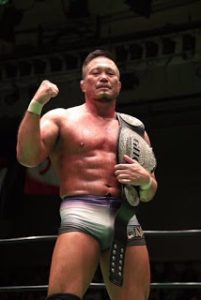 Afterwards most of the competitors for Global League got into the ring, (aside from the veterans that was, and those who were seconding Nakajima and the two who are coming in from outside promotions), and started yelling at each other and pointing fingers. Nagai got on the microphone first and said that the Hooligans were gunning for the GHC Heavyweight too, Kiyomiya told them that they would have to go past him first (Sugiura later said in an interview that he doesn't consider Kiyomiya a challenge, as he couldn't get past Kenoh to qualify for the number one contendership, so that's one down for him), and Sugiura told them all to keep their pants on, the league starts on the 30th October, and so "all you youngsters, you had better start practicing".
Naomichi Marufuji said he was going to finish this nonsense of The Hooligans on the 4th October, being too tired to deal with a "bald octopus and his worthless friends", so he made this picture of them asking them to turn up to the event like this (Marufuji seems to share Sugiura's obsession with bald people, and told Nagai to either grow hair down to his shoulders or get a wig if he wanted a title shot).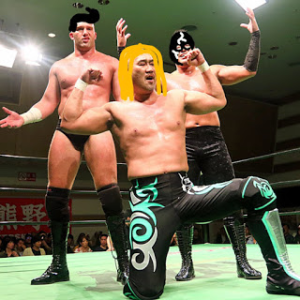 Nagai is not impressed by being called "a bald Octopus" and vowed to make Marufuji "regret the words you spewed".
On the 4th October, Naomichi Marufuji & 50 Funky Powers clashed with The Hooligans, who were more interested in attacking Marufuji than they were Saito, and he took the brunt of things in the match. Afterwards, The Hooligans (Cody Hall and Maybach Taniguchi holding up the belts) stood over them and unfurled their Hooligans flag.
Marufuji has to now give them a title shot, (although he says he is only doing it to crush them), and the two teams will meet in Kobe on the 14th October, before that Naomichi Marufuji and Maybach Taniguchi will have a rare singles match on the 7th October, with Akitoshi Saito facing Cody Hall.
Daisuke Harada faced off against his nemesis, Kotaro Suzuki on the 29th September in a very tense match, which ended with Kotaro Suzuki with the win. He stood over the fallen Daisuke Harada and said that he was going to "shine up that rusty belt" (I think he may also have called him a "Class A War Criminal", which seems a little extreme).
YO-HEY (watched by Kotaro Suzuki and Yoshinari Ogawa) faced Ikuto Hidaka for the semi-finals. YO-HEY seemed to have picked up a knock the knee during the match, (which Hidaka exploited), but he held on in there and refused to quit. The clock ticked away, near falls followed near falls, and then Hidaka locked in the Shinken Capture.
YO-HEY refused to quit.
The clock ran out and YO-HEY was awarded the win, which meant that he now had two jobs; to win Global Junior League and more importantly, to defend the honor of the Noah juniors against Kotaro Suzuki.
The showdown came on the 4th October, between the man who was not Noah born, but yet had the majority of the crowd behind him seeing him as representing Noah, and the man who is Noah born, but yet walked out of Noah, and therefore isn't considered to be Noah anymore. The match was harsh with a lot of near falls which kept the crowd on the edge of their seats, but Kotaro Suzuki prevailed, and won Global Junior League 2018.
RATELS were at ringside and attended to YO-HEY, when he was rolled out of the ring, YO-HEY could be seen putting his palms together to bow and apologizing to Daisuke Harada.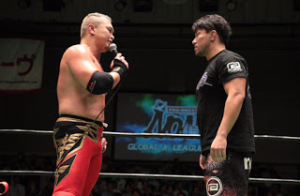 After the match Kotaro Suzuki challenged Daisuke Harada. He later said he didn't want the belt, but he had a plan for it, and he was bringing excitement to a division whose guys were bored and stuck in a rut.
All poor YO-HEY could say was "I'm sorry…I'm sorry".
Junta Miyawaki is still without his first win, but the day is coming nearer, Noah are teasing a lot of near falls though.
Both Kouki Iwasaki (who faced Kenoh on the 4th October, and wants to do again) and Hiroshi Yamato (WRESTLE-1) say that they would like to further participate in Noah. Iwasaki says he wants to face Kenoh again and "knock him down".
The wins of Takashi Sugiura and Kotaro Suzuki are the best outcomes for Noah.
The Junior division needs a proper heel, and while you could say they have Yoshinari Ogawa, Ogawa due to his age, status backstage in the company as the oldest active veteran (who is always referred to as "Mr. Ogawa" and treated with the highest respect), cannot enter a feud where his opponent runs him down, although he can go to toe to with the youngsters in the ring. Ogawa's main role is as a teacher, and the rookies who come from the dojo, always pass through him; and Kotaro Suzuki therefore fulfills the role as someone who is a "things were better in my day" heel, allied in some way with Ogawa (whose mouthpiece and whipping boy he can be), and who doesn't need to be treated with the same respect as Ogawa is. The fans accept Ogawa as "ratboy", it is inconceivable that he would enter a feud with the normal back and forth banter.
As for Takashi Sugiura, most of the Super New Generation Army (barring Kaito Kiyomiya, who isn't ready) have challenged him, as has Naomichi Marufuji. Global League resets this and now everyone battles for it, along with the new blood of The Hooligans and the two outside competitors. Takashi Sugiura has said that if he wins the league then he will chose his own challenger, and it will probably be someone from outside Noah.
Global League this year can be best summed up as "Global League 2018: Sugi's Gonna Kill Ya", but before that its on to Autumn Navigation.
NEWS
Koji Kanemoto will appear for Noah on the 14th October 2018, he will team with Minoru Tanaka and Hi69 vs RATELS (YO-HEY, HAYATA and Tadasuke)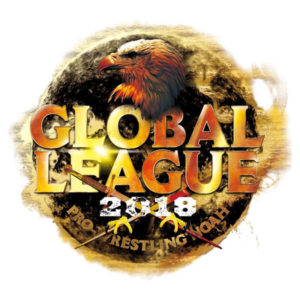 Global League participants and dates
BLOCK A
Naomichi Marufuji
Akitoshi Saito
Quiet Storm
Katsuhiko Nakajima
Kenoh
Masa Kitamiya
Mitsuya Nagai
Kohei Sato
BLOCK B
Takashi Sugiura
Mohammed Yone
Go Shiozaki
Atsushi Kotoge
Kaito Kiyomiya
Maybach Taniguchi
Cody Hall
Kazusada Higuchi
As excited as people are about Global League 2018, there is some disappointment as fans did hope to see Jay Bradley or Masato Tanaka.
Tuesday, October 30th – Korakuen Hall (18.30) ~ FIRST NIGHT
Thursday, November 8th – Korakuen Hall (18.30)
Sunday, November 11th – Matsuyama City Community Centre (17.00)
Wednesday, November 14th – Takamatsu Symbol Tower Exhibition Hall, (18.30)
Friday, November 16th – World Pavilion, Osaka (19.00)
Saturday, November 17th – Edion Arena, Osaka (18.30)
Sunday, November 18th – Kyoto, KBS Hall (3pm)
Wednesday, November 21st – Aizuwakamatsu City Cultural Centre, Fukushima (18.30)
Thursday, November 22nd – Miyagi, Sendai (18.30)
Friday, November 23rd – Yokohama Radiant Halls, Kanegawa (17.30)
Sunday, November 25th – Korakuen Hall, Tokyo (18.00) ~ FINALS
Holy War Vol.3 
Akira Taue was Toshiaki Kawada's next guest for his "Talk Battle" at Holy War Vol.3 (Kawada says that Vol.4 will either be this year or next year, with the two youngest on Noah's roster hoping that they will be on it again).
I think Kawada had hoped that Akira Taue would talk about his struggle of being Noah's president, but I don't think that Taue wanted to re-live the trauma by going through it again. For the record, Taue has only ever told tidbits about it, he's never done a sit down interview about it. The role turned him into an old frail man overnight.
The "Talk Battle" was very funny and very moving; they talked about Mitsuharu Misawa and how Taue was the one who invited Kawada to Noah (not Misawa), Taue's sumo days (which the fans wanted to hear more about), Taue called Kawada "a bullying mother in law" when he was being difficult and Kawada asked Taue to please stop smoking and cut down his drinking – Taue said he wasn't doing either, and no doubt 99% of the roster stubbed their cigarettes out when they heard Kawada say that. They told some funny stories, like the time when All Japan took the dojo to the seaside for summer training and Taue (known for his aversion to training) turned up without running shoes and with sandals because to his mind, "sandals are for the beach".
At the end of the event they played a medley of Jumbo Tsuruta's, Mitsuharu Misawa's and Kobashi's theme music (they found the first two very emotional).
GHC BELT NEWS
Current champions
GHC Heavyweight Champion: Takashi Sugiura
GHC Junior Champion: Daisuke Harada
GHC Heavyweight Tag Champions: Naomichi Marufuji & Akitoshi Saito
GHC Junior Tag Champions: Minoru Tanaka & Hi69
Either the winner of Global League 2018 (or a challenger that Takashi Sugiura appoints should he win the league) will be determined on the 25th November
Daisuke Harada will defend the GHC Junior Heavyweight belt against Kotaro Suzuki on the 30th October
Naomichi Marufuji and Akitoshi Saito will defend the GHC Heavyweight Tag Titles against Cody Hall & Maybach Taniguchi in Kobe on the 14th October
The GHC Junior Tag Championship has not been challenged for yet, although the boys from Zero One (Ikuto Hidaka and Takuya Sugawara) have hinted that they may challenge.
TOUR TIDBITS
Takashi Sugiura seemed in a very good mood after the title match, joking about why someone would want to beat up an old man.
Tadasuke made Yoshiki Inamura to do his entry with him. Inamura wasn't quite confident enough to do the headbanging and air guitar part though (HAYATA is on record saying it is embarrassing)
Atsushi Kotoge had dinner with "father and son" (Go Shiozaki and Kaito Kiyomiya)
Mitsuya Nagai came through the heavy door at Yokohama Radiant Halls to make his entry, and it slammed shut on Maybach Taniguchi behind him.
Katsuhiko Nakajima kicked Mohammed Yone's afro, and laughed.
KAZMA SAKAMOTO called Marufuji's picture of Nagai, Hall and Maybach "A Masterpeice".
Daisuke Harada addressed the crowd on the 30th September and thanked them for coming out in spite of the inclement weather, HAYATA, who was in the ring with him, said "Same". Considering Harada's address to the crowd in this manner, and his promotional work on radio shows and for tours, it would not surprise me if one day he took over Go Shiozaki's role as Head of the Noah Wrestlers Association.
Naomichi Marufuji says that he is fighting Kenoh on many fronts (Kenoh said in his last column about Marufuji's perceived political maneuvering, Marufuji said all he had done was fight to defend Noah)
Minoru Tanaka says that as a child he was "good at playing building blocks"
YO-HEY actually gave a coherent promo on October 1st, except when the wheels fell off at the end and he started talking about snowball fights
Naomichi Marufuji has been appointed "Tourist Ambassador to Konosu City, Saitama" on a two year term
Minoru Tanaka underwent emergency surgery due to a septic thumb
Kikutaro got scruffed by referee Shu Nishanaga (KENTA had him thrown out of SEM once); speaking of Kikutaro he proclaimed himself "The Ace of SEM" (SEM was disbanded in 2015), and I don't want to know why he was squeezing Atsushi Kotoge's balls.
SPECIAL 4 (Hi69, Minoru Tanaka, Yoshinari Ogawa and Seiya Morohashi) now come out to "Ultra Soul"
Hajime Ohara has proposed a "Team Kawasaki" with Ikuto Hideki (and possibly Hiroshi Yamato)
Mitsuya Nagai says that when Marufuji becomes bald he will put him in "The Bald Octopus Club"
Noah are calling some of the Global League tag matches "Voyage for Global League".
KING SHAMELESS' CORNER
Takashi Sugiura abstained from drinking alcohol for a week before the title match in case of head injury and\or concussion, but after the match and subsequent examination at the hospital he was given the all clear, and he went out to dinner afterwards and drunk alcohol. Having had a day of having to behave himself pretty much, he told Tokyo Sports (who call him "King Shameless"), that he had a wet dream when he woke up the next morning. I don't want to know any more.
EVENT RECAPS
September 29th, Yokohama Radiant Halls: 
September 30th, Ikos Ageo, Saitama
October 4th, Korakuen Hall 
Holy War. Vol 3 
LINKS
Naomichi Marufuji appointed Tourism Ambassador to Konosu City, Saitama 
SEM
Doug Williams has now retired 
"Heir to the Ark": Naomichi Marufuji's biography 
Mitchell's NJPW AXS Results: Dominion 2019 Part 1!
It's Rainmaker VS Painmaker in the main event!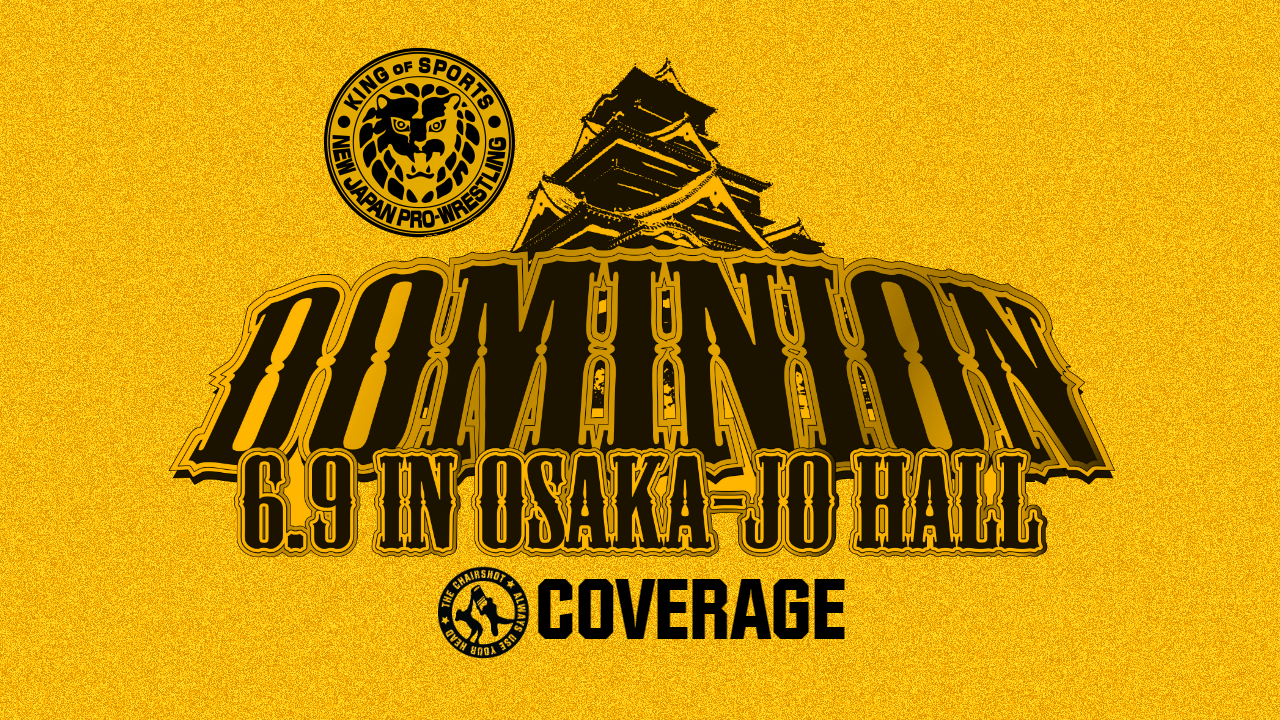 Kazuchika Okada defends the IWGP Heavyweight Championship against Chris Jericho! Will Y2J stop the reign of the Rainmaker? Or will Okada continue to raise NJPW to the next level?
Coverage of Dominion in Osaka-Jo Hall will be as broadcast by AXS TV.
Gifs can be found on https://frentique.tumblr.com/
OFFICIAL RESULTS
Jon Moxley VS Shota Umino; Moxley wins.
Shingo Takagi VS Satoshi Kojima; Takagi wins.
Six Man Tag: Bullet Club VS Taguchi Japan; Taguchi Japan wins.
IWGP Junior Heavyweight Championship: Dragon Lee VS Will Ospreay; Ospreay wins and becomes the new IWGP Junior Heavyweight Champion.
IWGP Heavyweight Championship: Kazuchika Okada VS Chris Jericho; Okada wins and retains the IWGP Heavyweight Championship.
PLAY BY PLAY
NJPW and AXS TV set the scene for this Summer blockbuster!
The Rainmaker reigns once again after his long road to redemption. Madison Square Garden was the beginning of Kazuchika Okada's fifth reign, and Okada would be successful in his first defense back in Japan. But a darker Chris Jericho has come back to NJPW to be the Painmaker that ruins the Rainmaker's Summer. Can Okada keep going? Or will he regret playing with Y2J?
But before that, the Aerial Assassin, fresh off his Best of the Super Juniors victory, wants the IWGP Junior Heavyweight Championship back! Will Ospreay slayed the Muscle Dragon, Shingo Takagi, in the finals, but can he slay CMLL's Dragon Lee? Or will Lee continue the reign that also started in Madison Square Garden?
Jon Moxley VS Shota Umino!
The Lunatic is free, and he has come to NJPW! He won the IWGP United States Championship in his debut, but will the Death Rider keep going strong as this Young Lion gets to show his stuff?
Umino is definitely eager to show what he can do, as he FLIES out onto Moxley before the bell! Osaka fires up with Umino as he gets Moxley in the ring. The bell does ring and Umino climbs up to missile dropkick Moxley back down! Umino runs in corner to corner, but gets a big lariat from Moxley! Moxley goes back to Umino to rain down rights, but the ref reprimands him for closed fists. So Moxley switches to elbows! Moxley walks off his annoyance before putting Umino in the corner for a CHOP! And another! Moxley grinds his forearm into Umino's face but lets up at the ref's count, for a BIG back suplex! Cover, TWO! Fans cheer as Umino survives, and Moxley mocks them before dropping an elbow. Cover, TWO!
Moxley drags Umino around for a Queen Angelito Stretch. Umino endures the deathlock and crossface, but Moxley fish hooks the mouth. Fans rally and Umino crawls, but Moxley pulls back harder. Umino powers his way forward for the ropebreak! Moxley lets go just to hammer Umino down. Moxley walks off with some swagger, then returns to loom over a dazed Umino. Umino hits back but Moxley eggs him on. Umino throws more forearms but it's not enough for Moxley. That third one still wasn't, and Moxley headbutts Umino, only to run into a dropkick and a German Suplex! Bridging cover, TWO! Umino stays fired up as he fishermen's, but Moxley spins out to forearm Umino back. Then Moxley gives Umino the X-Plex! Cover, TWO!
Fans cheer Umino's heart and Moxley even laughs. Moxley drags Umino up, Death Rider DDT! Cover, Moxley wins!
Winner: Jon Moxley, by pinfall
That wasn't as easy as Moxley thought, but he still puts the Young Lion away. When and where will the Death Rider strike again? How long will he be IWGP US Champion?
Moxley isn't done, he grabs a mic. "I bring a message from Cincinnati, Ohio. Jon Moxley, international purveyor of violence, gentleman and all around sick son of a b*tch wants in on the G1!" A huge move for the newest star in NJPW! Will Moxley rise to the challenge of the G1 Climax to take it all?! Either way, he takes his belt, and Umino, with him to the back! Has the Young Lion won the veteran's respect?
NJPW Media backstage interview
Moxley has a floundering Umino hold onto the IWGP US Championship belt for him as he compliments the Young Lion. "I like this kid. He could be my new Young Lion. I'm gonna need some help, I'm gonna need a partner." A training partner, a guy to spot him on the bench, to drive him home from Roppongi. Does Umino drive? Well Moxley and his Young Boy will be fine. And Moxley made his intentions clear. "See you at the G1. Come, my friend." Moxley helps Umino up and the two head out. Is this partnership really going to work out? And how is the Death Rider going to fare in his first G1 Climax tournament?
Shingo Takagi VS Satoshi Kojima!
The Muscle Dragon suffered his first loss in NJPW when he fell to the Aerial Assassin, but he looks to spring back already. Will his Pumping Bomber beat the legendary Cozy Lariat in this special first-ever encounter?
The bell rings and the fans are already fired up. They tie up, and Shingo keeps even with Kojima. Shingo puts Kojima on the ropes, then lets up to pat his shoulders. And then CHOP him anyway! Kojima doesn't flinch, and kicks back. He headlocks Shingo but Shingo powers out. Kojima bumps Shingo but Shingo comes back to run him over! Fans marvel at the muscles as Shingo drags Kojima up. Kojima forearms Shingo but Shingo hits back. They brawl with fast and furious forearms, then Shingo headbutts. Shingo whips but Kojima runs him over! Fans cheer as Kojima shows he's as strong as ever. Kojima flex the pecs then slingshots to topple Shingo down! Fans cheer as Kojima gets up. Shingo follows and they brawl on the outside.
The count climbs as the punches fly, but Shingo CHOPS! Kojima keeps hitting Shingo and Shingo keep shitting Kojima. But the count hits 15! Then 17! They hear 19 and jump in! Shingo goes at Kojima with a facelock but Kojima gets up. Shingo shifts to a cravat, but Kojima endures the grind, only to get an elbow. Kojima ends up in a corner, Shingo whips him to another. Shingo runs in but blocks the boot then jab and chop! Jab, chop, and repeat! Shingo lets up at the ref's count and checks his hand. He whips Kojima corner to corner, but Kojima dodges and CHOPS! Kojima CHOPS over and over and over! Fans fire up as he tops it off with one more big CHOP! Shingo is stinging as Kojima whips him corner to corner. Kojima forearm smashes then goes up top! But Shingo knocks him down!
Shingo joins Kojima on the apron and says HE is going for something. Kojima denies the Death Valley, but Shingo holds on to deny the cutter. Shingo fireman's carries, and hits the apron Death Valley Driver! Both men slump to the floor but Shingo sits up first. Kojima slowly follows, and sweeps Shingo's legs on the apron! Shingo crashes and Kojima climbs up to join him. Kojima hits an apron DDT! Kojima puts Shingo in and brings him up for a cutter! Cover, TWO! Shingo survives and surprises Kojima a bit, but Kojima keeps his cool. He clubs away on Shingo and then puts him up top. Kojima climbs up to join Shingo, and hits a SUPER CUTTER! Cover, TWO! Shingo survives again!
Kojima drags Shingo up and Shingo denies the suplex. Kojima manages to get Shingo up but Shingo slips out. Shingo waistlocks but Kojima elbows free. Kojima runs, but into a back elbow of Shingo's, then a JAB and LARIAT! But Shingo can't make the cover, his arms are still stinging. Shingo whips Kojima and knees him against ropes. He suplexes Kojima for a big vertical suplex! Shingo drags Kojima back up but Kojima flops over. Shingo tries again, underhooks but Kojima resists. So Shingo knees and CHOPS him with both hands! Shingo runs, but Kojima blocks the bomber! Kojima runs, but Shingo blocks on one side, only to get Cozy Lariat from the other side! Kojima brings Shingo back up, BRAIN BUSTER! Cover, TWO!
Kojima keeps his cool as fans rally up both ways. He prepares the arm, whips Shingo, but Shingo flops over now. The ref checks on Shingo while Kojima eggs him on. Shingo stands, blocks the lariat, and underhooks, but Kojima fights free, only to get a DDT! Kojima gets to a corner and fans rally up with Shingo. Shingo runs corner to corner for a big clothesline! Then he runs to Pump- Kojima tanks the bomber?! Shingo tries again but Kojima stays up. Shingo runs but clotheslines collide! And it's Kojima who stays up! Fans fire up as Kojima glares. Off comes the arm band! Kojima runs, but into a PUMPING BOMBER! Cover, ONE!? Kojima shows great heart, and throws forearms with Shingo back and forth again.
Shingo gives elbows from all sides, but Kojima comes back with his own! Kojima swings into a pump handle! Shingo lifts Kojima, for Made in Japan! Cover, TWO!! Kojima escapes the driver! But Shingo keeps going, PUMPING BOMBER!! Shingo won't cover?! He gets up and brings Kojima into the pump handle fireman's carry, Last of the Dragon!! Cover, Shingo wins!
Winner: Shingo Takagi, by pinfall
The biggest Junior Heavyweight in NJPW defeats a legendary heavyweight! Takagi picks up the mic to say, "You saw it happen. I got the job done." But he needs something more. A bigger thrill! Something heavier. You get what he means, right? Osaka has an idea, but Takagi gets to the point. He also wants in on the G1!! It doesn't matter the size, the talent, the toughness, Takagi will take them all down, "just the way I am." That is all. The Muscle Dragon drops the mic and also wants in the big Summer tournament! Will Takagi prove that he can be the best of both weight classes?
Six Man Tag: Bullet Club VS Taguchi Japan!
Two factions of NJPW clash as Jay White leads Taiji Ishimori and Chase Owens into battle against Juice Robinson, Hiroshi Tanahashi, and of course Ryusuke Taguchi. Will the Flamboyant One, The Ace and the Funky Weapon #BreathwiththeSwitchblade? Or will they take the Switchblade, Bone Soldier and Crown Jewel down on Dominion?
NJPW on AXS returns as the teams sort out. Chase starts against Juice with the bell. The two circle and tie up. Chase waistlocks then wrenches Juice, but Juice spins through to wrench back. Chase spins and headlocks, but Juice pries free to get a keylock to waistlock. Juice throws Chase down and keeps on him with a waistlock. Chase stands and backs Juice into ropes, and the break is clean, until Chase elbows Juice in that bad eyebrow! Chase goes after it with a headlock punch! The ref reprimands Chase but Juice just punches Chase back! Juice jabs and CHOPS in the corner over and over. The ref counts so Juice whips Chase corner to corner, to then run in for a big clothesline! Juice keeps moving, but Chase bails out.
The Bullet Club regroups while fans rally up for Juice. Juice dares Chase to get in, and Chase does, to tag out to Taiji. Taiji stares down with Juice, but Taguchi wants in. Osaka wants him in, too! Tag to Taguchi, and we revisit their resent Junior Heavyweight Championship match. Taguchi does his Sailor Boys dance, but that only gets him kicked. Taiji headlocks but Taguchi powers out and things speed up. Taguchi goes for a hip attack but gets an atomic drop! Taiji whips but Taguchi reverses to hit a corner hip attack! Then he whips Taiji corner to corner for another! Taguchi keeps moving, but misses that one! The Bullet Club blasts Taguchi's teammates, and Taiji throws Taguchi out to join them.
White throws Tanahashi at the NJPW commentary while Chase punches Juice up the ramp. Taiji keeps on Taguchi on the other side while White CHOPS Tanahashi. Taiji whips Taguchi into barriers! White stomps Tanahashi down while Chase helps Taiji against Taguchi. Juice is down at the ramp while Taiji puts Taguchi in to cover. TWO, but Taiji tags Chase. Chase stomps Taguchi to keep him away from his corner. Chase bumps Taguchi off buckles then feeds him to White's boot. Tag to White and Chase throws Taguchi out for White to ram into railing, apron and railing, repeat! White puts Taguchi back in while fans boo and jeer. He covers, TWO! Taguchi survives but White wraps him up with a chinlock.
Fans rally up and Taguchi feeds off the energy. Taguchi fights back and whips, but White reverses, and dodges the hip attack. The Funky Weapon has done more damage to himself than anything. He runs into another atomic drop! But he escapes White's back suplex! Taguchi dodges and hits White with the hip attack! Both men are down and fans rally up. Taguchi and White crawl, hot tag to Tanahashi! The Ace has his hated nemesis and starts throwing forearms. He whips but White reverses, only to get a flying forearm! Tanahashi blasts the Bullet Club, then dodges White. He blocks the boot for a Dragon Screw! Fans fire up as Tanahashi hops up, for the senton onto White! Cover, TWO!
Fans cheer "GO ACE!" as Tanahashi aims at White. White dodges Slingblade but Tanahashi elbows White away. Tanahashi runs but into a CHOP! But he keeps going! White blocks Slingblade to saido suplex! The Bullet Club take Taguchi and Juice out, then help White with Tanahashi. Taiji whips Tanahashi corner to corner, then Chase whips Taiji in to double knee Tanahashi. Chase adds a forearm smash, then White adds a running uppercut! White suplexes Tanahashi for a twisting suplex! Cover, but Juice and Taguchi both break it! Fans cheer but Bullet Club throws them back out. White drags Tanahashi up and slashes the throat. He has Tanahashi in position, but Tanahashi spins and palm strikes!
Tanahashi runs, but Slingblade is denied again! White wants but is denied Blade Runner into a Slingblade! Fans rally up while both men are down. Bullet Club hits Taguchi down and drags White to the corner, and Chase tags in! Chase grins as he aims at Tanahashi. He runs in corner to corner for a forearm, then snapmares for a Shining Wizard! Cover, TWO! Tanahashi survives but Chase drags him up for a piledriver. Juice runs in but gets a SUPERKICK! Taguchi returns to kick Chase, then runs only to miss again! Taiji whips Taguchi into railing again while Chase drags Tanahashi up. Tanahashi goes to counter punch but Chase hits the bad arm. Chase hammerlocks and lariats, the Jewel Heist! But Chase isn't done there, he double guns and drags Tanahashi up. Package-
No, Tanahashi escapes and trips Chase up! He laces the legs but Chase shoves him away into White's cheap shot. But Juice yanks White down for the Left Hand of God! Chase drags Tanahashi up and whips, but Tanahashi reverses into a familiar position. But Tanahashi doesn't steal Blade Runner, he hits a Slingblade DDT! Cover, Tanahashi and team win!
Winners: Taguchi Japan, Tanahashi pinning
The Ace gets the win for his team! But will this trios victory help Tanahashi in his newest NJPW comeback? Or is it a long road back for even the Once in a Century Talent?
Katsuyori Shibata returns to NJPW!
The man simply known as "The Wrestler" is back in Osaka-Jo Hall! But he is in a suit, so he's not here to fight. Instead, his business is to introduce NJPW to a new star… KENTA!! Yes, the Innovator of the GTS is here! And as the shirt says, he's ready to take over! Shibata helps Kenta into the ring and Osaka goes wild! And of course, Shibata picks up the mic to speak.
"Today, I brought a really close friend with me." This is THE Kenta! And then the mic is given over to Kenta so that he may speak. "Hello NJPW fans, I'm Kenta." He thanks Shibata for making this possible. And he is here because he followed his instincts. Kenta wants to show you his style of pro-wrestling. "I will see you at the G1 Climax." Incredible! A third man declares for the tournament in one night! Will Kenta #TAKEOVER and make the rest of the field #GoToSleep?
IWGP Junior Heavyweight Championship: Dragon Lee VS Will Ospreay!
The Best of the Super Juniors practically just ended, but the Aerial Assassin doesn't take anything easy. The two-time tournament winner wants to go from two-time champion to three! Will he slay another dragon in just the span of a week? Or will CMLL's dragon continue to reign over the NJPW Junior Heavyweight Division?
The introductions are made, the belt is raised then put carefully alongside Ospreay's BOSJ 26 trophy, and the two rivals shake hands. The bell rings and we begin this battle of young and international icons!
Osaka is already thunderous for these two top Junior Heavyweights. The two circle and tie up. Ospreay wrenches but Lee handsprings through. Lee and Ospreay tie up again and Lee snapmares, but Ospreay handsprings through. They go again, and Lee headlocks, but Ospreay powers out. Things speed up and Lee shoves to follow then huricanrana, but Ospreay handsprings through that! Ospreay huricanranas but Lee also handsprings! Lee kicks but Ospreay dodges to handspring, but Lee just denies the Oscutter! Lee lifts for Desnucadora but Ospreay slips out. Ospreay swings a kick, but Lee ducks, and then they both dropkick! Those cancel out and both men kip up, but Lee dropkicks Ospreay back down! Fans cheer how fast and furious these two move!
Lee goes after Ospreay with a hook to the face, then wraps an arm around the ropes. Lee CHOPS Ospreay then follow shim in a corner. He knees and forearms Ospreay, then whips corner to corner. Ospreay boots and enziguris Lee back, then hits a top-rope 619! Lee bails out but Ospreay slingshots for a big crossbody! Fans fire up as Ospreay stands tall! Ospreay takes a moment to walk off the landing then drags Lee up to CHOP him back down! Ospreay drags Lee up and into the ring, and covers, ONE! Fans cheer while Ospreay drags Lee back up for a big forearm. Ospreay whips and elbows Lee down, cover, ONE!
Ospreay keeps his cool as he drags Lee around. He hammerlocks one arm, then pulls on the other, for a recliner! Cover, TWO! Ospreay stalks Lee to a corner and CHOPS him back. He CHOPS Lee more, but Lee hits back with forearms. Ospreay back kicks then whips, but Lee puts Ospreay on the apron. Ospreay hits back then springboards, but his Pip Pip Cheerio gets caught into an STO! Both men are down but stirring as fans cheer. Lee gets up and goes to Ospreay in the corner to throw forearm after forearm. Lee runs but Ospreay follows to uppercut! Ospreay sweeps the legs and runs corner to corner, but Lee dodges. Lee throws more forearms to sit Ospreay down, then runs corner to corner for the basement dropkick! Snap suplex and cover, TWO!
Lee keeps his cool while fans cheer. Lee kicks Ospreay then whips, but Ospreay handsprings to PELE! Ospreay gets to the apron then springboards back in, flying forearm! Cover, TWO! Lee lives but Ospreay sees him bail out. Fans rally as Ospreay builds speed, Sasuke Special! Lee dodges but Ospreay still lands on his feet! Only to get Lee's knee trigger! Lee drags Ospreay up onto the railing and throws forearm. NJPW commentary gets a good look as Lee builds speed and DIVES! They both go into the next section!! Even commentary is wiped out with that insane tope suicida! Red Shoes checks on both men, and somehow they're okay to continue. Fans rally up behind commentary who got wiped out. Everyone is up and Lee pushes Ospreay over the railing back to ringside.
Lee puts Ospreay in the ring and deadlifts him. Ospreay fights the waistlock but Lee shifts to a full nelson. Ospreay breaks that, but gets caught into the Straitjacket German! Bridging cover, TWO!! Ospreay still escapes after all of that! Lee grits his teeth and checks his mask as he goes after Ospreay again. He puts Ospreay up on the back rope and Ospreay falls into the Tree of Woe. Lee climbs up but Ospreay sits up to start brawling! They hit each other with forearms back and forth, and with little where else to go. Lee headbutts Ospreay back into the Tree, then stands up, but Ospreay kicks Lee down! Ospreay is free of the Tree while Lee falls to the floor. Ospreay climbs up, CORKSCREW MOONSAULT! He takes Lee down with him!
Osaka fires up while Ospreay clutches his ribs. But Ospreay fires up to drag Lee into the ring! Ospreay drags Lee up into the dragon sleeper, for a Bloody Sunday! Cover, TWO! Lee lives again but Ospreay keeps his focus. Both men stand and Ospreay aims, Hook Kick! But Ospreay won't stop there, he roars as he underhooks. Lee blocks so Ospreay kicks away on his face. Underhooks to Canadian rack, but Lee pops out of Stormbreaker for a gut wrench! But Ospreay slips through to gut wrench Lee, only for Lee to tilt-o-whirl DDT! And then springs up to a suplex, only to get the Osaka Street Cutter! Both men are down after an Osaka Street Cutter in Osaka! Fans rally up and the two slowly stir. The two crawl towards each other, and start throwing forearms again.
Fans cheer as Ospreay hits Lee and Lee hits Ospreay. Both men fire up and get to their feet. Ospreay hits Lee again, but Lee hits Ospreay again. They go back and forth, then Ospreay fires several! Lee hits one and decks Ospreay! Lee runs but into a HOOK KICK! Ospreay runs, but into a German Suplex! But he lands on his feet to dropkick-flip, into Lee's knee trigger! Lee POISON RANAS! Lee runs, but into SPANISH FLY! Both men are down again and fans are thunderous! Ospreay crawls to a cover, TWO!! Lee just barely survives that one!
Fans rally up as Ospreay puts Lee in the drop zone. Ospreay climbs up again, but has to fight Lee. Lee SUPERKICKS Ospreay down to the apron! Lee runs side to side, for a FLYING HURICANRANA! But Ospreay lands on his feet?! Lee is stunned as Ospreay stares him down. Ospreay eggs Lee on, and gets him with an apron pop-up bomb! Ospreay puts Lee in, climbs up top, and leaps for the Shooting Star! Cover, TWO!! Lee still lives, but Ospreay vows to end it! Ospreay aims, Robinson Special! But that's not all, Ospreay springboards, but into a knee trigger! Fans are thunderous all over again as both men slowly stir.
Ospreay goes back to the apron, but Lee pursues. Lee drags Ospreay up and throws forearms. Ospreay swing kicks Lee back! Ospreay hops up fast, but Lee trips him up! Into a Tree of Woe to the outside! WOE STOMPS!! Lee may have done as much damage to himself just on the landing! Red Shoes checks but again they're somehow both okay. A ring count begins and climbs past 10, but Lee is up and in! Ospreay is still down as fans cheer. Ospreay stands at 14 but flops over at 15! The count reaches 18, Ospreay springs up at 19 and gets in at 19.5! Only to get another knee trigger! Lee drags Ospreay up, lifts, but Ospreay resists again! Ospreay elbows out and roundhouses Lee down! But Lee catches Ospreay for another STO! That Ospreay slips through! Powerbomb lift, but Lee hits a DESTROYER!!
Lee won't end it, he runs to Shining Wizard! Cover, TWO!? How?! But Lee doesn't take long to worry about that. He takes the knee pad down and runs again, but Ospreay blocks the Wizard! Only to get a knee trigger! Fans are thunderous again as Lee lifts Ospreay, tucks, but Ospreay lands out of Desnucadora to back heel kick Lee in the head! Then reels him out for a Hook Kick! Ospreay aims, Hidden Blade!! But not even this is enough for Ospreay! He hops way up, SUPER OSCUTTER! He holds on, to underhook, STORMBREAKER!! Cover, Ospreay wins!!
Winner: Will Ospreay, by pinfall; NEW IWGP Junior Heavyweight Champion
The Aerial Assassin wins his third Junior Heavyweight Championship as he slays his second dragon! Ospreay holds up both title and trophy, as THE Super Junior of NJPW today! How long will this newest reign last?
NJPW Media backstage interview
Ospreay says "The Junior Heavyweight wants in on the G1. I dare NJPW: put me in the G1 Climax this year! I'll show that this trophy is just as good as the heavyweight trophy." A fourth man makes his intentions known! Will Ospreay conquer both divisions in 2019?!
IWGP Heavyweight Championship: Kazuchika Okada VS Chris Jericho!
Y2J has already held championship gold in NJPW, but he isn't going to stop until he holds the top prize. He dares the Rainmaker to come out and play, so Okada will play his game. But just what is a "Painmaker," anyway? Jericho promises to show the world right here in this match. Will the Judas Effect kick in to end Okada's fifth reign? Or is Okada still on a whole different level?
The introductions are made, the belt is raised, and we begin this battle of true greats!
Okada throws his jacket at Jericho much like Jericho might do to someone else. Jericho doesn't appreciate that but Okada laughs and grins as Jericho throws Okada's jacket out. These two hear the fans already thunderous for Okada, and Jericho grows annoyed already. Jericho tells the "stupid idiots" to shut up, but they just boo him instead. Okada encourages the fans to cheer so they cheer loud and proud. He and Jericho finally circle and tie up. Jericho pushes Okada away and the two circle again. They tie up again, and Jericho pulls hair. Okada turns things around and the two go around the ring, with Okada on Jericho against the ropes. Red Shoes calls for the break, and Okada fakes Jericho out like all the rest. But Jericho pokes Okada's eyes!
Fans boo but Jericho clubs Okada and CHOPS him. Jericho whips then runs him over with forearms! The fans boo but Jericho just mocks them. Jericho slaps Okada around but Okada throws forearms back. Okada whips but Jericho bails out to deny the dropkick. Jericho walks it off, but Okada gives chase! They go around the ring, into the ring, and then Jericho dodges Okada only to get a BOOT! Okada heads for a corner already, and leaps for a missile dropkick! But Jericho blocks it to the Walls of Jericho! Okada endures as Jericho sits down deep. Okada crawls while Jericho mocks the fans cheering him on. Ropebreak! Jericho lets go and Okada slumps out of the ring, but Jericho runs to wreck him with a dropkick! Okada tumbles over into commentary! Those guys are having a busy night…
Jericho climbs over to join Okada, mock the fans, and throw chairs! Jericho bounces Okada off the desk, then climbs up to stand Okada up. Flashbacks to Jericho's matches with Naito, DDT to the table! Okada is stuck in the wood and Jericho rings the bell himself, as if he's already won. Jericho goes back to Okada, tosses more furniture aside, and drags Okada up over the railing. He stomps Okada into the railing then drives in elbows. Jericho walks around the ring to go looking for something. He brings out a spare table! Jericho sets the table up, then shoves Red Shoes aside to fetch Okada. He brings Okada to the table, but Okada resists the lift. Jericho clubs Okada, but Okada powers Jericho into railing! Jericho BOOTS right back! And once again, Jericho confiscates a camera to get a close-up on Okada, while flipping the bird.
Jericho gives the camera back while he mocks the fans cheering for Okada. He puts Okada in the ring then climbs up top. Jericho dares Okada to stand, and then leaps to crossbody Okada down! Cover, TWO! Fans cheer but Jericho grows annoyed. Jericho slaps Okada around then drags Okada up for a BIG back suplex! Jericho stands on Okada but Red Shoes doesn't count that as a cover. They argue and Jericho shoves Red Shoes again. Fans rally up for Okada but Jericho rains down rights. Jericho sits Okada up to drive in more elbows, then pushes the "piece of s*it back down." He slaps Okada but Okada comes back for more. Jericho keeps slapping Okada so Okada throws forearms! Okada runs but into Jericho's dropkick! Jericho grins as he mocks the Hulkster, too.
Jericho drags Okada up and chokes him on the ropes. He lets up at the ref's count of 4 and even mocks the count, before kicking Okada down. Jericho chokes Okada against ropes again, then backs off to bring him up. Jericho suplexes and holds Okada up about 7 counts, then drops Okada down. He covers, TWO! Okada stays in this as we go to break.
NJPW on AXS returns and Jericho drags Okada up to CHOP him. Jericho CHOPS Okada against ropes, then again. He throws forearms, too, then whips. Okada kicks Jericho back then throws forearms of his own. Jericho throws even more forearms, but runs into a flapjack! Both men are down, but then Okada kips up. Okada rallies on Jericho with elbows and forearms! He whips, but Jericho reverses, only for Okada to dodge and elbow Jericho down! Okada fires up and Osaka with him! Okada runs in for a corner elbow, then kicks to DDT Jericho down. Jericho slumps out of the ring, but Okada pursues. Okada whips Jericho across the way into railing! Then runs in to boot him over! Okada gets the fans rallying as he gets space. Okada runs back in, to FLY, into a Code Breaker!
Both Jericho and Okada are down but it's Okada gasping for air. Jericho leaves Okada behind to get in the ring. Jericho wants the ring count to end Okada's reign. The count climbs to 10 but Okada is up and hobbling over. Okada gets to the ring at 11 but falls at 12. Okada hops in at 16, but Jericho is on him with a basement dropkick. Cover, TWO! Jericho clubs Okada with crossface forearms, but fans cheer Okada on. Jericho gives them dirty birds as he goes back to Okada. He CHOPS Okada and follows him to a corner for another CHOP. Jericho whips corner to corner and hits a corner clothesline! He gut wrenches but Okada slips out! Okada gut wrenches Jericho, but Jericho tumbles back to get the lift back!
But Jericho slips through to grab the legs! Okada resists but Jericho gets the Walls all over again! Okada endures as fans cheer and Jericho talks trash. The champion crawls with all his might but Jericho just keeps up the pressure. Okada gives on more push, to a ropebreak! Jericho holds on until 4, then argues with Red Shoes. He chokes Red Shoes as he says Okada tapped out. But Jericho turns around into Okada's dropkick! Jericho goes to a corner but Okada runs in, only to miss. Jericho runs in but misses, and Okada puts him up top. But Jericho kicks Okada before Okada could dropkick. Jericho leaps, into Okada's dropkick! Okada drags Jericho up and gut wrenches, TOMBSTONE! And the Rainmaker Pose!
Okada drags Jericho back up, reels him in to wring him out, but Jericho spins through to underhook, Tiger Bomb! High stack, TWO!! Okada survives but barely! Jericho waits for Okada to stand again, runs in, but the Code Breaker is denied to the Air Raid neckbreaker! Cover, TWO! Okada keeps his cool as he goes up top. But his back slows him down given all that time in the Walls of Jericho. Jericho runs in but Okada shoulders and punches him away. Jericho punches back but Okada punches again. Okada goes to bump Jericho on buckles, but Jericho blocks to bump Okada. Okada staggers, Jericho triangle dropkicks him down! Fans have to cheer that classic move from Jericho.
Jericho drags Okada back up to bump him off buckles. He drags Okada up to the top rope, but Okada resists. Jericho clubs Okada, but Okada hits back. Okada throws Jericho off! MACHO ELBOW! Fans fire up as Okada hits a proper Rainmaker Pose! Okada drags Jericho up, wrings him out, but Jericho ducks to enziguri! Both men are down again, but fans continue to cheer. Jericho and Okada crawl to each other, and start throwing forearms on the mat. They go back and forth, and slowly stand as they do. Jericho CHOPS Okada, but Okada walks it off to forearm Jericho back. Okada throws more forearms and even European Uppercuts. Okada whips but Jericho holds the ropes to again deny the dropkick. LIONSAULT! Cover, TWO!!
Jericho keeps his cool as he stalks Okada to a corner. Jericho kicks Okada while he's down and even in the corner. He argues with Red Shoes, but gets Okada's shotgun dropkick! Okada gives back those corner kicks, and grinds his boot into Jericho as he gives back all the trash talk! Red Shoes counts and Okada lets up. Okada gets mad at Red Shoes and stomps Jericho more. Okada goes corner to corner, but into a Code Breaker! Jericho crawls to a cover, TWO!! Okada barely survives that one. Jericho grows frustrated, and tells Okada to "Stay down!" Jericho unties a buckle pad and tosses it at commentary. "You see what happens?! Huh!? You stupid son of a b*tch?!" Jericho drags Okada up, gut wrenches, but Okada slips out to German Suplex!
Okada holds onto Jericho with that waistlock and drags Jericho up. He wrings Jericho out but Jericho ducks the waistlock. Jericho wrings Okada out and tries to steal Rainmaker! But Okada ducks it, to steal Code Breaker! Cover, TWO!! Jericho survives his own move, but Okada has more to give. Okada gut wrenches for a JUMPING TOMBSTONE! And then wristlock, but Jericho ducks to roll Okada into the Walls! And Jericho sits in deep! But Okada powers up to head for ropes! Fans rally up as Jericho demands they ring the bell! Okada reaches but Jericho drags him away! And then turns for a Lion Tamer! Jericho goes old school for this one! But Okada rolls around to pop through and spin Jericho off!
Jericho and Okada crawl then stand. Okada runs in but is sent into the bare buckles! Jericho clotheslines Okada, then demands Okada stand! He wants to use that elbow, but Okada ducks Judas Effect! Okada wrings Jericho out but Jericho again dodges Rainmaker. Jericho jumps but Code Breaker is denied again, and Okada pops Jericho up. Jericho sunset flips but Okada sits on it! Okada wins!!
Winner: Kazuchika Okada, by pinfall; still IWGP Heavyweight Champion
But Jericho won't take that sitting down! He hammers away on Okada! Jericho is a sore loser, and shoves Red Shoes away to keep punching Okada in the head. Jericho throws Red Shoes right out of the ring, to then fetch something else from under the ring. A steel chair! Jericho brings that into the ring, and as Okada stands up, Jericho SMACKS him in the face!! Fans boo and jeer as Jericho holds his weapon up high. Jericho waits for Okada to stand again, Judas Effect! Fans continue to boo as Jericho takes a seat in his chair.
Jericho drags Okada outside the ring and then wraps the chair around Okada's head! And rams him into the post!! Fans boo even louder but Jericho just soaks it up. Jericho goes back to Okada and brings him around to that table. Jericho finally lifts Okada, but Tanahashi hops in to save Okada! Tanahashi goes after Jericho but Young Lions hurry to keep them apart. Jericho throws things as he retreats, not wanting to face The Ace right now. Jericho grabs a mic to tell "Tana Bakahashi" that if he wants to start stuff, just look at what happened to Okada. "The Painmaker never loses! The Painmaker always wins! Chris Jericho is the Greatest of All Time, even here in this bulls*it country of Japan." Osaka boos even more while Jericho says he'll see them both later. "Happy Championship, B*tch!"
Tanahashi is still seething as Jericho heads up the ring. Jericho grabs Okada dollars and wipes the sweat from his pits. The Young Lions turn their attention to helping Okada while Jericho grabs more Okada dollars. He sticks one to his forehead, then rubs the other down his pants to throw at the camera. Jericho's crude displays aside, when and where will he man up to face The Ace? Will Jericho also get another shot at Okada and the IWGP Heavyweight Championship? What even is the state of Okada after Jericho's sore loser attack? Tanahashi helps Okada stand and head to the back, these two rivals again on the same side.
NJPW Media backstage interviews
Chris Jericho (with that Okada dollar still stuck to his head) says if Okada wants to know what a Painmaker is, ask if he understands now. He probably can't even talk. No event closing speech from him tonight, that's for sure. But Jericho will speak for him. "Hello, my name is Okada. Chris Jericho just kicked my ass."
Jericho wants to know if Okada will be in the G1 this year. And Tanahashi, for that matter. If so, then maybe Jericho will be in it, too. Jericho will beat up Moxley, too, since he still owes Jericho $15,000 from ripping up that LED jacket three years ago in the WWE. Even that "little bastard, Kenta," he'll beat him, too. All the G1 field, for that matter. He'll become Chris G1-icho, how about that? A major move for the Best in the World at What He Does, but will he's the best in NJPW against the best in NJPW?
---
My Thoughts:
These two-hour nights for NJPW on AXS are so great! We are getting so much more of these events now, but I suppose Best of the Super Juniors Finals and Dominion are big enough to warrant it. Moxley makes his squash match with Umino even better by deciding Umino is his "Young Boy." I wonder if this will really continue as the kayfabe for Moxley in NJPW. If this were an American promotion, we'd be getting goofy gags with them, which would actually be fun to see on social media. Takagi VS Kojima was a great match between these heavy hitters, and Kojima of course gives Takagi the rub by putting him over. Then the Six Man Tag was mostly filler, but it was a good match to keep Tanahashi going in his newest comeback.
Hooray to finally see Hideo Itami/Kenta somewhere! Granted, he got hurt a lot while in NXT and WWE, but when he was finally ready to go, they didn't let him go full speed. Now in NJPW, and hopefully by extension ROH, Kenta really can show us what he's capable of. Lee VS Ospreay, another amazing match for the Aerial Assassin. Just when it seemed like there wasn't another way to recreate the spot where Ospreay lands on his feet out of a steiner, they do this one. Ospreay winning makes a lot of sense, as he is the BOSJ 26 winner, is moving to Japan to truly be full-time for NJPW, and is making a push to be an even bigger big name for the company. We got so many declarations for the G1 Climax this year, this field is looking amazing.
And of course, Okada VS Jericho was amazing, too! Two greats, who knew the other pretty well but especially Jericho knowing Okada. Okada wins but with a surprise cover, so that keeps Jericho strong for a rematch. Of course, Jericho going after Okada after totally fits his "Evil Jericho" persona. It also gives Tanahashi his heroic moment in saving Okada. Jericho was great in his promo, too, as he just straight face talks with that Okada dollar stuck to his head. And great continuity to even reference his WWE feud with Moxley/Ambrose. Jericho VS Tanahashi better happen in the G1, but I would also hope at the right moment. It either needs to open Block competition, or close a Block to lead to the G1 Climax Finals. And either way, Jericho VS Tanahashi will be amazing.
My Score: 9.3/10
Mathew's Top 10 Joshi Wrestlers (Excluding Stardom)
Did your favorite non-Stardom wrestler make the cut? Check out Mathew's Top 10 and find out!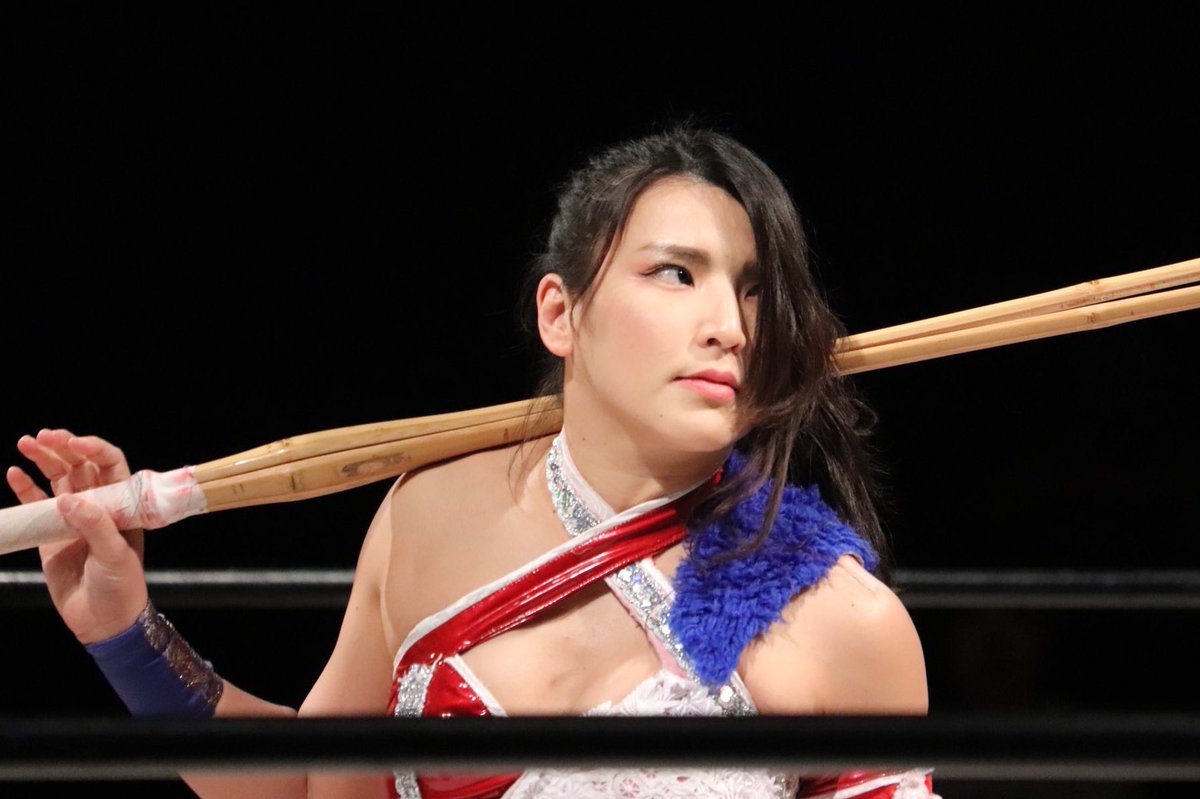 Did your favorite non-Stardom wrestler make the cut? Check out Mathew's Top 10 and find out!
I've wanted to do this one for a while and I'm gonna use this time to get to it.
You normally see me cover Stardom along with a few shows in the Joshi scene from time to time, but this countdown list is going to focus on the wrestlers that aren't apart of the Stardom roster. Let's be honest, if I did add Stardom on this list then that would be almost half and that's not fair since there are so many talented Japanese women from various promotions and they deserve recognition.
I'm also going by active members instead of all-time to keep up with the current scene, so let's get right to it as I talk about my Top 10 Joshi wrestlers.
10. ASUKA (Freelancer)
– No, not that Asuka, this is a different ASUKA. ASUKA was able to make history in the short amount of time she's been around professional wrestling in her three-year career and it's still going. Asuka was originally from Pro Wrestling WAVE until the end of 2018. She was the first transgender wrestler to main event their biggest show and also the first transgender wrestler to win their biggest title, the Regina Di WAVE Championship. She's only twenty-years-old and has so much to offer as she represents her community while having the agility of a young Jushin Liger. I only knew her around 2017 but that was when she was also coming out of her shell in the wrestling world and what a big impact she has left so far. She definitely is someone worth keeping an eye on.
9. Takumi Iroha (Marvelous)
– Twenty-six years old and only six years in the wrestling business, Takumi really is something else. She comes from the Marvelous promotion and is considered their top star in the promotion and for good reasons too since she's just dynamite. Amazing how she started in Stardom and years later, she would make a better name for herself wrestling in various promotions and winning different titles as well. She recently won SEAdLINNNG's top title, the Beyond the Sea Championship when she defeated the first champion and owner of the promotion, Nanae Takashi. A very talented woman with some fantastic strikes to top it off as she's someone you would wanna book for your promotion for a couple of shows.
8. Tsukasa Fujimoto (Ice Ribbon)
– The ace of Ice Ribbon and the only one to hold their top title, the ICExInfinity Championship for a total of six times and has had some incredible reigns as the champion. Thirty-five years old and wrestling for only ten years as she was trained by some of the best people like Nanae Takahashi, Manami Toyota, and Emi Sakura. Hardly sloppy in the ring, can work with most styles, these are great qualities to look for in a wrestler in general and Tsukasa is no exception to that.
7. Hikaru Shida (OZ Academy/AEW)
– While she is now considered AEW, she still left an impact in the Japanese scene and is also considered OZ Academy for the time being, so she counts to being on here. This ten-year veteran made sure the world knew who she was when she just performed globally, not bad from someone who started in Ice Ribbon back in 2008. She won major titles from Ice Ribbon, WAVE, OZ Academy, RCW, and Sendai Girls. She was also the one that got knocked out by Naomichi Marufuji on one of her produced shows in 2017 in under two minutes but she wanted a rematch a year later and while she lost, she took her punishment like a champion and still give the fans a great show on her 10th anniversary. Now that she has joined AEW, the fans overseas are sure to get something special with her around as she could be the top star of that division.
6. Hiroyo Matsumoto (Freelancer)
– Otherwise known as the Lady Destroyer and she might be the best Freelancer in the Joshi scene. She's wrestled in almost every promotion for Joshi wrestling, became more noticed when she recently joined WWE's Mae Young Classic in 2018 where she lasted until the second round. Hiroyo is strong, fast, technically sound in the ring, and has had many great matches in all of the promotions she's worked for and you knew you were going to get your money worth since she was that talented. She may not look like much but believe me when I say that she's an absolute monster and can just wreck you if she wanted to. Surprised nobody has snatched her up for an exclusive contract because she would be the top star in an instant, but I think she enjoys going to various promotions and performing on a high level that she definitely does make do with what she has, so nothing wrong with that.
5. Miyu Yamashita (Tokyo Joshi Pro-Wrestling)
– The star of TJP and for good reasons. She only has about five years of experience with only a background in karate, but she was able to hold the TOKYO Princess of Princess Championship two times for a grand total of 746 days and during those times that she was a champion, she's had great title defenses on top of it to make her a worthy champion of that company. She was also the SHINE Champion when she went to a title or title match during WrestleMania weekend. She's like the Shotaro Ashino of TJP. just great in the ring and while not many follow the promotion, people would mostly keep an eye on her from how talented she is. I really hope she gets future opportunities to fight other people from various promotions soon because she would have a lot of dream matches built up that you'd be crazy not to do any of them. Great talent and somebody please get her some special bookings on the double, she's worth your time!
4. Chihiro Hashimoto (Sendai Girls)
– Meiko Satomura's prized pupil in Sendai Girls and that woman is Chihiro Hashimoto. If you look at her at first glance, you would think she would be a powerhouse but she's also very technical in the ring. Chihiro has been wrestling for three years also and Meiko went full speed for Chihiro to make her the top star of her promotion and even be known as one of the best of the next generation of Joshi wrestlers. A four-time Sendai Girls World Champion with a combination of 777 days and each title defense would always leave you satisfied and wanting more of her at the end of things. With very little years under her belt, there's plenty of room for her to grow in the upcoming years of her career and she might be another one that'll be considered an all-time great when she does decide to hang it up. Powerful and wrestling-sound, Chihiro has the tools and can back it up at the same time and she's just getting started.
3. Sareee (World Woman Pro-Wrestling Diana)
– I'm gonna level with you on this one, I'm fairly new to her despite being in the wrestling business for eight years, meaning she wrestled since she was fifteen-years-old, but I was able to become a fan of her the moment I saw her. She's currently wrestling for World Woman Pro-Wrestling Diana and was known as an underdog of sorta. For about a year now, she was able to have big moments in her career when she defeated Aja Kong to become the promotion's World Champion for the second time, defeating Meiko Satomura clean during a Sendai Girls show in an amazing match, and was able to defeat Chihiro in a title for title match to win the Sendai Girls World Championship, making her a double crown champion with two of the biggest belts in the Joshi scene. A lot of the veterans like Meiko and Nanae are high on Sareee and have faith in her being another won to be the future of professional wrestling as a whole. She has a lot more to prove and plenty of time to do it as this is now her time to shine from here on out.
2. Arisa Nakajima (SEAdLINNNG)
– Aside from Nanae Takashi, I believe Arisa Nakajima is one of the best that SEAdLINNNG has to offer. Arisa is both intense and physical in the ring and while not many have seen a lot of her matches, she always left a big impression on people that have watched her matches and gave them something memorable. While most will be known for their stiff kicks in the ring, she's more known for her elbows and they're just as deadly as any stiff kick that you see in most matches these days. Made her career in JWP and is now looking to stand out in her new home and hopefully a future Beyond the Sea Champion when the time is right. Killer instinct and a veteran in the business with thirteen years of experience, she's someone that will amaze you in that ring.
Before I get to my final one, here's a small list of honorable mentions down below.
– Nanae Takahashi (SEAdLINNNG)
– Emi Sakura (Gatoh Move)
– Mika Iwata (Sendai Girls)
– DASH Chisako (Sendai Girls)
– Aja Kong (OZ Academy)
– Yuka Sakazaki (Tokyo Joshi Pro-Wrestling)
– Riho (Gatoh Move)
– Yuu (Freelancer)
– Mayumi Ozaki (OZ Academy)
– Saori Anou (Actwres girl'Z)
– Miyako Matsumoto (Ice Ribbon)
1. Meiko Satomura (Sendai Girls)
– I think it's obvious that she would be at the top of the list for everything she has done throughout her career and still performs at such a high level. The creator of Sendai Girls, Meiko Satomura would go down in the history books as one of the greatest females and wrestlers in general of all time with her incredible wrestling ability and her contributions to the business as a whole. She was also the first female to win DDT's top title, the KO-D Openweight Championship but that reign didn't last long, unfortunately. She's held big titles in her own promotion, Stardom, AAAW, and in Fight Club Pro. Meiko has been wrestling for almost twenty-five years and she still wrestles as if she's half her age while also being lethal at the same time. She made a big impact in Japan, the United States, and just globally as a whole that she's earned every accomplishment that she has received. My favorite Joshi wrestler and one of my all-time favorites. If you haven't seen her before, then something is wrong with you.
Thank you all for taking the time out of your day for reading my list. I'm sure there's quite a few that I'm missing on here but there are just so many talented women in the Japanese wrestling scene that it's so hard to put them all in as they all deserve praise. If you have time in your day for more, definitely look up all of these women since they're worth your time.