(NOAH) WEEKLY NEWSLETTER VOL.4 ~ 5TH OCTOBER 2018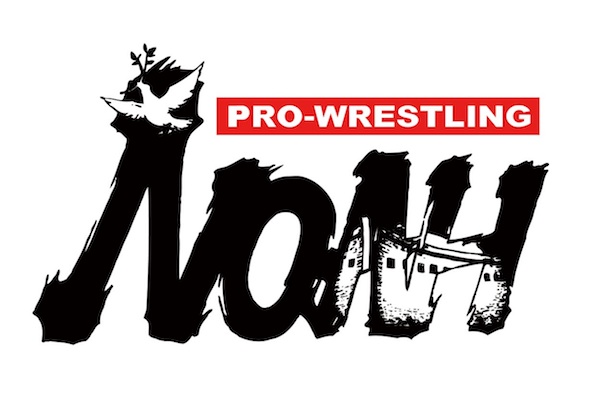 CURRENT TOUR RECAP
Noah have had excellent attendances recently, bad weather, transport difficulties and a weekday show, have not kept people away. Korakuen might not have been sold out for the final, but it was a damn good result for a Thursday night with the majority of people making a mad dash across Tokyo to get there after work.
Hopefully, the fans dedication to seeing Noah and their willingness to battle through Typhoon weather (the event on the 30th September was fast tracked because of it and fans were warned that the show might be cancelled half way through due to the weather), rush hour traffic on a weekday and face resultant travel difficulties, will make the network consider just what they are missing.
Naomichi Marufuji missed the last two nights of Global Junior League as he was appearing in WRESTLE-1 and then Kansai Pro, but he was back for the 4th October.
The GHC Heavyweight match signing took place on September 29th 2018 at Yokohama Radiant Halls. Nakajima appeared with the usual smirk, and refused to answer any questions and when prompted to speak, sat with an eerie grin on his face like he found the whole thing very funny. Takashi Sugiura (who arrived wearing the tired expression like that of a father that has been called too many times to the Principals office over the misbehavior of his son), told him and everyone else that the smile would be wiped off Nakajima's face when he got repeated elbows in it on the 4th October. That evening the veterans were obliterated by the "young people" as Yokohama went wild, Nakajima's comment on the match was, "Oh, that was fun".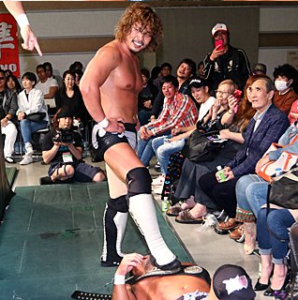 The clash on the 30th September, however, was very different. The battle damaged endoskeleton inside Takashi Sugiura rebooted itself, and Nakajima caught a beating (seriously, half the time Sugi looked like he was going to put him over his knee). In a very short match Sugiura caught Nakajima with the Olympic Slam, the ref counted three, and Sugiura continued battering on him until the ref pulled him off, and he stood with his foot on him as Nakajima had done to him, before Nakajima was carried off on the back of the Revolutionary Hero who was watching at ringside. Sugiura later said that Nakajima was like a fly who "fled when I tried to crush him", and vowed to crush him at Korakuen Hall.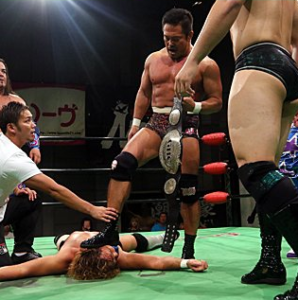 On the 4th October, evidently learning nothing from the 30th September, Katsuhiko Nakajima came strolling out to the ring, big smirk on his face, sinister new ring robe with faux wolfskin and sinister black pants, boots and kneepads. As soon as the bell rang, he lay down on the floor, resting his head on his hands and with his elbow bent, looking as if he were posing for a suncream or speedos advert.
Sugiura was not impressed.
It was a brutal match with kicks, elbows, slaps and slams (Sugiura did the turnbuckle brainbuster and held it for twenty seconds), and at one point Masa Kitamiya got involved which earned loud boos from the crowd, especially as Nakajima was using a wooden bar to choke Sugiura with. Eventually, Sugiura seized the chance for the ankle lock, and even bit into Nakajima's boot.
It was too much for Nakajima, and he tapped out.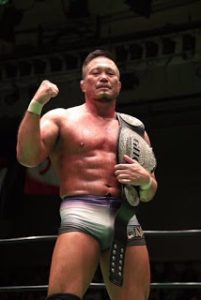 Afterwards most of the competitors for Global League got into the ring, (aside from the veterans that was, and those who were seconding Nakajima and the two who are coming in from outside promotions), and started yelling at each other and pointing fingers. Nagai got on the microphone first and said that the Hooligans were gunning for the GHC Heavyweight too, Kiyomiya told them that they would have to go past him first (Sugiura later said in an interview that he doesn't consider Kiyomiya a challenge, as he couldn't get past Kenoh to qualify for the number one contendership, so that's one down for him), and Sugiura told them all to keep their pants on, the league starts on the 30th October, and so "all you youngsters, you had better start practicing".
Naomichi Marufuji said he was going to finish this nonsense of The Hooligans on the 4th October, being too tired to deal with a "bald octopus and his worthless friends", so he made this picture of them asking them to turn up to the event like this (Marufuji seems to share Sugiura's obsession with bald people, and told Nagai to either grow hair down to his shoulders or get a wig if he wanted a title shot).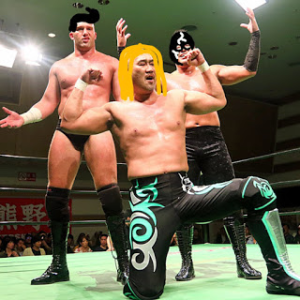 Nagai is not impressed by being called "a bald Octopus" and vowed to make Marufuji "regret the words you spewed".
On the 4th October, Naomichi Marufuji & 50 Funky Powers clashed with The Hooligans, who were more interested in attacking Marufuji than they were Saito, and he took the brunt of things in the match. Afterwards, The Hooligans (Cody Hall and Maybach Taniguchi holding up the belts) stood over them and unfurled their Hooligans flag.
Marufuji has to now give them a title shot, (although he says he is only doing it to crush them), and the two teams will meet in Kobe on the 14th October, before that Naomichi Marufuji and Maybach Taniguchi will have a rare singles match on the 7th October, with Akitoshi Saito facing Cody Hall.
Daisuke Harada faced off against his nemesis, Kotaro Suzuki on the 29th September in a very tense match, which ended with Kotaro Suzuki with the win. He stood over the fallen Daisuke Harada and said that he was going to "shine up that rusty belt" (I think he may also have called him a "Class A War Criminal", which seems a little extreme).
YO-HEY (watched by Kotaro Suzuki and Yoshinari Ogawa) faced Ikuto Hidaka for the semi-finals. YO-HEY seemed to have picked up a knock the knee during the match, (which Hidaka exploited), but he held on in there and refused to quit. The clock ticked away, near falls followed near falls, and then Hidaka locked in the Shinken Capture.
YO-HEY refused to quit.
The clock ran out and YO-HEY was awarded the win, which meant that he now had two jobs; to win Global Junior League and more importantly, to defend the honor of the Noah juniors against Kotaro Suzuki.
The showdown came on the 4th October, between the man who was not Noah born, but yet had the majority of the crowd behind him seeing him as representing Noah, and the man who is Noah born, but yet walked out of Noah, and therefore isn't considered to be Noah anymore. The match was harsh with a lot of near falls which kept the crowd on the edge of their seats, but Kotaro Suzuki prevailed, and won Global Junior League 2018.
RATELS were at ringside and attended to YO-HEY, when he was rolled out of the ring, YO-HEY could be seen putting his palms together to bow and apologizing to Daisuke Harada.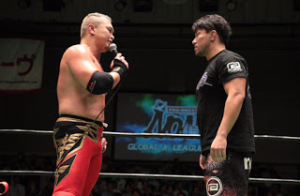 After the match Kotaro Suzuki challenged Daisuke Harada. He later said he didn't want the belt, but he had a plan for it, and he was bringing excitement to a division whose guys were bored and stuck in a rut.
All poor YO-HEY could say was "I'm sorry…I'm sorry".
Junta Miyawaki is still without his first win, but the day is coming nearer, Noah are teasing a lot of near falls though.
Both Kouki Iwasaki (who faced Kenoh on the 4th October, and wants to do again) and Hiroshi Yamato (WRESTLE-1) say that they would like to further participate in Noah. Iwasaki says he wants to face Kenoh again and "knock him down".
The wins of Takashi Sugiura and Kotaro Suzuki are the best outcomes for Noah.
The Junior division needs a proper heel, and while you could say they have Yoshinari Ogawa, Ogawa due to his age, status backstage in the company as the oldest active veteran (who is always referred to as "Mr. Ogawa" and treated with the highest respect), cannot enter a feud where his opponent runs him down, although he can go to toe to with the youngsters in the ring. Ogawa's main role is as a teacher, and the rookies who come from the dojo, always pass through him; and Kotaro Suzuki therefore fulfills the role as someone who is a "things were better in my day" heel, allied in some way with Ogawa (whose mouthpiece and whipping boy he can be), and who doesn't need to be treated with the same respect as Ogawa is. The fans accept Ogawa as "ratboy", it is inconceivable that he would enter a feud with the normal back and forth banter.
As for Takashi Sugiura, most of the Super New Generation Army (barring Kaito Kiyomiya, who isn't ready) have challenged him, as has Naomichi Marufuji. Global League resets this and now everyone battles for it, along with the new blood of The Hooligans and the two outside competitors. Takashi Sugiura has said that if he wins the league then he will chose his own challenger, and it will probably be someone from outside Noah.
Global League this year can be best summed up as "Global League 2018: Sugi's Gonna Kill Ya", but before that its on to Autumn Navigation.
NEWS
Koji Kanemoto will appear for Noah on the 14th October 2018, he will team with Minoru Tanaka and Hi69 vs RATELS (YO-HEY, HAYATA and Tadasuke)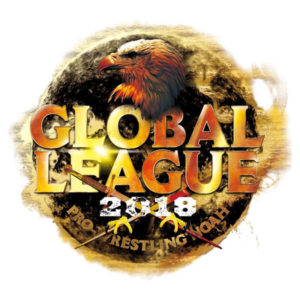 Global League participants and dates
BLOCK A
Naomichi Marufuji
Akitoshi Saito
Quiet Storm
Katsuhiko Nakajima
Kenoh
Masa Kitamiya
Mitsuya Nagai
Kohei Sato
BLOCK B
Takashi Sugiura
Mohammed Yone
Go Shiozaki
Atsushi Kotoge
Kaito Kiyomiya
Maybach Taniguchi
Cody Hall
Kazusada Higuchi
As excited as people are about Global League 2018, there is some disappointment as fans did hope to see Jay Bradley or Masato Tanaka.
Tuesday, October 30th – Korakuen Hall (18.30) ~ FIRST NIGHT
Thursday, November 8th – Korakuen Hall (18.30)
Sunday, November 11th – Matsuyama City Community Centre (17.00)
Wednesday, November 14th – Takamatsu Symbol Tower Exhibition Hall, (18.30)
Friday, November 16th – World Pavilion, Osaka (19.00)
Saturday, November 17th – Edion Arena, Osaka (18.30)
Sunday, November 18th – Kyoto, KBS Hall (3pm)
Wednesday, November 21st – Aizuwakamatsu City Cultural Centre, Fukushima (18.30)
Thursday, November 22nd – Miyagi, Sendai (18.30)
Friday, November 23rd – Yokohama Radiant Halls, Kanegawa (17.30)
Sunday, November 25th – Korakuen Hall, Tokyo (18.00) ~ FINALS
Holy War Vol.3 
Akira Taue was Toshiaki Kawada's next guest for his "Talk Battle" at Holy War Vol.3 (Kawada says that Vol.4 will either be this year or next year, with the two youngest on Noah's roster hoping that they will be on it again).
I think Kawada had hoped that Akira Taue would talk about his struggle of being Noah's president, but I don't think that Taue wanted to re-live the trauma by going through it again. For the record, Taue has only ever told tidbits about it, he's never done a sit down interview about it. The role turned him into an old frail man overnight.
The "Talk Battle" was very funny and very moving; they talked about Mitsuharu Misawa and how Taue was the one who invited Kawada to Noah (not Misawa), Taue's sumo days (which the fans wanted to hear more about), Taue called Kawada "a bullying mother in law" when he was being difficult and Kawada asked Taue to please stop smoking and cut down his drinking – Taue said he wasn't doing either, and no doubt 99% of the roster stubbed their cigarettes out when they heard Kawada say that. They told some funny stories, like the time when All Japan took the dojo to the seaside for summer training and Taue (known for his aversion to training) turned up without running shoes and with sandals because to his mind, "sandals are for the beach".
At the end of the event they played a medley of Jumbo Tsuruta's, Mitsuharu Misawa's and Kobashi's theme music (they found the first two very emotional).
GHC BELT NEWS
Current champions
GHC Heavyweight Champion: Takashi Sugiura
GHC Junior Champion: Daisuke Harada
GHC Heavyweight Tag Champions: Naomichi Marufuji & Akitoshi Saito
GHC Junior Tag Champions: Minoru Tanaka & Hi69
Either the winner of Global League 2018 (or a challenger that Takashi Sugiura appoints should he win the league) will be determined on the 25th November
Daisuke Harada will defend the GHC Junior Heavyweight belt against Kotaro Suzuki on the 30th October
Naomichi Marufuji and Akitoshi Saito will defend the GHC Heavyweight Tag Titles against Cody Hall & Maybach Taniguchi in Kobe on the 14th October
The GHC Junior Tag Championship has not been challenged for yet, although the boys from Zero One (Ikuto Hidaka and Takuya Sugawara) have hinted that they may challenge.
TOUR TIDBITS
Takashi Sugiura seemed in a very good mood after the title match, joking about why someone would want to beat up an old man.
Tadasuke made Yoshiki Inamura to do his entry with him. Inamura wasn't quite confident enough to do the headbanging and air guitar part though (HAYATA is on record saying it is embarrassing)
Atsushi Kotoge had dinner with "father and son" (Go Shiozaki and Kaito Kiyomiya)
Mitsuya Nagai came through the heavy door at Yokohama Radiant Halls to make his entry, and it slammed shut on Maybach Taniguchi behind him.
Katsuhiko Nakajima kicked Mohammed Yone's afro, and laughed.
KAZMA SAKAMOTO called Marufuji's picture of Nagai, Hall and Maybach "A Masterpeice".
Daisuke Harada addressed the crowd on the 30th September and thanked them for coming out in spite of the inclement weather, HAYATA, who was in the ring with him, said "Same". Considering Harada's address to the crowd in this manner, and his promotional work on radio shows and for tours, it would not surprise me if one day he took over Go Shiozaki's role as Head of the Noah Wrestlers Association.
Naomichi Marufuji says that he is fighting Kenoh on many fronts (Kenoh said in his last column about Marufuji's perceived political maneuvering, Marufuji said all he had done was fight to defend Noah)
Minoru Tanaka says that as a child he was "good at playing building blocks"
YO-HEY actually gave a coherent promo on October 1st, except when the wheels fell off at the end and he started talking about snowball fights
Naomichi Marufuji has been appointed "Tourist Ambassador to Konosu City, Saitama" on a two year term
Minoru Tanaka underwent emergency surgery due to a septic thumb
Kikutaro got scruffed by referee Shu Nishanaga (KENTA had him thrown out of SEM once); speaking of Kikutaro he proclaimed himself "The Ace of SEM" (SEM was disbanded in 2015), and I don't want to know why he was squeezing Atsushi Kotoge's balls.
SPECIAL 4 (Hi69, Minoru Tanaka, Yoshinari Ogawa and Seiya Morohashi) now come out to "Ultra Soul"
Hajime Ohara has proposed a "Team Kawasaki" with Ikuto Hideki (and possibly Hiroshi Yamato)
Mitsuya Nagai says that when Marufuji becomes bald he will put him in "The Bald Octopus Club"
Noah are calling some of the Global League tag matches "Voyage for Global League".
KING SHAMELESS' CORNER
Takashi Sugiura abstained from drinking alcohol for a week before the title match in case of head injury and\or concussion, but after the match and subsequent examination at the hospital he was given the all clear, and he went out to dinner afterwards and drunk alcohol. Having had a day of having to behave himself pretty much, he told Tokyo Sports (who call him "King Shameless"), that he had a wet dream when he woke up the next morning. I don't want to know any more.
EVENT RECAPS
September 29th, Yokohama Radiant Halls: 
September 30th, Ikos Ageo, Saitama
October 4th, Korakuen Hall 
Holy War. Vol 3 
LINKS
Naomichi Marufuji appointed Tourism Ambassador to Konosu City, Saitama 
SEM
Doug Williams has now retired 
"Heir to the Ark": Naomichi Marufuji's biography 
Mitchell's AEW Rampage Results & Report! (6/9/23)
Britt Baker's on a Rampage!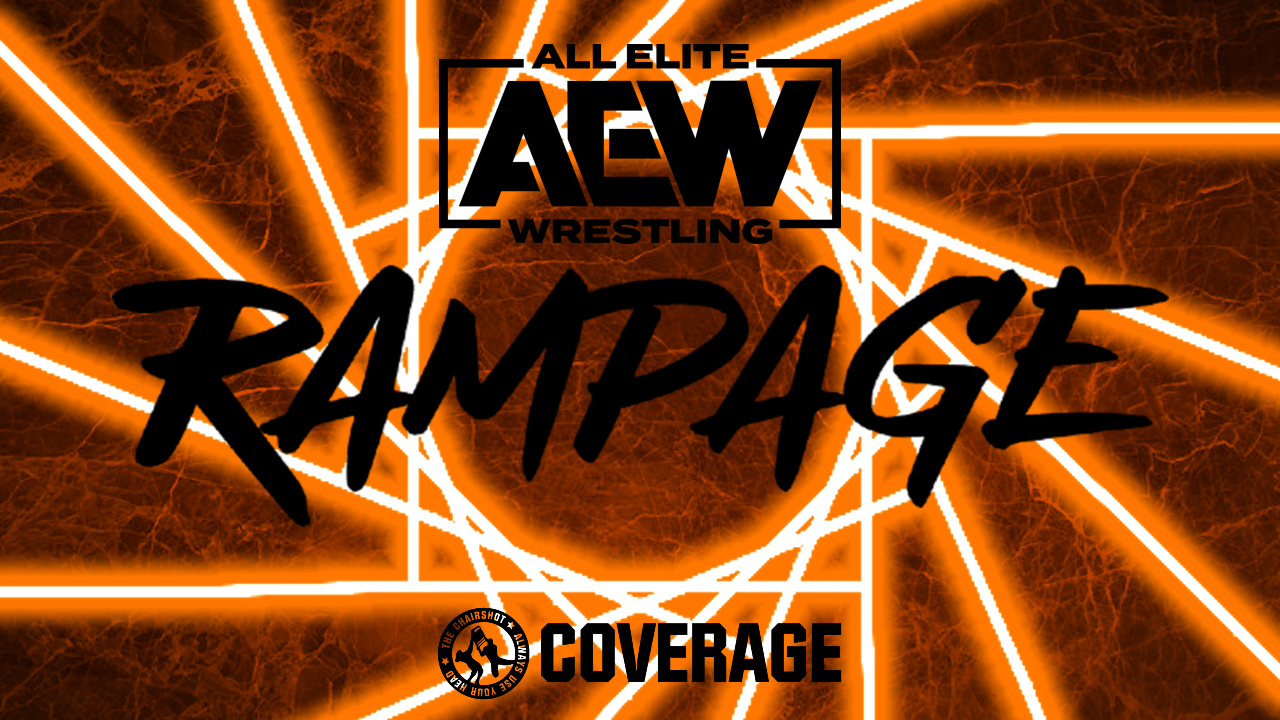 A Fatal 4 Way determines Toni Storm's next challenger!
Britt Baker wants after AEW Women's World Champion, Toni Storm, but so do Skye Blue, Mercedes Martinez and Nyla Rose! Who defies the odds and earns that title match?
OFFICIAL RESULTS
Six Man Tag: The Lucha Brothers & Bandido VS Ethan Page, Lee Moriarty & "Big Bill" Morrissey; win.
"Powerhouse" Will Hobbs w/ QTV VS Caleb Crush; Hobbs wins.
Six Man Tag: The Acclaimed & Billy Gunn VS Spanish Announce Project; The Acclaimed & Billy win.
AEW Women's World Championship #1 Contender's Fatal 4 Way: Britt Baker VS Skye Blue VS Mercedes Martinez VS Nyla Rose; Skye wins and will challenge Toni Storm for the title on Dynamite.
PLAY BY PLAY
Six Man Tag: The Lucha Brothers & Bandido VS Ethan Page, Lee Moriarty & "Big Bill" Morrissey!
Penta El Zero Miedo, Rey Fenix & The Most Wanted have been sticking together as lucha amigos, ready to take over the Trios Division the way Penta & Fenix have the ROH Tag Division. But will they beat the former Firm? Or will Matt Hardy's "Better Man" training already help Ethan here tonight?
The trios sort out, fans rally for "LUCHA LIBRE!" as Fenix starts against All Ego. Ethan talks some trash, Fenix gives it back, and Ethan kicks low. Ethan whips, things speed up, and Fenix ducks 'n' dodges to RANA! Fans fire up, Fenix runs in but Ethan dodges to RANA back! Fans fire up and Ethan kicks Fenix to then suplex. Ethan holds Fenix up, but Fenix cradle counters! TWO, and Fenix DROPKICKS Ethan! Ethan goes to his corner and wants a timeout! Tag to Moriarty, so Fenix tags in Bandido. Fans rally as Bandido circles with #TAIGASTYLE. Lee does his dance to taunt Bandido, but the fans are on Bandido's side.
Lee throws a CHOP! Bandido throws it back! They CHOP back and forth, faster and faster! Fans rally, Bandido SOBATS, then things speed up. Bandido handsprings, avoids the sweep, and then spins Lee around. Lee whips, Bandido BOOTS him back! Bandido goes up to TORNILLO CROSSBODY! Things keep moving, Bandido tilt-o-whirl RANAS! Lee backs off now and needs a timeout! Bandido aims his finger guns, then tags in Penta! Fans cheer, and Lee tags in Big Bill. Fans rally up as Penta steps to Bill. Fans chant "SI SE PUEDES!" Penta says, "Listen! CERO! MIE-" UH OH! Bill grabs Penta by the neck!
Penta breaks free, dodges the lariat to waistlock, but Bill throws big elbows. Bill runs, but into a SUPERKICK! "CERO! MIEDO!" But Bill grabs Penta again! Penta KICKS the legs, again and gain, then fires forearms! Penta runs, springboards, but into Bill's hands! But Bandido & Fenix get in, DOUBLE SUPERKICK! They BLAST Lee & Ethan while Penta SOBATS Bill! Penta reels Bill in, but Bill powers out of the piledriver! Ethan & Lee YANK Fenix & Bandido off the apron, but Penta dumps Bill up and out! Fans fire up and Penta feeds off that energy. Penta says "CERO! MIEDO!" and runs, DIVES, but into a haymaker!
Bill raises his fist to soak up the heat, Ethan BOOTS Fenix and DECKS Bandido! Bill RAMS Penta into railing, then ROCKS him with a right! Lee brawls with Fenix on the ramp, CHOP for CHOP! Bill RAMS Penta into the apron! Lee has Fenix down on the ramp to stomp a leg. Lee leaves Fenix behind, Bill puts Penta in the ring, and Ethan talks trash with fans. Okay, that Better Man training isn't sinking in… Bill ROCKS Penta, then ROCKS him again! Bill puts Penta in the corner to CHOKE him! The ref counts, Bill lets off at 4, and Rampage goes picture in picture.
Bill soaks up more heat, even taunts the fans with some rope-a-dope, and then he stomps Penta in the corner. The ref counts again, Bill lets off, but Penta gest right up. So Bill SLAPS him back down! Bill stands on Penta's head at the ropes, but the ref counts. Bill steps away, sits Penta up, and DECKS him! Bill stands on Penta again! The ref counts, Bill steps away, and he keeps between Penta and his corner. Billy throws down more hands and Penta flops back over. The ref checks Penta but he's okay to continue, so Bill ROCKS him again! Penta leans on ropes, goes to a corner, and Bill runs in, only to get buckles!
Penta hurries for his corner but Lee CLOBBERS him first! Lee & Ethan double whip Penta to ropes, Rampage returns to single picture, and Penta KICKS Lee away! Penta dodges Ethan to SUPERKICK! Penta dodges Bill to hot tag Bandido! Bandido fires off on Bill, runs, but Bill pops him up for a FLAPJACK! Bill BOOTS Bandido in the corner, then ROCKS him with a right! Bill brings Bandido up to whip corner to corner. Fans rally for Bandido but Bill storms up to bring him over. Bill bumps Bandido off Ethan's boot, then tags in Lee. Lee tags in Ethan, and Lee BLASTS Penta! Ethan BLASTS Fenix, and fans boo!
Lee runs at Bandido to DOUBLE KNEE, and then he feeds Bandido to Bill's BOOT! Ethan gets Bandido's arms, ripcord to POWERSLAM! Cover, TWO!! Bandido survives and fans rally up. Ethan drags Bandido up, Canadian Rack, but Bandido slips free! ENZIGURI! Hot tag to Fenix! Bill rushes in but only gets buckles! Fenix dodges Ethan to RANA Lee! Ethan kicks low, whips, but Fenix Tiger Feints! Ethan ducks the heel kick but the SUPERKICK sends him out! Fenix builds speed, but Bill catches him! Penta SUPERKICKS Bill! Fenix SUPERKICKS Bill! Tag to Penta, the Lucha Brothers kick the legs out and then UNO! DOS! TRES! DOUBLE SUPERKICKS!
Fans fire up, Bandido builds speed and gets a boost, SUPER TORNILLO takes out Bill & Lee!! Fans are thunderous as Penta gives Ethan MADE IN MEXICO! Cover, TWO!??! Ethan survives, but Penta tags in Fenix. Penta brings Ethan up, but Ethan wrenches out, only for Penta to duck the lariat! Penta SUPERKICKS! Fenix TIGHTROPE PENALTY KICKS! Bill returns, Penta dodges, Fenix SUPERKICKS! Penta SUPERKICKS! Bandido goes up to MISSILE DROPKICK! Bill flops out of the ring, Lee ROLLING ELBOWS Bandido! Penta whips, Lee reverses, but Fenix SOMERSAULT CUTTERS!
Fans fire up as Bandido tags back in. Fenix goes up, Penta has Lee on the apron! "CERO! MIEDO!" APRON FEAR FACTOR!! Bandido aims at Ethan from up top, MOONSAULT gets boots! Ethan runs to LARIAT Bandido! Ethan brings Bandido up and reels him in, but The Hardy Party appears on stage! Matt has the mic to tell Ethan that he knows this match was signed before Ethan's contract belonged to Matt, but being a man of integrity, Matt honored all those dates. However, as a man of integrity, Matt is disappointed in Ethan. Jeff says he even gave Ethan two good luck gifts, and he refused to extend them! Ethan, extend them!
Ethan doesn't wanna! But he has to! He's under contract! Ethan sighs, and he pulls up his armbands, to reveal they're Jeff Hardy style sleeves! Ethan hopes they're happy! They are, as Bandido hits the 21 PLEX!! Cover, Bandido & The Lucha Brothers win!
Winners: The Lucha Brothers & Bandido, by pinfall
Mattt shrugs. He didn't want Ethan to lose, but will this help Ethan learn how to be a better man?
It's an all new edition of QTV.
QT Marshall reminds everyone that we're just one week away from the premiere of AEW Collision! Collision is a Saturday night show, QT is thinking QTV needs to get edgier. Give him some edgy! Harley Cameron is pretty sure she has something that can compete, right? She's talking about her- Yes, okay! We get it! But QT asked for edgy, not 1997… Aaron Solo says they should buy the fans ice cream. No, that's been done. Oh, oh! What if they spilled JR's coffee? No, already been done. Oh…
WAIT! Aaron's got it! You make an announcement… that they have an announcement! No, no, no, that's lame. Announcing an announcement is an announcement. No, it's not. Yes, it is. Aaron and Harley argue back and forth and QT tells them to stop! They can just have "the champ" go out there tonight to give everyone a live preview of what Collision is going to be about. Good, great, it's solved, fantastic. Then will the Book of Hobbs give us a prologue fitting of the Powerhouse?
"Powerhouse" Will Hobbs w/ QTV VS Caleb Crush!
Rampage returns as Hobbs makes his entrance, with QT, Aaron & Harley following behind. The bell rings, Hobbs runs in but Crush gets around to a waistlock. But Hobbs elbows out hard, and then CLOBBERS Crush! Hobbs then drags Crush up, suplexes, and hangs him out to dry, with some stank! "Just like the Miami Heat!" Hobbs bringing up the NBA Playoffs as he BOOTS Crush down! Hobbs paces around Crush, soaks up the cheers and jeers, and then drags Crush back up. But Crush ENZIGURIS! Fans fire up as Crush runs, but then gets CLOBBERED again! Hobbs whips, and he SPINEBUSTERS Crush! Cover, Hobbs wins!
Winner: "Powerhouse" Will Hobbs, by pinfall
Hobbs shakes his head. He crushed Crush easily, but will it be this easy once AEW Collision begins?
Backstage interview with Wardlow & Arn Anderson.
Renee Paquette is with the AEW TNT Champion and his coach, and she asks for an update on Arn's son, Brock. We all saw what happened to him at the hands of Luchasaurus. Arn says Brock will be fine, he is a tough kid. A tough man, even, and Arn is finding he's saying that more and more often. But Arn tells Christian and "the giant lizard" that they decided to send a message. Something about Father's Day, too? Well right now, at this point in Arn's life, that is way beyond okay. That is way beyond being alright. Arn knows Renee is married to a savage in Jon Moxley, so she knows better than anyone that this is a tough business.
Arn tells Christian that he made a mistake. He should've finished it. What goes around comes around. But first, Arn knows that Wardlow wants his title to be an Open Challenge type. Wardlow says the disrespect has been unreal. Disrespecting Wardlow comes at a cost. Disrespecting the legendary Arn Anderson comes at a cost. Few men have paid. Samoa Joe: put him to sleep, Wardlow hasn't seen him since. Hobbs: he found out who the real powerhouse in AEW is. Luchasaurus and Christian… Well, Wardlow beat Christian at his own game. Knocked on his front door, kicked it down, drug him out to the yard and whooped his ass.
Clearly, Christian & Luchasaurus think they owe some more. They're gonna pay. But yes, before that, Wardlow defends his TNT Championship against a man he is familiar with. Jake Hager has been hit one too many times because he's forgotten what happened last time they were in the ring together. Wardlow will beat Hager one more time, and then Christian & Luchasaurus, your days are done. Will the Maestro of Mayhem hand out powerbombs to everyone that steps to him?
Six Man Tag: The Acclaimed & Billy Gunn VS Spanish Announce Project!
Double or Nothing didn't go their way, but Max Caster, Anthony Bowens & Daddy Ass aren't deterred! They're more determined now than before to get those AEW World Trios Championships so Billy can have one more reign under his belt! But will they earn their way back to another Open House? Or will Angelico, Serpentico & Luther steal their thunder?
But of course, Platinum Max has a diss track! "Acclaimed out loud! Yeah, you know we 'bout to smoke this. It's about to be a layup, it's like I'm Djokic! 'Ey yo, Serpentico is 5'1″, and you can't beat us now cuz it's Pride Month! Luther's lookin' like a ogre. In fact, Angelico is like Lauren Boebert on crack! S A P, I know what the meaning is. SAP stands for Small Ass Pen*ses!" Bowens gets the mic to say, "COLORADO SPRIIINGS~! The Acclaimed have arrived! SCISSOR ME, DADDY ASS~!" And he does~! But will these scissor fingers cut down SAP? Or will SAP stand for Stopped Acclaimed's Progress?
The trios sort out, Bowens starts against Angelico, and the fans sing "OH~ Scissor Me, Daddy~!" Bowens and Angelico circle, and Bowens offers scissor fingers? Fans cheer that, and Angelico says sure, but then Bowens leaves Angelico hanging! Bowens says he's just playing, he'll scissor for real. Angelico says okay, but then Bowens leaves him hanging again! Angelico is getting annoyed, but Bowens says he really means it this time. Fans cheer for it, Angelico approaches, but then Angelico JABS Bowens! Angelico wasn't gonna let Bowens fool him again! Angelico then taunts The Acclaimed with his string trick. Billy says "SUCK IT!"
Fans cheer, Angelico whips, but Bowens reverses. Angelico ducks 'n' dodges, Bowens drops and DROPKICKS! Fans fire up with Bowens and he brings Angelico up. Angelico gets away to his corner, tag to Serpentico. But Bowens kicks Serpentico, brings him over, and tags in Caster. They whip Serpentico to the corner, Caster elbows him, then Bowens forearm smashes! Feed to Caster's Atomic Drop, then a Manhattan Drop! And then "SUCK IT!" But Serpentico throws hands! Serpentico whips, Caster reverses, Serpentico tumbles out but Luther runs in! Luther fires hands, Billy gets in to toss Luther!
Fans fire up as Caster scoops and SLAMS Angelico, and then Bowens goes up. Caster holds the legs open, to SCISSOR ME TIMBERS! Fans fire up, and The Acclaimed- NO, Serpentico gets in the way of the group scissor fingers! Fans boo as he slaps the hands, then shoves them all. Billy doesn't even budge! Serpentico puts up his scissor fingers? Billy brings them down, around, and then DECKS Serpentico! Fans fire up, but Luther tags in! Luther stops the scissor party again! Billy stomps, ROCKS and repeat! Daddy Ass stomps a mudhole as Rampage goes picture in picture.
The ref counts, Billy lets off, and he brings Luther around to tag in Caster. They mug Luther, then Caster whips Luther to ropes. Luther reverses and he BOOTS Caster down! Luther brings Caster up, snap suplexes, then covers, TWO! Luther tags Angelico in, they mug Caster, and Angelico fires off hands! Angelico JABS, ROCKS, and DECKS Caster! Angelico tags Serpentico, Serpentico drops an elbow! Serpentico stomps Caster's hand, then has him on the ropes for body shots. Serpentico has Caster in a corner, stomps away on him, but the ref counts. Serpentico lets off, mocks the scissor fingers, then ROCKS Caster!
Serpentico brings Caster over, tags Angelico back in, and they mug Caster some more. Angelico taunts Billy, but Caster fires off haymakers on everyone! But Angelico kicks low! Angelico mocks Caster, kicks him out of the ring, and then tags Serpentico back in. Luther goes after Caster on the outside while the ref is arguing with Angelico and Serpentico! Luther runs up, but Caster sends him into the post! Caster hurries into the ring as Rampage goes to break.
Rampage returns again as Serpentico has Caster down. Caster kicks Serpentico away, hot tags to Luther and Billy! Fans fire up as Billy rallies on SAP! Big haymakers for everyone, then he scoops Serpentico, BOOTS Angelico, and FALL AWAY SLAMS Serpentico into Luther! Fans fire up, Billy says "SUCK IT!" but Angelico EDDY GORDO KICKS! Billy falls, Luther covers, Bowens breaks it! Angelico gets Bowens up but Bowens fires off the Five Tool Strike Fest! Angelico falls out of the ring, Bowens tags in! Bowens gets Serpentico up, torture rack, Caster runs in, DROPKICK RACK BOMB COMBO!
Luther is back, but he runs into the ARRIVAL! Tag to Caster and he goes up, for the MIC DROP! Cover, The Acclaimed win!
Winners: The Acclaimed & Billy Gunn, by pinfall
Another big win for this trio, and they finally get to SCISSOR PARTY~! But will they be ready for another round with the House of Black?
Renee Paquette introduces Team Triple J.
Jeff Jarrett, Karen Jarrett, Jay Lethal, Sonjay Dutt & Satnam Singh join Renee on stage as fans boo. Renee says there has been a lot of drama going on with this group. From fines to suspensions to catfights, she isn't sure what to ask. Just what is going on? Sonjay starts to answer but Karen interrupts. SHE will tell us what's really going on! She heard that AEW's "dramatic diva" is in the building. And she started something that Karen will finish right now! Aubrey Edwards, get your butt out here cuz Karen will make you regret EVER putting hands on THE Karen Jarrett!
Well, here comes Aubrey AND MARK BRISCOE! Fans cheer and Jeff has to keep his wife back from Aubrey. Mark gives Aubrey the mic and Aubrey says, "Look, Karen. Despite my best efforts, AEW will not sanction a match between you and I, out of respect for the men and women in the back, because I am a referee, and you sure as hell aren't a wrestler. But I am gonna tell you what is gonna happen. Because if I see you in catering, or I run into you at the hotel after the show, or if I catch you interfering with one of your husband's matches, I'm gonna kick your ass!" Fans like the sound of that!
Jeff backs Karen off but Karen is all fired up. Fans chant for "AUBREY! AUBREY!" but Mark wants everyone to just simmer down. Now, Aubrey, he forgot to mention this, but he had a conversation with some "important men in high places." She is right, they will not sanction a 1v1 match of Aubrey Edwards VS Karen Jarrett. That is the bad news. The good news is, they will sanction a Mixed Tag Team Match! Fans fire up as Mark gets more specific. It will be a Mixed TRIOS Match! Sonjay says he'll handle this! Mark wants a Trios match? Fine! He'll do it! Well, no, Lethal will do it! He and Jeff and Karen, and Sonjay can do simple math cuz he's not from Sandy Fork.
Mark is one, Aubrey is two, but where's the third person? Oh, don't you take Mark for a fool, Sonjay! If you think Mark isn't already two steps ahead of you at any given moment, you are sadly mistaken! There was one man who told Mark not to trust these clowns in the first place. Nobody fights like family, blood is thicker than water. So their third is the big man, Mark's dad, PAPA BRISCOE!! Fans fire up as the match is set! Will #DemBoyz and Aubrey finally humble the Jarretts?
Mark Henry welcomes us back to Rampage.
And tonight, we see Nyla Rose, Britt Baker, Mercedes Martinez and Skye Blue face off in a four way to determine who will be #1 contender. Chicago Skye says she's gonna make the most of this opportunity, and she will go win this match, and then face Toni Storm for THE AEW Women's World Championship. But Mercedes says, "Do you think that you can forget about the most badass female here in AEW? No, no, no. This four way is for something that I need! Come Washington DC, Toni Storm, your ass is mine!"
The Native Beast knows the winner here gets a shot at Storm and the women's title, in HER hometown! If you think that for one second, it's not gonna be Nyla, you are sadly mistaken. But The Doctor says, "Apologies ahead of time to the three ladies in this match. But if there's anyone in this women's division that deserves a title shot, it's yours truly, Dr. Britt Baker, DMD." Well, looks like there's been enough talk. It's TIME for the main event! Who overcomes the odds to head right into the Storm?
AEW Women's World Championship #1 Contender's Fatal 4 Way: Britt Baker w/ Hikaru Shida VS Skye Blue VS Mercedes Martinez VS Nyla Rose w/ Marina Shafir!
The bell rings and the four all approach center. They feel out grapples, but then Nyla kicks Skye low and Mercedes throws Britt out of the ring! Mercedes goes after Britt outside, Nyla stomps away on Skye in a corner. Nyla brings Skye up, bumps her off buckles, and Mercedes gest in as Nyla stomps Skye. Nyla whips Skye, Skye holds ropes to elbow back! Skye BOOTS Mercedes, then DUMPS Nyla out! Skye dodges Mercedes, tilt-o-whirls and RANAS! Fans fire up as Skye runs, but Britt kicks her low! Britt reels Skye in, but Skye wrenches out of the fisherman. Britt ducks the roundhouse to waistlock.
Britt spins Skye but Skye ducks the lariat, but Britt avoids the superkick! The two stand off and fans cheer. But Mercedes and Nyla return, and we see The Outcasts, Toni Storm & Ruby Soho, watching backstage. Nyla CLOBBERS Britt, Mercedes DECKS Skye! They stomp and club Britt and Skye down, then kick them out of the ring. Mercedes goes after Nyla now! Mercedes ROCKS Nyla, but Marina storms in! Marina helps Nyla against Mercedes, but the ref reprimands! But then Shida gets in, and she SMACKS Marina with her kendo stick! The Full Metal Warrior runs Marina out of the ring, up the ramp, and SMACKS her one more time before going backstage!
Fans fire up, and Skye kicks at Nyla. Nyla blocks to CLOBBER Skye, and Rampage goes picture in picture.
Nyla drags Skye up while Mercedes drags Britt out. Nyla whips Skye to a corner and back body blocks! Then she digs a knee into Skye, and Skye can only endure. Nyla lets off to then CHOKE Skye on the ropes! Nyla lets off, Skye sputters and crawls, and we see Mercedes fishhook Britt while having her against railing! Nyla drags Skye up, brings her around to whip, and then runs in, only to get buckles! Skye goes up while Britt RAMS Mercedes into railing! Skye CROSSBODIES, but Nyla catches her! POWERSLAM! Mercedes throws Britt aside, then hurries to break the pin! Mercedes steps over Skye to go after Nyla.
Mercedes CLUBS Nyla, CHOKES her on the ropes, and Nyla flops to the apron. Mercedes drags Nyla up and CHOKES her on the ropes again! Mercedes lets off to let Nyla flop to the floor, where Britt goes after her! Mercedes stomps away on Skye in a corner, Britt ROCKS Nyla, and Mercedes snap suplexes Skye! Cover, TWO! Skye is hanging tough, but Mercedes keeps on her. Nyla RAMS Britt into railing! Mercedes fishhooks Skye now! Nyla CHOPS Britt, Mercedes CLUBS Skye. Mercedes then throws Skye out of the ring, and Nyla sits Britt up into a CAMEL CLUTCH! Nyla puppets Britt's mouth, and then fishhooks her!
Britt throws elbows to get free, and Mercedes RAMS Skye into railing! Britt stomps Nyla, but Nyla SMACKS her off the apron. Mercedes and Nyla both get in the ring, and Nyla kicks Mercedes low. Nyla CLUBS Mercedes but Mercedes UPPERCUTS Nyla! And again! And CHOPS! Nyla knees low! Nyla brings Mercedes up, suplexes, and she hangs Mercedes out to dry. Rampage returns to single picture as Nyla goes up the corner, but Britt SHOVES her down! Nyla hits the apron on the way down and Mercedes gets off the ropes. Britt hurries in, but Skye goes up top. Mercedes BOOTS Skye, but turns around into Britt's SLINGBLADE! Cover, ONE?!?
Mercedes is the OG Badass for a reason, but Britt goes after Skye. Skye fights the underhooks, ROCKS Britt, but Britt ROCKS her back! They trade forearms, Britt ROLLING ELBOWS! Skye SUPERKICKS! Britt swings, misses, Skye kicks the legs out! Britt blocks a kick, but not the BASEMENT ROUNDHOUSE! Cover, but Mercedes breaks it! Mercedes stomps away, drags Britt up, and she roars as she fisherman's. But Britt fights the suplex, wrenches out and rolls Mercedes up, ONE!! Britt floats to the RINGS OF SATURN! But Skye gets Mercedes' legs! HALF CRAB! But Nyla BOOTS Skye down, then stomps Britt!
Nyla roars and wants someone to get up! Fans fire up and Nyla runs in, but Britt and Skye both dodge, to DOUBLE SUPERKICK! Skye then rushes Britt, but Britt dodges to SUPERKICK! Britt storms up, fires off forearms, and fans fire up with Britt as she runs, but into a CHOKE SLAM! Cover, Mercedes KNEES Nyla!! Mercedes brings Nyla up and around but Nyla fights the bomb to grab her with both hands! Mercedes fights free to KNEE Nyla again! And then SAIDO!! Nyla flops over, Britt runs in to CURB STMOP her!! But Mercedes SMACKS Britt, TOSSES her out, but Britt drags Mercedes out!
Britt fires off on Mercedes but Mercedes hits back. Skye focuses on Nyla, CODE BLUE!! Cover, SKYE WINS?!?
Winner: Skye Blue, by pinfall (NEW #1 Contender to the AEW Women's World Championship)
Fans are shocked but excited for Skye Blue! The 23-year-old has perhaps the biggest match in her entire career coming up, even she is emotional about it! Will Skye pull off an even bigger shocker on Dynamite in DC? Or, as Toni Storm is spray painting on the screen, will there be a big L on the horizon?
---
My Thoughts:
A really good Rampage, especially since QTV was actually good for once. Like, for the first time, I really, genuinely laughed at the jokes they were making. QT himself being exasperated with his team is funny stuff, and of course Hobbs wins. But with all the singles titles spoken for right now (MJF VS Cole, Wardlow VS Hager but then also Wardlow VS Luchasaurus, and Orange Cassidy VS just about anyone), I can't be sure what Hobbs is going to be doing. He really does deserve to be champion, but if they'd just never brought QTV into it, Hobbs might still be TNT Champion. Maybe AEW will be cool and have Hobbs win the Owen Hart Cup this year.
Really good Six Man Tags, but with pretty clear results. I figured Matt and the Hardy Party would get involved with Ethan's match and "inadvertently" cost him, but the way they did it was great. Ethan secretly wearing Jeff Hardy armbands that whole time was a hilarious reveal, and I hope the Hardy-fication continues to the point Ethan is wearing a mesh shirt like the Hardys used to do, and the baggy pants like Jeff still kinda does. And of course The Acclaimed were going to win, though SAP gave them a really good match. I really hope there's a good stipulation in store for the rematch with House of Black since The Acclaimed didn't care about Dealer's Choice the first time.
Great promo from Triple J, Mark and Aubrey to set up their Mixed Six match. Papa Briscoe getting in the ring, as well as seeing Aubrey go after Karen, is going to be so much fun, I can't wait. And of course, a great main event in that Fatal 4 Way. Logical move for Marina to try and help Nyla since Fatal 4 Way is No Disqualification, but great counter move that Shida goes after her. I bet we get Shida VS Marina because of that. Anyway, I did NOT think Skye was winning this. In fact, I said on Dynamite that Skye was here to take the pin for Britt so we could get Britt VS Storm. But great moment here for Skye, AEW/ROH seems really big on her. Not that she's gonna win, though, this is just to be Storm's first defense that she gets under her belt.
My Score: 8.5/10
Mitchell's WWE SmackDown Results & Report! (6/9/23)
What will Jey do?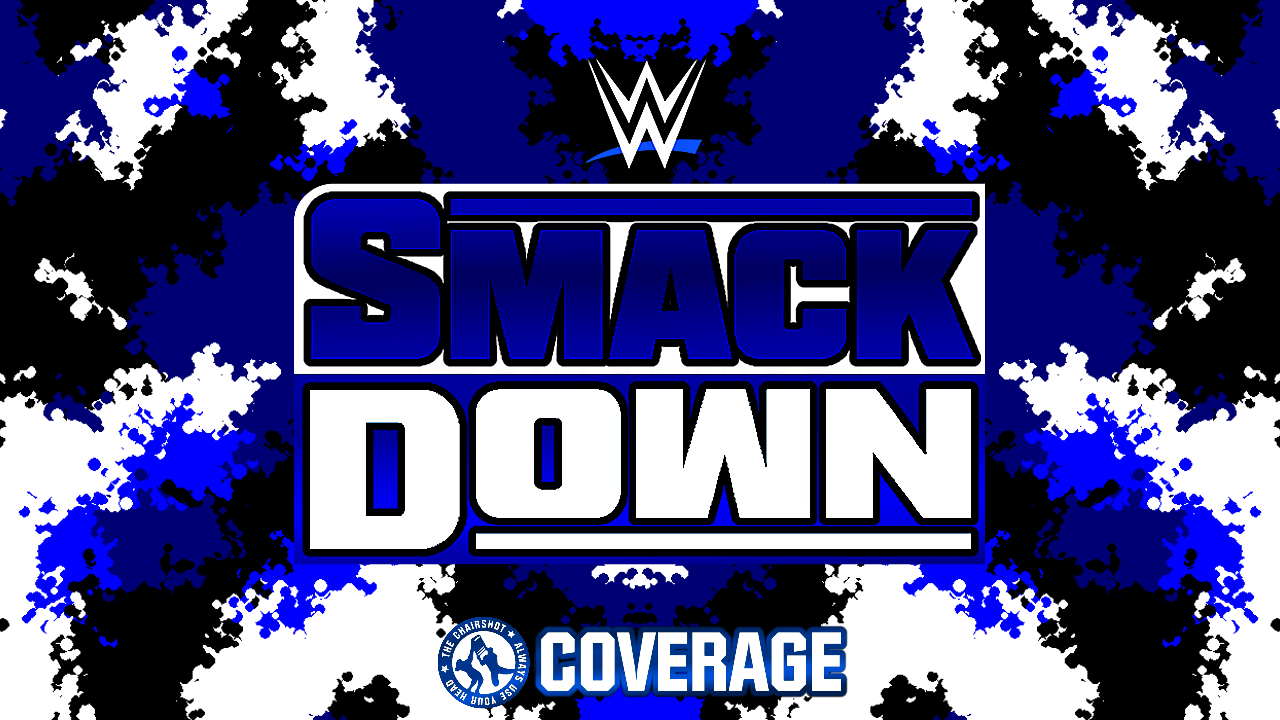 Is Jey The Right Hand Man? Or a loyal brother?
Last week, SmackDown saw Roman Reigns reject Jimmy Uso's proposal to do things as equals. Will Jey stand by his brother? Or with his Tribal Chief?
OFFICIAL RESULTS
Men's Money in the Bank Ladder Match Qualifier: Santos Escobar w/ Rey Mysterio VS Mustafa Ali; Escobar wins and advances to MITB.
Women's Money in the Bank Ladder Match Qualifier: Bayley w/ Iyo Sky VS Mia Yim; Bayley wins and advances to MITB.
Men's Money in the Bank Ladder Match Qualifier: Baron Corbin VS Pete Dunne; Dunne wins and advances to MITB.
Women's Money in the Bank Ladder Match Qualifier: Iyo Sky w/ Bayley VS Shotzi Blackheart; Iyo wins and advances to MITB.
WWE United States Championship: Austin Theory VS Jey Uso; Theory wins and retains the title.
PLAY BY PLAY
Solo Sikoa & Paul Heyman are in the ring.
The Enforcer of the Bloodline and the Wise Man are here, and Heyman starts his introductions, until JEY USO makes his entrance! Jey goes to the ring, gets a mic, and fans cheer as he stares down Heyman and Solo. Fans chant "USO! USO!" for Jey and he tells Solo, "I let a lotta things slide, aight? But stabbing our big brother in the back is something you don't do, Solo! I don't know if I can forgive you for that, so say what you need to say to me, OG." Jey throws down his mic and Heyman speaks.
"You got this all wrong. You got this all wrong, and here's why you got this all wrong. It's not Solo's fault, it's not my fault, it's not The Tribal Chief's fault, it's not your fault. This is all Jimmy's fault!" Fans boo as Heyman says Jimmy made up his own mind, and not just for himself. Jimmy made up his mind for Jey. Heyman has Solo calm down and take a step back, saying it is okay. Heyman is no physical threat, so Jey needs to understand, Heyman's opening his heart to him. And here's why: when Jimmy kicked The Tribal Chief at Night of Champions, did he check with Jey in advance? Was Jey in on that? No!
Jimmy pulled the trigger for himself and for Jey, that's how he's always been. Jimmy's the older brother, the first born! No disrespect to Jimmy, but Jimmy's always resented Jey and here's why. Jimmy's in on something and Jey isn't. Jimmy's in on the fact that the Tribal Chief wants to groom Jey, The Right Hand Man, to be the next Tribal Chief. Fans boo, not believing that. Heyman says that is Jey's destiny, that is who Jey will be. It was never going to be Jimmy, Jimmy's known that, and he resents Jey for that. Heyman says the fans are booing because they don't know the truth, but Heyman will prove it to Jey.
Tonight, at the Tribal Chief's behest, Heyman has made a match to set Jey's trajectory towards becoming the next Tribal Chief. Jey will bring gold back to the Bloodline. Not tag team gold. Because unfortunately, all because of Jimmy, there is no more tag team in the WWE known as The Usos. Fans boo that now, but Heyman continues. He didn't want it this way either, but this is what Jimmy caused. Jey will bring home gold because tonight, The Right Hand Man, successor to the throne, will defeat Austin Theory for the United States Championship! Fans cheer that, though. Jey's path as a singles star, his path to becoming THE World Heavyweight Champion, starts tonight!
And then, Jey, then the Tribal Chief will embrace you and publicly groom you so that some day, when the time is right, Jey Uso will become THE Tribal Chief. But Heyman needs Jey's answer now. Fans boo that, but Heyman holds out the mic to Jey. Jey takes it, and he tells Heyman, "I'll take you up on that US challenge, though, OG." Heyman smiles and offers a handshake now. Jey looks at the hand, looks at Solo, and fans boo. They don't want him to, but Jey says he'll get back to Heyman on that. Fans cheer as Jey stands up for himself! At least, for the most part. But will Jey still take that US Championship away from Theory?
Men's Money in the Bank Ladder Match Qualifier: Santos Escobar w/ Rey Mysterio VS Mustafa Ali!
El Hijo del Fantasma has been wanting an opportunity to win a title, but so has The Beacon! Will Escobar join Zelina Vega at MITB in London? Or will Ali be showing off this golden ticket when he returns to NXT?
SmackDown returns and Ali makes his entrance. But wait, LA Knight makes his entrance now? The Mega Star is already going to MITB, maybe he just wants to watch this up close. The bell rings, fans cheer for LA Knight but Escobar gets fans on his side. Ali says he's going to get that briefcase! Ali swings, Escobar blocks and counter punches, and Knight joins commentary. Escobar puts Ali in a corner, Ali turns things around to CHOP, but Escobar turns things around to CHOP back! Ali throws forearms, Escobar throws them back. Escobar whips, Ali reverses but Escobar ducks 'n' dodges to FLYING FOREARM!
Ali goes to a corner, Escobar has the fans spell out "L! W! O!" Escobar runs in, Ali goes up and over and ducks 'n' dodges to RANA! Escobar bails out, fans fire up and Ali eggs Escobar on. Escobar trips Ali, drags him out, and CHOPS him! Knight likes that action, and Ali CHOPS back! Escobar and Ali fires forearms, Ali whips, but Escobar reveres. Ali goes up the steps but Escobar goes up the apron! ENZIGURI, and then Escobar brings Ali to the apron. Ali fights the suplex, throws body shots, and throws knees. Ali throws forearms, Escobar shoves Ali back into the post! Escobar storms up to KICK Ali again!
Escobar FLYING RANAS Ali off the apron! Rey checks Escobar, he also clips the stairs. Escobar is alright, and he gets Ali back in the ring. Cover, TWO! Ali is still in this and he bails out of the ring. Escobar builds speed to DIVE! Arrow from Hell shoots Ali down at the ramp, and Knight says these guys know what this match is about! When you can change your career, you put your life on the line. The ring count starts, Escobar gets in the ring and climbs up a corner! Ali stands, Escobar SUPER CROSSBODIES! Direct hit again and fans fire up as SmackDown goes to break.
SmackDown returns again and Escobar is on the apron while Ali is up top. Escobar ROCKS Ali, climbs up, but Ali CLUBS Escobar. They brawl up top, Ali CLUBS Escobar and throws hands. Escobar hits back, but Ali HEADBUTTS Escobar! Ali goes up but Escobar SHOVES him! Ali flips to land on his feet! But Escobar goes up, leaps, but into a DROPKICK! Fans lose their minds as Ali puts Escobar back in and climbs back up. Ali aims, 450 but he has to bail out as Escobar moves! Ali comes back, Escobar RAMS him into buckles! And then POISON-RANAS!! Cover, TWO!! Even Knight is impressed by this!
Fans rally up, both men go to corners, and Ali shakes out the stars. Escobar spells it out, "L! W! O!" DOUBLE KNEES in the corner and Ali staggers, into a fireman's carry! But Ali slips free! Escobar throws elbows, Ali still O'Conner Rolls, TWO! Ali goes up the corner to leap, FLYING DDT!! Cover, TWO!! Escobar survives and Rey coaches him up. Fans fire up as Ali skins the cat to the top rope! But Escobar GAMANGIRIS! Escobar climbs up after Ali, throws elbows, and then drags him up to a fireman's carry! Ali fires off elbows to fight it, but Escobar still stands! SUPER PHANTOM DRIVER!!! Cover, Escobar wins!!
Winner: Santos Escobar, by pinfall (advances to MITB)
The LWO is sending both Escobar and Zelina now! Rey waves to the rest of the LWO, they all celebrate with Escobar. Knight says this is as close as Escobar's gonna get to the briefcase, but will Knight be able to put his money where his mega mouth is?
Sami Zayn finds Jey backstage.
Sami says it's a big night for Jey tonight. Jey has a big decision, Sami knows that. But here's something Sami never got a chance to say when they were all in the Bloodline together. The time they all had together was some of the best times in Sami's career, maybe even his whole life. It was certainly the same for Jey. And in another life, they'd both still be in Bloodline. Honorary Uce, Usos, the handshakes, the dance, making them all laugh even when they're trying not to. But that couldn't happen because of one man. And it isn't even Roman Reigns, it's this "Tribal Chief."
When The Tribal Chief takes over, bad things happen. When the Tribal Chief takes over, that's when Heyman's voice starts kicking in, the paranoia starts and the manipulation starts. He pushes too far and then pushes some more. Sami did it, too. Sami admits he did everything he could to put the family first. He tried to keep things together, just like Jey, and it was never enough. Sami's loyalty was tested over and over until it came down to him and his own brother, just like Roman's doing to Jey. So tonight, Jey has a big choice. If Jey wants to roll with Roman and be the next Tribal Chief, fine. Sami gets that, he really does.
And Sami sincerely hopes Jey wins the US title tonight. Because then, they'll all see that they need Jey more than he needs then. Whatever happens, just know that there are consequences going down that road. It means no more Jimmy & Jey, and no more Usos. That's Jey's brother. Do what is in Jey's heart, not what is being put into your ear. Jey doesn't say a word as he leaves. One way or another, will Jey be his own man? Or will he just be The Right Hand Man?
Kayla Braxton introduces Alba Fyre & Isla Dawn.
The NXT Women's Tag Team Champions make their way out, getting mics of their own, and Kayla welcomes them to SmackDown, only for the WWE Women's Tag Team Champions to show up! Ronda Rousey & Shayna Baszler also have mics, and Shayna wants some "clarification." There's another team wanting to call themselves Women's Tag Team Champions, huh? Well here's a question for them: "How much do you know about the history of those titles right there?" Shayna & Ronda join Isla & Alba in the ring, and Shayna says SHE is the reason the NXT Women's Tag titles are even a thing.
So technically, those "Shayna Baszler Commemorative Tag Titles" are hers. Ronda says she's been crunching the numbers. They've been running through the division so fast, they're gonna end up hungry soon. It's true! But that made Ronda realize… Thijs division isn't big enough for the two of them. Ronda & Shayna want what Alba & Isla have. Isla laughs and says, "How cute. So you two want to face us in a Unification Match? Oh, how exciting!" Alba says titles VS titles, "WE ACCEPT!" And then they DECK Ronda and Shayna! But Ronda throws Alba around in return! Shayna throws Isla out, Ronda isolates an arm, but Isla ROUNDHOSUES Shayna!!
Alba fights free, she and Isla mug Ronda, but then Shayna comes back! Shayna gets mugged, too! And gets a GOURD BUSTER, to a SHINING WIZARD! The Baddest Women on the Planet are in retreat from the Wicked Witches! Will Ronda & Shayna get beat at their own game?
WWE mourns the loss of The Iron Sheik.
Growing up in Iran, The Iron Sheik was as tough as they came. Sheik himself said that his country was known for two things: oil and wrestling. He was a wrestling champion in the Iranian National Army, then made the jump to sports entertainment. He used the political tension to become "one of the most despised villains" of his era. The flag, the clothes, the boots even. An impressive physique and strength, and his Camel Clutch was devastating. And in 1983, Sheik would shock the world by becoming a world champion. Sheik's ability to get a strong reaction from fans was instrumental to bringing the WWE up in the 1980s.
Sheik's impact and notoriety are undeniable, and he joined the WWE Hall of Fame in 2005. From captivating persona to unparalleled charisma, the Iron Sheik's legendary career puts him in a special place in the hearts of fans worldwide. Gone but never forgotten!
Women's Money in the Bank Ladder Match Qualifier: Bayley w/ Iyo Sky VS Mia Yim w/ AJ Styles!
The Role Model already promised that Damage CTRL would dominate the Women's MITB, win that briefcase, and then take a title for their own. Will Bayley be able to lead by example? Or will Michin take control of her own future?
SmackDown returns as Mia makes her entrance. The bell rings and Styles joins commentary, but Bayley throws a shirt at Mia! Bayley fires off with punches, they go out of the ring, and Bayley says she's a genius! She SMACKS Mia off the desk, puts her in the ring, then mocks Styles' pose. But then Mia DIVES out to wipe Bayley out! Fans fire up and Styles throws up the Too Sweet. Mia puts Bayley back in, Oklahoma Rolls, ONE! Another roll-up, ONE! Bayley staggers up, Mia trips her and fires off hands! The fans rally, Mia stacks to a cover, TWO! Mia drags Bayley up to CHOP! And haymaker! And repeat!
Mia has Bayley in a corner, fires off more, but the ref counts. Mia lets off, whips corner to corner, but Bayley reverses. Mia goes up and over and keeps moving, to duck 'n 'dodge and redirect to RANA! Bayley tumbles, fans fire up with Mia and she runs in, but Bayley puts her on the apron, Mia blocks, ROCKS, steps in and DDTs! Cover, TWO! Fans rally, Mia brings Bayley up and fires off Kawada Kicks! Bayley clutches her jaw as she goes to ropes, and she crawls to the apron. Mia storms up, the ref has her stay back to check on Bayley. But Bayley grins, she's faking us out. But Mia BOOTS Bayley down first!
Mia didn't fall for the tricks, and she has Bayley in the ropes. But Bayley pulls hair to RAM Mia into buckles! Styles protests, the fans boo, but Bayley hooks Mia up for a ROSE PLANT! Cover, Bayley wins!
Winner: Bayley, by pinfall (advances to MITB)
Styles is upset, but Bayley did what she promised to do. Wait, Scarlett Bordeaux is here! And she walks right up to Styles, to blow DUST in his face! Styles reels back, and KARRION KROSS is there! He grabs Styles in the KROSSJACKET!! Styles can only kick and flail. But Mia rushes over! Kross shoves styles down, scoops Scarlett up, and fans boo as Mr. & Mrs. Doomsday get away. Will Styles look for revenge once he can see again?
Bianca Belair paces in Adam Pearce's office.
She asks him if this is for real. He understands. Bianca wants to get after Asuka, but tonight, she is being presented with a brand new Women's Championship belt. Oh, that's cute. But once Bianca gets her hands on Asuka, she's taking that title. Right, but between that and the women's tag title unification, there is a lot going on. All he is saying is that he is asking her not to attack Asuka tonight. With respect, that has nothing to do with her. You expect her to do nothing after what Asuka's done to her? Asuka stole Bianca's title and tried to blind her! He gets it, he gets it! But she is in line for a rematch, so just for tonight, leave it alone.
Bianca likes that news. Since she's getting her rematch, cool, she'll give Asuka her moment. She won't get involved, because she has her rematch. What will this new title look like? We're about to see because that is up next, after the break!
Styles regroups with The OC backstage.
Styles is furious at Kross, but the Good Brothers have him calm down. Mia tells Styles they'll get Kross AND his ratty witch, Scarlett! Styles wonders what Scarlett even used on him! When and where will The OC get revenge?
Adam Pearce is in the ring.
"Ladies and gentlemen, I have the honor of presenting the new WWE Women's Championship. And so, without further ado, please join me in welcoming the current Raw Women's Champion, the Empress of Tomorrow, Asuka!" Fans cheer as Asuka makes her way out and Pearce says on behalf of the WWE, it is his pleasure to present the brand new WWE Women's Championship. And yes, it is white strap with gold face plate to parallel Roman's Universal Championship. Pearce takes the old belt, and helps Asuka put on this belt. But then CHARLOTTE FLAIR appears?! The Queen returns to step on the Empress's moment!
Fans go wild as Charlotte struts her way to the ring, Asuka is upset and Pearce looks as if he should've known better. Charlotte enters the ring, gets a mic, and Pearce asks, "What're we doing, Charlotte? Listen, I know what you're trying to do. At least I think I do." Charlotte has to get in line. Charlotte asks, "Excuse me? I don't wait in line! I MADE the line!" Fans cheer that! And Charlotte gives a "WOO~!" Charlotte says hi to Asuka. And she says no one respects Asuka more than her. But she still wants the title, so she's challenging Asuka for the title! Asuka tells Charlotte in Japanese to bring it on!
Oh really? YES! SHE ACCEPTS!! Fans like that, but Pearce wants everyone to hold no. Charlotte says when he makes this official, he can put the belt around her waist. Charlotte avoids the mist!! She SMACKS Asuka off the podium to then BOOT her down! Asuka bails out, the new belt around her waist, but what is Adam Pearce to do? Charlotte wants a shot, he promised Bianca a shot, and MITB is coming, who is getting their match with Asuka?
Heyman meets with Jey in the locker room.
Heyman says Jey got him. That was really slick. He left Heyman hanging, a cliffhanger makes for good TV. Heyman's whole life has been a cliffhanger. But what Jey needs to put in Heyman's hand now are his passport and suit measurements. Heyman planning a wedding or something? Oh, this is much bigger than that. The passport is because Jey is going to fly on the Tribal Chief's private jet, which will one day be Jey's private jet, all the way to the UK for MITB with Roman, Heyman and Solo. The measurements is cuz next week, live on SmackDown, they will have a TRIPLE celebration!
One: Roman Reigns will be here live, that is always a celebration. Two: the NEW United States Champion, The Right Hand Man, Jey Uso! And three: a public acknowledgment that Jey Uso shall be groomed by Roman himself as the NEXT Tribal Chief. And now… Jey says he loves it! Next week, big celebration, Main Event Jey is the new US Champion. Yes! Count him in! But OG, why you so happy? Jey pats him on the shoulder as he says that if he's in the Bloodline, that means Heyman's out. YEET. Jey heads out, and Heyman scowls. Is this all going to blow up in the Wise Man's face?
Adam Pearce is on the phone.
He explains the situation as best he can, but this opportunity fell right into their laps. If you're asking him, why not make it the night before MITB? Oh but Bianca walks in… Pearce hangs up and says he'll figure this out. He better. And just so he knows, when Bianca gets her payback, it'll be justified. Will the EST have her revenge one way or another?
Men's Money in the Bank Ladder Match Qualifier: Baron Corbin VS Pete Dunne!
The Lone Wolf is already acting like the gatekeeper to the main roster with how he's treating the superstars of NXT, but will he also be a gatekeeper on who gets into the MITB match? Or will the Bruiserweight break Corbin and head for a golden opportunity in his home country?
SmackDown returns and we see Trick Melo Gang is in the front row! Carmelo Hayes & Trick Williams have beef with Corbin, so it makes sense they'd be here. Corbin makes his entrance and fans boo, as per usual. Corbin gets a mic and says he hopes Trick Melo Gang are enjoying the show, because he's about to put on another one when he beats Butch right here and now to go on to win MITB again! And Corbin is surprised they showed up. Melo saw what happened on NXT, right? So stay on the other side of the barrier where it's safe, because Corbin doesn't wanna have to drop Melo again. So sit down like the fans they are, and watch as Corbin punches his ticket.
The bell rings, Dunne runs in to ENZIGURI! And GAMANGIRI! Dunne keeps moving, to GAMANGIRI again! And then he shoves Corbin down, goes up, and TORNADO DDTs! Cover, TWO!! Corbin is still in this but Dunne goes up top! MOONSAULT, but Dunne rolls through as Corbin moves. Dunne comes back, but into a BACKBREAKER! Corbin rains down fists, then CLUBS away on Dunne. Fans boo but Corbin lets off to glare at Melo. Fans boo more as Corbin whips and scoops, but Dunne slips free to ENZIGURI again! Corbin flops to the apron, Dunne goes after him! Dunne hooks an arm, bends the fingers, but Corbin throws elbows!
Corbin swings but Dunne gets that arm! Dunne bends, then SNAPS the fingers!! Corbin clutches that hand, but he still DECKS Dunne with it! Corbin taunts Melo, Melo taunts him back. Fans boo Corbin as Corbin says this is how the big boys play. Corbin choke grips but Dunne jumps up to drag him down! Dunne traps an arm and hooks a leg for a cradle, DUNNE WINS!
Winner: Pete Dunne, by pinfall (advances to MITB)
Corbin is stunned! Dunne snatches this away from him, and Trick Melo Gang tell him that's what he gets! Will Dunne use this chance to become Mr. MITB? As for Corbin, he gets after Trick Melo Gang, the ref wants them to stay back, but Corbin DECKS Trick! So Melo DECKS Corbin! Corbin runs away, Trick Melo Gang jump the railing! Refs and security stop this from getting worse, but fans chant for "NXT! NXT!" Will Corbin return to NXT on Tuesday to finish this with HIM?
Backstage interview with The Brawling Brutes.
Megan Morant congratulates Butch on the big win to get into his first ever MITB ladder match. How is he feeling? Dunne says he's coming home, and he's taking that briefcase! Every night they're in the UK, it'll be FIGHT NIGHT! FIGHT NIGHT! FIGHT NIGHT! But Corbin storms over and complains that that was not fair! Melo was there, causing problems, but then Cameron Grimes CLOBBERS Corbin! The Lone Wolf has nothing but enemies around him, is it all going to catch up to him?
Women's Money in the Bank Ladder Match Qualifier: Iyo Sky w/ Bayley VS Shotzi Blackheart!
Bayley made it into the ladder match, now the Evil Genius has her chance! Will DMG CTRL take over the UK? Or will the Wild Child #TCB and move on to MITB?
SmackDown returns as Iyo makes her entrance, Bayley by her side. The bell rings and Bayley distracts Shotzi. The ref reprimands, Shotzi swipes at Bayley, but Iyo CLOBBERS Shotzi! Cover, ONE, but Iyo underhooks. Shotzi slips out of the bomb to KICK Iyo, reel her in, and snap suplex her into a corner! Shotzi runs in but into a BOOT! Iyo goes up, and DOUBLE STOMPS Shotzi's arm! Iyo wrenches that arm, CLUBS away on it, then wrenches again. Iyo knuckle locks, goes up and up, then HOTSHOTS the arm! Shotzi staggers away, Iyo climbs, and Iyo leaps, but Shotzi avoids the missile dropkick! And then hits a SLING-DOG!
Shotzi runs to KNEE Iyo, ROCK her, QUESTION MARK KICK, and then TIGER PLEX! Iyo flounders to a corner, Shotzi runs in to CANNONBALL! Iyo bails out but Shotzi builds speed. Shotzi DIVES and takes Iyo out at the ramp! Fans fire up and Shotzi puts Iyo back in the ring. Bayley frowns as Shotzi goes up the corner. But then Bayley distracts again! Fans boo but Iyo SHOTEIS! Iyo goes up after Shotzi but Shotzi throws body shots! Shotzi SUPER GOURD BUSTERS Iyo, resets, but Bayley trips her up while the ref is checking Iyo! Fans boo but Iyo upts Shotzi in the drop zone. OVER THE MOONSAULT! Cover, Iyo wins!
Winner: Iyo Sky, by pinfall (advances to MITB)
Big assist to Bayley, but the question is, did Bayley do that for Iyo? Or did she do that so she has an insurance policy in the ladder match?
Backstage interview with Austin Theory.
Kayla Braxton is with The Now, and asks him about tonight's United States Championship match. How is he feeling? Well, that's the thing. He was the last one to find out about that. Think about that! How disrespectful is that to the champ? But Roman Reigns pulls all the strings, does whatever he wants. Theory doesn't make excuses. Sure, he had zero time to get ready, but all he gets are victories these days. And as far as tonight goes, Jey will get sent back to the Bloodline the failure that he is. Theory will beat him the same way he beat Cena at WrestleMania. And if Heyman is in need of a new client after tonight, then he's invited to check out Austin Theory Live.
Kevin Owens meets with Sami backstage.
Kevin asks if Sami talked with Jey. Sami did. And how'd it go? Who knows. We'll see. Then if that's done, can they focus on the tag titles? Yes, of course. But then in walk Pretty Deadly. Sorry for interrupting, but Kit Wilson & Elton Prince have a quick question. When they come to SmackDown, have they ever thought about putting effort into how they look? Speaking of, how about defending those titles? Maybe against them? #YesBoy! But wait, Ridge Holland & Sheamus walk in. Pretty Deadly want a shot? Well, the Brawling Brutes think there should be a good ol' fashioned fight to see who gets it.
Whoa, whoa, did someone mention a fight? Because Karl Anderson & Luke Gallows walk in, and say that the Good Brothers love a fight. Especially if it is for the tag titles. Hey, don't leave the LWO out. Where'd Cruz & Wilde come from? And then with shout and a clap, in come the Street Profits! Montez Ford says if anyone's getting a title shot, it's them! But then Adam Pearce walks in to stop all the arguing. What's going on here? Kevin explodes and says HE'LL tell Pearce what's going on! He just wanted to have a chat with Sami, and then these guys showed up, and then them and them and them and everyone! They're all too close, he can't take it!!
Sami calms Kevin down, he has to think of his blood pressure. Sami explains that what Kevin's trying to say is that apparently- EVERYONE WANTS A TITLE MATCH! That. Pearce says okay, let's try this. Next week, a FIVE team gauntlet match. The winner will face Kevin & Sami for the titles. Everyone cheers, and Kevin says good, now leave them alone! Who from SmackDown will win their shot at the Undisputed Tag Team Championships?
Grayson Waller speaks.
"How does Grayson Waller wanna be remembered? That's none of my concern, lad. History is nothing more than a set of lies agreed upon. But what I can promise you is I'll never be untruthful to you. So let me tell you some absolutes. There is no one better in that ring than Grayson Waller. That entire locker room knows that I am the future of this company, and if they say otherwise, that is from fear or insecurity. But somehow, I'm the bad guy. I'm not evil! I'm inevitable. They paint me as a villain, I just autograph the artwork. And that is the Grayson Waller Effect."
BREAKING NEWS on the various women's title matches!
In three weeks, when SmackDown is in London, it will be Asuka VS Charlotte Flair for the brand new WWE Women's Championship! Will the Queen once again take the throne? And in two weeks, the Women's Tag Team Championship Unification happens! Will Ronda & Shayna or Alba & Isla be the first-ever Undisputed Women's Tag Team Champions?
WWE United States Championship: Austin Theory VS Jey Uso!
This match may be out of nowhere, and it may only be as a bribe to get The Right Hand Man to stay with the Bloodline, but will #MainEventJey still become a singles champion? Or will Theory stay The Now of the WWE?
SmackDown returns as Theory makes his entrance. The introductions are made, the belt is raised, and we see the future unfold before our eyes!
The bell rings and the two tie right up. Theory headlocks, Jey powers up and out, but Theory runs him over! Theory talks trash, things speed up, and Jey CLOBBERS Theory! Theory goes to ropes, Jey runs in to clothesline Theory up and out! Fans fire up with Jey and chant "USO! USO!" Jey goes out, brings Theory up, and TOSSES him over the desk! Fans fire up more as Jey stands on the desk! Main Event Jey is in control as SmackDown goes to break.
SmackDown returns again and Theory has Jey in a chinlock. Fans rally up for Jey as he fights up to his feet. Jey throws body shots, then haymakers! Theory throws the haymakers back, he and Jey go back and forth! Fans rally up, the two throw hands faster and faster, then Jey ducks to POP-UP NECKBREAKER! Cover, TWO! Theory flounders away to a corner while Jey keeps his cool. Jey says "UCE! OH! UCE! OH!" Jey runs corner to corner, but Theory drop toeholds him into buckles! Theory then goes to the apron, slingshot somersault SHOTGUN! Cover, TWO! Theory is upset but the count was fair.
Fans rally, but Theory brings Jey up. Theory suplexes but Jey wrenches free. Theory dodges to CLUB Jey in the back! Theory torture racks, TOWER HACKER BOMB! Cover, TWO!! Jey survives and Theory is furious! Fans rally for Jey but Theory says it's time! Fireman's carry, A-TOWN- NO! Jey slips free, mule kicks and UPPERCUTS! Theory BOOTS in return, then he blocks a kick! But not the DRAGON WHIP! Theory comes back to ROCK Jey, but Jey comes back to SUPERKICK! Theory falls into the ref!! Jey goes up, USO SPLASH! Cover, but no ref! Jey would've won twice over by now!
But wait, Pretty Deadly are here! They CLOBBER Jey! Kit & Elton are watching the back of their new pal, but wait! JIMMY is here! Jimmy SUPERKICKS Kit, and brawls with Elton! Jimmy SUPERKICKS Elton! Jimmy watches the back of his brother! But Solo CLOBBERS Jimmy!! The Enforcer still has his mission to get rid of the betrayer! But Jey stops Solo from hitting the spike! Solo shoves Jey away, but then dodges as Jimmy rushes in! The SUPERKICK hits JEY!! Jimmy is stunned, but Solo runs in! Jimmy TOSSES Solo out, then PLANCHAS! The brothers all take each other out, Theory capitalizes! Theory covers, Theory wins!!
Winner: Austin Theory, by pinfall (still WWE United States Champion)
Fans boo as Theory survives again! This already ruins the Tribal Chief's idea of a triple celebration, but what about everything else? Solo stands with Heyman at the ramp while Jimmy gets in the ring to check on Jey. Jey is frustrated, but Jimmy does his best to apologize. The fans cheer for the Usos, but Jey shoves Jimmy?! Jimmy explains it was all an accident, but Jey storms out of the ring. Jey looks to Heyman who shrugs and says he's sorry. Jey just moves on past Heyman, but Heyman puts in a call to Roman Reigns. Jey hasn't made a decision, but are things going according to plan?
---
My Thoughts:
Another great SmackDown with a lot set up as we approach MITB. Really good MITB qualifiers, though maybe a little surprising in some ways. I didn't think Bayley was going to win, if only because I expected another instance where she would be envious of Iyo Sky and passive aggressively cost her. But instead, Bayley wins with some shenanigans and is also in. Scarlett & Kross going after Styles here was a nice touch, and we're definitely getting Mia going after Scarlett in return. Sky VS Shotzi was also a good match, and so far, Iyo Sky feels like a favorite to win the Women's MITB. But at the same time, the DMG CTRL break-up feels like it's coming, so maybe Bayley and Iyo cancel out and someone else wins.
Escobar VS Ali was a great match, and LA Knight was pretty good on commentary. I figured with Ali as an NXT "callback," it'd be Escobar winning this match. Likewise, with Corbin also hanging around NXT, Dunne winning made sense. I thought Grimes was going to be more involved but it ended up being Corbin getting cocky talking trash to Melo that cost him. I did like that Grimes got at Corbin backstage, so that Grimes and Corbin can feud on SmackDown while Corbin also loses to Melo in NXT. Dunne is going to have that London crowd fired up, but I can't be sure he wins MITB given all the other great names in the match.
Hilarious promo with all the tag teams of SmackDown. Short tempered Kevin Owens is hilarious, too. But a gauntlet match seems like a letdown to me. Sure, it fills time, but there's only so much that can happen with that format. And a lot of the time, it feels like the teams that are in the second half are the winners. But of the five teams in that match, Pretty Deadly are the likeliest winners, given how they're literally the only Heels in that bunch and the champions are Faces. But even then, I don't see Pretty Deadly winning. Yes, they're great, but Kevin & Sami are even better and deserve to explore the possibilities on Raw, SmackDown, and maybe even in NXT.
Big stuff is happening with the various women's titles, too. I had a feeling we'd get an interaction of Ronda & Shayna with Alba & Isla at some point, but having it right now is surprising. Title unification also felt like the logical step, but I don't know if two weeks gives enough real build. Unless Isla & Alba do spooky scary things on Raw to mess with Ronda & Shayna. As I said before, Shayna has had run-ins with the supernatural, it might get to her, but I feel like Ronda's gonna no sell that stuff.
What a legit surprise that Asuka is getting THE WWE Women's Championship without even once confronting or being confronted by Rhea. How's Rhea gonna respond on Monday? But not big surprise, Charlotte returns to get right into the title scene. Bianca is understandably upset by that, but I suppose she's getting the winner of Asuka VS Charlotte at some point, like at SummerSlam in Detroit. Asuka VS Charlotte in a few weeks will be awesome, could go either way, but I would prefer Asuka wins so that Charlotte doesn't just immediately get to her 15th reign. At least, I think it's 15, I forget how WWE is counting things.
And of course, great stuff in the Bloodline story. Did not think Roman via Heyman would try to bribe Jey. But I liked how Jey was throwing the mind games back at Heyman. Honestly, yeah, if Jey replaces Roman, the day that happens, Jey would just pardon Jimmy and fire Heyman to start things fresh. But anyway, great main event match, and of course it got overbooked. Theory & Pretty Deadly are sticking together since they're all egomaniacs, and then Jimmy helping Jey backfires, all classic pro-wrestling tropes. I would think Jey still chooses Jimmy, but maybe he can string Roman along next week into thinking Jey's "fallen in line." Then surprise! Usos ruin things for Roman on his celebrating of whatever, then tag match of Usos VS Roman & Solo.
My Score: 8.7/10