Predicting The Card: WWE WrestleMania 35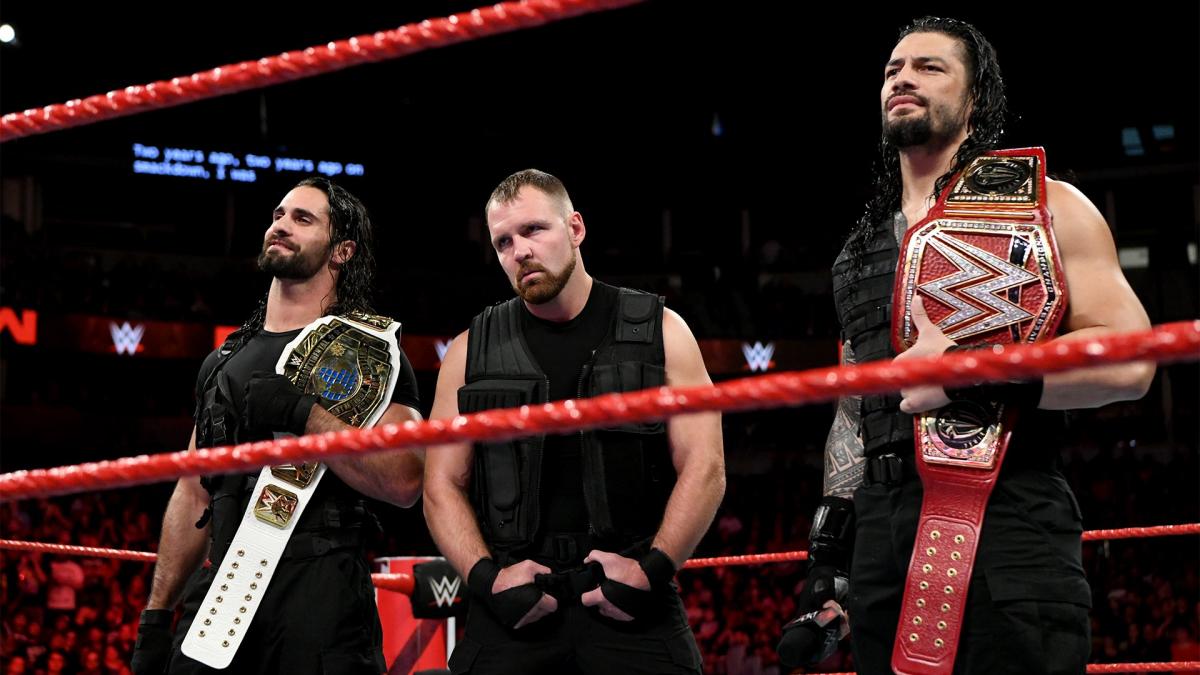 The date is October 7, 2018, two days after WWE presented Super Showdown in Melbourne, Australia. While we still have many twists and turns in the road, the path to WrestleMania is already being paved. What will we see on the grandest stage of them all? Who knows! But trying to predict it is lots of fun.
Greg DeMarco, publisher of The Chairshot, sat down to lay out where WWE could be headed for WrestleMania 35. This article won't address the Andre The Giant Memorial Battle Royal, or the WrestleMania Women's Battle Royal. It might not even be an entire card. But looking at today's alignment, and where we could be headed in the next 182 days, this is Greg's early look at the potential WrestleMania 35 lineup.
WWE Universal Championship
Roman Reigns (champion) vs. Royal Rumble Winner Dean Ambrose vs. Intercontinental Champion Seth Rollins
I'm not sure WWE loves anything more than The Shield, save for a few legends here and there. Despite the rumors of a certain legend in The Rock, I really think we are getting all of The Shield we can handle on The Road To WrestleMania 35.
Dean Ambrose has been on fire since his return, seemingly committed to his Shield brothers, while still showing signs of being the Lunatic Fringe we all know and love. Him scoring the fall at Super Showdown seems to be no accident, at least in my mind. I don't see Roman Reigns losing the Universal Championship anytime soon, but I do see Dean Ambrose finally getting a career defining win–the 2019 Royal Rumble–and pointing his scope directly at The Samoan Sex Machine himself.
Seth Rollins could be a case of WWE dragging out an old storytelling crutch, where the Intercontinental Champion was largely considered to be #2 guy in the company, and the top contender for the world championship (despite rarely getting that title shot). WrestleMania 6 saw The Ultimate Warrior enter as Intercontinental Champion to challenge then WWF Champion Hulk Hogan, and I can see Rollins using the old "IC title logic" to insert himself into the WrestleMania 35 main event.
For funsies, I am calling winners today…
Prediction: Dean Ambrose captures the Universal Championship
WWE Championship
AJ Styles (champion) vs. The Miz
The Miz is arguably the best performer in WWE today, based on two facts: he's over as a heel (hard to do in 2018) and he always makes opponent look like a million bucks. It's largely believed that his Talking Smack segment with Daniel Bryan was "unscripted," but I don't buy it. What I do buy is the career rejuvenation it caused.
AJ Styles is quietly building a momentous run as WWE Champion, and I don't see it stopping before WrestleMania 35. While I would love to see Miz win the Royal Rumble (I can see him and Ambrose as the final two, if Rollins isn't the last guy with Ambrose), there are plenty of ways for him to earn this shot. For me, a (relatively) clean win over Daniel Bryan in some form is the ultimate method, and that's what I see happening. As for a prediction? The wins for Miz don't stop there.
Prediction: The Miz captures the WWE Championship
Raw Women's Championship
Ronda Rousey (champion) vs. Charlotte Flair
What many would deem the easiest match to call, I think do indeed see this match at Met Life Stadium. what I don't think we see is it going on last, as WWE probably opts to have The Shield close out WrestleMania 35. However, I won't be shocked if this is the night they pull the trigger and have these two women close the show.
Since Charlotte is a Smackdown Live superstar, and the shortest distance between two points is a straight line, I see Charlotte winning the 2019 Women's Royal Rumble, and jumping ship to challenge Raw's Rousey.
Prediction: The legend grows as Charlotte Flair captures the Raw Women's Championship
Smackdown Women's Championship
Becky Lynch (champion) vs. Asuka
Everyone thought that 2018 was Asuka's year, but instead it was Charlotte ending her undefeated streak in New Orleans. WWE has their own calendar (and it's usually right), and here I see Asuka finally winning WWE (not NXT) gold at WrestleMania 35 against Becky Lynch.
Because Asuka's character is that of an in-ring master, I think we see a tournament (or gauntlet) set to determine the challenger, where Asuka emerges victorious (possibly starting in the first match of possible gauntlet) to challenge Becky.
Prediction: Asuka captures the Smackdown Women's Championship
Interesting note, I have predicted that each of the top men's and women's championships change hands at WrestleMania 35, which is rare. I can see Roman or AJ retaining, but the women's belts I really think are going to change. If I had to pick one of the four championships to be retained, I would go with the Universal.
Anyway, carry on!
Braun Strowman vs. Brock Lesnar
On the surface, this match reads like "these guys each need a WrestleMania match." But the storytelling for this is there.
Braun Strowman was Mister Monster In The Bank, but it was a discus-like toss of the coveted briefcase from Brock that prevented a SummerSlam cash-in. It was also a surprise appearance from Brock at Hell In A Cell that prevented a potential win for Braun in September. At Crown Jewel, I can imagine we'll see a spot where Brock once again prevents Braun from emerging victorious.
So where does that lead? Depending on the date of Brock Lesnar's UFC fight, it either leads to a Royal Rumble confrontation, or one in February/March. Regardless of the date, we'll learn that Braun's motivation for a beatdown of Brock was simply because he's "not finished with you," and wants revenge.
Prediction: Braun Strowman gets the big win 
The Undertaker vs. John Cena
You don't think that story ended at WrestleMania 34, did you?
Prediction: John Cena gets his revenge and hands Undertaker his third WrestleMania loss
Triple H vs. Kevin Owens
This might seem a little out of left field, but you have to remember that we're only halfway to WrestleMania. There is plenty of time to build up this story, which would be a huge one for Kevin Owens. Triple H is obviously high on the guy, and the fans want to cheer him. I see it going down here, but I don't see it getting the payoff everyone wants.
Prediction: Triple H wins, and the internet cries
There are quite a few big names left out, including current United States Champion Shinsuke Nakamura, Randy Orton, Samoa Joe, New Day, Drew McIntyre, Dolph Ziggler, Alexa Bliss, and many more. There's also plenty of room on the card to see them all involved. And I think we will.
But what say you? What do you think we'll see at WrestleMania 35 at Met Life Stadium on April 7, 2019? Tweet at @ChairshotGreg and @theCHAIRSHOTcom using the hashtag #UseYourHead and let your voice be heard!