Repetition And Familiarity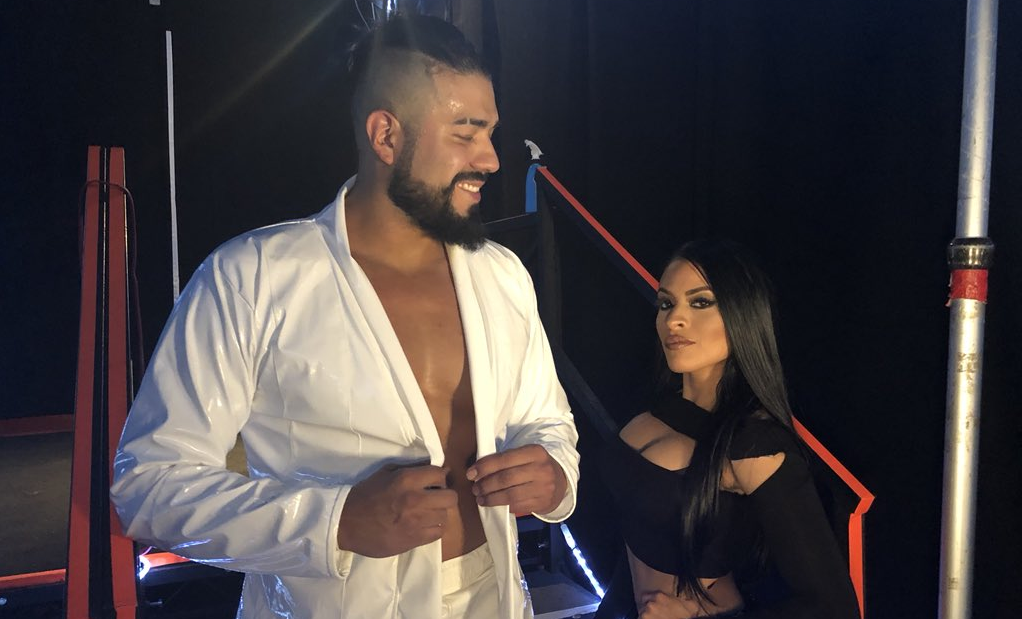 In our microwave society where we want everything right now, the last thing a lot of us want is to have to watch and wait something get built upon over time.  Now sometimes there's a legitimate fear that the building won't amount to anything (as a New York Knicks fan this is literally a perpetual mood), but sometimes our fears are overblown and unfounded.
I've spent several weeks here criticizing fans for what I believe are various infractions that make it difficult for not just other fans but even the people who work in the business; I know to some it sounds like I'm fansplaining (and to degree I probably am) but it's hard to sit still while bad takes are being served up over and over by people who consider themselves smarter than the average fan because they spend time on Reddit forums and such.  So in the interest of staying in this lane while not being as cranky I figure I'd get to something else: the importance of repetition.  Repetition is a key to what makes a lot of things work in wrestling.
Why?
Because what helps establish those memorable moments is people doing a few things well over and over until they gets parked in our memory banks, so that all the other things that come off of them – swerves, counters, etc – get that emotional response they're looking for.
For example the Kurt Angle battle royal segment struck the chord that it did because of a few things:
Several weeks of Baron Corbin acting like a jerk towards everyone, especially booking himself favorably so much
Corbin and Stephanie McMahon talking down to Kurt for several weeks, culminating when Stephanie sent him on vacation
Corbin looking like he was finally going to have a plan work out in his favor
Our memories of all of Angle's signature moves so that when the Conquistador started pulling them out it triggered our recollections
That was weeks and months of small, sometimes mundane, sometimes annoying stuff that went into setting up what was a fun moment in October.  When you ask for longer, more layered storylines you gotta be patient and go for the ride through a bunch of points that may seem tedious or downright pointless until it's payoff time.  Corbin getting appointed Constable, overruling and undermining Kurt, getting Kurt sent home, and then putting himself into big matches to get things for himself all led to one of the best segments of the year on TV.
If you give it a chance and let them work their way through you can get a moment where you can just mark out and be happy for a bit.  On the other hand when you constantly armchair quarterback and demand that they give you what you want RIGHT NOW you can lose any chance for a good story, and any chance for getting any real memories out of it.  And that's no fun at all in the long run.
But that's not the only example this week.  The likelihood of Kevin Owens turning face has hit about 100 percent probability after his beatdown from Bobby Lashley, who is apparently going heel in the process (turns out that's going to be delayed, as Owens is going out for knee surgery and will be out a while).  As their match went on you could hear the crowd getting more and more behind Kevin in a real sympathetic way.  But it takes more than one match to make that a thing.
The first seeds were planted earlier this year, when Owens was getting killed by Braun Strowman every week.  While the crowds didn't turn on Braun, over time his antics went from humorous just desserts to a despicable human being in Owens to downright extreme like tossing him off a cage even though it meant losing the match.  Now when he comes back he's poised to get a big face reaction especially if Sami Zayn is by his side again.  But it will all be sweeter with some kind of buildup rather than the kind of instant turn some may have wanted because they think KO is one of the best people on the roster.
Next up is the Authors of Pain.  When they first got called up from NXT, they squashed some jobbers then went into a short program with Titus Worldwide, which immediately drew some impatience.  'Why are they wasting their time with a comedy act?  They're getting misused just like everyone else from NXT!'  Then they got a new manager in Drake Maverick and went back to squashing jobbers again for several weeks, which is exactly what they needed.
Why?
Because the Raw audience doesn't really know these guys since most of them don't watch NXT.  How are they supposed to know if these two big guys are a dominant force or just a bunch of oafs without seeing how good they are?  And lo and behold, after a few weeks of that they got in the ring with the Shield in a RAW main event and looked like they belonged there.  A four week angle between Bobby Roode & Chad Gable vs The Ascension was used as a setup to further drive home this point.  While we were complaining how weird and tedious it was, the payoff was Authors of Pain coming in and obliterating both teams after the match to make it clear that Authors of Pain are superior to the other tag teams.  Now when they eventually win the tag team titles it will be a big deal.
Finally we have Andrade "Cien" Almas over on Smackdown.  Like the AoP he got a quick introductory feud, with Sin Cara, which again prompted some 'why are they wasting him?' comments.  Since then he had another mini run with Rusev, then some matches with Daniel Bryan and AJ Styles.  And while he's lost to the latter two the matches have served a purpose.  And that is to show us that he can go with two of the best in ring workers in the business.
Despite all the internet talk about how great he is, the Smackdown audience hasn't much of a clue because most of them don't watch NXT (or CMLL where he first hit it big) either.  He's just a guy with a beautiful business manager in Zelina Vega, and they don't know if he's to be a World title contender, a future US champion, or a guy that puts over the top guys but never wins anything significant.
And they won't know until you show them.  As much as you may want him to win all the things now because he's so good, it will matter more if he does that next year after everyone has had a chance to see how good he is and how good he and Vega are as a duo.  And that the dreaded casuals have seen him work now in early 2019 the real promotion, with maybe a US Title run, can begin.
Those are just a few examples of how to get it right; there are other examples of how to do it wrong.  Sanity came up and got a couple of quick wins over New Day before the regular Smackdown audience learned anything about them, and now they're in limbo because quite frankly there hasn't been any reason established why they should be beating teams like New Day or the Usos or the Bar.
And 'they were good in NXT' isn't a good enough reason.  If I don't watch NXT I don't give a damn what they did there. They're just a guy (or gal) who's now on the show I do watch, and I need a reason to care about them and believe they are worthy of big things today.  Which means I need to be shown what's so impressive about them before they're put in a big match and before they get promoted up the ladder.  Just like I need to know what someone's big moves are so that I know we're at a turning point in the match when they go for them.
Ducking Roman Reign's Superman Punch is a big deal because we know it's an important move of his and the setup to his finisher.  When Seth Rollins starts stomping his foot when his opponent is prone, we know it's important because that's been established as the signal that he's going for the curbstomp.  If we didn't know those things from seeing them a million times those spots wouldn't matter and wouldn't trigger any kind of reaction.
At WrestleMania 6, the finish worked because it had been set up for years – Hogan's opponent hits their finisher, he kicks out, Hulks up, three punches, big boot, legdrop, 1-2-3.  So when the Warrior hit his finisher late in the match it was like the Bat Signal being lit in Gotham City.  Kick out, Hulk up, three punches, big boot…..but when Hulk went for the legdrop, Warrior moves, hits a splash and wins instead!  And it's such a big deal some 28 years later because that ending had been drilled in our heads so much that the twist struck all the right chords when it came.  That's the value of repetition.
Tiffany's Takes: WWE NXT (4/24/19)
NXT was loaded with action this week–how did it land for you?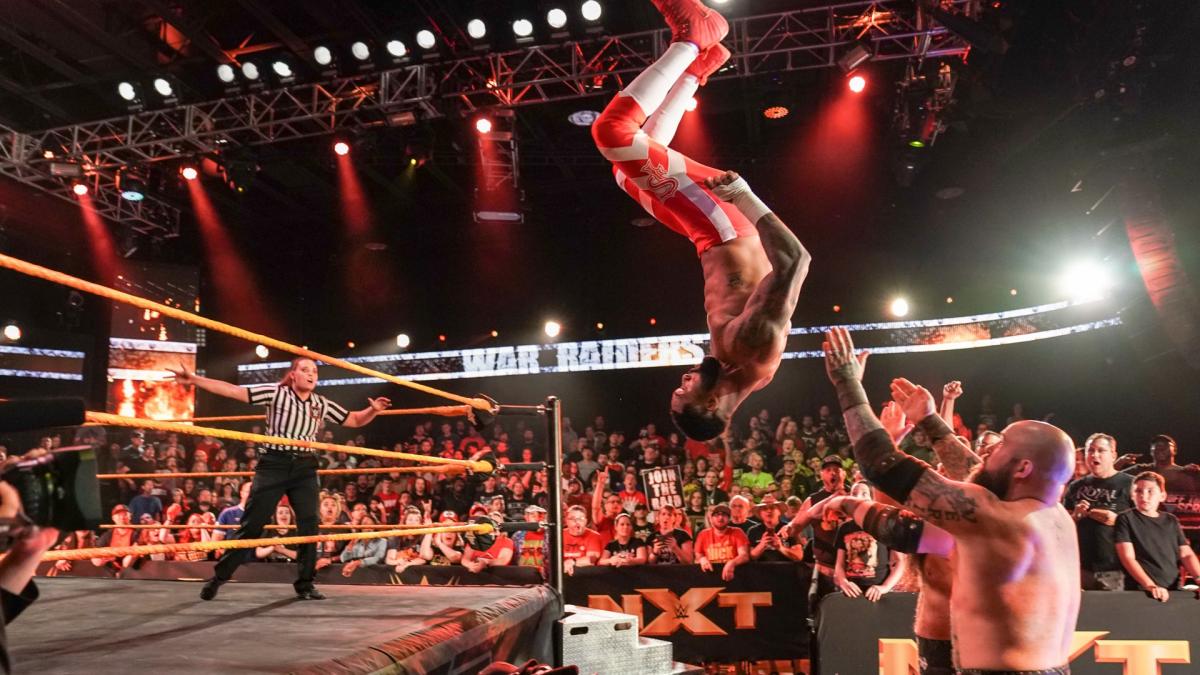 Tiffany takes her Takes to Full Sail University and WWE NXT today, featuring Johnny Gargano vs Roderick Strong and more!
So, time for OG NXT and Johnny Gargano will face Roderick Strong, but will Undisputed Era stand together or will a jealous Cole wreak havoc?
Johnny Gargano vs Roderick Strong/Undisputed Era
I think we all figured when Gargano chose Roderick Strong as his UE opponent that Cole wasn't going to be happy, and we've all seen definite signs of dissent in the Undisputed Era ranks, but I was honestly surprised by how this match ended. Cole vs Riddle promises to be great. I can't stand Matt Riddle, but him pointing out that Cole was jealous was perfect.
Gargano vs Strong was every bit as great as it promised. Strong's a great athlete and letting him show that off in this match was a great move. Having Cole accidentally cost Strong the match and having Riddle come in to help Gargano was the perfect amount of chaos to end the match while protecting everyone involved.
I don't know what next week will hold for Undisputed Era, but Strong basically telling UE to f**k off after the loss isn't a good tiding.
Jaxson Ryker vs Humberto Carrillo
I have a question: Is Jaxson Ryker the only competitor in Forgotten Sons? Seriously, when is the last time Blake and Cutler had matches? Don't get me wrong, Ryker is a great, albeit psychopathic, competitor, but I'm a little tired of him being the only member of Forgotten Sons competing.
The match with Carrillo was fantastic, even if Carrillo had a little trouble getting started. The Double Countout was a smart move to protect both guys, but I loved thorough line of having Oney Lorcan, now on 205 Live with Humberto Carrillo, and Danny Burch come to Carrillo's rescue and keep Forgotten Sons from completely destroying him. This should be a fun feud.
Aliyah and Vanessa Borne vs Candice LeRae and Kacy Catanzaro
So it seems like Candice LeRae is being groomed to take the belt off of Shayna Baszler if this match was anything to go by. I love Aliyah and Vanessa Borne, but I was disappointed by this match because it became clear very quickly that the whole point of the match was to make Candice look stronger when she got a pretty easy pin on Vanessa Borne. It's nothing against Candice, but I hated seeing Borne Bougie getting sacrificed like that.
Women's Division vs Shayna Baszler
I'm not sure what WWE is thinking, but if you want to keep Shayna Baszler looking like a badass, DON'T have her constantly getting cheap shots on anyone she deems a threat, whether they are or not. She doesn't look like an unstoppable badass, she looks like a punk, which is a disservice to her. Plus having Shafir and Duke being her lackeys hurts them too.
I APPLAUDED Mia Yim's promo, especially her calling out Biance Belair's constant insistence that she was still undefeated, even though she's lost to Baszler twice, for the nonsense that it is. I'm totally behind Yim getting another shot at Baszler, especially since Belair didn't have to earn her second chance while Yim hasn't gotten another one.
William Regal
William Regal had a hell of a career but, in my opinion, he's at his best as an authority figure and I'm glad he's loosened up from his days as the strait-laced Commissioner of WWF in 2001. I love Ohno demanding his…right to try out the shiny new NXT toys and I have a feeling he'll regret demanding a shot at KUSHIDA, which is probably why Regal gave it to him. Sounds fun.
Street Profits vs War/Viking Raiders/Experience
I'm still puzzled as to why Street Profits got a shot at the NXT Tag Champions, whatever they're called this week, but the match was fantastic. Dawkins and Ford did the smart thing by getting the jump on Rowe/Erik and Hanson/Ivar (I honestly am not sure which Viking name goes with whom, I'm just guessing), but  it was for naught because the Nordic dudes got themselves together and absolutely thrashed the Profits, but the Profits definitely proved that they belong in the Tag Title picture.
Overall Thoughts
Great episode of NXT! Much like NXT UK, the matches and segments all had a purpose and were pretty good.
The disintegration of Undisputed Era seems to be moving much faster than the first ending of the Shield and I'm a little confused as to why. Undisputed Era hasn't been called up to RAW or SmackDown, so I'm not sure why there seems to be a rush on breaking them up. Granted, having Cole 'accidentally' costing Strong the match and his clear jealousy of Strong getting the first shot at Gargano could be leading to Strong breaking off and feuding with Cole, but it's not clear where Fish and O'Reilly will end up in this.
Well, that is it for Tiffany's Takes for this week! Next week, we'll be looking Week 2 out of the 2019 Superstar Shake Up and see how RAW and SmackDown will deal with the fallout of this week!
Greg DeMarco's YouTube Performance Report: WWE Smackdown (4/23/19)
How did Smackdown perform on YouTube this week?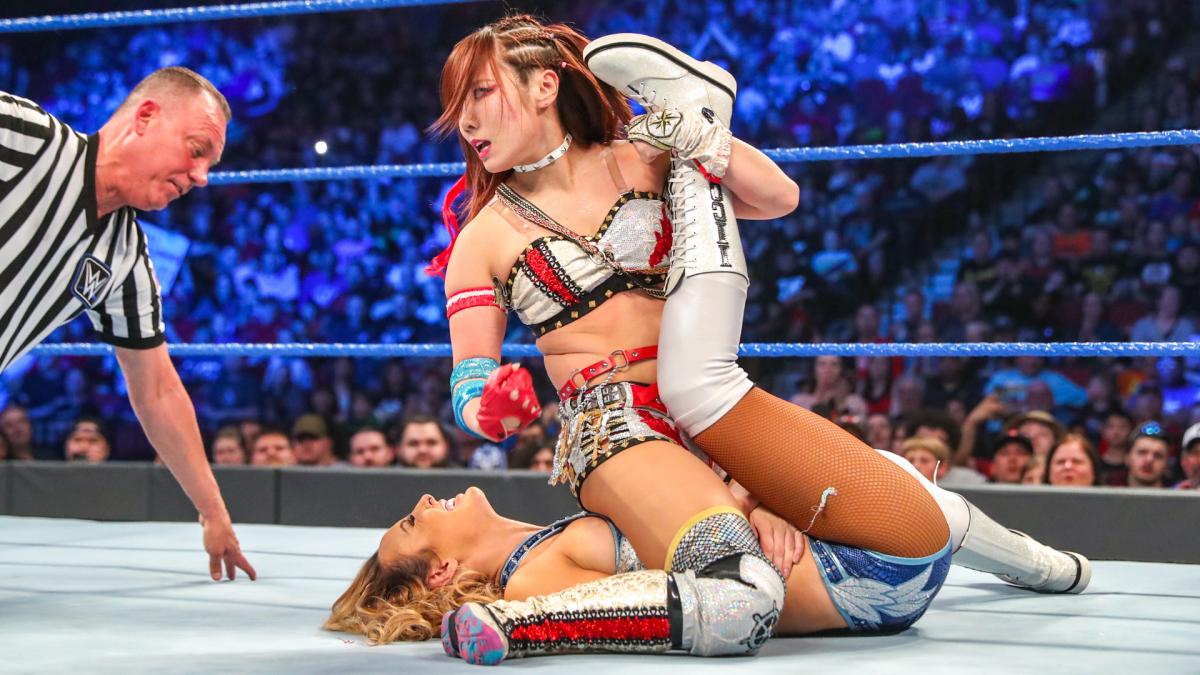 A look at the YouTube performance for the April 23rd edition of WWE Smackdown!
As we all know, social media and other outlets have become a huge means of drawing in interaction and viewers for WWE. Most people will point to television ratings like they did during the Monday Night Wars in the late 1990's, however that can be skewed with so many various means of watching today that do not include cable television. As such, YouTube has joined social media as a metric as important to WWE as television ratings (if not more).
As you've become accustomed to, here is this week's RAW YouTube Report, compiled Wednesday morning, for the 4/23/19 edition of WWE Smackdown:
Kofi Kingston vs. Shinsuke Nakamura / Kevin Owens attacks Kofi & Xavier Woods – 1.18 million views
Shane McMahon & Elias attack on Roman Reigns – 865k views
Lars Sullivan attacks Chad Gable, R-Truth, and The Singh Bros – 531k views
Becky Lynch and Charlotte Flair promo – 478k views
Charlotte Flair vs. Bayley – 404k views
Kairi Sane vs. Peyton Royce – 365k views
Finn Balor vs. Andrade – 289k views
Becky Lynch announcement (2 MITB title matches) – 221k views
The New Day (with Kevin Owens) promo – 212k views
Roman Reigns accepts Elias' challenge – 191k views
Aleister Black promo – 181k views
Elias' challenging Roman Reigns for Money In The Bank – 144k views
Ratings analysis appears after the ad – buy a shirt!
---
Elisa looks great in her Chairshot gear.
You can, too!
Be like Elisa and get yours at:
https://www.prowrestlingtees.com/related/thechairshot.html
---
Greg DeMarco's WWE Smackdown YouTube Ratings Analysis
Kofi Kingston and The New Day continue to dominate the top of Smackdown, and man does it feel good to say that. It's good to see this act getting so much attention. The attack from Kevin Owens was a matter of when, not if. It happened here, and that's our lone Smackdown video over a million views.
Roman Reigns and Shane McMahon are elevating Elias to the top of the Smackdown card, and that's a good thing. Elias was part of the #2 video of the week with 865k views thanks to the Samoan Sex Machine and the Boss's Son.
Biggest surprise for me was LARS. Lars Sullivan occupied the #3 position thanks to his brutal attack on Chad Gable, R-Truth, and the Singh Bros. He was followed by the women, who are in the midst of a resetting process but came in at #4, #5, #6, and #8. I think the Becky Lynch Fatigue is a real thing (article coming soon?), but the focus is there.
I am sad for Aleister Black bringing up the rear, as he is such a talented performer shifted to Smackdown because of someone else's relationship. Let's boost that video up now!
What did the YouTube results for this week tell you?