Should New Japan's Next UK Show Be At Wembley Arena?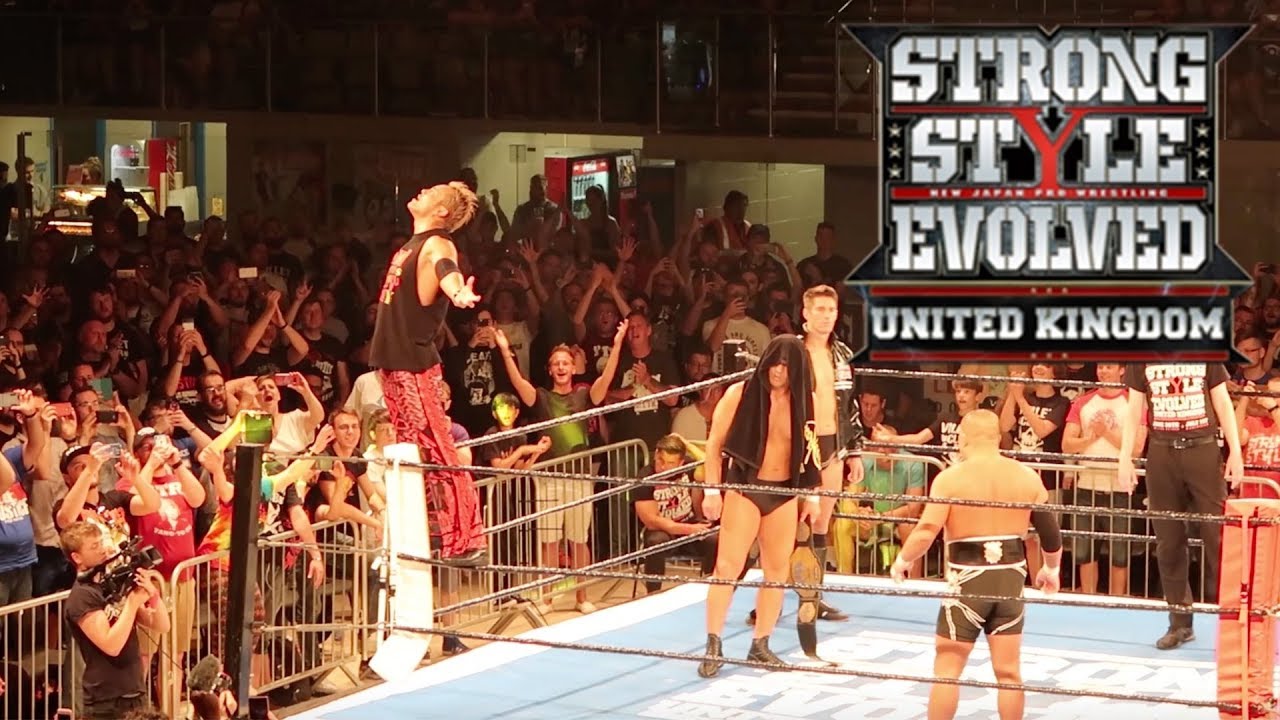 After watching an incredibly successful and entertaining PROGRESS Wrestling Wembley Arena show that drew a reported 4,750 fans. I'd like to discuss the viability of New Japan running that same arena next year, on the back of a successful Strong Style Evolved UK tour earlier this year.  
Strong Style Evolved UK Success
Let's start with the success of the Strong Style Evolved UK tour. New Japan ran two shows earlier this year in the UK. One at the Planet Ice Arena in Milton Keynes drawing 2,500 fans and another at the Altrincham Ice Dome drawing 3,000. Both were reported as sell outs on the day. What's interesting about the success of these shows is that only a third of New Japan's roster was available. They had CEOxNJPW, ROH Best in the World and this Strong Style Evolved UK tour all at the same time. This meant that the UK tour was largely headlined by Suzuki-Gun (Minori Suzuki, ZSJ, Taichi etc.) and CHAOS (Okada, Ishii, Jay White, Ospreay etc.) talent. Only Kazuchika Okada out of New Japan's 'big four' was present as Kenny Omega, Tetsuya Naito and Hiroshi Tanahashi were at the other shows. An easy conclusion to reach would be that New Japan were able to draw 4,500+ fans with a third of their roster, surely if they brought their whole roster, they could have increased success? I think there is definitely some truth to that, however it's worth mentioning that the majority of the tickets sold were prior to any talent announcements. So, many of those buying tickets (myself included as I attended the Manchester show) did so because it was the first New Japan tour of the UK, opposed to it being to do with any announced talent or match card. That being said, as someone who attended one of the shows and kept my eye on the social media feedback of the show/s. I didn't see many complaints at all, it all seemed to be very positive. Especially at the shows, the feedback on the VODs is a different matter entirely. I think this is an important point that fans who bought their tickets weren't disappointed with the lack of certain stars not being on the card. It speaks volumes to the depth of the New Japan roster and how great the partnership with RPW has been, which leads me to a great segue onto my next point of discussion.
Partnership with Rev Pro
In my opinion Revolution Pro Wrestling's partnership with New Japan Pro Wrestling has proven to be a great success so far for both parties. I really can't praise RPW enough for how they've provided some absolute dream matches between the New Japan wrestlers and the indie talent not just from the UK, but from all around the world. They've also played a massive part in growing the New Japan brand in the UK. Whether that be through the frequent booking of talents such as Minoru Suzuki and Tomohiro Ishii or the sale of merch (be it at their shows or online). The consistent booking of New Japan wrestlers by RPW for their big shows has been such an important ingredient in allowing those outside of New Japan's 'big four' to become draws in the UK.  it's why despite having Okada on the SSE UK tour facing off against Zack Sabre Jr, Suzuki vs Ishii was the main event for their highest attended show competing for the RPW British Heavyweight Championship respectively. Another important factor of this relationship is how RPW helped produce the Strong Style Evolved UK shows, this includes handling the stage setup, arenas and the recording of the overall event. Which brings us onto the last point of discussion. What's next?
Wembley Arena or UK Tour?
I think the first thing we have to ask is, could New Japan run Wembley Arena? As referenced earlier, PROGRESS Wrestling ran the arena and drew 4,750 fans. New Japan drew 4,500 fans across two shows in the UK. Could they draw more than that if they brought their whole roster over to the UK for a big show? It is my belief that they could. What I think they would need to do is confirm who is attending the show ahead of ticket sales, I think that would definitely create a lot of hype around this show.
The biggest question I think that should be asked is, should they? Should they run Wembley Arena or should they do another tour of the UK, only perhaps add a few more dates? Personally, it was very nice being able to attend the Manchester show and not have to travel down to London (the typical place for big RPW shows) for once. Another thing worth thinking about is, I have some friends that are in different parts of the UK, let's say Wales or Scotland. They couldn't make the shows in Milton Keynes or Manchester, so they definitely wouldn't be able to make a Wembley Arena show in London. Perhaps there is more value in running more shows across the UK as part of a tour, opposed to running one big show? I think it's important to weigh up the pros and cons. If they did a tour, more fans across the UK could attend shows closer to their home, they could run similar sized venues as they did for the SSE UK tour. The negative side of this is having to put match cards together for each event, which leads to opinions on who is getting the better show. We experienced this for the SSE UK tour where a lot of fans enjoyed the Milton Keynes show, but felt as though the Manchester one was definitely the better card with big singles matches. This is something New Japan and Rev Pro would have to be careful about. However, it does mean that more people up and down the country will have a chance to see New Japan live in person, that's never a bad thing!
So, should they run Wembley Arena instead? In my opinion I think they should. The positives for me of running this show are that the UK will get a proper super show featuring all the New Japan talent under one roof. That's something we just haven't had yet. I also think they have a great opportunity to do some incredible numbers attendance-wise. I look at TNA's record attendance and it was at Wembley Arena with 8,000+. Granted, the promotion was on UK TV via Challenge, but us Brits love pro wrestling. We've demonstrated our hunger for the New Japan product with two sold out shows and I do believe people would travel for one big show especially if it meant being a part of something special. There's also a chance that New Japan could get some mainstream UK attention in the press if the show looks like it is going to be a success. I know PROGRESS Wrestling's recent show got a lot of coverage online from sources that don't usually bother with pro wrestling outside of WWE, this includes Sky Sports, Mirror, SportsBible and Daily Star to name but a few.
All in all, I'd argue running a Wembley Arena show could have a greater impact on New Japan's reach as a product. It would also help keep their forward momentum of an ever-growing promotion alongside the MSG show Stateside. I can honestly say doing either would be a positive thing, but I believe there to be more potential value in having one big show. Whatever happens next year, I'm looking forward to attending and being entertained by the New Japan stars as per usual!
What are your thoughts? Do you have a preference? If you're in the UK, would you prefer a New Japan closer to you or one big show that brings fans from all over the country together? Let us know via social media or in the comments section!