Smark To Death: Kid Kash Interview
The Smark to Death boys chat with 30 year wrestling veteran Kid Kash: Former ECW TV Champion, TNA X-Division Champion, NWA-TNA Tag Champ, and WWE Cruiserweight Champion. Listen to him talk about his first match, meeting Paul Heyman for the first time, and more in this story packed interview.
Support Our Podcast –
Tip Jar – https://digitaltipjar.com/smarktodeath
Merchandise – prowrestlingtees.com/smarktodeath
Sponsor – patreon.com/smarktodeath
Listen to the full podcast on this channel or using a link below!
Spotify – https://buff.ly/2KHmxgn
PodBean – https://buff.ly/2AXwSFl
iTunes – https://buff.ly/2GHwOes
Follow Smark to Death on Social Media –
Twitter – https://www.twitter.com/smarktodeath
Instagram – https://www.Instagram.com/smarktodeath
Facebook – https://www.facebook.com/smarktodeath
Also on –
YouTube – Youtube.com/smarktodeath
Twitch – https://www.twitch.tv/smarktodeath
Mixer – https://www.mixer.com/smarktodeathpodcast
Periscope – https://www.periscope.tv/smarktodeath
Special Thanks to our Patrons
Brandon McKinney
Natalie Evans
Papa Suter
Robert Jackson
Talkamania
720 Wrestling
Warren Hayes
Zach Humphrey
Kevin Sydow
Cameron Curry
Kelley Parker
Richard Sandoval
Produced by Charis Dillon – charisdillon.com
Skull smashing opinion, analysis, news and reviews for pro wrestling, sports and more go to… THECHAIRSHOT.com #CSPN @ChairshotRadio @theCHAIRSHOTcom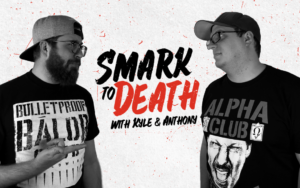 POD is WAR: An Evening Under The Ring
The Chairshot, brings you THE podcast that will absolutely have you questioning everything you thought you knew about professional wrestling, POD is WAR #PiW. Join Christopher Platt @therealcplatt and Andrew Balaz @IWCWarChief as they battle it out for intelectual superiority in sports and entertainment! Special guest host Aesop Mitchell joins the show. On this weeks episode…
– Boombox Brock #MITB
– WWE 24/7 Title
– Seth And Becky Sitting In A Tree…
– AEW Double Or Nothing
– Aesop's BCW Return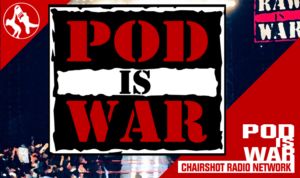 For the latest, greatest and up to datest in breaking news, opinions, and podcasts ALWAYS #UseYourHead and visit TheCharishot.com
Driving With DeMarco: What We Can Learn From Lacey Evans
Best character in all of WWE today!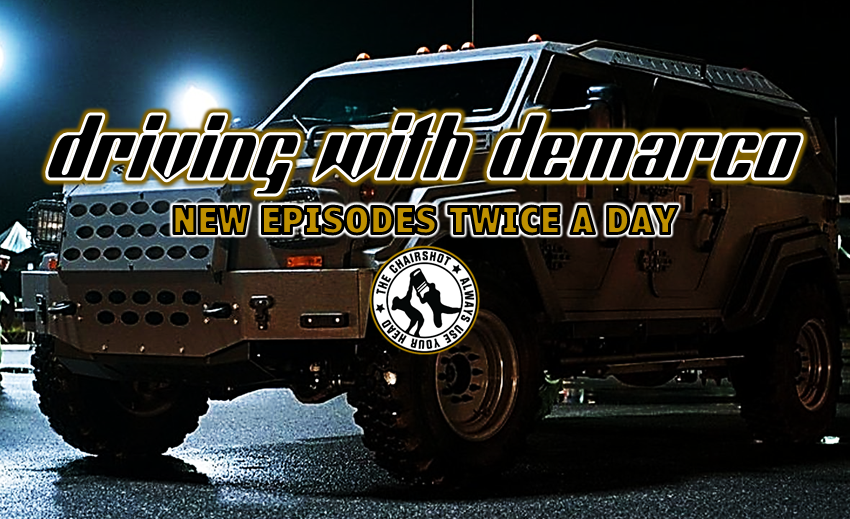 Greg DeMarco welcomes you along for the work commute on another edition of Driving With DeMarco! This morning Greg discusses the amazing character performance being given by Lacey Evans.
Greg DeMarco invites you along his morning and afternoon commute twice each day (weekday) on Driving With DeMarco! Greg tackles an exciting topic in the world of professional wrestling in his unique solo style, usually in 15ish minutes. Plus Greg interacts with traffic, the GPS lady, and more!
Listen, engage, and enjoy…Driving With DeMarco!
---
Listen to the new episodes as soon as they are released on Anchor!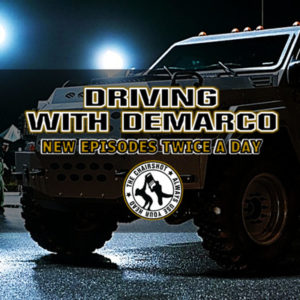 ---
Elisa looks great in her Chairshot gear.
You can, too!
Be like Elisa and get yours at:
https://www.prowrestlingtees.com/related/thechairshot.html