The Good, Bad and Ugly? Post WWE Evolution 2018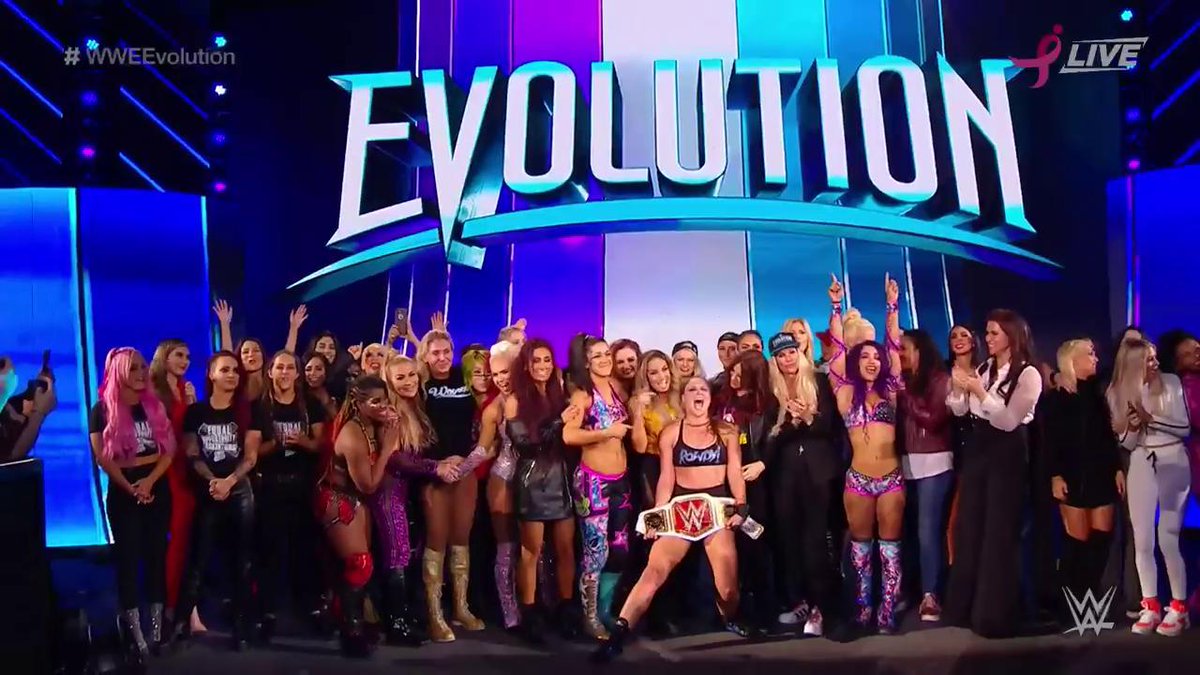 Evolution the first ever all Women's stand alone pay per view for WWE.  Some people felt that there wasn't enough hype.  WWE pulled out all the stops, giving Hall of Famers, WWE and NXT Superstars some action.  No matter what, this event made wrestling history but what side of history did it land on?
 THE GOOD
Battle Royal (20 Women- Future WWE Women's Championship Match):  Okay, it was great to see everyone. It's always enjoyable to see legends!  This was fun, entertaining and delivered its purpose.  Tamina and Nia Jax were great, as well as the impromptu dance off.  Asuka and Ember Moon were on fire!  Although nothing is perfect, we had more good than bad.  It will be interesting to see when and how the victor, The Immovable Object Nia Jax, will use her incredibly valuable opportunity after Evolution.
Raw Women's Championship – Ronda Rousey (c) vs. Nikki Bella:  This was a true main event for Evolution.  Great pace, slow and meaningful.  I loved Ronda Rousey toying with Nikki in the beginning as she is the dominant competitor.  The anger and frustration building in Nikki Bella showed the signs of a true veteran heel.  Nikki's offense was believable and effective.  It was entertaining.  I loved the struggle and the cheap shots by Brie Bella, showing some old school twin magic.  The crowd was into it, and cheered on both athletes.  Even with Rousey's awkward strikes and haphazard throws, the Good outweighed the bad. Nikki Bella literally scratched and clawed with everything she had, even hitting the Rack Attack 2.0, but Rowdy Ronda Rousey proved to be unstoppable and made the decorated former Champion tap.  Congrats to Ronda Rousey on retaining in a huge win.
SmackDown Women's Championship – Becky Lynch (c) vs. Charlotte Flair (Last Woman Standing Match):  This match was good. Becky Lynch looked fantastic, and Charlotte brought her best.  The two leaders of the locker-room beat the hell out of each other.   Becky Lynch was brutal, and wore it well.  They pulled off all of the stops, and brought the house down.  After ingenious violence and creativity, a sick powerbomb off the apron through a table, and nothing left to give, Becky Lynch proved she is the true "Lass Kicker" and retains her precious SmackDown Women's Championship.
NXT Women's Championship – Kairi Sane (c) vs. Shayna Baszler:  Coming into this match I had very high hopes. Shayna Baszler is my favorite female competitor in wrestling currently, and Kairi Sane is a pleasure to be able to watch in the ring.  Spectacle vs Grit, this match has a ton of momentum.  It doesn't have to live up to the WWE standards but even more so the high NXT expectations.   I would say that they delivered in full.  Shayna Baszler is just a pure heel.  The match was vicious and violent.  The crowd gasp many times.  They laid it all on the line, a true championship caliber matchup worthy of Evolution.  Although it was a cheap victory for the New NXT Women's Champion Shayna Baszler, the match was on point!  Congrats to both competitor's on a great showing!
2018 Mae Young Classic Final – Io Shirai vs. Toni Storm: Respect all around, these two Finalist were picture perfect. They had "it" and it showed.  Great pace, psychology, innovation and focus.  The momentum went back and forth, both telling their great stories.  Io Shirai is a maniac and I love it!  Toni Storm pulls off a hard fought victory.  These two cannot be seen enough, and if tonight has taught us anything at 22 years old Toni Storm has a long career of greatness ahead of her.  Fantastic Match!
Sasha Banks, Bayley & Natalya vs. The Riott Squad: It is always great to see Bayley! Oozing positivity and disappointing when she isn't involved.  I also am a huge Riott Squad fan too.  As stated the talent is abundant and innovative.  Sasha Banks stunned out there.  A crazy double sharpshooter by defied all logic.  Then with everything going their way, and a hot finish, Sasha Banks hits the frog splash for the hard fought victory.    
THE BAD
Trish Stratus & Lita vs. Alicia Fox & Mickie James: The sold out crowd went absolutely crazy for Trish and Lita right off the bat, eating up all of the Hall of Fame Glory. It was a special moment, and hellfire way to start the historic night.  Although some rust showed for Lita and Trish Status, they looked good and the crowd was into it.  Alicia Fox and Mickie James did their part and kept up with the "stars" of the show.  There were some good moments and some hard to watch moments, truly not a great match, but it is tough to do something like Pro Wresting after being out of it for a long time.  After it all the rust and awkward pauses the crowd pleasers win, Trish Stratus and Lita!
THE UGLY
Somethings are just too pretty to be ugly.  WWE's Evolution was gorgeous, and rare.
Overall this was a successful spotlight of Women's Wrestling, and a joy to watch as a fan.  They Superstars delivered and gave us a hell of a show.  I enjoyed the energy, the action, and the tremendous pride and respect shown.  Great Show!  Please like, comment share!  See you all on the next one, the boys have some catching up to do!