The Good, Bad and Ugly Post Super Showdown 2018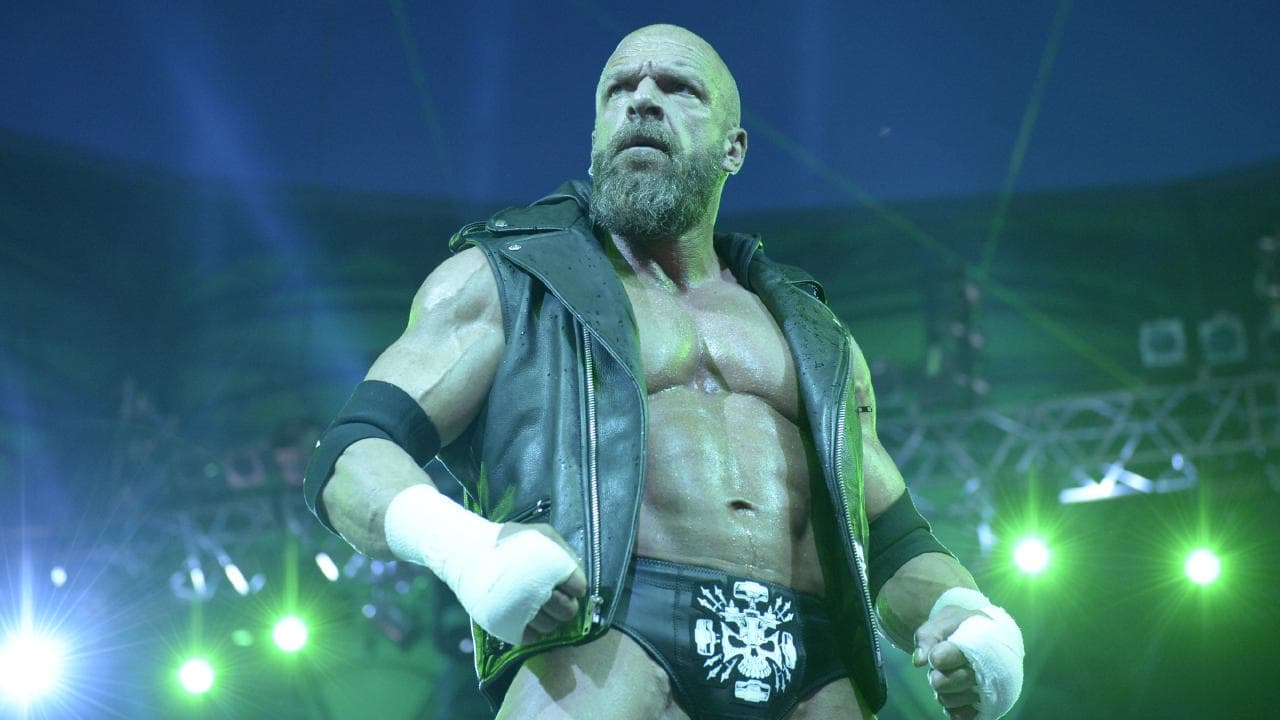 Wow what a night (morning)!  Here are the Good, Bad and Ugly from WWE Super Showdown, from The Land Down Under.
THE GOOD
SmackDown Tag Team Championship– New Day (c) vs. The Bar 
This match delivered on all accounts, as The Bar is such a strong team.  New Day got flattened as a pancake most of the match, but both teams looked great.  Although probably an afterthought later in the night, the two teams did their parts to open the night with a bang!  New Day Rocked and retained after a great showing.
WWE Championship– AJ Styles (c) vs. Samoa Joe (No DQ or Countout)
When I am wrong, I am really wrong.  This was a fantastic showcase of excellence.  The match was insane on all accounts.  AJ Styles was a different person tonight, and they sold this intense rivalry all the way to the end.  Samoa Joe's skills were on point, selling his pain, and ultimately losing to AJ Styles via Submission.  A great match and in my opinion, the match of the night!
Ronda Rousey & The Bella Twins vs. The Riott Squad
Ronda Rousey just can't lose, and she didn't tonight!  I enjoyed the dissension between Nikki Bella and Ronda Rousey, and cannot wait to see where that will go.  The Riott Squad looked amazing, and the talent there has so much potential, I really hope to see a lot more them in big storylines. The story of the match and maybe the night though is Liv Morgan. Liv Morgan was on fire, she looked better than I have ever seen her work before, doing some great moves, and had an intensity about her.  Congrats to Ronda Rousey and The Bella's on their hard fought victory against more than admirable opponents.
Cruiserweight Championship– Cedric Alexander (c) vs. Buddy Murphy
This match stole the show, it really made everyone wake up.  The crowd was on fire, the announcing (Corey Graves) showcased the over the top talent and match we were watching.  Buddy Murphy is so much more talented than I could have ever imagined, and it was a pleasure to see him awaken the way he has recently.  I was on the edge of my seat and never wanted it to end, it sucked me in, and won me over.  Buddy Murphy to the roar of "Buddy" win the Cruiserweight Championship.
The Shield vs. Braun Strowman, Dolph Ziggler & Drew McIntyre
I had high expectations for this rivalry, and tonight was not a disappointment.  The Heel Group of Strowman, Ziggler, and McIntyre punished and destroyed Seth Rollins, who was beaten repeatedly away from his Shield brothers.  This match was traditional as Ziggler did his job driving Ambrose and Reigns crazy the whole match.  Although The Shield won in a predictable fashion, I will not take away from this action packed, incredible match, which showcased the best of the best (according to WWE), and it shows.  I hope we see a ton more of Braun, Dolph and Drew McIntyre, as I absolutely love their stable, and feel the sky is the limit!
The Game HHH vs. The Undertaker
Before I say this is Good.  This match was long, had no context, disappointed in almost every way.  It ended up being a set up to a tag match at a later date which will include Kane/Undertaker vs HHH/HBK.  All things I hate about a Mega Main Event.  Now why is it Good then?  It was good because Undertaker and HHH are Legends, who still got it!  Kicking out of the two combatants signature moves, and the back and forth brutality shined.  I felt like I was watching the great "attitude era" and my younger self was screaming the whole time how awesome this was.  It was a spectacle, and delivered.  Shawn Michaels played an integral role at the end of the night and HHH gets the victory.  I hope that we see more of this as it was fun all around to see such legends.
THE BAD
SmackDown Women's Championship– Becky Lynch (c) vs. Charlotte Flair
I was greatly excited for this match as I would assume most of you were.  Becky Lynch was vicious, and didn't let Charlotte Flair get a moment before just brutalizing the challenger.  A lot of near falls, and the pace was incredible.  How do you ruin a great match on a PPV?  A DQ.   Becky Lynch keeps the gold but Charlotte picks up a victory.
Asuka & Naomi vs. The IIconics
The match itself was nothing good.  In fact moments were awkward, and the pace was exhausting. The save sake if any was that this was meant to be The IIconics Homecoming, and it was!  The crowd loves them, and I can see why.  I think of this as just the beginning to some big things for these two "IIcons".  Not to mention Kay and Royce picked up a huge win against extremely established stars on a huge show.
THE UGLY
John Cena & Bobby Lashley vs. Kevin Owens & Elias
This Match was just pointless, it made the event almost seem House Show like, which is as far from what a Super Show-Down should feel like.  Cena was doing his thing which as always got a reaction, but when a post-match promo is the highlight of your spot on a card, that is an ugly place to be.
Daniel Bryan vs. The Miz (No. 1 Contendership)
What a waste of time, this was a completely disrespectful attribute to The Miz.  I cannot wait to see Daniel Bryan and AJ Styles feud but after all of the buildup, to have a crap match like that is just insulting.  This could have been great but it was simply ugly.  Daniel Bryan squashes Miz.
So there we have it, we came, we saw, we loved it, we hated it, on to the next one!  Bravo WWE, most of us will keep watching!
---
Always Use Your Head and visit the official Pro Wrestling Tees store for The Chairshot All t-shirt proceeds help support the advancement of your favorite hard-hitting wrestling website, The Chairshot!

---
Levin's SmackDown Live Review (10/16/18)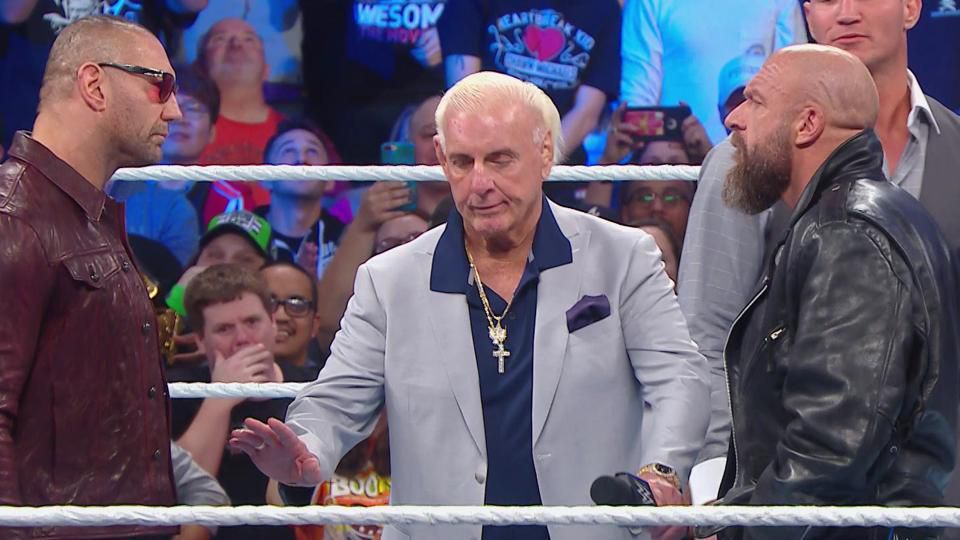 After watching parts (thank you Comcast) of SmackDown Live's 1,000th show, it is clear to me the company may not be done promoting matches in the future that feature stars of the past.
While I was not able to witness the entire show, the parts I did see left me thinking (out loud) whether WWE's commitment to showcasing part-time performers is truly worth the battle? Does the fan base gain anything from seeing older rivalries renewed? Do the current stars on the roster feel slighted in the least by having to share time with restructured programming?
The reunion of Evolution may be the reopening of Pandora's Box. The confrontation between Batista and Triple H could once again lead to a confrontation in the ring potentially at the Royal Rumble or as an addition to the card at WrestleMania 35. The back and forth between "The Animal" and the "King of Kings" was expected once Randy Orton spewed his venom about Batista leaving the company to pursue acting.
That's part of the script we all expected. The confrontation and vibe given off as Batista and Triple H "hugged it out" may have been part of the spot, but there are some undertones the company might want to save for another time and date. The use of veterans who have reemerged of late – with Undertaker and Trips in Australia and a tag team match between 'Taker and Kane and DX (Triple H and Shawn Michaels) may be great on paper, but it is also a hard sell since the announcers have downplayed Michaels' return to the ring.
Does a Batista-Triple H return match do anything for you? Are you entertained enough to think it is worth a long storyline? Batista has teased a return to the ring, much like The Rock has commented on social media how he cannot wait to get back to the company that made him a millionaire many times over. History tells us certain feuds stand the test of generational gaps.
Triple H and Undertaker is one. The Rock and Steve Austin – if it ever happened – is another. Given that both performers are still in amazing shape this advanced in their careers, is there any reason to think a match wouldn't sell? Probably not. Finding the right place and time to sell it is the key to its success. SmackDown Live has done such a phenomenal job of using two hours of "wrestling" effectively and has clearly become the "go to" program on WWE's circuit. Making sure this match gets the proper attention without sacrificing other wrestlers or programs is key.
I suspect the talk of a WWE "reunion" with Batista and Triple H will heat up in the next few weeks. A match looming in the coming year is almost as easy to predict as The Rock and Roman Reigns in a "match for the ages." The problem is the heat each wrestler brings must match the in-ring performance. We all know Triple H can carry his end of the deal. It remains to be seen if Batista, who has been off in Hollywood making movies, can do the same thing.
As a fan, I sure hope he can.
---
Always Use Your Head and visit the official Pro Wrestling Tees store for The Chairshot All t-shirt proceeds help support the advancement of your favorite hard-hitting wrestling website, The Chairshot!

---
WWE Evolution and Crown Jewel: Two Sides Of The Same Coin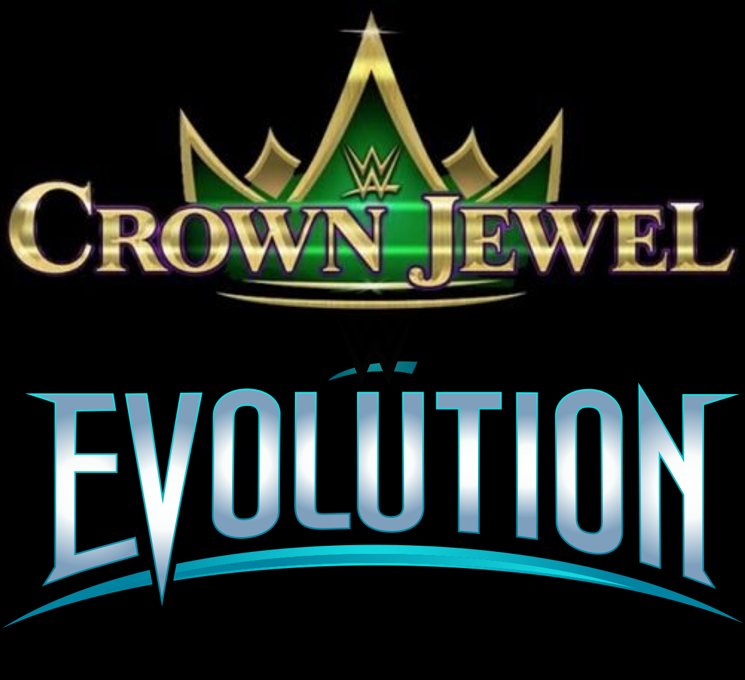 Juan Carlos Reneo takes a look at the differences–and also the similarities–of WWE Crown Jewel and WWE Evolution.
The next two PPVs that WWE will produce are very interesting by themselves. Crown Jewel has become a PR nightmare of WWE because of the latest news related to Saudi Arabia. Meanwhile Evolution, a show a lot of people are hopping to see, has become in a way ''celebration'' of women's wrestling. Interesting enough these two shows are close to one another, making it bizarre for WWE by having praise for making evolution and a lot of bad publicity because of Crown Jewel.
In paper the WWE-Saudi Arabia deal, receiving from 450 to 500 million dollars for a 10-year deal look great but the deal had its main problem which was Saudi Arabia's treatment on women and LGBTQ community, two communities in which WWE represents with campaigns and events. Crown Jewel as of this moment will still be celebrated despite the media and even senators of the United Stated pressuring WWE to cancel the show because of recent events. Vince McMahon who is known as stubborn man has his plan to go to Saudi Arabia and do Crown Jewel even if people and wrestlers of WWE like it or not.
Evolution at first looked like an apology PPV given to the female roster for not being able to compete in Saudi Arabia because of the laws of the country. When we first heard of Evolution people (I include myself) were excited for the concept of this PPV and a way to give the spotlight to the great female roster WWE has right now. But all the excitement and focus of Evolution went away when WWE announced the show Crown Jewel that would be celebrated only 5 days later and making Evolution into ''look we are progressive now but in 5 days we are not progressive anymore''. Evolution now has become a bad apology for WWE making a deal with a country that is not fan to put it in nice words of the LGBTQ community and women despite they stating they are making cultural changes which in most cases is not true.
Timing has not been a friend of WWE lately, with first the idea of Evolution and Crown Jewel being only a few days apart and seeing the current events that happened. The hashtag #CancelCrownJewel has become very popular in the last coupe of days, but will this pressure cancel the show? When fans pointed out to WWE and Snickers why WWE shouldn't name a battle royal after the wrestling legend Moolah, it was the right thing to do so there is a record of WWE doing the right thing in recent history.
We also must see the legal nightmare for WWE if they decide to cancel the Crown Jewel show. WWE and Saudi Arabia would enter a tenacious legal battle that most likely would see Saudi Arabia standing tall over WWE. The promotion of Vince McMahon is a corner right now that they were destined to be in from the moment they decided to accept the deal with Saudi Arabia.
Will WWE do the right thing? The best answer I could give to anyone who asked me this question is most likely not, in WWE money speaks over moral integrity, which for all of us fans and followers of the product of WWE should not be a surprised.
---
Always Use Your Head and visit the official Pro Wrestling Tees store for The Chairshot All t-shirt proceeds help support the advancement of your favorite hard-hitting wrestling website, The Chairshot!

---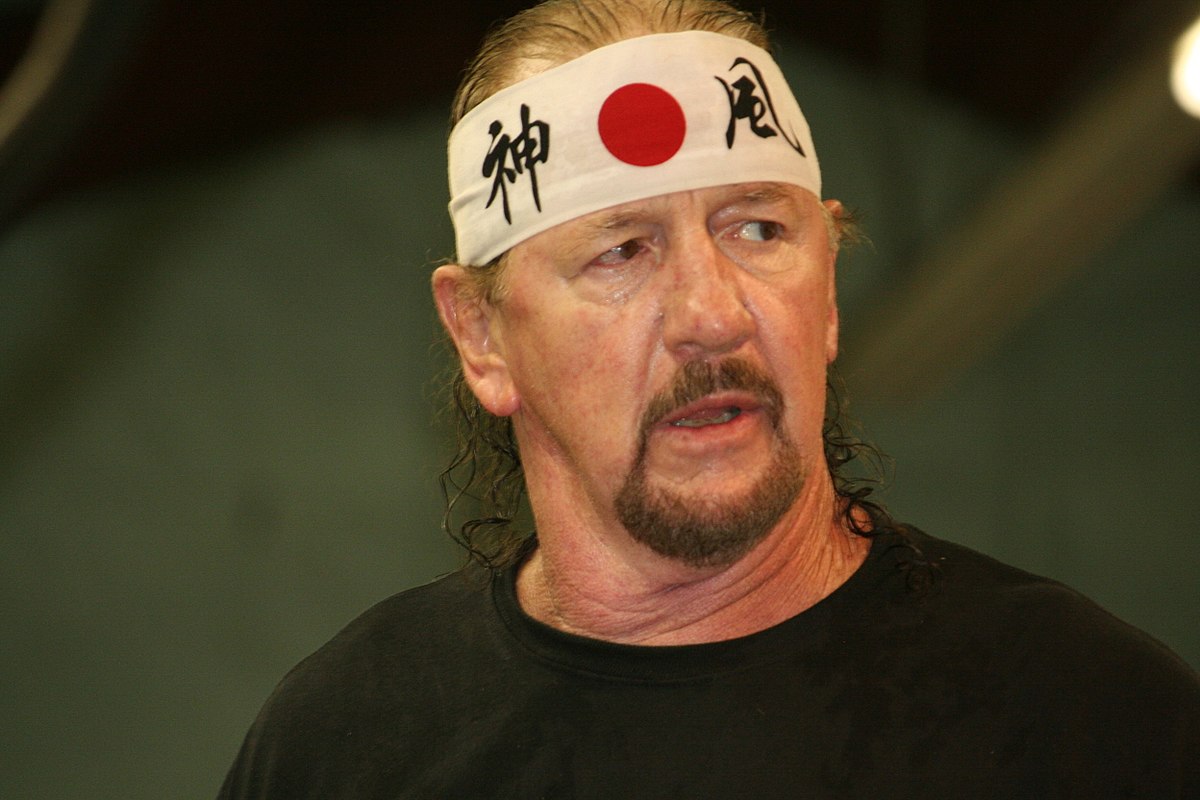 A couple of weeks ago, I suggested that WWE could use this time of year, where business is traditionally down anyway, to try some things they hadn't done before. They've gone a different direction. WWE is bringing back every legend & part-timer they can find to try & get some attention from a public more interested in the NFL, NBA rumors, the new TV season, Kanye West & almost anything else going on.
We've got Shawn Michaels coming back to team with Triple H against Undertaker & Kane for that sweet Saudi blood money. Trish Stratus & Lita have come back to take on their old rival Mickie James & her good friend Alexa Bliss, who honestly is just lucky she has the promo ability to be involved at this point. Brock Lesnar is hanging around because the price is right, along with John Cena finishing people off with the SIXTH MOVE OF DOOM.
I mean, it's a strategy. It's not one that I find particularly entertaining, but WWE has found success with it in the past. And let's be honest, it's one that the fans endorse every year with their money, their cheers & their chants. Every year at the Hall of Fame ceremony, there's thousands of fans breaking into speeches with "ONE MORE MATCH". Why wouldn't WWE listen to these people that paid way too much money to sit in an arena & watch speeches? It makes perfect sense. People don't care about the current WWE Superstars. They want to see the guys & gals from their childhood. WWE will bring the ones that are available.
But let's not single WWE out here. Every wrestling promoter that has ever run a show has attempted to draw money from nostalgia at some point. Most indie feds book old WWE guys to draw a house. Once somebody appears on that television, there's a certain recognizability factor that can get them booked for years after Vince lets them go.
Here are the Top 5 Old Wrestlers.
5. Ric Flair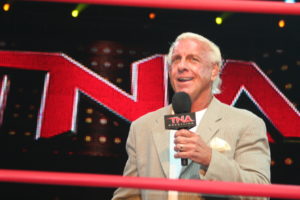 Ric was 40 years old during what many consider to be his peak in-ring performance year, 1989. He was a wily veteran throughout WCW's entire existence. He was supposed to be the guy that passed the torch, and he did on multiple occasions. Somehow, it always ended up back in his hands. It wasn't his fault that nobody could carry it the way he did.
The culture of WCW wore on Flair, and towards the end of the company's existence it seemed like he was near the end of his in-ring career. WWE breathed new life into him, and he had many more years of wily veteran left in him. He was just under 60 when he had his last WWE match, and just over 60 when he had his last wrestling match. He'd still be wrestling today if somebody would let him.
4. Jerry Lawler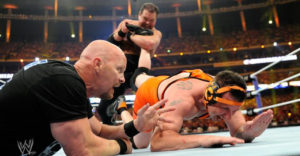 The King was never the best-looking athlete, but he was always a master of psychology. He knew what the people wanted to see, and the right time to give it to them. He knew the time & place where he needed to be the chickenshit heel, and where he needed to be the babyface that got beat up and then dropped the strap. He also threw one of the best punches in the business.
Even though Lawler is more remembered as a commentator than as a wrestler in WWE, he could always go into the ring when the time called for it. He was over the age of 60 when he was feuding with The Miz & challenging for the WWE Championship, and having the best matches of Miz's title run. A heart attack ended Lawler's WWE in-ring career, but he still competes on the indy circuit occasionally because it's what he knows & loves. Asking him to retire would be lunacy.
3. Minoru Suzuki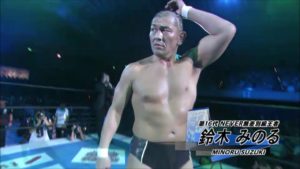 Suzuki hasn't been around as long as the other people on this list. He's only 50 right now. But I feel like if you had the term "old wrestler" or "grizzled veteran" in an encyclopedia, this man's picture would be next to it. He just looks like the kind of guy that represents the old school and would slap you if you didn't respect the business.
Suzuki is known as a co-founder of Pancrase, where he met most of the old-school MMA legends in the ring. Ken Shamrock, Bas Rutten, Frank Shamrock & Masakatsu Funaki were some of the names. He even met Jushin Thunder Liger in an MMA match. He eventually made his way to pro wrestling, first in All Japan & then in New Japan where he formed the Suzuki-gun faction. I figure if he asks you to join his faction, you pretty much have to out of fear.
2. Terry Funk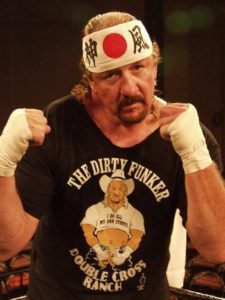 As the Funker got older, he got crazier. Funk was already a legend when he arrived in WCW in 1989 at the age of 45 to feud with Ric Flair. Once he got done with that legendary piece of business, he decided he needed to get hardcore in order to get with the times. He did deathmatches in Japan with some dude named Cactus Jack. He did moonsaults off the top rope. He became the patron saint of Extreme Championship Wrestling.
Terry & his brother Dory Funk Jr. were an interesting pair. Dory never changed through the years. He always worked the same style throughout his entire career, which I'm pretty sure is still ongoing. Terry constantly changed. He always wanted to fit in with what was going on at the time. He was middle aged & crazy, and despite announcers' claims to the contrary, he was the toughest SOB in the business. When you're tough, you can go on a lot longer than people expect.
Honorable Mention: Mae Young
Mae didn't exactly have classic matches in her advanced years, but good luck finding a tougher old broad that ever set foot in the ring. Her willingness to take any bump & do any silly thing the writers could think of made her a staple of the WWF Attitude Era at an age where most wrestlers aren't even alive.
1. Nick Bockwinkel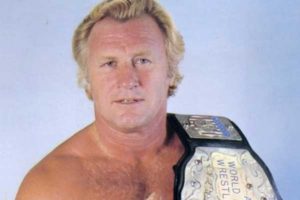 One of the criticisms of Verne Gagne's AWA was the fact that he stuck with the same guys on top forever. Longtime stars like Crusher, Baron von Raschke & Verne himself were in top spots on the card years after they should have been. When fans were looking for something new during the 1980s, all the AWA had for most of the decade were the guys that stuck around.
Bockwinkel was a good example of the AWA's tendency to push guys forever. When Verne didn't have the AWA Championship, it was usually Nick that had it. Sometimes it worked, sometimes it led to backlashes that made Jeff Jarrett seem like a popular NWA Champion. However, the difference between Nicholas & the others previously listed was simple: the dude could still flat-out go in the ring into his 50s. Most of what people have seen of Bockwinkel's work is from the 1980s, when he was in his late 40s & early 50s. His advanced ring psychology & technical wrestling skills made him seem ageless. His 60 minute draw with Curt Hennig in Las Vegas at the end of 1986, when Bockwinkel was 52 years old, is the best 60 minute draw I've ever seen. Hennig learned how to work on that night & others like it across the ring from Bockwinkel, and eventually became Perfect as a result.
Most of the people on this list evolved as they got older. Nick Bockwinkel was an evolved gentleman from the beginning.
---
Always Use Your Head and visit the official Pro Wrestling Tees store for The Chairshot All t-shirt proceeds help support the advancement of your favorite hard-hitting wrestling website, The Chairshot!

---