Top 5 Matches: Week Ending 10/14/2018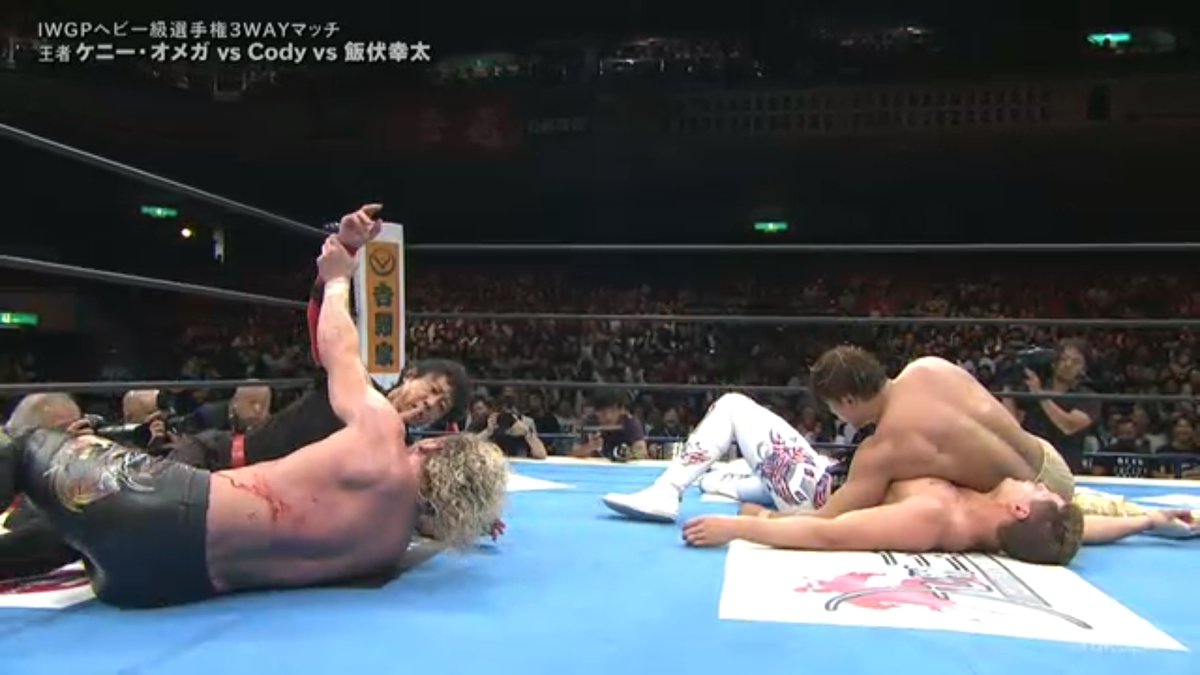 Well in a weekend of cray matches, crazy football games and overall crazy entertainment, this isn't a very WWE friendly list.
Before we get to the Top 5 Matches, we need to go over the two votes we had last week. Firstly, our September winner:
January – NXT Takeover Philly: Johnny Gargano vs Andrade Almas
February – New Beginning in Osaka: Kazuchika Okada vs SANADA
March – Strong Style Evolved: Golden Lovers vs Young Bucks
April NXT Takeover NOLA: Andrade Almas vs Aleister Black
May – WWE Backlash: Seth Rollins vs The Miz
June – NJPW Dominion: Kazuchika Okada vs Kenny Omega
July – G1 Climax 28: Hirooki Goto vs Tomohiro Ishii
August – G1 Climax 28 Finals: Hiroshi Tanahashi vs Kota Ibushi
September – All In NWA Championship Match: Cody vs Nick Aldis (c)
It's not the kind of match the IWC usually goes crazy for, but this proves that good story telling and emotional investment still leave an impression on people. As for last week, that's more par for the IWC course. WWE Super Show-Down Cruiserweight Title Match: Cedric Alexander (c) vs Buddy Murphy, got most of the votes last week.
Now that we see what the MOTY pool is shaping up to be, let's see what else joins the Cruiserweight match.
5. NJPW King of Pro Wrestling IWGP Heavyweight Championship Triple Threat: Kenny Omega (c) vs Cody vs Kota Ibushi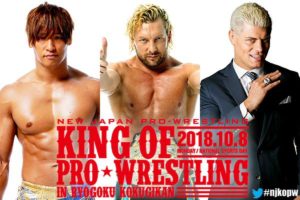 Only the third IWGP Heavyweight Triple Threat, and I suppose it doesn't have a high bar to live up to. The first was effectively a match just to make Brock Lesnar look like a beast in 2005. The second was at ROH War of the Worlds in 2014, and…well…we don't speak of that. So yeah, low bar, so if they all have a mediocre match, it'll still be the best Triple Threat in the history of the IWGP Championship.
To be succinct, Omega was right in his post match promo. It was a little bit of a Cody match, Ibushi match and Omega match…but that also made the pacing a little awkward. It was mostly a formulaic WWE style of Triple Threat where one person gets dumped out and two focus on each other for a few minutes and then, switch.
It had some flashy spots, like Cody going through the announce table. Also a nice subtle statement from Cody during the match was interesting, when he said, "I'm your friend too! Help me too!". Omega's bias was an interesting underlying theme in the match.
As a match, it was pretty good, it felt weird given it was in New Japan and Ibushi sold more frustration and emotional struggle than Kenny once again. The fact Kenny doesn't think twice about landing moves on Ibushi and then tries to put him over in the post match promo, just makes this whole relationship feel like Stockholm Syndrome.
I'm not going into moves, but the match is fine, if you aren't a puro purist, you'll probably be okay with it. But the match wasn't a classic that will last more than the next couple months in most memories.
Winner: Omega via One Winged Angel (on Ibushi)
Rating: **** 1/4
4. Impact Bound For Glory Knockout's Title Match: Tessa Blanchard (c) vs Taya Valkyrie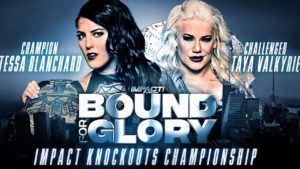 There's not really much else to lead into this then: They both are alpha females, they kick ass…so let's see who wins this.
Hard hitting from both and they had pretty solid chemistry together. We saw from both women they can wrestle any style needed, while staying resilient and imposing.
Tessa hits the Buzzsaw DDT, but Taya manages to kick out to Tessa's surprise. Taya then rocks Tessa pretty hard, so Tessa tries to powder out and grabs the ring skirt. When Taya drags her back in, Tessa drags the skirt with her and the ref goes to readjust the ring. Taya hits Road to Valhalla during the distracted referee moment, and him being out of position allows Tessa enough time to kick out.
We see Tessa get to the top rope and leaps about halfway across the ring to hit Taya with Magnum. Finally picking up the pinfall and retaining her championship.
Yes I gave a very abridged edition, but that's mainly because you should watch this. Many writers, reviewers and casual fans shit on women's wrestling, but these two women are special. We've seen them both go up against men and more than hold their own, and they prove that when they have time, they know how to put on solid matches.
Winner: Tessa via Magnum
Rating: **** 1/2
3. Impact Bound for Glory World Heavyweight Championship Match: Austin Aries (c) vs Johnny Impact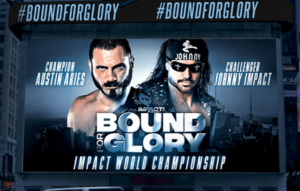 Well this match certainly got personal all of a sudden. Aries basically calling out the hypocrisy of 'short jokes' still being acceptable when other genetic short comings, difference or handicaps are seen as taboo, got blown way out of proportion. Yes he worded his stance in a harsh way, but that also proved exactly what he meant. So ya, worked shoots, shoot Tweets and TMZ made this an interesting build.
The match started off like a shoot. Both men were posturing and attacking like they were trying to expose the other instead of work a match. If that was intentional, very good, cause I know the group of people I was watching with couldn't tell where the truth and lie blurred.
Either way we had a lot of jawing back and forth between the Hennigans and Aries, and we even got both men to grab the ropes after each one's finishers. So obviously they were working together enough, and I'd be lying if it didn't add a nice layer to the match. Hell there was even an early spot where they were on a narrow side, outside of the ring, Aries charged and Johnny jumped up balancing on the barricade and apron perfectly and then hitting a moonsault/flip kick…something like that, shut up it looked cool.
Unreal @TheRealMorrison! #BFGCOMDA

➡️ https://t.co/2AEuPvrsmg pic.twitter.com/rImIXwLSD9

— TDE Wrestling (@totaldivaseps) October 15, 2018
Aries plays the jaded heel up until the end, even doing a dive to the outside straight on to Taya. Johnny goes right after Aries instead of checking on Taya, lands a brainbuster for rub ins and then one more Starship Pain, for the pinfall.
Nearly immediately after the bell, Aries gets up, effectively no sells the finish, curses at Don Callis and walks up the ramp flipping off the crowd. He could be heated that he was painted as the bad guy when logically his stance made sense. So I'm more interested to see the ramifications or if this is just another case of Aries' ego showing him the door.
Damn good match, finish makes future episodes or news releases from Impact a little more interesting.
Winner: Impact via Starship Pain
Rating: **** 1/2
Honorable Mentions:
NJPW King of Pro Wrestling IWGP Jr Heavyweight Championship Match: Kushida vs Marty Scurll
Winner: Kushida via Back to the Future
Rating: ****
Impact Bound for Glory Concrete Jungle Death Match: OGz vs LAX
Winner: LAX via Street Sweeper
Rating: *** 3/4
Impact Bound For Glory: Rich Swann & Willie Mack vs Matt Sydal & Ethan Page
Winner: Swann via Middle Rope Phoenix Splash
Rating: *** 3/4
AJPW Raising an Army Memorial Series AJPW World Junior Heavyweight Championship Match: Shuji Kondo (c) vs Hikaru Sato
Winner: Kondo via King Kong Lariat
Rating: *** 3/4
Impact Bound For Glory: oVe vs Fenix, Pentagon & Brian Cage
Winner: oVe via 14 Superkicks (pinning Cage)
Rating: *** 3/4
NOAH Global Junior League Final Day Finale: YO-HEY vs Kotaro Suzuki
Winner: Suzuki via Requiem
Rating: *** 1/2
AJPW Raising an Army Memorial Series All Asia Tag Title Match: Takao Omori & Black Menso-re vs Yuma Aoyagi & Naoya Nomura (c)
Winner: Nomura via Maximum
Rating: *** 1/2
ROH Glory by Honor ROH World Title Match: Jay Lethal (c) vs Silas Young
Winner: Lethal via Lethal Injection
Rating: *** 1/2
NJPW King of Pro Wrestling IWGP Jr Tag Team Title Match: El Desperado & Yoshinobu Kanemaru (c) vs Jushin Thunder Liger & Tiger Mask
Winner: Despy via Pinche Loco
Rating: *** 1/4
ROH Glory by Honor 6 Man Tag Title: Young Bucks (c) & Cody vs SoCal Uncensored
Winner: Cody via Crossroads
Rating: *** 1/4
Raw: The Shield vs Dogs of War
Winner: McIntyre via Claymore
Rating: ***
AJPW Raising an Army Memorial Series: Jake Lee vs Yusuke Okada
Winner: Jake via High Angle Back Body Drop
Rating: ***
AJPW Raising an Army Memorial Series: Dylan James & Kotaro Suzuki vs Koji Iwamoto & Ryoji Sai
Winner: James via Chokeslam
Rating: ***
2. NJPW King of Pro Wrestling G1 Briefcase Rights Match: Hiroshi Tanahashi vs Jay White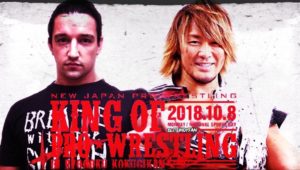 We know the lead in to this. Jay beat Tanahashi during the G1, and because of that, he is granted a shot at claiming the briefcase for himself.  We've seen White become even more of a heel, getting Gedo to turn on Okada and splinter off from Chaos. So will the Ace stay ahead of the young heel Switchblade, or has Switchblade matured enough to overtake the Ace?
Another Tanahashi classic where pacing is important. Unlike his time seconding Okada, Gedo got involved on numerous occasions during the match. Tanahashi took him out at one point which gave White multiple openings. The match is well wrestled and got across both characters. Tanahashi trying to preserve wrestling in his image and complete his comeback tour. Jay playing the foil of the heel that will do literally anything to win.
After two High Fly Flows, Gedo pulls Red Shoes out of the ring. Jay low blows Tanahashi, but Tanahashi returns the favor at some point. Jay introduced the chair, Tanahashi tried to slam Jay on it and then hit one more High Fly Flow, but hits all chair. Jay hits Tanahashi with the chair and then has Gedo go revive Red Shoes.
Just as we think Jay White is going to win with Blade Runner, after soo much cheating, Tanahashi counters it into a Small Package, and picks up the pinfall victory.
Fallout after the match is noteworthy since Gedo and White beat down Tanahashi, Okada comes out to make the save. Jado tries to calm down Okada and then the Bullet Club OGs show up, surround the ring and effectively jump Okada. White joins in and it turns out Gedo, Jado and Jay White are all part of the Firing Squad version of the Bullet Club now.
So it's very much like nWo Wolfpack and Hollywood now, but hey, people like it, so why the hell not?
Winner: Tanahashi via Small Package
Rating: **** 1/2
1. NOAH Global Junior League Final Day GHC Heavyweight Championship Match: Takashi Sugiura (c) vs Katsuhiko Nakajima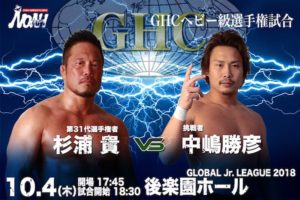 Sugiura has had the best reign of any world champion in 2018. His defenses have all been different and bring out different feelings and layers in not only his opponents but also the crowd. Nakajima had Sugiura's number last time he was champion in 2016, and he's only gotten better. So will the shameless old man hold on, or do we see the cocky Nakajima take it again?
This match was unlike any other match Sugiura's had all year, and I can't even think of a similar one in quite a while. Nakajima outright dominated this match. He played coy, aloof and just straight arrogant. Every time Sugiura tried to hit him, he'd dodge and strike back. This was the classic story of egotistical youngster trying to make the old dog look bad, because he's faster, better, etc.
Sugiura got in a small flurry when he was able to land a Spear off a misdirection move. But then Nakajima established himself as just being five steps ahead. Katsuhiko is known as the Genius of the Kick, and he light up Sugiura. Standing Round Kicks, a flurry of Thrust Kicks to the chest and head in the corner, Soccer Ball kicks to his chest, punting Sugiura's head so well I'm pretty sure Randy Orton blushed somewhere. Nakajima put on a clinic, but Sugiura was mostly resilient.
I say mostly, because there was a moment after the second or third punt to the head, that Sugiura appeared knocked out. Nakajima puts his foot on his chest for the cocky cover, 1-2, and then he lifts his foot off and grins. Nakajima wanted to continue to embarrass the old man, instead of just win the match and be done with it. This would ultimately prove to be his downfall.
Nakajima got progressively more lazy with his kicks. The man has great form, but he was sacrificing torque just to be cute. Sugiura kicks out of the Vertical Spike and eventually puts a little offense together but Nakajima kicks out of the Olympic Slam. One of those lazy kicks finally bites the arrogant genius in the ass, and Sugiura locks in an Ankle Lock. After pulling back into the center of the ring twice, he grapevines the leg, and Nakajima is forced to tap out.
A well wrestled match, with gorgeous character work and ring psychology make this match special. Definitely worth watching for anyone with a half hour to kill.
Winner: Sugiura via Ankle Hold
Rating: *****
Thoughts:
As I usually mention when something obscure takes the top spot, I don't expect it to win the vote, but it deserves the attention. Also just to throw this out there, Glory by Honor was a pretty awful show. Looked like the venue was at least one third empty, the matches were uninspired and the things that even made Honor Mention are well below average level for the participants. Couple that with Bound for Glory being a solid show mixing good wrestling with solid sports entertainment, it's just a bad look for ROH.
Anyway! Back to the Top 5, my vote will go for the match that topped the list. I gushed a little in the description, because it's so many professional wrestling tool utilized beautifully. Tessa vs Taya would be my second choice, but that's not how this works.
So either way, hopefully you saw a couple of these. Make your opinion heard and let us know which one you think is the best of the 5. And remember, Always Use Your Head.
NXT Minus 6: A Tale of Two Champions
Bradley Jay is here with the WWE NXT Minus 6, and we have new champions. Two very, very different new champions.
Bradley Jay is here with the WWE NXT Minus 6, and we have new champions. Two very, very different new champions.
Our two new champions could not be more different…
6. Doomsday Saito comes to the ring and gives a painful, cliched promo. Any wrestler in the back could have said those exact words. Train harder and beat people up. He's angry. We get it. The only thing Saito could do that would interest me is move to RawDown. On the other hand…
[EDITOR'S NOTE: Not gonna lie, that promo was wasn't even hot garbage. It was cold garbage.]
5. Raquel Gonzalez delivers a genuine, heartfelt promo that only she could give. Tears of joy. It told her story, and it's exactly why she got the pop and the chant she deserved. The addition of Rhea Ripley and Bianca Belair, complete with throwback pic, was icing on the cake. I'm excited for whatever Gonzalez does next. Speaking of…
4. Fantasy booking alert!!! Two weeks ago, Raquel Gonzelez told the world I was the one who believed in her. I was the one who made her a champion. Then Rhea Ripley shows up, and Bianca Belair shows up, and I'm the one sent to the back. How quickly you forget who your real friends are. I was the one who took you to the top, and chicka, I am the one who is going to drag you to the bottom. I used you to get to the top and that's exactly what I'm going to do. I am Dakota Kai.
3. No more Santa Claus Ice Cream Bar. Santos Escobar has earned his name back. His match with KUSHIDA is everything great about NXT. Say it with me. Good things happen when you let wrestlers wrestle! Fast paced. Great action. Surprise ending. I'm going 4.5 stars. Give me a match that good every Tuesday and I'm a happy camper.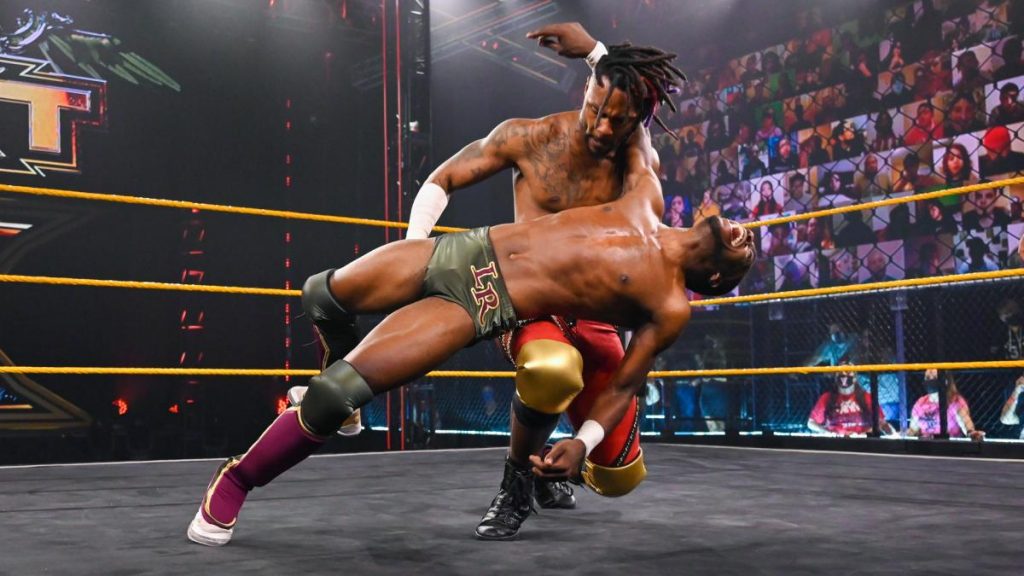 2. Right now, I don't know if any two wrestlers have better chemistry than Swerve Scott and Leon Ruff. Every time they get together, it's electric, and this week was no different. This is quickly climbing into Rivalry of the Year territory. I thought I was happy to see Swerve pick up the victory and move on. Then Ruff goes insane in the membrane and now I'm excited to watch them fight forever.
1. This week's That's Why I Love Wrestling goes to…Roderick Strong. Kayfabe. Work. Shoot. I don't care. Strong deserved a better goodbye than what he got. He is the Perfection of Performance (shout out to the Hitman). He and Kyle O'Reilly were the best version of the Undisputed Era tag team champions. I always got excited for a Strong match because I knew he'd deliver. Roderick Strong is exactly the kind of wrestler that makes me love wrestling. Until he returns, he will be sorely missed.
Steve Cook's Fave Five: April 2021
It's a little more than halfway through April! You know what that means…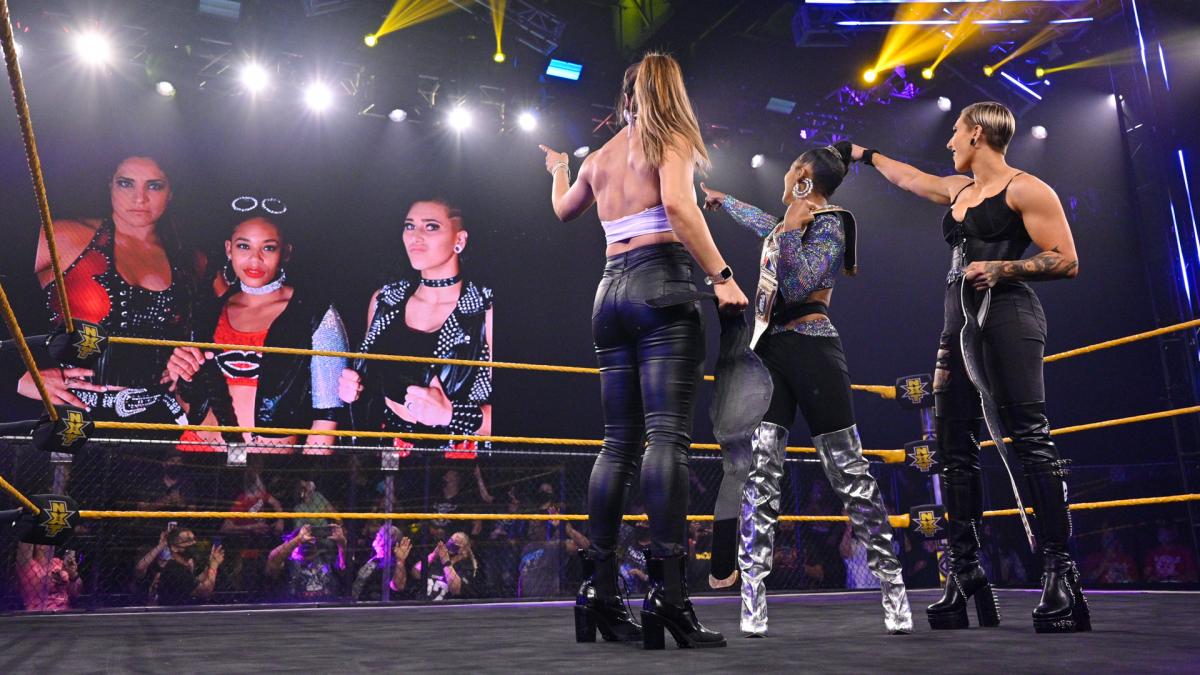 It's a little more than halfway through April! You know what that means.
It's time to talk about my current five favorite wrestlers like I'm Booker T. Let's break down the Fave Five!
5. Samoa Joe
A gentle reminder that Samoa Joe is one of the greatest talkers in the game pic.twitter.com/p4TZeZIAV7

— Kenny Majid – A Kenny For Your Thoughts Podcast (@akfytwrestling) April 15, 2021
I figure what happened between Samoa Joe & WWE was the following: WWE offered Joe an announcing contract since either they didn't want to use him in the ring or their doctors wouldn't clear him to wrestle. Joe looked at the contract, noticed the financial discrepancy, realized he could probably get NJPW to let him train young boys in California for that kind of money and said "thanks but no thanks". Nothing else really makes sense to me.
Unfortunately, those who thought that WWE wouldn't utilize Joe to their fullest potential were right. It wasn't all WWE's fault though. Joe had a lot of miles on his tires when he got there. Injuries are always more of a concern with larger wrestlers the older they get. And when Joe was healthy, he did get to do some good stuff and show people a glimpse of the Samoa Joe that people like me raved about back in the mid to late 2000s.
In any event, Joe got his WWE run. It was a thing that happened. I'd be shocked if he doesn't wind up in AEW because he seems like the kind of guy Tony Khan would throw all the money at. Should be fun!
4. Kris Statlander
Like she never left 👽 #AEWDynamite pic.twitter.com/rlNgLBAFoU

— All Elite Wrestling on TNT (@AEWonTNT) April 15, 2021
AEW does have a pretty insane number of factions right now. It risks the possibility of all of the groups blending together, with none of them really capturing the attention of fans. However, there are positive things about AEW's faction warfare that shouldn't be overlooked. It makes booking fresh matches to fill cards pretty easy. You can have groups facing off each week, but in different combinations that keep it fresh.
Another good thing: It can help us decide how we feel about characters that we might be on the fence about. Kris Statlander's character was a topic of discussion from the moment she entered AEW. A lot of people weren't sure how to take her. Wrestling aliens, or wrestlers who think they're aliens, aren't exactly common. Its the kind of thing that gets over in the indies, because those feds attract fans that are more willing to buy into unique concepts. Mainstream is a tougher sell.
Aligning Kris with the Best Friends makes sense to those in the know, since she came up working shows with them. It also helps people that don't know about her figure out more. The Best Friends are a happy go lucky group that are the whitest of white meat babyfaces you'll find in AEW, and that's a good thing. They're welcoming to people with unique personalities, as Orange Cassidy's presence establishes. A friendly alien couldn't ask for a better group to surround herself with, and from their appearances so far she seems like a perfect fit.
Add in the fact that the time on the shelf helped her get into better shape and refine her look & presence, and the sky's the limit for Statlander. As long as she can stay in the ring, I'm expecting big things from her in 2021.
3. Tay Conti
Sometimes, all one needs is a change of scenery to approach their true potential. Tay spent a few years at the WWE Performance Center learning how to be a professional wrestler. During her time there, Tay never showed much in the way of potential. Even though she had a combat sports background and had the type of physical appearance that gets attention, Conti's TV time was very limited and uneventful. She seemed like one of those wrestlers that was bound to stay in developmental until WWE gave up on them, then drop off the face of the earth without most wrestling fans noticing.
Tay's story took a different route. She ended up being one of the cuts that AEW took an interest in, and was brought in for the Deadly Draw Women's Tag Team Tournament. Her teaming with Anna Jay worked well on & off-camera, and she pretty much fit right in with the group immediately. She started training with Dustin Rhodes, and pretty much immediately started looking better in the ring & figuring out what worked for her. Now, she's one of the people helping AEW's women's division go to a higher level.
This isn't meant to denigrate WWE's Performance Center or its methods. There just isn't a wrestling training center out there that's going to work for everybody. Tay had to find what worked for her. The people that recently got cut will have to do the same. Hopefully, the people that recently got signed by WWE will thrive in that environment.
2. Bianca Belair
We've recently seen three new Women's Champions under the WWE umbrella, all of whom are great in their own way. I've talked about Rhea Ripley before, she's got unlimited potential and so far she's done very well on the main roster. Raquel Gonzalez is doing very well on NXT and her push to the championship made perfect sense & got over. I do think the best of the title changes was Bianca's defeat of Sasha Banks in the main event of WrestleMania Saturday. It was a special moment for Bianca, a very fun match to watch, and a great performance from both Bianca & Sasha Banks, who did everything she could to make Bianca in that match.
You see the video of the NXT segment up above, with the three current Women's Champions under the WWE umbrella celebrating together. Apparently there was a picture taken in 2019, and there were pictures taken after this week's NXT, with Triple H making sure to get in there as he likes to do with all new champions. I've never really been a fan of that sort of thing, even the "Horsewomen" celebrations on previous NXT shows didn't do much for me.
Besides the usual complaints people have about things like that, the thing that I didn't like was how Rhea & Raquel came off. They were all smiling & happy like they were Big Daddy Cool Diesel after beating Mr. Bob Backlund in 1994. Completely against what Raquel has been up to this point, and what Rhea has been when she's been at her best. Hopefully this is just a one-time thing for Rhea for the portion of the NXT audience that likes their lady wrestlers crying & happy after their performances, and hopefully it's leading to Raquel getting dismembered by Dakota Kai, who can't be happy about her heater winning the championship and then turning into Smilin' Diesel.
Fortunately for Bianca, it does nothing to affect her character or our opinion of her. That's why I think her title run will go best. I'm also putting her here because I'm pretty well convinced there isn't a wrestling move or spot she can't do well. Insanely talented, and the more experience she gets the better she'll be.
1. Darby Allin
Sometimes you just want to watch something that's stupid fun. Something that doesn't need too much thought in order to enjoy it. Just people doing crazy things to entertain an audience. Darby Allin matches are just what you need when you're looking for something like this. There isn't anybody crazier in pro wrestling today than Darby, which is probably for the best. I'm convinced this kid has a death wish.
The one thing that kinda gets me about Darby sometimes is how he kicks out of everything. Poor Matt Hardy wasn't going to beat that kid unless he shot him with a gun, and apparently there's a metal detector at Daily's Place. (Shoutout to Matt by the way, hell of an effort in that match.) But then I remember that Darby Allin is a daredevil and constantly posting videos online where he's jumping off high places and doing crazy things. Obviously, it's going to take a little more to beat a daredevil than your average pro wrestler.
What's it going to take to beat Darby Allin? That's a good reason to keep watching.