Women Of Wrestling's AXS TV Debut Announced For January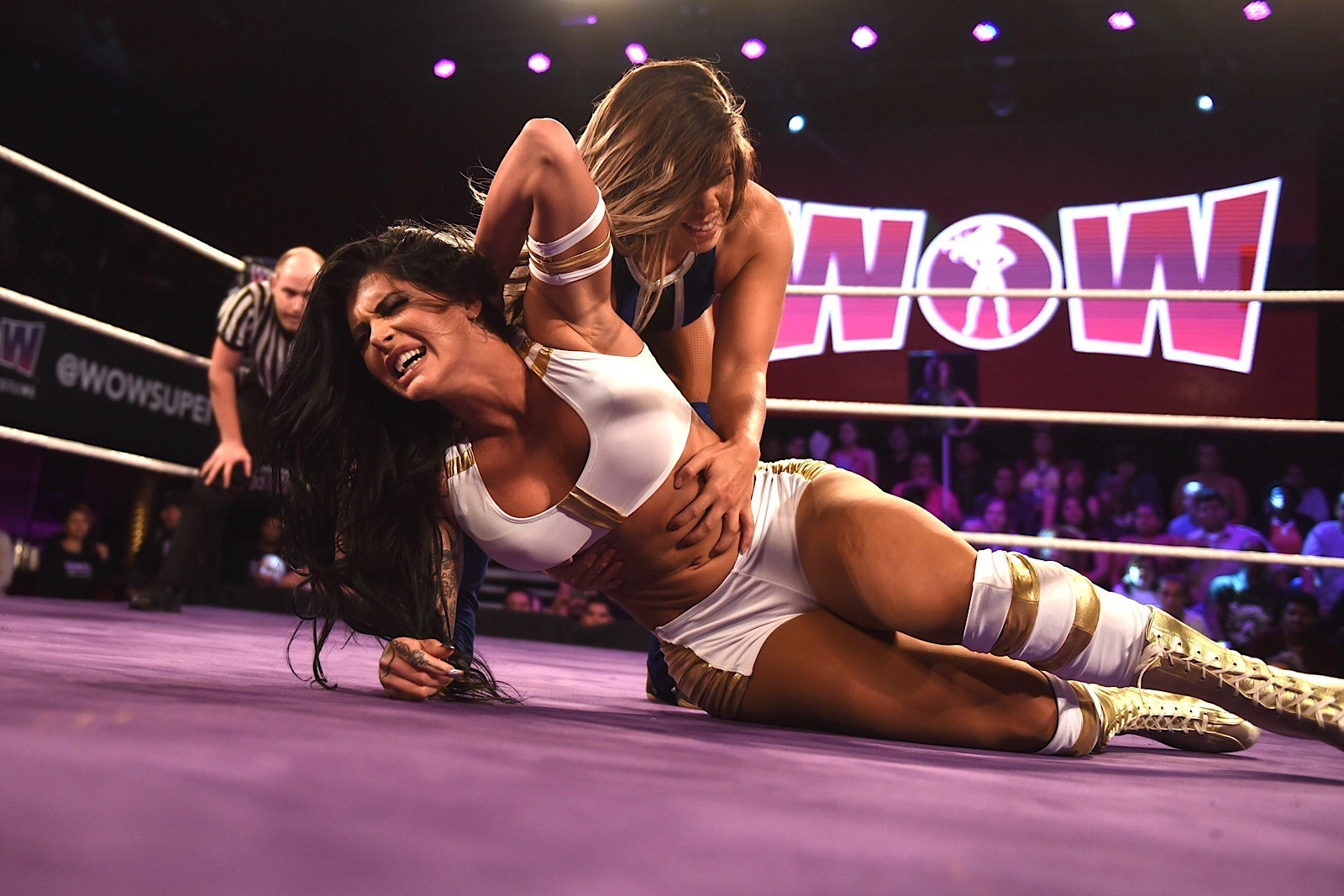 WOW-Women Of Wrestling has been making some good moves in recent weeks after it was announced back in June that the promotion would be coming to AXS TV in 2019 (read that story here).
Recently, current IMPACT Knockouts Champion Tessa Blanchard has signed on with WOW (see that here), as well as former NXT Superstar Shaul Guerrero, the daughter of WWE Hall Of Famer Eddie Guerrero, to do the ring announcing (check that out here). Now today, AXS TV has revealed the show will premiere on Friday, January 14th to join New Japan Pro Wrestling for the station's Friday night lineup:
JEANIE BUSS' WOW-WOMEN OF WRESTLING MAKES ITS DEBUT ON AXS TV, THE SERIES' EXCLUSIVE BROADCASTING HOME, ON FRIDAY, JANUARY 18
Los Angeles, CA – October 10, 2018 – Los Angeles Lakers owner Jeanie Buss and Mark Cuban's AXS TV announced today the premiere date for Buss' emerging hit series WOW-WOMEN OF WRESTLING, making its network debut on Friday, January 18, 2019. AXS TV is the exclusive broadcast home for the Buss-owned WOW-Women of Wrestling, which joins the network's highly successful Friday Night lineup that also includes the fan-favorite NEW JAPAN PRO WRESTLING promotion and live MMA action from Legacy Fighting Alliance (LFA).
WOW Superhero events present all-female professional wrestling bouts with the theatrical flair of a blockbuster concert mixed with the hard-hitting action fans have come to expect from the popular promotion. WOW has amassed a large and dedicated fan base throughout the years, on the strength of the unique personalities of the captivating warriors who put their skills on full display as they go toe-to-toe inside the squared circle. The eight-episode series will feature 35 wrestlers, including third generation wrestling superstar Tessa Blanchard, returning superheroes The Beast, Stephy Slays, Jungle Grrrl, Beverly Hills Babe and talented newcomers to WOW such as Faith the Lioness and Princess Aussie.
David McLane, the beloved commentator and impresario behind the iconic '80s TV series GLOW "Gorgeous Ladies of Wrestling," has produced an action-packed series of intriguing  matches. All eyes are on WOW World Champion Santana Garrett as she defends the coveted WOW World Championship belt from a bevy of determined challengers. Will this be the season a new champion is crowned?
McLane will provide insightful ringside commentary, joined by play-by-play announcer Stephen Dickey. Wrestling royalty Shaul Guerrero will serve as the ring announcer for each event while Brigiite Valadez will be delivering the inside scoop as backstage reporter.
"We are excited to add the series and welcome the incredible athletes and characters of WOW to our hit Friday night lineup", said AXS TV Fights CEO Andrew Simon. "This is the perfect time to add WOW and deliver on Jeanie Buss' vision of strong women wrestlers in the spotlight on national television."
"AXS TV broke ground with its airing of New Japan Pro Wrestling," said McLane. "They are doing it again with the broadcasting of WOW.  AXS TV is providing fight fans an amazing hour of action … and WOW is proud to be a part of their epic lineup!" 
WOW-WOMEN OF WRESTLING is the leading women's professional wrestling organization and is owned by Jeanie Buss in partnership with MGM Television and David McLane. 
About AXS TV FIGHTS
Currently in its 15th year of combat sports and pro wrestling broadcasting, AXS TV dedicates every Friday night to exciting in-ring action, kicking off in 2019 with the new addition of WOW-WOMEN OF WRESTLING. Friday nights also feature the award-winning weekly series NEW JAPAN PRO WRESTLING, which showcases the best matches from the second largest and fastest growing pro wrestling organization in the world, and live mixed martial arts on AXS TV FIGHTS, which has broadcast over 410 events and 2500 fights from over 50 promotions including Legacy Fighting Alliance (LFA).
About WOW-Women of Wrestling
WOW-Women Of Wrestling, the leading women's professional wrestling organization, is owned by Jeanie Buss in partnership with MGM Television and David McLane. It is the premier organization and content provider for live events and programming featuring women's professional wrestling. WOW's empowered women come from all different backgrounds and professions, and are marketed as WOW Superheroes, the main attraction of every WOW presentation. WOW's current digital ecosystem, also known as "WOW World," consists of its website, Facebook, Twitter, Instagram and YouTube channel, with broadcast on AXS TV starting in 2019.  For more information about the WOW Superheroes, its villains, and its over-the-top characters, visit www.wowe.com.
About AXS TV
AXS TV was created in 2012 by entrepreneur Mark Cuban in conjunction with AEG, Ryan Seacrest Media, Creative Artists Agency (CAA), and CBS. Since its founding, the network has established itself as the premier destination for classic rock content, delivering an eclectic programming roster that includes original series such as THE BIG INTERVIEW WITH DAN RATHER, ROCK & ROLL ROAD TRIP WITH SAMMY HAGAR, and REAL MONEY, as well as music festival programming, hard-hitting mixed martial arts events, and a slate of acclaimed documentaries and iconic concerts from some of music's most influential artists. Since 2013, AXS TV has served as the exclusive North American home of the hit singing competition THE X FACTOR UK, bringing the fan-favorite series stateside for the first time ever. The network is also the U.S. home of the popular NEW JAPAN PRO WRESTLING and WOW-WOMEN OF WRESTLING promotions and Legacy Fighting Alliance (LFA) and CES MMA. AXS TV is currently available nationally in the United States and parts of Canada, Mexico, and the Caribbean. For a list of providers, visit axs.tv/subscribe. For more information, see www.axs.tv. Follow AXS TV on Facebook,Twitter @axstv; Instagram; and YouTube. Press information is available at axstvmediacenter.com.
Continue following TheChairshot for all the latest skull smashing opinion, news, reviews and so much more! @theCHAIRSHOTcom on Twitter
Always #UseYourHead
Greg DeMarco's WWE Smackdown Rating Analysis (5/21/19): #2 For Cable
Did Smackdown retain it's footing in the ratings this week? (Spoiler: it did.)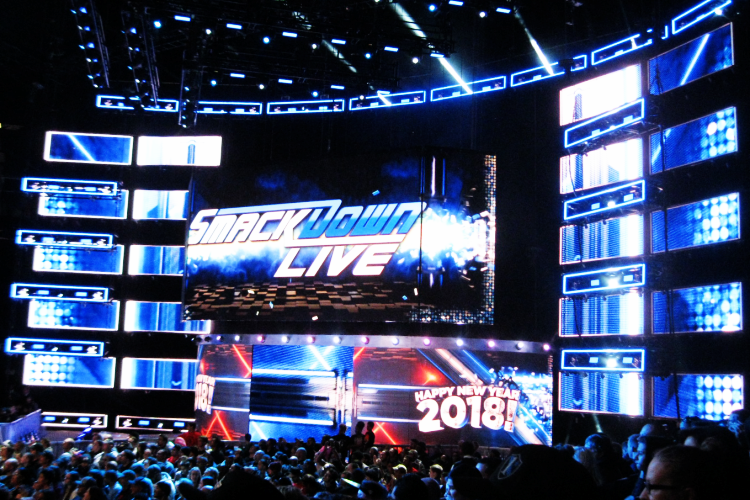 Greg DeMarco chimes in with your May 21WWE Smackdown rating. What does it really tell us? Greg tells you!
We now have your May 21 edition of WWE Smackdown rating, and it's good news for the show! Let's start with the breakdown:
1.983 million viewers
.61 rating in the all important 18-49 demographic
ranked #2 among all cable shows for the night
Here are last week's results:
1.87 million viewers
.56 rating in the all important 18-49 demographic
ranked #6 among all cable shows for the night
(Available via ShowbuzzDaily)
But what does the WWE Smackdown Rating really mean, Greg?
After sitting outside the Top 5 for two weeks, Smackdown made a triumphant return coming at #2 for the night, narrowly losing out to the NHL Conference Finals (won by the St. Louis Blues and apparently Patrick O'Dowd). Interesting of note is that Smackdown outdrew the NHL in terms of overall viewership (hockey drew 1.807 million viewers), but fell just short in the share (Smackdown's .61 versus hockey's .62). Once again, the only thing that tends to knock WWE out of the top spots is live sports (and Love & Hip Hop Atlanta 8).
This is good news for Smackdown and WWE in general, as Money In The Bank and the return of Brock Lesnar did in fact garner more eyeballs. Add in the WWE 24/7 Championship, which I am inclined to believe had at least a short term impact based on the fact that R-Truth and Robert Roode came in #1 in the 36 hour YouTube views for Raw, and things being thrown at walls are sticking right now. Let's hope it continues! Also of note, Miz & Mrs came in at #5 with 1.037 million viewers and a .37 rating, strong for the show. Real Housewives Of Beverly Hills and The Last OG came in #3 adn #4, respectively.
---
Elisa looks great in her Chairshot gear.
You can, too!
Be like Elisa and get yours at:
https://www.prowrestlingtees.com/related/thechairshot.html
DeMarco's WWE Raw YouTube Viewer Report (5/20/19)
Did R-Truth and Robert Roode really have the most viewed Raw YouTube video???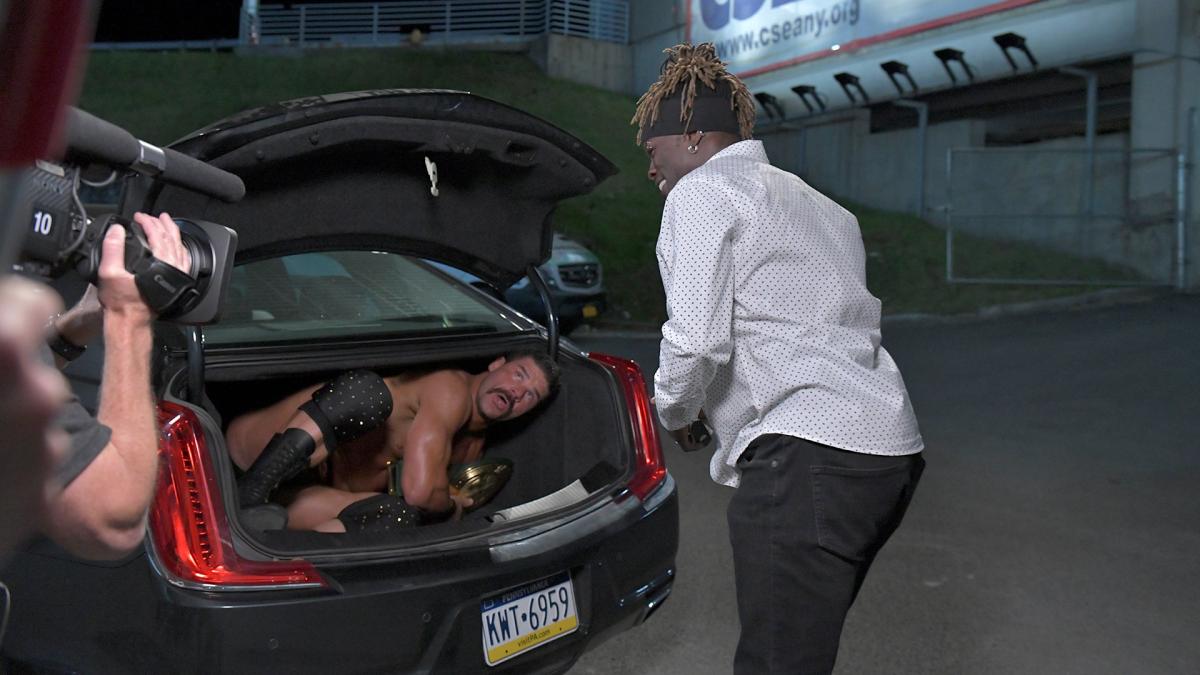 Greg DeMarco's look at the WWE Raw YouTube viewership for the May 20th broadcast!
As we all know, social media and other outlets have become a huge means of drawing in interaction and viewers for WWE. Most people will point to television ratings like they did during the Monday Night Wars in the late 1990's, however that can be skewed with so many various means of watching today that do not include cable television. As such, YouTube has joined social media as a metric as important to WWE as television ratings (if not more). The weekly WWE Raw YouTube Performance Report is a look into that success metric.
As you've become accustomed to, here is this week's WWE RAW YouTube Performance Report, compiled mid-day Wednesday (approximately 36 hours after Raw went off the air), for the 5/20/19 edition of WWE Raw:
R-Truth wins the WWE 24/7 Championship from Robert Roode – 1.764 million views
Brock Lesnar Money In The Bank briefcase celebration – 1.674 million views
Mick Foley introduces the WWE 24/7 Championship – 1.568 million views
Seth Rollins & Kofi Kingston vs. Baron Corbin & Bobby Lashley – 763k views
Lucha House Party attack Lars Sullivan – 700k views
Becky Lynch, Nikki Cross, & Alexa Bliss vs. The IIconics & Lacey Evans – 678k views
The Miz vs. Drew McIntyre – 467k views
Firefly Fun House promo video – 454k views
Braun Strowman vs. Sami Zayn – 398k views
The IIconics & Lacey Evans interrupt A Moment Of Bliss – 383k views
Shane McMahon promo on Roman Reigns – 365k views
WWE 24/7 Champion Robert Roode hides backstage – 364k views
AJ Styles slaps Baron Corbin backstage – 231k views
The Usos vs. The Revival – 202k views
Triple H informs Seth Rollins & Kofi Kingston that they're teaming up – 184k views
Ricochet vs. Cesaro – 161k views
Nikki Cross gets herself a cohosting gig with Alexa Bliss – 142k views
Samoa Joe backstage promo – 102k views
Ratings analysis appears after the ad – buy a shirt!
---
Elisa looks great in her Chairshot gear.
You can, too!
Be like Elisa and get yours at:
https://www.prowrestlingtees.com/related/thechairshot.html
---
Greg DeMarco's WWE Raw YouTube Ratings Analysis
Let's take a look at the numerical analysis!
5/20 edition of Raw: 10.600 million total views across 18 videos
5/13 edition of Raw: 8.648 million total views across 17 videos

+1.952 million views, 22% increase for this week over last week

5/20 Top 5: 6.469 million views
5/13 Top 5: 6.197 million views

+272k views, 4% increase over last week

5/20 average: 588k views
5/13 average: 508k views

+80k views per video, 15% decrease over last week
Let's start at the top: three videos above a million views, with the top spot going to R-TRUTH AND ROBERT ROODE! Man, that's a win for R-Truth and the new WWE 24/7 Championship. The Top 5 videos for Raw approached 6.5 million views total, a 4% increase over last week. The make up of the Top 5 was very different this week, with the aforementioned Truth and Roode, plus Brock Lesnar, Mick Foley, Seth Rollins, Kofi Kingston, and The Lucha House Party?!?!
Last week we saw a tremendous drop after the Top 5, and this week the lower tiered videos more than doubled those from last week. Nothing dipped below 100k views, where 3 did last week (we also had one more video this week, for 18 total). This weeks #6 video (just outside the Top 5) was over 100k higher than last week's. That's telling, as last week's interest was more at the top of the card.
Raw's TV rating went up this week. But it still dipped down in the Top 5. That didn't seem to impact the distribution of the YouTube views this time around.
Two big shockers to me:
The obvious…R-Truth and Robert Roode come in at #1!
Cesaro follows up his Top 5 performance from last week with a 161k video this week, against Ricochet.
My favorite video…The Usos and The Revival crushing it!
What did the YouTube results for this week tell you?