The Problem With Legends Of The Past
The wrestling business has always had a problem in terms of passing the torch in certain aspects to future generations of the business. WWE in a big example to this, by relaying to much in legends from the past in a way to boost ratings or gain buzz for shows, by doing that WWE it's hurting its own future.
WWE is making the same mistake WCW did back in the day, relying in older wrestlers can bring money for a time but sooner or later that decision of not giving the ball to younger wrestlers can backfire just like what happened with WCW. The promotion of WCW is infamous for doing this back in the day, WCW had in it's roster wrestlers like Chris Jericho, Rey Mysterio, Eddie Guerrero and others, but were relegated to a secondary positions because management didn't think they were as important a Hulk Hogan, Ric Flair, Randy Savage and other legendary wrestlers.
A lot of Monday night RAWs have segments with legends and in a lot of cases this legends get to bury talent, like when The Rock used to come back and bury a popular act with a promo like we saw with the New Day or give a rock bottom to a rising star like Rusev. Recently we saw Foley coming back to become referee in the Reigns Vs Strowman Hell In a Cell Match and looking back his roll was more of a cameo than nothing else and WWE just added him to the match just for the sake of it.
Currently WWE has the best roster it has ever had in terms of in ring work, but WWE doesn't have faith in them in a lot of aspects. WrestleMania since 2011 has always had a part timer or legend in its main event. WWE relying this much on legends is not healthy for the product. Wrestlers like Kevin Owens, Seth Rollins, Finn Balor and others are not given the opportunity to showcase why they should be given a spotlight.
The current philosophy of WWE would seem to be once you get to your 40s or past your prime then you can main event WrestleMania unless you are Roman Reigns. WWE is not creating new stars and that is one of many reasons people are losing interest in WWE. The only wrestler being pushed to be a star is Roman Reigns and most cases people can argue he has been a failure.
The current rumor for the next main event of WrestleMania is The Rock vs Roman Reigns, which follows the pattern of Roman vs. ''Insert legend or part timer here'' that we have seen in the last 4 years. WWE needs to break this formula otherwise more fans will be tired of WWE but most important wrestlers outside of WWE will have second thoughts of joining their ranks like we are seeing with wrestlers like Kenny Omega, The Young Bucks and Cody, who know they are better appreciated currently with ROH and NJPW.
It's sad to think wrestlers like Dean Ambrose, Finn Balor and others won't be able to main event show like WrestleMania now when they are in their prime but only when they are past their time and don't move as sharp as they once would. WWE is copying the WCW formula that was a big factor on why the promotion died but the most shocking thing is how back in those times WWE in the attitude era didn't rely at all on previous legends of the past but instead pushed wrestlers like Foley, Rock, HHH and Austin to defeat WCW, so in a way WWE has become the very thing they  hated.
Writing The Book: WWE TLC 2018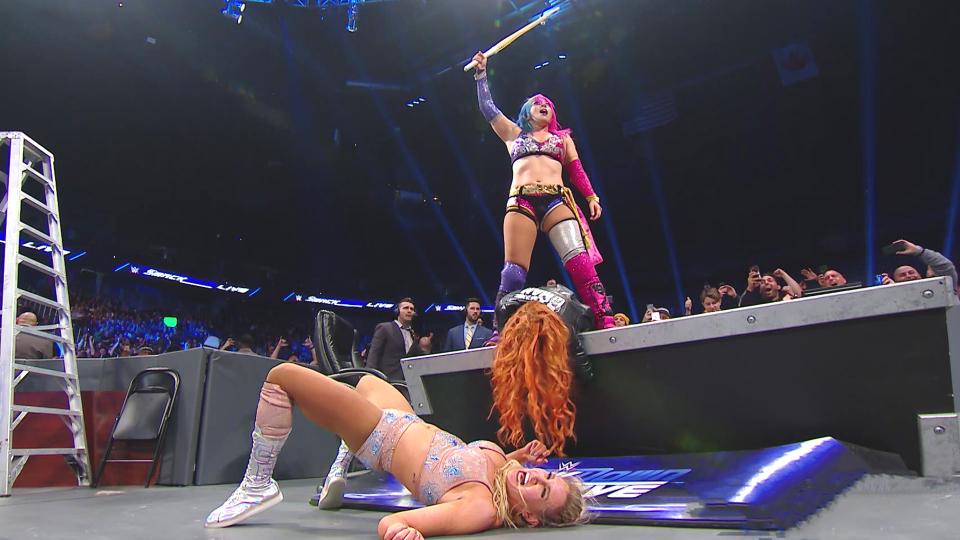 Welcome to "Writing the Book"! This is where I attempt to book entire wrestling pay-per-views in an interesting yet logical matter. This week we have WWE TLC 2018!
Jimmy Jacobs is right. Writing a wrestling show is hard. This one, deceptively so. WWE's next event is the Royal Rumble which has direct ties to Wrestlemania. So as I started toying with the match card, I realized that I had to essentially predict parts of the Mania card four months in advance. This WWE TLC PPV may have greater implications than we previously realized. 
I've listed the matches in my desired order of the card.
WWE TLC Kickoff
The entire WWE TLC card is 12 matches which is unnecessarily long for a wrestling show. The pre-show is two matches most of the time but I added an extra one for Sunday. 
Natalya v. Ruby Riott – Tables Match
Winner: Ruby Riott
I want both competitors to come out looking good here. Before Nattie eventually loses, I want her to find a way to put both of the other members of the Riott Squad through a table. Ruby gets the win but Natalya also appears fairly strong and resilient. 
Elias v. Bobby Lashley w/ Lio Rush – Guitar suspended above the ring can be used as a weapon
Winner: Lashley
My original plan was for Elias to win after using a second guitar hidden under the ring. But Lashley needs the win more. He's the most physically imposing guy on the roster but isn't being booked like it. He held all the gold over at Impact but hasn't been in a single title feud since returning. I don't see that changing soon but a PPV win is a start. Lio Rush also needs to get involved. That's what he's there for. 
Buddy Murphy (c) v. Cedric Alexander – Cruiserweight Championship
Winner: Murphy
The only person Buddy Murphy should lose that belt to is Mustafa Ali. The build isn't there for a title change and I didn't want it to get lost in the shuffle of this enormous card so I made it the main event of the pre-show. 
WWE TLC Main Card
The Bar (c) v. The New Day v. The Usos – Smackdown Tag Team Championships
Winners: Usos
The SD Live tag scene needs a slight shift. It looks like they'll stick with having the spotlight on these three teams for awhile. The Bar took the belts off the New Day in October and haven't gotten much action since. Perhaps an Usos/Bar feud can get some momentum going for both teams again. 
Rey Mysterio v. Randy Orton – Chairs Match 
Winner: Orton
With the way he's been presented I wouldn't be surprised if we saw Orton hovering around the world title picture in the coming months. Also, a chair needs to be involved in either a 619 or RKO. Not only will the kiddos love it, but so will I. 
Finn Balor v. Drew McIntyre 
Winner: McIntyre
This could be a show-stealer if given time and paired with a clean finish. I wouldn't complain if Balor got this big win but McIntyre shouldn't lose until he gets a Univeral Title opportunity.
R-Truth and Carmella v. Jinder Mahal and Alicia Fox – Mixed Match Challenge Finals (winners get entrant #30 slots at the Royal Rumble)
Winners: The Fabulous Truth
This will be a nice comedy match to let the fans breathe before the marquee matches at the top of the WWE TLC card. We're going to need at least five dance breaks and meditation sessions from each side before the match's conclusion. 
Braun Strowman v. Baron Corbin (Strowman wins: Awarded Universal Title match, Corbin is stripped of power. Corbin wins: Corbin becomes permanent Raw General Manager)
Winner: Strowman
This is the match I was excited to book. I don't know what Strowman's status is going to be like following his elbow surgery. I'd be shocked if he was already capable of competing in a full-blown TLC match. This is why I'm booking it as if Strowman is unable to compete. 
Baron Corbin is in the ring about to declare himself the winner by forfeit. He even has some sort of government official with him ready to declare himself the Raw GM. That's when Strowman appears on the big screen live from another hospital bed. He states that he can't make it but found a suitable replacement. That's when this music hits.
Yes, Lars Sullivan makes his main roster debut as a babyface. He walks to the ring and Corbin tries to put an end to the whole thing. Sullivan grabs a mic and says Stephanie McMahon allowed him to replace Braun as long as he signs with Monday Night Raw. Michael Cole sells the moment on commentary and elaborates on what a huge deal that is for Raw. 
Lars eventually wins the match and strips Corbin of his power. The #1 Contender's spot is still up for grabs. That can be claimed by Strowman when he's healthy or McIntyre and Sullivan can try to claim their rightful stake to Brock Lesnar's belt. 
Ronda Rousey (c) v. Nia Jax – Raw Women's Championship
Winner: Rousey
I'm willing to bet my car that Rousey holds that belt until Wrestlemania. She's one of the biggest draws in the company so she needs one of the biggest singles matches at Mania. These two had an excellent match at Money in the Bank so I'm just going to let them do their thing at TLC. 
Seth Rollins (c) v. Dean Ambrose – Intercontinental Championship
Winner: Dean Ambrose
Dean Ambrose needs to ride this momentum all the way into a championship win. If he loses cleanly then this whole persona change will feel meaningless. This is a great feud for both guys but many people consider Seth the best in the world. I think 2019 is the year we start to see Seth headline pay-per-views again, so this booking at WWE TLC will get us there. The Universal Championship is the final belt he has yet to claim. 
The New Daniel Bryan (c) v. AJ Styles – WWE Championship
Winner: Bryan
My long-term goal is for a babyface Miz to meet Daniel Bryan at WrestleMania. That means DB has to keep his championship at WWE TLC. AJ being out of the world title feud is hard to envision. The only other mid-card guy he can have a program with is Orton. That's why I want these two to have one more match. 
I'm booking this match to end via referee stoppage. Daniel Bryan will target AJ's knee constantly. DB keeps strapping on the knee bars but AJ always gets to the ropes. However, AJ tries to hit a Styles Clash and his knee buckles. Then he tries to hit a Phenomenal Forearm but slips off the ropes. AJ can no longer stand so the referee stops the match. 
Daniel Bryan ending the match by DQ feels cheap so this will allow a different avenue toward a rematch. They'll have a Submission Match at the Royal Rumble. Submission matches rarely happen now and both men have submissions in their finishing arsenals.
Becky Lynch (c) v. Asuka v. Charlotte Flair – Tables, Ladders, & Chairs Match for SD Women's Championship
Winner: Asuka
This is the perfect opportunity to finally give Asuka that championship belt that's wrongfully alluded her. As much as she deserves it, the (Becky) fans could turn on Asuka. In the event of this happening, I have a backup plan for WWE TLC. 
In all of NXT and WWE, Asuka has never been a real heel. Now is the time. When Becky and Asuka have their rematch in January, Asuka should purposefully "re-injure" Becky's face. A report will come out soon after saying that Becky will be out for weeks. She ends up being a surprise entrant in the Rumble. She's walking down to the ring wearing a face mask and fighting off doctors trying to hold her back. Becky ends up winning the whole thing (eliminating Nia in the process). Boom, Becky vs. Ronda at Mania. 
Meanwhile on Smackdown, Asuka is a heel. During the Spring, she has a few title matches with her old friend, Naomi. When that's settled, Asuka vs. Charlotte at WrestleMania is reborn with the roles reversed this time around.
Next time on "Writing the Book": Wrestle Kingdom 13!
Let us know what you think on social media @theCHAIRSHOTcom and always remember to use the hashtag #UseYourHead!
Finn Bálor and Drew McIntyre: Main Event Stars on the Rise After WWE TLC?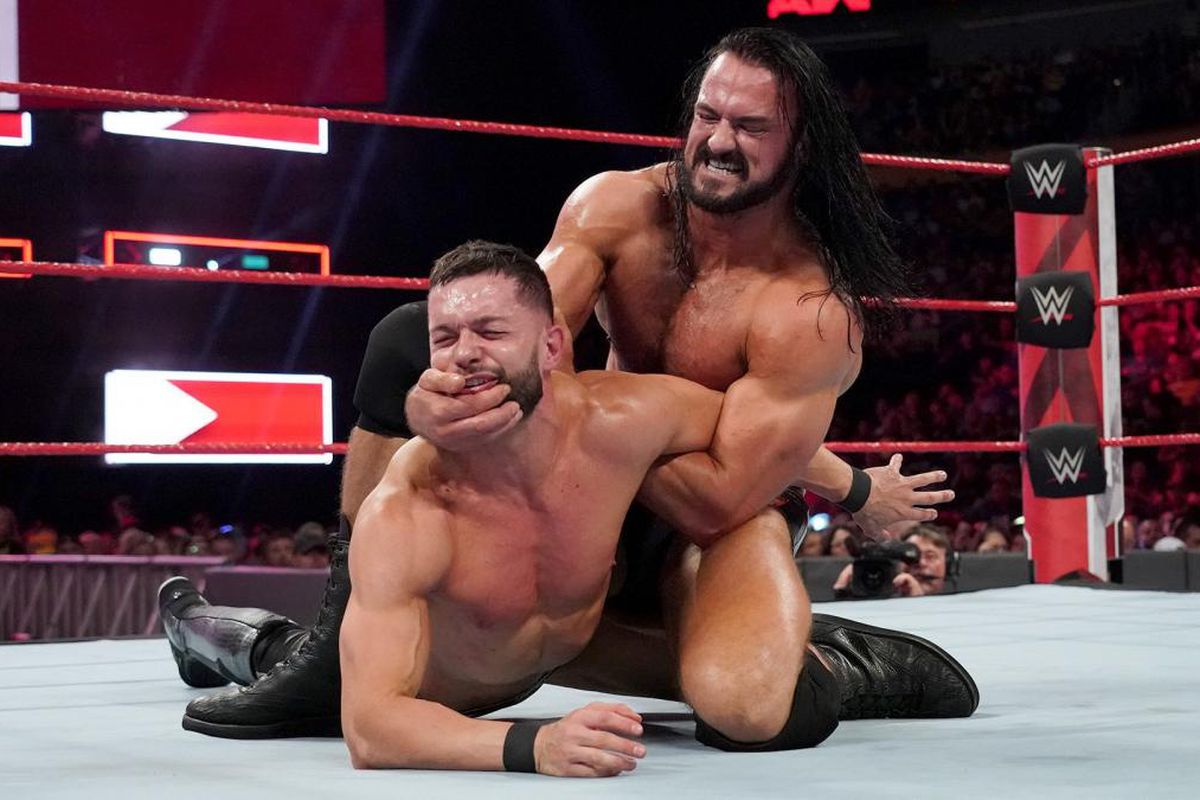 Drew McIntyre is heading to WWE TLC on December 16 for a showdown against Finn Bálor. The Scottish Psychopath has had issues with Finn over the past several weeks and those issues have led to a war. Now both men will step into the ring and do battle once again.
On a TLC card stacked with main event talent, this is one match that may not be on the fans' radar. It's not that the WWE faithful don't care about Finn or Drew, of course. However fans may be wondering what this match means in the grand scheme of things. But perhaps a better question is just what exactly do Finn and Drew mean in the grand scheme of things to WWE?
Finn Bálor's main event status in WWE is a topic that just refuses to die. It's at the center of fan discussion on a daily basis and that does not appear to be changing any time soon. The WWE fanbase believes that Finn can do so much more and the fact is, they know it.
Finn looked like a main event powerhouse in the beginning, so there was no real need for his fans to even debate the subject. Bálor came in on top. He beat Roman Reigns. He beat Seth Rollins. Finn became the first-ever WWE Universal champion and the new top face on Monday nights. 
The Irish born Superstar had finally arrived and was being given the red carpet treatment. But then again, why wouldn't he? Bálor was known throughout the world as one of the most dynamic pro wrestlers in the business. He proved that in New Japan Pro Wrestling, where he became a top star. In fact, Finn had 14 years behind him when he came to WWE in 2014. Bálor was ready and WWE knew it.
But as soon as he climbed the mountain on Monday Night Raw, he came crashing back down to earth. Finn got injured and was on the shelf for nearly six months. Since then, Bálor's main event career has yet to restart. Opportunities came to get back to the top but none of them were successful. It seems that Finn Bálor is simply not in WWE's main event plans at this point.
On the flip side of that conversation is Drew McIntyre. McIntyre returned to WWE after a three year absence and became the top star in NXT. The man once known as "The Chosen One" took his successful restart to the main roster, where he began working alongside Dolph Ziggler on the red brand.
Much like Finn Bálor, Drew McIntyre earned his spot. He worked hard to achieve success over his 17 years in the business and he's not the same man that left WWE in 2014. This Drew McIntyre is battle-tested. He's confident and most importantly, he's ready. Drew knows who he is and what he can do. 
When fans look at McIntyre, they see a future world champion. It's not even a question of if, but when? When will WWE pull the trigger and set Drew on the main event path? Of course fans are still asking that of Finn Bálor as well. So is there a chance that both men are stuck in neutral?
It seems premature to categorize Drew McIntyre in the same mid-card category as Finn Bálor. But the feeling that perhaps Drew and Finn are both meant for the same spot below the main event is surely understandable. After all, if WWE can pull the plug on Finn, who's to say that there may not even be a plug to pull with Drew?
But is that really the case? Has the company truly given up on Finn Bálor as a top tier talent? Or is WWE Creative even thinking in those terms when it comes to the Bullet Club founder? Maybe the truth is much simpler. Maybe Finn isn't "meant" for main event glory, rather he's engineered to perform at a high level anywhere WWE books him.
It could very well be that fans obsess too much over Bálor's main event standing. Perhaps Finn's supporters are focusing too much on matters that are just too unwieldy to manage. There is a chance that simply inserting Finn Bálor in a main event spot and pushing him upward is just not realistic, or even feasible. There are so many variables to consider with such a move and maybe Finn Bálor is happy right where he is.
But is that also true of Drew McIntyre? Drew left WWE after arriving to the company with so much promise. Nothing worked for him and despite what he did, he just could not get over. But now that he's a new man and fully capable of handling the pressure, is it possible that he just doesn't want it? 
Many pro wrestling fans believe that if a talent is in the business for any reason other than to become the top draw, then that talent is wasting his time. Whether or not everyone in WWE agrees with that sentiment is unknown. But when two world class talents like Drew McIntyre and Finn Bálor are on the roster, it's hard to imagine them, or WWE, wanting anything less.
Vince McMahon's company has a serious lack of depth when it comes to Raw's main event scene. That fact has become obvious over the past few weeks. Raw has struggled in the ratings and its struggled with fans, who refuse to believe that the company cannot do better. One of the best ways to get better is to utilize the talent that's available, especially when that talent includes proven top performers. 
Right now, there is arguably no one better and more deserving of the main event than Drew McIntyre and Finn Bálor. WWE builds its brands on the backs of highly skilled, highly entertaining Superstars and that is precisely who Finn and Drew are. The fans know it. Whether or not WWE knows it and chooses to act on it, is anyone's guess. 
Let us know what you think on social media @theCHAIRSHOTcom and always remember to use the hashtag #UseYourHead!