WWE Week in Review (Ending 10/7/2018)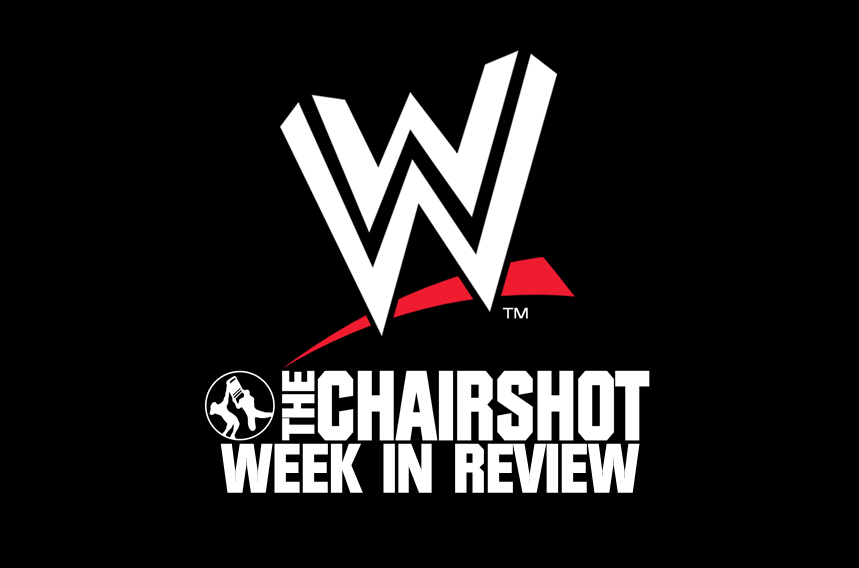 We are in the homestretch for Super Show-Down! On RAW, the Shield and the Dogs of War both try to pick up some momentum before their epic six man. Ruby Riott gets a golden opportunity against Ronda Rousey. The Brothers of Destruction send DX a serious warning, and the team of Lashley and Rush hit a major obstacle.
On SmackDown, Becky Lynch takes a stand against WWE's continued neglect. The war of words between Rusev and English takes a scandalous turn. Samoa Joe's actions last week have serious consequences, and Miz and Daniel Bryan look to gain some momentum before their #1 Contender's Match in Melbourne.
On 205, Cedric Alexander and Buddy Murphy prepare for their date with destiny. TJP's campaign of disrespect continues, and the Party of Gulak does an unexpected purge.
On NXT, Candice LeRae looks to put Lacey Evans in her place, Johnny Gargano looks to get back on track against Tony Nese, and EC3 looks for revenge on Lars Sullivan.
So how did everything go? Let's find out!
RAW
Shield vs Dogs of War: We kicked off the show with Ambrose cutting a promo. Ambrose said that while there was a lot of truth in what Ziggler and McIntyre said, and that he has thought about leaving the Shield. Ambrose, despite implying that he was sick of the Shield and cleaning up after his brothers, said the Shield isn't a business, it's a brotherhood and that he will stand by his brothers.
As he was leaving, Ambrose was confronted by Corbin, who gave Ambrose a choice: Fight Reigns for the Universal Title, fight Rollins for the IC title or face Strowman. Ambrose, never one to back down from a fight, chose Strowman. The match between Strowman and Ambrose was actually really good. Ambrose and Strowman tore each other apart. The match ended in a DQ finish for Ambrose after Reigns and Rollins interfered. As punishment, Corbin came out and announced that Rollins would face McIntyre and Reigns would face Ziggler after the break.
Backstage, Ambrose was NOT in a good mood between Corbin and his brothers' interference. He shrugs off Rollins' concern with an…offhand comment: He could've been Intercontinental Champion.
Reigns/Ziggler was a really great match despite not being a title match, for whatever reason, both men gave it everything they had, but Reigns would pull out the victory with a spear. Ambrose's irritation with his brothers continued when Reigns tried to talk to him. Ambrose repeated the same offhand comment he'd said to Rollins: If he wasn't such a nice guy and loyal brother, he'd be Universal Champion by now.
The Pack were celebratory over Ambrose's comments, but it seems the Dogs are turning on each other, with Strowman implying that Ziggler was a weak link.
Rollins vs McIntyre was really good, if a little awkward in places. Just when it looked like Rollins had the match won, Ziggler interfered, which brought out Reigns, which brought out Strowman, which brought out Ambrose. Unfortunately, it wasn't enough as the Pack took out the Shield, standing tall over the Hounds of Justice.
Super Show-Down:  Despite a miscue, and some dicey moments, the Shield held strong in Australia. Sporting a new version of their face masks (which I still hate), the Hounds of Justice looked to finally stop the Pack. It truly looked like Dean Ambrose was going to join the Pack after Reigns accidentally Superman Punched Ambrose after McIntyre ducked. However, after Reigns saved Ambrose from being bulldozed by Strowman, that seemed to have settled the matter. Ambrose got the pin on Ziggler and the Hounds of Justice still rule the yard.
RAW Women's Division: In a preview of Saturday's Six-Woman tag match, Ronda Rousey took on Ruby Riott in a non-title match. Riott had Logan and Morgan, who has just been cleared to return to the ring after last week's scare, in her corner, while Rousey had the Bellas in her corner. This match was so good. Riott is rough as they come, which made her a perfect match for Rousey. Rousey would pull out the victory, but Riott gave her a run for her money. The six-woman in Melbourne is going to be amazing.
Super Show-Down: Rousey and the Bellas are undefeated but it wasn't without a fight. Brie Bella was definitely a target early on for the kick that gave Liv Morgan a concussion a few weeks ago. Morgan got some revenge on Brie, knocking the Hippie Twin out with a step up enzuguri. There was a hilarious spot of Brie grabbing Liv's tongue when Liv stuck it out at her.
Ultimately, despite being frozen out by the Bellas a little bit, Rousey would finally get into the ring and pick up the victory by hitting a double arm bar on Logan and Morgan after Morgan attacked Rousey to save Logan. Rousey and the Bellas got the Riott Squad this time, but the look on Nikki's face at the end says that Rousey should start looking over her shoulder.
Moment of Bliss was back. Bliss admitted that her hero growing up was Trish Stratus. Bliss then told an outrageous lie about Stratus mistreating her as a young fan and warned that Stratusfaction was not guaranteed.
In another Mixed Match Challenge teaser, Bayley, with Balor in her corner, took on Alicia Fox, who had Jinder Mahal and Sunil in her corner. Despite Fox and Mahal's best efforts and a really great match, Bayley would put Fox away with the Bayley-to-Belly. Fox blamed Sunil for the loss, despite Sunil's protests of innocence.
Bobby Roode and Chad Gable vs Ascension: Bobby Roode took on Konnor this week. Despite the Glorious One's best efforts, he would fall to Konnor by pinfall.
The B-Team vs Revival: B-Team and Revival renewed their rivalry, now with no belts involved, thanks to Ziggler and McIntyre.  The match was great with B-Team pulling out the win after Dallas countered the Rocket Launcher with his knees and rolled Dawson up with an inside cradle. While B-Team were celebrating, they were attacked by Authors of Pain who hit the Super-Collider on the B-Team.
Backstage, Corbin praised AoP and their manager for their rampage and told them to keep up the good work, which is bad news for anyone in the tag team division.
Elias and Kevin Owens vs Bobby Lashley: The primary job for any heel is to get heat. Owens and Elias not only go heat tonight, they about started a forest fire after mocking Seattle over the departure of the Seattle Sonics basketball team.
As for Lashley and Rush, tonight didn't go as well for them as the previous two weeks, Elias and Owens were ready for them and left both men laid out after Lashley and Owens had a grueling match that Owens one on a roll up after Elias attacked Rush.
Super Show-Down: He's back! After being away from the WWE Universe for more than six months, John Cena returned to be Bobby Lashley's partner against Elias and Owens in Melbourne. Sporting a new haircut, an even more muscular body, and an…interesting new finisher, Cena helped Lashley score a major win over the two thorns in his flesh, though it must be said that Lashely, Elias, and Owens did most of the wrestling.
Undertaker vs Triple H: After knowing each other for decades, you'd think Shawn Michaels would learn to never challenge the Undertaker or Kane, but that's what he did. Sporting a shaved head under his cowboy hat, WWE's rottweiler in terrier garb did just that on Monday. HBK claimed that he'd wanted to attend the Super Show-Down as fan and watch two of the greatest of all time go at it for the last time, but Undertaker had made it personal, which meant that HBK was going to make it personal. He vowed that he would not only be in Hunter's corner in Melbourne, but he promised to take out Kane with some Sweet Chin Music if the Big Red Machine interferes.
Well, that did it. Kane's music hit and HBK was so focused on the entrance ramp, he didn't realize that Kane was behind him. By the time he figured it out, it was too late, and Kane laid him out. If things looked bleak before for the Heartbreak Kid, it turned pitch black when the lights went out and the gong sounded. The Deadman Cometh and HBK found himself surrounded by the Brothers of Destruction.
At this point, Triple H, still in his suit from being backstage, came running out to save his friend and paid for it. The Brothers took out the former DX members with stereo chokeslams and were about to leave when Taker noticed Triple H flopping around like a fish and decided to send his opponent a final statement, with a thunderous Tombstone Piledriver.
 Super Show-Down: Triple H's decades long quest to put down the Undertaker came to fruition, finally beating the Undertaker in a big match environment, though it took him and HBK to do it.
The match started off with a surprise, after everyone was in the ring, we were told that this match was now No Disqualification. No one was really in any doubt about who made that call, and Triple H's smirk and nod confirmed that he'd pulled rank and changed the match stipulation. There was going to be a winner tonight.
Triple H was full of confidence to the point of cockiness, which seems like a stupid thing to do given their histories, even trying to mock Taker's signature Old School rope walk.
This match was really good, but everyone involved is really showing their age and the wear and tear wrestling has on the body. If that new hip was Taker's new lease on life, the lease seems to be a short-term one.
It took a lot of doing but, eventually, Triple H was able to put Undertaker away after taking out the ref and some Sweet Chin Music.
After the match, Taker and Kane seemed to want to have a moment with Trips and HBK, and DX seemed to go with it, hugs and congrats went around, until Taker and Kane attacked, leaving both members of DX flat in the middle of the ring. Guess this 'Last Time Ever' isn't going to be the last.
SmackDown
WWE Championship: Paige was not in the mood for BS on Tuesday after Samoa Joe's antics last week. We were assured that AJ Styles' family were safe and charges were pressed against Samoa Joe. Management wanted Joe fired for his actions, but Styles asked that Joe not be fired because firing him wouldn't solve the problem.
We then were shown a video by Styles from earlier. He was at home with his family in Georgia. Stating that this issue between him and Joe is bigger than WWE and he vowed to bury Joe alive at Super Show-Down.
Super Show-Down: The Styles family nightmare is over! AJ Styles beat Samoa Joe in one of the most brutal bouts of the night and a pinfall wasn't going to be enough for Styles, who has been tormented for months by his former friend.
This match was brutal, but still very good, even if really didn't seem like a No DQ match for most of it. Styles would finally get the victory by forcing Joe to tap out to a Calf Crusher. With his Samoan boogeyman vanquished, Styles is going to turn his attention to the results of the Miz/Bryan match.
WWE United States Championship: Shinsuke Nakamura wasn't in action this week.
SmackDown Women's Division: Asuka was in action on Tuesday against Peyton Royce, each side was looking to get some momentum going into their match at Super Show-Down. Despite Royce's best efforts, Asuka would get a submission victory, giving the Empresses of Glow a lot of momentum heading into Super Show-Down.
Super Show-Down: The IIconics scored a major victory in front of their families and countrymen in an emotional match.
The Divas From Down Under traded in their usual jibes about whatever town they were in, choosing to say together 'We're home!' and were even generous to their opponents, saying they weren't too shabby.
Compared to Becky Lynch vs Charlotte Flair, this wasn't the best match in the world, but it didn't need to be. Asuka and Naomi put up a great fight, but it was the IIconics' night. They put the Empresses of Glow away with an IIconic Knee on Naomi. The crowd loved it and the IIconics celebrated with the fans.
In a post-match interview, Kay and Royce discussed how much it meant to them to perform in their home country and about the sacrifices they'd made to work in WWE: Never being home for Christmas, missing birthdays and special occasions. Then they were shown a video WWE had shot of their families watching them perform. Both women, and yours truly, cried and thanked WWE for letting them see that video.
For the last several weeks, Becky Lynch has been getting the best of her former best friend, Charlotte, and doing her best to destroy the Queen, but this week, Charlotte managed to get one over on the SmackDown Women's Champion.
It started with Lynch being left off the Super Show-Down poster, so to rectify that oversight by WWE, she decided to make her own poster and it was a dandy: It was a picture taken from her impromptu photo shoot last week imposed next to a picture of the stadium Super Show-Down will be happening at, complete with a KO'd Charlotte Flair at her feet.
Apparently, this was too much for Charlotte, who attacked Becky and the fight was on, but this time, Charlotte would have the last laugh, Fall-Away Slamming her through her cool poster. Charlotte had the last laugh Tuesday, but I have a feeling Becky will make her pay and then some on Saturday.
Super Show-Down: If Becky Lynch has learned anything from being friends with Charlotte over the past five years, it's how to fight dirty. Charlotte may have been tutored in underhanded tactics by her infamous dad, but Becky was taking her own notes in secret.
The rematch between the former friends over the SmackDown Women's Championship was every bit as nasty and bitter as the first time, except that this time, Charlotte had no illusions of making up with Becky.
This match was brutal and it seemed that Becky would be the latest person to lose to Charlotte Flair, but Becky remembered the one lesson of Ric's that Charlotte doesn't: The challenger has to beat the Champion, not the other way around. Becky hit Charlotte with the Women's belt after getting caught in the Figure Eight, causing a DQ. Since Charlotte didn't beat Becky, she gets a win but not the belt.
An enraged Charlotte refused to accept this and attacked Becky as the latter left the ringside area. Becky made her pay for it by hitting her with a Bex-sploder outside the ring and then kneeing her head into the barrier.
After the match, it was announced that Charlotte would get another chance at the title on SmackDown and if Becky got disqualified, she'd be stripped of the title.
SmackDown Tag Team Division: New Day had promised to reveal the secret to their pancakes (apparently, it's some poor schmuck named Mr. Bootysworth), but this cooking class was interrupted by the Bar. Neither man is impressed with New Day's cooking. Cesaro knows pastries, being Swiss and is a really good cook. They break up the cooking class before laying out New Day and dumping the batter on Mr. Bootysworth (played by Dewey Foley).
Super Show-Down: Despite a valiant effort by the Bar, New Day are still the SmackDown Tag Team Champions. Cesaro and Sheamus came extremely close but New Day were able to pull out the win and leave Australia still the tag team champions. It'll be interesting to see who will challenge for the Tag Titles next.
Rusev vs Aiden English:  Aiden English delivered on his promise to show video proof of what happened in Milwaukee, but it only served to muddy the waters. It shows English trying to find the lyrics to his entrance when Lana comes to his hotel room, saying that there was something she need to tell him and the video ends with Lana saying 'I want you'.
Obviously, the evidence of anything hinky happening between Lana and English isn't there and English, who is trying to take credit for Rusev Day's popularity, certainly has reasons to put Lana in a bad light, but does Rusev believe it? Lana vehemently denied any wrongdoing, but it's unclear whether English's 'proof' will have any affect.
R-Truth and Carmella vs Andrade and Zelina Vega: Zelina Vega and Carmella had been having a war of words on Twitter that ended with Carmella challenging Vega and Andrade to a match, which was accepted.
The match was really great. Carmella has come a long way from when she first came to SmackDown. She and Vega could have a great one-on-one rivalry without Truth and Almas being involved.  Carmella and Truth countered the Double Tranquilo with double splits and had a dance break during this match which wasn't as stupid looking as it sounds.
It looked like Almas and Vega were going to steal one after Almas broke up a potentially successful pin attempt by Carmella. However, Almas and Vega's tricks caught up to them after a pin attempt by Vega was countered by Carmella into a submission win via Code of Silence.
Tye Dillinger vs Randy Orton: Dillinger confronted Paige and demanded a match with Randy Orton, despite Paige's concerns, winning her approval with his determination.
Dillinger showed a lot of fight, taking it to Orton, who seemed less than impressed with the Perfect 10. Taking his sadistic side to the extreme again, Orton decided to ruin Dillinger's gimmick by breaking one of his fingers, thus leaving Dillinger unable to do his 'Ten!' chant.
Miz and Daniel Bryan: Shelton Benjamin hasn't been seen much on WWE TV and went on Twitter to demand a match. Paige agreed by putting him in a match against Daniel Bryan. Miz, who is looking for some momentum going into his big match against Bryan in Australia, stirred the pot a little, telling Benjamin that he (Benjamin) was the best and claiming that he (Miz) had gotten Benjamin the match against Bryan.
Benjamin told Miz that he was looking to make a statement and that Bryan was casualty #1, which Miz liked.
The match was amazing. Benjamin and Bryan put on a classic performance. Miz was watching on commentary and helped Benjamin pick up the victory by distracting Bryan
Miz added insult to injury by attacking Bryan after the match before hitting a Skull-Crushing Finale on Bryan, telling him 'Good luck'.
Super Show-Down: We all knew that, eventually, Miz was going to get his and that Brian was going to make the A-Lister pay for his years of insults and degradation and boy did he! Not only did Daniel Bryan beat Miz, he beat him after a very short match with a small package, even though Miz did get his shoulder up about the time three was counted. Unsurprisingly, Miz was furious, but Charles Robinson stood by his decision, it's Daniel Bryan vs AJ Styles for the WWE Championship at Crown Jewel.
205 Live
WWE Cruiserweight Championship:  Neither Alexander or Murphy were in action this week, but we were shown montages of them preparing for Saturday.
Super Show-Down: The Age of Alexander is OVER! After going undefeated for 277 days, Alexander lost in an epic match against Buddy Murphy. The Australian Juggernaut fed off the very pro-Murphy crowd, taking everything Alexander could dish out and then some, finally ending Alexander's epic reign with Murphy's Law for the three.
Akira Tozawa vs Jack Gallagher (with Drew Gulak and Brian Kendrick): Akira Tozawa was still looking for some revenge on Gulak and his goons after their unprovoked attack on him the Tuesday after SummerSlam and this week he took on Jack Gallagher, who was accompanied by Gulak and Kendrick.
The match was really great, Tozawa and Gallagher work really well together and there was a lot of back and forth between them. Tozawa would pick up the victory and narrowly escape becoming a victim of Gulak's temper tantrum, but Gulak wasn't satisfied. He cut a promo about how his team wasn't living up to potential and did a PowerPoint presentation to show how he planned to fix that, he blamed Brian Kendrick.
Kendrick, who has never been accused of being a stupid man, figured out the plan and went on the attack, but the numbers game was too much for him. Gulak and Gallagher left the former Cruiserweight Champion in the ring.
Kalisto vs TJP: After weeks of disrespecting the Luchador tradition, TJP faced off with Kalisto in a one on one contest. This match was dominated by TJP, who missed no opportunity to disrespect the masked luchador tradition Kalisto was so proud of.  Kalisto would get the victory, but that didn't stop TJP from further disrespecting masked luchadors, by unmasking Kalisto anyway.
Mustafa Ali and Hideo Itami: Drake Maverick said both men were off to recover from last week. Saying what Ali did was reckless, Maverick also said that he knew that this rivalry was far from over and the next time Ali and Itami face off, it's going to be a match no one wants to miss.
Lio Rush: We were informed that Lio Rush will be issuing an open challenge next week.
NXT
NXT Championship: Tommaso Ciampa cut a promo about the perils of being on top, about how everyone is looking to take you down and belittle you. He says that Velveteen Dream's name suits him since he's living in a dreamland, but says that even though Dream seems to think Ciampa took out Aleister Black, they both know what actually happened. He then warns Dream to be careful because Ciampa destroys fairytales and mystique and he'll turn the Dream into a nightmare.
NXT North American Championship: The three men involved in the upcoming Triple Threat match for the North American Championship cut promos, each vowing victory and talking trash about their opponents. Adam Cole dismissed both Ricochet and Dunne, claiming that the legacy of the North American Championship starts and ends with him. Dunne says that his legacy as UK Champion is real and Ricochet vows to walk out still North American Champion.
NXT Women's Division: Nikki Cross was in the bowels of Full Sail University, looking to have some fun. She wants to play a game because games are fun. Who does she want to play with? Bianca Belair since they had so much fun the last time they'd been the ring together, though she hopes Bianca won't be scared off because they'd caused some trouble last time. Oh, and in case you didn't know, Nikki knows who attacked Aleister Black!
What does the EST think of Nikki's request? Seeming to forget that while Nikki didn't beat her in their match a few weeks ago, Belair herself didn't get the win either, Bianca trashed Nikki as scraggly and vowed to not just beat NXT's Twisted Sister, but to embarrass her, but can you embarrass someone as crazy as Nikki Cross? Question is: Why is Belair so determined to embarrass Cross? Could it be that the EST knows she may have met her match?
Candice LeRae took on Lacey Evans in a very personal battle since Evans felt the need to stick her nose where it didn't belong. The match was really good, but unfortunately, Candice's emotions got the best of her this round. Despite a valiant effort and a hell of a fight, Evans' Women's Right ended Ms LeRae's fight, but if Evans thinks this is over, she's got another thing coming.
The Queen of Spades cut a promo for her rematch at Evolution against Kairi Sane. Baszler talked about how things change. She and Sane have changed a lot since they first met one-on-one at the inaugural Mae Young Classic and Baszler feels she's gotten too comfortable, so she's going back to basics in fight camp, which none of the 'girls' of NXT would ever do. Evolution is a fact of life and Baszler is going evolve too.
NXT Tag Team Division: The Forgotten Sons took on Torry Kirsch, Cesar Rise, and Vinny Mixon in a six-man tag match. Cutler has a busted nose and is wearing a mask, but that doesn't stop him from dishing out punishment. This match was super quick with the Sons picking up a win over their unfortunate opponents. Undisputed Era may be preparing for the War Machine, but they shouldn't forget about the Forgotten Sons.
Aleister Black Mystery: Outside of Nikki Cross' statement about knowing who attacked Black, we don't have any new developments.
Lars Sullivan vs EC3: EC3's been out for a couple of weeks after getting the snot beat out of him by the Leviathan after sort of, not really, accusing Sullivan of being the one who attacked Aleister Black. 3 made his return last week, keeping Sullivan from completely destroying his hapless opponent
This match was bowling show ugly, as JR would say. EC3 has a lot of skill and finesse, but Sullivan is rough as a cob. It took a Monster Headbutt but Sullivan would win this round, but both men were bloody messes at the end. So, who is going to stop the Leviathan?
Johnny Gargano vs Tony Nese: For months, Mr. Wrestling has been struggling to stay true to himself while dealing with his ongoing feud with Tommaso Ciampa and the rumors that he had something to do with what happened to Aleister Black. This week, however, Gargano had something to take his mind off his professional troubles, a one-on-one with 205's premiere athlete, Tony Nese.
This match was incredible. Gargano was acting like himself and the crowd, who had been having dueling chants of 'Johnny Wrestling' and 'Johnny Failure' quickly got on Gargano's side. It was a hell of a fight, but Gargano would make Tony Nese tap out to the GargNo Escape. It looks like Mr. Wrestling is back on track, but will he get another chance or will the suspicions about Black continue to haunt him?
Tiffany's Takeaways
RAW: LOVE Ambrose being honest about his feelings about the Shield, even if it was only hypothetically. The fact that the crowd actually seemed to sympathize with Ambrose's frustration is telling. The fact that you couldn't tell if Dean was being honest or being sarcastic was an interesting twist. If I'm Reigns or Rollins, I'd be looking over my shoulder at Ambrose after tonight.
Corbin making the Reigns/Ziggler match non-title is a little baffling.
I'm thrilled to pieces that Ruby Riott had a match with Rousey. Riott got to show what she could really do and she looked like a legit threat to Rousey. Everybody won tonight.
In the old days, Elias and Owens would have to have police protection from the potential riot that would've started over their Sonics comments.
SmackDown: Not surprised, that Joe was threatened with termination for last week.
Carmella and Zelina Vega should have a one-on-one feud without Truth and Almas. They have natural chemistry and have worked very well together.
I'm over Miz/Bryan. What's the point of having them feud if Bryan doesn't put Miz in his place?
Charlotte definitely needed to do something to make it look like she could be a threat to Becky Lynch.
For someone who lost several years of their career due to concussions and neck injuries, Daniel Bryan doesn't seem to learn his lesson. You had concussions so bad they were causing seizures, why would you do a diving headbutt, a move that played a big part in the condition of Chris Benoit's deterioration?!
205: I'm a little confused as to the logic behind throwing Kendrick out of the Un-Gentlemen after Gallagher lost. I guess that'll be revealed down the road.
I'm over this thing of having TJP unmask masked luchadors.
NXT: I love Nikki Cross.
Bianca Belair's dismissal of Cross is odd because while she didn't lose to Nikki, she didn't beat Nikki either. For someone who takes such pride in being undefeated, why would you settle for a Double Countout instead of a victory.
Candice LeRae and Gargano need to turn tweener and just tear things up at NXT.
I enjoyed the build of the Triple Threat match for the North American Championship.
Gargano and Nese was amazing, hope there's a rematch down the line.
Mae Young Classic: This week wasn't one of Toni Storm's best performances. Matsumoto really out-performed her at every step.
Kacy Catanzaro is going to be a big deal in WWE once she gets a little bit more training in.
I hope Taynara commenting on Lacey Lane's dreads is a storyline/heel thing and not her actual opinion. That said, I enjoyed vicious, heelish Taynara.
WWE needs to sign Mercedes Martinez. Her match with Satomura was a classic.
Super Show-Down. Becky/Charlotte was easily the better of the three women's matches on the card WWE put out.
Watching the IIconics cry after seeing video of their families watching them wrestle live makes it really hard to see them as heels.  
Cena's new move? Bleh. You're not Wonder Woman, dude. Also, if they were going to have Lashley, Elias, and Owens do most of the match, why not make it a handicap match rather than have Cena spend most of his time holding down one corner of the ring.
For a No DQ match, the Styles/Joe match had very little DQ worthy spots, which made it seem kind of lame. It was still good, but if you're going to book a No DQ match, have more DQ worthy spots in it.
The placement of the matches is baffling to me. It seemed like the three big SmackDown matches were at the start of the card and, other than the Cruiserweight Match, everything else was RAW.
The Bella Twins freezing Rousey out a little during their match was interesting, as was Nikki's face after the match. Brie grabbing Liv's tongue was hilarious
Brie seems to have learned her lesson from the last time she was in action. She was visibly VERY careful when hitting her spots.
I'm honestly surprised that Murphy got a clean win over Alexander, I figured there would be some sort of craziness involved.
Even though the Shield stood strong, the reaction to the crowd to the prospect that Ambrose would turn on the Shield and Ambrose getting the win shows that WWE shouldn't end this storyline just yet or pull a swerve.
I'm not a fan of Daniel Bryan but watching Miz lose and throw a tantrum in the ring was hilarious. Also, I hated the super short match, but I've been told that it's because the show ran long and WWE didn't want to cut the Triple H/Taker match down.
If this 'Last Time Ever' match was a pilot for WWE doing a Legends Division like what TNA did back in the mid-2000s, I'd advise them to scrap it. Nostalgia's great but having fifty-year olds try to pretend that they're thirty is going to get old very quickly. Let Ric Flair's final years as a wrestler be an example of stopping while you're ahead.
Super Show-Down was pretty good altogether, but that main event was kind of 'eh'. It was good, but I wasn't feeling it.
Tiff's Tantrums
Please stop griping about the lack of build for Evolution. WWE is treating it like any other PPV and giving it a three week build. They've advertised Evolution almost as much as Super Show Down.
Ruby Riott losing to Ronda Rousey isn't a bad thing. Riott looked amazing out there and Rousey proved that she can sell her ass off.
To the male fan that told Renee Young, who worked for a sports show before coming to WWE, played sports, and is a legit sport fan, that she couldn't know anything about sports and was told what to say: Screw. You! Newsflash: Women are more than capable of knowing about sports and sports figures.
Final Thoughts: This was a really great week for WWE. Super Show-Down lived up to the hype overall and set things up for Evolution and Crown Jewel.
King's WrestleMania Rewind: Charlotte Flair vs. Asuka from WrestleMania 34
Chris king is back with one of the most underrated matches in WrestleMania history–Charlotte Flair vs. Asuka!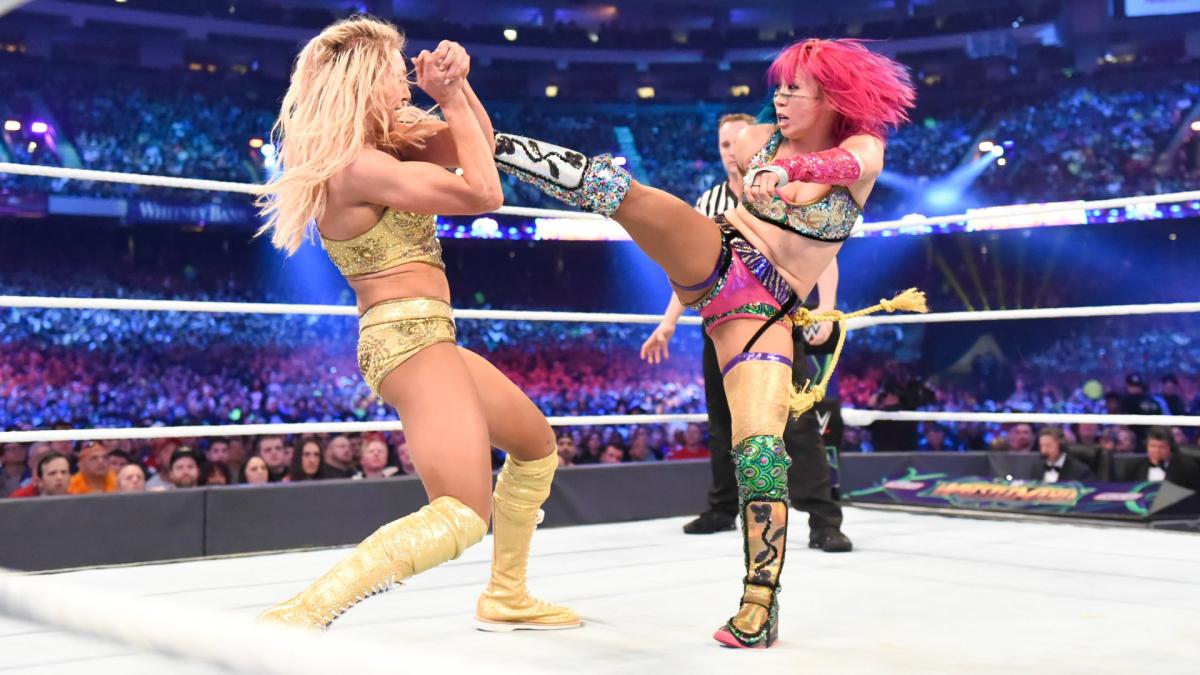 Chris king is back with one of the most underrated matches in WrestleMania history–Charlotte Flair vs. Asuka!
We look back at Charlotte Flair vs. Asuka at WWE WrestleMania 34. 'The Empress of Tomorrow' put her unprecedented and historic undefeated streak of 914 days on the line against 'The Queen's' SmackDown Women's Championship.
For years, this was considered a dream match while Asuka dominated the roster in NXT, while Flair won numerous championships on the main roster on both Raw and SmackDown. The Empress made her long-awaited debut on the September 11th episode of Raw and began to tear through the competition.
Asuka outlasted all twenty-nine other women in the historic first-ever Women's Royal Rumble match to challenge for the title of her choosing. At Fastlane, she made her choice.
The WWE Universe was so excited for this match myself included. Both superstars delivered a fantastic performance on the Grandest Stage of Them All executing counter after counter. Asuka showed off some nasty-looking kicks to her opponent, and Flair hit a thunderous Spanish Fly off the top rope. Flair was seconds away from defeat at the hands of The Empress but she locked in Figure Eight and Asuka was forced to tap out.
I can't even begin to explain how shocked I was at this outcome, as nearly everyone expected The Empress to continue her undefeated streak and walk away with the women's title. This controversial decision was the downfall of Asuka's momentum. She would ultimately win the SmackDown Women's Championship at the 2018 TLC pay-per-view in the triple-threat ladder match.
Fast forward to this year when Asuka has recently returned with her Japanese-inspired persona Kana. Kana is dangerous and ruthless and is heading into a championship with Bianca Belair at WrestleMania 39. The Empress has regained all her momentum and is highly favored to walk away with the Raw Women's Championship. Let's hope that Asuka and Belair can tear the house down and deliver an A+ grade match both women are fully capable of.
King: Dominik Mysterio Needs To Do This At WrestleMania
Chris King is here with what WWE should do with Dominik Mysterio at WrestleMania in his long-awaited match against his father Rey Mysterio Jr.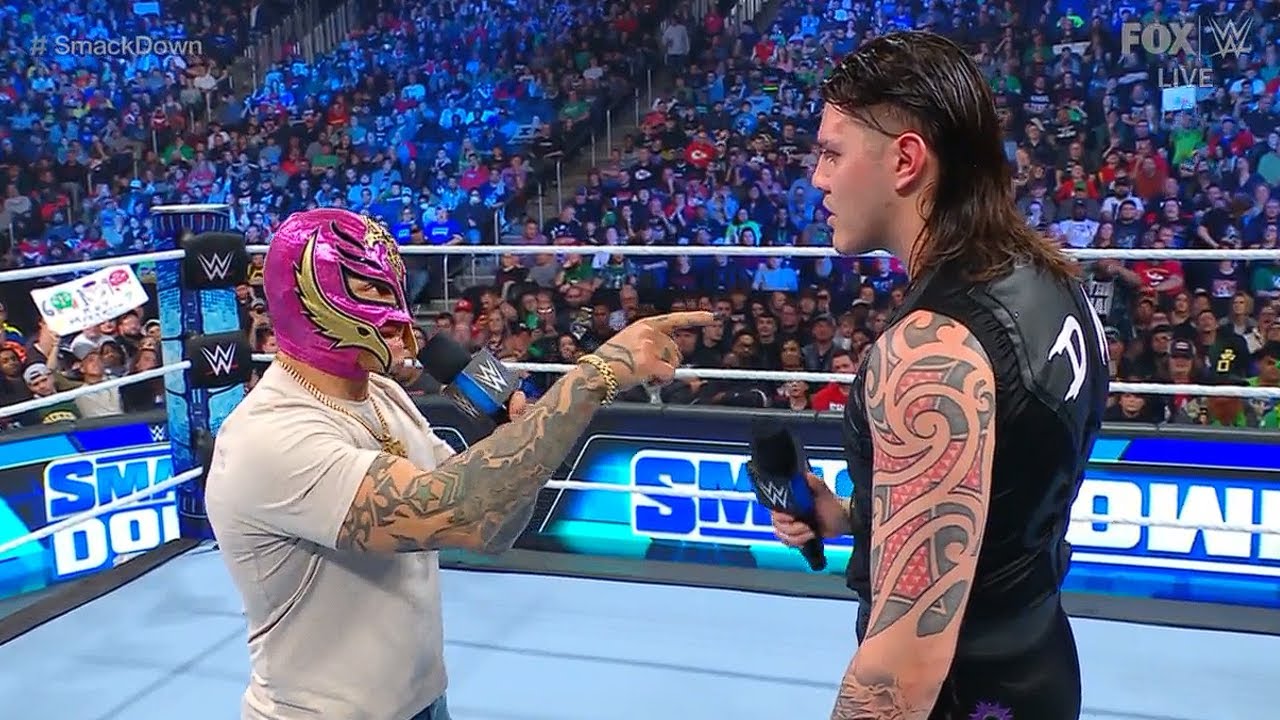 Chris King is here with what WWE should do with Dominik Mysterio at WrestleMania in his long-awaited match against his father Rey Mysterio Jr. 
On this week's episode of Friday Night SmackDown, Rey Mysterio finally snapped and beat some sense into his disrespectful punk-ass kid Dominik. The member of the Judgement Day came out to push his father again for a match on the Grandest Stage of Them All, this time with his mother and sister at ringside. The ungrateful punk told his mom to "Shut Up," as a father even I wanted to jump through the screen and whoop his ass.
Back in October of last year, Mysterio made the emotional decision to possibly quit the company but, instead, Triple H persuaded the Lucha libre superstar to move over to SmackDown to avoid his son. This came after Dominik shockingly turned on his father at Clash at the Castle. Mysterio did everything he could to refuse his despicable son's challenge for Mania but, a man can only be pushed so far. Mysterio will be inducted into the 2023 WWE Hall of Fame and I expect Dominik to embarrass his father during his speech to further this personal feud.
Yes, the WWE Universe hates Dominik and wants to see him get the ever-loving crap kicked out of him but, this feud is missing a special ingredient to capitalize on the biggest heat possible. Throughout this feud, Dominik has made mention of the legendary Eddie Guerrero on several occasions going back to the "iconic" 2005 feud.
I know WWE might not want to go this route but, Dominik MUST come out to Eddie Guerrero's theme at Mania. The disrespectful punk needs to come out in a lowrider to garner nuclear heat. It doesn't matter if The Judgement Day comes out and causes interference for Dominik to get the win, all that matters is that both superstars get the biggest payoff of this nearly year-long feud. Just imagine the Roman Reigns heat after he defeated The Undertaker and multiply that by ten. Dominik portrays the perfect heel and he truly is the missing ingredient that The Judgement Day needed to grow and evolve into a top faction.