WWE Week in Review: October 7-13, 2018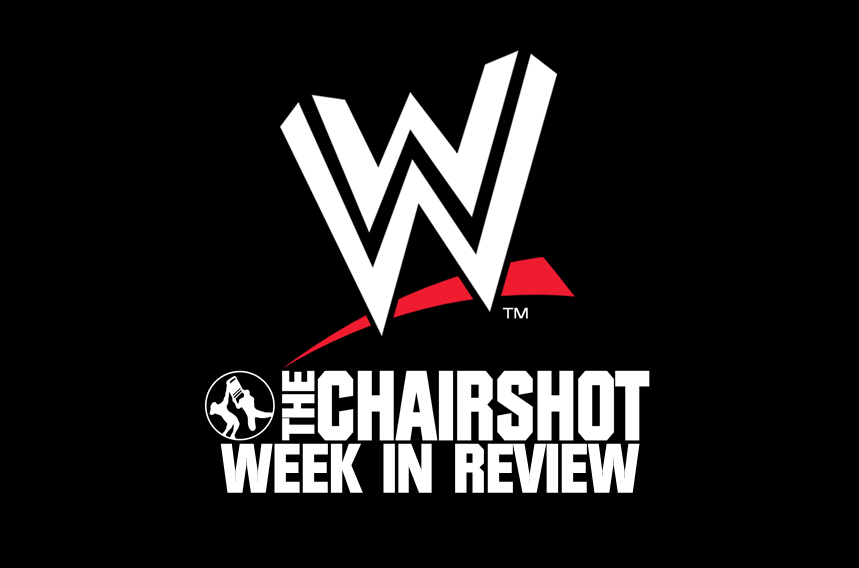 Another week of WWE mayhem is in the books! On RAW, the stress of the ongoing feud between the Shield and the Dogs of War starts to show, the Bellas make an unexpected power play, three Hall of Famers return to RAW in some very unexpected ways, the feud between Bobby Lashley and Kevin Owens gets ugly, and the AoP's path of destruction continues. Also, the Qualifiers for the WWE World Cup kick off with a big surprise.
On SmackDown, Miz tries to stir the pot between Styles and Bryan with limited success, Charlotte learns that trying to stack the deck can bite you in the ass, English reveals more footage, but Lana gets the last laugh, a BIG star returns with hopes of entering the WWE World Cup, and we learn about Nakamura's new challenger.
On 205, Lio Rush's open challenge bring in two unexpected players, Cedric Alexander's bid to bounce back from his shocking loss at Super Show-Down hits a stumbling block, and the Party of Gulak addresses the Brian Kendrick situation.
On NXT, Nikki Cross is dying to tell someone all her secrets, Keith Lee and Kona Reeves take their war of words to the ring, and Adam Cole, Ricochet, and Pete Dunne face off for the North American Championship in match that has to be seen to be believed.
So how did WWE do? Let's find out!
RAW
The Shield vs Dogs of War: The months long feud between the Shield and the Dogs of War has tested all six men and it showed this week for both sides.
After their disappointing loss to the Shield on Saturday, Dolph tried to rally the troops, but was shut down by a fed up Strowman who called Ziggler a weak link and reminds Ziggler and McIntyre that their job is to make sure that Strowman wins the Universal Championship and they put down the Shield.
The Shield/Pack rematch was every bit as chaotic as it was on Saturday, but this time, the Pack managed to get a win over the Shield McIntyre hit a Claymore Kick to a distracted Ambrose for the win. The Pack celebrated, but even though Reigns and Rollins were disappointed, Ambrose was NOT happy. Without a word to anyone, he left the ringside area, and his confused and upset brothers.
Kayla Braxton caught up with Ambrose after the show as he was trying to leave the arena and his only comment was that he didn't get it and that maybe he didn't fit in anywhere anymore.
RAW Women's Division: Ronda Rousey and the Bellas teamed up again to take on the Riott Squad in a rematch from Saturday. Liv Morgan was determined to get her some of Brie Bella and stiff shotted Brie square in the face, to the shock of everyone, including the other members of the Riott Squad. Rousey and the Bellas won the match, but Rousey learned one off the reasons why the Bellas dominated the Women's Division for so long: They will turn on anyone to get what they want. Both women turned on Rousey with Nikki hitting her from behind. Rousey tried to fight back but she was quickly overwhelmed.
Ember Moon and Nia Jax faced off in a one-on-one match. Nia was pretty dominate, but both women were nearly counted out due to fighting outside the ring. Ember made it in time, but Nia accidentally hit the LED board and was counted out, giving Ember the win. Thankfully, Nia was a good sport and didn't flatten her new friend in frustration.
The build for two highly anticipated matches for Evolution started on Monday and then took a big swerve. The Queen of Queens, Trish Stratus, returned to RAW and addressed Alexa Bliss' blatant, and easily fact-checked, lie about her that Bliss told last week. Referring to Bliss as a 'brat', Stratus decides to enlighten Bliss with a Moment of Stratusfaction.
Before she could get started, Bliss and Trish's old nemesis, Mickie James, made their arrival. Bliss was less than impressed with Trish and vice versa. After trading some pretty petty insults, Mickie steps in, reminding Trish that nothing good ever happens when the two of them are in Chicago. Trish turns her attention to Mickie, warning her former rival to 'protect' little Miss Bliss and also warn her about what happens when you cross the Queen of Queens, you get a Hall of Fame level ass-kicking.
As always, Mickie is unperturbed by Trish's threats, suggesting that instead of two one-on-one matches, they have a tag match, but who could be Trish's partner? Where oh where could Trish find a suitable partner? Well, a suitable partner presented itself in the form of fellow Hall of Famer, and Trish's long-time best friend, and on-screen rival, Lita!
The Queen of Extreme joins Trish and the four women start throwing fists before Bliss bails out. Mickie wasn't so lucky, she took a patented Chick Kick from Trish before Bliss could save her from a patented Lita-sault. The Hall of Fame besties hold the ring, but it could be a very different story at Evolution.
RAW Tag Team Division: Authors of Pain's reign of terror continued on Monday. After Bobby Roode and Chad Gable got one over on the Ascension, they were unceremoniously attacked by AoP, who beat both men down before hitting them with the Super Collider.
Kevin Owens vs Bobby Lashley and Lio Rush: After the loss on Saturday to Lashley and Cena, Kevin Owens was looking for some payback. Lashley was accompanied by his hype man, Lio Rush, who talked on the mic, the ENTIRE time. Unfortunately, Owens' obsession with Rush would cost him dearly as Lashley picked up the win after a fairly dominate performance. At Rush's prodding, Lashley dished out more punishment to the helpless Owens.
Brothers of Destruction vs DX: On Saturday, Triple H finally defeated the Undertaker with some help from Shawn Michaels. Unfortunately, Taker and Kane weren't in the mood to be good sports and attacked the former members of DX after having a moment with them.
DX kicked off the show and neither man was in a good mood. Triple H compared defeating Undertaker to climbing the biggest, nastiest mountain in the world and that they should be celebrating, instead they got hit by an avalanche.
Both men talk about respect and what it means and it seemed that neither man has any respect for Taker or Kane. HBK implied that he'd stayed at home because of his respect for Taker and that he'd given his word to Taker about retiring. Respect that no longer exists.
Are You Ready, Deadman Inc? Because at Crown Jewel, DX is looking for payback.
John Cena: It appears that John Cena had so much fun doing very little at Super Show-Down, he's going to be at Crown Jewel.
Crown Jewel: There is going to be a tournament to determine who will compete in the WWE World Cup at Crown Jewel.
Match 1 – Global Battle Royal: Apparently, Corbin isn't taking this world cup thing seriously because he assembled a motley crew of jobbers in international costumes to battle for a spot, though the guy in the luchador mask seemed to be the most over. Corbin decided to join them and won to no great surprise. Or did he? There was someone who hadn't been eliminated: The Gold Conquistador, who showed some impressive moves, including what LOOKED like an Olympic Slam. Hmm.
It turns out that Corbin got ribbed when El Conquistador de Oro was revealed to be none other than the REAL GM of RAW, Kurt Angle. Welcome back, Kurt! Oh, it's DAMN true!
Mixed Match Challenge: Balor and Bayley faced off against Mahal and Alicia Fox, who have been having some issues lately, issues that Sunil Singh keeps getting blamed for.
The match was surprisingly good, with Balor and Bayley getting in some unique offense. Team B&B would get the win and the woes of Team Mahalicia continue on.
SmackDown Live
WWE Championship: At Super Show-Down, AJ Styles finally vanquished Samoa Joe, ending the months of mental torture he and his family had endured at Joe's hands. Meanwhile, Daniel Bryan finally got one over on Miz and it was a doozy. He not only beat his long-time rival and tormentor, but he won a #1 Contendership in the process, setting up a dream WWE Championship match for Crown Jewel.
A very petulant Miz hosted MizTV with guests AJ Styles and Daniel Bryan. Apparently, General Manager Paige had read him the riot act before the show and he promised to be professional.
Miz's professionalism took form in belittling and insulting both of his guests and trying to stir up trouble, which failed for the most part since Styles and Bryan are familiar with each other and have a lot of respect for each other, which made the interview pretty boring.
Miz's self-induced woes continued when his attempts to stir the pot result in Styles and Bryan picking on him, including Bryan commenting that punching Miz is a lot of fun. That was the last straw and Miz has a full-blown meltdown in the ring. The footage shows that he got his shoulder up at Super Show-Down but Paige refused to give him a rematch. Miz is angry that for all his (tainted) wins, Bryan gets one win and is the #1 Contender.
Maybe you shouldn't have blatantly cheated to win your entire career, and insulted the General Manager every chance you got, Miz. Just a thought.
Anyway, Miz berates both Bryan and Styles, blaming the fact that the WWE Championship is usually in the mid-cards on Styles, rather than, say VINCE, who actually controls what matches go on when. Miz says he doesn't care who wins at Crown Jewel, but he also has a surprise for Styles. Styles has a match against the man who Miz helped beat Daniel Bryan last week, Shelton Benjamin.
Styles vs Benjamin was fabulous, and Miz and Bryan were on commentary, Miz taking potshots while Bryan admired Styles' ability. Styles would get the pinfall after a Phenomenal Forearm. Miz looks like he was weaned on a dill pickle the size of a sequoia, but Bryan is elated.
WWE United States Championship: Nakamura wasn't in action tonight, but it was revealed that he will be participating the WWE World Cup Qualifier next week on SmackDown 1000 and his opponent will be…Rey Mysterio!
SmackDown Women's Division: Becky Lynch showed on Saturday that she was willing to do anything to retain her SmackDown Women's Championship, deliberately getting herself disqualified by using the belt on Charlotte Flair. Since Charlotte won by default, she was given another rematch with the added stipulation that if Becky got disqualified, she would be stripped of the title, thus giving it back to Charlotte.
Unfortunately, when Charlotte demanded that stipulation, she failed to consider that if BOTH of them were disqualified, she wouldn't get the belt back. The reason that little oversight is important is because that's exactly what happened. After an amazing and brutal match, both women were counted out, Becky was disqualified, but because Charlotte was also disqualified, Becky could not be stripped of the title. Enraged at again being denied the belt she felt rightly belonged to her, Charlotte charged at her former best friend, spearing her through the LED boards, badly cutting herself.
However, Charlotte will get one more chance. General Manager Paige announced that at Evolution, Charlotte and Becky will face off in a Last Woman Standing Match, the first in WWE history.
WWE World Cup: Not to be outdone by RAW, SmackDown did two qualifying matches for the WWE World Cup at Crown Jewel.
Match 1 – Jeff Hardy vs Samoa Joe: Samoa Joe was looking for redemption after tapping out to AJ Styles at Super Show-Down, as was Jeff Hardy, who has been less visible since his epic bellyflop at Hell in a Cell.
This match was rough but very good. Unfortunately, Jeff Hardy would have to settle for a less than stellar victory when Joe's still damaged leg decided to give up before Joe was ready, forcing the ref to rule in Jeff's favor.
Match 2 – Randy Orton vs Big Show: Wellllll, Big Show is back and was looking to put his big name in the WWE World Cup, but he would have to beat the borderline psychopathic Randy Orton to do it. Big Show dominated the match, but Orton was nothing if not wily and was able to pick up the win after Big Show's temper lead him straight into an RKO, giving Orton the pinfall.
Rusev vs Aiden English: Anyone actually believing that Aiden English had anything really damning on Lana or that Lana was a dumb blond were both greatly disappointed on Tuesday. Aiden English has spent weeks claiming that something had happened between him and Lana in Milwaukee and seemed to have delivered the goods, showing Lana seeming to come on to him, confirming the accusations. Or did it? Nothing on the footage shown last week showed anything truly untoward, but people have dirty, suspicious minds.
This week, to silence the skeptics, English showed more of the footage, which seemed equally damning, at least at first. Lana asks English to show how much he loves Rusev, and tells him how much she appreciates his help after English praises Rusev to the moon and back. The video cuts out just as the action looks ready to start. English tells Indy that he'll only show the rest if Rusev comes out.
A very angry Rusev comes out and, instead of rolling the rest of the video, English lays out his case, demanding that Rusev ditch Lana and reform the original Team Rusev Day with English.
Lana comes and to 'reason' with Rusev, but it seems like Rusev's mind is made up, but Lana has some tricks up her non-existent sleeves. She asks that the rest of the footage be shown, which English denies since SmackDown is a family show.
Wait. What? Why would English suddenly shy away from showing his hand and if he's got a full house? Could it be that his ace in the hole is actually the joker? Lana reveals that she hacked English's phone, his password was 'I <3 Rusev', and has the FULL footage of what happened that night in Milwaukee. Turns out that the only person coming on to anyone was Rusev coming onto Lana, and she turned him down. Now English looks like an idiot and makes the situation worse by telling Lana that the offer stands. That's enough for Rusev, who chases down English and beats the hell out of him before English escapes.
205
WWE Cruiserweight Championship: Buddy Murphy was still in Melbourne, celebrating his victory, and spending time with his family.
Lio Rush Open Challenge: Lio Rush has been on quite a roll recently, he's undefeated on 205 Live and he's managing Bobby Lashley to great success on RAW. So now, he wants to share his greatness with other on the 205 roster because it's Rush Hour. The first person to step up is Lucha House Party's Lince Dorado. Rush is intrigued and like the 'Lucha lucha' and isn't even put out when Dorado corrects him.
This match was incredible. Rush and Dorado really tore the house down with plenty of back and forth. Lio mocked 'the kitty cat', even tries to take his mask off, but quickly learned that you don't piss off a lynx (which is what 'lince' translates to).
Just when it seemed that Dorado was going to be the one to finally hang a loss on the man of the hour, a figure appeared on the ramp, and it was Maria Kanellis, who has been out for a year due to her pregnancy and a wrist injury. Why Maria is here becomes very obvious when Mike Kanellis appears out of nowhere and shoves Dorado off the top turnbuckle, actually giving Rush his first defeat, albeit by technicality.
Cedric Alexander vs Tony Nese: If Cedric Alexander was feeling any regrets about his loss at Super Show-Down, he wasn't owning up to them, at least to long time friend, Mustafa Ali, who expressed concern that Alexander was taking Nese's bait too soon after the loss to Murphy. Cedric brushed off the concerns, saying that he'll do what he does best, win and steal the show. And he'll make sure Murphy got the message in Australia, so he'll be prepared when Alexander invokes his rematch clause.
Alexander vs Nese was a very good match, but it seems like both men were feeling the effects of their grueling matches last week (yes, I know that Nese/Gargano happened about a month ago, but let's stay in kayfabe, hmm?).
Nese took great pleasure in mocking Alexander and proving what a great athlete he was, which irritated Alexander greatly. Despite a valiant effort by both men, who beat each other from pillar to post, Nese would finally pick the win with a 450 splash. Maybe Ali was right to be concerned about Alexander's state of mind.
Party of Gulak vs Brian Kendrick: Last week, Drew Gulak and Jack Gallagher turned on fellow Party member, Brian Kendrick, after Gallagher lost a match, despite Gulak's best efforts. This week, Gulak and Gallagher offered up an explanation for their actions, stating that their partnership was based on being dirty, rotten, scoundrels, but Kendrick had changed. To them, Kendrick had grown sentimental and soft and that is unacceptable. Gulak and Gallagher claimed to deeply regret what had happened, but Gulak says that it should've happened sooner and that next week, they'll take care of Akira Tozawa, who Gallagher lost to, in their unending bid to 'Create a better 205' by taking all the fun out of it.
Mustafa Ali vs Hideo Itami: We found out that the next encounter between Hideo Itami and Mustafa Ali will take place on October 24th and it will be a Falls Count Anywhere match.
NXT
NXT Championship: If the NXT Universe has their way, Tommaso Ciampa might have an unexpected challenger for the NXT Championship: Nikki Cross! How'd that happen? Well, let's start at the beginning.
Ciampa kicked off NXT and he's got new entrance music as opposed to the silence from before. Ciampa likes it because it quiets the sheep. He then addresses Velveteen Dream, who has been making noises about Ciampa being involved with what happened to Black. As far as Ciampa's concerned, Dream just wants attention, but he should be careful because bad things happen when you get the Blackheart's attention.
Dream comes out and takes exception to Ciampa's comments. He firmly believes that Ciampa had everything to do with what happened to Aleister Black. Furthermore, he believes that the NXT Championship deserves better than to be around the waist of an angry, bald, little man like Ciampa.
Ciampa is amused by Dream saying that what Dream wants is the main event and the spotlight, attention, which is why he's making accusations about what happened to Black, which Ciampa doesn't think Dream believes. He thinks that the reason Dream is making accusations instead of being straight forward is because Dream doesn't think he's tough enough to take Ciampa on.
Into this testosterone fest careens the Twisted Sister of NXT, Nikki Cross. The crowd is ecstatic and demands a triple threat between Ciampa, Dream, and Cross. Nikki, for her part, doesn't have much to add to the conversation except to say that she knows what they did to both Ciampa and Dream.
To add some more strangeness to this whole situation, it seems that Nikki is a belt whisperer. The NXT Championship belt is talking to her and telling her all Ciampa's secrets. Maybe the NXT Championship has found someone it likes more than Tomasso Ciampa.
NXT North American Championship: After the shenanigans of two weeks ago, General Manager Regal gave Pete Dunne a second chance at becoming a dual champion by booking the Adam Cole/Ricochet rematch for the North American Championship as a triple threat.
The match started off with Dunne and Ricochet ganging up on Cole before turning their attention to each other.
This match was amazing and more than lived up to the hype. Only problem is that with the announcement of NXT UK debuting soon, it kind of killed any tension for the match, at least for me. It also stinks because Dunne/Ricochet feuding for the title is definitely a money feud.
Despite amazing efforts by Cole and Dunne, Ricochet would retain his championship after hitting a 450 splash on Dunne. Amazing effort by all three men!
NXT Women's Division: Shayna Baszler gave us an update on her training to get ready for Evolution. She still refuses to admit that Kairi Sane beat her because she was the better woman. No, it's because Baszler had a misstep and Sane got lucky. At Evolution, however, Baszler vows to fix that mistake and get her title back. Whatever helps you sleep at night, Shayna.
As for Kairi Sane, she is super excited to be apart of Evolution and says that Shayna can train all she wants because everyone knows that Sane will beat her again, just like at TakeOver.
Aleister Black Mystery: Ever since Nikki Cross finally disclosed that she knows who attacked Aleister Black back in August, she's been bursting to tell someone, which is good because General Manager Regal is eager to hear what Nikki Cross knows since his investigation can't move forward until Nikki tells him what she saw.
However, it seems that Nikki might have more secrets to tell than just who attacked Black, or we might have a swerve on our hands. Kassius Ohno confronted Regal about his demand to be put in a better spot on NXT or get his hand on the next shiny new toy of Regal's. Regal ignores the bait, only stating that Ohno has been cleared of suspicion, until Nikki Cross comes up saying only that she 'knows' what Ohno did.
Keith Lee vs Kona Reeves: After a testy war of words last week, the Unlimited Keith Lee met Kona Reeves in one-on-one action this week. Unlike most of Lee's matches, this wasn't a squash. Reeves got in some pretty good offense, but it wasn't enough to stop someone with no limits. Lee handily put Reeves away with a powerslam for the three.
Tiffany's Takeaways
RAW: I hate to be the fly in the ointment, but Taker and Kane have a right to be mad at Hunter and HBK. Hunter changed the rules so HBK could help him win instead of winning on his own.
I'm 'eh' on DX returning right now, but if I get Shield vs DX, I'll be much happier.  Or just give me HBK vs Seth Rollins for the IC title and I'll be happy.
The double turn of Lashley, Rush, and Owens was interesting, but what I wanted someone to do with that mic to Rush is still illegal in some states.
Liv Morgan beating the s**t out of Brie is one of the funniest things I've ever seen. Even the Riott Squad couldn't believe it.
Bellas turning on Rousey wasn't a total surprise, but it was still fun.
Welcome back, Kurt Angle.
I'm not sure what to make of a potential babyface!Kevin Owens. His personality doesn't seem suited to that role.
I'm guess that the decision to make Alexa/Trish and Mickie/Lita into a tag match was to protect both sides since Alexa has been inactive due to injury and Trish and Lita haven't wrestled a real match in a VERY long time.
Given that Sasha Banks is being advertised for house shows right before Evolution, I've got a theory that she's going to insert herself in the Bliss/James vs Stratus/Lita match.
Ember Moon beating Nia was unexpected but done in a way that protects Nia, which is good.
Dean Ambrose walking away after the Shield lost is interesting, but WWE's not going to pull the trigger on that one JUST yet.
SmackDown: I think that spear through the LED boards wasn't thought through very well, but it didn't hurt a great match. Charlotte getting another rematch feeds into the narrative of her being an entitled brat who can't stand that she's not champion not that Becky is a heel.
I'm over Miz and Bryan, I'm all for Bryan/AJ and Miz going to do another movie.
I love Lana being the one to expose the fact that English was scamming everyone and why he was doing it.
Stoked for Rey Mysterio to be at SmackDown 1000.
Welcome back, Big Show!
205: I'm not a fan of Mike Kanellis or Maria, or at least their gimmick, but putting Kanellis on 205 means that he'll get a lot more exposure than he was getting on RAW or SmackDown.
I heard some griping about the RAW storylines that involve Maverick and Rush not being included, but to me, it makes sense to only talk about them. AoP and Lashley have no reason to be on 205, so why have them on?
I cannot wait for the Last Man Standing match between Ali and Itami!
NXT: Have I mentioned that I love Nikki Cross and that she's my favorite part of NXT?
The segment between Ciampa, Dream, and Nikki Cross was hilarious.
Shayna Baszler's refusal to accept that Kairi Sane was better than her is very heelish.
The Triple Threat North American Championship more than lived up to the hype.
The NXT crowd is a little annoying.
Mae Young Classic: I love Michael Cole's enthusiasm for the Mae Young Classic.
Is it wrong to say that I got Zeuxius and Io Shirai mixed up because they were both wearing masks at the start?
Shirai/Zeuxius was amazing, I wish they could've both advanced.
The fact that Deonna Purrazzo wasn't signed to WWE sooner is a crying shame.
Watching Tegan Nox in this tournament is hard because she's so good.
I hope Kaitlyn sticks around after her defeat this week. Maybe go through NXT again to work out the kinks or just go to the main roster.
Tiff's Tantrums
Kudos to Paige for calling out Alberto Del Rio's nasty comments this week on 'Chasing Glory with Lilian Garcia'.
The build to Evolution got kicked into high gear tonight, can we please can the narrative that WWE is doing nothing to build this?
Can we stop pretending that Nikki Bella isn't a legit talented athlete who was an integral part of the Women's Revolution that WWE Evolution is celebrating? Her being on Total Divas and Total Bellas doesn't negate the fact that she's a great athlete. By the standards people are trying to set, Trish Stratus and Lita shouldn't be part of this show either.
I'm SO over the constant griping about Saudi Arabia and how WWE should cancel the event. It's not that simple. WWE has a contract with Saudi Arabia, and breaking the terms of that contract could be a lot more difficult than just saying 'We're not coming'.
I understand that a lot of the naysayers have genuine concerns about what's going on and I share them, but to think that WWE can just cancel a big event at the drop of a hat is nonsense, as is the fact that people are more concerned about WWE doing business with Saudi Arabia than they are with Donald Trump and the US Government doing the same thing. An entertainment business should not be held to more accountability than the government.
Someone on Twitter actually implied that WWE made up Sasha's health issue, rumored to be another back problem, because Sasha got a tattoo, played with puppies, and basically lived her life. Really? She was injured, not dead, and she's been off all social media for several weeks, presumably to focus on her recovery from whatever was going on.
That's it for the WWE Week in Review! Next week, we'll be discussing NXT UK, which is going to start on Wednesday! Have a great week and be good to each other.
News From Cook's Corner 3.1.21: No Big Show
Steve Cook brings the birthday shout outs and a nice variety of different wrestling topics! Check it out!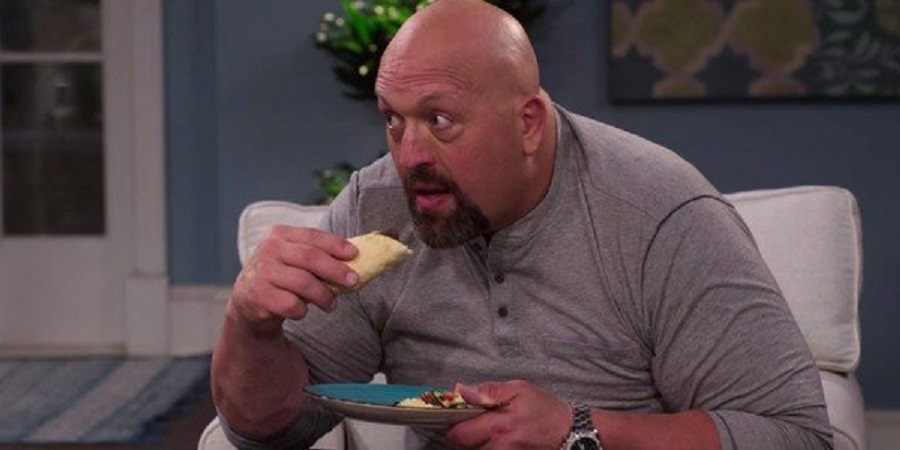 Hi, hello & welcome to News From Cook's Corner! My name is Steve Cook, and I'm somewhat decent at remembering birthdays of people close to me thanks to social media notifications, but ages are another matter. A day ago, I would have wished Larry Csonka a happy 67th birthday. Not that he would have been 67 years old, it's just a gimmick I do with people that are older than me. Assign them an age much older than they actually are. Greg DeMarco has been on the receiving end of this before.
It's good times, loved by all. (Actually, Larry hated it and I'm pretty sure Greg does too.)
With the way things have been in the world over the past year, there's a good chance that if you're reading this, you've lost somebody you cared about over the past year. Wrestling has seen a nearly non-stop parade of death, including the loss of the man who played Jocephus & The Question Mark last week. His passing touched a number of his brothers & sisters in the wrestling business, who posted about how great he was as a person.
All we can do is hang together and help each other through our periods of grief. We all go through it, and it's definitely been way too much of a thing over the past year.
You can still donate to help out Larry's family!
It's tempting to wonder what Larry would think about the things going on now. I won't pretend to know how he'd react to most of 2021, but I can safely assume that he would be excited as I am about Tully Blanchard having a match on television this week, and also wondering why a bigger deal isn't being made of it. He probably would have written the best column about Tully Blanchard since 1999.
The best way I can think of to celebrate Larry's birthday? Ramble through some wrestling news a day after it! Makes sense, right?
AEW Signs Paul Wight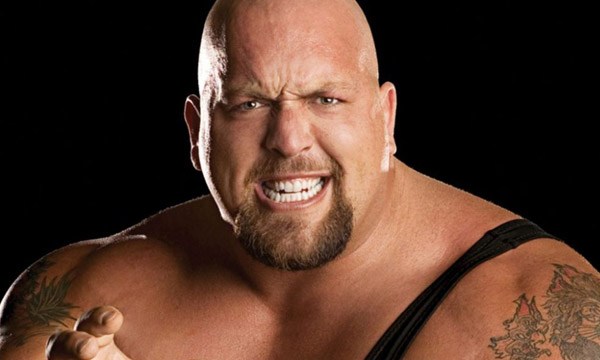 This one came as quite the surprise when it broke on Wednesday. Paul Wight, the wrestler formerly known as The Big Show (or The Giant if you're more of a WCW fan), has decided to take his wrestling and announcing talents to All Elite Wrestling. Wight had worked for WWE for most of the past twenty-two years, with the exception of February 2007-08. He hadn't done much with the company over the past several years, appearing for brief periods of time in the ring. WWE did help produce The Big Show Show, a sitcom that lasted one season on Netflix.
It seems like this comes down to Wight wanting to do more, and WWE not really having anything for him to do. Since his sitcom was ended, he only made a handful of appearances on WWE television, with his last appearance consisting of Randy Orton berating him for not being able to wrestle anymore. Wight will apparently be doing some wrestling in AEW, which will be interesting on a number of levels since there isn't a bevy of talent there that's anywhere near his size. I mean, there is Shaq, and that's been a dream match for some for years, but there's no telling whether or not Shaq will be back after his tag match this week. He'll also be announcing alongside Tony Schiavone on AEW's new YouTube show titled AEW Dark: Elevation.
AEW has made it a priority to keep increasing their online presence, as we saw on Sunday night when they aired some of their Women's Championship Eliminator matches on Bleacher Report's website. Including Riho vs. Thunder Rosa, which made some pretty angry when it was announced as they would have preferred to see the match on Dynamite. While I get that they need matches like that to draw eyeballs to new platforms, it will raise some eyebrows from those that see things like this as demotions. They aren't meant as demotions, as having Wight on this new show further indicates.
I don't see this changing the momentum of the wrestling wars, but I think its nice for older talent to have viable options other than a WWE Legends contract.
WWE: Still Big In India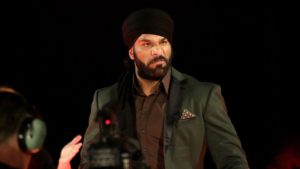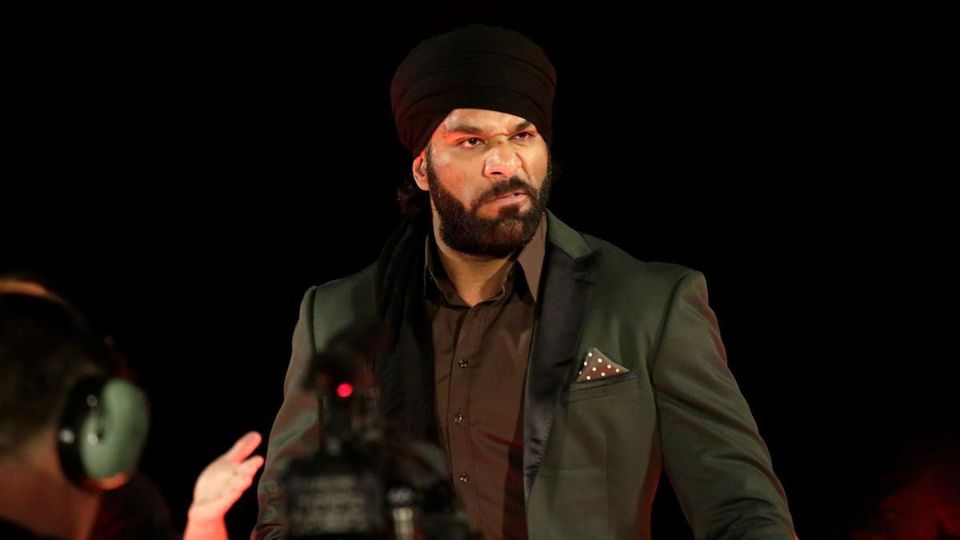 People like to make a big deal of how many viewers these wrestling shows have. One thing we often forget: Americans aren't the only people that watch television! Sure, on average we probably watch more programming via various devices than anybody else. However, there's a great big world out there of people watching wrestling that we often don't keep track of!
Fortunately, we have people like Lucha Libre Online to keep track of places like India for us. Here's what they told us!
4 million people watch Raw every week, while 3 million watch SmackDown and 1 million watch NXT. Which makes me wonder if Raw viewers are forced to choose between SmackDown & NXT. Are they in the same time slot?
People are making a big deal about how this means more people in India are watching WWE than in the US. I mean…India has a few more people, right? I'm guessing their share of the overall audience is lower than it is here.
All I know for sure is that all this proves that India doesn't need Jinder Mahal pushed on top to remain interested in WWE.
NWA Pulls Videos From YouTube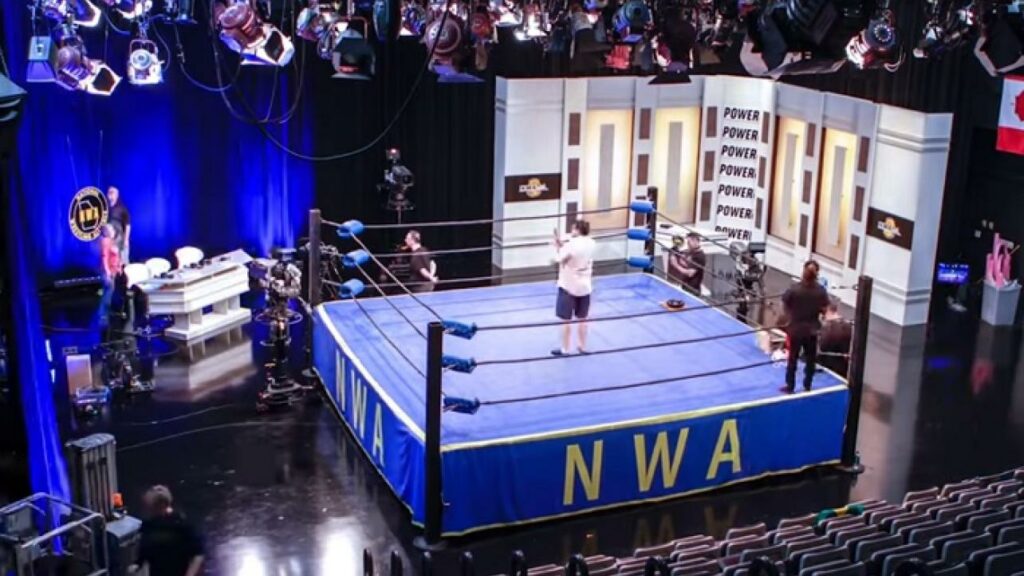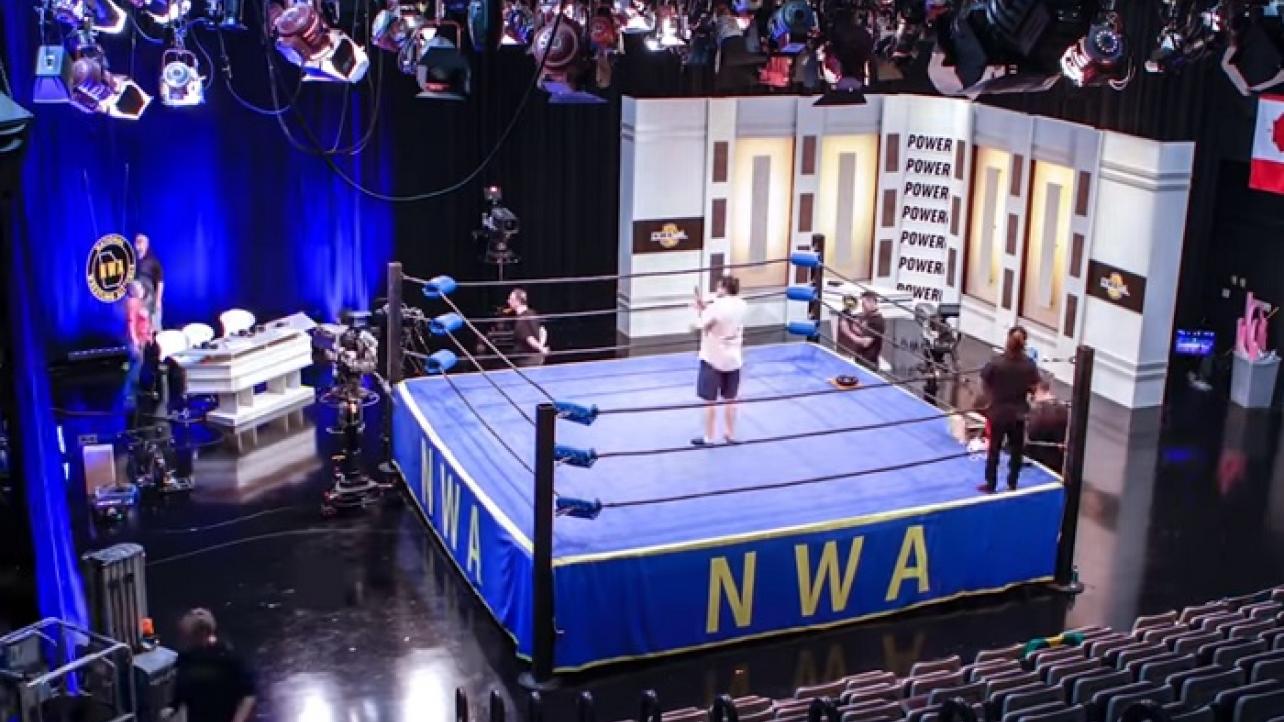 I have to admit that I was concerned when WrestlingInc & other websites drew my attention to the fact that the NWA had pulled their videos from YouTube. Not really the best timing on that either, as I'm sure there were fans of Jocephus & Question Mark looking for something to watch after his tragic death last week. It's easy to see why people thought the worst.
As we know, the NWA has virtually ceased production since the pandemic started. A good amount of their wrestling talent has moved on to other opportunities. If David Lagana has been replaced behind the scenes, we haven't heard who it is. Heck, the women's division has pretty much become part of AEW. We've been waiting to hear some kind of NWA news for awhile now, either good or bad.
We've finally got something new coming from the NWA. Dave Meltzer reported that they'll be holding TV tapings from March 21-24. No word on where the tapings will be taking place, if fans will be allowed, or who will be involved. As we've noticed, a good number of NWA wrestlers have moved on to other places. Hopefully the NWA will be able to fill those slots with new, compelling characters that can give fans the same level of enjoyment they got out of Powerrr.
I'm always in favor of more wrestling produced for the people.
Marty Scrull Returns to New Japan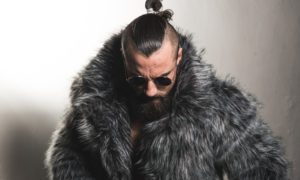 Our friends at Fightful got the inside scoop from the NJPW Strong tapings back in January and found out that Marty Scrull appeared on the show. He did an angle with Rocky Romero that will presumably air at some point. Scrull has not been seen or heard from in any major way since parting ways with Ring of Honor.
I remember reading before that New Japan might be the most likely landing spot for Scrull, since apparently sleeping or doing other things with underage females is less frowned upon over there. And there is a bit of a difference between having someone work for you as a wrestler or in a management position. Scrull was management in ROH, and keeping him around would have been unneeded publicity.
That's what all of these Speaking Out defendants are going to be dealing with in their attempts to return to pro wrestling. The ones that haven't yet will try eventually, it's just a matter of timing and business. Companies will bring in these people if they find them valuable. New Japan finds value in Marty Scrull, who has enough friends there to help him out.
The question, as I've stated before, is if fans feel strongly enough about Scrull and his failings to hold it against the people that employ him. If they do, and they don't watch NJPW Strong, Scrull won't be around for too long. If fans don't care, then promotions don't need to, and Scrull will be twirling his umbrella back into the wrestling world.
As for my opinion? I'm really the wrong person to ask, as Marty Scrull wasn't a draw for me before all his business came out. I'm not inclined to watch his stuff, but I already wasn't. What matters is how the people that did fawn over Scrull in the past take to him now.
Klein vs. ROH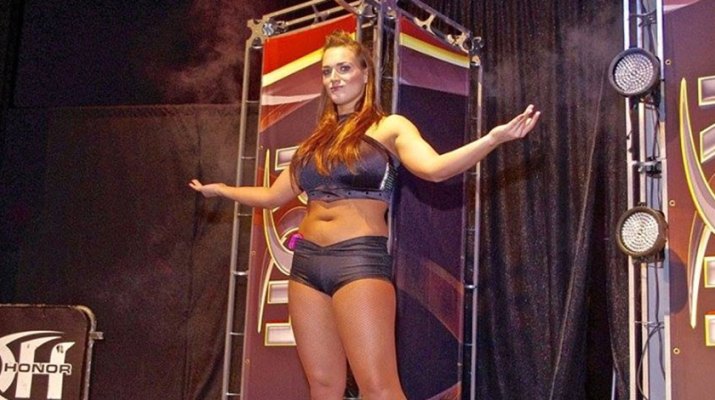 Its been a minute or two since we've talked much about the former Women of Honor Champion. It wasn't too long before the pandemic when all of this drama went public with Kelly's allegations about her treatment in Ring of Honor, Kelly getting divorced after her former husband (BJ Whitmer) accused her of being unfaithful with the man assisting her in making allegations (Joey Mercury), and ROH eventually stripping her of their championship and not renewing her contract.
Things died down on this front over the past year, largely due to the global pandemic thing. Klein isn't going away though, as she filed a lawsuit against Ring of Honor & Sinclair Broadcasting, naming Greg Gilliland, Delirious & Jay Lethal as defendants. Klein's issues with ROH came to a head when she suffered a concussion during a match and there was no protocol or staff on hand to address her problem. There were other issues, including pay, which apparently ROH's female roster members get considerably less of than the males.
ROH has never really had much interest in pushing women's wrestling. That's just a fact. The Women of Honor re-boot in 2018 seemed to be a step in that direction, but the company quickly lost interest in featuring the competitors. Since the debut of the ROH bubble, the only woman regularly appearing on television has been the studio host, Quinn McKay. McKay has an angle going with Mandy Leon & Angelina Love, but that hasn't been touched on at all on television and has been confined to an Internet show where they did one confrontation and that was it. Leon & Love appear in the opening video, but that's the only place they've appeared on television in months. Vita Von Starr appears with The Righteous on occasion & Maria Kanellis-Bennett recently made her on-screen return to commentate on a match.
So, no, it doesn't surprise me that ROH had/has no interest in paying women equally to men.
There's a lot going on within the lawsuit, including harassment claims directed towards Lethal. The main thing to keep an eye on here for wrestling purposes? Klein is claiming that she was an employee, not an independent contractor, and the State of Maryland has a strong policy to ensure that workers are not misclassified. So we're saying there's a chance this issue might actually be addressed in a court of law after how many years. Stay tuned.
That's all we have time for this week! Thanks for reading, and keep your stick on the ice.
NXT Minus 6: The Most Pointless Match Ever
There are some things Brad really enjoyed, and others that made no sense. Do you agree with his assessments?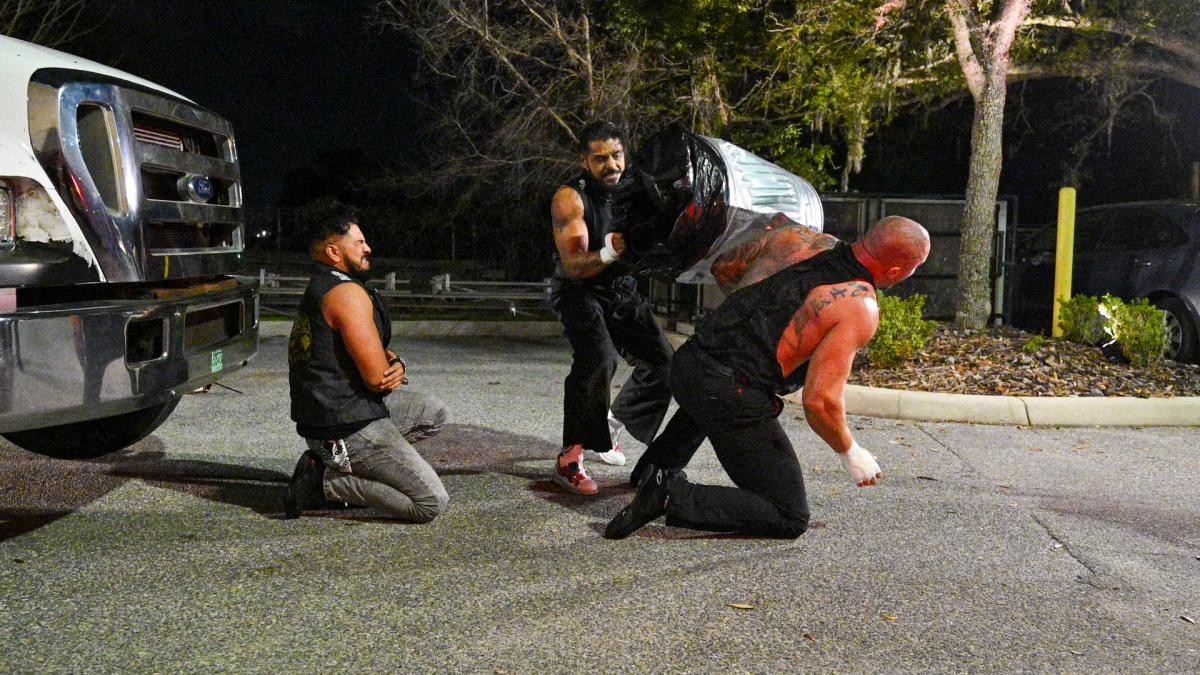 Not just pointless. It was Charles Barkley turrible. 
6. Dexter Lumis is in dire need of a makeover. Since his debut two years ago, the only thing that's changed is the possible addition of new arm tattoos. Great athlete. Deceptively agile. No depth to his character. He is the worst thing you can be in wrestling. Boring. 
5. Zack Gibson strikes again. Drake Maverick & Killian Dain are Shrek and Donkey. Savage! Gibson is on the mic what Wade Barrett needs to be. I like watching him wrestle. I love listening to him talk.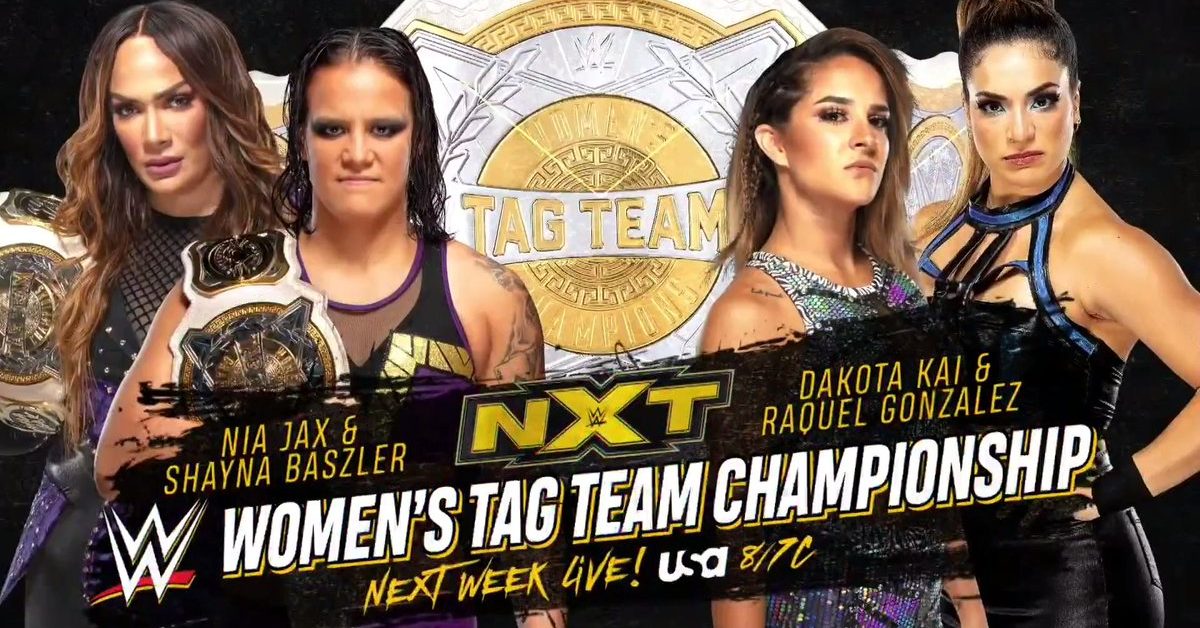 4. How good was it to hear Shayna Baszler's music again in NXT? I am cranked to 11 for the women's tag team title match. So many stories. Baszler and Dakota Kai have a long history. Raquel Gonzalez and Nia Jax, the two biggest, baddest bitches in WWE are out to prove who is the alpha bitch. Titles on the line. Baszler's homecoming. Kai's shot at validation. I'm smelling MOTY contender.
3. I am fully and deeply committed to the notion that Xia Li is the baddest person in the entire NXT locker room, male or female. Madame Li, I will never get on your bad side. If I accidentally cross that line, I will change my name and flee the unidentified state in which I currently reside. Un-Lished.  
2. That thing between Santa Claus Ice Cream Bar and Doomsday Saito was possibly the most pointless match ever. The feud was based on nothing. Why is a heavyweight going after a cruiserweight? Why do they continue to pretend Ice Cream Bar is a cruiser when he clearly isn't? How does Saito survive a 3-on-1 beat down to pop up fresh as a daisy and get the victory? It dragged on and on and on and on and on and on and on, clocking in at just under 92 hours. Let us never speak of this match again. No, it doesn't get a pic. 
1. This week's That's Why I Love Wrestling goes to…unidentified camera man! I'm on my couch, digging Leon Ruff's entrance. BTW, his music kicks all kinds of ass. Ruff is hanging on the ropes, loving life, when BAM! Kick to the head from Swerve Scott. I was genuinely surprised, never saw it coming, because the camera man was fully focused on Ruff, and so was I. Nice work, unidentified camera man.