After WWE Evolution, What's Next?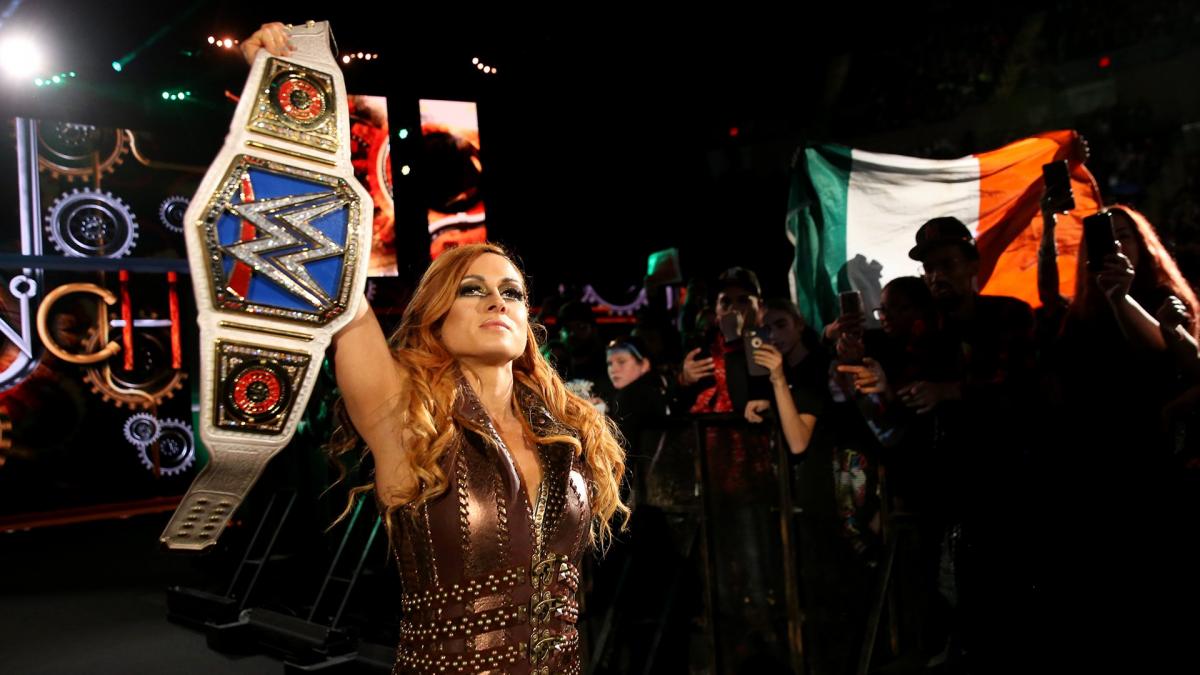 Now that WWE Evolution is history, what's in the store for the women of the largest wrestling company in the world?
WWE Evolution was a big deal for the women in the company, and the company as a whole. Given the number of women employed there now, the moment is here to do more than a title program on each show and a thrown together tag match every week or so while we ride out time until the next pay per view.  There are some things that have been kicked around and rumored but just how feasible are those things?  I kicked around some of the stuff I've heard, seen, and thought about myself and here's what I got:
Women's Tag Team Championships
Long rumored, long hinted at with real or implied pairings, will they actually happen?  It seems like the easiest one to do, and will bring a lot of goodwill very quickly.  It's also a quick fix to the issue of having as many women on the roster as they do now but only two titles to fight over in what have become two divisions (Raw and Smackdown) that have attached their respective title programs to longer term storylines.  Nobody is beating Ronda until at least WrestleMania and if someone does beat Becky before WrestleMania it's likely to be Charlotte.
So you have a glut of talented women wrestlers with nothing to fight over, and until times change getting a non title feud over is not an easy haul today.  The only real obstacle I can think of is logistics.  The champs, whoever, they are, will be traveling a lot as they will be appearing on both brands so long as they hold the belts so that will have to be worked out some kind of way.  But I really hope this becomes a reality and not just a dream.
More Women's Pay Per Views
Given how Evolution went over there's plenty of appetite for more all women's pay per views.  The only questions are when and how often?  The calendar was not a friend this year, sandwiching Evolution between the Super Showdown in Sydney and Crown Jewel in Saudi Arabia and squeezing it for promotion time, so a less crowded spot during the year would be preferable.
There's no reason that putting it on in place of a traditional pay per view during one of the lull periods (after WrestleMania in April, in July before SummerSlam, or in December before the run up to the Royal Rumble begins) wouldn't work and alleviate a lot of the stress we had over it going in.
But should it be limited to just one a year? Once the specialness fades will there be enough interest for 'regular' shows featuring all women two or three times a year?  Personally, I think so.  You got three plug and play matches every time (Raw and SD women's title, NXT title), four if they do the tag team titles.  You just need some feuds for the bottom half of the card and you're set.  Seven matches, three times a year is doable.
Regular Weekly Women's Show
I think a full fledged women's brand isn't feasible.  For one, Triple H very eloquently stated that he didn't think segregating the women is the best way to show that they are equals to the men in the business.  I agree with that, but there isn't enough TV right now on Smackdown or NXT to showcase everyone sufficiently so some kind of other avenue would be nice.
An hour long thing on the Network where you show some taped matches, have sit down interviews, taped promos, etc could be done without as much logistical hassle so that we can continue to see everyone and not just whoever is in the title program on each show every week.
More Room On Pay Per Views
When we had split brand pay per views it wasn't uncommon to have more than one women's match on the show.  In fact 11 of the 19 split brand shows had at least two women's matches while Elimination Chamber 2017 and TLC 2017 had three women's matches on the show.  Since they've gone back to co-branded shows it's been nothing but Raw and Smackdown Title matches which means that while you get two matches guaranteed (the exception being Money in the Bank where there were two title matches plus the Women's Money in the Bank match, there's nothing else for the rest of the women other than the preshow match Bayley had with Ruby Riot at Backlash this year.
There's no reason we can't have at least one women's match on every pay per view that is not a title match.  Whether there's a feud behind it or just as a contender's match kind of thing, let's do it.  This also applies to NXT Takeover's.  Right now we get the NXT Women's Title match and that's it.  Yeah they tape some other matches at the same arena to show on the weekly show afterwards but why not give two up and comers 15 minutes on the main show to do something?
---
So that's what I'm thinking.  2019 has a world of possibilities to explore.  These are a few, and I'm sure there are some I haven't considered that are on your minds right now.  Hopefully, the people in charge are thinking about some of this, too.
What do you think?
Cook's AEW Double or Nothing 2022 Gambling Picks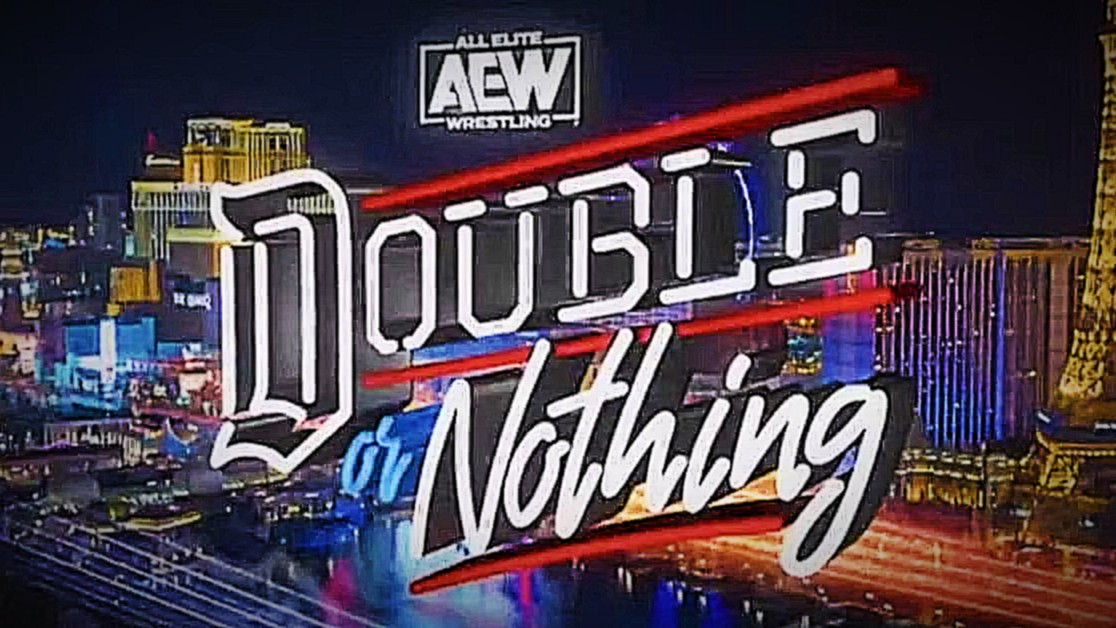 It's Memorial Day weekend, you know what that means! AEW is presenting its annual Double or Nothing event. 13 matches for you good people! Most of them have odds via BetOnline. Let's win you some money! For entertainment purposes, of course.
Buy-In Match
Hookhausen (-2000) vs. Tony Nese & "Smart" Mark Sterling (+700)
Hello @TheRock ~ Danhausen here again (fellow famous Hollywood celebrity)

~ how does Danhausen become as very muscled, very evil as you in less than a week for his ppv debuthausen? pic.twitter.com/WetgdXcDkt

— Danhausen (@DanhausenAD) May 24, 2022
Hook is the future of the wrestling business. Danhausen is a popular meme. Tony Nese is here because he impressed somebody. "Smart" Mark is here because he can properly annoy people. This is the right dark match for this type of show. Hook will kill somebody, the crowd will cheer. Hookhausen wins of course.
TBS Championship Match
Jade Cargill (-1800) vs. Anna Jay (+700)
Things are heating up! #TBS Champion @Jade_Cargill defends her Title for the 2nd time against @annajay___ at #AEWDoN (Double Or Nothing) LIVE on PPV from Las Vegas, NV on Sunday May 29!

Tune in NOW to #AEWDynamite LIVE on TBS! pic.twitter.com/B2OQvixyuX

— All Elite Wrestling (@AEW) May 26, 2022
I'm a big Anna Jay fan. But I'm also an honest man, and there's no reason for me to tell you to bet on Anna Jay in this match. If she actually wins they've lost the plot. Jade Cargill is a woman among girls and there's no reason to have her lose anytime soon. So let's move on.
Mixed Trios Match
Scorpio Sky, Ethan Page & Paige VanZant vs. Sammy Guevara, Frankie Kazarian & Tay Conti
#AEW EXCLUSIVE
TNT Champion @scorpiosky vows that for as long as he's the champ, neither @sammyguevara or @FrankieKazarian will be able to challenge him for his title again, if & when he wins their Mixed Trios match THIS SUNDAY @ #AEWDoN LIVE at 8ET/5PT on all major PPV providers pic.twitter.com/NLUD5mA5eh

— All Elite Wrestling (@AEW) May 28, 2022
One of the things I liked about AEW when it started was their concept of booking matches a week in advance. It was nice to see them run the card down for next week's Dynamite, you knew what to expect next week! Sometimes they'd even advertise stuff for two weeks later, which was downright mind-bending. Unfortunately, AEW's been getting away from that in recent months. Now they tend to wait until Rampage before announcing anything for Dynamite, and announce matches the day of the show just like everybody else does. It's a darn shame.
I'm pretty sure that back when AEW started, a match like this wouldn't have randomly been announced two days before the PPV. Considering it's PVZ's very first wrestling match, and the stipulation is fairly important (Guevara & Kazarian can't challenge for Sky's TNT title if their team loses), this could have used more than two days of build.
I'll be rooting for American Top Team here since I'd like the current TNT title feud to end. That's not what I expect to happen, so roll with Sammy, Frankie & Tay.
Kyle O'Reilly vs. Darby Allin
This ones for Sting. pic.twitter.com/n6LsoWGpYs

— DARBY ALLIN (@DarbyAllin) May 28, 2022
Speaking of somewhat random last minute matches. Kyle injured Sting during a beatdown at the end of Dynamite a couple of weeks ago, and Darby has taken exception. This should be a pretty fun match with two guys that'll be looking to prove they should have been booked on this card earlier. Expect Darby to win here, as Kyle's still working his way up in AEW.
Men's Owen Hart Cup Final
Samoa Joe vs. Adam Cole
Tony Schiavone is spot-on. Adam Cole and Samoa Joe have never met. Not during Joe's brief return run to ROH in 2015, not in NXT, not anywhere. Gonna be good on Sunday. #AEWDynamite

— Kyle Sparks of Bodyslam.net (@kyleksparks) May 26, 2022
Women's Owen Hart Cup Final
Dr. Britt Baker D.M.D. vs. Ruby Soho
Ruby Soho (@realrubysoho) reveals what @AEW boss @TonyKhan said that changed her life: "The most freeing thing that anyone has ever said… with that freedom and that paintbrush in my hand, I think it brought about a whole new level of confidence" #AEWDoN https://t.co/QgmavbmBhn

— Shakiel Mahjouri (@Shak_Fu) May 27, 2022
We'll talk about these two together. Adam & Britt have been the popular choice in most circles since the brackets were announced. It'd be cute for them to win the Owen together, right? Joe's a tough row to hoe, especially now that his rivals Jay Lethal, Sonjay Dutt and Santam Singh have been barred from ringside. Cole still has ten other people to interfere on his behalf, so I don't think it'll be a big deal.
Ruby could use a big win here, but it's tough to bet against Britt. I won't!
AEW Women's World Championship Match
Thunder Rosa (-1500) vs. Serena Deeb (+600)
#AEW Women's World Champion @thunderrosa22 wants to teach challenger @serenadeeb a lesson in respect on Sunday LIVE on PPV at #AEWDoN! pic.twitter.com/dAHh4aqjAx

— All Elite Wrestling (@AEW) May 26, 2022
Get these two in the ring, and they'll give you something you want to see. Thunder & Serena are two of the best female wrestlers in the business, and I'm pretty interested to see what they give us on this show. The only issue with this feud? Serena can't cut a promo, and Thunder is only slightly better. Giving them microphone time is just asking for bad reviews from critics like me. I don't like to point these things out, but when they stare me in the face I have to.
THEY CAN'T TALK
Fortunately, they won't be talking much if at all at Double or Nothing. T'll be in the ring where they excel. Potential show stealer here. I'm tempted to pick Serena, but the state of AEW's women's division tells me that Thunder Rosa should retain, largely because I figure the winner of the Owen Hart Cup gets the next shot at the title. That'll probably be Britt Baker, and the Good Doctor deserves a re-match with her arch-nemesis. If I was betting on this, I might throw a couple of bucks Serena Deeb's way, on the off-chance they decide to turn Britt face since she's the most over woman on the roster.
AEW World Tag Team Championship Match
Jurassic Express (-130) vs. Ricky Starks & Powerhouse Hobbs (+200) vs. Keith Lee & Swerve Strickland (+250)
— Jungleboy (@boy_myth_legend) May 23, 2022
It's probably not polite to mention this, but I will anyway. Jurassic Express is the least interesting team in this match. I know Jungle Boy is one of the vaunted Four Pillars and he'll be a megastar one of these days, but nobody can tell me with a straight face that Jungle Boy & Luchasaurus are the best team in the business. They've teamed long enough to prove if they are or not, and they aren't. Starks & Hobbs could have that potential. Keith & Swerve could have that potential. I can see either of those teams lighting the world on fire for the next year or so.
Jurassic Express will probably win since that's how things go. You won't make much money off of that though. If you're looking to make money, I'd take a shot at Keith Lee & Swerve Strickland. You won't find many people in the know that don't think those two guys are awesome. They've proven to have pretty great chemistry. I'd put the belts on them and see where it goes. Perfect opportunity for a face to face switch too since it's a triple threat with heels involved.
Anarchy in the Arena
Jericho Appreciation Society (+225) vs. Eddie Kingston, Santana, Ortiz, Bryan Danielson & Jon Moxley (-350)
DID YOU KNOW: The name "Anarchy in the Arena" is actually a reference to the Anarchy in the Asylum match that took place on the May 7, 2003 NWA-TNA weekly PPV. https://t.co/56ZG827R0d

— Garrett Kidney (@garrettkidney) May 20, 2022
Yep, this is going to be a complete clusterfuck. It'll go forever, it'll go all over the building and there will be crazy spots that these people probably shouldn't be doing. It'll probably be fun to watch! This is also one of the few matches where I think the underdogs have a pretty good chance of winning. The Jericho Appreciation Society is on the same page, it remains to be seen if their opposition is. Some type of miscommunication with the good guys makes sense to me.
House of Black (-200) vs. Death Triangle (+150)
Is it too late to turn the House of Black into a sit com with laugh tracks and wholesome messages?

Full House of Black

3 dads where every day is Halloween raising their daughters after their wives split.

"I'll pick you up from school, sweetie."
"No, dad. You're lame…" pic.twitter.com/kRS73G2Vic

— FRITZ VON ERICH (@AEW_Fritz) May 26, 2022
My most recent 411mania article was inspired by the House of Black, Death Triangle & other factions trying to be spooky these days. Let's be honest, HOB hasn't had a lot of success in wooing people to their side. Any spooky faction worth their weight would have already gotten a young, impressionable lass like Julia Hart by their side months ago. Whether she does her heel turn to join them at this point or not doesn't really matter. The fact it took this long makes them look pretty darn ineffectual.
As for Death Triangle, it's tough to get them all healthy and in AEW at the same time. Pac's been gone a lot, Fenix has been injured a lot, and Penta does Penta things. When they are together, it's pretty cool. I have no doubt this match will be really good, whether we'll care more about the situation afterward remains to be seen.
I'd expect House of Black to win simply because they'll definitely be around.
The Hardys (+200) vs. The Young Bucks (-300)
Here's the thing. At one point, this was one of those vaunted dream matches. The Hardy Boyz in their prime were one of the most popular tag teams in the history of wrestling. Their prime was 20 years or so ago, but extended a bit because they were smart at working the gimmick. Here in 2022, their tank is on E. I'll get yelled at for pointing that out, but anybody watching Jeff or Matt Hardy on AEW Dynamite in 2022 knows I'm right. Matt was exposed last year, Jeff's been exposed in the last few weeks.
Oh, and this match already happened in ROH several years ago when people were more interested in it. I have no defense for this. I can only assume the Hardys will be putting the Young Bucks over again, since nobody has any interest in this feud going on longer than this show outside of the immediate families.
Also, after watching the BTE footage of this feud I care even less about it. I might be in the minority though, WWE has done good business off of senior tour feuds for years.
MJF (+400) vs. Wardlow (-700)
Put Wardlow over.
I could make a real interesting argument for having MJF win here, and having the War Dog eventually getting his AEW contract through other means, and maybe Vince Russo & other folks would say that would get Wardlow over even more than actually earning his contract by stomping the shit out of MJF. But that's a little too cute & complicated when you're trying to build somebody like Wardlow into the future of your company. Just let him beat the shit out of MJF.
No reason to worry about MJF, he'll get his heat back the second he has a microphone. Things don't always need to be complex. The best booking is often the simplest. Don't overthink this thing.
Put Wardlow over.
AEW World Championship Match
"Hangman" Adam Page (+130) vs. CM Punk (-170)
CM Punk: *breathes*

Adam Page:#AEWDynamite pic.twitter.com/DwR92T7Fng

— Public Enemies Podcast (@TheEnemiesPE3) May 26, 2022
Adam Page would like us to know that CM Punk is not the good person he's portrayed himself as since returning to pro wrestling last year. This flies in the face of how Punk has conducted himself on AEW television and various media appearances, but it's not something that would come as a surprise to most wrestling fans. Throughout his career, Punk has gone through these phases where he acts like a nice guy & says & does the right things. Eventually, Punk reverts to his true nature. Has he reached that point again?
As for the Hangman, his title reign has produced some quality matches, but the story hasn't been as compelling as one might have hoped. It's tough to produce a compelling babyface champion. The last one longterm face champion of a mainstream promotion I can remember not getting blowback from the fans for not being interesting enough? Hulk Hogan from 1984-88. And I'm sure if there was an IWC back then somebody would have said that wasn't interesting.
As much as AEW likes to avoid rematches, hopefully this will be just the beginning of a feud that will give folks the CM Punk we love to watch most and give the Hangman something compelling to do. I feel like CM Punk's the pick, but Page's got a real shot at it and would be a better financial windfall.
Chairshot Classic: Andrew's 2019 AEW Double or Nothing Ratings & Analysis
Take a look back at AEW's first PPV effort, the 2019 Double Or Nothing in Andrew's Retro Ratings and Analysis!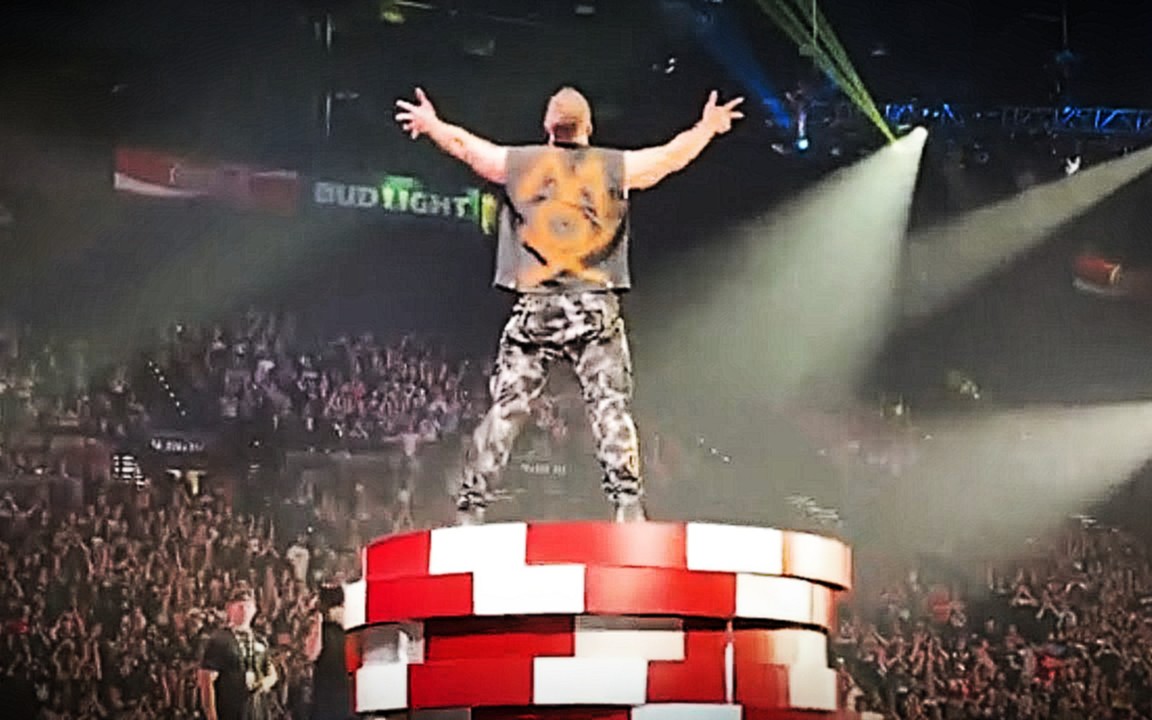 Take a look back at AEW's first PPV effort, the 2019 Double Or Nothing in Andrew's Retro Ratings and Analysis!
With AEW Double Or Nothing–the 2022 edition–on the horizon, enjoy this trip down memory lane as Andrew Balaz reviewed the inaugural Las Vegas AEW pay-per-view…spectacular?
Well this is history boys and girls. Good, bad or indifferent, it's the first show of the IWC's favorite t-shirt company. What becomes of Hangman since he's injured and PAC cancelled? What surprises will we get?
We all sit here with bated breath. Some want it to fail, many want it to succeed. Me? I just want it to not suck.
Let's see what we got!
Ratings:
Casino Battle Royal: Hangman Page wins @10:45 – **
Sammy Guevara vs Kip Sabian: Sabian wins Argentine Facebuster @9:55 – ***
So Cal Uncensored vs Strong Hearts: SCU wins via Best Meltzer Ever @14:00 – *** 1/2
Britt Baker vs Nyla Rose vs Kylie Rae vs Awesome Kong: Britt Bakers wins via Kneecap Brainbuster @11:05 – ***
Best Friends vs Angelico & Jack Evans: Best Friends win via Strong Zero @12:55 – ** 1/2
Riho, Hikaru Shida &  Ryo Mizunami vs Aja Kong, Yuka Sakazaki & Emi Sakura: Hikaru wins via Three Count @13:10 – *** 1/4
Dustin Rhodes vs Cody Rhodes: Cody wins via Crossroads @22:35 – *****
AAA Tag Team Championship: The Young Bucks (c) vs Lucha Brothers: Bucks retain via Meltzer Driver @25:00 – *****
Kenny Omega vs Chris Jericho: Jericho wins via Judas Effect @23:50 – **** 1/4
Analysis:
This was definitely a mess. A few spots, a bunch of messy spots and just generally awkward moments. Flying Brian Jr had a few decent spots, Luchasaurus looked good and Orange Cassidy is awful. Hangman being the 21st entrant made a lot of sense, but probably already upset a few people since it wasn't CM Punk or Jon Moxley. Of course Page won. He can fight with a bum leg, cause he has three of them. So yeah, not an awful match, but it had a lot of issues.
Sabian looked tremendous in this match. Guevara definitely did too much. Shooting Star onto Sabian draped over the outside barricade, a bad double Moonsault and standing Shoot Star hurt the match a little. But Sabian's technically proficient, charismatic and can hang in the air a bit too. So Sabian was the star here. Solid match.
Well now, this was great. Strong Hearts trio pulled off some great fluid offense and SCU did fantastic. This was just a great match, I can't really accurately describe more than great match. Best Meltzer Ever is a little dumb when it comes to names, but damn was this a good match.
So Brandi comes out in her gear to swerve us that she's adding herself to the match, but instead she adds Awesome Kong! So the Triple Threat turns into a Fatal 4 Way and it's not bad. A lot of the early portion is focused on taking out Kong, then Nyla becomes the target. Britt and Kylie are the ones left in the ring after the collateral damage. Kylie looks to be firing up for a finish, but Britt catches her in a Kneecap Brainbuster (Adam Cole's Last Shot in ROH).
Excessive spots, excessive near falls, I knew to expect it to a degree with these four, but that doesn't make it better. This was definitely an 'Indie style" match, but the crowd seemed to enjoy it. There was a lights out attack on both teams from…some team, with masked minions. The "Who Are You" chant kicks up and commentary doesn't lend any information. So that's really not helpful.
Everyone got their stuff in, we got to see a lot of personality from the different women and the action was solid. I also appreciated Emi Sakura trying to rally momentum doing We Will Rock You stomps (since she was dressed as Freddy Mercury). Save for the big mess up with the bell ringer calling the end of the match when the referee obviously held up 2 and said 2, just messed up the flow and gave away the finish since Hikaru's music played. Not bad, just the ending did kind of take the air out of a pretty good match.
Wow. Dustin and Cody brought it, Dustin bladed pretty deep, I think even Dusty would've blushed. New moves from Dustin like the Misawa style Apron Senton, a Code Red and a few classics. The blood, the desire to keep fighting, this was everything wrestling should be. It made sense for Cody to win the match of course, but wow after the match was a beautiful moment. Also call of the night might have to go to Excalibur when Cody hit a Pump Kick aka Bicycle Kick and you hear him say something like " He hit him with a BICYCLE".  In a huge homage to Dustin and Dusty's Heart to Heart promo, Cody tells Dustin he can't retire, because he needs a partner. He doesn't just need a partner, he needs his big brother. This was a great way cap off such a hard hitting personal match. Wow.
Belt reveal with a few extra curricular and Bret Hart. Much like Bret Hart, the belt doesn't do anything for me. It looks a lot like Big Gold, but it's so ostentatious it's hard to love it. Just too shimmery or whatever. It's not bad, but I in no way love the belt.
I'm very happy there was the unveiling ceremony between the Rhodes match and this one. Cause this was a great match and moving it out too quick could've hurt the crowd immersion. Great tandem moves, a decent thread of the ring rust playing a part against the Young Bucks early on and just generally great spots. There definitely was a lot of stuff, big spots and it was "spot monkey" style, but it all worked. The Lucha Brothers pulled out crazy moves to try and get the AAA belts back and the Bucks were trying to prove they still had it with most of the year off. Just really really good.
Well now Jericho and Omega pick back up where they left off. Referee Paul Turner allows for a lot of out of the ring shenanigans. Jericho busts Omega open, tries to use a table as a shield, but Omega still throws himself at Jericho.Jericho focuses on Omega's face with the Triangle Dropkick, a Lionsault went high and this was pretty damn solid. A few missteps and Jericho not countering the first One Winged Angel was car crash worthy, but aside from that, this was nice. Multiple Codebreakers followed by the new Judas Effect, leave Omega laying for the 1, 2, 3.
Jericho says AEW is for him not for fans, and he deserves a thank you. When the crowd pops, Jericho thinks it's for him, but Jon Moxley makes his debut through the crowd! Almost as if it were a reference to Lex Luger showing up on the first Nitro, it looks like Jericho basically says "You don't work here". Dirty Deeds to Jericho, Dirty Deeds to referee Paul Turner and Omega manages a burst of energy to brawl for a little bit. They end up on the poker chips, Moxley hits Dirty Deeds and then just dumps him off, onto some other stage item.
Overall Score: 8.5/10
Well damn, I was skeptical since All In didn't rate as highly for me as other fans, but this was great. Aside from a few personal gripes, and not really enjoying the cluster that was the Battle Royal, this was one of the better shows of the year thus far. Good surprises like Awesome Kong, Bret Hart and Jon Moxley. Jericho winning the main event breaks up The Elite getting the clean sweep, so that shows it's not as predictable as All In.
Oh and yes, I can't express how good the Rhodes match was. The match itself, the story it told, the promo after, everything was just beautiful. That is my number 1 match of the year personally, cause it was just too damn poignant.
Good job AEW. Great show, and the symbolic moment where Cody used the sledgehammer to break the replica throne Triple H used for his WrestleMania 22 entrance. It was awesome.