Dragon Gate Gate of Destiny Results & Review (11/4/2018)

Welcome back to Dragon Gate! We return to cover one of their biggest shows of the year, Gate of Destiny.
The card contains some big title matches, along with PAC's first singles match since his return to the company last month. Now the real question is can they deliver?
Well, we're about to find out as we…dive right in.
Tag Team Match
K-ness & Mondai Ryu vs. Shachihoko BOY & Stalker Ichikawa
Review: We got our opening match with K-ness and Mondai Ryu tagging up for this one to take on Shachihoko BOY and Stalker Ichikawa. Our opening bouts usually there to please the crowd but could they also entertain them while giving us something good? Which of these two will win?
It was a match…it existed. It was about three minutes and it was pretty much Stalker screwing around in the ring with K-ness and Mondai slapped him around and pulled off his ears from his mask, the monsters. Shachihoko really didn't do much in this match, nor Mondai for that matter since it was only K-ness really that did the majority of the work here for the match. K-ness would Sunset Flip Shachihoko for a two count and would have his legs on his body to roll him around the ring in that same position until he pinned him that way again and gets the three count. I just wasn't a fan of this match and nothing really happened in it at all, it just happened just for the sake of a match existing.
Rating: Vince Russo and a half
Six Man Tag Team Match
Natural Vibes (Punch Tominaga & YASSHI) & Hyo Watanabe vs. Don Fujii, Gamma & Ryo Saito
Review: Our next match is a six-man tag match with two members of Natural Vibes, Punch Tominaga and Brother YASSHI teaming up with Hyo Watanabe as they take on the team of Don Fujii, Gamma, and Ryo Saito. Good to see Don and Ryo still being a tag team here and they could possibly go for the Triangle Gate Championships again if they want to. Which of these teams will win?
Well, I can at least say that this was a better match than the previous one I saw but at the same time, this one was just average itself. Natural Vibes teaming up with Hyo was a weird combination in itself and it just seemed like they didn't flow well together whereas Don, Gamma, and Ryo would pair off a bit better than the other team since they have teamed up before and know what they're doing together. Again, the match was a basic tag match for what you see when a unit teams up with one random person and you get some nice sequences from some of the people in the match like with Gamma and Hyo going back and forth into the match and makes me hope we could get a one on one match with these two since it could be solid if done right. Don would hit Hyo with a Chokeslam to get him down as Gamma goes to the top rope to hit a Corkscrew Moonsault almost missing Hyo and pins him for the victory.
Rating: Tony Schiavone and a half
Eight Man Tag Team Match
Daga & R.E.D. (Eita, KAZMA SAKAMOTO & Yasushi Kanda) vs. Tribe Vanguard (Kagetora, U-T & Yosuke Santa Maria) & Kota Minoura
Review: We now have an eight-man tag match with R.E.D members, Eita, KAZMA SAKAMOTO, and Yasushi Kanda along with non-member, Daga as they take three members of Tribe Vanguard, Kagetora, U-T, and Yosuke Santa Maria along with non-member, Kota Minoura. R.E.D has been establishing dominance with Eita leading the charge and now looks to take out Tribe Vanguard in the process. Can R.E.D keep the momentum going or will Tribe Vanguard take it?
Least we were able to get a solid eight-man tag match in the mix almost at the end of our halfway point. R.E.D does what they do best when they start attacking their opponents before the bell would ring to get the opening advantage in the match to make themselves look strong. Tribe Vanguard worked well together in this match with Kagetora and Yosuke still being probably the more underrated people on the roster while U-T is slowly rising up in the ranks with his ability to show us what he can do. From what I can see with Kota, he's still a bit green since he's new but he also does have a ton of potential to do really well for himself. Daga is someone new to me and is actually his first time in Dragon Gate and is a freelancer from Mexico, but he was pretty impressive in his Dragon Gate debut and looked like he fitted in with R.E.D well also. Yusuke, U-T, and Kota would all hit Eita with a Missile Dropkick to get him down until Kanda and KAZMA would stop Kota from trying to pin their leader. Kota would try to do a flash pin to KAZMA for a kick out and KAZMA would hit a Pop-up Powerbomb onto Kota until Tribe Vanguard broke it up and R.E.D throws them all outside. Daga would hit a Gutbuster onto Kota and picks him up for Eita to hit the Superkick onto him and gets the win for R.E.D.
Rating: Eric Bischoff and a quarter
Open The Triangle Gate Title Three Way Elimination Match
Natural Vibes (Genki Horiguchi, Kzy & Susumu Yokosuka) (c) vs. Masaaki Mochizuki, Shun Skywalker & Yuki Yoshioka vs. MaxiMuM (Jason Lee, Kaito Ishida & Naruki Doi)
Review: We have our first title match of the night with Natural Vibes defending their Open the Triangle Gate Championships in a Three-Way Elimination Match as they defend against MaxiMuM members, Jason Lee, Kaito Ishida, and Naruki Doi along with the team of Masaaki Mochizuki, Shun Skywalker, and Yuki Yoshioka. Natural Vibes has a good chance of being eliminated to losing the titles, but they could also have a chance to beat both teams and retain. Will Natural Vibes retain or will one of the two teams take the titles?
So for this elimination match, it looks like once a member loses the match that the whole team would be eliminated instead of just having to beat all three members to eliminate them and that might be better this way honestly, and it appears as though that all three men can be in the match instead of just two people starting and tagging in whoever. These are the types of matches that just make me wanna love Dragon Gate with their nonstop action, entertaining Lucha style mixed in, and just mixing it up with some wrestling to go with it. There was one spot where one person would wrap their legs around his neck for a chokehold and it would keep going until Jason Lee was the last one to make the bridge and Kzy would try to get into the mix until Mochizuki takes him down and it looked like he wanted to do it himself but he goes over to the front end to deliver the longest Boston Crab I've seen in quite some time and it wouldn't last long since Jason Lee was right by the rope and grabs it right away. Yuki would start showing some spark in the match with his back and forth action with Kaito with trying to roll each other up or hit each other and it would come to an end when Kaito hits the Tiger Suplex on Yuki to eliminate Mochizuki Dojo making it now Natural Vibes and MaxiMuM.
Naruki and Kzy start going at it right away and Naruki doesn't hold up against him as he hits him with a DDT and runs towards Kzy for him to catch him by surprise with the Skayde Schoolboy for the surprise pin and Naruki kicked out of it and hits his Bakatare Sliding Kick to knock Kzy out and Jason Lee quickly picks him up for a German Suplex Hold as Susumu broke the count! Kaito and Kzy are in the ring now and he hits Kzy with the Tiger Suplex and it looks like we have new champions, but Kzy kicked out of it! Kaito got Kzy back up to try and finish him but Kzy would hit him with some elbows before he hits his Running Elbow Smash to get the win and Kaito kicks out as well! Kzy quickly picked him up to hit the Impact and Natural Vibes retains the titles! This is Natural Vibes fifth successful title defense and they said that if they retain it one more time, they'll hold the record for most title defenses with this belt and their next title match is on November 18th, so let's see if they can break the record.
Rating: Bruce Prichard and a quarter
Singles Match
Flamita vs. PAC
Review: We now have a special singles match with PAC having his first singles match in Dragon Gate since his return as he takes on Flamita in what people have considered as one of their dream matches for the fans. PAC has been doing well in the tag matches that I've seen when he came back but now the real test is to see how he can do by himself now as he takes on this Luchador. Will PAC win his return match or will Flamita derail him?
For something that was titled a dream match, this was very underwhelming. You're probably asking me how can this be bad since you have PAC and Flamita in the mix? Well, it's quite simple really that it was just slow and dragged out quite a lot at the beginning of the match. I don't mind matches going at a slow pace since I enjoy technical wrestling and could watch that anytime, but it was more of PAC just really dragging it out in the match and made nothing about it exciting except just hitting Flamita and maybe have R.E.D attack Flamita once when the referee wasn't looking. I get PAC is the heel in the match and to get the heat behind him but he just didn't really do anything at all and some fans will feel blue balled by this match. And before you actually do the whole he's a heel thing as an excuse, he did a lot more as a heel in WWE than he has in Dragon Gate for his current run right now so I don't wanna hear that.
Flamita, on the other hand, did try to make the match good as best he could but it, unfortunately, wasn't enough either to make it exciting and he didn't get a lot of offense in this match either. He does take the spot of the night though when PAC threw him up in the air for a pop-up and Flamita caught him with a DDT on the way down and PAC sold that beautifully, so I will give him credit for that one at least. The match would try to pick up in the last couple of minutes of it but it's really hard to get invested into this match fully when nothing has been standing out from the beginning of the match. Flamita would have PAC up for a Musclebuster and he slams him down in a Codebreaker style which looked great and goes to the top rope to hit the Phoenix Splash but PAC rolled out of the way. PAC would quickly go up to the top rope now he hits the Black Arrow (still think it should be called R.E.D Arrow) and gets the win over Flamita. So how did PAC do in his first singles match back? It was honestly disappointing, to say the least, and hope he works on it in the next one he does.
Rating: Tony Schiavone and three quarters
Open The Brave Gate Title Match
Dragon Kid (c) vs. Bandido
Review: It's time for our second title match with Dragon Kid defending the Open the Brave Gate Championship against someone else that's not Eita, but instead it's Bandido. This was one match I really wanted to see in Dragon Gate and now it looks like we can finally have it and for a title no less. Will Dragon Kid retain or will Bandido take it?
So after finally getting our little dream match here, did it live up to the hype? While this one was already better than PAC/Flamita, I thought this match was a slight letdown as well. Not that it was a bad match or anything since it was still solid, but also felt like they could've done so much more at the same time and made it a bit underwhelming. The match would start off strong with the lucha style we expected from them, but also felt a little bit slow too and would lose a little momentum when Bandido messed up a Diving Moonsault to the outside and hits one of the ring crew by accident while Kid tried to catch him. After that, they would do some moves here and there to make it stand out but it's a little too far in between that it felt a bit hard for it to be wowed unless it was near the end. Bandido though did do very well in the match I thought and was always impressive to see and really does fit in well with Dragon Gate if he ever does decide to wrestle there full-time and could potentially be a big star.
There was one move Bandido did that really made him stand out since it's actually the first time I've seen it, but it was Dragon Kid bent over while holding onto the ropes (hot) and Bandido looks to do what appears to be a Forward Flip Springboard Suplex and it looks awesome but Kid still kicked out of it. After that, Bandido would do a Flipping Fallaway Slam off the top rope and Kid kicked out again before Kid would start to get momentum now and hits the Bible for a two count. Kid would now hit a Frankensteiner for another two count and would go to the top rope to hit the Dragonrana and gets the pin to retain the title. Eita would come out after the match and it looks like he wants to have one final match against Dragon Kid for the title. If it'll give us one final match and let them move on after this, then let them have it.
Rating: Eric Bischoff and a quarter
Open The Twin Gate Title Match
Tribe Vanguard (BxB Hulk & YAMATO) (c) vs. R.E.D. (Big R Shimizu & Takashi Yoshida)
Review: We have our next title match with the Open the Twin Gate Championships being on the line as BxB Hulk, and YAMATO defend the belts against R.E.D members, Big R Shimizu, and Takashi Yoshida. R.E.D were able to beat Tribe Vanguard earlier in the show during the eight-man tag match and with PAC beating Flamita, R.E.D looks to be in pretty good shape to maybe have a clean sweep if they win. Will R.E.D keep at it or will Tribe Vanguard retain?
I'm sure a lot of people know by now that I'm not a big fan of Takashi Yoshida and Big R Shimizu but I will say that they do make a decent heavyweight tag team while it's no BigBen, it'll pass at least. They both play to their strengths in the match with their power to try and dominate their opponent and this will move Ben-K to a more solo run, then I'm fine with those two staying as a tag team. YAMATO and Hulk are still quite the team and slowly becoming my favorite set of current champions since CIMA & Dragon Kid, just the chemistry these two share in the ring just make it work out for them and I hope this reign lasts a little bit longer.
I actually really liked this match, I thought it was nicely done with both teams playing to what they know best with Takashi and Big R just overpower their opponents while YAMATO and Hulk just use their wrestling experience to match them. If I did have to take one thing away from the match would be the odd pacing here and there in the match to throw it off a little off, but it's a minor one and still a really good match to see. Big R and Takashi would just manhandle Hulk with just their power as Big R hits the Splash off the top without doing that stupid timber looking version or it and Takashi hits a Diving Elbow Drop as YAMATO broke the count. Hulk would try to hit the First Flash onto Big R but he caught him in time for the Shot-put Slam and Takashi went for the Cyber Bomb and YAMATO broke the count. YAMATO fights off Takashi and gets him in a Sleeper but Takashi would get to the ropes to break the hold and spits green mist into his eyes as he now picks him up to hit the Fire Thunder Driver as we could have new champions and Hulk now breaks the pin. Takashi would slam YAMATO onto the ropes and as he ran to the other side, YAMATO would catch with a Frankensteiner and gets the surprise victory over R.E.D to retain the titles!
Rating: Eric Bischoff and three quarters
Open The Dream Gate Title Match
Masato Yoshino (c) vs. Ben-K

Review: We have our main event with the Open the Dream Gate Championship on the line now with Masato Yoshino defending the title against Ben-K. The last time Ben-K had a match for the title was around March 4th against Masaaki Mochizuki and he lost, but now he has a second chance to go for the title with his new home in R.E.D. Will Masato be able to retain the title once again or will we have a new champion crowned?
It's about time that Ben-K goes back to wearing his shogun type gear instead of those generic trunks when he joined R.E.D, he now looks like the Ben-K I know and love, now he just needs to win that belt. I don't get why we didn't get these types of title defenses earlier in Masato's run because this was probably the best defense in his reign next to his previous one against Naruki Doi in September. During the beginning of the match, it looked like Ben would have the opening with how he would be able to throw him around but Masato would use his quickness when he needed to in the match to make Ben hit a Clothesline against the turnbuckle post and give Masato the opening he needed to work on his arm to try and aim for a submission victory like his previous title defenses. I mean it when I say that Ben-K is on another level and I've been saying that for months as I think he really could be the ace of that company should they ever decide to actually pull the trigger on that decision because that man can work with a lot of people in different styles while also bringing his A-game during these matches.
I really enjoyed the story of the match with Masato working on Ben's arm to try for submission victory while Ben would use his strength to try and weaken Masato down for when he needs to hit his power moves near the end to put him away. I also love how fairly even it was between the two while the face and heel getting a respectable amount of shine/heat during the match without affecting the other. I liked the Jumping Slingblade Masato did to Ben while he was on the second rope, it looked unique and did it pretty flawlessly. Masato would attempt to hit the Torbellino and Ben would catch him for the Bubba Bomb and gets a two count. Masato would hit the Torbellino this time around and would quickly turn it into the Sol Naciente to try and make him tap out but Ben would use his power to lift him up and spin him around to slam him into the mat and break the hold. Ben is really selling the arm now and would hit the Spear onto Masato for a two count and he would finally hit the Ben-K Bomb as we could have a new champion, but no as Masato kicked out. The two start to brawl with Masato falling down to the mat, but Masato would get a burst of energy to hit Ben with a Lariat and hits two Torbellino's in a row before applying the Sol Naciente on him once again. Ben was struggling in the hold this time and tried to fight it off until Masato kicked his leg in to make him collapse as he tapped out to make Masato retain the title!
After the match, it would seem that PAC is the next one to challenge Masato sometime in December. And I have one question for this one, why? I still think Ben-K getting the belt is the better way to go since he's a great worker and has worked for it and PAC gets one right away just seems off. I had a feeling PAC would get a title match sooner or later like maybe win the King of Gate in 2019, but this feels a bit too early for me and would've saved it for a better date. Their booking is weird and I don't know how this one will go.
Rating: Bruce Prichard and a half
Overall: I thought the show was a little weak with the undercard and the two dream matches being let down, but the tag title matches and the main event were what saved the show to make it slightly passable. We now got Pac and Masato fighting off in his next title defense and it'll be an interesting month, to say the least.
Favorite Match: Masato Yoshino vs. Ben-K
Least Favorite Match: K-ness & Mondai Ryu vs. Shachihoko BOY & Stalker Ichikawa
Score: 7/10
Enjoy the more out of the box Japanese content? Let us know on social media @theCHAIRSHOTcom and always remember to use the hashtag #UseYourHead!
CMLL Review & Results (2/18/2019)
Our Lucha expert Joe Dinan, is back at it with another week of CMLL analysis!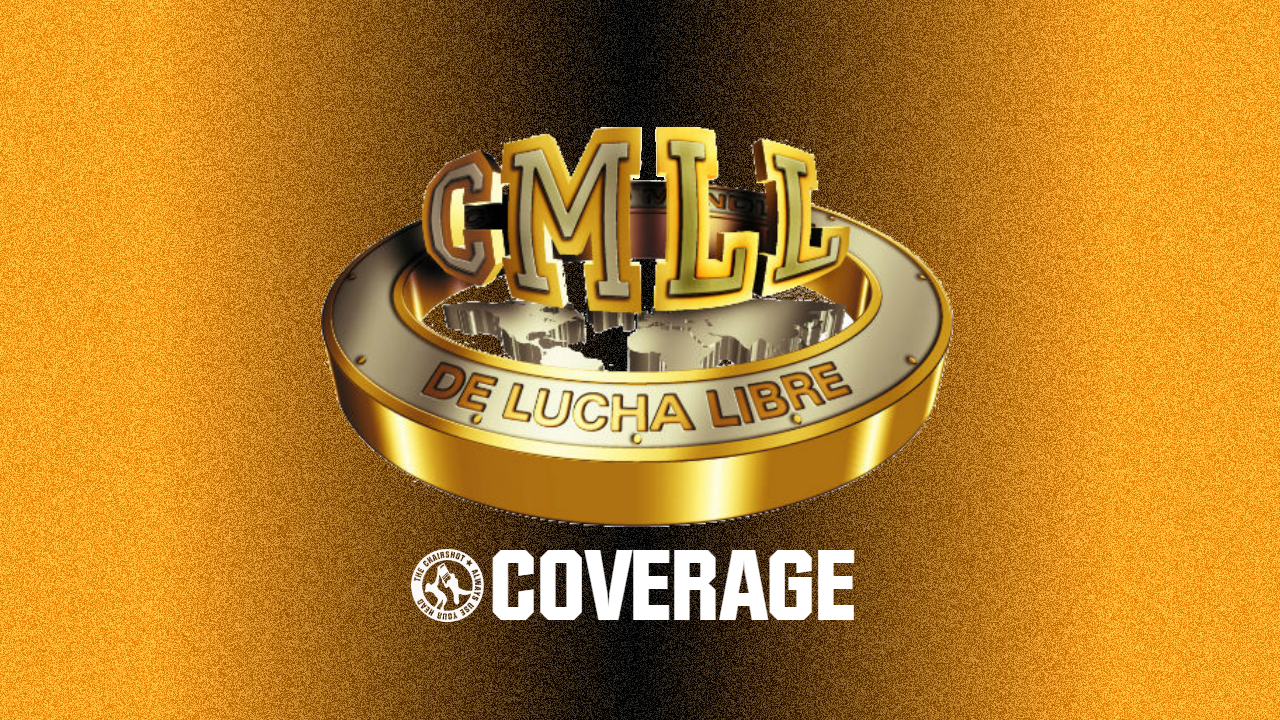 Our Lucha expert Joe Dinan, is back at it with another week of CMLL analysis!
Arena Puebla
Sonic, Rey Samuray, and Hijo De Centella Roja vs Police Man, Espiritu Maligno, and Fuerza Chicana
Fuerza starts out with Sonic and they engage and begin to grapple. In next Police Man and Centella Roja come in and they go back and forth. Samuray comes in and monkey flips Maligno some. Samuray leaps to the ramp on Police Man and Sonic gets Maligno in a small package and Roja gets Chicana in a leg lock. First Fall: Centella Roja submits Fuerza Chicana with a leg lock.
Sonic works fast and out maneuvers Chicana and then does the same to Maligno. Samuray comes in and goes in and goes to the top for a move but falls off and Police Man stomps him on the outside. Afterwards, Sonic gets teamed on followed by Roja. Samuray removes his shirt to get pumped up but still gets teamed on. Maligno holds up Sonic and Chicana hits a code breaker for the fall. Second Fall: Fuerza Chicana pins Sonic with a code breaker.
They start the round teaming on Sonic. They continue to team on them for a few minutes until Sonic, Samuray, and Roja hit drop kicks and then go for dives but the others dodge it. Police Man then hits a face buster on Sonic in the ring for the win. Third Fall: Police Man pins Sonic with a face buster.
Winners: Police Man, Espiritu Maligno, and Fuerza Chicana
Lluvia, Princesa Sugehit, and La Vaquerita vs La Comandante, La Seductora, and La Metalica (Amapola)
Vaquerita comes out wearing glasses. Hopefully she isn't wrestling in them. Seductora starts out with Lluvia and they lock up and do some slow grappling. Lluvia tags in Vaquerita and she comes in and takes out Seductora which brings in Amapola. Amapola takes her out and Sugehit comes in to take on her rival Amapola. She takes her out and Comandante comes in to work over Sugehit. Sugehit uses her speed while Comandante uses her size to take each other on. Sugehit gets Comandante in a roll up for the pin. The other girls get roll ups as well. First Fall: Princesa Sugehit pins Comandante with a roll up.
Vaquerita starts with Seductora but it soon goes to Vaquerita getting teamed on. Sugehit gets teamed on after and then naturally it goes to Lluvia. A plethora of teaming up. Comandante gives Sugehit a stink face and pins her. Well then. Second Fall: Comandante pins Sugehit with a stink face.
Seductora and Sugehit clash but not for long. Seductora takes out Lluvia then Vaquerita gets teamed on. Sugehit moves out of the way and Comandante runs into Seductora. Lluvia and Vaquerita run towards Seductora and Amapola. Lluvia gets caught in a submission and then Amapola hits a face buster on Vaquerita for the win. Third Fall: Amapola pins La Vaquerita with a face buster.
Winners: La Comandante, La Seductora, and Amapola
Fuego, Drone, and Guerrero Maya vs Okumura, El Sagrado, and Kawato San
Maya starts out with Okumura grappling on the ground. Afterwards Kawato and Fuego come in and do the same as the others except it is a more acrobatic display. Drone hits a head scissors on Sagrado and then hits a dive through the middle rope. In the ring Okumura hits a cutter on Maya for the pin. Kawato catches Fuego in a flying arm bar for the fall. First Fall: Kawato submits Fuego with a flying arm bar.
Drone gets teamed on to start this round off. Fuego gets taken out by Kawato with a drop kick. The technicos reverse the rudos into pinning combinations. Drone gets Okumura rolled up, and Fuego pins Kawato with a roll up and Maya gets Sagrado with a pin. Second Fall: Maya pins Sagrado with a roll up.
Maya and Okumura start this round striking each other. Maya goes wild, arm dragging Kawato to the outside and then he hit a bunch of back breakers on Sagrado. Fuego comes in and dodges a double team attack and then arm drags Sagrado to the outside. Drone hits a sliding dive under the ropes on Sagrado. Maya hits a power slam on Kawato but Okumura breaks the pin up. He hits a cross roads but Fuego breaks the pin up. Fuego hits a springboard splash and Sagrado stops the pin. Drone comes in and kicks Sagrado to the corner and hits knees to the corner on him. Fuego and Guerrero Maya hit dives through the middle rope on Kawato and Okumura. Drone slams Sagrado in the ring and goes for a moonsault. Sagrado gets his feet up and tries to lift Drone for a power bomb but he fell backwards and almost out of the ring. Luckily he didn't kill drone. For the win. Third Fall: Sagrado pins Drone with a power bomb.
Winners: Okumura, El Sagrado, and Kawato San
Atlantis, Vangellys, and Atlantis Jr vs Villano IV, Ultimo Guerrero, and Hijo del Villano III
Atlantis squares off with Villano IV but instead Jr and Hijo Villano come in and do some impressive wrestling. After their display Atlantis comes in with Villano IV. Atlantis gets whipped into Villano's corner and Guerrero attacks Vangellys and Jr. Vangellys got drop kicked off the apron by Ultimo. Hijo Villano drop kicks Atlantis Jr when he is hanging on the turnbuckle and he pins him. Ultimo then submits Vangellys with a leg lock. First Fall: Ultimo Guerrero submits Vangellys with a leg stretch.
Vangellys gets teamed on to start. Vangellys tries to fight back but he had no success until Atlantis and his son entered and took on Villano IV and Hijo. Atlantis gets Villano IV in an abdominal stretch and Atlantis Jr gets Hijo Villano in a torture rack. Second Fall: Atlantis Jr submits Hijo Villano III with a torture rack.
Vangellys and Ultimo strikes each other to begin the final round. Hijo Villano and Atlantis Jr come in next and Atlantis Jr whips Hijo to the corner and he does the Shawn Michaels flip ip but falls out of the ring. Not sure if that was supposed to happen. Villano IV comes in to cover for it. Atlantis then comes in and Hijo returns to the ring and wants to fight Atlantis Sr. Atlantis pushes Hijo into Villano IV and hits an arm drag. Villano IV tries to run into Atlantis but he dodges and hits Hijo. Jr then tosses Hijo to the outside and hits a dive through the middle rope. Atlantis Jr looks very impressive. Inside the ring, Ultimo Guerrero punts Vangellys in the groin for the DQ. Third Fall: Vangellys wins the fall by DQ.
Winners: Atlantis, Vangellys, and Atlantis Jr
Rush vs Cuatrero
Rush attacks Cuatrero during the introductions to get the advantage on Cuatrero. Rush then works him over on the outside. Cuatrero finally reverses Rush after taking a beating and hits a power bomb for the fall. First Fall: Cuatrero pins Rush with a power bomb.
Rush whips Cuatrero with the camera wires on the outside. I feel like all that does is remind fans of the LA Park feud. Rush plays with his mask on the turnbuckle and then stomps him in the corner. Rush hits the corner drop kick on Cuatrero for the fall. Second Fall: Rush pins Cuatrero with the corner drop kick.
Rush beats on Cuatrero on the ramp. Back in the ring Rush feigns going for the drop kick again, but lightly kicks Cuatrero and does his Los Ingobernables, fist to the sky pose. Tranquilo. Cuatrero finally turns the odds and gets Rush to the outside and hits a dive through the middle rope. He hits another then continues to work on Rush on the outside. Back in the ring Cuatrero works on Rush. They trade corner attacks and Rush ends up on top in the exchange. Rush argues with the ref and Cuatrero goes for a school boy that Rush rolls out of but Cuatrero hits a single leg code breaker. Rush gets Cuatrero to the top and hits a superplex for a two count. Rush misses a middle rope senton splash and Cuatrero hits a moonsault for a two count. A very slow two count. Rush gets Cuatrero down in the corner and goes for his drop kick but Cuatrero runs up and hits a spear, then a power bomb. The ref is about to count three but Rush grabs the refs hand before then. He then finally hits the corner drop kick on Cuatrero but he postures afterwards presumably protecting his finisher because Cuatrero kicks out. Rush gets him in a jay driller or Rush driver and drops Cuatrero right on his head for the win. Cuatrero stays down for a bit but then walks off to the back through the crowd. I presume he didn't like being dropped on his head. Third Fall: Rush pins Cuatrero with a Rush driver.
Winner: Rush
Arena Mexico Tuesday
Fantasy and Shockercito vs Pequeno Olimpico and Pequeno Nitro
Fantasy and Olimpico grapple to start the match. Shockercito or Pequeno Shocker as they're calling him now gets in with Nitro and they work a faster pace. Shockercito is really small. I wouldn't be surprised if Chamuel of the midget division is as tall as him. Shocker gets him to the outside then poses. Olimpico then kicks him in the head and works him over. Shocker gets taken out and Fantasy gets teamed on. Olimpico gets Shocker in a camel clutch for the fall. First Fall: Olimpico submits Shocker with a camel clutch. 
Shocker and Fantasy essentially get worked over for most of this round. Just constant double teaming. Shocker finally hits a cross body to make a comeback. Fantasy hits a middle rope spanish fly on Olimipico for the pin. Shockercito submits Nitro with a straight arm bar. Second Fall: Shockercito submits Nitro with a straight arm bar.
Fantasy uses quickness to out move Nitro to start. Shocker then does this to Olimpico. Fantasy hits a few drop kicks on Olimpico followed by a top rope arm drag by Shocker. Shocker then  gets Olimpico in a torture rack for a submission. Fantasy gets Nitro in a body stretch for the win. Third Fall: Fantasy submits Nitro with a body stretch.
Winners: Fantasy and Shockercito
Electrico, Star Jr, and Astral vs Disturbio, Espanto Jr, and Difunto
Disturbio starts with Astral and they roll on the ground and go back and forth. Espanto comes in next with Star Jr and they posture a bit. Difunto and Electrico come in working a super fast pace. Difunto hits a swanton bomb on Electrico for a pin. Disturbio hits knees the corner on Astral for the fall. First Fall: Disturbio pins Astral with knees to the corner.
Astral gets teamed on to start the round. Espanto pulls at his mask. Astral makes a come back hitting a hurricanrana on Espanto and then Star Jr hits a drop kick to the corner on Disturbio for the fall. Second Fall: Disturbio gets pinned by a corner drop kick by Star Jr. 
Disturbio and Electrico go back and forth. Disturbio bites his nipple in the corner. Don't let Jim Cornette see that. Electrico eventually head scissors him to the outside. Star and Espanto are in next. Star gets him to the outside then feigns a dive. Difunto is in next with Astral and he works over everyone. Star tricks Disturbio to dive on the ramp and then he hits an arm drag. Electrico hits an elbow drop on Espanto for the win. Third Fall: Electrico pins Espanto with an elbow drop.
Winners: Electrico, Star Jr, and Astral
Marcela, Kaho Kobayashi, and La Jarochita vs Amapola, Dalys, and La Metalica (Tiffany)
Dalys starts with Kobayashi and they go back and forth grappling. Amapola works over Jarochita next. Marcela comes in to take on Amapola. Marcela hits a back breaker and then a knee drop on Amapola bringing in Tiffany. She works with Tiffany until Tiffany  hits a spine buster. Marcela avoids a double team attack and Tiffany falls to the outside. Dalys gets thrown to the outside and Jarochita hits a dive through the middle rope. Kaho gets a roll up on Tiffany and Marcela hits a michinoku driver on Amapola for the pin. First Fall: Marcela pins Amapola with a michinoku driver.
Dalys works over Jarochita to start, then Marcela gets teamed on. Kaho Kobayashi gets drop kicked to the ramp. Jarochita whips Dalys into the barricade. Marcela and her team then team up on the rudos. Marcela hits a back breaker on Amapola. Then they go to hit dives but get pulled out of the ring. Dalys goes to power bomb Jarochita but she squirms out of it and Dalys removes her mask. Second Fall: Jarochita wins via mask removal, DQ.
Winners: Marcela, Kaho Kobayashi, and La Jarochita
(Match Relampago) Flyer vs Polvora
Polvora takes him down to start the match. They go back and forth and Flyer slides to the outside and Polvora pushes him into the barricade. Polvora brings him in the ring and works on taking his mask off. Flyer gets him to the outside and hits an asai moonsault. In the ring Flyer hits a sunset flip but Polvora rolls into it for a drop kick. Flyer ducks an attack then hits a super kick. Polvora hits a drop kick to the inner thigh on Flyer in the corner. Polvora goes to the top but Flyer kicks him and goes up and hits a Spanish fly for the win. Flyer pins Polvora with a Spanish Fly.
Winner: Flyer
Blue Panther, Stuka, and Esfinge vs Cavernario, Luciferno, and El Felino
Esfinge starts with Cavernario and they move fast going back and forth trading moves. They tie up again and do a test of strength. Luciferno comes in next with Blue Panther and they start grappling on the ground. Felino comes in next with Stuka and they work fast with Stuka hitting a hurricanrana on him to the outside. Luciferno then comes in but Stuka hits a back breaker. Cavernario comes in but Stuka rolls into a pinning combination for the fall. First Fall: Stuka pins Cavernario with a pinning combination.
Esfinge starts with Felino but the midget Zakarias with Felino distracts Esfinge and hits Esfinge. Esfinge ends up super kicking him. Panther comes in with Luciferno and Panther makes him fall outside the ring. Cavernario attacks him from behind and gets Panther on the top rope. Panther pulls him by his hair and hair drags him to the outside. Back in the ring Felino head butts Stuka and Cavernario hits a snap suplex. Felino nabs the pin. Luciferno hits a pop up power bomb on Esfinge for the fall. Second Fall: Luciferno pins Esfinge with a pop up power bomb.
Cavernario works over Stuka to start this round, trying to untie his mask. Esfinge makes a come back hitting a hurricanrana on Cavernario to the outside, then hit a middle rope dive . Felino falls to the outside and then Stuka hit a dive through the middle rope. Panther is left in the ring and he tries to get pinning combinations on Luciferno but he blocks it. Felino comes and attacks him from behind hitting a clothesline and Esfinge comes in to take him on hitting a springboard drop kick, then getting him in a cloverleaf submission. Cavernario comes in and hits a back breaker and goes for the slingshot splash but Esfinge gets the feet up. They team up to get Cavernario in a move but he rolls through and pins Esfinge when Panther and Stuka turn their backs. Cavernario then drop kicks Stuka to the outside and hits a twisting dive through the middle rope and in the ring Luciferno hits a Styles Clash on Panther for the win. Third Fall: Luciferno pins Blue Panther with a Styles Clash.
Winners: Cavernario, Luciferno, and El Felino
Atlantis, Volador Jr, and Diamante Azul vs Sanson, Cuatrero, and Forastero
Match starts with brawling. Azul and Volador get taken out and Atlantis gets teamed on. Volador gets kicked to the outside when he tries to make the save. Sanson hits Volador with a back breaker for the pin. Cuatrero launches Forastero into Diamante for the pin. First Fall: Forastero pins Diamante Azul by being launched into him.
Azul gets beat up on the outside to start this round. They go back in the ring to beat on Volador. Cuatrero holds up Atlantis and Forastero and Sanson hit double axe handles on Atlantis. They continue to beat on Atlantis. Azul comes from the ramp and hits a clothesline over the top rope to change the momentum. Volador pins Forastero off the clothesline. Azul rolls Cuatrero into a pin for Volador. Second Fall: Volador pins Cuatrero with a pinning combination.
Cuatrero and Azul go back and forth to start the round. Azul dodges a double team attack from Sanson and hits a flying elbow strike on Sanson. Azul hits a big hip toss on Forastero. Volador clears house hitting a hurricanrana on Cuatrero then posing in the ring. Volador hits a dive over the top to the outside and Azul hits a german suplex on Sanson for the win. Sanson sells his shoulder afterwards. They bring out a stretcher for him. I don't know if it's a work it didn't look that bad but you could never know with moves around the neck area. Third Fall: Diamante Azul pins Sanson with a german suplex.
Winners: Atlantis, Volador Jr, and Diamante Azul
Arena Mexico Friday
Stigma and Pegasso vs Raziel and Cancerbero
Pegasso and Raziel start out grappling and fighting for position. Stigma comes in with Cancerbero and they lock up. Cancerbero tries to use his strength to his advantage. Pegasso and Raziel join them in the ring and Pegasso and Stigma hit hurricanranas for a two count. Pegasso gets launched into Cancerbero for a hurricanrana. Raziel catches him in a body stretch submission, however. Cancerbero then hits Stigma with a flapjack and gets Stigma in a stretch as well. First Fall: Cancerbero submits Stigma with a stretch.
Stigma gets double teamed to start this round out. After a few minutes of being beat on Stigma makes a come back and hits a hurricanrana for the pin on Raziel. Pegasso also hit one on Cancerbero and pinned him. Uneventful round. Second Fall: Pegasso pins Cancerbero with a hurricanrna
Pegasso starts this round off hot taking out Cancerbero and Raziel, then posing. Stigma gets in there with Cancerbero when the dust settles and Bero works him over for a little. Stigma then launches Pegasso and he hits a double arm drag on Raziel and Cancerbero. Then then work on Raziel. Pegasso slams Raziel and then hits a 450. The ref doesn't pin and Cancerbero kicks Stigma to the outside. Pegasso goes for a corner attack but Cancerbero catches him and drops him. Raziel then launches Stigma in the air by his feet and Cancerbero hits a bulldog. Raziel then gets him in a surfboard stretch and Cancerbero hit a neck breaker during the move. Raziel pinned him. Cancerbero then held up Pegasso in a stretch submission and Raziel leg dropped him off the top rope for the win. Third Fall: Cancerbero pins Pegasso after a leg drop from Raziel.
Winners: Raziel and Cancerbero
Blue Panther Jr, Guerrero Maya, and Black Panther vs Virus, Okumura, and Tiger
Black Panther and Virus start out the match and they tie up and eventually go to the ground and grapple. Blue Panther and Tiger come in and they go to the ground as well and do some grappling and submission wrestling. Maya and Okumura come in and bypass the grappling for some moves. Maya arm drags Okumura out of the ring and Virus comes in and knocks Maya outside. Black Panther then hits a cross body on Virus which he kicks out of. Black Panther gets Virus to the outside and Tiger comes in and hits a DDT on him. Tiger then gets Blue Panther in a pinning combination for the pin. Okumura hits a slingblade on Maya then hits a cross roads for the fall. First Fall: Okumura pins Maya with a cross roads.
Black Panther gets worked over to start the round by Tiger but Blue Panther quickly makes his way in. Blue Panther gets worked over and taken out as well. Then they go to work over Maya. Tiger goes for his mask but then he hits a drop kick while he's draped in the tree of woe. Blue Panther helps make a come back hitting a sunset flip on Tiger. Maya then hits a shoulder breaker on Virus for the pin. Second Fall: Guerrero Maya pins Virus with a shoulder breaker. 
Okumura and Blue Panther exchange strikes in the corner to begin this round. Blue Panther wins that battle which brings Tiger in and then they exchange strikes to the chest. Black Panther comes in with Tiger and gets him to the outside. Black Panther feigns a dive and Tiger moves away from it but Blue Panther hits him with a dive off the ramp. Maya then hit a head butt on Virus for a two count. Both Panthers get pinning combinations that get kicked out of. Virus hit a shotgun drop kick on Maya which should have been a 3 but the ref stopped counting. Tiger, Virus, and Okumura get pinning combinations all for a two count. After that cleared, Blue Panther hits a power bomb slam on Okumura and Tiger. They kick out. Maya then hits back breakers on Okumura and Tiger, then hits a dive through the middle rope on Virus. In the ring Black and Blue Panther get Okumura and Tiger in the same stretch submission for the win. Third Fall: Black and Blue Panther submits Tiger and Okumura with a stretch submission.
Winners: Blue Panther Jr, Guerrero Maya, and Black Panther
Titan, Triton, and Esfinge vs Vangellys, Templario, and Polvora
Polvora starts out with Esfinge and they grapple on the ground. Templario comes in next with Titan and they work quick doing some acrobatic things for a little until Triton and Vangellys enter. Triton kicks Vangellys and Titan hits a springboard splash. Polvora enters and Vangellys goes to the outside. Polvora whips Titan but Titan hits a dive through the middle rope on Vangellys. Back in the ring Esfinge gets Polvora in the ropes and Triton hits a guillotine leg drop for the pin and then Templario gets hit with a springboard splash by Esfinge. First Fall: Esfinge pins Templario with a springboard splash.
Round starts with Triton and Polvora going back and forth. Titan and Templario come in to do some acrobatic spots. Titan hits a spinning head scissors on Templario and Vangellys spears Titan afterwards. Triton then comes in to take on Vangellys but he gets caught with a northern lights suplex for the pin. Templario then hit a superplex on Esfinge and Titan got hit with a top rope face buster by Polvora off the top. Second Fall: Polvora pins Titan with a top rope face buster.
Triton gets teamed up on to start the round, then Vangellys takes Titan out with a shotgun drop kick. Esfinge then gets teamed up on. Titan and pals make a come back and it looks like Titan clearly punts Polvora in the groin in the corner but I guess it must have been inner thigh. Esfinge gets pulled to the outside but in response Titan and Triton hit dives over the top rope on Vangellys and Polvora. In the ring Esfinge gets Templario in a submission hold but Templario gets to the ropes. He gets up and hits a Gord buster but Titan comes in and breaks up the pin fall. Titan does a matrix spot and kicks Templario for a pin but Polvora breaks it up. Now the ref is trying his best to get control back. To the refs credit he's probably the best official in CMLL by a country mile. Polvora hits a drop kick on Titan and then Triton breaks up the count. Triton slams Povlora and goes to the top and hits a frog splash for a pin that Vangellys breaks up. Vangellys hits a spinning wheel kick on Triton which Esfinge breaks up. Now Esfinge and Polvora are striking each other back and forth. Esfinge hits a shot gun drop kick on him then hits a dive over the top rope. Triton hits an arm drag on Templario then jumps up on the ropes and hits an asai moonsault. In the ring Titan gets Vangellys in a neck bridge pinning combination for the win. What a match. Third Fall: Titan pins Vangellys with a neck bridge pinning combination.
Winners: Titan, Triton, and Esfinge
Angel de Oro, Stuka, and Soberano vs Mephisto, Ephesto, and La Bestia del Ring
Stuka and Mephisto start the match off striking each other. Ephesto comes in soon to replace Mephisto and Soberano comes in with a cross body and hurricanrana on Ephesto. Bestia then kicks Soberano and in bounces Angel de Oro. They square off. Angel gets Bestia to the outside and then hits a dive through the middle rope. Everybody else comes in the ring however, and Stuka hits a swinging neck breaker on Mephisto for a pin and Soberano hits a tornado dive on Ephesto for the fall. First Fall: Soberano pins Ephesto with a tornado dive. 
Bestia doesn't want to engage Oro in this round so Oro poses and tags in Soberano who gets in with Ephesto. Soberano hits an arm drag on the ramp on Ephesto and re-enters the ring and poses. Crowd is super hot tonight and the workers are working their ass off this whole show. Stuka comes in with Mephisto and they do some acrobatic spots until Stuka hits a hurricanrana on him to the outside. He then follows him out there and hits back breakers on all three of them and then gets back in the ring and poses. Oro wants Bestia to come in but Bestia doesn't want to. Oro ends up getting teamed on by the Sons of Hell. Oro fights back and kicks one away and hits a hurricanrana on Ephesto then a head scissors on Mephisto then drop kicking Bestia to the outside. Stuka hits a middle rope dive and then Soberano hits a back flip over the top. Inside the ring Bestia and Oro fight which ends with Bestia kicking Oro in the groin. The ref tries to get him to stop but Bestia chops him. Second Fall: Angel de Oro wins via DQ.
Winners: Angel de Oro, Stuka, and Soberano
Caristico, Mistico, and Valiente vs Ultimo Guerrero, Euforia, and Gran Guerrero
Mistico starts the match out with Ultimo Guerrero and they stall for a little but do some ground grappling. Mistico knocks Guerrero to the outside then feigns a dive and hits a pose. Caristico makes his way in to take on Euforia to a chorus of cheers. They trade a few acrobatic spots and Gran Guerrero and Valiente make their way in. Valiente chases him to the outside but he gets jumped by Euforia and taken out. Mistico gets tripped on the apron and drop kicked off. In the ring Caristico gets teamed up on. Euforia gets Caristico in a crucifix position and Gran and Ultimo bulldog him down for a face buster, then Gran power bombs him. Mistico and Valiente get in the ring and all three are put into submissions by Los Guerrero's for the fall. First Fall: Los Guerrero's submit all three with a combined submission effort.
Valiente gets pressed slammed off the top rope to begin the round by Gran and Euforia. The Los Guerrero's triple team spot is done on Mistico and Caristico on the outside. Euforia stands on Valiente's back for a triple submission but Caristico comes off the top for a hurricanrana. Valiente then reverses them and Caristico launches Mistico in the ring for a hurricanrana. Then Mistico and Caristico hit stereo dives to the outside on Euforia and Gran Guerrero while in the ring Valiente submits Ultimo with a leg lock. Second Fall: Valiente submits Ultimo Guerrero with a leg stretch.
Valiente starts out hot in this round taking everyone out then posing. Mistico and Gran Guerrero pose to the crowd and both get booed. They like Caristico more. Gran goes to pull Mistico's mask off and the crowd starts to cheer. Mistico runs off Gran's chest and then hits a hurricanrana. He then hits a head scissors on Ultimo and Euforia. Ultimo launches him out of the ring but on the way down he hits a hurricanrana on Euforia on the outside of the ring. Caristico is in with Ultimo Guerrero now and he runs circles around him and takes him out with a hurricanrana .Gran launches Caristico into Euforia and he hits a hurricanrana. Caristico then gets a head scissors on Gran and then feigns a dive a hits a pose. Crowd goes crazy. Mistico comes back in and gets whipped onto the ramp. Euforia runs at Caristico in the corner and Caristico moves and he falls out of the ring. Valiente leaps up on the rope and does a moonsault to the outside on Gran. Caristico does a dive over the turnbuckle onto Euforia and then Mistico does a dive of his own. Crazy stuff going on here. I can barely keep up. Back in the ring Euforia hits a kind of face buster on Caristico bringing in Valiente who goes for a leg lock but Gran breaks it up and chokeslams him. Mistico comes back in to hit a hurricanrana pin but Gran kicks out. Caristico then hits a hurricanrana on Ultimo to the outside and then Valiente hits a brutal middle rope dive on him to the outside that made them crash into the barricade. In the ring Mistico and Caristico both do the head scissors into a Fujiwara arm bar on Gran and Euforia for the win. Tremendous match. Wow. Third Fall: Mistico and Caristico submit Gran Guerrero and Euforia with a Fujiwara arm bar.
Winners: Caristico, Mistico, and Valiente
(Champion of the Universe) El Terrible vs Niebla Roja
They start the match out tying up fighting for the first take down. Finally they get to the ground and Roja does some acrobatic spots to him. They get up and trade strikes. Roja runs at Terrible and Terrible slaps him. Roja back drops Terrible to the outside and then hits a crushing dive through the middle rope that sends Terrible into the crowd. They get back in the ring and Roja gets a couple of two count. Roja goes to run and Bestia distracts him which allows Terrible to grab Roja for a german suplex for the first fall. First Fall: El Terrible pins Niebla Roja with a german suplex.
Terrible beat Roja up a bit in between rounds and continues to work on Roja on the outside to start the second round. Terrible slams the barricade on Roja's head. Back in the ring Roja catches some momentum and knocks Terrible to the outside and then hits a dive over the top rope laying out Terrible. Roja poses to the crowd for their admiration. Roja whips Terrible over the barricade and then leaps over the barricade for an attack. Crowd is very much behind Niebla Roja as you might expect. Back in the ring Roja hits a double underhook face buster which Terrible kicks out of. They trade strikes in the corner multiple times. Roja finally dodges one and throws Terrible in the air and kicks him in the face. Terrible kicks out. Arena is going crazy. Terrible dodges an attack and then hits a shotgun drop kick, sending Roja flying. Terrible sets him up in the corner and hits multiple strikes to the body and face on Roja. Terrible hits a Styles Clash on Roja but Roja kicks out. Both men lay their gassed out. Terrible goes to the top and Roja hits a arm drag, or some half way Spanish Fly for a two count. Roja hits a springboard splash and then goes for a lionsault but Terrible gets the legs up and goes for the pin. A very close two count. Terrible slams Roja and goes to the top again, and again Roja knocks him down. Roja goes for a hurricanrana but Terrible blocks him and goes for a power bomb but mid air Roja reverses to a hurricanrana for a two count. Roja goes to the top rope but Terrible gets up and crotches him. They fight a bit on the top rope and Roja gets the underhooks for his face buster but Terrible kicks out yet again. Roja sets him up in the corner and gives him a receipt for those strikes earlier. Roja again tries to go for a hurricanrana but this time Terrible hits a power bomb off the top. Roja kicks out however. Terrible runs at Roja in the corner but Roja moves and strikes Terrible. Roja gets an handle to the chest then rolls into his rocking boat stretch. Bestia distracts the ref which brings Oro in to confront him but the ref goes over to him and Bestia strikes Roja which allows Terrible to hit a power bomb then Styles Clash for the win. Second Fall: El Terrible pins Niebla Roja with a Styles Clash.
Oro is trying to chase down Bestia as the ring girls bring Terrible his Champion of the Universe belt. Oro gets the mic and he's heated. He's walking up the ramp to confront him. Now Roja has the mic. The mic is very poorly connected to the TV audio, as it's echoing. But I did make out hair vs hair that Niebla Roja challenged Terrible too. I wonder if at their big March show they do a tag team Hair vs Hair involving Terrible and Bestia facing Oro and Roja. They set the seeds a little bit in the earlier match involving Roja and Oro for it to be a tag team.
Winner: El Terrible
Mitchell's WWE Elimination Chamber Results & Report! (2/17/19)
Who will make history in the Women's Tag Team Championship Chamber match?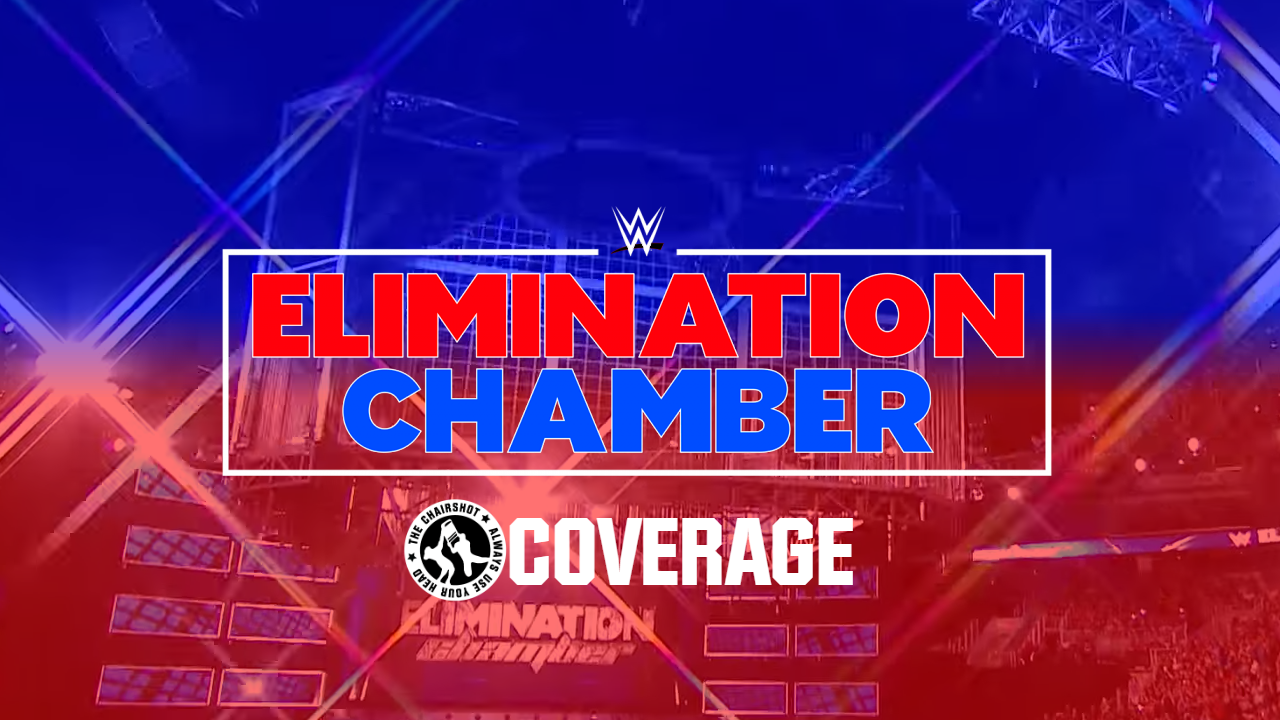 WWE Elimination Chamber will make history by crowning inaugural Women's Tag Team Champions! Who will outlast five other teams to leave with the titles?
OFFICIAL RESULTS
Kickoff Show – WWE Cruiserweight Championship: Buddy Murphy VS Akira Tozawa; Murphy wins and retains the WWE Cruiserweight Championship.
WWE Women's Tag Team Championships Elimination Chamber match: Bayley & Sasha Banks win and become the inaugural WWE Women's Tag Team Champions.
SmackDown Tag Team Championships: The Miz & Shane McMahon VS The Usos; The Usos win and become the new SmackDown Tag Team Champions.
WWE Intercontinental Championship Handicap Match: Bobby Lashley & Lio Rush VS Finn Balor; Finn wins and becomes the new WWE Intercontinental Champion.
Raw Women's Championship: Ronda Rousey VS Ruby Riott; Rousey wins and retains the Raw Women's Championship.
No Disqualifications: Braun Strowman VS Baron Corbin; Corbin wins.
WWE Championship Elimination Chamber match: Daniel Bryan wins and retains the WWE Championship.
PLAY BY PLAY
It's the Elimination Chamber Kickoff Show!
Join Jonathan Coachman, Beth Phoenix, Booker T and Sam Roberts in taking a look at everything set for tonight's Pay-Per-View event!
Mustafa Ali speaks.
The most painful thing about missing Elimination Chamber isn't the injuries, but having to watch others take his opportunities. He's on Kofi Kingston's side, but he will return to come for his second chance. Ali has more black eyes and broken bones coming his way, but nothing's easy in life for those who dream.
Braun Strowman speaks.
"Let me tell you a story about a coward who thought he could challenge a Monster." Worse than a coward, he was a sniveling snake that did anything he could to stop the Monster. But all he did was make the Monster angry. The coward knew he could never win on his own, so he recruited others to help him brutalize the Monster. They were all cowards, and thought they had the monster down. But this was no normal monster. This monster came back and vows to make them all pay! When the cowardly Corbin goes against the Monster Among Men in No Disqualifications, there's only one way this story ends: Braun Strowman continues on his rampage, and Corbin will #GetTheseHands.
The Bar joins the Kickoff Panel!
Sheamus & Cesaro are confident The Usos will win against The Miz and Shane McMahon. Miz and Shane are like watching TV and listening to the radio at the same time: it just doesn't work! But then how did they beat The Bar? A fluke. What about Strowman and Nick? That was a trick to throw them off. But then Tucker Knight & Otis Dozovic come over. They're on Team #McMiz. Miz and Shane are wild cards, just like Heavy Machinery. How bold of them to interrupt The Bar. Plus they're just sucking up to Shane for a spot on SmackDown. Heavy Machinery knows the WWE Universe wants to see them as much as possible. The tag teams trash talk, but whose predictions will come true?
Becky attacked Charlotte Flair at a house show!
The Man was so furious over Vince McMahon replacing her in the Raw Women's Championship, she went right at The Queen! But Charlotte would turn the tide and go right after Becky's bad leg again and again! Becky is only digging a deeper hole for herself, will she ever get back to a title?
The Riott Squad speaks.
"Houston, we have a problem." They're going to wreak havoc together as they all go for gold! Their careers come full circle when they take the Road to Wrestlemania on a detour! Ruby wants to take that Raw Women's Championship off Rousey while Liv and Sarah want those Women's Tag Titles. But then Charlotte walks in. She remembers their debuts. They went right after her for their #SquadGoals. But Charlotte would love if Ruby went right after Ronda with all that aggression. Ruby can follow in Charlotte's footsteps and win her first title in Houston. Then they can face off at Wrestlemania. Can Ruby really change the Wrestlemania plans further?
Mojo Rawley speaks to himself again.
The WWE Universe doesn't care about him. They don't even know him. But who they Hell are they? They don't matter! They don't like Mojo's face? Well Mojo doesn't either! It's time Mojo shows them the real him.
Alexa Bliss speaks.
"Tonight, we make history." She feels so honored to play a large role in this. Ever since The Goddess debuted, the Women's Division has hit all these great firsts! They've been on fire! Speaking of fire, maybe if Becky took Alexa's advice, she's still be selling out Wrestlemania and not suspended. But oh well, tonight's not about Becky. It's about the WWE Women's Tag Team Championships! And as the first Women's Chamber winner, she knows who is winning. Alexa's prediction: The Samoan Dynasty, Tamina & Nia Jax. Has the Goddess given us the future?
Kickoff Show – WWE Cruiserweight Championship: Buddy Murphy VS Akira Tozawa!
The Juggernaut has been as unstoppable as anyone since claiming the title, it looks almost impossible to ever defeat him! But the Stamina Monster did the "impossible" when he won his first title, can he do it again?
Introductions are made, the belt is raised, and we begin! Tozawa and Murphy circle and tie up. Murphy gets the wrist and wrenches, then brings Tozawa to a knee. Tozawa gets up and flips through to reverse the wrench. Murphy rolls and handsprings to reverse back, and he yanks the arm over and over. Tozawa spins through and CHOPS! But Murphy just shrugs it off. Tozawa CHOPS, but Murphy puts him in a corner. Tozawa dodges and CHOPS but Murphy tosses him out. Murphy follows but gets another CHOP! Murphy swings but Tozawa dodges, Murphy hits the post with his hand! Tozawa CHOPS and puts Murphy back in. Tozawa runs but into a flapjack!
Murphy clutches the bad hand but runs into a huricanrana! Murphy bails out and Tozawa baseball slides him back. Tozawa builds speed, and DIVES! But is caught into a suplex! Murphy shows off his strength as he brings Tozawa crashing down. The ring count begins and Murphy leaves Tozawa behind. Tozawa crawls up at 6 but flounders. He springs back up to get in at 9! Murphy grits his teeth as he drives a knee into Tozawa's back. Murphy stands Tozawa up but Tozawa gives chops! They still do nothing, but Murphy's one CHOP takes Tozawa off his feet!
Meanwhile, Kayla interviews the New Day in hopes of talking to Kofi Kingston before tonight's WWE Championship Elimination Chamber match. Murphy rocks Tozawa with a right while Xavier Woods and Big E explain Kofi can't talk right now. Kofi is getting a maple syrup massage from Mr. Bootysworth. Murphy chokes Tozawa on the ropes but backs of at 4. Tozawa gets in the corner, but Murphy goes right at him. Tozawa elbows Murphy away but then he's yanked off the top! But Tozawa tilt-o-whirls to an Octopus Stretch! Murphy powers out for a tilt-o-whirl backbreaker! Cover, TWO! Murphy tries again, ONE! Murphy keeps on Tozawa with a chinlock.
Fans rally as Murphy drives his knees in. Tozawa feeds off the energy and gets up, but Murphy shifts to a standing abdominal stretch! Tozawa endures again, and manages to pop out! They go around but Murphy gets the stretch back on Tozawa. Murphy blocks the hip toss but so does Tozawa. Tozawa hip tosses Murphy out of the ring! Tozawa catches his breath, and SUPERKICKS Murphy as he runs back in! Murphy and Tozawa crawl to opposite corners as fans rally up. Tozawa runs in but Murphy puts him on the apron. Tozawa kicks Murphy back then climbs up quick. Big missile dropkick! Tozawa runs in for a helluva kick in the corner! Murphy staggers and Tozawa takes aim.
Tozawa kicks, spins, slides, but is caught! Murphy lifts but Tozawa slips out, Tozawa gets the saido suplex! Tozawa hits a Shining Wizard! Cover, TWO! Murphy lives but Tozawa knew he was tough. Tozawa drags Murphy to a drop zone and climbs up top again. Fans fire up, Tozawa aims, but he has to leap over Murphy. Murphy boots Tozawa away, but then Tozawa boots back! Tozawa climbs up to join Murphy on the top rope, but Murphy fights back. Murphy headbutts Tozawa away but Tozawa comes right back! Murphy lifts, but Tozawa still SUPER STEINERS!! Cover, TWO!! Houston and Tozawa are shocked that Murphy survives! But the fans do know "This is Awesome!" as Murphy and Tozawa stir.
Tozawa stands and stalks Murphy. Murphy tosses Tozawa to the apron but Tozawa climbs up again. Tozawa leaps, crossbody, but Murphy rolls through! Murphy pops Tozawa up but Tozawa slips out. Tozawa leaps but into a jaw jacker, knee trigger, and suplex! Cover, TWO!! The Stamina Monster lives and fans are fired up all over again! Murphy eggs Tozawa on but Tozawa only gets angry. Murphy throws haymakers, but Tozawa laughs!? Tozawa chops and Murphy finally feels it. Murphy sees through the feint, starts a strike fest, but Tozawa still gets the JAB! Tozawa waistlocks but Murphy elbows out, only to get clobbered by a clothesline! Deadlift German! Bridging cover, TWO!! Fans rally with "AH! AH!" alongside Tozawa.
Tozawa puts Murphy in the drop zone again and climbs. Murphy anchors the foot but Tozawa stomps away with the other. Tozawa finishes climbing but Murphy tucks him in! But the superkick is denied! Tozawa hops back for the Reverse-Rana! Murphy flounders out and Tozawa builds speed to DIVE! The Tozawa Torpedo hits! But he keeps going, for a SECOND DIVE! Tozawa drags Murphy in and to the drop zone. He climbs up and aims, but Murphy gets to the apron. Tozawa kicks Murphy, GUILLOTINE SENTON!! Cover, TWO!? Murphy survives?! Tozawa fires up with more "AH! AH!" and Houston echoes it. Tozawa drags Murphy up for slapping palm strikes and a mule kick. He runs, but into Murphy's knee trigger! MURPHY'S- Wheelbarrow! TWO, tilt-o-whirl to the Octopus! Tozawa has the Iron Octopus! Murphy endures, powers up, and pops Tozawa out to Murphy's Law! Cover, Murphy wins!
Winner: Buddy Murphy, by pinfall; still WWE Cruiserweight Champion
The unstoppable remains unstoppable and remains the champion! Is it inevitable that the Juggernaut becomes THE greatest Cruiserweight of all time?
Kevin Owens speaks.
"Hello, WWE Universe." They know who he is. He finished his rehab, and got himself some Hawaiian style pizza for the family while watching Elimination Chamber. It hurts that he won't be in such a match. He hasn't had his first Chamber match yet, but his rehab is going well. He's got another month left, but just know that the Kevin Owens Show is coming back very soon. Kevin looks forward to his "buddy", Finn Balor, win the Intercontinental Championship and the Riott Squad being golden. Though his kids are huge Becky Lynch fans, it'll be hard to explain why she's not around. Also it's hard to explain why his kids like pineapple on pizza, because he hates it. He tries, but no, no good. KO hopes we all enjoy Elimination Chamber better than he does the pizza.
Mark Henry is here!
The World's Strongest Man and Houston's own is back! And he's happy to be back! Give it up for that Cruiserweight Championship match! Henry has had an Elimination Chamber match before, what about it makes it so unique? The Chamber is a different animal, it changes everyone who enters inside. And who does Henry think will be the inaugural Women's Tag Team Champions? His personal choice is The IIconics. And what of the WWE Championship Chamber match? Henry hears the crowd give their choices, but after last week's Gauntlet Match, it'd be hard not to pick Kofi. Kofi did incredible even in falling short, but we're all believers again. Now if Henry was in that match, there would be a lot of other men inducted into the Hall of Pain. Fans respect Henry's opinion, but will his personal preferences see the night through?
The Road to Wrestlemania is filled with hope.
But every road leads to this. Men and women alike will "risk it all" the sinister structure that challenges courage, tests resilience and awards those who survive. Rowdy meets Riott, brothers in arms meet brothers in blood, and you will have to be bold to get the gold! That is Elimination Chamber!
WWE Women's Tag Team Championships Elimination Chamber!
The Boss & Hug Connection will start against Fire & Desire while the other four teams wait in their pods. History is being made to kick off the night, who will be the first to put their names on those lovely new belts?
Teams finish entering the Chamber and pods, with Nia Jax giving the IIconics a swat to stop their playful fingers. Mandy and Sonya meet Bayley and Banks in the ring, and the doors are locked. The bell rings and the #LegitHuggable friends tie up with Mandy and Sonya. Mandy kicks Sasha to a corner then double whips Bayley with Sonya. Sonya kicks Bayley low then they double whip her again. Bayley dodges and clotheslines Mandy to then speed up with Sonya. Sasha dropkicks Sonya, then double hip tosses and sliding attacks! Cover on Sonya, ONE! Cover on Mandy, ONE! Bayley and Sasha give Sona and Mandy double hotshots! They then coordinate, acrobatic assist for a double crossbody! Sasha gives Sonya to Bayley to cover, TWO!
Bayley and Sasha keep their cool while Sasha stomps Mandy. Bayley puts Sonya in a corner and Sasha comes over. They mug Sonya in the corner but Sonya fights back with body shots! Sonya whips Sasha but Sasha goes up and over, only to get a spinebuster! Cover, but Bayley breaks it in time! Mandy goes after Bayley and deflects boots for a backbreaker! Cover, TWO! Mandy keeps her cool as she tosses Bayley out hard. Sonya goes around the side and picks up Bayley. Mandy whips and knees Sasha, then Sonya does the same to Bayley. They drag Sasha and Bayley up to throw them into the chains! Fire & Desire soak up the heat, then they drag Bayley and Sasha up again. Bayley fights back while Mandy covers Sasha, TWO!
Mandy drags Sasha up to toss her back out while Sonya slams Bayley into chains. Sonya and Mandy trade, but Sasha dodges and the kick goes into steel! Mandy's boot gets caught in the chains, too, and Bayley hits a neckbreaker! Sasha knees Sonya down next to her! The countdown begins and the next team to join is… The Riott Squad! Liv Morgan and Sarah Logan brawl right away with Bayley and Sasha! Sarah and Liv stomp them out, and Sarah throws Sasha into chains. Sarah drives a knee in! Liv drags Bayley up and Sarah drags Sasha up. They make Bayley watch as Sasha is slammed into a pod! Then Sarah gives Bayley a pop-up headbutt! The Riott Squad meet Fire & Desire, and throw down!
These two duos have paralleled each other on Raw and SmackDown since debuting, and now they parallel each other in brawling on the mat! Fire & Desire kick and punch but so does the Squad! Liv rocks Mandy but Sonya rocks Sarah! Liv goes after Sonya now, and SLAPS her! Sonya throws hands, Liv SLAPS even harder! Liv goes Matrix but still gets caught! She manages to roll Sonya back, TWO! Liv slaps and boots but walks into a roundhouse! Sonya can't cover, she's still dazed from those slaps! Bayley returns and covers Liv! TWO, so Bayley rocks Mandy with a knee! Bayley hits Sonya with a knee, then clotheslines Liv. She hits a saido suplex on Sarah! Fans fire up for the Huggable wrecking ball! Bayley climbs up but Mandy rocks her up top.
Mandy and Sonya work together but then the Squad adds on, TOWER OF DOOM! Everyone is down but Houston is loving this! The countdown returns, and the next team is… The IIconics! Peyton Royce & Billie Kay hurry to cover whoever! ONE! ONE! TWO! ONE! TWO! They couldn't eliminate anyone and they're furious! Mandy comes back but gets knees. The IIconics throw Liv into a post, then drag Sarah up into another post! They kick Sonya down then double kick Mandy down. Sonya runs into more kicks, and then a double gourd buster! The IIconics yank Liv out of the corner to hit the mat, then do the same to Sarah. Peyton & Billie taunt Bayley as they drag her back into the center. Fans rally up for Sasha while Billie puts Bayley in a camel clutch. Peyton adds a knee strike! Double cover, but Sasha saves Bayley!
The IIconics regroup but Sasha fires off haymakers and forearms! But the IIconics double knee Sasha down, then hit the IIconic bulldog! And heel kick! Cover, TWO!! Sasha survives and the IIconics are shrilly furious. Billie and Peyton toy with Sasha while fans say "This is Awesome!" The IIconics grind the Boss & Hug Connection into the steel chains! Peyton throws Sasha down while Billie toys with Bayley. Hotshot to forearm! The IIconics drag Boss & Hug over, Peyton slingshot sentons onto them both! Cover on both, TWO!! Both Bayley and Sasha survive and the IIconics are growing further frustrated. The IIconics go back to Fire & Desire to throw them into steel! Then they go after the Riott Squad and do the same! But the countdown returns and the next team is… The FABULOUS Glow!
Naomi and Carmella roundhouse the IIconics away! Springboard crossbody takes them both out! The IIconics are stacked in a corner while Naomi dropkicks the Squad down! Fire & Desire are stacked in one corner and Boss & Hug take the last. Double bronco busters for Squad and #LegitHuggable, and double moonwalks! Now double bronco busters on The IIconics and Fire & Desire. Billie starts climbing? Naoim enziguris Peyton while Billie and Carmella fight on the chains. Naomi kicks Liv away but Billie has Carmella, but Carmella huricanranas Billie to steel! Sarah waistlocks but Carmella fights out to FABULOUS Kick! Naomi sits Sarah up for another FABULOUS Kick, then the split-leg moonsault! Cover, but Liv breaks it! Liv throws Naomi out but Carmella leaps and crossbodies!
Bayley back suplexes Carmella but Billie boots Bayley! Sasha knees Billie but Peyton hits the Gory Bomb! Liv hits Peyton with a code breaker! Mandy tosses Liv with an exploder! Sarah hits a Fisherman Buster on Mandy! Sonya SPEARS Sarah! FABULOUS Kick for Sonya! All the women are down but Houston is thunderous! Houston again says "This is Awesome!" but the Samoan Dynasty are growing impatient. Sonya stands, blocks the Fabulous Kick to SPEAR! Jackknife cover, TWO into Code of Silence! Mandy saves Sonya, but Naomi has her now! Naomi fires off furious forearms on the home wrecker! Mandy hits back and whips, but Naomi comes back with a springboard Rear View! But the IIconics roll Naomi up! The IIconics ELIMINATE the Fabulous Glow!!
Peyton & Billie celebrate with their IIconic pose like they've already won the titles. However, they're surrounded on all sides now… The IIconics point out the countdown is back, and everyone realizes they need to be ready for Nia and Tamina! Nia and Tamina wreck everyone in their way! Nia tosses Mandy into the ring! The IIconics hide in a pod but Tamina still spots them. Peyton and Billie give thumbs up, but now they're trapped! Tamina and Nia swat at the Plexiglas. They force the doors open, and grab each IIconic by the hair! Double biels back and forth into the chains! And then into the ring! Nia and Tamina loom over the IIconics, then drag them up, for double Samoan Drops! Cover, the Samoan Dynasty ELIMINATES the IIconics!
But the Riott Squad are right on Nia and Tamina! Nia pushes Liv and Sarah away but gets double dropkicks. Sarah helps Liv take flight, to huricanrana Nia into buckles. Sarah shotgun knees Nia in deeper. Tamina runs in but into a forearm, and an assisted Diamond Dust! Cover but Nia pushes Sarah onto it. Fire & Desire return, and Sonya kicks away on Nia. Mandy hits the golden knee, Sonya hits a sliding knee! Double cover, TWO! Sasha and Bayley return for double Thesz presses! Bayley hits Tamna with a big knee, Sasha adds Meteora! Liv runs into double hip toss body slam! Sarah runs into one, too! Cover, TWO!
Fire & Desire throw forearms on Bayley & Sasha. Mandy stomps a mudhole on Bayley while Sonya drags Sasha up. They double whip but Sasha reverses, Bayley flapjacks Mandy on buckles. Bayley catapults Sonya into more buckles! Bayley stacks Fire & Desire in the corner, and Sasha hits a double Stock Drop! Cover on Sonya, TWO! Bayley drags mandy but Nia and Tamina run Bayley and Sasha over! Nia drags Bayley up but the Squad are climbing? Nia chases Liv and Sarah but Mandy comes up behind her. Tamina fights Sonya while Nia slams Mandy into steel. Liv and Sarah LEAP onto both sides! Sarah covers Sonya, TWO! The Squad is furious, but Nia goes right at them. Nia runs into Liv's boots and Liv hops up.
Nia grabs Liv's feet but Liv kicks at her. Liv can't get away, SUPER SAMOAN DROP! Tamina has Sarah for the SUPERFLY! Cover, the Samoan Dynasty ELIMINATES the Riott Squad! But Sasha and Bayley go right at Nia with dropkicks. They bait Tamina in, drop toehold to knee! Cover but Nia breaks it and scoops Sasha. Nia tosses Sasha onto Sonya! Nia drags Bayley up and tosses her out the other side. Fans duel as Nia aims at Bayley. Bayley slowly drags herself up, but Sasha saves Bayley as Nia runs in! Nia DESTROYS a pod!! The Irresistible Force all but eliminated herself and Tamina is in shock! Tamina also realizes she's all alone. Fire & Desire go after Tamina with kicks and knees, then Sasha adds Meteora! Bayley adds the Macho Elbow! Cover, everyone else ELIMINATES the Samoan Dynasty! The two teams to start are the two teams left!
Fire & Desire and Boss & Hug get up on opposite ends, and start brawling! Sonya knees Sasha while Mandy knees Bayley. Bayley throws Mandy out but Mandy yanks her in for another knee. Sonya makes Sasha watch as Mandy drags Bayley up. Double underhook but Bayley resits. Bayley feeds Mandy to Sasha's stiff knee! Sonya rolls Sasha! TWO and into Bayley's knee! Backstabber to Bayley2Belly! Cover, Mandy breaks it just in time! Bayley and Sasha regroup and chase Mandy. Mandy climbs chains and fights Sasha off, but Bayley cuts her off at the top of a pod. Sasha pursues and Mandy is isolated! Sasha clubs Mandy down and then she helps Bayley up. The best friends drag Mandy up, slam her into the Plexiglas, then take aim at the ring.
Sonya hurries up to help Mandy! They fight and Bayley sends Sonya back down. But Mandy sends Bayley down! Sonya spears Bayley into a pod corner! Sasha hurries down to check on Bayley, but then goes right after Sonya. Sasha throws Sonya into chains but Mandy throws Sasha into a pod! Mandy drags Sasha up, double underhook, butterfly facebuster! Cover, TWO!!! Sasha survives and Mandy is shocked! Mandy covers again, TWO! Mandy drags Sasha up and throws her into a post, then regroups with Sonya. Wheelbarrow and Sonya runs in, but Sasha dodges! Sonya SPEARS Mandy! Sonya staggers up into the Bank Statement crossface! Sasha's bad arm keeps it from completing, so she uses her own legs for a modified clutch! Sonya taps, Sasha & Bayley win!!
Winners: The Boss & Hug Connection, Sasha Banks by submission; inaugural WWE Women's Tag Team Champions
The dream comes true! Not just for Sasha & Bayley as best friends, but for all of the women in the WWE! The Boss & Hug Connection is stronger than ever, will they take this inaugural reign all the way to Wrestlemania?
In-ring interview with the new tag team champions.
This victory made history, and fans feel "You Deserve It!" Bayley is at a loss for words, and Sasha starts tearing up. Sasha manages to say "Nobody knows how hard we fought to get these." If only the WWE Universe knew. This isn't just for them, this is for the entire Women's Division. This is just the beginning, there is more change to come. The Boss & Hug Connection will lead the way as your new Women's Tag Team Champions.
SmackDown Tag Team Championships: The Miz & Shane McMahon VS The Usos!
Jimmy and Jey don't see the A-Lister and Shane O'Mac as a "real" tag team, but the Best Tag Team in the World are the champions. Will the underdog champions manage to defeat one of WWE's best? Or will they end up in the Uso Penitentiary like so many before?
The Miz comes out a mic to first congratulate the Boss & Hug Connection on making history. And then he dedicates this match to his family, from his dad to his daughter, to his wife Maryse! Maryse is here! "We always said when we had a huge announcement, we would announce it right here in the WWE in front of all of you." And tonight, the Must-See Family has a huge announcement: "We're having another baby!" Miz still has it. And with such happy news, Shane comes out to congratulate Miz & Maryse before he and Miz head to the ring. The Usos finally make their entrance, then the belts are raised and we begin.
The teams sort out and it's Miz starting against Jimmy. Jimmy and Miz circle and tie up. Jimmy gets a headlock but Miz powers out, only for Jimmy to run him over. Things speed up and Miz goes to hip toss, but Jimmy counters to a fireman's carry. Miz slips out, A-Lister combination denied at the backbreaker. Jimmy whips but gets caught into the Figure Four. He pushes Miz away and tags in Jey. Miz narrowly avoids the double superkicks! Shane and Miz talk but Miz is okay. MIz circles with Jey and they tie up. Miz gets a waistlock but Jey elbows out. Jey whips but Miz reverses and hits the kitchen sink knee. Miz mocks the Uso chant before hitting the A-List lariat.
Tag to Shane and Shane goes to the other corner! Jimmy knows what that means but Shane fights him off! Shane sweeps the legs, then rocks Jey! Slingshot sunset flip, TWO! Shane throws fast hands then whips. Miz tags in as Shane elbows Jey down. Miz adds the low boot, then Shane drops an elbow. Shane and Miz double clothesline Jey out, but Jimmy runs in. Miz hip tosses Jimmy, and then the champs double clothesline Jimmy out! Houston fires up as Shane and Miz mock the Uso chant together. Jimmy and Jey regroup and talk strategy. Jey rushes Miz but Miz dodges to throw haymakers. Miz puts Jey in a corner for It Kick! Jey gets a headlock and Jimmy tags in. Miz powers out but walks into a flapjack hotshot! Jimmy stalks Miz and rocks him with an uppercut!
Jimmy chokes Miz on the ropes but lets up at 4. Jey gets a cheap shot, and then Jimmy rocks Miz again. Tag to Jey and the Usos isolate Miz for a corner forearm. Jimmy tags back in and the Usos mug Miz to split the wishbone. Jimmy wraps a chinlock on but fans rally up. Miz fights out but Jimmy shoves him back to clobber him with a clothesline! Jimmy drags Miz over and tags in Jey. The Usos stomp Miz down, then Jey wraps on a chinlock. Fans rally up again and Miz fights his way up. Miz reaches for Shane while fighting back, but Jey throws him down. Tag to Jimmy, and he rips Miz's shirt off. Jimmy throws it at Shane but Shane catches it. Jimmy rocks Miz with an uppercut then whips him to the open corner. He copies the A-List lariat!
Jimmy grins as he goes corner to corner, but into Miz's STO! Both men are down while fans rally up. Miz and Jimmy crawl, hot tags to Jey and Shane! Shane rallies on both Usos, and pump kicks Jey down! Shane whips and back drops Jey! Fans fire up as Shane circles Jey. Big right rocks Jey! Float-over DDT for Jimmy! Then one for Jey! Cover, TWO! Shane keeps his cool as he drags Jey to a corner. Jimmy's in another corner, and Shane climbs up top. Shane leaps and hits Jimmy with Coast 2 Coast! But he doesn't stop there, he climbs up again to aim at Jey! Shane leaps, for a SUPERKICK! Jey climbs, Uso Splash! Cover, but Miz saves Shane! All four men are down but stirring.
Fans build to a rally as Miz returns to his corner. Shane crawls and Miz reaches, hot tag brings in Miz! Miz springboards for an ax handle! And even he's surprised that worked! Miz fires up and gives Jey more kicks! Miz runs but into a Samoan Drop! Jey fires up now as he goes corner to corner, but misses the hip attack. Miz kicks the legs out, basement DDT! Cover, TWO! Miz keeps his cool while Jey rolls out. Miz wrecks Jey with a dropkick! Fans anticipate what's coming, and Miz clears off the announce desk! Miz and Jey brawl, Jimmy DIVES but gets his brother! Miz boots Jimmy down!
The Usos are down, the table is cleared, and fans are fired up. Miz puts Jey on the desk while Shane drags himself to the top rope. Shane leaps, for the elbow through the table!! Miz checks on Shane while Houston loses their minds! Miz puts Jimmy in, blocks the Superkick but Jimmy denies the Finale. Roll up, TWO, roll up, full nelson! Jimmy throws Miz off, SUPERKICK! Jimmy climbs up top, Uso Splash! But MIz gets knees up! Cradle cover, TWO, Skull-Crushing Finale!! COver, TWO into a crucifix!! The Usos win!!
Winners: The Usos, Jimmy Uso pinning; NEW SmackDown Tag Team Champions
The Best Tag Team in the World and the SmackDown Tag Team Champions are no longer Miz & Shane! Jimmy drags his brother from the wreckage, and the twins celebrate the start of their sixth reign! Miz helps Shane up from the wreckage now, and the two walk to the back together. Fans cheer them on for the great effort, but with no rematch clauses, how will they get a chance to take those titles back?
Backstage interview with Bobby Lashley and Lio Rush.
This is easy money, it'll be two versus one. But with the trend of new champions, will there be another? Is Lio going to be a weak link? Granted, they can work together, but perhaps Finn Balor can get Lashley out of the way to pin Lio to win the title. Lio tells Dasha that they all know that. But Finn can't capitalize and win. Lashley & Lio have the advantage, they're the top of the food change. No one is stronger and more dominant than Lashley, and Lio. Relax, big man, Lashley's the steak, Lio's the sizzle. So Lio isn't worried even after Finn beat him two weeks ago? No. Enough talk, the match is next!
WWE Intercontinental Championship Handicap Match: Bobby Lashley & Lio Rush VS Finn Balor!
The Man of the Hour has a point: the odds are in their favor. But the Extraordinary Man knows how to defy odds and win when no one thinks he can. Can Finn do all that again tonight and take the title from the Rocky Mountain Machine? Or will he simply be dominated?
Introductions are made, the belt is raised, and Lio convinces Lashley he'll start. The bell rings, and Lio tags right out to Lashley! Lashley and Finn tie up, and Lashley knees low and clubs Finn down. Fans boo as Lashley flexes, but Finn kicks back! Finn runs and throws forearms, then more kicks. Lashley knees low again, then stands on Finn's chest. Fans rally as Lashley stomps Finn. Lashley whips but Finn dodges to hit flying forearms! Finn chases Lio off but Lashley gets away. Lio and Lashley regroup on the outside and talk strategy. Finn waits as Lashley returns. Lashley gets a waistlock and throws Finn down. Lashley bumps Finn off buckles and then throws a throat chop. He clubs Finn then throws forearms into the back. The ref counts as Lashley chokes Finn again, and Lashley backs off at 4.
Lashley whips Finn corner to corner, but Finn dodges! Finn swing kicks Lashley down then hurries up top! Lio distracts and Finn chases him off. Finn slingshots but Lashley denies the sunset flip with a stomp. Lashley stomps Finn more then drags him up for a powerbomb. Finn slips out and back drops Lashley out! Lio panics as Finn builds speed, and Lio manages to swipe his feet! Finn chases Lio, but runs into Lashley's tackle! Fans boo as Lashley stands over Finn and Lio hypes him up. Lashley lifts Finn to ram him into the apron! Lashley puts Finn in, drops an elbow, and covers. TWO and Lio tags in. Lio mocks the Too Sweet and he kicks Finn while he's down. He eggs Finn on as he throws haymakers and stomps away in a corner.
Finn throws Lio into the corner! Lio runs away and tags Lashley! Lashley clobbers Finn! Cover, TWO! Lashley stays on Finn with a cobra clutch. Fans rally up as Finn endures. Finn powers up and fights out with body shots. Lashley gets Finn with a complete shot! Cover, TWO! Finn lives and Lio is livid! Lashley tags Lio back in and Lio puts Finn in an abdominal stretch. Finn endures as Lio flexes. Fans rally again and Finn powers his way out to a hip toss! Lio crawls to the far corner, and Finn runs in, only to get boots. Lio hops up but Finn ducks under, tag to Lashley! Finn runs into another tackle! Lashley rams his shoulder in again and again, then runs in for another tackle.
Lashley flexes but fans boo and jeer. He puts Finn in the corner again, runs in for another tackle, then lifts Finn HIGH for a spinebuster! Fans continue to boo as Lashley takes aim. But Lio tags in? Lio says he can finish this for them. Lio leaps for the Final Hour, but Finn dodges! The splash flops and Lashley panics. Finn and Lio slowly stand, and Finn stays between Lio and Lashley. Lio kicks but Finn catches it! Lio reaches but Finn reels Lio in for forearms. Finn hits Lashley, then double stomps Lio! Lashley runs in but gets a slingblade! Finn clotheslines Lashley out, then tosses Lio out onto him! Finn FLIES onto them both! He puts Lio in quick, shotgun dropkick blasts Lio down! Finn climbs up high, COUP DE GRACE! Cover, Finn wins!!
Winner: Finn Balor, by pinfall; NEW WWE Intercontinental Champion
Finn gets away from the angry Almighty, and is celebrating with Balor Club! Will the Extraordinary Man take this title all the way to Wrestlemania?
Lashley is angry with Lio. Lio is the only reason things went sour for them! And he grabs Lio around the head! Lio begs Lashley forgive him, he is sorry. Lashley lets Lio go, only to lift and slam him! The Rocky Mountain Machine is done with all the hype. Will Lashley be able to find his way back to the title? Is it back to 205 Live full-time for Lio?
In-ring interview with Charlotte Flair.
When did she find out Vince McMahon was going to use her to replace Becky Lynch at Wrestlemania? "Life is good when you're Charlotte Flair!" The Queen is going to Wrestlemania, and she got to humiliate Becky at the same time. Becky should've learned by now that this is her own fault. She can't let anything go. Becky panders to the WWE Universe! She needs the fans to love her! But Charlotte doesn't need anyone else's affirmation. Charlotte knows that she is THE very best in the WWE today! Fans still chant for Becky, though. But Charlotte will be ringside to watch Rowdy Rousey VS Riott, to see who main events against her.
Raw Women's Championship: Ronda Rousey VS Ruby Riott!
Liv Morgan & Sarah Logan fell short of getting the tag titles, but the Squad Leader still looks to shake up Wrestlemania by shocking the world tonight. Is it possible that Ruby can dethrone the Baddest Woman on the Planet? Or will Ronda be the one constant in the Wrestlemania Raw Women's Championship picture?
Introductions are made, the belt is raised, and Charlotte takes a seat as the match begins. Ruby kicks low and throws fast hands on Ronda! Ronda gets Ruby off her to then throw her around! Ruby scrambles out to catch her breath but Ronda eggs her on. Ruby takes her time returning while Ronda paces. Ronda rushes Ruby but Ruby bails out again. Ruby slowly returns, but uses the ropes as defense. She then throws forearms and kicks! Ronda still throws Ruby down! Ronda scoops Ruby, for Piper's Pit! And then while pointing at the Wrestlemania sign, ARMBAR! Ruby taps, Ronda wins!
Winner: Ronda Rousey, by submission; still Raw Women's Champion
Ronda stares Charlotte down. The Queen isn't who she wanted, but Ronda is more than happy to take her frustrations out on her. Charlotte is still confident as she walks up to the ring. Charlotte and Ronda stand face to face, but wait, is that Becky!? Becky is on crutches but she's still making her way from the crowd to the ring! Becky puts the crutches in and rolls into the ring. Fans cheer her on but Charlotte mocks Becky at how hard it is for her to join them. Becky ignores Charlotte to look at Ronda. Ronda stares back, and then Becky fires off on Charlotte!! Becky seems fine enough to smack away on the woman replacing her!
Ronda takes up the other crutch?! Ronda aims at Charlotte with it, but then Becky SMACKS Ronda! The Man takes her anger out on both women going to Mania over her! Security rushes the ring but Becky keeps going! Becky finally stops but Houston is thunderous for the Straight Fire! Becky leaves peacefully with security escorting her out. Ronda is furious and Charlotte is in a daze. Will Becky's actions only make things worse for her?
No Disqualifications: Braun Strowman VS Baron Corbin!
As the Monster Among Men told us earlier today, he plans on making this a happy ending for himself, and a nightmare for the Lone Wolf. Will Corbin regret ever angering Strowman to this point? Or will he have another scheme up his sleeves to screw Strowman over?
The fans chant "Get These Hands!" as the bell rings. Corbin throws his vest at Strowman! But Strowman rocks him with an uppercut! Corbin bails out and Strowman gives chase. Corbin SMACKS Strowman with a kendo stick! And another SMACK, and antoher SMACK! Corbin has Strowman staggering about the ring with every SMACK! Corbin dedicates the next SMACK to the fans. Strowman gets to a corner so Corbin wedges the stick into the opposite corner. Corbin whips but Strowman reverses! Corbin slides out to avoid the stick, then slides back in only to get an uppercut! Strowman squashes Corbin in a corner! Corbin goes back for the stick but Strowman takes the stick from him! They fight over the stick but Strowman's one hand beats Corbin's two!
"I don't need a kendo stick to whoop your ass!" Strowman breaks the stick then clubs Corbin down! Fans fire up with Strowman while Corbin bails out. Strowman comes around the corner and blasts Corbin into barriers! Strowman takes another lap, but Corbin throws an arm chair! And Strowman catches it! Corbin runs and Strowman chases, but Corbin sends Strowman into steel steps! Corbin takes the steps apart and rams the top half into Strowman! Strowman staggers about but Corbin gives chase. Corbin jams Strowman with the steps again, then mocks the lap. Corbin gets speed and runs Strowman over! And then he mocks the monster's roar. Fans boo and jeer while Corbin drags Strowman up and into the ring. Corbin drags Strowman up to rock with a right hand!
Fans boo as Corbin gloats. Corbin eggs Strowman on but Strowman drags himself up. Corbin runs to rock Strowman with another right! Fans boo as Corbin gloats more. Corbin prepares a third, but Strowman clobbers Corbin instead! And then a corner splash to a big boot! Strowman roars and fans chant for a table. Strowman obliges, and finds a table from under the ring! He puts the table in the ring, then sets it up in a corner. Strowman goes after Corbin to scoop, but Corbin slips out and rakes the eyes! Corbin boots Strowman, then hops up to leap, but into the scoop! Monster Slam through the table!! But here comes Drew McIntyre! It is only natural that one of Corbin's allies would come out just as Corbin looked to be losing. McIntyre has a steel chair, but then Bobby Lashley attacks from behind!
The pack is together and they SMACK Strowman with chair shot after chair shot! Lashley and McIntyre help Corbin up from the wreckage, but Strowman stands! Strowman rocks Lashley with an uppercut! McIntyre hits the Glasgow Kiss, Lashley SPEARS Strowman down! Corbin coordinates the trio and has them bring in the steel steps. McIntyre and Lashley take the big base steps and put them in the ring. Corbin helps set them side by side, and fans boo as the three circle Strowman. McIntyre drags Strowman up to talk trash, but Strowman grabs him by the throat! Strowman grabs Lashley, but Corbin SMACKS Strowman on the back! Strowman goes down again and Corbin goes searching under the ring.
Corbin, McIntyre and Lashley get tables into the ring and start setting them up. CLAYMORE keeps Strowman down! McIntyre helps Corbin double stack the tables, then they both drag Strowman around to Lashley on top of the steps. They all lift Strowman, for a SHIELD BOMB through BOTH tables! Corbin covers, Corbin wins!!
Winner: Baron Corbin, by pinfall
This new pack of wild dogs asserts dominance over the Monster Among Men! What is to come of these three being united in their dominance and destruction?
WWE supports the Special Olympics World Games.
Support and cheer on all the athletes as they head to Abu Dhabi!
The Miz and Shane are getting checked out backstage.
Miz apologizes to Shane. He can't calm down over the loss. They're better than this! Miz dedicated this match to his entire family!! Shane tells Miz to calm down and head home. They can talk again on Tuesday. Just go home, okay? Miz does leave, but he's not happy. Will Miz cool off come SmackDown this week?
Lacey Evans heads to the ring.
The Model Soldier surprises everyone by walking out, but then she heads back? Was this her way of classing up the night?
WWE Championship Elimination Chamber!
SmackDown's incredible Gauntlet Match established who will go in last, and that is The Viper! Randy Orton takes a pod, as does Kofi Kingston, Jeff Hardy, and AJ Styles. That leaves the New Daniel Bryan to start against Samoa Joe by default!
But as Bryan makes his entrance, he shouts for them to cut his music. "Do you know what happens when a genius like myself tries to enlighten the masses?" They get punished! The WWE management has given the WWE Universe power! And what happens now? Bryan comes out and he's one of the first in the match! "Fickle!" First in the Gauntlet! "Fickle!" And now Rowan can't accompany Bryan to the ring! Bryan shouts "No!" but fans chant "Yes! Yes!" Bryan doesn't want the fans to make him a martyr, but he is suffering for the greater good. The small-minded people just repeat the same stupid phrase, and it only reminds Bryan that there is hope. The people and the planet needs the New Daniel Bryan as the WWE Champion! Bryan finally enters the Chamber, the belt is raised, and the match finally begins.
Joe corners Bryan but Bryan slips out and around the outside. Joe dares Bryan to come back but Bryan refuses. Bryan simply trolls Joe while waiting out the clock. Joe waits and Bryan enters the ring, but he still keeps his distance. Bryan throws kicks but Joe just grins. Joe catches the next kick to give a kick! Joe kicks, Bryan catches, but Joe uses that to get at kneebar! Bryan endures, and grabs the ropes. Joe lets go and Bryan gets him into a corner. Bryan CHOPS Joe but Joe just gets mad. Bryan runs but Joe gives chase! Joe corners Bryan and CHOPS him against the steel chains! Joe drags Bryan back into the ring for a back suplex. Bryan slips out and hops up, but into a powerbomb! High stack cover, TWO, into the Boston Crab!
Bryan endures but Joe shifts to an STF! Then a crossface! Then Rings of Saturn! Bryan shifts to a cover, TWO, he dropkicks Joe's legs out! Bryan throws Joe out of the ring, then into a pod! Joe rolls back into the ring and Bryan covers, ONE! Bryan stands Joe up for a chop, but Joe CHOPS Bryan! Joe headbutts Bryan then kicks him in the chest and back. Bryan gets up to chop, but Joe CHOPS him again! Joe whips Bryan to a corner, but Bryan drop toeholds Joe into buckles! Bryan kicks away on Joe but the countdown finally appears! Bryan backs off to watch the pods. The next man in is… Kofi Kingston!
The Iron Man rallies on both of them! Springboard ax handle for Bryan! Kofi spin through the urenage but Joe denies the DDT. Kofi swing kicks Joe away then climbs up for a splash to the back! Cover, TWO! Bryan goes after Kofi in a corner, then hangs him out to dry on the ropes. Fans rally while Bryan climbs. Bryan leaps at Kofi for a guillotine knee drop! Cover, TWO! Bryan goes after Joe with chops, but Joe still isn't bothered by them. Joe backs Bryan down with another CHOP! Bryan runs away from Joe again, then climbs up on top a pod. Joe wants Bryan to come back but he just sits. Kofi rams into Joe with shoulders but then Joe CHOPS Kofi. Joe whips Kofi corner to corner but Kofi goes up after Bryan! Bryan wants Kofi to take it easy, but Kofi throws furious haymakers!
Bryan gets away but Kofi pursues! Joe approaches from below as the two exchange kicks. Joe drags Bryan down off the wall, but Kofi kicks Joe away. Kofi aims, climbs a little higher, and Trust Falls onto them both! All three men are down as that fall hurts Kofi almost as much as Bryan or Joe. Kofi drags Bryan back into the ring, covers, TWO! He covers Joe, TWO! Bryan throws European Uppercuts on Kofi then headlocks. Kofi powers out but Bryan runs him over. Things speed up, Kofi back elbows Bryan! Cover, TWO! Kofi keeps his cool but Joe is on him with a headbutt. Joe back sentons Bryan! Joe drags Kofi up and snap suplexes. Cover, TWO! Joe goes back to Bryan on the outside, throwing forearms and CHOPS against the steel chains! The countdown returns and the next man in is… AJ Styles!
The Phenomenal One rallies on everyone with haymakers! Phenomenal Blitz on Joe! Bryan goes after Styles and SLAPS him. Styles SLAPS Bryan, and the two brawl! Styles whips but Bryan reverses. Bryan runs in but into an elbow. Styles hops up, Moonsault but Kofi comes in. Styles catches Kofi, double DDT's! Cover on Bryan, TWO! Cover on Kofi, TWO! Styles bumps Kofi off buckles and kicks out the leg. Styles goes to Joe on the outside, slingshot for a forearm! Bryan climbs again while Styles keeps Joe down. Styles spots Bryan, and springboards up to meet him! Phenomenal Forearm takes Bryan out! Styles shoulders and slingshots on Kofi for a sunset flip, but into the Styles Clash! Kofi fights out of it, then runs, but into the Ushigoroshi! Cover, TWO! Styles keeps his cool as he goes back to Joe. J
oe covers up but Styles kicks low and then chops him. Styles throws forearms, but Joe prevents him from throwing him into steel. Joe throws Styles into the chains then back drops Styles into the ring! Joe goes after Kofi but Kofi hits back! Kofi fires off haymakers and kicks, but runs into the sleeper! Kofi copies his idea from the Gauntlet and makes it a cover! TWO and Joe still has the sleeper! Jawbreaker frees Kofi, Phenomenal Forearm hits Joe! Styles ELIMINATES Joe! The Destroyer is gone, but the countdown returns. Since we know who is last, the next man in has to be Jeff hardy! The Charismatic Enigma brawls with Styles! Hardy whips but Styles reverses, only for Hardy to run him over. Hardy atomic drops and splits the legs! Dropkick on top, cover, TWO!
Hardy jawbreakers Styles then back kicks Bryan. Hardy kicks Kofi and hits a sit-out gourd buster! Then he uses Kofi to hit Bryan with Poetry in Motion! Fans chant "DELETE! DELETE!" as Hardy stalks Styles. Styles denies the Twist of Fate with a Pele! Hardy crawls to a corner while Bryan throws Kofi into chains. Bryan grinds Kofi into steel while Styles shoves Hardy into a pod! Styles climbs up behind Hardy but Hardy fights back. Hardy trips Styles up and Styles hits post on the way down! Hardy drags Styles into the ring while Bryan laces Kofi's arm through chain! Styles is stuck on the top rope, Hardy SWANTONS on Styles! KNEE PLUS outta nowhere! Bryan ELIMINATES Hardy! Hardy put it all on the line to go after Styles, he got caught off guard.
Bryan goes after Styles now with a Tree of Woe. Bryan fires off No Kicks, then runs corner to corner to basement dropkick! Styles can't get out of the tree and Bryan puts Kofi on top. Bryan stomps Styles down then climbs up over him. Bryan drags Kofi up but Styles sits up! Styles adds on for a Tower of Doom, German Suplex and SUPERPLEX! Styles works to get out of the Tree while the others are down. The countdown returns, and finally, Randy Orton joins the match! He has his pick and first lariats Bryan down. Orton stomps Styles in the Tree, then clotheslines Kofi. He stomps Styles more, but Kofi gets his attention. Orton throws Kofi into Styles! Styles finally falls out of the Tree, but Bryan goes at Orton. Orton almost gets the RKO but Bryan backslides! TWO, and Orton hangs Bryan out to dry!
Kofi dropkicks Orton! Kofi drags Styles up, but Styles gets him with the STO backbreaker, just like the Gauntlet match! Styles drags Kofi up as fans rally. Styles whips Kofi to a corner, then runs in, only for Kofi to put him outside. Kofi turns around into Styles' forearm, then Styles springboards, into an RKO!! Cover, Orton ELIMINATES Styles! Orton grins as he watches Styles be helped out of the Chamber. But Kofi rolls Orton! TWO, Trouble in Paradise misses. Kofi kicks Orton back, then climbs up, only for Orton to trip him up. Orton drags Kofi out from the top rope, for a SUPER draping DDT! Fans duel as Orton hears the voices in his head. Orton stalks Kofi but catches Bryan in a powerslam! Orton goes back to Kofi but Kofi denies the RKO! TROUBLE IN PARADISE! Cover, Kofi ELIMINATES Orton!
Kofi is one of the final two with Daniel Bryan! Houston is thunderous for how close Kofi is to achieving a dream! Kofi and Bryan are in opposite corners, and Kofi fires himself up. Bryan and Kofi stand up stare down. They approach, and start throwing hands! Bryan kicks so Kofi kicks, and repeat! They go back and forth, but Kofi eggs Bryan's kicks on! Bryan kicks and Kofi kicks! Trouble In Paradise misses, Bryan dropkicks the legs out! Bryan dares Kofi to sit up, and starts giving him No Kick! He kicks again and again, but Kofi ducks the buzzsaw! SOS!! Cover, TWO!! Kofi was so close yet so far from finally being world champion! Houston is at a fever pitch as Kofi and Bryan reset.
Kofi runs in but misses in the corner! Fans rally up as Bryan takes his time looming over Kofi. Bryan throws angry haymakers, saying Kofi doesn't deserve to be here. Bryan gives Kofi more kicks, then runs corner to corner, for a big dropkick! And then another! And a third! A fourth! Kofi jumps out and double stomps out Bryan! Cover, TWO!! Houston is right there with Kofi on how close he was again. Kofi wills himself to his feet and to a corner. He aims at Bryan as he stands. Kofi runs but Bryan bails out. Kofi goes after Bryan and throws him into chains! He does it again and again and again! Kofi only picks up speed as he rams Bryan into steel! He drags Bryan up, bulldog but Bryan sends Kofi into the pod!
Bryan drags Kofi into the ring, and waits for Kofi to stand. Fans are not giving up on Kofi, but Bryan is taking am. Bryan runs at Kofi, KNEE PLUS! Cover, TWO!? Kofi survives and shocks Bryan! But Houston is eating this up! Bryan grows angry, and grabs Kofi's arms. Bryan stomps away on Kofi's face! And again and again and again! Cover, TWO! Bryan wants another shot, Kofi stands, TROUBLE IN PARADISE! Cover, TWO to a cradle! TWO, and Kofi kicks Bryan. Bryan catches Kofi's arm into a form of the Labell Lock! But he also rakes the eyes and nose! This isn't illegal in the Chamber! Kofi reaches and gets the ropebreak! Bryan lets go out of exhaustion. Bryan sits up and drags Kofi around. Houston declares "This is Awesome!"
Bryan climbs up top but Kofi kicks him down! Kofi climbs up and throws hands. Bryan climbs to the pod but Kofi pursues. Kofi clubs Bryan down then headbutts him against the Plexiglas. Kofi throws Bryan into it as fans chant "Yes! Yes!" He drags Bryan up, but Bryan resists. Kofi throws body shots but Bryan continues to block the risky suplex. Bryan fights and now he bounces Kofi against the Plexiglas! Bryan decides to use Kofi's idea, but now Kofi resists! Kofi fights back and clubs Bryan down. Bryan slips down to the post but Kofi again pursues. Kofi boots Bryan again and again and sends him all the way down! Kofi stands, leaps, but FLOPS! Bryan aims from the corner, KNEE PLUS!! Cover, Bryan wins!
Winner: Daniel Bryan, by pinfall; still WWE Champion
The New Daniel Bryan survives the Chamber by the skin of his teeth. Will the Planet's Champion ever be defeated?
As for Kofi, the New Day come out to join him. They and the fans still have Kofi's back. Houston chants "Thank You, Kofi!" because he has nothing to be ashamed of. Will they go back to the drawing board and find another way for Kofi to get that Grand Slam?
---
My Thoughts:
A really great Elimination Chamber! WWE more or less took advantage of the assumption that they wouldn't use this PPV for anything crucial and actually did that. At least, for some of this. Buddy Murphy retains because while Tozawa was doing great, I'm thinking it's someone brand new to 205 Live that'll finally take it from Murphy. AKA Kushida. The Women's Tag Team Championship Chamber match was of course new and historic, and it was pretty good for having a few superstars who aren't exactly the best. All 12 women got to look strong, but it was good for the IIconics to be later in the match so that they could pick on the others. Naturally Bayley and Sasha win, it is their story, and they were even matching the belts with their gear. I'm still waiting to see how they'll make these belts work on both brands.
I did not think The Usos were going to win those titles. There was the new of Jimmy's DUI, but it seems the Usos and Naomi had a counter of wanting to leave. The WWE gave the Usos their win to keep them and will likely worry about punishing Jimmy for the public incident some other way. But the match was great, and this does help give Miz & Shane a new dimension to the story. Though I have a feeling that this might be what brings us to Miz VS Shane. That's a bit of a shame, but I suppose this would be a good way of doing it. But I did see Finn Balor getting that Intercontinental Championship off of Lio Rush. That seemed to be the only reason for the Handicap stipulation, because Vince still doesn't see Finn being able to beat a beefy guy directly.
Of course, it also helps give Lashley energy left over to beat up Strowman with his real friends. No Disqualifications was obviously for this to happen. Corbin, Lashley and McIntyre taking the Shield triple powerbomb to the extreme was an interesting choice. If Roman Reigns was healthy, I would think this would lead to Corbin, Lashley and McIntyre taking on a once-again-reunited Shield at Wrestlemania. Even with Dean Ambrose supposedly leaving after Mania, one last ride with his brothers would be a great match for him to have at Wrestlemania, and it could be a feel-good send-off moment when the Shield stands tall for one last fist bump.
We all knew Ruby Riott was going to lose, but Ronda sure beat her quickly. Ruby should stick with Liv and Sarah and try to Freebird the Women's Tag Titles. As for the rest of the Raw Women's Championship segment, it was amazing! Becky surprises us, and then her beating both Charlotte and Ronda up with the crutch was a lot of fun. This wasn't the route I pictured for the Triple Threat but it's working out. Now if only Asuka would have something lined up. Lacey Evans randomly showing up was just weird, but maybe she is their choice to build for Asuka in the home stretch. Then after a huge block of WWE's own ads, we finally get to the world title chamber. It was really good with how they played on all the story, and it was perfect to have Bryan start and Kofi hang with him.
In the back of my mind, I knew Kofi wasn't going to win, but they did such a great job making it seem like Kofi could've pulled it off. It is a shame Ali wasn't getting this same shine because of injury, but Ali will be back and can continue where he left off. Fastlane is coming, and that will surely be used to determine the next challenger. A lot of it depends on Ali's physical health, so anything could happen. It'd be great if Kofi got another chance, but the New Day have said Kofi will get the title in 2019, so it doesn't have to be at Mania, even if Mania is the place for such great moments.
My Score: 8.3/10