Dragon Gate Gate of Destiny Results & Review (11/4/2018)

Welcome back to Dragon Gate! We return to cover one of their biggest shows of the year, Gate of Destiny.
The card contains some big title matches, along with PAC's first singles match since his return to the company last month. Now the real question is can they deliver?
Well, we're about to find out as we…dive right in.
Tag Team Match
K-ness & Mondai Ryu vs. Shachihoko BOY & Stalker Ichikawa
Review: We got our opening match with K-ness and Mondai Ryu tagging up for this one to take on Shachihoko BOY and Stalker Ichikawa. Our opening bouts usually there to please the crowd but could they also entertain them while giving us something good? Which of these two will win?
It was a match…it existed. It was about three minutes and it was pretty much Stalker screwing around in the ring with K-ness and Mondai slapped him around and pulled off his ears from his mask, the monsters. Shachihoko really didn't do much in this match, nor Mondai for that matter since it was only K-ness really that did the majority of the work here for the match. K-ness would Sunset Flip Shachihoko for a two count and would have his legs on his body to roll him around the ring in that same position until he pinned him that way again and gets the three count. I just wasn't a fan of this match and nothing really happened in it at all, it just happened just for the sake of a match existing.
Rating: Vince Russo and a half
Six Man Tag Team Match
Natural Vibes (Punch Tominaga & YASSHI) & Hyo Watanabe vs. Don Fujii, Gamma & Ryo Saito
Review: Our next match is a six-man tag match with two members of Natural Vibes, Punch Tominaga and Brother YASSHI teaming up with Hyo Watanabe as they take on the team of Don Fujii, Gamma, and Ryo Saito. Good to see Don and Ryo still being a tag team here and they could possibly go for the Triangle Gate Championships again if they want to. Which of these teams will win?
Well, I can at least say that this was a better match than the previous one I saw but at the same time, this one was just average itself. Natural Vibes teaming up with Hyo was a weird combination in itself and it just seemed like they didn't flow well together whereas Don, Gamma, and Ryo would pair off a bit better than the other team since they have teamed up before and know what they're doing together. Again, the match was a basic tag match for what you see when a unit teams up with one random person and you get some nice sequences from some of the people in the match like with Gamma and Hyo going back and forth into the match and makes me hope we could get a one on one match with these two since it could be solid if done right. Don would hit Hyo with a Chokeslam to get him down as Gamma goes to the top rope to hit a Corkscrew Moonsault almost missing Hyo and pins him for the victory.
Rating: Tony Schiavone and a half
Eight Man Tag Team Match
Daga & R.E.D. (Eita, KAZMA SAKAMOTO & Yasushi Kanda) vs. Tribe Vanguard (Kagetora, U-T & Yosuke Santa Maria) & Kota Minoura
Review: We now have an eight-man tag match with R.E.D members, Eita, KAZMA SAKAMOTO, and Yasushi Kanda along with non-member, Daga as they take three members of Tribe Vanguard, Kagetora, U-T, and Yosuke Santa Maria along with non-member, Kota Minoura. R.E.D has been establishing dominance with Eita leading the charge and now looks to take out Tribe Vanguard in the process. Can R.E.D keep the momentum going or will Tribe Vanguard take it?
Least we were able to get a solid eight-man tag match in the mix almost at the end of our halfway point. R.E.D does what they do best when they start attacking their opponents before the bell would ring to get the opening advantage in the match to make themselves look strong. Tribe Vanguard worked well together in this match with Kagetora and Yosuke still being probably the more underrated people on the roster while U-T is slowly rising up in the ranks with his ability to show us what he can do. From what I can see with Kota, he's still a bit green since he's new but he also does have a ton of potential to do really well for himself. Daga is someone new to me and is actually his first time in Dragon Gate and is a freelancer from Mexico, but he was pretty impressive in his Dragon Gate debut and looked like he fitted in with R.E.D well also. Yusuke, U-T, and Kota would all hit Eita with a Missile Dropkick to get him down until Kanda and KAZMA would stop Kota from trying to pin their leader. Kota would try to do a flash pin to KAZMA for a kick out and KAZMA would hit a Pop-up Powerbomb onto Kota until Tribe Vanguard broke it up and R.E.D throws them all outside. Daga would hit a Gutbuster onto Kota and picks him up for Eita to hit the Superkick onto him and gets the win for R.E.D.
Rating: Eric Bischoff and a quarter
Open The Triangle Gate Title Three Way Elimination Match
Natural Vibes (Genki Horiguchi, Kzy & Susumu Yokosuka) (c) vs. Masaaki Mochizuki, Shun Skywalker & Yuki Yoshioka vs. MaxiMuM (Jason Lee, Kaito Ishida & Naruki Doi)
Review: We have our first title match of the night with Natural Vibes defending their Open the Triangle Gate Championships in a Three-Way Elimination Match as they defend against MaxiMuM members, Jason Lee, Kaito Ishida, and Naruki Doi along with the team of Masaaki Mochizuki, Shun Skywalker, and Yuki Yoshioka. Natural Vibes has a good chance of being eliminated to losing the titles, but they could also have a chance to beat both teams and retain. Will Natural Vibes retain or will one of the two teams take the titles?
So for this elimination match, it looks like once a member loses the match that the whole team would be eliminated instead of just having to beat all three members to eliminate them and that might be better this way honestly, and it appears as though that all three men can be in the match instead of just two people starting and tagging in whoever. These are the types of matches that just make me wanna love Dragon Gate with their nonstop action, entertaining Lucha style mixed in, and just mixing it up with some wrestling to go with it. There was one spot where one person would wrap their legs around his neck for a chokehold and it would keep going until Jason Lee was the last one to make the bridge and Kzy would try to get into the mix until Mochizuki takes him down and it looked like he wanted to do it himself but he goes over to the front end to deliver the longest Boston Crab I've seen in quite some time and it wouldn't last long since Jason Lee was right by the rope and grabs it right away. Yuki would start showing some spark in the match with his back and forth action with Kaito with trying to roll each other up or hit each other and it would come to an end when Kaito hits the Tiger Suplex on Yuki to eliminate Mochizuki Dojo making it now Natural Vibes and MaxiMuM.
Naruki and Kzy start going at it right away and Naruki doesn't hold up against him as he hits him with a DDT and runs towards Kzy for him to catch him by surprise with the Skayde Schoolboy for the surprise pin and Naruki kicked out of it and hits his Bakatare Sliding Kick to knock Kzy out and Jason Lee quickly picks him up for a German Suplex Hold as Susumu broke the count! Kaito and Kzy are in the ring now and he hits Kzy with the Tiger Suplex and it looks like we have new champions, but Kzy kicked out of it! Kaito got Kzy back up to try and finish him but Kzy would hit him with some elbows before he hits his Running Elbow Smash to get the win and Kaito kicks out as well! Kzy quickly picked him up to hit the Impact and Natural Vibes retains the titles! This is Natural Vibes fifth successful title defense and they said that if they retain it one more time, they'll hold the record for most title defenses with this belt and their next title match is on November 18th, so let's see if they can break the record.
Rating: Bruce Prichard and a quarter
Singles Match
Flamita vs. PAC
Review: We now have a special singles match with PAC having his first singles match in Dragon Gate since his return as he takes on Flamita in what people have considered as one of their dream matches for the fans. PAC has been doing well in the tag matches that I've seen when he came back but now the real test is to see how he can do by himself now as he takes on this Luchador. Will PAC win his return match or will Flamita derail him?
For something that was titled a dream match, this was very underwhelming. You're probably asking me how can this be bad since you have PAC and Flamita in the mix? Well, it's quite simple really that it was just slow and dragged out quite a lot at the beginning of the match. I don't mind matches going at a slow pace since I enjoy technical wrestling and could watch that anytime, but it was more of PAC just really dragging it out in the match and made nothing about it exciting except just hitting Flamita and maybe have R.E.D attack Flamita once when the referee wasn't looking. I get PAC is the heel in the match and to get the heat behind him but he just didn't really do anything at all and some fans will feel blue balled by this match. And before you actually do the whole he's a heel thing as an excuse, he did a lot more as a heel in WWE than he has in Dragon Gate for his current run right now so I don't wanna hear that.
Flamita, on the other hand, did try to make the match good as best he could but it, unfortunately, wasn't enough either to make it exciting and he didn't get a lot of offense in this match either. He does take the spot of the night though when PAC threw him up in the air for a pop-up and Flamita caught him with a DDT on the way down and PAC sold that beautifully, so I will give him credit for that one at least. The match would try to pick up in the last couple of minutes of it but it's really hard to get invested into this match fully when nothing has been standing out from the beginning of the match. Flamita would have PAC up for a Musclebuster and he slams him down in a Codebreaker style which looked great and goes to the top rope to hit the Phoenix Splash but PAC rolled out of the way. PAC would quickly go up to the top rope now he hits the Black Arrow (still think it should be called R.E.D Arrow) and gets the win over Flamita. So how did PAC do in his first singles match back? It was honestly disappointing, to say the least, and hope he works on it in the next one he does.
Rating: Tony Schiavone and three quarters
Open The Brave Gate Title Match
Dragon Kid (c) vs. Bandido
Review: It's time for our second title match with Dragon Kid defending the Open the Brave Gate Championship against someone else that's not Eita, but instead it's Bandido. This was one match I really wanted to see in Dragon Gate and now it looks like we can finally have it and for a title no less. Will Dragon Kid retain or will Bandido take it?
So after finally getting our little dream match here, did it live up to the hype? While this one was already better than PAC/Flamita, I thought this match was a slight letdown as well. Not that it was a bad match or anything since it was still solid, but also felt like they could've done so much more at the same time and made it a bit underwhelming. The match would start off strong with the lucha style we expected from them, but also felt a little bit slow too and would lose a little momentum when Bandido messed up a Diving Moonsault to the outside and hits one of the ring crew by accident while Kid tried to catch him. After that, they would do some moves here and there to make it stand out but it's a little too far in between that it felt a bit hard for it to be wowed unless it was near the end. Bandido though did do very well in the match I thought and was always impressive to see and really does fit in well with Dragon Gate if he ever does decide to wrestle there full-time and could potentially be a big star.
There was one move Bandido did that really made him stand out since it's actually the first time I've seen it, but it was Dragon Kid bent over while holding onto the ropes (hot) and Bandido looks to do what appears to be a Forward Flip Springboard Suplex and it looks awesome but Kid still kicked out of it. After that, Bandido would do a Flipping Fallaway Slam off the top rope and Kid kicked out again before Kid would start to get momentum now and hits the Bible for a two count. Kid would now hit a Frankensteiner for another two count and would go to the top rope to hit the Dragonrana and gets the pin to retain the title. Eita would come out after the match and it looks like he wants to have one final match against Dragon Kid for the title. If it'll give us one final match and let them move on after this, then let them have it.
Rating: Eric Bischoff and a quarter
Open The Twin Gate Title Match
Tribe Vanguard (BxB Hulk & YAMATO) (c) vs. R.E.D. (Big R Shimizu & Takashi Yoshida)
Review: We have our next title match with the Open the Twin Gate Championships being on the line as BxB Hulk, and YAMATO defend the belts against R.E.D members, Big R Shimizu, and Takashi Yoshida. R.E.D were able to beat Tribe Vanguard earlier in the show during the eight-man tag match and with PAC beating Flamita, R.E.D looks to be in pretty good shape to maybe have a clean sweep if they win. Will R.E.D keep at it or will Tribe Vanguard retain?
I'm sure a lot of people know by now that I'm not a big fan of Takashi Yoshida and Big R Shimizu but I will say that they do make a decent heavyweight tag team while it's no BigBen, it'll pass at least. They both play to their strengths in the match with their power to try and dominate their opponent and this will move Ben-K to a more solo run, then I'm fine with those two staying as a tag team. YAMATO and Hulk are still quite the team and slowly becoming my favorite set of current champions since CIMA & Dragon Kid, just the chemistry these two share in the ring just make it work out for them and I hope this reign lasts a little bit longer.
I actually really liked this match, I thought it was nicely done with both teams playing to what they know best with Takashi and Big R just overpower their opponents while YAMATO and Hulk just use their wrestling experience to match them. If I did have to take one thing away from the match would be the odd pacing here and there in the match to throw it off a little off, but it's a minor one and still a really good match to see. Big R and Takashi would just manhandle Hulk with just their power as Big R hits the Splash off the top without doing that stupid timber looking version or it and Takashi hits a Diving Elbow Drop as YAMATO broke the count. Hulk would try to hit the First Flash onto Big R but he caught him in time for the Shot-put Slam and Takashi went for the Cyber Bomb and YAMATO broke the count. YAMATO fights off Takashi and gets him in a Sleeper but Takashi would get to the ropes to break the hold and spits green mist into his eyes as he now picks him up to hit the Fire Thunder Driver as we could have new champions and Hulk now breaks the pin. Takashi would slam YAMATO onto the ropes and as he ran to the other side, YAMATO would catch with a Frankensteiner and gets the surprise victory over R.E.D to retain the titles!
Rating: Eric Bischoff and three quarters
Open The Dream Gate Title Match
Masato Yoshino (c) vs. Ben-K

Review: We have our main event with the Open the Dream Gate Championship on the line now with Masato Yoshino defending the title against Ben-K. The last time Ben-K had a match for the title was around March 4th against Masaaki Mochizuki and he lost, but now he has a second chance to go for the title with his new home in R.E.D. Will Masato be able to retain the title once again or will we have a new champion crowned?
It's about time that Ben-K goes back to wearing his shogun type gear instead of those generic trunks when he joined R.E.D, he now looks like the Ben-K I know and love, now he just needs to win that belt. I don't get why we didn't get these types of title defenses earlier in Masato's run because this was probably the best defense in his reign next to his previous one against Naruki Doi in September. During the beginning of the match, it looked like Ben would have the opening with how he would be able to throw him around but Masato would use his quickness when he needed to in the match to make Ben hit a Clothesline against the turnbuckle post and give Masato the opening he needed to work on his arm to try and aim for a submission victory like his previous title defenses. I mean it when I say that Ben-K is on another level and I've been saying that for months as I think he really could be the ace of that company should they ever decide to actually pull the trigger on that decision because that man can work with a lot of people in different styles while also bringing his A-game during these matches.
I really enjoyed the story of the match with Masato working on Ben's arm to try for submission victory while Ben would use his strength to try and weaken Masato down for when he needs to hit his power moves near the end to put him away. I also love how fairly even it was between the two while the face and heel getting a respectable amount of shine/heat during the match without affecting the other. I liked the Jumping Slingblade Masato did to Ben while he was on the second rope, it looked unique and did it pretty flawlessly. Masato would attempt to hit the Torbellino and Ben would catch him for the Bubba Bomb and gets a two count. Masato would hit the Torbellino this time around and would quickly turn it into the Sol Naciente to try and make him tap out but Ben would use his power to lift him up and spin him around to slam him into the mat and break the hold. Ben is really selling the arm now and would hit the Spear onto Masato for a two count and he would finally hit the Ben-K Bomb as we could have a new champion, but no as Masato kicked out. The two start to brawl with Masato falling down to the mat, but Masato would get a burst of energy to hit Ben with a Lariat and hits two Torbellino's in a row before applying the Sol Naciente on him once again. Ben was struggling in the hold this time and tried to fight it off until Masato kicked his leg in to make him collapse as he tapped out to make Masato retain the title!
After the match, it would seem that PAC is the next one to challenge Masato sometime in December. And I have one question for this one, why? I still think Ben-K getting the belt is the better way to go since he's a great worker and has worked for it and PAC gets one right away just seems off. I had a feeling PAC would get a title match sooner or later like maybe win the King of Gate in 2019, but this feels a bit too early for me and would've saved it for a better date. Their booking is weird and I don't know how this one will go.
Rating: Bruce Prichard and a half
Overall: I thought the show was a little weak with the undercard and the two dream matches being let down, but the tag title matches and the main event were what saved the show to make it slightly passable. We now got Pac and Masato fighting off in his next title defense and it'll be an interesting month, to say the least.
Favorite Match: Masato Yoshino vs. Ben-K
Least Favorite Match: K-ness & Mondai Ryu vs. Shachihoko BOY & Stalker Ichikawa
Score: 7/10
Enjoy the more out of the box Japanese content? Let us know on social media @theCHAIRSHOTcom and always remember to use the hashtag #UseYourHead!
(NOAH) WEEKLY NEWSLETTER VOL.31~ 21ST APRIL 2019
With the Global Tag League in full effect, Hisame brings us those weekly NOAH updates! Read up on one of the best Japanese promotions that tends to fly under the radar!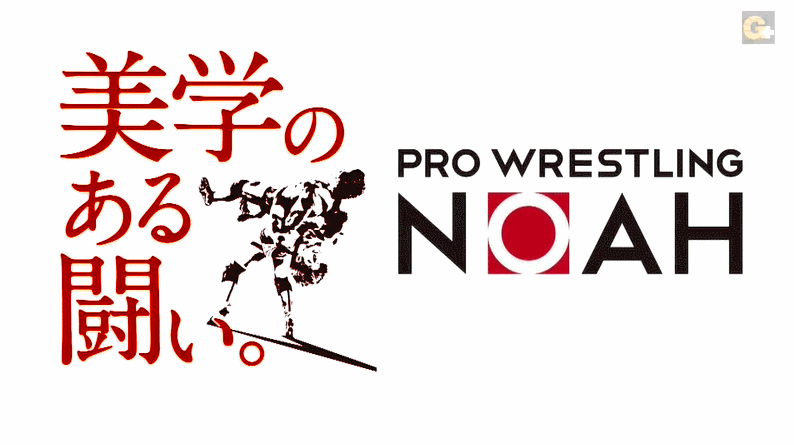 With the Global Tag League in full effect, Hisame brings us those weekly NOAH updates! Read up on one of the best Japanese promotions that tends to fly under the radar!
CURRENT TOUR RECAP
NOAH's first show back on the mainland was held on a midweek night, and while the attendance was not good (819), the show was intense and the fans that did not go were lamenting that they were prevented from going due to it being a midweek night, and therefore, a work night.
Due to Quiet Storm sustaining a concussion after receiving a kick to the head from Kenoh in Sapporo, NOAH have changed their cards (no date has been given for a return of either himself or Kimya Okada yet), and 50 Funky Powers have so far been deducted four points, as per the rules of Global Tag League which counts a team being unable to compete as an automatic loss and a win for the other team (hence the reason why The Tough have two points), and Rocky Kawamura was drafted in to compete at Korakuen Hall. His gimmick is Rocky (the character from the films), and Mohammed
Yone took his name from Mohammed Ali, so you had two boxing fans together.
Yone laughed afterwards and said that he himself might try coming to the ring in boxing gloves.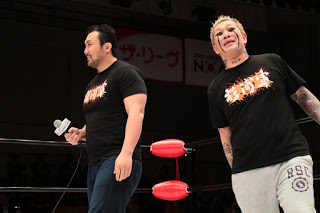 True to his word, NOSAWA Rongai bought a "friend" to Korakuen Hall.
The "friend" turned out to be Hideki Suzuki who had a match in 2018 in NOAH against Naomichi Marufuji and Atsushi Kotoge (he teamed with Jay Bradley), but wasn't seen at all again until 2019.
Suzuki got in the ring and asked for a tag match against Marufuji (Suzuki will team with NOSAWA), as he was at ringside (and all of the heavyweights are tied up in Global Tag League), Marufuji, after telling Suzuki that he should build his own gang, said "lets just have a match" and nominated Junta Miyawaki to be his partner. Miyawaki told NOSAWA that he was going to get the victory over him.
Match has been set for the last night of Global Tag League on May 4th.
When asked why he was here, Hideki said he was "job hunting" and hadn't been employed since the beginning of the year. He later admitted that he was here for himself.
As if the Korakuen Hall crowd weren't wound up enough, there was a HUGE upset for AXIZ when Masao Inoue (whom the crowd had been cheering on), got the sneak win over Katsuhiko Nakajima.
After the match, Inoue and Saito went to imitate AXIZ'S pose, but at the last moment Saito walked away leaving Inoue to crash to the floor.
The crowd laughed.
Saito laughed louder.
Nakajima, however, didn't find anything amusing and said that Masao Inoue has borrowed something big, and he will be coming to take it back.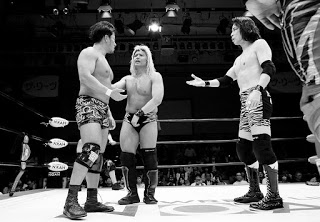 Whatever it is that is going on between Stinger and Daisuke Harada took another turn at Korakuen Hall.
Yoshinari Ogawa offered his hand to Daisuke Harada again, and Harada went to take it, but Tadasuke objected. Harada shoved him aside, and Tadasuke fell against the ropes with a look of surprise. Ogawa tried again, but this time YO-HEY came between them. After that, Harada looked at his hand and just left the ring.
AXIZ were not the only team to have a bad night at Korakuen Hall, their rivals in KAIOH did too.
Takashi Sugiura (complete with stitches after the headbutts from Atsushi Kotoge in Sapporo) stood still and staring at his two former protegees as they entered the ring.
They probably knew that it was a very very bad sign. This match was not about "The Sugiura Army" beating KAIOH, this was about Takashi Sugiura beating down two upstarts, and although they put him through hell, he prevailed with the headlock choke on Kaito Kiyomiya. After the match he got on the microphone and told Kiyomiya that he wouldn't push the issue now as it was Global Tag League, but he wanted Kiyomiya to remember, that he would be coming for the title.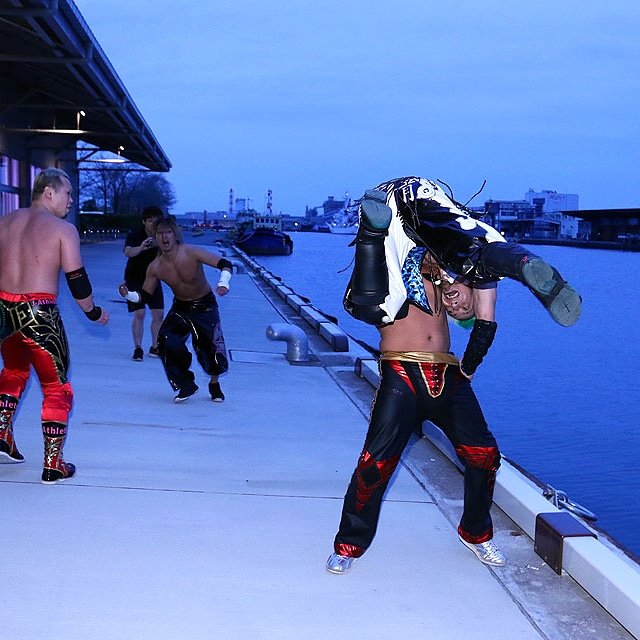 NOAH held their next event on Sunday 21st April at a new venue (which had been a former fish market) in springtime Niigata. Attendance was a full house of 865.
Naturally, being an event by the Shinano River, a fight went outside and to the riverside, and Marufuji almost threw YO-HEY in. Tadasuke thought it would have been funny, but YO-HEY said that the next time NOAH come to the venue, he is going to bring goggles and a flotation device for Marufuji.
Marufuji's response was basically, "bring them for yourself".
Fact is, that if NOAH go back there in the summer or autumn, someone will most likely go in (probably Kotoge in his cape).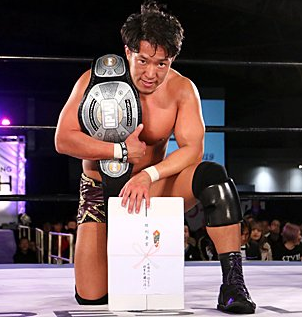 Daisuke Harada made the first defense ever of the IPW Junior Heavyweight title against Hitoshi Kumano. While I don't have too much details on the match itself, one fan did liken it to a fight that one of the Four Pillars would have put on. It was that intense.
Harada said that he wants his next challenger to be British, and said it would be interesting to see if anyone came over to NOAH. He also said that with Global Junior Tag League starting, he was equally interested to see if a team would enter.
When asked about the handshake with Ogawa, Harada walked away.
Yoshinari Ogawa had said that you could see how the situation was developing, as Kotaro Suzuki added, "If the leader's heart is swayed, then the team is over"
Kaioh were almost beaten in Global Tag League by The Inferno. That was until Kiyomiya changed the tide of the match, and got the pin via the Tiger Suplex on Maybach Taniguchi.
So far Kenoh has not managed to get a single win at Global Tag League. Once the league is over, and especially if Kaioh do not win the titles, then his resentment is going to erupt.
As of the time of writing, The Sugiura Army lead the scoreboard with eight points.

EVENT RECAPS
April 17th – Korakuen Hall, Tokyo
April 21st – Mandaijima Multipurpose, Niigata
Post match promos – April 13th, Mars Gym, Sapporo
Post match promos – April 14th, Mars Gym, Sapporo
Post match promos – April 17th, Korakuen Hall, Tokyo
NEWS
Fortune Dream6 & "TAKAYAMANIA EMPIRE 2"
On the 17th April at Korakuen Hall, Kenta Kobashi announced that Fortune Dream6 would return on June 10th. NOAH participation was announced as Go Shiozaki and Yoshiki Inamura vs Yuji Okabayashi & Kazusada Higuchi. Addtionally, Masa Kitamiya will team with Yuya Aoki against  Shoki Kitamura & Towa Iwasaki.
Yoshihiro Takayama has announced via his official blog, that "TAKAYAMANIA EMPIRE 2" will be held on Monday, August 26 2019 at Korakuen Hall.
Card to be announced.
Although Takayama cannot be at the show (although he wants to find a way to be there), there is good news on the horizon as he says that his condition is improving gradually and he can now feel the soles of his feet.
CURRENT CHAMPIONS

TOUR TIDBITS
~ Although he cannot wrestle due to concussion, Kinya Okada has been seen at ringside doing his usual duties. Poor boy looks sad, like he did when he was unable to debut due to injury.
~ Minoru Tanaka was hungover at the Niigata event. Said he hoped it would help his hangover. It didn't.
~ Each time Atsushi Kotoge went to do the "Revolutionary Hero" pose, Marufuji smacked his arm down (Yoshiki Inamura in Niigata was a little more game)
~ Takashi Sugiura said there are to be no further entries into the "Sugiura Army", he also doesn't like NOSAWA being put at the center of the group in the official photographs for the new "Sugiura Army" t-shirts.
~ I don't want to know exactly what a "YO-HEY Teriyaki McBurger" is
~ Takashi Sugiura's most infamous dog video this week was him on his lap, and chewing the cord of his tracksuit pants.

BROADCASTS
The 4th May Global Tag League finals will be broadcast at 10pm JST on Samurai TV
The 28th May show will be broadcast live at 6.30pm JST on G+ (its the first night of Global Tag League)

LINKS
King Shame, Takashi Sugiura on becoming the core of the new born Noah
PICTURE CREDITS: NOAH GHC, PKDX, Daisuke Harada
CMLL's Review & Results (4/21/2019)
What happened in CMLL? See it here!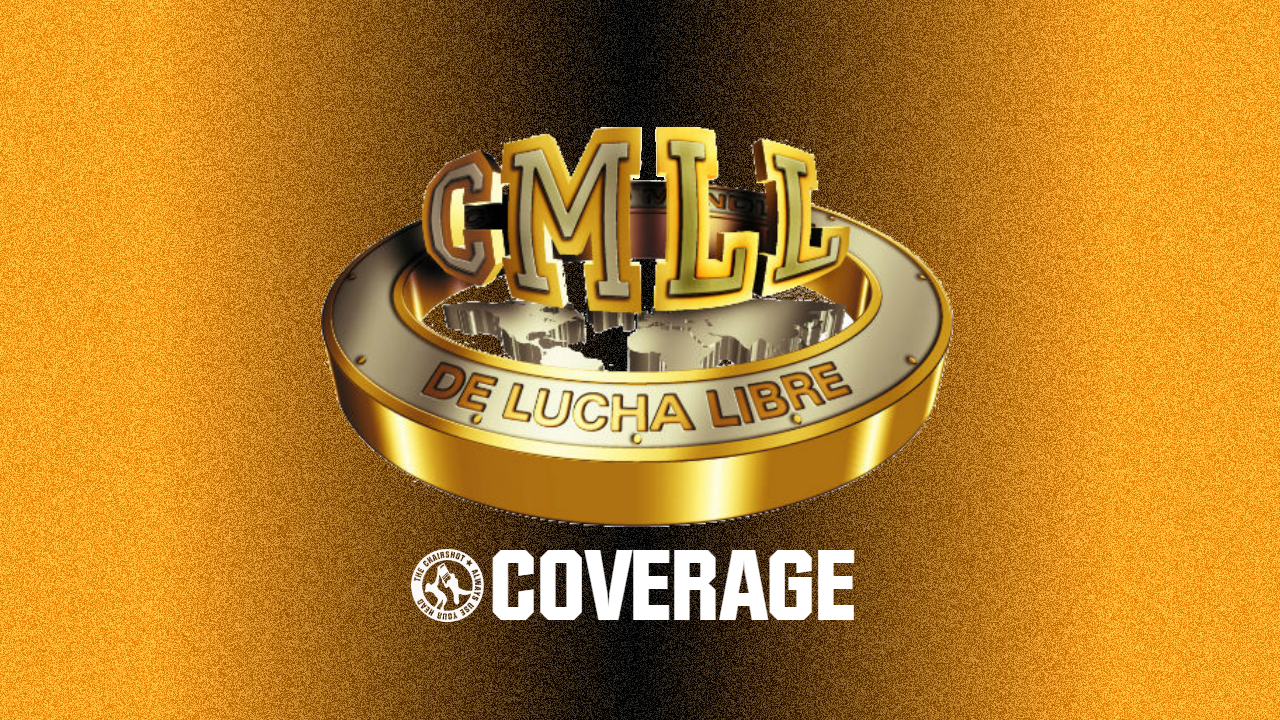 What happened in CMLL? See it here!
I did not watch Puebla this week because they did not upload it for whatever reason. I did not watch CMLL Tuesday because I was busy this week…. but here are the results.
Arena Mexico Tuesday
Principe Diamante and Robin defeated Apocalipsis and Inquisidor
Pegasso, Star Jr, and Stigma defeated Akuma, Espanto, and Espiritu Negro
Dark Magic, Kawato San, and Polvora defeated Blue Panther, Fuego, and Guerrero Maya Jr
Templario defeated Flyer in a lightning match.
Euforia, Gran Guerrero, and Hechicero defeated Soberano, Stuka, and Valiente
Mr. Niebla, Negro Casas, and Ultimo Guerrero defeated Caristico, Mistico, and Titan
Arena Mexico Friday
Halcon Suriano Jr and Arkalis vs Grako and El Coyote
Suriano and Coyote start the match out and they engage and start to grapple. Grako and Arkalis come in next and continue to grapple. They go back and forth then go to the outside to fight briefly. Suriano does a cross body on Grako and Coyote but they catch him and throw him into Arkalis. Coyote gets Suriano in a submission and Grako pins Arkalis with a sit out power bomb. First Fall: Grako pins Arkalis with a sit out power bomb.
Grako works over Suriano on the ramp way. As the round goes on Arkalis and Suriano continue to get worked over. Suriano gets caught on a cross body again but Arkalis moonsaults into the pile. Suriano the gets flipped into the air by Grako but hits a quick hurricanrana for the pin. Arkalis hits a blue thunder bomb on Coyote as well for the pin. Second Fall: Arkalis pins Coyote with a blue thunder bomb.
Arkalis and Grako go back and forth but Arkalis has the advantage. Arkalis hits a shotgun drop kick on Coyote then poses. Suriano comes in and uses his quickness to get the advantage. Coyote hits a sunset flip on Arkalis then flips him up and Grako hits a drop kick. Suriano then hits a hurricanrana off of the top on Grako and Arkalis hits a swanton bomb for the pin but it gets broken up. Suriano goes for the triple moonsault in the corner on Grako but Grako gets the feet up on the last one and then hits an elbow drop off of the top for the pin. Coyote hits a double armed suplex off of the top on Arkalis followed by a senton. Third Fall: Coyote pins Arkalis with a double armed suplex off of the top rope followed by a senton.
Winners: Grako and Coyote
Tae Honma, Princesa Sugehit, and Kaho Kobayashi vs Dalys, Amapola, and Reyna Isis
They all are itching to fight each other during the introductions. Sugehit and Isis start the match out and they engage and grapple some. They go back and forth some and Sugehit gets the advantage briefly until Isis hits a drop kick in the corner. Honma enters with Amapola and Honma gets the advantage but Amapola hits a spear to get the edge. Honma dodges a corner attack and Amapola falls to the outside. Dalys enters next with Kaho and quickly Dalys uses her strength to fight her off. Kaho hits a missile drop kick off of the top and then a shining wizard to the outside followed by a dive through the middle rope. Sugehit then gets Amapola in an arm bar for the fall. First Fall: Sugehit submits Amapola with an arm bar.
Dalys gets a hold of Sugehit to start this round. Honma then gets teamed up on next. Isis hits a drop kick to Kaho's privates I suppose. Amapola hits a face buster on Kaho for the pin. Isis hits a Vader bomb on Sugehit for the pin. Second Fall: Reyna Isis pins Sugehit with a Vader bomb.
Honma and Kaho get teamed on to start this round. Sugehit dodges a team up attack which leads to Kaho hitting a missile drop kick. Isis catches Sugehit with a code breaker and Kaho slaps her ass to break up the pin. Amapola hits a blue thunder bomb on Kaho but Honma breaks it up. Honma hits a DDT on Amapola and Dalys breaks it up. Honma catches Dalys in a flying arm bar but Dalys fights out and hits a sit out power bomb for the pin. Isis goes to dive on Sugehit off of the apron but Sugehit kicks her. Kaho makes Dalys and Amapola hit each other until Amapola spears Kaho and then she's had it and keeps attacking her when the ref instructs her to get off she continues. So Kaho wins by DQ. Third Fall: Kaho Kobayashi wins via DQ.
Winners: Tae Honma, Princesa Sugehit, and Kaho Kobayashi
(Match Relampago) Rey Cometa vs Kawato San
Kawato and Cometa begin the match aggressively grappling with each other. Cometa gets Kawato to the outside and then hits a dive through the middle rope. Back in the ring Kawato hits a drop kick. Kawato kicks Cometa to the outside and then he hits a dive over the top rope. Cometa hits a sit out power bomb on Kawato back in the ring for a two count. Cometa then hits a 450 for the win in 4 minutes. Rey Cometa pins Kawato with a 450.
Winner: Rey Cometa
Caristico, Angel de Oro, and Atlantis Jr vs Sanson, Rey Bucanero, and Hijo Del Villano III
Atlantis Jr and Hijo Del Villano III start out going back and forth really quickly. Sanson and Angel come in next and they grapple for a bit but then Caristico enters with Bucnaero. Bucanero attacks Oro and Atlantis Jr and then they team on Caristico. They team up on Angel next and take him out and then work over Atlantis Jr. Sanson holds Caristico and Bucanero hits a whisper in the wind for the pin. First Fall: Sanson pins Caristico after Bucanero hits a whisper in the wind.
Villano III works over Caristico to start the round. It evolves in the rudos teaming on the technicos once again. Caristico hits a handspring elbow attack to make a come back and then hits a hurricanrana on Sanson. Oro hits a hurricanrana on Villano III to the outside and Atlantis hits a missile drop kick on Bucanero to the outside. Oro then hits a golden moonsault and Atlantis Jr hits a dive through the middle rope. Caristico then gets Sanson in the Fujiwara arm bar for the fall. Second Fall: Caristico submits Sanson with a Fujiwara arm bar.
Atlantis starts out fast getting the edge on everybody. Oro then uses his quickness to get the advantage on everybody as well. Caristico comes in on fire as well. All three, Caristico, Oro, and Atlantis hit dives through the middle rope. Sanson hits a swinging slam on Caristico but Atlantis breaks up the pin. Atlantis tries to get Villano in a torture rack but it's unsuccessful. Caristico hits a splash to the outside on Sanson. Atlantis then finally gets Villano III in the torture rack. Third Fall: Atlantis Jr submits Villano with a torture rack.
Winners: Caristico, Angel de Oro, and Atlantis Jr
(Tag Team Tournament) Mistico and Cuatrero, Volador Jr and Ultimo Guerrero, Rush and Vangellys, El Terrible and Niebla Roja, Atlantis and Negro Casas, El Valiente and Gran Guerrero, Hechicero and Stuka Jr, and Templario and El Audaz
So we have the battle royal to decide the order. Hechicero gets thrown over first. Cuatrero is out next. Templario gets eliminated next. Casas goes out next. Vangellys dodges and Ultimo Guerrero falls out. Terrible gets punched off of the apron next. Vangellys and Gran Guerrero win the battle royal.
Hechicero and Stuka vs Mistico and Cuatrero
Hechicero and Mistico start to engage and grapple. Cuatrero and Stuka come in and they go back and forth. The match breaks down and there's a ton of back and forth action. Mistico gets crotched on the barricade. Cuatrero hits a dive on Hechicero. Back in the ring Cuatrero and Hechicero trade offense. Mistico gets the Fujiwara arm bar on Hechicero and Cuatrero pins Stuka with a crucifix power bomb. Cuatrero pins Stuka with a crucifix power bomb.
Winners: Mistico and Cuatrero
El Audaz and Templario vs Atlantis and Negro Casas
Audaz and Templario have matching gear. Templario and Casas trade offense. Audaz and Templario do some double team offense on Atlantis. They do some offense on Negro Casas as well. Atlantis hits back breakers on each. Atlantis and Casas roll up Audaz and Templario for the win. Matching gear for such a short match. Atlantis and Casas roll up Audaz and Templario.
Winners: Atlantis and Negro Casas
Volador Jr and Ultimo Guerrero vs El Terrible and Niebla Roja
They start the match brawling. Some brawling takes place on the outside as well. Match is a straight up brawl. Volador hits a hurricanrana on Terrible and then a dive over the top rope. Roja gets the rock the boat submission on Volador but Terrible punches Roja. Then Volador and Ultimo school boy Roja and Terrible for the win. Same finish. Volador and Ultimo pin Roja and Terrible with school boys.
Winners: Volador Jr and Ultimo Guerrero
El Valiente and Gran Guerrero vs Rush and Vangellys
Rush and Valiente go at it and Valiente kicks Rush's legs out. Gran and Vangellys strike back and forth. Gran drop kicks Vangellys off of the apron. Gran holds Rush in place and Valiente goes for a dive but Rush moves and Valiente hits Gran. Rush hits the shotgun drop kick in the corner on Valiente for the win. Vangellys hits a weak spear on Gran for a pin but the match was over by then. Just getting our stuff in. Rush pins Valiente with a corner drop kick. 
Winners: Rush and Vangellys
Mistico and Cuatrero vs Atlantis and Negro Casas
Cuatrero and Atlantis brawl on the outside. Casas and Mistico strike each other in the middle of the ring. Atlantis flips Cuatrero to the outside and then back breakers Mistico. Mistico lands on his feet after a moonsault attempt on Negro. Mistico kicks Casas legs out and then gets him in a pinning combo. Cuatrero then submits Atlantis in an inverted bear hug. Cuatrero submits Atlantis with an inverted bear hug.
Winners: Mistico and Cuatrero
Volador Jr and Ultimo Guerrero vs Rush and Vangellys
Rush and Vangellys jump Volador and Ultimo and they lay them out brawling. There's a lot of brawling tonight. Last week was more wrestling based. Vangellys did the big swing in the ring on Volador but fell over and Volador couldn't contain his laughter. Ultimo hits a double clothesline for a come back. Ultimo hits a face buster suplex off of the top on Vangellys but Rush drop kicked the ref. Volador and Ultimo win via DQ. 
Winners: Volador and Ultimo Guerrero
Mistico and Cuatrero vs Volador and Ultimo Guerrero
Mistico starts hot hitting a hurricanrana on Volador. Mistico and Cuatrero then hit dives over the top rope onto Ultimo and Volador. Mistico and Volador brawl on the ramp and Mistico hits a dive off of the stage. Back at ring side Cuatrero hits a flip dive on Volador and Mistico hits a golden moonsault on Ultimo. Back in the ring Ultimo hits a face buster suplex off of the top on Mistico for a two count. Ultimo then hits a power bomb off of the top rope on Mistico and he kicks out again. On the top rope Mistico hits a hurricanrana for a two count. Cuatrero catches Volador and hits a suplex for a two count. Volador hits a back stabber for a close two count. Volador hits Mistico with a Canadian destroyer for the pin. Ultimo Guerrero hits a reverse suplex on Cuatrero off of the top rope for the win. Ultimo Guerrero pins Cuatrero with a reverse suplex off of the top rope. 
Winners: Volador and Ultimo Guerrero
Volador and Ultimo Guerrero will face Titan and Cavernario next Friday in the finals of the Tag Team Tournament