Dragon Gate Gate of Destiny Results & Review (11/4/2018)

Welcome back to Dragon Gate! We return to cover one of their biggest shows of the year, Gate of Destiny.
The card contains some big title matches, along with PAC's first singles match since his return to the company last month. Now the real question is can they deliver?
Well, we're about to find out as we…dive right in.
Tag Team Match
K-ness & Mondai Ryu vs. Shachihoko BOY & Stalker Ichikawa
Review: We got our opening match with K-ness and Mondai Ryu tagging up for this one to take on Shachihoko BOY and Stalker Ichikawa. Our opening bouts usually there to please the crowd but could they also entertain them while giving us something good? Which of these two will win?
It was a match…it existed. It was about three minutes and it was pretty much Stalker screwing around in the ring with K-ness and Mondai slapped him around and pulled off his ears from his mask, the monsters. Shachihoko really didn't do much in this match, nor Mondai for that matter since it was only K-ness really that did the majority of the work here for the match. K-ness would Sunset Flip Shachihoko for a two count and would have his legs on his body to roll him around the ring in that same position until he pinned him that way again and gets the three count. I just wasn't a fan of this match and nothing really happened in it at all, it just happened just for the sake of a match existing.
Rating: Vince Russo and a half
Six Man Tag Team Match
Natural Vibes (Punch Tominaga & YASSHI) & Hyo Watanabe vs. Don Fujii, Gamma & Ryo Saito
Review: Our next match is a six-man tag match with two members of Natural Vibes, Punch Tominaga and Brother YASSHI teaming up with Hyo Watanabe as they take on the team of Don Fujii, Gamma, and Ryo Saito. Good to see Don and Ryo still being a tag team here and they could possibly go for the Triangle Gate Championships again if they want to. Which of these teams will win?
Well, I can at least say that this was a better match than the previous one I saw but at the same time, this one was just average itself. Natural Vibes teaming up with Hyo was a weird combination in itself and it just seemed like they didn't flow well together whereas Don, Gamma, and Ryo would pair off a bit better than the other team since they have teamed up before and know what they're doing together. Again, the match was a basic tag match for what you see when a unit teams up with one random person and you get some nice sequences from some of the people in the match like with Gamma and Hyo going back and forth into the match and makes me hope we could get a one on one match with these two since it could be solid if done right. Don would hit Hyo with a Chokeslam to get him down as Gamma goes to the top rope to hit a Corkscrew Moonsault almost missing Hyo and pins him for the victory.
Rating: Tony Schiavone and a half
Eight Man Tag Team Match
Daga & R.E.D. (Eita, KAZMA SAKAMOTO & Yasushi Kanda) vs. Tribe Vanguard (Kagetora, U-T & Yosuke Santa Maria) & Kota Minoura
Review: We now have an eight-man tag match with R.E.D members, Eita, KAZMA SAKAMOTO, and Yasushi Kanda along with non-member, Daga as they take three members of Tribe Vanguard, Kagetora, U-T, and Yosuke Santa Maria along with non-member, Kota Minoura. R.E.D has been establishing dominance with Eita leading the charge and now looks to take out Tribe Vanguard in the process. Can R.E.D keep the momentum going or will Tribe Vanguard take it?
Least we were able to get a solid eight-man tag match in the mix almost at the end of our halfway point. R.E.D does what they do best when they start attacking their opponents before the bell would ring to get the opening advantage in the match to make themselves look strong. Tribe Vanguard worked well together in this match with Kagetora and Yosuke still being probably the more underrated people on the roster while U-T is slowly rising up in the ranks with his ability to show us what he can do. From what I can see with Kota, he's still a bit green since he's new but he also does have a ton of potential to do really well for himself. Daga is someone new to me and is actually his first time in Dragon Gate and is a freelancer from Mexico, but he was pretty impressive in his Dragon Gate debut and looked like he fitted in with R.E.D well also. Yusuke, U-T, and Kota would all hit Eita with a Missile Dropkick to get him down until Kanda and KAZMA would stop Kota from trying to pin their leader. Kota would try to do a flash pin to KAZMA for a kick out and KAZMA would hit a Pop-up Powerbomb onto Kota until Tribe Vanguard broke it up and R.E.D throws them all outside. Daga would hit a Gutbuster onto Kota and picks him up for Eita to hit the Superkick onto him and gets the win for R.E.D.
Rating: Eric Bischoff and a quarter
Open The Triangle Gate Title Three Way Elimination Match
Natural Vibes (Genki Horiguchi, Kzy & Susumu Yokosuka) (c) vs. Masaaki Mochizuki, Shun Skywalker & Yuki Yoshioka vs. MaxiMuM (Jason Lee, Kaito Ishida & Naruki Doi)
Review: We have our first title match of the night with Natural Vibes defending their Open the Triangle Gate Championships in a Three-Way Elimination Match as they defend against MaxiMuM members, Jason Lee, Kaito Ishida, and Naruki Doi along with the team of Masaaki Mochizuki, Shun Skywalker, and Yuki Yoshioka. Natural Vibes has a good chance of being eliminated to losing the titles, but they could also have a chance to beat both teams and retain. Will Natural Vibes retain or will one of the two teams take the titles?
So for this elimination match, it looks like once a member loses the match that the whole team would be eliminated instead of just having to beat all three members to eliminate them and that might be better this way honestly, and it appears as though that all three men can be in the match instead of just two people starting and tagging in whoever. These are the types of matches that just make me wanna love Dragon Gate with their nonstop action, entertaining Lucha style mixed in, and just mixing it up with some wrestling to go with it. There was one spot where one person would wrap their legs around his neck for a chokehold and it would keep going until Jason Lee was the last one to make the bridge and Kzy would try to get into the mix until Mochizuki takes him down and it looked like he wanted to do it himself but he goes over to the front end to deliver the longest Boston Crab I've seen in quite some time and it wouldn't last long since Jason Lee was right by the rope and grabs it right away. Yuki would start showing some spark in the match with his back and forth action with Kaito with trying to roll each other up or hit each other and it would come to an end when Kaito hits the Tiger Suplex on Yuki to eliminate Mochizuki Dojo making it now Natural Vibes and MaxiMuM.
Naruki and Kzy start going at it right away and Naruki doesn't hold up against him as he hits him with a DDT and runs towards Kzy for him to catch him by surprise with the Skayde Schoolboy for the surprise pin and Naruki kicked out of it and hits his Bakatare Sliding Kick to knock Kzy out and Jason Lee quickly picks him up for a German Suplex Hold as Susumu broke the count! Kaito and Kzy are in the ring now and he hits Kzy with the Tiger Suplex and it looks like we have new champions, but Kzy kicked out of it! Kaito got Kzy back up to try and finish him but Kzy would hit him with some elbows before he hits his Running Elbow Smash to get the win and Kaito kicks out as well! Kzy quickly picked him up to hit the Impact and Natural Vibes retains the titles! This is Natural Vibes fifth successful title defense and they said that if they retain it one more time, they'll hold the record for most title defenses with this belt and their next title match is on November 18th, so let's see if they can break the record.
Rating: Bruce Prichard and a quarter
Singles Match
Flamita vs. PAC
Review: We now have a special singles match with PAC having his first singles match in Dragon Gate since his return as he takes on Flamita in what people have considered as one of their dream matches for the fans. PAC has been doing well in the tag matches that I've seen when he came back but now the real test is to see how he can do by himself now as he takes on this Luchador. Will PAC win his return match or will Flamita derail him?
For something that was titled a dream match, this was very underwhelming. You're probably asking me how can this be bad since you have PAC and Flamita in the mix? Well, it's quite simple really that it was just slow and dragged out quite a lot at the beginning of the match. I don't mind matches going at a slow pace since I enjoy technical wrestling and could watch that anytime, but it was more of PAC just really dragging it out in the match and made nothing about it exciting except just hitting Flamita and maybe have R.E.D attack Flamita once when the referee wasn't looking. I get PAC is the heel in the match and to get the heat behind him but he just didn't really do anything at all and some fans will feel blue balled by this match. And before you actually do the whole he's a heel thing as an excuse, he did a lot more as a heel in WWE than he has in Dragon Gate for his current run right now so I don't wanna hear that.
Flamita, on the other hand, did try to make the match good as best he could but it, unfortunately, wasn't enough either to make it exciting and he didn't get a lot of offense in this match either. He does take the spot of the night though when PAC threw him up in the air for a pop-up and Flamita caught him with a DDT on the way down and PAC sold that beautifully, so I will give him credit for that one at least. The match would try to pick up in the last couple of minutes of it but it's really hard to get invested into this match fully when nothing has been standing out from the beginning of the match. Flamita would have PAC up for a Musclebuster and he slams him down in a Codebreaker style which looked great and goes to the top rope to hit the Phoenix Splash but PAC rolled out of the way. PAC would quickly go up to the top rope now he hits the Black Arrow (still think it should be called R.E.D Arrow) and gets the win over Flamita. So how did PAC do in his first singles match back? It was honestly disappointing, to say the least, and hope he works on it in the next one he does.
Rating: Tony Schiavone and three quarters
Open The Brave Gate Title Match
Dragon Kid (c) vs. Bandido
Review: It's time for our second title match with Dragon Kid defending the Open the Brave Gate Championship against someone else that's not Eita, but instead it's Bandido. This was one match I really wanted to see in Dragon Gate and now it looks like we can finally have it and for a title no less. Will Dragon Kid retain or will Bandido take it?
So after finally getting our little dream match here, did it live up to the hype? While this one was already better than PAC/Flamita, I thought this match was a slight letdown as well. Not that it was a bad match or anything since it was still solid, but also felt like they could've done so much more at the same time and made it a bit underwhelming. The match would start off strong with the lucha style we expected from them, but also felt a little bit slow too and would lose a little momentum when Bandido messed up a Diving Moonsault to the outside and hits one of the ring crew by accident while Kid tried to catch him. After that, they would do some moves here and there to make it stand out but it's a little too far in between that it felt a bit hard for it to be wowed unless it was near the end. Bandido though did do very well in the match I thought and was always impressive to see and really does fit in well with Dragon Gate if he ever does decide to wrestle there full-time and could potentially be a big star.
There was one move Bandido did that really made him stand out since it's actually the first time I've seen it, but it was Dragon Kid bent over while holding onto the ropes (hot) and Bandido looks to do what appears to be a Forward Flip Springboard Suplex and it looks awesome but Kid still kicked out of it. After that, Bandido would do a Flipping Fallaway Slam off the top rope and Kid kicked out again before Kid would start to get momentum now and hits the Bible for a two count. Kid would now hit a Frankensteiner for another two count and would go to the top rope to hit the Dragonrana and gets the pin to retain the title. Eita would come out after the match and it looks like he wants to have one final match against Dragon Kid for the title. If it'll give us one final match and let them move on after this, then let them have it.
Rating: Eric Bischoff and a quarter
Open The Twin Gate Title Match
Tribe Vanguard (BxB Hulk & YAMATO) (c) vs. R.E.D. (Big R Shimizu & Takashi Yoshida)
Review: We have our next title match with the Open the Twin Gate Championships being on the line as BxB Hulk, and YAMATO defend the belts against R.E.D members, Big R Shimizu, and Takashi Yoshida. R.E.D were able to beat Tribe Vanguard earlier in the show during the eight-man tag match and with PAC beating Flamita, R.E.D looks to be in pretty good shape to maybe have a clean sweep if they win. Will R.E.D keep at it or will Tribe Vanguard retain?
I'm sure a lot of people know by now that I'm not a big fan of Takashi Yoshida and Big R Shimizu but I will say that they do make a decent heavyweight tag team while it's no BigBen, it'll pass at least. They both play to their strengths in the match with their power to try and dominate their opponent and this will move Ben-K to a more solo run, then I'm fine with those two staying as a tag team. YAMATO and Hulk are still quite the team and slowly becoming my favorite set of current champions since CIMA & Dragon Kid, just the chemistry these two share in the ring just make it work out for them and I hope this reign lasts a little bit longer.
I actually really liked this match, I thought it was nicely done with both teams playing to what they know best with Takashi and Big R just overpower their opponents while YAMATO and Hulk just use their wrestling experience to match them. If I did have to take one thing away from the match would be the odd pacing here and there in the match to throw it off a little off, but it's a minor one and still a really good match to see. Big R and Takashi would just manhandle Hulk with just their power as Big R hits the Splash off the top without doing that stupid timber looking version or it and Takashi hits a Diving Elbow Drop as YAMATO broke the count. Hulk would try to hit the First Flash onto Big R but he caught him in time for the Shot-put Slam and Takashi went for the Cyber Bomb and YAMATO broke the count. YAMATO fights off Takashi and gets him in a Sleeper but Takashi would get to the ropes to break the hold and spits green mist into his eyes as he now picks him up to hit the Fire Thunder Driver as we could have new champions and Hulk now breaks the pin. Takashi would slam YAMATO onto the ropes and as he ran to the other side, YAMATO would catch with a Frankensteiner and gets the surprise victory over R.E.D to retain the titles!
Rating: Eric Bischoff and three quarters
Open The Dream Gate Title Match
Masato Yoshino (c) vs. Ben-K

Review: We have our main event with the Open the Dream Gate Championship on the line now with Masato Yoshino defending the title against Ben-K. The last time Ben-K had a match for the title was around March 4th against Masaaki Mochizuki and he lost, but now he has a second chance to go for the title with his new home in R.E.D. Will Masato be able to retain the title once again or will we have a new champion crowned?
It's about time that Ben-K goes back to wearing his shogun type gear instead of those generic trunks when he joined R.E.D, he now looks like the Ben-K I know and love, now he just needs to win that belt. I don't get why we didn't get these types of title defenses earlier in Masato's run because this was probably the best defense in his reign next to his previous one against Naruki Doi in September. During the beginning of the match, it looked like Ben would have the opening with how he would be able to throw him around but Masato would use his quickness when he needed to in the match to make Ben hit a Clothesline against the turnbuckle post and give Masato the opening he needed to work on his arm to try and aim for a submission victory like his previous title defenses. I mean it when I say that Ben-K is on another level and I've been saying that for months as I think he really could be the ace of that company should they ever decide to actually pull the trigger on that decision because that man can work with a lot of people in different styles while also bringing his A-game during these matches.
I really enjoyed the story of the match with Masato working on Ben's arm to try for submission victory while Ben would use his strength to try and weaken Masato down for when he needs to hit his power moves near the end to put him away. I also love how fairly even it was between the two while the face and heel getting a respectable amount of shine/heat during the match without affecting the other. I liked the Jumping Slingblade Masato did to Ben while he was on the second rope, it looked unique and did it pretty flawlessly. Masato would attempt to hit the Torbellino and Ben would catch him for the Bubba Bomb and gets a two count. Masato would hit the Torbellino this time around and would quickly turn it into the Sol Naciente to try and make him tap out but Ben would use his power to lift him up and spin him around to slam him into the mat and break the hold. Ben is really selling the arm now and would hit the Spear onto Masato for a two count and he would finally hit the Ben-K Bomb as we could have a new champion, but no as Masato kicked out. The two start to brawl with Masato falling down to the mat, but Masato would get a burst of energy to hit Ben with a Lariat and hits two Torbellino's in a row before applying the Sol Naciente on him once again. Ben was struggling in the hold this time and tried to fight it off until Masato kicked his leg in to make him collapse as he tapped out to make Masato retain the title!
After the match, it would seem that PAC is the next one to challenge Masato sometime in December. And I have one question for this one, why? I still think Ben-K getting the belt is the better way to go since he's a great worker and has worked for it and PAC gets one right away just seems off. I had a feeling PAC would get a title match sooner or later like maybe win the King of Gate in 2019, but this feels a bit too early for me and would've saved it for a better date. Their booking is weird and I don't know how this one will go.
Rating: Bruce Prichard and a half
Overall: I thought the show was a little weak with the undercard and the two dream matches being let down, but the tag title matches and the main event were what saved the show to make it slightly passable. We now got Pac and Masato fighting off in his next title defense and it'll be an interesting month, to say the least.
Favorite Match: Masato Yoshino vs. Ben-K
Least Favorite Match: K-ness & Mondai Ryu vs. Shachihoko BOY & Stalker Ichikawa
Score: 7/10
Enjoy the more out of the box Japanese content? Let us know on social media @theCHAIRSHOTcom and always remember to use the hashtag #UseYourHead!
Dragon Gate Fantastic Gate 2018 Results & Review (12/4/2018)

Mathew brings us more coverage with…Dragon Gate? Well I suppose something big did happen, even though King of Gate was still horrid. But hey, let's see if PAC's involvement helps things out.





We now return to Dragon Gate to take a small break from the AJPW Real World Tag League, which you should check out if you haven't just yet since it's been a great tournament.
As of right now, this will be my last Dragon Gate coverage for the year due to scheduling with the holidays and work, plus I need to get ready for matches of the year at the end of the month. We got a big show today since we got Open the Dream Gate Championship defended against PAC.
So let us see how things will turn out as we…dive right in.
Eight Man Tag Team Match
Dragon Dia & Tribe Vanguard (BxB Hulk, Kagetora & YAMATO) vs. Don Fujii, Gamma, Ryo Saito & Super Shisa
Review: Our opening contest is an eight-man tag match with Don Fujii, Gamma, Ryo Saito, and Super Shisa taking on three members of Tribe Vanguard, Kagetora and the Open the Twin Gate Champions, BxB Hulk and YAMATO along with Dragon Dia. Dragon Dia is a new wrestler in Dragon Gate as he is also considered to be Dragon Kid's new apprentice whenever he decides to hang it up. Let's see how Dragon Dia does and will he help Tribe Vanguard get the victory or will it be the other team?
The match was short and incredibly basic with nothing really too much to make the crowd seem overly invested in it in my opinion. Half of the match is pretty much Dia paying his dues in the ring while also getting a bit of offense into the match, so how did he do? From what I saw out of him, I thought he does have potential to be how Dragon Kid was but he has a long way to go if he wants to reach that level eventually. Dia did take a beating from the other team and even had Gamma kinda waterboard him while he was taking a Mexican Stretch. Tribe Vanguard would do stuff for a little bit into the match and they worked well with each other and not with Dia since he's not really apart of their unit. Dia would get to have Fujii for a pinfall but he kicked out and hits Dia with a Lariat to end his momentum. Fujii would hit a Chokeslam onto Dia as Ryo would do his SaiRyo Rocket to get the pinfall victory.
Rating: Tony Schiavone and a quarter
Eight Man Tag Team Match
Hyo Watanabe, Kota Minoura, Masaaki Mochizuki & Yuki Yoshioka vs. Hiroshi Yamato & MaxiMuM (Jason Lee, Kaito Ishida & Naruki Doi)
Review: We get another eight-man tag match to continue this show as Masaaki Mochizuki is in action with Hyo Watanabe, Kota Minoura, and Yuki Yoshioka as the four take on Hiroshi Yamato and three MaxiMuM members, Jason Lee, Kaito Ishida, and Naruki Doi. While the opening match wasn't really something that was memorable, I'm sure we'll get some action in this one to pick stuff up. Which one of these four will win?
I'm still new to Hiroshi Yamato, but I'm still digging his singing type of gimmick and think it's pretty funny. This one was a much better match than the opening contest since all of the competitors were more involved in this We had another small encounter with Mochizuki and Lee, and I still wanna see that match happen but I know we probably won't get a singles match with them any time soon. Yuki is someone that keeps growing on me whenever I see him involved in these tag matches as he does show signs of progress and I hope to see big things from him in 2019. Jason Lee would try to do his taunt in the ring when he's in his meditative state and rolled up Mochizuki for a two count and when Mochizuki would try to do the same taunt, Jason would just kick his head. Yuki would block Naruki's Bakatare Sliding Kick but takes a German from Yamato, a Facebuster from Naruki, and a kick along with a German from Lee as they break the hold. Yuki would attempt a flash pin onto Kaito but Kaito would quickly maneuver out of it until Yuki pinned him back down as he gets the surprise victory!
Rating: Eric Bischoff
Singles Match
Shun Skywalker vs. U-T
Review: We only have two singles matches in this show and it's time to get our first one underway as we have Shun Skywalker taking on U-T. It's been a while since I've seen Shun in a singles match since the King of Gate Tournament and this might be the first time I've seen U-T in a singles match, so this is definitely a nice surprise since both men can go. Which one of these two will get the win?
If you were expecting a highflying type of match between these two, you don't get that type of match here and while it did throw me off, I was honestly okay with it since they still did give us a technical match. For my first time seeing U-T in one on one action, I gotta say that seeing him more ground-based in this match was very surprising in a good way too since he's very crisp in his ability. Shun Skywalker still continues to impress me every time I see him in the ring, so seeing both of these men deliver in this match made me feel very satisfied.
The match was also very even here and it looked like Shun was going to get him, but U-T would catch him with the Skayde to try and make him tap out to the hold until Shun would roll out of the hold and hits the Moonsault Press for a two count. Shun would hit a Reverse Suplex and goes to the top rope to go for another Moonsault as U-T puts his knees up before Shun could land. U-T would apply the Skayde once again but Shun would refuse to tap out of the hold once again and the bell rings to show that there's a time limit draw. Huge ovation for these two in this match and I hope this isn't the end for them.
Rating: Bruce Prichard
Six Man Tag Team Match
Dragon Kid, Bandido, & Flamita vs. DAGA & R.E.D. (Eita & Ben-K)
Review: Our next match is a six-man tag team match with Dragon Kid teaming up with Flamita and Bandido is they take on R.E.D. We found out that Dragon Kid and Eita are going to have one final match at Final Gate in a hair vs mask match, but I'm not sure if the Open the Brave Gate Championship is on the line yet. But this is sure to be an exciting tag bout and let's see if R.E.D wins or the luchadors take it.
R.E.D starting the attack on their opponents before the match started in their typical heel fashion. The face team would start to make a comeback with Bandido and Flamita diving to the outside onto their opponents. Seeing Kid, Flamita, and Bandido team up worked out very well here with their Luchador agility with Bandido once again being on fire in this match and if he's someone you follow, what the hell is wrong with you? Get on that shit right away if you like Lucha Libre. It's a shame Ben didn't win the belt but I know he'll bounce back into something soon, maybe going back to the Open the Twin Gate picture with Big R. Eita and Dragon Kid going back at it develops more fuel into their story and I actually can't wait for it to end and not because it felt like it went on for too long, but with the new stipulation they added to their match, it just adds a lot more involved for their eventual conclusion. After Flamita and Bandido did their tag team combo with Bandido hitting a Phoenix Splash after being flipped over, Eita and Kid are alone in the ring again. Dragon jumped off the ropes and got caught for a Super Kick and would go to finish off Kid but he hits the Bible onto Eita to get the surprise victory!
Rating: Eric Bischoff and a half
Eight Man Tag Team Match
Natural Vibes (Genki Horiguchi, Kzy, Susumu Yokosuka & YASSHI) vs. R.E.D. (Big R Shimizu, KAZMA SAKAMOTO, Takashi Yoshida & Yasushi Kanda)
Review: Our next match is another eight-man tag team match with R.E.D members, Big R Shimizu, KAZMA SAKAMOTO, Takashi Yoshida, and Yasushi Kanda taking on Natural Vibes members, Genki Horiguchi, Kzy, Susumu Yokosuka, and Brother YASSHI. Recently, Natural Vibes broke the record for most title defenses with the Open the Triangle Gate Championships and they still look to hold onto the titles for a long time to keep the record around more. Will Natural Vibes get the win or will it be R.E.D?
R.E.D once again attacking Natural Vibes before the bell would ring and both teams would start fighting to the outside of the ring and into the crowd near the bleachers until they got back into the ring as we get the match started now. The match felt a little too short for this type of match but I thought it was still solid enough for a quick little exhibition type of match. We had a little encounter with Takashi and Kzy during the middle of it where they would go back and forth and it did seem like Takashi was gonna win this little back and forth until Kzy hits his running Elbow Smash onto him. Natural Vibes started to get the shine in the match when Susumu hits an Exploder Suplex onto Kanda off the middle rope and Kzy tops it off with an Elbow Drop while YASSHI hits a Diving Headbutt for a two count. Members were taking each other out left and right until it was Genki and Takashi in the match now as he does his Backslide From Heaven to go for the pin but Big R picked him up in a Wheel Barrel position for a German Suplex. Big R would quickly pick him up for him and Takashi to hit a Doomsday Device and KAZMA topped it off with a Package Piledriver to give R.E.D the win.
Rating: Eric Bischoff and a quarter
Open the Dream Gate Championship
Masato Yoshino (c) vs. PAC
Review: We now have our main event of the evening as Masato Yoshino defends his Open the Dream Gate Championship against PAC. This will be PAC's second singles match in Dragon Gate ever since he made his return to the company and while his match was disappointing, he still wanted to make the challenge to prove himself. Only one gaijin won the Open the Dream Gate Championship and that man was Ricochet, so if PAC wins then he will be the second one to win it. Masato though won't go down without a fight here as he defends Dragon Gate against this man. Will Masato retain once again or will we have a new champion?
While both R.E.D and MaxiMuM are surrounding the ring, none of them interfere in the match and I'm glad too because it would've been a little bit too much in this match, plus PAC needs to prove himself that he can defeat Masato on his own without any help. I thought this match was a great title defense and definitely PAC's better match compared to his one with Flamita since this one had a nicer pace that didn't make it drag out a bit at all and he played the heel persona well like how he did in WWE when he was considered the King of the Cruiserweights, but he's now known as the Bastard Child in Dragon Gate. I think I liked Masato's match against Ben-K a little bit better, this one was almost as good in my opinion. One spot I really did like was when Masato went for the Slingblade off the top rope and PAC just flipped out of it and it just looked more smooth. Also, the Corkscrew PAC did to the outside looks great despite him shooting himself a little bit too far since most of the people were a bit too close.
PAC pulled off a lot of power moves like the Pop-up Powerbomb and it looked like he had Masato right where he wanted him as he went to the top rope to go for the Black Arrow but he was able to catch himself once Masato moved out of the way and hits the Another Space and then would hit the first Torbellino as he calls for the submission finish to apply the Sol Naciente, but he wouldn't hold it for long this time as PAC picked him up for the Powerbomb for a two count. PAC seems to be getting back control now as he would try to go for the Black Arrow once more time but Masato picked his knees up to make PAC land on it and rolled him up for a two count. Masato wouldn't give PAC time to rest as he hits a second Torbellino and applies the Sol Naciente once again but PAC was unable to power out of it this time around as he falls onto the mat unable to move for a bit until his foot landed on the rope to break the hold. Both men would have bursts of energy in the last stand as Masato lands another Torbellino and PAC gets up quickly to hit Masato with a German Suplex and gets him up for a Powerbomb but Masato would Sunset Flip over him for a two count. PAC would hit a Lariat onto Masato to knock him down before hitting the German Suplex Hold for a two count, and it appears PAC has him right where he wants him as he went to the top rope to the Black Arrow and he connects this time for a three count and we have a new champion!
You heard right, PAC is the new Open the Dream Gate Champion. Part of me feels like it's a bit too soon to win the belt since he just came back a couple of months ago but at the same time, they wanna capitalize on this while he's still red hot since leaving WWE and it could potentially open new eyes to the product since most fans knew him as Neville. So in a business aspect, it's a good idea and hopefully, it can lead to what the company is looking for. Let's see how things turn out.
Rating: Bruce Prichard and a half
Overall: Aside from the two singles matches being the highlight of the show, nothing else really stood out with the multi-man tag matches throughout the night. U-T and Shun did great work together and PAC had a much better match than he did with Flamita and we got a new champion out of it to bring in a new era for Dragon Gate.
Favorite Match: Masato Yoshino vs. PAC
Least Favorite Match: Dragon Dia & Tribe Vanguard (BxB Hulk, Kagetora & YAMATO) vs. Don Fujii, Gamma, Ryo Saito & Super Shisa
Score: 6.5/10





Does PAC's victory peak your interest in Dragon Gate? Let us know on social media @theCHAIRSHOTcom and always remember to use the hashtag #UseYourHead!
Mitchell's WWE Mixed Match Challenge 2 Results & Report! (12/11/18)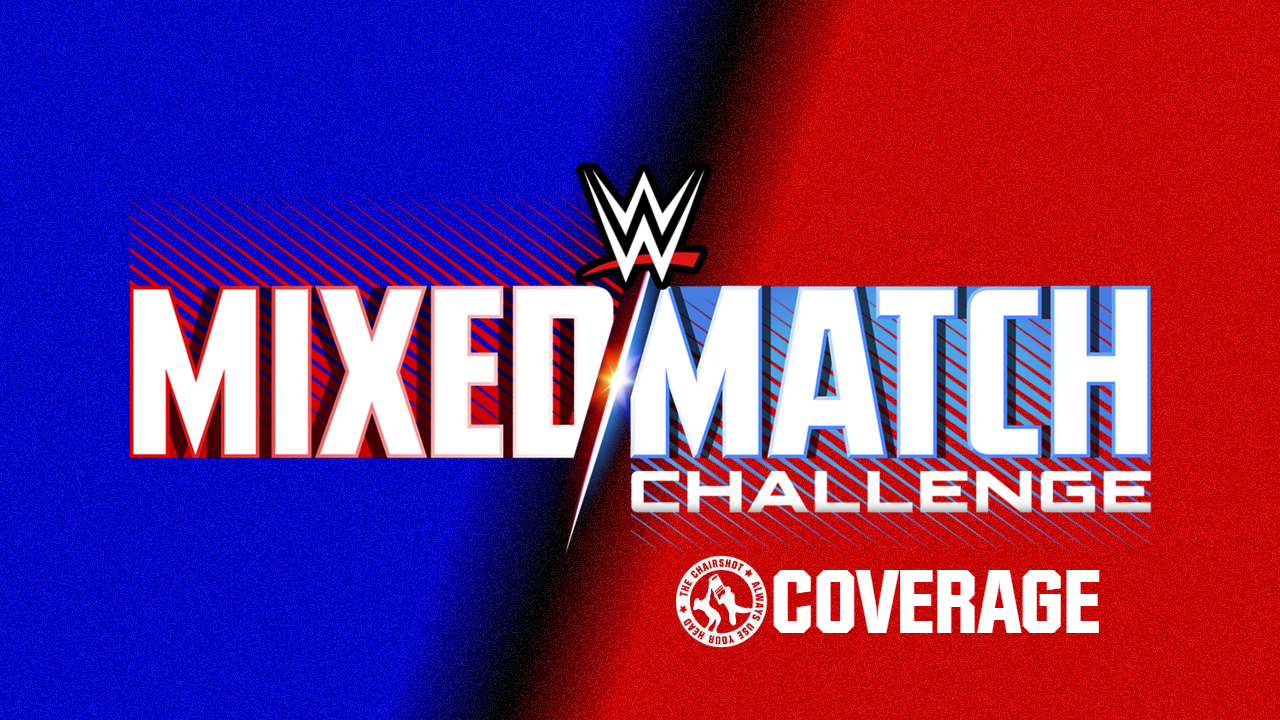 The Mixed Match Challenge is almost done, but there's been a last-minute substitution! Apollo Crews replaces Finn Balor, can he help Bayley make it to TLC?
OFFICIAL RESULTS
Jinder Mahal & Alicia w/ The Singh Brothers VS Apollo Crews & Bayley; Mahal & Alicia win and advance to the Finals at TLC.
The Miz & Asuka VS R-Truth & Carmella; Truth & Carmella win and advance to the Finals at TLC.
PLAY BY PLAY
It's time for the Mixed Match Challenge Semifinals!
The final four teams will be cut down to just two tonight! The Season One champions are still in the running, but they've had a rough go of it this year. The Miz and Asuka lost to the #ExtremeFlair after Jeff Hardy stepped in for AJ Styles. However, not even the top seed still stands as the #FABULOUSTruth pulled off the biggest upset to date! Can Truth & Carmella pull off another upset against a tense and dysfunctional Team AWESKA?
As for the Raw Block, #Mahalicia is the only team standing with its original members! Of course, Jinder Mahal and Alicia Fox have yet to truly see eye to eye despite making it back from the bottom of the block. That said, Finn Balor must step down from the Mixed Match Challenge because of the beating Drew McIntyre gave him on Raw a week ago. In his place now stands Apollo Crews, who wants to finally make his mark on the main roster! Can this new Team A'n'B go all the way to TLC?
Backstage with Bayley & Apollo Crews.
New partners start big with a semifinals match, but the dynamic doesn't change for Bayley. These two are more prepared than ever, and they'll be so close to being the #30 spots in their respective Royal Rumbles! But the Singh Brothers come in to get them to slow down. No one cares about where they "think" they're going, because they're going home! The Maharrrrraja and Foxy will be Too Sweet. No, better: they can hug it out! Bayley boots the Bollywood Boys out, and says she and Apollo will worry about vacation destinations after the match.
Backstage interview with R-Truth & Carmella!
The FABULOUS Truth is ecstatic for tonight. They had a rough start but are on a roll. They'll be up against the MMC Champions. Miz & Asuka were worried about every team but Truth & Carmella. Well Miz has run his mouth a long time, and Truth knows that from teaming with Miz back in the day. Truth knows for a fact Asuka carries that team. As for tonight, Mella & Truth will carry SmackDown's flag all the way to TLC. They vow to win, and that's the truth. Also, Miz said something about shoes? Check these! Carmella's kicks are F A B U L O U A S! That's not how you spell fabulous. That aside, let's move on to choosing a vacation site. Truth likes the idea of Athens. Greece? Georgia? No, Ohio. Well on to match preparations!
Jinder Mahal & Alicia w/ The Singh Brothers VS Apollo Crews & Bayley!
Team A'n'B already meshed well together when they and The Boss, Sasha Banks, took it to #Mahalicia on Raw. However, Sasha Banks won't be present to help cancel out Samir & Sunil, will #HugNation be able to overcome Shanti and head to TLC?
Bayley and Apollo talk on the way out, and it's decided: once they win that vacation, they'll go to Jamaica. "This one's for Finn!" The teams then sort out, and the men begin. Apollo circles with Mahal and they tie up. Mahal gets a headlock and the Singhs already celebrate. Apollo powers out but Mahal runs him over with a shoulder. Mahal runs but Apollo gets up, only for Mahal to whip him. Apollo leaps over for the sunset flip, TWO! Backslide, TWO! Apollo rolls Mahal up, TWO! Mahal scrambles away and Alicia tags in. Mahal claims he had this, but Alicia doesn't care. Vegas fires up for Bayley as she circles with Alicia. Bayley rolls Alicia, TWO! She tries again, ONE! A third time, TWO!
Alicia wants a breather and she bails out of the ring. She reprimands the Singhs and Mahal for not helping out. Alicia wants that 30th spot and vacation, but the Singhs and Mahal remind her she needs to win first. Alicia gets back in the ring, but Bayley gets her with a drop toehold! Bayley wants to put on an abdominal stretch, but Alicia resists. They go around and Bayley gets a facelock. The Singhs say that's cheating, but Alicia drives Bayley into a corner. Alicia throws forearms then wrenches the arm. She kicks Bayley around then reels her in. Bayley reverses to a cradle, TWO! Bayley gets to a corner and flapjacks Alicia on the buckles! The Singhs coach Alicia up and she tags to Mahal!
Apollo comes in, but Mahal wants him to take it easy. Mahal kicks but Apollo blocks to counter punch. Apollo whips but Mahal hits a body shot. Mahal stomps a mudhole into Apollo, then whips him corner to corner. Apollo goes up and over and handsprings, then leaps over Mahal to hip toss him down. Fans fire up with Apollo and Apollo back flips. He lansd on his feet but walks into a hotshot and big knee! Cover, TWO! Mahal keeps his cool as he drives an elbow into Apollo's head. He whips Apollo corner to corner hard and Apollo hits the mat. Mahal stomps away but Bayley keeps the Singhs back. Mahal drops knees then grinds Apollo down. The ref counts and Mahal stops at 4. Mahal brings Apollo up in a half nelson chinbar.
Apollo endures as fans rally up, and Apollo fights out. Mahal shoves Apollo and runs him over with an elbow! Cover, TWO! Mahal puts Apollo back in the half nelson, but Apollo endures. Fans rally up and Apollo fights back. Mahal shoves but Apollo kicks back. Apollo runs but into a clobbering clothesline! Mahal pulls back with a camel clutch. Fans rally again but Mahal wrangles Apollo back down. Mahal wrenches back on the chinlock, but Apollo endures. Fans rally up and Apollo gets moving. Apollo arm-drags out and enziguris Mahal down! Both men crawl for their corners, hot tag to Bayley!
Alicia comes in but Bayley rallies! Bayley puts Alicia in a corner for the back elbow, and corner punches! She gets 8, but Alicia slips out. Bayley jumps over to hit a big back suplex! Bayley runs in for the big knee, but Alicia gets to the apron. Alicia bumps Bayley off buckles, but Bayley hotshots her back! Bayley2Belly! Cover, but the Singhs drag Alicia out! The referee reprimands them but Apollo wipes them out with flying clotheslines! Apollo then leaps up again, asai moonsault takes them out again! He feeds Samir to Bayley2Belly! Then the same for Sunil! Bayley fires up but Mahal boots Apollo down! Bayley DIVES on Mahal! She puts Alicia back in, but walks into a boot!! Cover, Mahalicia wins!!
Winners: Jinder Mahal & Alicia Fox, Alicia pinning; advance to the MMC Finals at TLC
The dysfunctional duo makes it work! Granted, they succeeded against teams that had substitute members, such as how Curt Hakwins stepped in for Braun Strowman last week. But a win is a win, and now Mahalicia will represent Raw in the Finals! Who will they face in their shot at the 30th spots and the all-expenses-paid vacation?
Backstage interview with Mahalicia.
Did they ever think this day would come? Of course they did! Mahal meditated and visualized, and he sees himself, Alicia, and the Singhs on the beach. Alicia agrees with winning, but NOT with letting the Singhs joining them. They're successful because SHE is the Captain! She's driving this ship into Port Victory, without them! But Asuka comes over, laughing at how Mahalicia thinks they're gonna win. It doesn't matter what happened on tonight's SmackDown, Asuka says she's gonna win, because her match is next!
The Miz & Asuka VS R-Truth & Carmella!
The Season One champions are on the rocks right now as The Empress doesn't appreciate The A-Lister trying to take credit for her work. Meanwhile, the fourth seed FABULOUS Truth have put in the work to make it back up from the bottom. Will we see another historic upset from Truth and the Princess of Staten Island?
"Las Vegas, make some noise! What's up!?" The Miz and Asuka aren't impressed, and aren't in the mood for that Dance Break the fans are cheering for. The teams sort out and both Miz and Asuka say "I've got this." Fans are on Asuka's side. Miz concedes, and Asuka starts with Carmella. But then Miz calls over to tag in. Asuka refuses, because she's got it. But then she chops him, which counts for a tag! Truth comes in and Asuka is annoyed. Truth rolls Miz up! TWO, but Truth stays on Miz. Miz powers out but Truth runs him over. Truth does his bunny hop dance, then things speed up. Truth holds ropes to do the rest of his dance. Miz runs in but Truth dodges to tilt-o-whirl Miz to a corner. Truth runs in to haymaker Miz. The ref backs Truth up and Miz kicks low.
Miz bumps Truth off buckles, then stomps him. Miz whips corner to corner but Truth goes up and over to dab on 'em! This annoys Miz and he runs back in, but Truth does the splits to dodge, then hip tosses Miz down! Truth clotheslines Miz out, and Carmella comes in, for the DANCE BREAK~! Asuka is furious at Miz while Truth and Carmella floss and twerk. Carmella calls out Asuka, so Asuka shows off her moves on the apron. Miz is annoyed but Truth hip tosses Miz back in! Truth throws hands then climbs up for corner punches. He gets 8 before Miz pushes him away and boots Truth down. Miz chokes Truth on the ropes, then hits his straddle attack. Cover, TWO!
Miz keeps on Truth with a camel clutch but Carmella rallies the fans. Truth gets up and fights back. Miz pulls hair to throw Truth down and deny the tag. Miz stalks Truth, to boot him down! Cover, TWO! Truth survives and Miz argues with the ref. Miz hears the fans rally and say "We Want Asuka!" Miz ignores that but gets rocked by haymakers from Truth! Truth back suplexes but Miz lands out to kick low and hit the basement DDT! Cover, but Carmella breaks it! Carmella goes back to her corner, but then Miz mocks the moonwalk. It wasn't very good, but Miz stomps Truth down. Miz brings Truth up and uses his It Kicks. Miz winds up but misses, Truth rolls him up! TWO, and Miz clobbers Truth with a clothesline!
Fans rally but Miz grins as he runs corner to corner at Truth. He hits the dropkick, then keeps going to hit another. Miz soaks up the heat before running back in, but Truth clobbers him! Both men are down but fans are fired up. Truth and Miz crawl, hot tag brings in the ladies! Carmella rallies with lariats and a kick. She brings Asuka over for a bump off her boot. Asuka's down but she dodges the bronco buster to then lift Carmella in a waistlock. Carmella screams and shouts to be let down, so Asuka gently sets Carmella back on her feet. To then lift her back up! Carmella fights out but gets the pop-up knee! Asuka runs, sliding wizard! Cover, TWO!
Carmella survives and Asuka grows frustrated. Miz is also frustrated but Asuka stays on Carmella with knees. Carmella jawbreakers and shoves Asuka away, Miz tags in! Miz goes after Truth but Truth punches him away. Truth rallies with the Lie Detector elbow! Cover, but Asuka breaks it! Carmella throws Asuka into buckles, and tunes up the band. She aims at Miz, but Miz uses Asuka as a shield?! The FABULOUS Kick hits Asuka, then Miz shoves Truth into Carmella before rolling Truth up! TWO!! FABULOUS KICK, to Scissor Kick! Cover, TWO!? Miz lives?! Fans are stunned but loving this!
Asuka throws Carmella out, then Miz dumps Truth out. Miz and Asuka catch their breath, but Asuka locks eyes with Miz. She knows what Miz just did, and he tries to say it wasn't him. Asuka doesn't believe Miz, she knows what she saw. Miz is afraid of what she'll do, and says that they're still a team. They can still win this together! Okay? No! Asuka fires off on Miz!! Buzzsaw! Miz is rocked, and Asuka ditches him! Truth gives Miz an Unprettier! Cover, Fabulous Truth win!!
Winners: R-Truth & Carmella, Truth pinning; advance to the MMC Finals at TLC
The Season One Champions are no longer in the tournament! The A-Lister made a major mistake thinking he could manipulate the Empress of Tomorrow, and now the FABULOUS Truth capitalize! It will be Truth & Carmella VS Mahal & Alicia at TLC, who wins to become the new Mixed Match Challenge Champions?
---
My Thoughts:
Last episode, last time for one of these. Admittedly, we all should've known, me especially, that this was not going to end with an amazing match up of top stars in the Finals. The big names like Finn Balor, Braun Strowman, Charlotte Flair, AJ Styles, etc were only in this second MMC to hook fans. WWE needs people to use Facebook Watch because of the deal they made, so that's why we got great combinations to start. But naturally, it was all bait and switch, considering how those same big names would inevitably end up in more important stories like the titles and grudges we're getting at TLC. Rest in peace, my dream of Bullet Club leaders and NXT Four Horsewomen members all in one match.
As for the bracket we did get, I knew it was going to end up this way. I thought Apollo was going to be Bayley's second chance at that 30th spot after Finn had to step down for the sake of his match against Drew McIntyre. Then San Jose could cheer on their hometown girl as she goes against SmackDown's finalist. However, Mahalicia still wins so that they are the Heels of the Finals. And while I knew Truth & Carmella were going to go in once Asuka ended up in the TLC Triple Threat, I really enjoy how they wrote it for the match. It was only a matter of time before Asuka got fed up with Miz's ego, and this was the breaking point. Truth and Carmella will certainly benefit the most from being the 30th entrants, even if they aren't destined to win the Rumbles.