Joe's CMLL Results & Review (11/24/2018)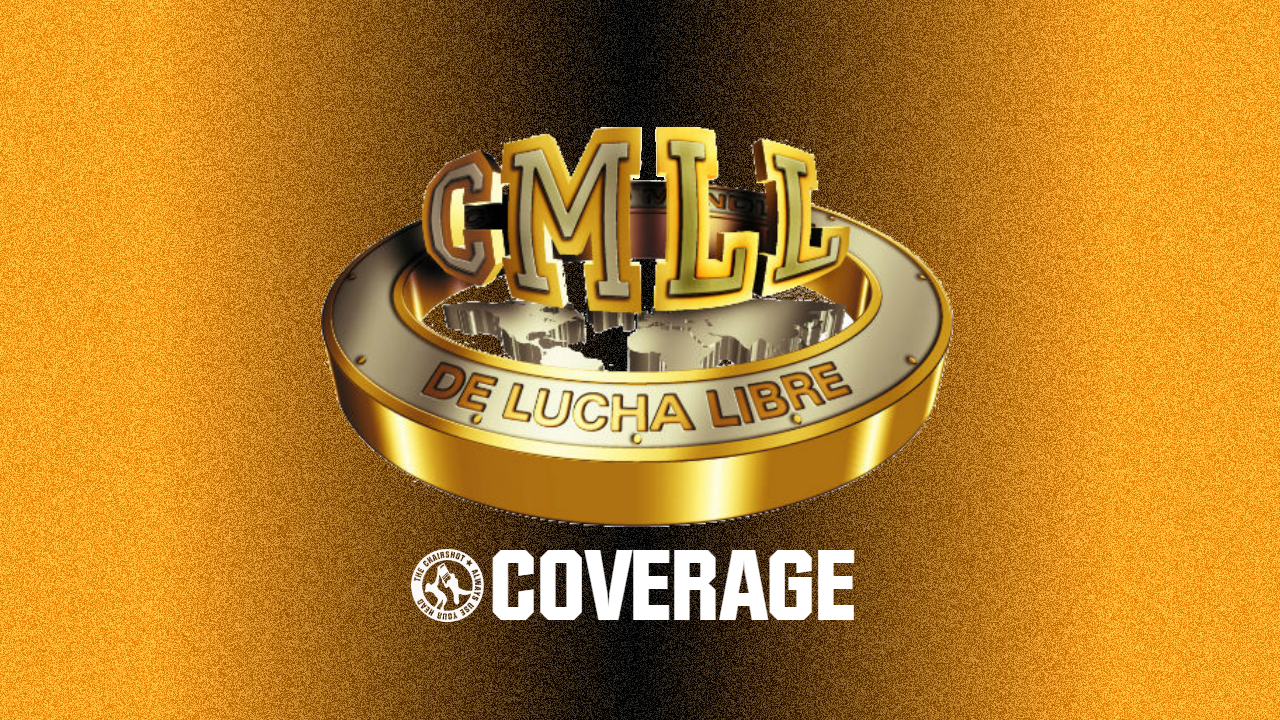 Another crazy week of CMLL is in the books, and Joe Dinan has you covered with his CMLL Results & Review featuring Pentagon Jr, Fenix, Volador Jr and more!
First, take a look at what happened last week!
CMLL Arena Puebla Monday
Centella Roja and Hijo de Centella Roja vs Black Tiger and Rey Apocalipsis
Hijo de Centella Roja and Apocalipsis start out the match doing some ground grappling. Tiger comes in next with Roja and they do some acrobatic spots. They take out Roja and double the son. Black Tiger submits him with a sharpshooter. Apocalipsis submits Roja with an arm wrench. First Fall: Rey Apocalipsis submits Centella Roja with an arm wrench.
Centella Roja and Apocalipsis start the round but Roja gets the advantage leaving Rey in the crowd. Hijo and Tiger are up next and they exchange moves. Hijo hits him with multiple tilt-a-whirl back breakers bringing in Apocalipsis. A come back is made and Hijo gets Tiger in a victory roll for the pin and Roja submits Apocalpisis with a torture rack. Second Fall: Centella Roja submits Rey Apocalipsis with a torture rack.
Centella Roja is taken out to start the round then they double team the son. Hijo makes a come back hitting a tilt-a-whirl slam. Then his father comes in and hits a hurricanrana on Apocalipsis. Hijo goes for a top rope move but gets pushed off. Apocalpisis hits a frog splash on Hijo for the pin. Black Tiger submits Roja with a cross face. Third Fall: Black Tiger submits Centella Roja with a cross face.
Winners: Black Tiger and Rey Apocalipsis
Pegasso and Tigre Rojo Jr vs Metalico and Toro Bill Jr
Tigre Rojo and Toro Bill start out. We got a tiger vs a bull. They start out trading submissions on the ground. When Rojo gets one Metalico stopped it. Pegasso came in to keep him at bay. They continue to grapple for a little while longer until Metalico and Pegasso come in and now they do some mat wrestling. They re-engage a few times until they start to trade slaps to each others chest. Metalico claims he was fouled but the ref ignores it. Rojo and Bill are back in and they start to increase the pace. Rojo performs a monkey flip on him. Pegasso gets Toro Bill in a victory roll. Tigre does a lionsault on Metalico while he's standing for the fall. First Fall: Tigre Rojo Jr pins Metalico with a lionsault.
Pegasso and Metalico start the round high paced. Pegasso botches an arm drag spot and the crowd boos. Tigre gets taken out and they start to double Pegasso. Metalico holds up Pegasso and Bill hits a code breaker. They set up Tigre in the corner and Metalico clearly fouls him but the ref ignores. Bill hits a pop up power bomb on Tigre for the pin. Metalico head butts Pegasso in the groin, then hits a spine buster and leg stretch submission for the fall. Second Fall: Metalico submits Pegasso with a leg stretch.
Quickly to start the round Pegasso and Rojo get the advantage and Pegasso pins Bill with a 450 and Tigre Rojo submits Metalico with a leg stretch. Quite the fast round. Third Round: Tigre Rojo Jr submits Metalico with a leg stretch.
Winners: Tigre Rojo Jr and Pegasso
Fuego, Drone, and Stigma vs Polvora, Dragon Rojo, and El Malayo
Drone and Polvora start the match out doing some fast paced grappling. They go till they stale mate and Malayo and Fuego enter next and they continue the trend of grappling. They too work till a stale mate bringing in Stigma and Rojo jr. They bow up to each other to start and Stigma hits two shoulder blocks which doesn't please Rojo. Now they're beating on Stigma in the corner. Chaos has erupted now until Rojo goes for a power bomb with his teammates help. They walk away and pose but Stigma reverses it into a hurricanrana for the pin. First Fall: Stigma pins Dragon Rojo with a hurricanrana.
Drone and Rojo start out the round, and they trade shoulder blocks. They trade some strikes afterwards until Drone takes him out with a hurricanrana. Drone hits knees to the corner on Malayo, then he poses. Stigma and Polvora are in next and briefly Stigma gets teamed on. Stigma does take out Polvora imploring Malayo to come in the ring. Fuego is in next with Malayo and he ole's him a few times. The rudos all come in to end that and start teaming on Drone. Malayo hits a flapjack on Drone and then submits him with an elaborate stretch submission. Second Fall: El Malayo submits Drone with an elaborate stretch.
Third round starts with the rudos continuing their attack on the Technicos. Polvora is attacking Stigma on the ramp. They continue to team up on everybody until Fuego trips Malayo and Drone hits a middle rope dive. But they get caught, Polvora puts Stigma on Fuego and him and Rojo do a double submission for the win. Third Fall: Dragon Rojo Jr and Polvora submit Stigma and Fuego with a double submission.
Winners: Dragon Rojo Jr, Polvora, and El Malayo