Joe's Lucha Libre Weekly: News & Analysis (11/30/2018)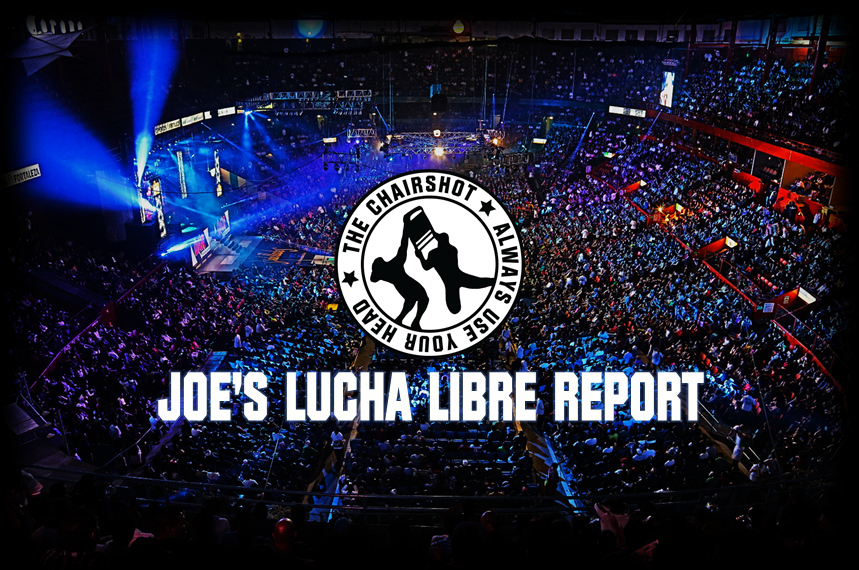 For anyone curious about Lucha Libre, but don't have the time to catch everything, never fear! Joe brings you in depth analysis and coverage of all things Lucha.
CMLL
CMLL Arena Mexico Friday
The important news here is Rey Fenix hurt himself. Somewhere in the match he hurt his groin. He did a dive over the top rope where Cavernario just moved out of the way. I have to imagine it was a planned spot but I don't understand why anyone would do it. Fenix did lumber through the match at that point and in the end Cavernario defeated him in the Leyenda de Plata. Fenix announced he was going to take the rest of 2018 off which is problematic for two promotions. MLW and AAA. Impact won't have to worry because they did their tapings and MLW had a big tag match lined up in which MLW adjusted already. The problem with AAA is this Sunday is a big show where Fenix was supposed to and probably lose to Cage in a match for the AAA mega championship. I'm sure now they'll vacate it.
The main event of the show was a legends match with Mascara Ano, Sanson, Cuatrero, and Forastero where they defeated Los Guerrero's who added Templario as a member officially, apparently. Caristico, Volador Jr, and Mistico defeated Pentagon Jr Mephisto, and Ephesto in what was an alright match up.
CMLL Arena Puebla Monday
The main event of this show was Caristico, Volador Jr, and El Valiente vs Mephisto, Luciferno, and Ephesto. It was a pretty short match because I guess they wanted to keep it under 2 hours. Caristico submitted Mephisto with a Fujiwara arm bar for the final fall. The co main event saw Angel de Oro, Niebla Roja, and Soberano Jr take on Bestia del Ring, El Terrible, and Okumura. Which is an odd placement. It was a good match as far as getting heat goes. Bestia pinned Oro with a cradle pile driver for the final fall.
CMLL Arena Mexico Tuesday
The main event featured Diamante Azul, Angel de Oro, and Niebla Roja facing Mephisto, Ephesto, and a returning Rey Bucanero. This was the first time he showed up on Televised events and in the ring with Niebla Roja who beat him in a hair vs hair match. They continued that feud in the match with Rey attacking him but not wanting to square off with him in the ring. Diamante Azul pinned Mephisto to win the match however. Titan, Soberano, and Stuka took on Hechicero, Templario, and Vangellys in what was a quick match by their standard but it was a fun match. Lots of cool spots with Titan beating Vangellys with a cool neck bridge pin.
CMLL Arena Mexico this Friday Leyenda de Mexicana
This is a legends of Mexico show obviously. The main event which I can't imagine will be that good from a work rate standpoint will be Rayo de Jalisco, Atlantis, and Blue Panther vs Canek, Mascara Ano 2000, and Villano IV. I haven't seen Villano IV since WCW. Also, in these legends matches, nobody cares about work rate. It's about honoring the legends in the moment. The co main event is for the CMLL 6 man tag titles with Ultimo Guerrero, Euforia, and Gran Guerrero vs Caristico, Volador Jr, and Mistico. I don't expect Los Guerrero's to lose. Mistico and Caristico have had this on and off feud. Those are the only matches with real importance.
AAA
AAA Live on Twitch 12/2
This Sunday AAA will have what looks to be a big show. There are a lot of titles on the line but the biggest question of the show is, what will happen regarding Fenix and the Mega Championship? Searching through the deep realms of twitter there is speculation based on the previous show with Brian Cage turning face and Blue Demon being a heel that the title gets vacated and having those two wrestle for it. That would severely hurt the match quality but what can they do? Aside from continue to advertise Fenix even though we know he won't wrestle. He might cut a promo in regards to everything though.
The matches on this show include, Keyra vs Faby Apache vs Lady Shani vs La Hiedra vs Scarlett Bordeaux for the Reina de Reinas championship. We have Laredo Kid, El Hijo Del Vikingo, and Angelikal vs Tito Santana, Mocho Cota Jr, and Carta Brava Jr for the 6 man tag championship. Pagano and Joe Lider vs Texano Jr and Rey Escorpion vs Ciclope and Miedo Extremo for the tag team titles. Hijo Del Fantasma vs Drago for the Latin American championship. Fenix vs Brian Cage for the Mega Championship. Fenix won't wrestle and maybe Blue Demon won't be in the match because he's in the main event teaming with Killer Kross against Dr. Wagner Jr and Psycho Clown. Who knows who will be in the title match instead. I'd ask Pentagon if he's available.