Joe's Lucha Libre Weekly: News & Opinions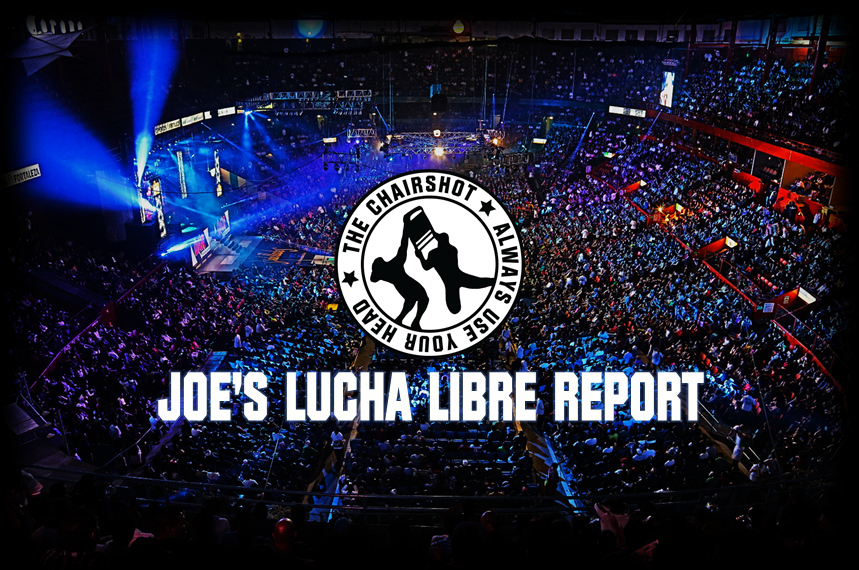 CMLL
This week we have the La Dia de Muertos show which is traditionally a very fun show which a dark tone. The king of the Underworld championship will be defended by Sanson against Templario. Two rudos in a match together makes it a very interesting dynamic. The main event features Michael Elgin teaming with LA Park and Diamante Azul facing off against Ultimo Guerrero, Fenix, and Pentagon. That's a whole lot of star power for the main event. Other matches on the show include, Mistico, Atlantis, and Hijo De LA Park vs Cavernario, Ephesto, and Mephisto, and Angel de Oro, Stuka Jr, and El Audaz vs El Terrible, Rey Bucanero, and Hechicero. It's a very good card. The card will apparently, and this is late news, only be available for ppv on Internetv.tv for 10 dollars. If you got the dime to spare I'd say it's worth it.
Arena Mexico Friday Show
On last week's Friday show we saw Caristico, Diamante Azul, and El Valiente vs Rush, El Terrible, and Bestia del Ring. The story of this match was Rush losing the match for his team by DQ via kicking Caristico below the belt. This trend will be expanded upon in the arena Puebla show. Mistico, Angel de Oro, and Niebla Roja went against Negro Casas, Dark Magic, and Cavernario. It was a fun match, Negro Casas and Mistico continue to go at it. They'll probably have another match in the future. Of course, the last significant thing was Templario winning the tournament to determine who will face Sanson for the King of the Underworld title. Having two rudos face off will be interesting.
Arena Puebla Monday
The main event of this show being Rush, Mistico, and La Bestia del Ring vs Caristico, Ultimo Guerrero, and Diamante Azul. The main stories here were Mistico having a Los Ingobernables jersey on, so I guess he may be joining that and Rush again DQing the team by kicking Caristico below the belt. Caristico challenges Rush to a match one on one and Rush said he wasn't interested but accepted anyway. Sanson, Cuatrero, and Forastero vs Stuka, El Valiente, and Flyer Jr was a fun match that saw Sanson, Cuatrero, and Forastero winning. That's really the only significant stuff that happened on that show.
Arena Mexico Tuesday
The big story for this show was in the main event with Sanson, Cuatrero, and Forastero vs Titan, Niebla Roja, and El Valiente. Titan wanted to get his hands on Cuatrero for the whole match but Cuatrero kept on running away. Finally when he gets his hands on him completely it's for the win with a leg lock. So after the match Titan challenges Cuatrero for his championship and Cuatrero accepts. The rest of this show really didn't continue any big feuds. They were just matches, some good, some hard to get through.