(NOAH) WEEKLY NEWSLETTER VOL.7 ~ 26TH OCTOBER 2018
CURRENT TOUR RECAP
NOAH have been quiet since October 18th when Autumn Navigation 2018 wrapped up. Global League will kick off at Korakuen Hall on Tuesday October 30th at Korakuen Hall.
The press conference will take place on Monday 29th October at TGI Friday's in Tokyo, there will be the usual fan event after it.
When interviewed for Global League and asked who they are worried about, most of the roster have said that they are more concerned about facing Kazusada Higuchi, who is an ultra-heavyweight with brutal chops, than each other. Kaito Kiyomiya says that this will be his breakout year, as he hasn't really made much of an impact as a singles wrestler so far.  Fifty Funky Powers have said they want to face each other in the finals, Mitsuya Nagai did an interview where Cody Hall & Maybach Taniguchi apparently turned into HAYATA, responding to questions with "…", Kotoge is warning people of his headbutts, The Aggression are looking forward to facing each other, Kazusada Higuchi says he wants to face Kohei Sato in the finals, and Akitoshi Saito is proud to be in the league.
Both Kenoh and Nakajima are complaining that their matches with Marufuji should be on a bigger stage that Global League; Kenoh because he obsessively hates him.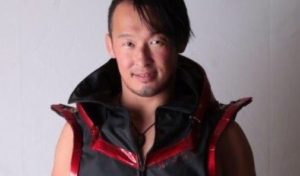 OUTSIDE PARTICIPATION
Naomichi Marufuji (ever one to never give himself a rest), has been announced to be taking part in WRESTLE-1's tag league where he will team with Andy Woo. This will take place during his participation in NOAH's Global League. In addition, he will also appear in DDT on the 28th October.
He has been asked to rest, but like when Champions Carnival ran alongside Global Tag League earlier in the year, he got defensive about it, saying that as he wasn't injured, he didn't have to.
Kenoh will also be appearing in K-DOJO on the 28th, he will team with Tank Nagai against Shu Asakawa and Kyu Mogami (the original card included Kengo Mashimo, but he is injured).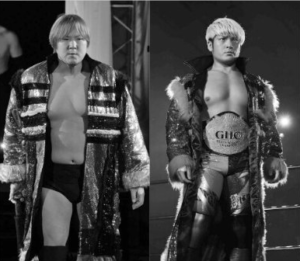 "COME AT ME YOU BASTARDS" ~ KENOH'S COLUMN IN "WEEKLY PRO"
"There are many things, but 2018 will be my year"
Kenoh touched on Takeshi Morishima in this weeks column. He mentioned that Morishima was in a lot of pain before the surgery, so much so that he didn't think he could have taken it even if it was delayed by two days. Then Kenoh got back to his obsession: namely beating Marufuji. Kenoh's idea for a perfect Global League would be for him to beat Marufuji in their match, beat him in the finals, then beat Sugiura for the title, and then nominate Marufuji to face him for the GHC Heavyweight Title, and then then beat him again, and thereby end his era and start his. Kenoh likened it to a glorious prologue of a book.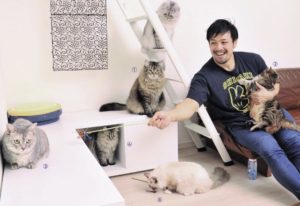 "ONE DOG AND SIX CATS: GO SHIOZAKI AND HIS PETS"
"Weekly Pro" ran an article on wrestlers and their pets, and Go Shiozaki has seven (although he says he is not adding any more). The cat he is holding in the picture is his favorite, (he says the cat is very nervous), but the one sitting nearest to the camera and facing it, is the one who is "emotionally attached" to him.
NEWS
Takeshi Morishima resurfaces
Looking very thin, Takeshi Morishima has reappeared since his hospitalization and subsequent surgery for septic arthritis. No further announcement has been made for when "GENESIS" will take place.
I don't want to know what this "naked drinking" with DDT was about.
GHC BELT NEWS
Current champions
GHC Heavyweight Champion: Takashi Sugiura
GHC Junior Champion: Daisuke Harada
GHC Heavyweight Tag Champions: Naomichi Marufuji & Akitoshi Saito
GHC Junior Tag Champions: Minoru Tanaka & Hi69
The winner of Global League 2018 will earn the right to challenge Takashi Sugiura for the GHC Heavyweight title, if he himself wins, Sugiura says that he will nominate Masato Tanaka as his challenger.
Daisuke Harada will defend the GHC Junior Heavyweight title against Kotaro Suzuki on the 30th October at Korakuen Hall.
The GHC Heavyweight titles have not had a challenger as of yet, and probably won't until after Global League wraps up.
The GHC Junior Tag Championship will be challenged for by Koji Kanemoto and Hiroshi Yamato on the 25th November at Korakuen Hall.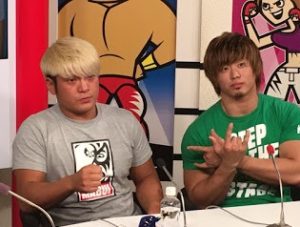 TOUR TIDBITS
Atsushi Kotoge recommends that to dispel the blues, you should wear a cape, and even wear it to work if your boss pisses you off.
RAN will perform at NOAH's show in Kyoto
Kenoh and Kaito Kiyomiya will be appearing on Battlemen on the 26th October, the host, dressed up for Halloween, suggested costumes for them.
FACTS ABOUT GLOBAL LEAGUE
Mohammed Yone is the only person to have been in it each year without exception since it begun in 2010
2017 is the only year that the GHC Heavyweight Champion did not compete as Eddie Edwards was overseas with IMPACT.
Yoshihiro Takayama was the first winner of Global League in 2010
Quiet Storm is the gaijin with the most participation
Unlike Global Tag League, no one has ever won Global League consecutively or even twice
Toshiaki Kawada participated in 2010, he is the only member of the Four Pillars to have competed in Global League, sadly Mitsuharu Misawa did not live to see it, and Akira Taue and Kenta Kobashi have never competed in it.
Kaito Kiyomiya is the youngest participant on record (born 1996) the oldest is Toshiaki Kawada (born in 1963).
Yoshihiro Takayama is the oldest person to win the league, being born in 1966, with Kenoh the youngest, being born in 1985.
KING SHAMELESS' CORNER
None this week, Sugi has somehow managed to behave himself.
BROADCASTS
8th November 2018, live show at 6.30pm (Samurai TV)
EVENT RECAPS
The full guide to Autumn Navigation 2018
LINKS
Enjoy what I do? Want to help me do it full time? Please consider donating to me on Patreon
For those outside of Japan, IPW are now the official sellers of Noah merchandise
"Heir to The Ark" ~ Naomichi Marufuji's biography, work in progress translated into English
Opening night card of Global League 2018
Green Guide to Global League 2018