Stardom True Fight 2018 Results & Review (10/23/2018)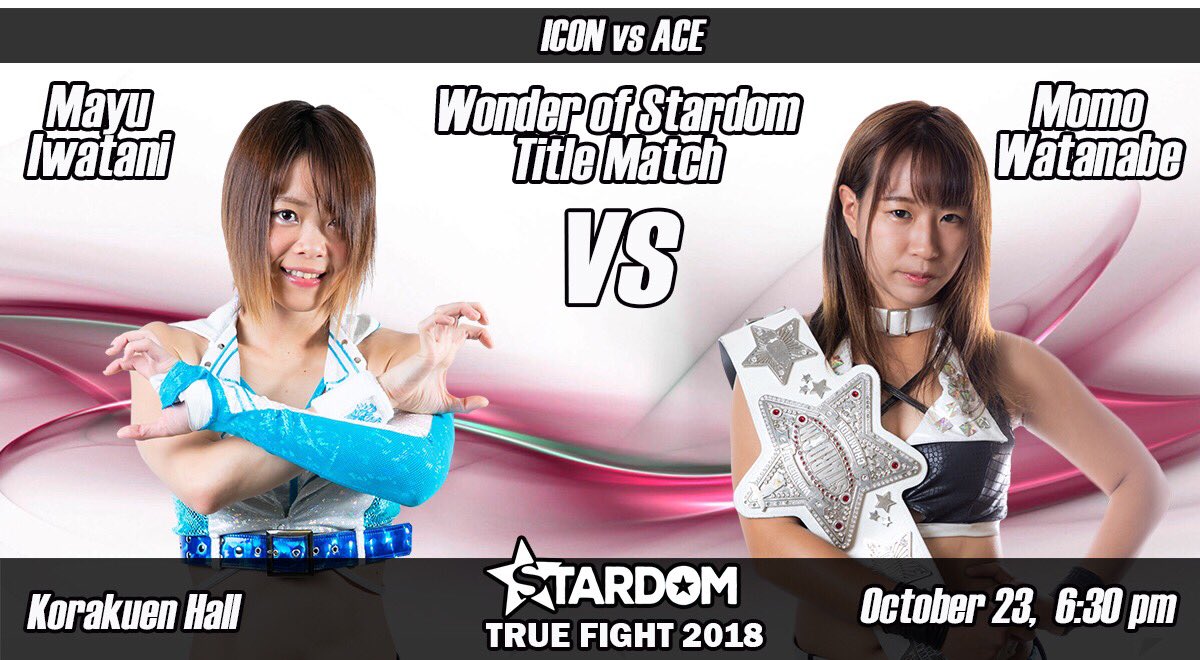 Welcome back to Stardom and I said this would be the next big show I would cover since I'm taking a break of them for their tag league, but there are two big matches on here that it needs to be talked about. We have two big titles matches with one being personal and the other one to prove themselves.
Let's see how things unfold here as we…dive right in.
Goddesses Of Stardom Tag League Blue Stars Match
Hanan & Leo Onozaki vs. Kaori Yoneyama & Ruaka
Review: I said I wasn't covering the Goddesses of Stardom Tag League, but there are two matches on here from the tournament and I'll just treat them like a regular tag match instead of tournament matches. Our first one is Hanan and Leo Onozaki teaming up to take on Kaori Yoneyama and Ruaka from JAN. Which of the two will win it?
Well now, it looks like Ruaka has changed up her gear a little bit too and hopefully, she gets actual improvement to go with it. Hanan and Leo surprisingly did pretty well together as a tag team and while it wasn't great, still good enough with the amount of experience they have here. Kaori did her best to help out the three in the ring to carry them over as best as she could, but Ruaka is still a hit or miss when it comes to her matches. The match was fairly basic with what they were working with but nothing too sloppy or bad either. Kaori hits Hanan in the back of the head with a knee while Ruaka tops it off with a Big Boot for a two count but she would quickly pick her up for a Fisherman Suplex and gets the win for her and Kaori.
Rating: Tony Schiavone
Leo's Cutter Counter: 1 (…..I quit)
Singles Match
Hazuki vs. Mary Apache
Review: We now have a singles match with Mary Apache making her return to Stardom after about six months as she takes on Oedo Tai Member, Hazuki. Mary and Hazuki are both partners of Hana Kimura and Kagetsu who have a match later on tonight, so it seems fitting to have these two face off in a one on one match also. Hazuki talked about how Mary is still the High-Speed Champion but considers her slow and is gonna show her what high speed is all about. Will Hazuki get the La Hazukistral in to win or will Mary put Hazuki in her place?
I love seeing Hazuki dressing up as Kagetsu and she's done this recently too after being paired off together, but she rocks the look well and even has the face paint for it too on the other side though. Mary had the early opening and even did a modified Mexican Surfboard when she pulled her head down like a chokehold, but Hazuki would eventually turn it around on her to take control for most of the match. Hazuki keeps on showing how good she is in the ring and how she can control a match as well. Hazuki would show Mary how she does high speed with how quick she was in the match doing move after move like a Hurricanrana, Springboard Dropkick, Crossface, etc. and seemed like she had everything under control.
Hazuki would have Mary up to hit a kick to her face but Mary would duck it and hit Hazuki with a stiff Superkick for a two count. Mary would get her up as Hazuki fought back for a moment to slam Mary down for a two count as she went for the Hazukistral, but went the wrong way with the twist till she corrected herself as Mary kicked out of it. Hazuki would run towards Mary as she got caught in a Michinoku Driver to get her down and Mary hits an Axe Kick along with a Michinoku Driver ll to pin Hazuki and get the victory. Very solid match showing the consistency of Hazuki while also showcasing Mary to let us know that she can still go. I wonder if Mary is considered a heel since she's teamed up with Hana Kimura, but it doesn't appear to be that way since she didn't do heel tactics and the crowd was still behind her. Wonder if there will be more shown down the road.
Hazuki battles Mary Apache at Korakuen Hall, and it's on https://t.co/q8dHnF58vW now! pic.twitter.com/ldqaXFgVcd

— We Are Stardom (@we_are_stardom) October 24, 2018
Rating: Eric Bischoff
Goddesses Of Stardom Tag League Red Stars Match
Jungle Kyona & Natsuko Tora vs. Natsu Sumire & Martina
Review: This is our last tag league match for the night as we go to the Red Stars now with our current Goddesses of Stardom Champions, Jungle Kyona and Natsuko Tora taking on two members of Oedo Tai, Natsu Sumire and…Session Moth Martina…great, she's back. So if you've been aware from my earlier coverages, she's someone I'm really not a big fan of and find her incredibly annoying with her gimmick. But hey, it's been about five months since I last saw her, so maybe things will be different now and she does have chemistry with Sumire but I hope it turns out okay. Kyona also brings up a good point that if you're gonna drink alcohol in the ring, don't spit it out since it's just a waste. More drinking! Will it be JAN or Oedo Tai winning?
After seeing how Martina is now from the last time I saw her, I think it's safe to say that I am still not a big fan of her BUT she did show a slight bit of improvement despite the botch near the end of the match, and I will say that Martina and Sumire do work really well together to be entertaining, to say the least. It wasn't a great match by any means but it was still entertaining for the most part with Sumire and Martina being comical in the match but also knowing when to work. A lot of beer was spilled in the match and while I don't like beer, still a waste of alcohol. Martina and Sumire were gonna get ready to spit beer on them but JAN would cover their mouths when they ran towards them to make them swallow it and probably the best spot of the whole match. Martina was getting in the groove against Kyona with her elbows and very nice Lung blowers until she botched that Neckbreaker and gonna blame that she was drunk, but she held Kyona up while Sumire went to spit beer at her as Kyona ducked hitting Martina by accident. Kyona would hit the Jungle Bomb on Martina as JAN gets the victory.
Now on https://t.co/q8dHnF58vW! Jungle Kyona & Natsuko Tora meet Session Moth Martina & Natsu Sumire in Tag League action! pic.twitter.com/FWsxpFHXVT

— We Are Stardom (@we_are_stardom) October 25, 2018
Rating: Eric Bischoff and a quarter
Ten Woman Tag Team Elimination Match
Konami, AZM, Utami Hayashishita, Bea Priestley & Chardonnay vs. Shiki Shibusawa, Starlight Kid, Tam Nakano, Saki Kashima & Natsumi
Review: We have our last tag match for the night with an elimination style match between STARS and Queen's Quest. Utami Hayashishita is still not officially a member of Queen's Quest but since she's Momo's partner in the league, she's considered an honorary member for the time being and will help them out to fight against STARS while Momo focuses on her big match. We even got the return of Bea Priestley and Chardonnay since it's been a while since we've last seen them in Stardom. Will Utami help Queen's Quest win or will STARS get the victory?
The beginning of the match was all over the place and it makes sense in a way since all of them were in the ring for the majority of it and tried to put too much into it at once. STARS tried to eliminate AZM early when they threw her out of the ring but was caught by Queen's Quest before her feet would land so she could stay in the ring. I thought I saw someone else familiar as it looked like Natsumi came back to Stardom when her mom, Mary Apache came up with her. Been a while since I saw her but she still has a long way to go. The first elimination would be around eight minutes after Queen's Quest hit the five Suplex line and Dropkicked all of them down as AZM hits the La Magistral onto Natsumi to get her eliminated. AZM would get too cocky as Starlight Kid hits her with a Dropkick and a 619 to try and eliminate her, but AZM would kick her down and goes to the top rope but wait, Starlight pushes AZM off to make her fall outside and is eliminated also! Konami came rushing in to kick Starlight in the face soon as she turned around. Saki would get in to fight against Konami and I don't know what happened here but it looked like Konami was going for a German and Saki ducked leading to Bea kicking Konami in the face and it looked like a really botched roll up as Konami is now eliminated.
All of them would fight around the ring for a little bit as Bea would find an opening on Shiki as she hits her Curb Stomp correctly this time and eliminated Shiki. Chardonnay and Tam would be in the ring now as it looked like Chardonnay was gonna have control until Tam kicked her in the face to daze her and knees her head when Starlight held her up, leading to Saki doing a Double Stomp off the ropes, Starlight doing a Moonsault off the second rope, and Tam hitting a Running Knee Strike to get Chardonnay eliminated from the match. Utami came into the ring now as she was getting Starlight up for the Torture Rack but Starlight turned it into a DDT and went to pick her up only for Utami to turn it around into a Sleeper Hold to choke her out as she has her up for the Torture Rack and slams her down for the pinfall. Utami would throw Saki over the ropes and saw she was holding on tight as she ran towards Saki only for her to put the rope down as they're both eliminated, a good way to protect her without pinning her. It's not down to Tam and Bea as they would try to kick each other and block it but Tam would get the upper hand and go to the top rope only for Bea to push her off and is hanging on by the apron, Bea went to get her out but Tam flipped her over as the both of them are on the apron. Tam would attempt a Tiger Suplex only for Bea to fight out of it and kneed her in the face, she would have Tam on her as if she was giving her a piggyback ride and just sat down on the apron to knock Tam out of the ring as Queen's Quest wins the match.
Rating: Eric Bischoff and a quarter
No Disqualification World of Stardom Title Match
Kagetsu (c) vs. Hana Kimura
Review: The World of Stardom Championship first before the Wonder of Stardom Championship? Are they crazy? Well, they did have a vote to see who fans felt like should close the show in our double main event and this match was winning the polls, however, since it was now considered a No Disqualification Match, they would make this one the pre-main event. Why would they do that? Well, it's because Stardom is more focused on pure wrestling rather than hardcore style matches and the last time they had a hardcore match close the show (The Exploding Death Match), it really didn't go over too well with the fans, so they decided to make Momo and Mayu close while Kagetsu and Hana are next. Hana Kimura came back to Stardom after her excursion in Mexico and she would betray Kagetsu to cost her the Five Star Grand Prix, telling her that Stardom made her soft and decided to ride solo. This feud has gotten personal between the two and it's probably the best way to settle the score with a fight. Will Kagetsu retain the title or will we get a new champion?
Hana would waste no time as she ran up to the entrance to attack Kagetsu once she walked out of the curtain and the two would begin brawling to the outside with Oedo Tai and Mary Apache getting involved quite a lot in this match. I hate to say this but this match was really disappointing to watch and don't get me wrong, it was intense as hell and I'll get to that in a bit once I talk about the issues I've had with this match. My main problem with the match is that it was way overbooked meaning that there was too much going on that it would hurt the match and story rather than saving it. The majority of the match just had a bunch of interference from both sides to the point that it would become too much and wish that it would stop or just makes me lose interest. I don't mind the hardcore type stipulation but I think it would've been a lot better if nobody was involved and you would just let these two fight, which is what I was expecting since it would've been much better storytelling, but instead we just get a big clusterfuck and the fans being blueballed, glad it didn't the main event if this is what the outcome would be.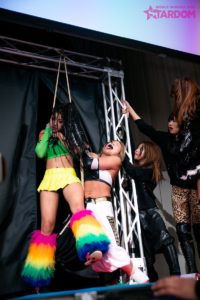 Anyway, now onto the positives of the match and one of them was that it was intense for the times that they needed to be in the match when it was just them, they showed that they did want to kill each other and even Kagetsu would have a rope around her neck to hang her by the entrance which didn't last too long. The would hit each other on the head with chairs to the point that they would even break but they would still keep fighting and not give up, Hana would even throw Kagetsu through a table and even that wasn't enough to put her away. Hana would have her in the Sickle Hold to try and make Kagetsu tap out but Kagetsu would put her in a submission of her own, choking her out while Hana struggled to break free until she would pass out to lose the match, but she didn't tap either to protect her a little bit. Kagetsu showed that the punishment for betraying the Prime Minister was death. Will Hana get revenge on them or is it a one and done?
No Disqualification! No Double Knockouts! No Time Limit! Intereference is allowed! It's Hana Kimura challenging Kagetsu for the World of Stardom title and it's on https://t.co/q8dHnF58vW now! pic.twitter.com/rNrZNQKe7A

— We Are Stardom (@we_are_stardom) October 26, 2018
Rating: Eric Bischoff and a quarter
Wonder of Stardom Title Match
Momo Watanabe (c) vs. Mayu Iwatani
Review: It's now time for our main event as we have Icon vs Ace for the Wonder of Stardom Championship. The last time Mayu and Momo fought was at the Five Star Grand Prix, it would end in a time limit draw but Mayu still came out the winner due to having more points and even went to win the whole thing while Momo won nothing. Momo also had a title for title match against Kagetsu and had her chance to win the World of Stardom Championship but she would again fail due to a double knockout. After that match though, she would call out Mayu to challenge her to a match with her title on the line to fix her mistake by not beating her. Will the Icon win the belt and have another double title match against Kagetsu or will our future Ace finally get a big win?
Soon as the bell rang, the two would Dropkick each other right away and got up to go blow for blow with each other to show how much the match meant to them and the match is considered a big deal by many, especially Momo. This was a much better match to close the show with these two since they gave us a pure wrestling match with an important story next to it. Momo's progression with the title from May to now has shown how much of a big player she has been in these past few months climbing up to the ranks, stepping up against some of their best women, and having the look of an ace of a company. Mayu has also shown that she's still the last big icon of Stardom with Io Shirai and Kairi Sane (Hojo) gone from the company and the only one holding onto the boat along with Kagetsu.
The two of them worked very well together in the ring and while if we're going by in-ring quality, then their encounter at the Grand Prix was better but this one was better in a story standpoint while still giving us a great match. This was more of a test to Momo Watanabe to see if she is worthy of having the title as the new ace since she defeated Io Shirai and while she tied against Mayu and Kagetsu, she has a second chance against Mayu to solidify herself in that top position and even stay there also. Mayu was throwing everything she had at Momo with her kicks, dirty tactic with the Paradise Lock after countering Momo's Package Driver as she held the bottom rope with Natsumi distracting the referee. Momo looked to be out of it as Mayu looks to finisher her with her Dragon Suplex Hold and she connected it to show we could have a new champion, but Momo barely kicked out of it! Mayu would go for it again but Momo countered out of it to hit two Somato's off the top rope, a Package Driver, and she picked Mayu up for a Half-and-Half Suplex and instead of going for the pin, Momo rolled her up to hit the Peach Sunrise which is what she calls the move now instead of Tequila Sunrise as Mayu still kicked out! Momo didn't leave Mayu with any breathing room as she quickly picked her back up for another Peach Sunrise and she hits it to get the win, Momo retains!
After the match, Momo talked about how she won her seventh main event here at the Korakuen Hall this year and how she and Utami will also win the Tag League. Momo would tell Mayu that she is stubborn but Mayu would take the microphone to tell her that she did lose the match, but Mayu Iwatani is still immortal and her new goal is to take that belt away from her. Arisa Hoshiki came out to take the microphone now and announced that she'll be wrestling again on November 23rd for her return match and called out Momo, telling her that her kicks are weak while she has Brazilian kicks. Momo didn't look impressed with her and said that she'll see her on November 23rd and it looks like we got our first match announced, wonder if it'll be for the title.
Now on https://t.co/q8dHnF58vW ! Momo Watanabe defends the Wonder of Stardom title versus the Stardom Icon, Mayu Iwatani! pic.twitter.com/QrtVxLtTh3

— We Are Stardom (@we_are_stardom) October 26, 2018
Rating: Bruce Prichard and a quarter
As a valued member of Prime Minister Kagetsu's cabinet, @SMR_sptmber_luv has taken an interest in the nutrition of @doranyanpa, @0929_hazuki and @mothfromdaflats. #StardomWorld #スターダム

➡️ https://t.co/jniqaHpQ5A pic.twitter.com/42CUBif5q9

— TDE Wrestling (@totaldivaseps) October 25, 2018
Overall: This show was solid for the most part, but the majority of it was either weak or borderline average aside from the main event and they all can't be winners. Have a feeling the November 23rd show will give us a stacked card with one match announced so far. Keep an eye out for it.
Favorite Match: Momo Watanabe vs. Mayu Iwatani
Least Favorite Match: Hanan & Leo Onozaki vs. Kaori Yoneyama & Ruaka
Score: 7/10
Mitchell's WWE 205 Live Results & Report! (1/22/19)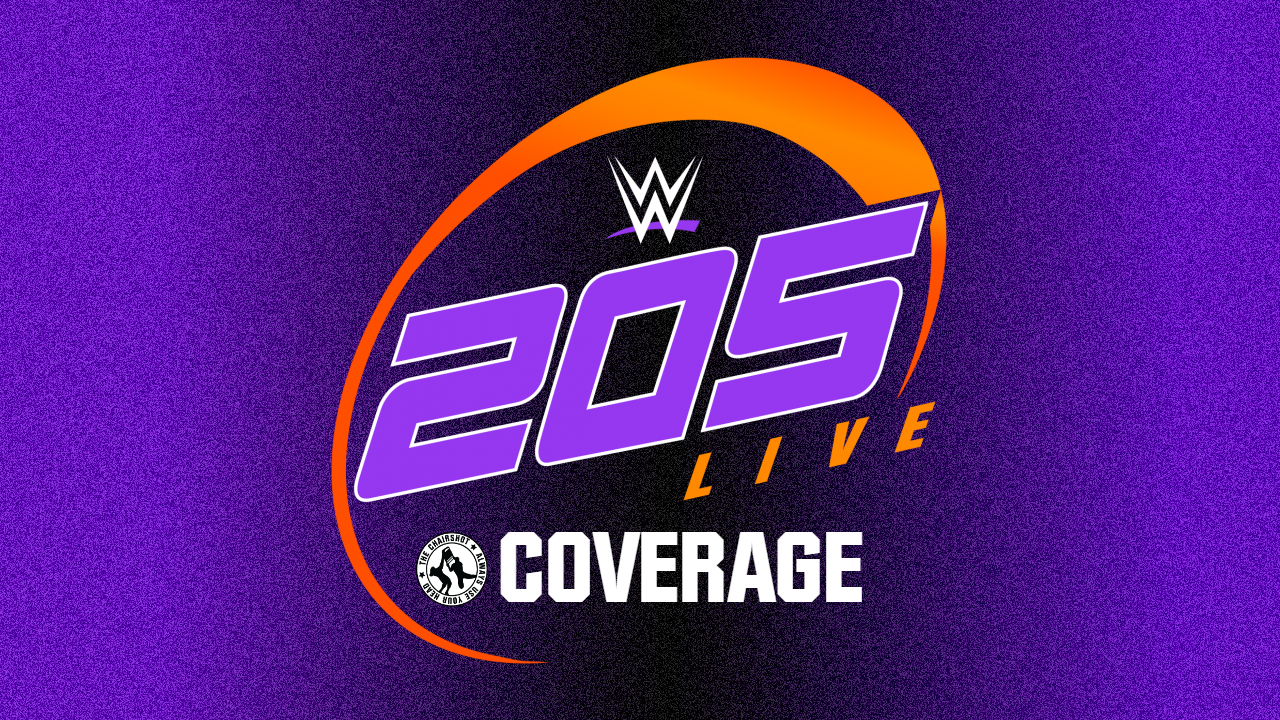 The three challengers to the Cruiserweight Championship will challenge each other in a Triple Threat! Who proves they're Buddy Murphy's biggest threat?
OFFICIAL RESULTS
Humberto Carrillo VS Gran Metalik; Carrillo wins.
Triple Threat: Kalisto VS Hideo Itami VS Akira Tozawa; Itami wins.
PLAY BY PLAY
Drake Maverick hypes up the already exciting night for 205 Live!
It will be one of the most intriguing line-ups with some major implications towards the Cruiserweight Division's future! First, Humberto Carrillo is officially part of 205 Live and has his second match on air against Lucha House Party's King of the Ropes! Humberto showed heart against the Juggernaut, Buddy Murphy, can he show even more against Gran Metalik? Then the Triple Threat main event pits Akira Tozawa, Hideo Itami and Kalisto against each other in one last match before the Cruiserweight Championship match! Who seizes a big advantage going into the title match?
Aiden English joins commentary!
The SmackDown superstar and symphony singer shifts gears to be alongside Nigel McGuinness and Vic Joseph on the fastest hour of WWE!
Humberto Carrillo VS Gran Metalik!
The man formerly known as Ultimo Ninja has been making quite the waves in NXT and even in his 205 Live debut last week. Humberto didn't win against the Juggernaut, but he did impress everyone enough to earn his Cruiserweight contract! Will he have a better time against the King of the Ropes? Or will he go a quick 0-2?
The bell rings and Humberto shakes hands with Metalik to show respect. Fans like that, and applaud as the two tie up. Metalik gets a waistlock, but Humberto works his way out to a wristlock. Humberto wrenches but Metalik rolls and reverses. Metalik wrenches but Humberto handsprings and reverses back to a headlock. Fans applaud while Metalik powers out. Things speed up and Humberto shows his agility! He dodges the handspring but Metalik headscissors, only for Humberto to handspring through! They both dropkick but those cancel out, and fans applaud the stalemate. Fans chant "Lucha! Lucha!" as the two go again.
Metalik dodges Humberto to chop him and whip him. Humberto goes up and over and shows off more, then gets Metalik with an arm-drag. Humberto chops and goes acrobatic for an arm-drag! Metalik bails out but Humberto builds speed to FLY! Direct hit takes Metalik down and Humberto lands on his feet! Humberto drags Metalik up and into the ring, then covers, TWO! Humberto keeps on Metalik with a grounded wristlock, then brings Metalik up for a facelock. He suplexes Metalik down and floats to a cover, TWO! Humberto keeps his cool as he drags Metalik back up. He scoops and slams Metalik to a drop zone, then climbs up top. Fans fire up as Humberto moonsaults, but he gets boots! Metalik gets up and runs to Sling-Dog Humberto down! Cover, TWO! Metalik keeps his cool as he drags Humberto up.
Metalik puts Humberto in a corner, CHOPS him, then whips corner to corner. Humberto reverses but Metalik walks the ropes to missile dropkick! Cover, TWO! Metalik is surprised but focused as he wraps on a chinlock. Humberto endures as fans slowly build to a rally. Humberto feeds off the energy and fights out, but Metalik throws him back down. Metalik puts the chinlock back on, but Humberto endures again. Metalik brings Humberto up in the fireman's carry but Humberto fights out. Hands start flying, then both men duck kicks, but Humberto comes back with an enziguri! Humberto covers, TWO! Metalik rolls to ropes while Humberto grits his teeth. Humberto hurries after Metalik and both men end up on the apron. Humberto brings Metalik up but Metalik boots him back. Metalik brings Humberto in but Humberto boots him.
Fans rally up as Metalik tosses Humberto over the corner. Humberto hits Metalik back then climbs up top. Humberlto hits Metalik with a SUPER Bulldog to the apron! It was a bit double-edged as Humberto hits the floor, but he forces himself back up. Humberto goes up top again as Metalik slowly stands. Humberto leaps for a big crossbody! Cover, TWO! Metalik survives and Humberto grows frustrated. Humberto and Metalik go to oppsite corners, and Humberto runs in. Metalik dodges but Humberto tumbles to the apron. Humberto SLAPS Metalik away, but Metalik comes back with a SUPER HURICANRANA! Both men crash and burn to the floor but fans fire up! The referee checks on them both but they're somehow okay.
Metalik sits up first and fires up with more "Lucha! Lucha!" Fans echo it as he puts Humberto in the ring. Metalik climbs and springboards, Swanton! Cover, TWO!! Humberto survives and now Metalik is shocked. Metalik refocuses and waits for Humberto to stand. He drags Humberto up and onto the top rope, then CHOPS him for good measure. Metalik positions Humberto and climbs up to throw forearms. He even SLAPS Humberto to see what the young star has. Metalik prepares but Humberto resists. Humberto fights back and shoves Metalik. Metalik lands on his feet but runs into a boot. Humberto adjusts, leaps, and hits a missile dropkick! Humberto doesn't cover, he headstands and rebounds for an Aztec Press! Cover, Humberto wins!!
Winner: Humberto Carrillo, by pinfall
A huge victory over a 205 Live staple! And Metalik gives him the show of respect he earned. Humberto breaks even at 1-1, but will this first victory be the first of many?
Drake Maverick meets with Drew Gulak and Jack Gallagher.
Clearly the ground game lobbyists of the Submission Commission are upset that a high-flyer was the first new Cruiserweight signed. But look at how impressive Humberto Carrillo is! Gulak and Gallagher have no words. They storm off but Tony Nese enters and wants a word with the GM. Nese wants a rematch with Noam Dar tonight. Well yes they are tied, and the fans would love seeing that tiebreaker. Maverick will consider it. Consider it? Well yes, he can't just jump into it. The Rumble is Sunday, the title could change hands– Nese doesn't care about any of that. Just consider what will happen if Nese doesn't get his match. Dar has been running his mouth and Nese is tired of it. If Nese doesn't get the match, then he'll make his own opportunity. The Premier Athlete has sent his ultimatum, will Maverick take it seriously?
Akira Tozawa and THE Brian Kendrick speak.
Tozawa says that he's "had some good times and bad times on 205 Live." But the past doesn't matter, this opportunity is huge. Tozawa didn't travel around the world to be a joke, he came to the WWE to make a name for himself. He will become the two-time Cruiserweight Champion. But can he be the top contender after tonight's Triple Threat?
The Lucha House Party speak.
Lince Dorado knows that 2019 will be a big year for the trio. They're on both Raw and 205 Live, and they spared the joy of lucha libre to the WWE Universe. But the one thing that they're missing and will take them to the next level is that Cruiserweight Championship! If one of them wins, they all win! And Kalisto is going to show all the others in that Fatal 4 Way that he IS a threat. Kalisto vows to be that two-time Cruiserweight Champion, with the power of "Lucha! Lucha!" But can speed kill when there are multiple opponents?
Triple Threat: Kalisto VS Hideo Itami VS Akira Tozawa!
The Lucha Dragon may have his amigos, the Innovator of the GTS may have his hype man, and the Stamina Monster may have the Man with a Plan, but who will have the momentum going into the title match this Sunday?
Before Hideo Itami makes his entrance, he and Ariya Daivari have an interview backstage. What would it mean to finally become Cruiserweight Champion? Daivari speaks for Itami, saying that as the only man who has not held that title, it makes Itami the hungriest and most dangerous superstar. The only thing missing from his already legendary career is WWE gold, so Itami will make an example out of his opponents tonight. Itami speaks in Japanese to say that he is coming for the Cruiserweight Championship by any means necessary. Itami makes his entrance, and we begin this match!
But wait, Buddy Murphy makes his presence known! The champion reminds his contenders what they're fighting for while also keeping an eye on all three of them. And as a bonus, he joins commentary! The bell rings and Itami goes right at Kalisto and Tozawa! Murphy already knows commentary will talk about how a Fatal 4 Way means he could lose the title without being pinned, but that won't matter because he's not losing. In the ring, Itami keeps on Tozawa and throws him out. Itami then goes after Kalisto with haymakers and a whip. Kalisto kicks Itami back then runs to tilt-o-whirl haedscissors! He adds a dropkick, then chops Itami before going acrobatic for the arm-drag! Itami bails out but Tozawa returns, and Tozawa hits Kalisto with a missile dropkick! Kalisto bails out but Tozawa builds speed to DIVE! The Tozawa Torpedo blasts Kalisto into the announce desk!
Tozawa and Murphy stare down, but Itami knocks Tozawa into the desk now! Itami and Murphy stare down for a moment before Itami drags Tozawa up and throws him into barriers. Itami stomps Kalisto thenn puts him into the steel steps! Murphy is confident this won't happen to him in the match. Itami kicks away on Tozawa then puts him in the ring. Cover, TWO! Itami keeps on Tozawa with a whip, then a kitchen sink knee! Cover, TWO! Tozawa shows his toughness but Itami kicks him in the back. Itami boots Kalisto out and then soaks up the heat. Itami goes to Tozawa but Tozawa hits him back. But Itami still puts Tozawa in a chinlock to grind him down. Tozawa endures and moves around to a ropebreak.
Itami lets him go but drops elbows right on the back. He stomps Tozawa then goes after Kalisto. Kalisto hits back but Itami rocks him with a European Uppercut and a swift boot! Fans respect that with applause, as does Murphy. Itami goes back to Tozawa and covers, TWO. Itami keeps on Tozawa with a chinlock but Tozawa again endures. Fans rally up and Tozawa feeds off the energy. Tozawa fights out but Itami knees low. Itami runs but into a huricanrana! Tozawa gets Itami with a saido suplex! Kalisto leaps in but into a dropkick! Tozawa quickly covers Kalisto, TWO! Now he covers Itami, TWO! Tozawa keeps his cool but both Kalisto and Itami go to the apron. Fans echo "AH! AH!" for Tozawa as he goes after Kalisto with a forearm. Tozawa builds speed again, but runs into Itami's lariat! Cover, but Kalisto breaks it in time!
All three men are down and Murphy is amused. Fans build to a rally as all three men slowly stir. Kalisto hits Tozawa, Tozawa chops Itami, and Itami hits Kalisto. Kalisto hits Tozawa again, Tozawa hits Itami again, and Itami hits Kalisto again. The rotation continues like this as the three men stand up. Kalisto hits Tozawa, Tozawa chops Itami, Itami kicks Kalisto. Kalisto CHOPS Tozawa, Tozawa CHOPS Itami, Itami kicks Kalisto! The rotation continues as Kalisto kicks Tozawa, but Tozawa fakes Itami out to hit Itami and Kalisto with jabs! Tozawa is the only one standing, and even Murphy applauds that. Fans chant "AH! AH!" for Tozawa as he runs at Itami. Itami boots him away then climbs up to tornado hotshot Tozawa down. Itami climbs up and makes sure Murphy is watching, but Kalisto kicks Itami!
Kalisto climbs with fans chanting "Lucha! Lucha!" Kalisto clubs away on Itami as they both stand. He wants the superplex but Itami resists. Tozawa adds on and helps Kalisto, but then Murphy joins in! This is a Triple Threat, so no disqualifications as Murphy helps make this a Tower of Doom!! The Juggernaut says this is just a preview of the Fatal 4 Way, but the referee still insists he leave. Murphy doesn't listen as he throws Itami into a corner to stomp a mudhole into him. He then goes after Kalisto with a heavy forearm, and then throws Tozawa into a corner for another mudhole. Fans duel but Murphy soaks it all up. Murphy goes after Kalisto again but Kalisto kicks him away. Murphy staggers into Tozawa's boot, then into double SUPERKICKS! Kalisto gives Murphy a Salida del Sol! And Tozawa adds his Tozawa Torpedo!
But then things return to the match as Kalisto knee-board sentons onto Tozawa! Kalisto drags himself back into the ring, and Itami boots him down! Itami drags Tozawa into the ring, stands him up, Falcon Arrow! Cover, TWO! Itami is furious but he won't let off Tozawa. He drags Tozawa up for a strike fest, but Tozawa dodges to give his own. The swinging roundhouse hits! But Kalisto springboards for a crossbody! Cover, TWO!! Everyone is down, but Tozawa crawls to a corner. Kalisto runs in at him for a kick to the stomach! Kalisto hauls Tozawa up top and rocks him with another kick. He climbs up to join Tozawa, prepares a superplex, but Itami attacks. Kalisto headbutts Itami then dumps him out hard. He kicks Tozawa again, climbs up again, and SUPER STEINERS! But Tozawa held on and Kalisto hits the floor!
Tozawa stands, leaps, SUPER SENTON! But Kalisto avoids it! Itami blasts Kalisto witht he dropkick, then hits Tozawa with the GTS Mk. II, aka the Sakura Knee! Cover, Itami wins!
Winner: Hideo Itami, by pinfall
If Murphy made this a preview of the Fatal 4 Way, then we just saw Itami survive them all and win! Will Murphy change things when it really is a Fatal 4 Way? Will Itami repeat this performance? Or will one of the former champions become champion again?
---
My Thoughts:
A solid go-home for 205 Live here, and Aiden English did great on commentary. Percy Watson was okay, but he does better on NXT because it's not live. And for whatever reason, there seemed to be more fans and more invested fans than last week. And that was fortunate, as Humberto Carrillo has another great match with Gran Metalik. Humberto wins now that he's officially part of the Cruiserweight Division, and also because it wouldn't be good for him to lose twice already. Metalik is safe in losing, it helps build Humberto up. I'm pretty sure Humberto is going up against Gulak & Gallagher soon enough, so that'll also be great for him. He's a great talent, so he'll get to the title soon enough, he just needs to build himself up in the eyes of live audiences.
Nese VS Dar 3 is coming, but with Nese making that threat, it'll probably be after he attacks Dar backstage. The tiebreaker blow-off should feed into a contenders scenario. If anything, including Nese and Dar in a bigger contenders match would be nice, too. Like a Triple Threat that throws in Cedric Alexander, who has history with both men, or a Fatal 4 Way to include Lio Rush because he needs his chance. Tonight's Triple Threat turning into an unofficial Fatal 4 Way was smart, too, as it keeps the three contenders relatively equal. Itami wins and could defy the math, but I wonder if this opens the door to a two-time champion in Kalisto or Tozawa. Kalisto implying Lucha House Party is like the New Day with Freebird-ing a singles title would be an interesting story to go with, but maybe that's why it won't be him.
My Score: 8.2/10
Mitchell's WWE SmackDown Live Results & Report! (1/22/19)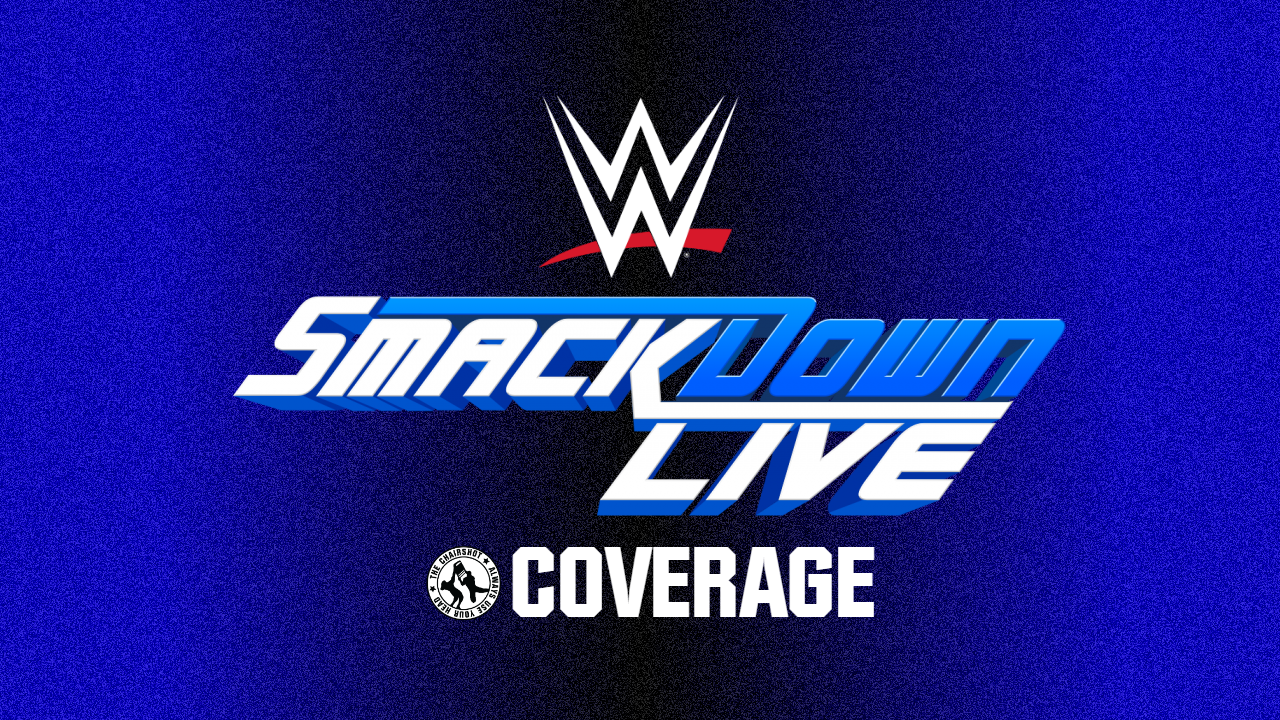 SmackDown prepares for the Royal Rumble in the biggest ways! Rey Mysterio VS Andrade Almas, 2 out of 3 Falls! Who gains momentum while breaking the tie?
OFFICIAL RESULTS
Naomi VS Mandy Rose w/ Sonya Deville; Rose wins.
The Miz w/ Shane McMahon VS Cesaro w/ Sheamus; Cesaro wins.
Mustafa Ali VS Samoa Joe; Joe wins.
Best 2 out of 3 Falls: Rey Mysterio VS Andrade Almas; Mysterio wins, by disqualification.
PLAY BY PLAY
The Man starts off SmackDown!
Becky Lynch prepares for her shot at the Empress of Tomorrow at the Royal Rumble PPV, but she's here in Wichita to say that there's nothing more than she likes than being in the ring fighting. But The Man has something to say first. It wasn't too long ago that no one paid attention to Becky. But now everyone has an opinion on who and what she should be. Becky will say this: the only thing The Man should be doing is main-eventing Wrestlemania! Fans agree with that! And she'll slap the heads off anyone and everyone who gets in her way. That journey starts on Sunday, against Asuka. Becky's watched Asuka clean out NXT, steamroll the main roster, and is undoubtedly one of the best. "But I'm better."
Becky reminds us that Asuka never beat Becky for the title. And the fact that isn't eating her up tells Becky something. The others have warmed themselves on the fire Becky lit, but things change at the Rumble. Becky has dethroned a Queen, and will break the Empress! Becky will walk through fire and brimstone- But speaking of the Empress, here comes Asuka! Asuka stands across the ring from Becky and holds up the belt. She tells Becky in Japanese that she's not intimidated by the talk. Fans duel as these two argue, but here comes Charlotte! The Queen is going to be in the Women's Rumble, but she has a mic to tell both Becky and Asuka tonight that "As much as I'm enjoying this, and excited for your match this Sunday", nothing will be better than her throwing out 29 other women to win the Rumble.
And then the choices she's got on her plate. Ronda VS Sasha, but Sasha's someone Charlotte's beaten so many times, and has beaten the Hell out of Ronda via "Ken" the kendo stick. Then Asuka VS Becky, Charlotte broke the Empress' Streak, and "The Man" may have gotten her the last few months, but Charlotte has owned the division for four years. And Charlotte IS the Main Event! Charlotte lets out a "WOO~" but Asuka fires off on Becky! A brawl goes down in the ring and Charlotte watches in amusement. Fans cheer but referees come out to break this fight up! Fans want to "Let Them Fight!" and they do fight, but security comes out to try their hand. It's no good, Becky gets after Asuka now! Asuka throws Becky into barriers then stomps away! The brawl continues, and Becky throws Asuka over the announce desk!
Referees and security reprimand Becky but she uses her own jacket to whiplash Asuka over and over! The Lass Kicker stands tall, to then clobber Asuka back down! Fans are thunderous as Becky finally backs off. Asuka gets up and is furious, but she'll have to wait for Sunday to settle things. With this level of fire inside both of them, which woman will blaze a trail down the Road to Wrestlemania?
The brawl continues backstage!
Asuka caught up to Becky and the fight again has to be pulled apart! Will these two even make it to Phoenix?!
Naomi VS Mandy Rose w/ Sonya Deville!
The Glow found out about the Golden Goddess trying to seduce and humiliate her husband, but she threw down in the hotel room. This fight finishes in the ring, will Naomi make Mandy #FeeltheGlow in the strongest way? Or will Mandy dim the lights instead?
Naomi doesn't wait for the bell! She charges through Sonya and gets right at Mandy on the ramp! She throws Mandy into the apron then into the ring. Naomi wants to keep going, but Mandy SLAPS her! The bell rings and now things are official as Naomi fires off slaps of her own! She tops it off with a backhand and Mandy rolls out. Mandy regroups with Sonya while we go picture in picture. Sonya helps Mandy catch her breath and Mandy returns. Naomi is right on Mandy but Mandy puts Naomi in the corner. Mandy stomps a mudhole then backs off at the count of 4. Naomi gets up and SLAPS Mandy! Naomi snapmares and runs for the sliding lariat! Leg drop cover, TWO! Naomi keeps on Mandy with an armlock while Mandy checks her nose.
Naomi wrenches and Mandy endures. But Naomi rubs Mandy's face into the mat, then pulls her hair before stomping her back down. Mandy checks her nose again as Naomi scoops and slams her. Naomi runs and drops the splits! Cover, TWO! But Naomi doesn't let up, she's right back on Mandy with a facelock. They stand up and Naomi whips. Mandy reverses but Naomi slides and shoulders back in. Sonya runs in but gets a kick, Mandy blasts Naomi with a knee! Mandy drags Naomi up and in and covers, TWO! Mandy keeps on Naomi with a rain of right hands! She drags Naomi up for a thrashing chinlock, but now Naomi endures. Naomi fights her way up but Mandy reels her in. Naomi dodges and rolls Mandy up, TWO! Jawbreaker as we return to single picture!
Naomi roundhouses Mandy, then runs for lariats and elbows! Mandy clotheslines Naomi back down then covers, TWO! Mandy glares at Naomi as she stomps her back down. She kicks Naomi to the ropes then chokes her against them. Mandy lets up at 4 while fans boo and jeer. Mandy drags Naomi up for forearms in a corner, but backs off at 4 again. Naomi boots back, and hits the enziguri! She kicks Mandy while she's down, then stands her up for forearms of her own! Mandy shoves Naomi away, but Naomi come back to hit a huricanrana! Mandy staggers about and Naomi runs, but is put on the apron. Naomi hits Mandy away, but Sonya anchors feet. Mandy takes advantage by shoving Naomi into the post! Cover, Mandy wins!
Winner: Mandy Rose, by pinfall
The duo formerly known as Absolution works together for victory! However, the Royal Rumble is always every superstar for themselves. Will Sonya be willing to help Mandy then? Will Mandy go into business for herself? Or will Naomi get back at both of them with an elimination?
Rey Mysterio speaks.
"2006, I was in the Royal Rumble match for over an hour." He used every trick he had to survive. His speed got the better of bigger competitors. His training gave him the stamina to never slow down. And his will to keep fighting shocked the world. This Sunday, Rey looks to repeat history. But tonight is about respect as he faces Andrade Almas again. Almas took a shortcut to win, but now he won't have La Muneca ringside. The playing field is even, and Almas will learn that in order to gain respect, he has to earn it. Who will earn massive momentum towards this year's Royal Rumble match?
The Miz meets with Shane McMahon.
Is he ready? He's ready. The Most Must-See Superstar takes on the Swiss Cyborg up next!
The Miz w/ Shane McMahon VS Cesaro w/ Sheamus!
The #BestTagTeamintheWorld challenges The Bar for the SmackDown Tag Team Championships on Sunday, and the Hollywood A-Lister looks for a singles sweep leading into it! He got the better of the Celtic Gladiator on Shane O'Mac's birthday, and Shane even got to give Sheamus a Coast2Cake dropkick. Can Miz gain his team more momentum tonight? Or will Cesaro save the champs from going 0-2 against 1/3rd Best in the World?
The bell rings and Sheamus distracts right away so Cesaro can blast Miz with big European Uppercuts! Cesaro does not let up on the EuroUppers until the ref counts 4! Cesaro then deadlift gut wrenches and tosses Miz! The Swiss Cyborg taunts Shane then drags Miz up for a headlock. Miz powers out and things speed up, but Miz gets caught into a backbreaker! Cover, TWO! Cesaro keeps on Miz with a whip but Miz reverses. Miz runs, blocks the boot and kicks the leg against the ropes! Miz backs off, but runs back into another EuroUpper. Cesasro dumps Miz but Miz sunset flips to the Figure Four! Miz has Cesaro in the legendary leg lock but he heads for the ropes. Sheamus helps Cesaro get the ropebreak, then helps him escape the ring.
Miz goes for the wrecking ball dropkick, but gets another EuroUpper for it! The Bar is fired up but Shane keeps Sheamus in check while we go to break.
SmackDown returns and Miz fights out of a headlock. Cesaro throws hands but Miz counter punches! Miz backs Cesaro down with rights and lefts, then kicks! Miz goes corner to corner for a dropkick! He keeps going and hits another dropkick! Miz wants a hat trick, and hits the A-List lariat! Fans fire up and Shane applauds while Sheamus panics. Miz climbs up but leaps into another EuroUpper! Cesaro has feet on the ropes but Shane stops that! Sheamus come around and runs Shane over! Miz rolls Cesaro, TWO! Cesaro swings but into a full nelson. He elbows out of the Finale and puts Miz on the ropes. Cesaro chokes, Sheamus gets a cheap shot! Gotch Neutralizer!! Cover, Cesaro wins!
Winner: Cesaro, by pinfall
But Shane comes back with a vengeance on Sheamus! Cesaro goes after Shane but gets those same fast hands! Shane shoves Cesaro into a post, then clocks him again! Fans are riled up for Shane as he clears off the announce desk! Shane puts Cesaro on top then climbs up high. Fans are anticipating Shane's trademark madness, but Sheamus shoves Shane down at the barriers! Sheamus drags Miz up to throw him into a post, then The Bar mugs Shane! Cesaro feeds Shane to a BROGUE!! Fans boo and jeer as The Bar stomp away on Shane, but Miz shields Shane with his body. Miz gets clubbing hands and then dragged over to the table.
Cesaro scares off the referee while Sheamus drags Shane up. The Bar work together, to body slam Shane through Miz and the table!! Fans lose their minds over this, but does this mean Shane & Miz will lose out on those titles?
Mustafa Ali speaks.
The Beacon of Light was meant to face the Destroyer in a match last week, but the Destroyer decided to destroy Ali before the bell ever rang! Joe left Ali for dead, but Ali being a former Chicago police officer, he doesn't back down so easily. Ali learned that eyes tell the whole story. Joe gave Ali a beating and kept asking "Do you understand?!"
Ali understands, but it wasn't the punching and post tosses that told him. It was Joe's eyes. And those eyes said Ali wasn't worthy. Those eyes said Ali was just an example being made. Those eyes said Ali was nothing in Joe's eyes. But now Joe will have to look into Ali's eyes and see a man with no fear. It will be a light so bright the darkness has nowhere to hide. Ali's eyes say he can win. But will his body back up what his eyes are saying?
Vince McMahon sees what happened to his son.
He watches backstage as referees and medics help Shane and Miz get up. Somehow Shane and Miz are okay after what The Bar did, but Vince can't worry about them right now. He has to keep the peace between Daniel Bryan and AJ Styles in their face-to-face encounter, next!
Vince McMahon heads to the ring!
Wichita greets The Chairman with an ovation as he enters. He'll hold his thoughts to himself about what just happened to Shane, but he's sure that tag title match will be incredible. And that brings him to the two most passionate and athletic superstars on SmackDown having their own title match on Sunday. First, the challenger and former champion, The Phenomenal AJ Styles! Styles makes his entrance, and fans give him an ovation. Then, the champion himself, "The New" Daniel Bryan! Fans boo this time for the man who killed the Yes Movement.
But Bryan doesn't stand in the ring, despite this being a "face-to-face." Bryan claims this is a trap, and refuses to step into a ring with the "sociopath", the same man who slammed Bryan into a bunch of "animal carcasses" last week. Bryan's too embarrassed to stand in the same ring as a man who pandered to the people. He had a vision of the future of AJ Styles once again being WWE Champion. It is an ignorant future, an impotent future and an illiterate future! AJ Styles cannot be allowed to have the title, because he uses it for fame and fortune. Bryan uses it for the "greater good"! Greater good? Is that "Greater good" Bryan acting like a jackass?
This behavior is why the fans want Styles to be their champion. He makes them laugh and cheer and jump around, but he doesn't make them think or feel guilty when they should feel guilty every day of their lives! Bryan doesn't care about their feelings, because he's not the "People's Champion", he's the Planet's Champion! The planet doesn't need Styles, it needs Bryan to use this platform to be its voice. If the planet had a voice, it'd be shouting for Bryan to shut up. Styles doesn't remember Bryan pedaling a bike here. He probably got on a plane to get here. There's a word for that: fickle. Fans echo "Fickle!" at Bryan. And Bryan talks of being embarrassed? That's not the feeling. It's fear.
Styles stood across from many men and has seen that look in their eyes, too. Bryan is afraid of what will happen at the Royal Rumble. Bryan should be afraid. He's corrupted himself just to have the title. But what happens when he no longer has that title? What will Bryan have left? "Nothing." Bryan quotes Carl Sagan, but Vince insists he get in the ring. Fans say "YES! YES!" but Bryan knows Vince obviously doesn't want to listen. The Baby Boomers are the greatest parasites of this world! These fans bow down to Vince, but they don't realize that Vince's entire generation just takes and takes but never gives back! They BOW to Vince for it! It's like Vince just pulled this incredible illusion to conceal the economic debt, but fans are satisfied with social media garbage.
Meanwhile, Vince hordes the wealth and power! Vince has created such an environment where someone like Styles can be a hero! Damn it, Bryan, get in the ring! Styles knows Vince advertised a face-to-face, but that doesn't mean it has to be in a ring. Styles chases Bryan on the outside! And catches him! Styles throws haymakers then throws Bryan into barriers! Bryan scampers away but Styles keeps on him, throwing him into steel steps! Styles puts Bryan in the ring, takes aim, and springboards, but Bryan uses Vince as a shield! Styles aborts but gets the Knee Plus for it! Fans boo as Bryan takes the belt and retreats. The New Daniel Bryan won't have anywhere to run at the Rumble, will the real AJ Styles get that belt back?
R-Truth and Carmella talk about their respective Royal Rumble matches.
Truth is excited to be Mr. 30 and book his trip to face the Phenomenal AJ Styles or the New Daniel Bryan at Wrestlemania. So not the Universal Champion Brock Lesnar? Brock Lesnar's champion? No, Truth does not want to go to Sioux Falls City. No it's Suplex City. Same thing. But Truth wouldn't mind trying the Cruiserweight Champion, Bobby Murphy. No it's Buddy Murphy. And there's a weight limit to that Division, Truth. Oh so he's fat? No he's just not 205! As for Carmella, she encounters Charlotte. Charlotte thinks she's just going to waltz her way into the Rumble and Mania? She wasn't even in last year's. This isn't' just any match, it's a tornado. You gotta keep a head on the swivel and hold onto the ropes. Plus, Carmella's Ms. 30, the #GatekeeperinGucci. No one gets through her.
Charlotte tells Carmella it's fine to be confident. Being 30th is an advantage, but Charlotte is Charlotte. And with a trip to Mania on the line, the match isn't a tornado, Charlotte is. Who will survive their respective Rumble matches to headline the Greatest Show in Sports Entertainment?
Mustafa Ali VS Samoa Joe!
The Beacon of Light said his peace, but The Destroyer's expression says it all for him on his way out. This match will finally happen, who will send the biggest message this close to the Royal Rumble?
SmackDown returns as Ali makes his entrance. The bell rings and the two circle. Ali and Joe approach and Joe throws those swift jabs! Joe stomps Ali in the corner, then grinds his boot in. He scrapes Ali out of the ring, then pursues while trash talking. Joe stand Ali for a CHOP, and Ali staggers to the ramp. Joe drags Ali up and says Ali still doesn't understand. He throws Ali at the post but Ali hops up to fly back for a crossbody! Ali keeps on Joe with fast hands, and both men get in the ring. Ali dropkicks Joe down, then throws haymakers! The ref counts and backs Ali off, but Joe CHOPS Ali off his feet! Joe drags Ali up and headbutts him back down.
Joe drags Ali up by his hair to then throw into buckles. He runs but misses, Ali forearms him away! Ali slingshots but into throat chops! Ali crashes and burns, we go picture in picture. Joe leaves Ali down and out while a ring count climbs. But Joe then goes out to fetch Ali with a grin, and drags him up for roundhouses. Joe paces around Ali like a shark with blood in the water before putting Ali back in. He rains down rights and stomps on Ali, still smirking. He sits Ali up into an arm surfboard and digs a knee into Ali's back. Ali endures and powers up to fight out! He runs, but into Joe's elbow! Joe glares down at the dazed Ali before covering, TWO! Ali lives but Joe is just annoyed. Joe drives his elbow into Ali's head, then looms over him menacingly.
Joe puts Ali in a corner and gives more jabs and elbows. He stops at 4, but Ali crawls after Joe. Joe says Ali asked for this, and throws hands, but Ali counter punches! Ali backs Joe down then whips, but Joe reverses. Joe runs in for the back elbow and Pele! Ali goes down, Joe covers, TWO! Joe grows further annoyed, but he just smirks as he looks down at Ali. He drags Ali up for a neck wrench, but Ali endures again. Fans rally up and Ali powers up. Ali fights back but Joe knees low and backs Ali down. Joe whips corner to corner but Ali slips out to hit back. Ali slingshots for the facebuster! But he's too tired to cover! Fans rally up as the ref counts. Both men stir and stand.
Ali ducks the punch to dropkick Joe back! And another dropkick sends Joe out. Ali builds speed to DIVE! Direct hit! Joe staggers but Ali pursues, but Joe puts him in the timekeeper's area. Ali returns with a leaping crossbody! He tackles Joe down and rains down rights! Ali drags Joe up but Joe shoves him into the ring. Joe returns but Ali kicks and SUPERKICKS, and SUPERKICKS again! Joe staggers, Ali leaps, tornado DDT! Cover, TWO! Ali can't believe Joe lives, but he doesn't' give up. He drags Joe over to a drop zone and climbs up. Joe trips Ali up, then drags him into the Coquina Clutch! Ali flails but Joe drops down with the body scissors! Ali taps, Joe wins!
Winner: Samoa Joe, by submission
But Joe won't let go until Ali falls asleep! Joe sends his message to Ali and the other 28 superstars entering the Men's Rumble. Will Joe destroy the entire field? Or will there be a shining light in his way?
The New Day do Royal Rumble research.
They watch the many saves of Kofi Kingston's career. Kayla Braxton comes in to ask them about The New Day going every man for himself. Everyone asks this question! Tom Phillips, Renee Young, Mike Rome, now Kayla? Is Tony Chimel gonna ask next? He does! Chimel, be gone! Be gone, Chimel! "Every man for himself", but that doesn't matter to The New Day. When one of them wins, they all win! Now, they'll dog walk erryone, but Kofi wonders if this is the year he can't save himself. Woods and Big E keep Kofi's chin up, and Kofi gets an idea. He has a new idea! But he's not telling you, Kayla. Kayla, no no no. What will Kofi do to keep himself in the Rumble this time? Will this finally be the year he actually wins?
Best 2 out of 3 Falls: Rey Mysterio VS Andrade Almas!
The King of Lucha Libre and El Idolo have gone back and forth, and now they'll settle things in the main event before the Royal Rumble! Without Zelina Vega, can Almas stay tranquilo? Or will Mysterio show Cien how it's done?
The bell rings and we begin the first fall. Almas and Mysterio approach and Almas fires of kicks and punches. He whips and elbows Mysterio down, then drags Mysterio up for a shove. Mysterio kicks back then runs again, but into a torture rack. Almas swings but Mysterio makes it an arm-drag! Mysterio aims at Almas on the outside for a flying huricanrana! Almas is down and we go to break!
SmackDown returns again, and Almas looms over Mysterio. Almas whips but Mysterio reverses, only to be put on the apron. Mysterio shoulders in then swing kicks Almas away. Almas is dazed while Mysterio catches his breath. Mystiero springboards for the seated senton! He keeps moving to springboard again but into a dropkick! Cover, TWO! Almas keeps his cool as he drags Mysterio back up. Almas hammerlocks but Mysterio slips out to sunset flip DESTROYER! Cover, TWO! Mysterio keeps calm and heads to a corner. He hops up as Almas crawls over, flying wheelbarrow to victory roll, but Almas counters! TWO, and Almas puts Mysterio on the top rope. Mysterio adjusts but Almas trips him up! Almas climbs now, but Mysterio trips him up!
Mysterio goes to the outside, CHOPS Almas, then climbs up to join him. Almas fights Mysterio then gets a fireman's carry. Mysterio stops Almas, then adjusts to SUPER- No, the Steiner is blocked to a SUPER SIT-OUT POWERBOMB!! Cover, Almas gets the first fall!
Almas – 1; Mysterio – 0
But this is just the first! The second fall begins, but both men have already given so much. Fans know "This is Awesome!" as both men catch their breath. Almas stands while Mysterio leans on the ropes. The ref gives the signal, and Almas kicks Mysterio. Powerbomb lift, rebound, another sit-out! Cover, TWO!! Mysterio survives this bomb, but Almas just fires himself up. Almas drags Mysterio up for another bomb, but Mysterio pops through for another DESTROYER!! Cover, Mysterio gets the second fall!
Almas – 1; Mysterio – 1
Things are tied up faster than a hiccup, and now it all comes down to this third and final fall! Both men are down and catching their breath, so we go to one last break.
SmackDown returns once more, and Mysterio dodges Almas in the corner! Almas crashes and burns from corner to floor! Mysterio recovers in the ring while Almas is down and out. Mysterio takes aim, builds up speed, and slides, but into the facelock! Almas drags Mysterio out but Mysterio shoves him into barriers. Mysterio adds an enziguri, but the 10 count climbs. Mysterio returns to the ring at 6, but he's not gonna leave Almas alone. Sliding sunset bomb into the barriers! Mysterio drags himself away from Almas and gets himself some water. Fans are loving this as Mysterio returns to Almas. He puts Almas in the ring then takes aim from the apron. Fans fire up as he springboards, West Coast Pop! Cover, TWO!! Almas lives but both he and Mysterio are exhausted.
Fans rally up with chants of "619!", and Mysterio goes to Almas at the apron. Almas drags Mysterio into the draping armbar! Almas lets go at 4, and fans boo as Almas fires himself up. He goes after Mysterio, and throws him into buckles hard. Almas soaks up the heat, and even shimmies like Latino Heat, as he drags Mysterio up. He throws Mysterio at the corner again but Mysteiro stops himself. Mysterio puts Almas on the apron but Almas forearms him back. Almas shoulders in but into Mysterio's knee. Mysteiro slingshots for another sunset flip powerbomb, but Almas back flips through! Mysterio rolls up but into a bomb to the post! ALmas puts Mysterio in fast, drags him up, hammerlock DDT! Cover, ROPEBREAK!! Mysterio survives and Almas cannot believe it! Almas grits his teeth while fans rally for Mysterio again.
Almas goes after Mysterio's arm with a Fujiwara! Mysterio endures and rolls around, but Almas holds on. Almas brings Mysterio back down but Mysterio refuses to quit. Mysterio drags himself over but Almas drags him away! Almas adds leverage with his legs but fans cheer Mysterio on. Mysterio keeps moving, rolls through, but Almas pushes for a cover. ONE, and Mysterio springs up to the ropes. But Almas trips him up, only for Mysterio to make it a roll up! TWO, and Almas quickly puts Mysterio up on his shoulders. Mysterio hits a reverse-rana! He crawls to a cover, TWO! Both men are exhausted, but Mysterio forces himself back tot he apron. Springboard huricanrana puts Almas on the ropes! Mysterio dials it up, 619 connects! But wait, Samoa Joe!? He apron bombs Mysterio!!
Winners: Rey Mysterio, by disqualification
Mysterio gets the second fall but not the way anyone wanted! But Joe isn't just after him, he goes right after Almas, too! He throws Almas right into the post, then goes back to Mysterio on the outside. Joe puts Mysterio in the ring, and drags him into the Coquina! Mysterio can't tap, he's got nothing left! Joe lets Mysterio go and demands a microphone. "I told you people I came here to make a statement!" And what he just did is exactly what he'll do to 24 other Rumble entrants. "Because my name is Samoa Joe"– RKO OUTTA NOWHERE!! The Viper returns after being gone for weeks! Randy Orton is another of the Rumble participants, is he going to be the one in Joe's way?
---
My Thoughts:
What a great SmackDown go-home! We have another opening talk segment, but it was to great effect with Charlotte coming out to stake her claim, and then we get that awesome brawl. It was great to have the return from commercial have even more brawling, it really boosts the heat between Becky and Asuka. I've been talking about a Triple Threat at Mania, but it really is a shame if it'll be at the expense of Asuka. The title match will be great, but a part of me wouldn't mind if Asuka retained and Becky found a different way to go after Ronda. And with hyping Charlotte and Carmella for the Women's Rumble, I bet Charlotte wins after all to complete the Triple Threat.
Naomi VS Mandy was a surprisingly good match, but that recap package, I feel like this entire story has been about paralleling USA Network's original reality show, Temptation Island. Ugh. Things like this are why it'll be better for SmackDown to get on Fox. But as for this story, it's probably not over since Mandy and Sonya had to cheat. Naomi might find herself a tag team partner to go against them both, and even be part of the Women's Tag Team Championship Elimination Chamber match, and that will serve as the blow-off.
Vince McMahon's presence was better used here than on Raw. He helped the show transition from the great Miz VS Cesaro and subsequent beat down into the champion-challenger face-to-face. With the beating The Bar gave Miz and Shane, I'm really hoping Miz and Shane win the belts. It's not burying The Bar but pushing the Miz-Shane story further. I almost don't want them to fight each other now, Miz and Shane are doing pretty good together, but it might still happen. And then things can truly be freshened up in the SmackDown Tag Division so a team like SAnitY or Heavy Machinery can come into prominence. Then the Styles-Bryan face-to-face was good, with Bryan's newest Eco-Heel promo and Vince just not having any of it. Bryan gets away while standing tall, I wonder if that means Styles wins.
Ali VS Joe was good, but naturally Joe won. Ali is talented, and he had a great video promo a la his 205 Live promos, but he's just not at the level to defeat Joe yet. Mysterio VS Almas was incredible, but Joe attacking at the end was both awful and perfect. Mysterio VS Almas can't settle just yet, not on a go-home, and Joe makes himself a real threat for the Rumble. But wow, what a great way for Orton to return! RKO Outta Nowhere is classic and effective. I don't really want Orton to win the Rumble, but there were rumors of Orton VS Styles at Mania. Even if Rollins wins to give us Finn VS Rollins 2, Orton can still find a way through Elimination Chamber or Fastlane. It's not really the match I want, but it might be coming after all.
My Score: 8.5/10