Stardom True Fight 2018 Results & Review (10/23/2018)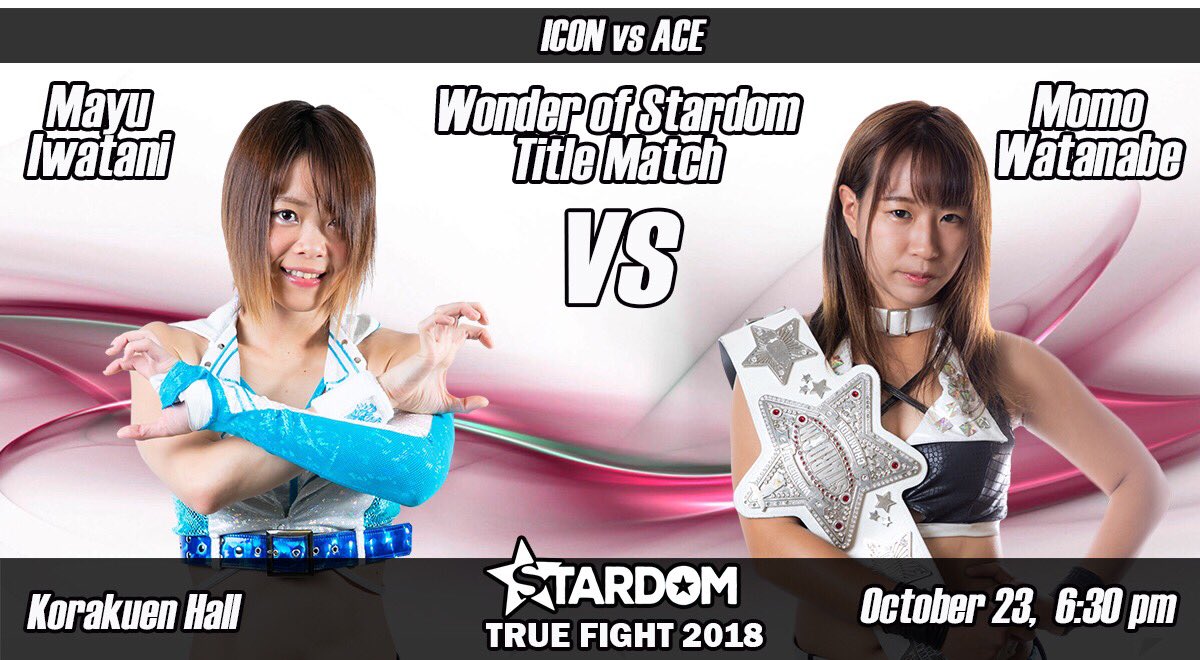 Welcome back to Stardom and I said this would be the next big show I would cover since I'm taking a break of them for their tag league, but there are two big matches on here that it needs to be talked about. We have two big titles matches with one being personal and the other one to prove themselves.
Let's see how things unfold here as we…dive right in.
Goddesses Of Stardom Tag League Blue Stars Match
Hanan & Leo Onozaki vs. Kaori Yoneyama & Ruaka
Review: I said I wasn't covering the Goddesses of Stardom Tag League, but there are two matches on here from the tournament and I'll just treat them like a regular tag match instead of tournament matches. Our first one is Hanan and Leo Onozaki teaming up to take on Kaori Yoneyama and Ruaka from JAN. Which of the two will win it?
Well now, it looks like Ruaka has changed up her gear a little bit too and hopefully, she gets actual improvement to go with it. Hanan and Leo surprisingly did pretty well together as a tag team and while it wasn't great, still good enough with the amount of experience they have here. Kaori did her best to help out the three in the ring to carry them over as best as she could, but Ruaka is still a hit or miss when it comes to her matches. The match was fairly basic with what they were working with but nothing too sloppy or bad either. Kaori hits Hanan in the back of the head with a knee while Ruaka tops it off with a Big Boot for a two count but she would quickly pick her up for a Fisherman Suplex and gets the win for her and Kaori.
Rating: Tony Schiavone
Leo's Cutter Counter: 1 (…..I quit)
Singles Match
Hazuki vs. Mary Apache
Review: We now have a singles match with Mary Apache making her return to Stardom after about six months as she takes on Oedo Tai Member, Hazuki. Mary and Hazuki are both partners of Hana Kimura and Kagetsu who have a match later on tonight, so it seems fitting to have these two face off in a one on one match also. Hazuki talked about how Mary is still the High-Speed Champion but considers her slow and is gonna show her what high speed is all about. Will Hazuki get the La Hazukistral in to win or will Mary put Hazuki in her place?
I love seeing Hazuki dressing up as Kagetsu and she's done this recently too after being paired off together, but she rocks the look well and even has the face paint for it too on the other side though. Mary had the early opening and even did a modified Mexican Surfboard when she pulled her head down like a chokehold, but Hazuki would eventually turn it around on her to take control for most of the match. Hazuki keeps on showing how good she is in the ring and how she can control a match as well. Hazuki would show Mary how she does high speed with how quick she was in the match doing move after move like a Hurricanrana, Springboard Dropkick, Crossface, etc. and seemed like she had everything under control.
Hazuki would have Mary up to hit a kick to her face but Mary would duck it and hit Hazuki with a stiff Superkick for a two count. Mary would get her up as Hazuki fought back for a moment to slam Mary down for a two count as she went for the Hazukistral, but went the wrong way with the twist till she corrected herself as Mary kicked out of it. Hazuki would run towards Mary as she got caught in a Michinoku Driver to get her down and Mary hits an Axe Kick along with a Michinoku Driver ll to pin Hazuki and get the victory. Very solid match showing the consistency of Hazuki while also showcasing Mary to let us know that she can still go. I wonder if Mary is considered a heel since she's teamed up with Hana Kimura, but it doesn't appear to be that way since she didn't do heel tactics and the crowd was still behind her. Wonder if there will be more shown down the road.
Hazuki battles Mary Apache at Korakuen Hall, and it's on https://t.co/q8dHnF58vW now! pic.twitter.com/ldqaXFgVcd

— We Are Stardom (@we_are_stardom) October 24, 2018
Rating: Eric Bischoff
Goddesses Of Stardom Tag League Red Stars Match
Jungle Kyona & Natsuko Tora vs. Natsu Sumire & Martina
Review: This is our last tag league match for the night as we go to the Red Stars now with our current Goddesses of Stardom Champions, Jungle Kyona and Natsuko Tora taking on two members of Oedo Tai, Natsu Sumire and…Session Moth Martina…great, she's back. So if you've been aware from my earlier coverages, she's someone I'm really not a big fan of and find her incredibly annoying with her gimmick. But hey, it's been about five months since I last saw her, so maybe things will be different now and she does have chemistry with Sumire but I hope it turns out okay. Kyona also brings up a good point that if you're gonna drink alcohol in the ring, don't spit it out since it's just a waste. More drinking! Will it be JAN or Oedo Tai winning?
After seeing how Martina is now from the last time I saw her, I think it's safe to say that I am still not a big fan of her BUT she did show a slight bit of improvement despite the botch near the end of the match, and I will say that Martina and Sumire do work really well together to be entertaining, to say the least. It wasn't a great match by any means but it was still entertaining for the most part with Sumire and Martina being comical in the match but also knowing when to work. A lot of beer was spilled in the match and while I don't like beer, still a waste of alcohol. Martina and Sumire were gonna get ready to spit beer on them but JAN would cover their mouths when they ran towards them to make them swallow it and probably the best spot of the whole match. Martina was getting in the groove against Kyona with her elbows and very nice Lung blowers until she botched that Neckbreaker and gonna blame that she was drunk, but she held Kyona up while Sumire went to spit beer at her as Kyona ducked hitting Martina by accident. Kyona would hit the Jungle Bomb on Martina as JAN gets the victory.
Now on https://t.co/q8dHnF58vW! Jungle Kyona & Natsuko Tora meet Session Moth Martina & Natsu Sumire in Tag League action! pic.twitter.com/FWsxpFHXVT

— We Are Stardom (@we_are_stardom) October 25, 2018
Rating: Eric Bischoff and a quarter
Ten Woman Tag Team Elimination Match
Konami, AZM, Utami Hayashishita, Bea Priestley & Chardonnay vs. Shiki Shibusawa, Starlight Kid, Tam Nakano, Saki Kashima & Natsumi
Review: We have our last tag match for the night with an elimination style match between STARS and Queen's Quest. Utami Hayashishita is still not officially a member of Queen's Quest but since she's Momo's partner in the league, she's considered an honorary member for the time being and will help them out to fight against STARS while Momo focuses on her big match. We even got the return of Bea Priestley and Chardonnay since it's been a while since we've last seen them in Stardom. Will Utami help Queen's Quest win or will STARS get the victory?
The beginning of the match was all over the place and it makes sense in a way since all of them were in the ring for the majority of it and tried to put too much into it at once. STARS tried to eliminate AZM early when they threw her out of the ring but was caught by Queen's Quest before her feet would land so she could stay in the ring. I thought I saw someone else familiar as it looked like Natsumi came back to Stardom when her mom, Mary Apache came up with her. Been a while since I saw her but she still has a long way to go. The first elimination would be around eight minutes after Queen's Quest hit the five Suplex line and Dropkicked all of them down as AZM hits the La Magistral onto Natsumi to get her eliminated. AZM would get too cocky as Starlight Kid hits her with a Dropkick and a 619 to try and eliminate her, but AZM would kick her down and goes to the top rope but wait, Starlight pushes AZM off to make her fall outside and is eliminated also! Konami came rushing in to kick Starlight in the face soon as she turned around. Saki would get in to fight against Konami and I don't know what happened here but it looked like Konami was going for a German and Saki ducked leading to Bea kicking Konami in the face and it looked like a really botched roll up as Konami is now eliminated.
All of them would fight around the ring for a little bit as Bea would find an opening on Shiki as she hits her Curb Stomp correctly this time and eliminated Shiki. Chardonnay and Tam would be in the ring now as it looked like Chardonnay was gonna have control until Tam kicked her in the face to daze her and knees her head when Starlight held her up, leading to Saki doing a Double Stomp off the ropes, Starlight doing a Moonsault off the second rope, and Tam hitting a Running Knee Strike to get Chardonnay eliminated from the match. Utami came into the ring now as she was getting Starlight up for the Torture Rack but Starlight turned it into a DDT and went to pick her up only for Utami to turn it around into a Sleeper Hold to choke her out as she has her up for the Torture Rack and slams her down for the pinfall. Utami would throw Saki over the ropes and saw she was holding on tight as she ran towards Saki only for her to put the rope down as they're both eliminated, a good way to protect her without pinning her. It's not down to Tam and Bea as they would try to kick each other and block it but Tam would get the upper hand and go to the top rope only for Bea to push her off and is hanging on by the apron, Bea went to get her out but Tam flipped her over as the both of them are on the apron. Tam would attempt a Tiger Suplex only for Bea to fight out of it and kneed her in the face, she would have Tam on her as if she was giving her a piggyback ride and just sat down on the apron to knock Tam out of the ring as Queen's Quest wins the match.
Rating: Eric Bischoff and a quarter
No Disqualification World of Stardom Title Match
Kagetsu (c) vs. Hana Kimura
Review: The World of Stardom Championship first before the Wonder of Stardom Championship? Are they crazy? Well, they did have a vote to see who fans felt like should close the show in our double main event and this match was winning the polls, however, since it was now considered a No Disqualification Match, they would make this one the pre-main event. Why would they do that? Well, it's because Stardom is more focused on pure wrestling rather than hardcore style matches and the last time they had a hardcore match close the show (The Exploding Death Match), it really didn't go over too well with the fans, so they decided to make Momo and Mayu close while Kagetsu and Hana are next. Hana Kimura came back to Stardom after her excursion in Mexico and she would betray Kagetsu to cost her the Five Star Grand Prix, telling her that Stardom made her soft and decided to ride solo. This feud has gotten personal between the two and it's probably the best way to settle the score with a fight. Will Kagetsu retain the title or will we get a new champion?
Hana would waste no time as she ran up to the entrance to attack Kagetsu once she walked out of the curtain and the two would begin brawling to the outside with Oedo Tai and Mary Apache getting involved quite a lot in this match. I hate to say this but this match was really disappointing to watch and don't get me wrong, it was intense as hell and I'll get to that in a bit once I talk about the issues I've had with this match. My main problem with the match is that it was way overbooked meaning that there was too much going on that it would hurt the match and story rather than saving it. The majority of the match just had a bunch of interference from both sides to the point that it would become too much and wish that it would stop or just makes me lose interest. I don't mind the hardcore type stipulation but I think it would've been a lot better if nobody was involved and you would just let these two fight, which is what I was expecting since it would've been much better storytelling, but instead we just get a big clusterfuck and the fans being blueballed, glad it didn't the main event if this is what the outcome would be.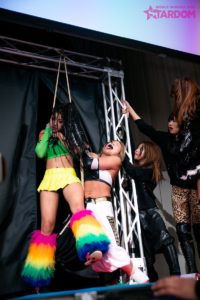 Anyway, now onto the positives of the match and one of them was that it was intense for the times that they needed to be in the match when it was just them, they showed that they did want to kill each other and even Kagetsu would have a rope around her neck to hang her by the entrance which didn't last too long. The would hit each other on the head with chairs to the point that they would even break but they would still keep fighting and not give up, Hana would even throw Kagetsu through a table and even that wasn't enough to put her away. Hana would have her in the Sickle Hold to try and make Kagetsu tap out but Kagetsu would put her in a submission of her own, choking her out while Hana struggled to break free until she would pass out to lose the match, but she didn't tap either to protect her a little bit. Kagetsu showed that the punishment for betraying the Prime Minister was death. Will Hana get revenge on them or is it a one and done?
No Disqualification! No Double Knockouts! No Time Limit! Intereference is allowed! It's Hana Kimura challenging Kagetsu for the World of Stardom title and it's on https://t.co/q8dHnF58vW now! pic.twitter.com/rNrZNQKe7A

— We Are Stardom (@we_are_stardom) October 26, 2018
Rating: Eric Bischoff and a quarter
Wonder of Stardom Title Match
Momo Watanabe (c) vs. Mayu Iwatani
Review: It's now time for our main event as we have Icon vs Ace for the Wonder of Stardom Championship. The last time Mayu and Momo fought was at the Five Star Grand Prix, it would end in a time limit draw but Mayu still came out the winner due to having more points and even went to win the whole thing while Momo won nothing. Momo also had a title for title match against Kagetsu and had her chance to win the World of Stardom Championship but she would again fail due to a double knockout. After that match though, she would call out Mayu to challenge her to a match with her title on the line to fix her mistake by not beating her. Will the Icon win the belt and have another double title match against Kagetsu or will our future Ace finally get a big win?
Soon as the bell rang, the two would Dropkick each other right away and got up to go blow for blow with each other to show how much the match meant to them and the match is considered a big deal by many, especially Momo. This was a much better match to close the show with these two since they gave us a pure wrestling match with an important story next to it. Momo's progression with the title from May to now has shown how much of a big player she has been in these past few months climbing up to the ranks, stepping up against some of their best women, and having the look of an ace of a company. Mayu has also shown that she's still the last big icon of Stardom with Io Shirai and Kairi Sane (Hojo) gone from the company and the only one holding onto the boat along with Kagetsu.
The two of them worked very well together in the ring and while if we're going by in-ring quality, then their encounter at the Grand Prix was better but this one was better in a story standpoint while still giving us a great match. This was more of a test to Momo Watanabe to see if she is worthy of having the title as the new ace since she defeated Io Shirai and while she tied against Mayu and Kagetsu, she has a second chance against Mayu to solidify herself in that top position and even stay there also. Mayu was throwing everything she had at Momo with her kicks, dirty tactic with the Paradise Lock after countering Momo's Package Driver as she held the bottom rope with Natsumi distracting the referee. Momo looked to be out of it as Mayu looks to finisher her with her Dragon Suplex Hold and she connected it to show we could have a new champion, but Momo barely kicked out of it! Mayu would go for it again but Momo countered out of it to hit two Somato's off the top rope, a Package Driver, and she picked Mayu up for a Half-and-Half Suplex and instead of going for the pin, Momo rolled her up to hit the Peach Sunrise which is what she calls the move now instead of Tequila Sunrise as Mayu still kicked out! Momo didn't leave Mayu with any breathing room as she quickly picked her back up for another Peach Sunrise and she hits it to get the win, Momo retains!
After the match, Momo talked about how she won her seventh main event here at the Korakuen Hall this year and how she and Utami will also win the Tag League. Momo would tell Mayu that she is stubborn but Mayu would take the microphone to tell her that she did lose the match, but Mayu Iwatani is still immortal and her new goal is to take that belt away from her. Arisa Hoshiki came out to take the microphone now and announced that she'll be wrestling again on November 23rd for her return match and called out Momo, telling her that her kicks are weak while she has Brazilian kicks. Momo didn't look impressed with her and said that she'll see her on November 23rd and it looks like we got our first match announced, wonder if it'll be for the title.
Now on https://t.co/q8dHnF58vW ! Momo Watanabe defends the Wonder of Stardom title versus the Stardom Icon, Mayu Iwatani! pic.twitter.com/QrtVxLtTh3

— We Are Stardom (@we_are_stardom) October 26, 2018
Rating: Bruce Prichard and a quarter
As a valued member of Prime Minister Kagetsu's cabinet, @SMR_sptmber_luv has taken an interest in the nutrition of @doranyanpa, @0929_hazuki and @mothfromdaflats. #StardomWorld #スターダム

➡️ https://t.co/jniqaHpQ5A pic.twitter.com/42CUBif5q9

— TDE Wrestling (@totaldivaseps) October 25, 2018
Overall: This show was solid for the most part, but the majority of it was either weak or borderline average aside from the main event and they all can't be winners. Have a feeling the November 23rd show will give us a stacked card with one match announced so far. Keep an eye out for it.
Favorite Match: Momo Watanabe vs. Mayu Iwatani
Least Favorite Match: Hanan & Leo Onozaki vs. Kaori Yoneyama & Ruaka
Score: 7/10
Mitchell's WWE 205 Live Results & Report! (11/14/18)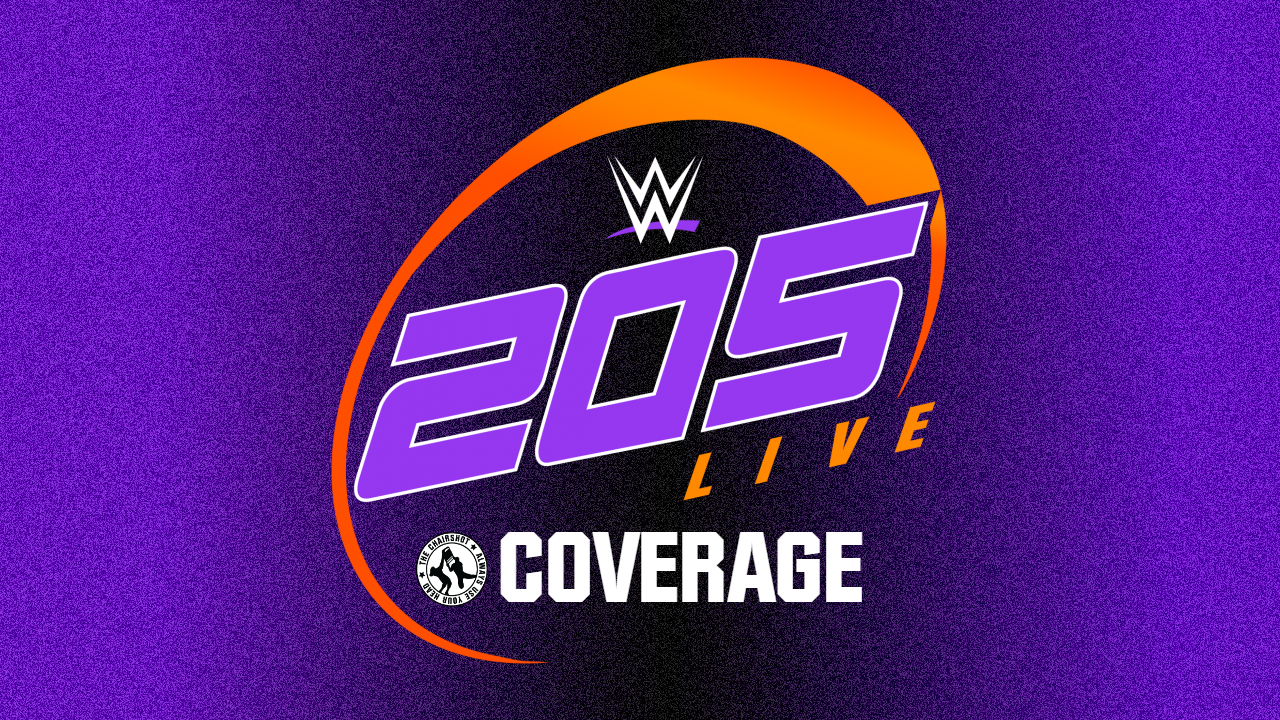 Two of the Cruiserweight Division's fastest and brightest stars collide! Can the Age of Alexander give the 24 year old piece of gold a run for his money?
OFFICIAL RESULTS
Akira Tozawa & THE Brian Kendrick VS Drew Gulak & Jack Gallagher; Gulak & Gallagher win.
Lucha House Party VS Mike Karma & Kraig Keesaman; Lucha House Party wins.
Cedric Alexander VS Lio Rush; Alexander wins.
PLAY BY PLAY
The Cruiserweight Championship is on the line at Survivor Series!
The Juggernaut and The Beacon of Light look to steal the show this Sunday as they renew their epic rivalry from the Summer. These two have all but defined 205 Live in 2018, and we expect to hear from both of them before the night is through.
But first, unlikely allies team up for the first time as Akira Tozawa and THE Brian Kendrick look to settle scores with Drew Gulak and Jack Gallagher. "The enemy of my enemy is my friend" has never been more true, as The Ungentle Men's Club kicked Kendrick out for his weakness, only for the Man with a Plan to join up with the Stamina Monster. Will Kendrick and Tozawa teach Gulak and Gallagher what no mercy really looks like?
And then we have a first time ever dream match main event between the Soul of 205 Live and the Man of the Hour. Cedric Alexander may have lost the Cruiserweight Championship, but he was moments away from getting another shot at Lio Rush's expense. But Lio says that was never going to happen and never will happen. Lio still has his undefeated streak since debuting on 205 Live, but will it survive the rebirth of the #AgeOfAlexander? Or will Lio continue to collect the winner's check this close to Survivor Series?
Akira Tozawa & THE Brian Kendrick VS Drew Gulak & Jack Gallagher!
The Ungentlemanly Alliance made their biggest impact when they attacked The Stamina Monster during a match with Colin Delaney. But then, things wouldn't go their way against teams like the Lucha House Party, or against the then champion, Cedric Alexander. Instead of sharing in the blame, the Philly Fury put it all on The Man with a Plan for going soft. Gulak and Gallagher literally kicked Kendrick out, but they never expected him to help out his oldest foe! Now a new alliance has been struck, but is it strong enough to stop the gentlemen grapplers?
Before the match, Dasha Fuentes asks Kendrick & Tozawa about this fierce rivalry turned tag team. How do they plan on working together? Tozawa thinks on how to answer that question, but then he just smiles and heads out. Kendrick figures that's good enough, and he heads out, too. Is this a bad sign? Or is it their way of saying they don't need a plan?
The match begins with Gulak and Kendrick. Kendrick smirks because he knows Gulak is tagging out to Gallagher. Gulak smirks as Gallagher and Kendrick circle. Kendrick suddenly runs at Gulak! Gulak gets away but Kendrick elbows Gallagher away. Kendrick throws forearms and then whips Gallagher to the corner. Kendrick runs in to hit the forearm smash, then tags Tozawa. Tozawa hops in as Kendrick scoop slams Gallagher, and adds the shouting senson! Cover, TWO! Tozawa drags Gallagher up for a chop, then another chop. Gallagher falls for the feint and gets the jab! Fans "AH! AH!" with Tozawa but Gulak shouts "No Chanting!" Gulak's still on his rules for a #Better205Live as Tozawa stomps a mudhole into Gallagher. Tozawa brings Gallagher over and tags in Kendrick.
Kendrick and Tozawa whip Gallagher into double boots, then Kendrick covers. TWO and Gulak is relieved. Gulak taunts Kendrick but Kendrick keeps on Gallagher. Gallagher powers out of Sliced Bread to send Kendrick at ropes, then runs him over with a back elbow! Tag to Gulak, and Gulak swings. Kendrick ducks to throw forearms and knees in a corner! The ref backs him off but Kendrick comes back to kick and club Gulak more. Kendrick throws more forearms, even between the ropes. Gulak uses that against Kendrick to pull him into the ropes. Tag to Gallagher and Gallagher kicks Kendrick while Gulak goes after Tozawa! Now it's a brawl outside as Gallagher clobbers Kendrick against the announce desk. Gallagher puts Kendrick back in, then stays between Kendrick and Tozawa.
Gallagher stomps Kendrick, then tags Gulak back in before lifting Kendrick in a fireman's carry. He hotshots Kendrick, Gulak runs and clobbers Kendrick with a clothesline! Cover, TWO! Gulak keeps his cool as he sits Kendrick up for an armlock. He says Kendrick's too soft, but fans rally up for Kendrick. Kendrick fights out and fights back, booting Gulak again and again. Gulak blocks a boot to put it on the ropes and kick out the leg. Tag to Gallagher, and Gulak hands off the toehold for Gallagher to twist. Gallagher gets both legs for a stomp on the knees! Then he drags Kendrick around for another toe 'n' ankle hold. Kendrick endures while Gulak tells him to quit. Gallagher tags Gulak, but Kendrick fights against both of them.
Gulak atomic drops Kendrick and Gallagher adds a running knee! Cover, TWO! Kendrick survives, but Gulak bumps him on buckles. Gallagher tags, and mugs Kendrick with Gulak's help. The ref reprimands Gulak but Gulak shouts back he knows the count. Gallagher stomps Kendrick then brings him up for a snapmare into chinlock. Kendrick endures as Tozawa rallies up the fans. Kendrick arm-drags Gallagher off, but Gulak tags in. Gulak keeps Kendrick from Tozawa, but Kendrick fights back. Kendrick boots Gulak down, but he's down, too! Fans rally, Gallagher tags in again and gets Kendrick with a headlock. Kendrick powers out, Tozawa stops Gallagher with an "AH!" and Gallagher turns around into Kendrick's back drop! Both men are down, fans rally up, hot tags to Gulak and Tozawa!
Tozawa boots then whips Gulak, into a back kick. Gulak ducks the spin kick but Tozawa slides under him, to get the spin kick! Gulak is on the apron so Tozawa knocks him down! Then Tozawa builds speed, to DIVE! Direct hit with the Tozawa Torpedo! Tozawa puts Gulak in, then hurries up top. Gallagher gets up but Kendrick trips him! Gulak gets up but gets a missile dropkick! Cover, TWO! Tozawa is a bit surprised, but he stays on Gulak with a whip. Gulak reverses, but Tozawa stops himself to elbow bakc. Then Tozawa tilt-o-whirls to an Octopus! Kendrick intercepts Gallagher, but is still pushed into Tozawa! Gulak is free, and Tozawa glares at Kendrick! Tozawa misunderstands what happened, but there isn't time to explain as Gallagher tackles Kendrick out of the ring! Gulak rolls Tozawa up, Gulak & Gallagher win!
Winners: Drew Gulak & Jack Gallagher, Gulak pinning

It wasn't that there was no plan, but that there was no trust that cost Tozawa & Kendrick the match. Can these two get on the same page if they want to stop the cruel winter Gulak & Gallagher have planned for the Cruiserweight Division?
Drake Maverick presides over the official Cruiserweight Championship weigh-in.
The GM is honored to oversee this weigh-in for the major match coming at Survivor Series. First, the challenger, Mustafa Ali. Ali steps on the scales, and weighs in at 182 lbs. The champion weighs in, at 205 on the dot. Buddy Murphy makes weight, which has been a challenge of his since joining 205 Live. But with the numbers on the record books, the match will happen. Murphy tells Ali he's going to put him in the ground. Ali points out that the last time Murphy said that, Ali put him on the mat. Murphy shoves Ali, Ali fires off and Maverick hurries to keep this fight from happening here! Officials get Murphy out of the room as Ali says he's not afraid of the Juggernaut. The tension is running high, what will happen when they're cut loose on Sunday?
Backstage interview with Buddy Murphy.
Does the Cruiserweight Champion have anything to say about that confrontation in the trainer's room? That was just Murphy reminding Ali what this is all about. This isn't about their rivalry, this isn't about stealing the show, this isn't even about how Ali scratched and clawed his way back to a title shot. No, this is simply about Murphy's Cruiserweight Championship, and what he'll do to keep it. Murphy is willing to go to Hell and back, so Ali has no idea what's in store for him. Actually, Murphy almost feels bad for him. Will Murphy leave anything left of Ali after Survivor Series?
Lucha House Party VS Mike Karma & Kraig Keesaman!
The Golden Lynx and the Lucha Dragon may be without the King of the Ropes while he's off being a father to his newborn child, but they still have Penelope Pinata! And while they're staples of the Cruiserweight Division, they'll be ready to represent Raw at Survivor Series in the 10v10 Tag Team Division Elimination Match! Will they gain some last momentum before the brand warfare?
The bell rings and Lince starts against Keesaman. Lince handsprings and starts up the "Lucha! Lucha!" chants. Kessaman shoves Lince and says "NO Lucha! NO Lucha!" But then he turns around into a chop! Lince whips but Keesaman reverses, so Lince springboards for a crossbody! Lince handsprings and kicks Keesaman, then runs to headscissor! Fans "Lucha!" with Lince but Keesaman hits low. Keesaman mocks the lucha chant, but runs into a SUPERKICK! Lince gets rid of Karma and tags in Kalisto. Kalisto runs for the alley-oop splash, then Lince adds the planking splash! Lucha House Party fires up, but in runs Karma. He misses and gets double mule kicks. Kalisto runs and Lince gives him the boost for a missile dropkick!
Keesaman is in the corner as Kalisto flosses. Kalisto runs in but Keesaman puts him on the apron. Lince tags in and swing kicks Keesaman! Kalisto gets Keesaman with Salida del Sol! Lince climbs while Kalisto knee-springboards for a senton onto Karma! Shooting Star on Keesaman! Cover, Lucha House Party wins!
Winners: Lucha House Party, Lince Dorado by pinfall
The luchadores win fast and fun and now roll on towards Survivor Series! Can they be the x-factor that helps Raw win over SmackDown?
But from the titantron, Maria Kanellis gets their attention. "Pay attention to The First Lady while she congratulates you on another victory." She wants them to enjoy this while they can, because they have unfinished business with TJP and her husband, Mike Kanellis. The only reason tonight is ending on a party and not the next phase of Maria's plan is because Gran Metalik wasn't here tonight. Maria is an equal opportunist, because when her team makes an example out of their trio, she wants it to be the first time and only time. So enjoy the party. And wish Gran Metalik good luck in next week's match, against TJP. Maria looks forward to it. A concerning message from Mrs. Kanellis, but will the King of the Ropes return only to lose? Or will Metalik ruin Maria's plans and keep the party going?
Cedric Alexander speaks.
"For over a year on 205 Live, I ran undefeated. Not by accident, but because I outworked every single person in that locker room day in, day out." But to Lio Rush, this is a game, a quick fame grab. To Alexander, this is his life. So for guys like Lio Rush, a title is just a trophy, but to Alexander, it means the world. It means he leaves a legacy for his family, and inspires kids around the world to be just like him. The legacy doesn't end, it only continues.

Cedric Alexander VS Lio Rush!
The Age of Alexander looks to rebuild after losing both title and win streak in 2018. However, he'll have to end the Man of the Hour's streak to do it. Will Alexander make the 24 year old piece of gold put his money where his mouth is? Or will Lio make this the Soul of 205 Live's Final Hour?
The bell rings and Lio smirks as he circles with Alexander. Fans duel as Alexander corners Lio. Lio uses the ropes as a defense, so Alexander backs off. Lio comes out and goes for legs but Alexander keeps away. They tie up and Lio gets a leg, but Alexander sprawls to get a wristlock. Lio rolls and arm-drags but Alexander holds on! Alexander wrenches Lio into a shoulder breaker, but Lio pushes him to ropes. Lio then gets a headlock out of the ropebreak, and holds on as Alexander lifts. Alexander powers out but Lio holds ropes. Lio baits Alexander in but Alexander bucks him off the roll-up. Alexander runs but Lio follows. Alexander handsprings over and back, but Lio dodges to come back and headscissor, but Alexander handsprings through! Lio laughs, he likes how Alexander can keep pace. Alexander says Lio isn't as good as he thinks he is.
The fans duel as Lio backs up. Lio then gets Alexander with a leg sweep! And SLAPS Alexander! Lio says this is his house, but Alexander gets up and the chase is on! Lio stops on a dime to change directions, then does it again, then ducks the boot to springboard huricanrana! Alexander gets to a corner, but keeps his cool, even as Lio taunts, "Are you gonna cry?" Lio brags but Alexander trips him now! And then dropkicks him! Lio ends up in a corner, and Alexander gives him a chop. Alexander puts Lio in another corner to give him another chop. Fans fire up while Lio crawls away. Alexander brings Lio out for a snapmare and dropkick, then cover. TWO, but Alexander keeps his cool. Alexander walks into Lio's kick but gives back another chop! He whips Lio to a corner, then back drops him on the rebound!
Lio crawls to another corner, but Alexander runs in, only for Lio to escape. Lio comes back, but Alexander dropkicks his legs out, sending him into buckles. Alexander then goes to the apron, and runs in for the corner kick! Lio staggers back, Alexander springboards in, into a SUPERKICK! Alexander staggers on the outside, Lio DIVES at the corner! Lio leaves Alexander out for the count, going back to the ring to rest. Alexander gets up at 5, so Lio goes out to run and dropkick him into barriers! Then he whips Alexander into steel steps! Lio leaves Alexander out again, shouting at the ref to count. The ref counts, and Alexander is down until 5. Alexander stands at 6 and gets in before 7. Lio nods and grins, but then is serious as he throws hands in the corner.
The ref counts and Lio backs off at 4. Lio comes back and grinds his boot into Alexander, as fans duel. Alexander gets up and chops Lio, but Lio kicks Alexander. Lio snapmares and kicks Alexander again, cover, ONE! Lio wraps on body scissors and a half nelson chinlock. Alexander endures as fans rally up. Alexander gets up, crawls but Lio rolls him around. Lio clobbers Alexander with crossfaces, then flexes. But Alexander gets up with Lio as a backpack, and rams him into buckles. Lio hops back up but Alexander rams him into buckles again. Alexander chops Lio, then whips him corner to corner. Lio reverses, but Alexander catches the kick. Alexander flips Lio over, Lio lands on his feet, then ducks and handsprings. Alexander blocks the mule kick but not the enziguri! Lio covers, ONE, but Lio is still laser focused.
Lio circles Alexander. He kicks Alexander swift in the back, then again. Lio lines up a shot, but Alexander blocks the kick! Alexander gives Lio the stiff back elbow! Alexander gets moving, and hits the shoulder tackle and swing kick! Lio staggers, Alexander springboards for the flying clothesline! But he's not stopping there, he brings Lio up. Lio slips out of the lift then runs, but Alexander shows he can change direction just as fast. Alexander redirects Lio, handspring, Neuralizer! Cover, TWO!! Lio survives and now Alexander has to keep his cool. Alexander grits his teeth as he gets up. Lio rolls around in a daze as Alexander takes off the elbow pads. Lio yanks Alexander out, but runs into the boot. Alexander springboards in, complete shot! Cover, TWO! Alexander is beside himself, but he watches Lio flounder and crawl to the apron.
Alexander drags Lio back in, but Lio kicks the leg out then back heel kicks! Lio turns Alexander around, then spins more for the spin-cycle Unprettier! Cover, TWO!! And Lio is furious! "Are you kidding me?!" Lio undoes his wrist tape as fans rally up for Alexander. Lio stalks Alexander, brings him up but Alexander shoves him away. He gives haymakers but Alexander shoves him away, to then rock him with a right! Lio is dazed again, Alexander goes at him, but Lio fires off a strike fest. But Alexander ducks the back hand to scoop slam, but Lio makes it a victory roll?! TWO!! SPANISH FLY, from Lio! That's usually Alexander's move! Lio heads up top, and leaps, but his splash flops!
Alexander hurries, LUMBAR- No, Lio headscissors! But Alexander blocks with superior strength! Alexander brings Lio back up, but Lio gets him with the huricanrana pin! TWO, Lio runs and low springboards backwards for a stunner!! Alexander staggers around, Lio runs, into Alexander's Spanish Fly! Alexander holds on and brings Lio up, for the LUMBAR CHECK!! Cover, Alexander wins!!
Winner: Cedric Alexander, by pinfall
The Man of the Hour's streak is over!! Alexander gets a huge win and finally gets out of his own losing streak. Can Alexander use this to skyrocket back to the title? Who will hold the title when he does?
Mustafa Ali speaks.
The Beacon of Light heard Murphy say that he's willing to go to Hell and back to keep the Cruiserweight Championship. Well that's exactly what he'll have to do to win. But he won't be going alone, Ali will be right there with him. That title means more to Ali than Murphy understands. Murphy can talk trash and play mind games, but it won't matter because it'll come down to what they do in the ring. It'll come down to Murphy's strength and Ali's speed. It'll come down to Murphy's aggression and Ali's determination. And it'll come down to Murphy's anger and Ali's heart. That's when Murphy will learn not even a Juggernaut can stop the unstoppable.

My Thoughts:
A spectacular 205 Live to be the Survivor Series go-home! Tozawa & Kendrick VS Gulak & Gallagher was great, but it makes sense for the Heels to win here. It would be too soon for Tozawa and Kendrick to be a better duo as they haven't even been shown spending time together. I'm sure Kendrick can explain to Tozawa what happened with the usual "bumped into" misunderstanding, so they'll surely go for another match with Gulak & Gallagher. Then Lucha House Party sans Metalik wins, because they need to strong before having their blow-off with TJP & Mike Kanellis. I'm guessing something in Maria's plan extends this feud, aka the Heels win.
Alexander VS Rush was amazing! Because of how fast these two guys move, the 15 or so minutes given was more than enough time. They got so much into it, such great story of Lio thinking talent alone gets him through but Alexander showing him what hard work can do. I like the trade of Spanish Flies, that's such a standard of Alexander's style now that it was great for Lio to hit one of his own. And in a great surprise, Alexander wins! I would've liked for the "crisis of confidence" to last longer, but maybe Alexander's title rematch happens at TLC. Speaking of the title, Murphy and Ali had a great scuffle in the trainer's room and then great individual promos to remind us of their feud's intensity. It doesn't really matter who wins so long as the match is great, and on the main show!
My Score: 8.7/10

What did you think of this week's edition of WWE 205 Live? Let us know on social media @theCHAIRSHOTcom and always remember to use the hashtag #UseYourHead!
Mitchell's WWE NXT Results & Report! (11/14/18)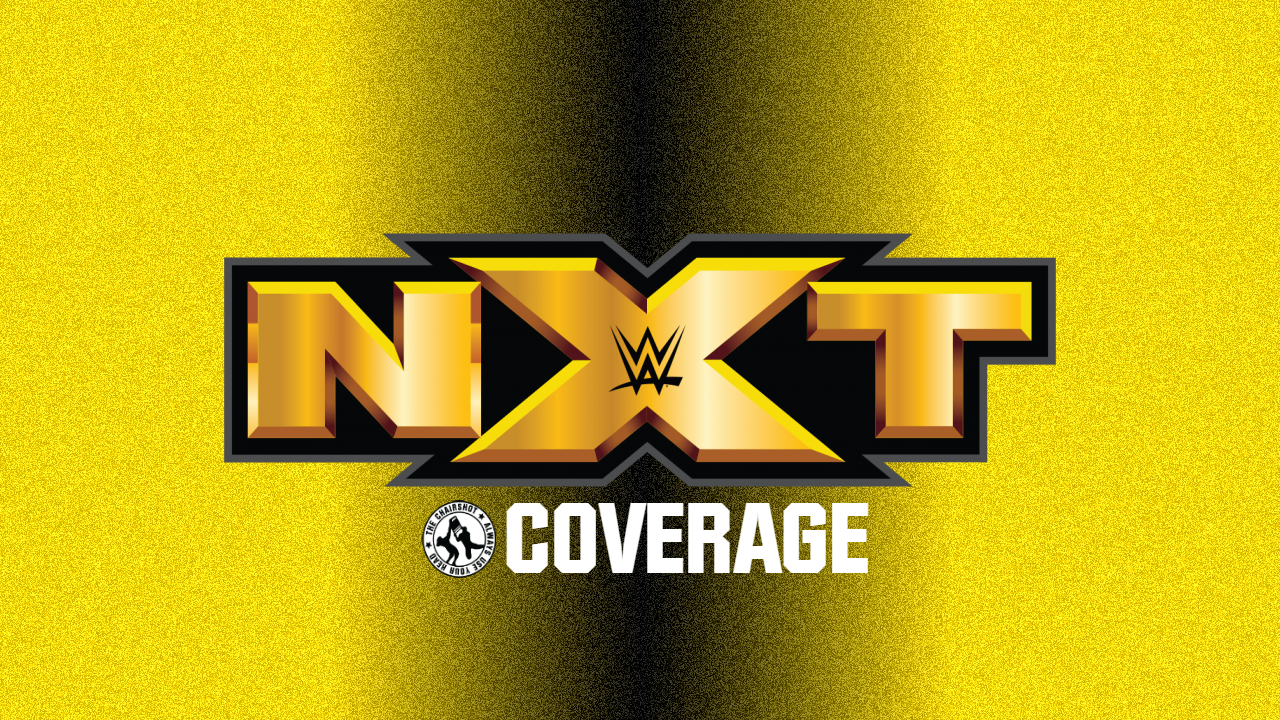 WarGames II is coming, and The Undisputed Era's Kyle O'Reilly steps up! Who from the #OneAndOnlyBruiserRaiders fights him for advantage on tonight's NXT?
OFFICIAL RESULTS
Mia Yim VS Bianca Belair; Belair wins.
Lacey Evans VS Karissa Rivera; Evans wins.
WarGames Advantage: Kyle O'Reilly VS Hanson; O'Reilly wins the handicap advantage for his team.
PLAY BY PLAY
Mia Yim VS Bianca Belair!
The HBIC, Head Baddie in Charge, didn't take kindly to the words from The EST. Mia may have not one the Mae Young Classic, but she earned her spot here. Now can she earn the first win ever over the Un-De-Fea-Ted Bianca?
The fans are divided as the bell rings and the two women circle. Bianca pie faces Mia, but Mia shrugs it off. They tie up and Bianca pulls Mia's hair. She lets go and Mia gets a waistlock. Bianca gets the standing switch, throws Mia down, then toys and taunts Mia. Mia gets the legs, the jackknife, TWO! Mia gets the headlock and takeover, and has control of Bianca. Bianca works her way up and pulls at Mia's hair. Bianca gets out, clubs Mia, then runs her over with a shoulder. Fans still duel as Bianca runs. Bianca cartwheels over Mia, and Mia deflects the dropkick. Mia throws knees, then runs, to dropkick Bianca back! Mia hits another dropkick, and another dropkick! She runs and blasts Bianca with a fourth, but Bianca yanks Mia out to the floor. Mia checks her nose while Bianca catches her breath.
Mia rolls in but Bianca is ready with ax handles. Bianca drags Mia to a cover, TWO! Bianca wrenches Mia's neck, and fans rally up. Mia endures as Bianca thrashes her around. Mia stands but Bianca throws her down again. Bianca sits Mia back up for more neck wrenching, and grinds Mia into her knee. Fans duel, Mia fights her way up and out of the hold. Mia rolls Bianca, TWO, Oklahoma Roll! ONE, and Bianca barrels Mia over. Cover, TWO! Bianca keeps her cool as she drags Mia back up. Bianca bumps Mia off buckles and throws forearm after forearm. The ref counts, so Bianca stops at 3 to climb up. Bianca has Mia in a hangman's sleeper! Then she shoves her down for a cocky standing cover, TWO! Bianca stomps her frustrations out on Mia, then pulls her hair back.
Fans rally as Bianca trash talks and knocks Mia down. Bianca sits on Mia to toy with her more. Bianca says "I'm the best! She's nothing!" But Mia trips Bianca and covers, TWO! Bianca dropkicks Mia hard, then high stack covers, TWO! Mia escapes and Bianca grows frustrated. Bianca drags Mia up for a cravat, but fans rally again. Mia endures being thrashed about in the hold, and feeds off the fan energy. Mia fights back with body shots, but Bianca throws her down. Bianca leaps, but her leg drop gets nothing! Mia back elbows Bianca, then drop toeholds her into buckles! Mia dodges to run Bianca over. She boots Bianca then dropkicks her again. Mia gut wrenches and throws Bianca! Cover, TWO! Bianca survives and keeps her undefeated streak alive!
Fans continue to duel as Mia kicks from all sides. Bianca shoves and gets Mia in a SPINEBUSTER! Cover, TWO!! Mia survives and shocks Bianca. Bianca drags Mia up again, whips, and tackles Mia in the corner! Bianca throws in her shoulder, then SLAPS Mia. She whips Mia corner to corner, but Mia dodges. Bianca thinks she's smarter than that, but Mia throws palm strikes, knees and a Pele! Bianca's down, Mia covers, TWO!! Another near fall, and Bianca is floundering. Mia runs in, cannonball! Then she drags Bianca out, to wrench the arm. Bianca hits the forearm, then Burning Hammer! Or as Bianca calls it, the KOD, Kiss of Death! Cover, Bianca wins!
Winner: Bianca Belair, by pinfall
The EST continues to be the one and only Un-De-Fea-Ted woman in NXT! Will this win finally earn Bianca that NXT Women's Championship match she's been after?
Ricochet talks with Pete Dunne and The War Raiders backstage.
One of them has to step up against Kyle O'Reilly for the WarGames Advantage match tonight. Who will it be? The One and Only knows all four of them want it, but he is the one who can get it done. The Bruiserweight disagrees, he's got this. Ricochet and Dunne argue, but Ray Rowe shouts them down. He and Hanson agree, the War Beard has this. Ricochet and Dunne accept. Will Hanson bring the war early to Kyle O'Reilly?
NXT looks at what led to the TakeOver grudge match.
"Why, Johnny, Why?" NXT TakeOver: Brooklyn 4 was meant to have a Triple Threat for the title. But someone attacked Aleister Black when no one was looking. William Regal questioned Gargano in front of the NXT Universe, yet Gargano was cryptic with his answer. However, it turned out someone was watching that night: Nikki Cross. And for weeks, the Loony Lass toyed with giving the answer away. Gargano would reveal it to us all only when there was no other way to keep the secret. Gargano would use a video message to explain his reasons. In his mind, Gargano did nothing wrong, it was just business. Gargano felt only he could defeat and only he should defeat Tommaso Ciampa for the title. However, that didn't work out and now Gargano will face retribution.
Gargano claims to be the hero of this story, but Aleister says Gargano has it wrong. Aleister says Gargano doesn't know who he is. Gargano is not the hero in this story, he is the coward. Johnny Wrestling feels no shame and has no regrets. But will he after The Dutch Destroyer does everything he can to destroy Gargano? Or will the darkness consume Gargano as he makes Aleister #FadetoBlack?

Backstage interview with Matt Riddle.
The King of Bros has had a great time in NXT so far, and debuted successfully and is ready for anyone. But Kassius Ohno walks in. He was waiting all week to hear something about Riddle challenging Ohno for a match, but so far, nothing. When Ohno confronted Riddle, that was a test. Ohno is a man of action, he came back and challenged champions. And do you know what those champions did? They took action. So Ohno sees through the "Bro Show" hype, it's just trash. Trash? How about this? They'll go 1v1 next week, the TakeOver aftermath, and Riddle takes that little test. Riddle will pass the test, and leave Ohno KO'd in the ring. How about that, bro? Ohno has nothing else to say, but Riddle doesn't mind. They've talked, now they can fight. Who will win that fight next week on NXT?
Lacey Evans VS Karissa Rivera!
The Lady of NXT continues her crusade to straighten out the Women's Division to follow her example. Armed with her powerful Woman's Right, will Lacey make an example of the second-generation Cherokee Warrior?
The bell rings and Lacey dares Karissa to approach. They tie up and Lacey knees low, then whips to drop toehold Karissa to the mat. Lacey holds Karissa down with push-ups! Then she puts Karissa in a corner with buckle bumps, and rams Karissa back again and again. Lacey backs off at 4, but comes back with the swinging bronco buster! Lacey dabs herself off with the handkerchief, but Karissa fires off with double hand chops! Karissa runs to dropkick Lacey down! Cover, ONE! Lacey is angry now that Karissa made a mess of her wardrobe. Lacey slams Karissa's face off the mat again and again! She stops at the ref's count of 4, then ROCKS Karissa with the Woman's Right! She tells the ref to count as she covers, Lacey wins!
Winner: Lacey Evans, by pinfall
The Model Soldier wins with a 1-2-3 but she could've easily won with a knockout. Lacey's on a roll as she continues to #FightLikeaLady, but now she gets a mic to speak.
"NXT is full of a bunch of classless nasties." These "girls" forget what it's like to carry themselves with sophistication. But Lacey leads by example, because it is her responsibility as THE Lady of NXT. And if they don't adhere to her standards, then she'll personally teach them a lesson in manners. Lacey wants to be top of the division, but she'll need the title for that. Will she aim for whoever comes out of TakeOver: WarGames the champion?
NXT looks at what led us to the NXT Championship #PsychoDreamMatch.
The Psycho Killer came out the champion after all that transpired with Gargano and Aleister. "When you're at the top, they will always try to chop you down." Fans would rain boos and jeers on Ciampa, but Ciampa would shrug it all off. Ciampa clutched to his precious title, but the Patrick Clark Experience would speak up! Velveteen Dream wanted a "moment" with Ciampa and the title, and so did fans. Dream loves the spotlight, and there's no bigger spotlight than at TakeOver. But Ciampa's seen "kids" like Dream in this same spot, only to "crack under pressure." Of course, in Gargano's case, Ciampa helped create some of those cracks.
But that aside, Ciampa would go after Dream to show him he doesn't deserve the champ's spotlight. However, Dream would get the better of Ciampa and be the one standing over the champ. The spotlight is never brighter than in Los Angeles. Dream says Ciampa's blinded by his own obsession. You can't fight what you can't see. Dream gets his shot, but will he get his moment? Or will Ciampa end yet another fairy tale story?
NXT takes a look at what led to the FIFTH fight between the Queen of Spades and Pirate Princess!
It was yet another match for the NXT Women's Championship between Shayna Baszler and Kairi Sane, at WWE Evolution. However, Shayna had her friends, Jessamyn Duke and Marina Shafir, in the front row. Things would break down, and the other Horsewomen of MMA fame would get involved! The distractions and sucker kick would pay off, Shayna would get Kairi in the Kirafuda! The Queen had her throne back, and the Pirate Princess had lost her treasure. She knows it wasn't fair that Shayna's friends helped, but William Regal knew a way around it happening again. This fifth time, the winner will have to win twice, because it will be Best 2 out of 3! This tiebreaker for the title will finally decide who the one true NXT Women's Champion is! Who will be standing tall at the end of TakeOver: WarGames?
WarGames Advantage: Kyle O'Reilly VS Hanson!
The Undisputed Era love to #ShockTheSystem, but they've gotten a lot of negative attention from those they've gone after. The War Raiders want after The Undisputed Era for always escaping with the NXT Tag Team Championships. The Bruiserweight wants after Roderick Strong for screwing him over in the Dusty Rhodes Classic. And the One and Only wants to Adam Cole to finally shut him up. But will their team get the advantage in the coming war?
The bell rings and the two approach. Kyle circles Hanson and gives some testing kicks, but Hanson doesn't budge. Kyle gives quick palm strikes but Hanson still doesn't flinch. Hanson corners Kyle so Kyle gives him a forearm. Hanson roars but Kyle dodges to fire more strikes. But Hanson easily shoves Kyle away to then run him over. Kyle bails out and Hanson dares him to come back. Kyle takes a moment to compose himself, then gets back in via the steps. He drops down to dare Hanson to make a move. Kyle then kicks and kicks, but Hanson drags Kyle up. Hanson avoids the sweep, so Kyle shifts to a headlock. Kyle can't get the headlock takeover because Hanson's too big and strong!
Hanson brings Kyle up but Kyle tries again. Hanson brings Kyle up again and pushes him to ropes. Kyle slips out of the scoop and has a waistlock, but Hanson bucks him off. Kyle dodges but runs into Hanson's huge shoulder! Hanson squashes Kyle in a corner, then whips him corner to corner hard! Kyle stands but gets clobbered again! he ends up on the top rope, and Hanson hammers away! Hanson hits Kyle ten times then backs away. Kyle slumps out of the ring and to the floor, but Hanson goes out to fetch him. Hanson puts Kyle in the ring but Kyle is on him with a dropkick to the leg! Kyle dragon screws Hanson down! Fans duel as Kyle kicks away on Hanson's leg. Kyle throws palm strikes and knees, then runs to kick the leg out! Hanson is down and Kyle goes after the leg.
Kyle wants a Half Crab but Hanson uses the good leg to hit back. Kyle lets go of the leg to throw palm strikes from both sides! He then goes back to the leg, puts it on the rope, and springboard drops on it! Cover, TWO and with power! Kyle ends up on the outside, but runs back in for a scoop slam! Hanson runs, but his splash belly flops! But he still catches Kyle's kick! Kyle throws palm strikes but Hanson spins Kyle around, for a back suplex. Kyle lands on his feet to chop block Hanson's other leg! Hanson's down, Kyle covers, TWO! Hanson gets to the ropes but Kyle goes after him. Kyle wants a leg but Hanson throws hands wherever he can. Kyle knees low and grabs the leg, to dragon screw again! Hanson is down but Kyle isn't done with him.
Kyle kicks then knees. Hanson clubs him with one big forearm, but Kyle gets a takedown! And heel hook! Fans rally as Hanson endures the leg lock. Kyle wrenches harder but Hanson refuses to give up. Hanson reaches as fans rally up. He clubs away on Kyle's knee, then goes to pry the lock open. He does, and boots Kyle in the face! Hanson crawls away while Kyle is dazed. Hanson hobbles up but Kyle kicks the leg again. Kyle runs, but into a back drop! Hanson has to kneel from the pain, but he does come back for big haymakers and back hands! He whips Kyle and gets him in a sidewalk slam. Then the crossbody splash! But Hanson keeps moving, firing himself up. Hanson whips Kyle into a corner then squashes him. Then a scoop, spinning slam! Cover, TWO!! Kyle survives, and fans continue to duel.
Hanson looms over Kyle, Kyle kicks the leg! Kyle drives in a knee, but then Hanson clubs him. Kyle goes after the leg, but Hanson deadlifts him up. Hanson boots Kyle right out of the ring! Hanson DIVES!! He runs Kyle over like a bus, then puts Kyle back in the ring. Hanson isn't done with Kyle, he runs in at the corner, for a Bronco Buster! Then Hanson hops up, but here comes Adam Cole! Cole talks trash to distract, but Hanson decides to make it worse for Kyle on Cole's account. Hanson goes top rope, FOR A MOONSAULT! But he belly flops! Kyle Penalty Kicks, cover, TWO!! Into Arm-ageddon! Hanson resists as best as he can, so Kyle shifts to the ankle lock! Hanson's bad leg is the target, but Hanson still gets a ropebreak!
Cole is furious and Kyle doesn't let go, so Hanson shoves him away! But Kyle distracts the ref long enough for Cole to enziguri Hanson! Hanson staggers into Ax 'n' Smash!! Cover, TWO!? Hanson survives, and it infuriates Cole! Cole argues with the ref, but Ray Rowe comes out to rock him! Rowe rallies for his fellow Raider, and fans chant "War! War!" Kyle grabs Hanson but Hanson shoves him back. Kyle comes back, into Hanson's knee! But Kyle still ducks to kick and knee and kick! Hanson cartwheels and clotheslines! Both men are down but fans fire up. Rowe sees Cole get up, and throws him into the steel steps. But then Roderick Strong and Bobby Fish go after Rowe! They gang up 2v1 on Rowe, so here comes Pete Dunne!
Dunne blasts Strong, then rocks Fish! Cole hits Dunne but Dunne takes his fingers. Fish chop blocks Dunne, and the Undisputed Era regroup. So here comes Ricochet, FLYING IN from the ring!! The One and Only evens things, but the ref is too distracted with this to see Kyle smash Hanson with the belts! Kyle covers Hanson, the ref counts, Kyle wins!
Winner: Kyle O'Reilly, by pinfall; The Undisputed Era have the WarGames advantage
"You did it!" Kyle won the match, but Dunne and Hanson are worst for wear now. The Undisputed declare WarGames is theirs, are they right about that? Or can Ricochet's team regroup to shock them back?

My Thoughts:
A pretty good go-home for NXT, though obviously with mostly filler matches to make room for hype videos. Those hype videos were pretty great, though, really summed things up nicely and set the tone for each match. Naturally, Bianca Belair stays undefeated, and I'm thinking she will until her shot at the title. Lacey Evans was very dominant, and is building herself up as the other option for a new Heel challenger. Therefore, I feel Kairi Sane finds a way to win the Best 2 out of 3 Falls, so that these Heels can have a go. This scenario is very much like Samoa Joe a year or so ago, where he had his multiple title reigns but then moved on to main roster. Shayna has the same, and then she, Jessamyn and Marina can join Rousey on main so that one day we'll get that Horsewomen VS Horsewomen match.
That WarGames Advantage match was great! I didn't expect it to be Kyle or Hanson, but that was still pretty great as both are proven singles talents in ROH. Of course the Undisputed Era comes out to make things controversial, and naturally the Undisputed Era get a big advantage because they're the Heels in this. The interesting wrinkle is Dunne's knee hurting. Chances are it's kayfabe to keep Dunne out while he does NXT UK tapings. But that's fine, I was expecting the Top One Percent to join this fight after what the Undisputed Era did to him, so this could be EC3's way in. Though, I'd love to see it as a surprise, fans will pop hard for him to show up during the entrances and even be the starting man for the Face team.
My Score: 8.2/10
Did you agree with Steven Mitchell's rating of this week's WWE NXT? Let us know on social media @theCHAIRSHOTcom and always remember to use the hashtag #UseYourHead!