Stardom True Fight 2018 Results & Review (10/23/2018)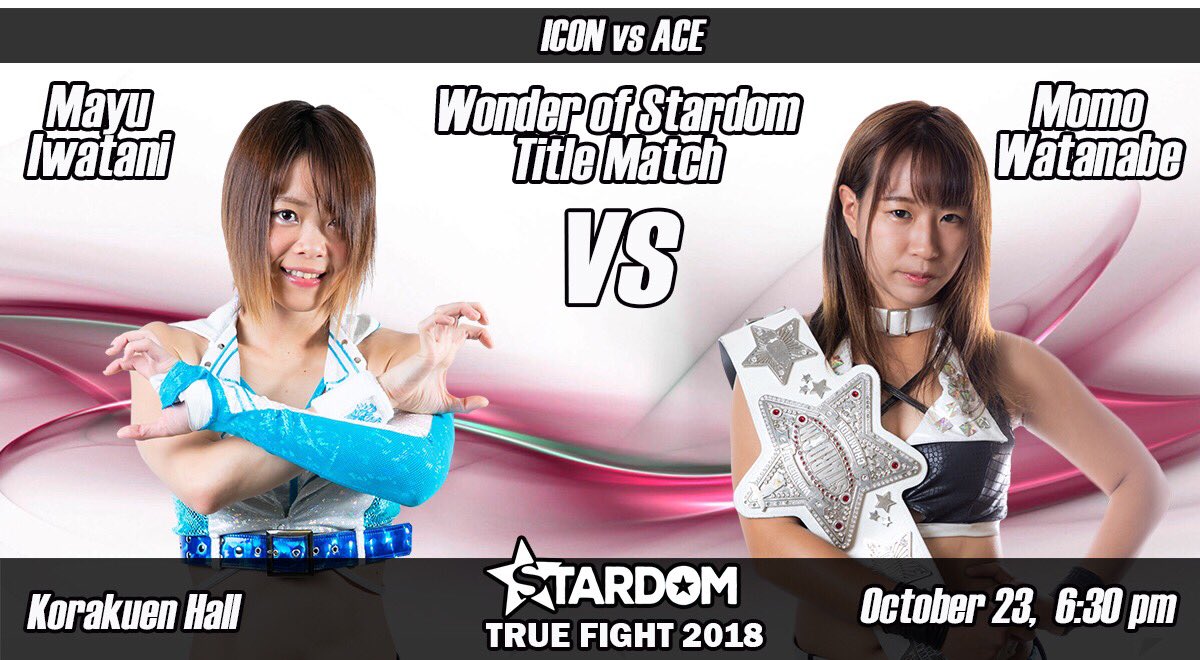 Welcome back to Stardom and I said this would be the next big show I would cover since I'm taking a break of them for their tag league, but there are two big matches on here that it needs to be talked about. We have two big titles matches with one being personal and the other one to prove themselves.
Let's see how things unfold here as we…dive right in.
Goddesses Of Stardom Tag League Blue Stars Match
Hanan & Leo Onozaki vs. Kaori Yoneyama & Ruaka
Review: I said I wasn't covering the Goddesses of Stardom Tag League, but there are two matches on here from the tournament and I'll just treat them like a regular tag match instead of tournament matches. Our first one is Hanan and Leo Onozaki teaming up to take on Kaori Yoneyama and Ruaka from JAN. Which of the two will win it?
Well now, it looks like Ruaka has changed up her gear a little bit too and hopefully, she gets actual improvement to go with it. Hanan and Leo surprisingly did pretty well together as a tag team and while it wasn't great, still good enough with the amount of experience they have here. Kaori did her best to help out the three in the ring to carry them over as best as she could, but Ruaka is still a hit or miss when it comes to her matches. The match was fairly basic with what they were working with but nothing too sloppy or bad either. Kaori hits Hanan in the back of the head with a knee while Ruaka tops it off with a Big Boot for a two count but she would quickly pick her up for a Fisherman Suplex and gets the win for her and Kaori.
Rating: Tony Schiavone
Leo's Cutter Counter: 1 (…..I quit)
Singles Match
Hazuki vs. Mary Apache
Review: We now have a singles match with Mary Apache making her return to Stardom after about six months as she takes on Oedo Tai Member, Hazuki. Mary and Hazuki are both partners of Hana Kimura and Kagetsu who have a match later on tonight, so it seems fitting to have these two face off in a one on one match also. Hazuki talked about how Mary is still the High-Speed Champion but considers her slow and is gonna show her what high speed is all about. Will Hazuki get the La Hazukistral in to win or will Mary put Hazuki in her place?
I love seeing Hazuki dressing up as Kagetsu and she's done this recently too after being paired off together, but she rocks the look well and even has the face paint for it too on the other side though. Mary had the early opening and even did a modified Mexican Surfboard when she pulled her head down like a chokehold, but Hazuki would eventually turn it around on her to take control for most of the match. Hazuki keeps on showing how good she is in the ring and how she can control a match as well. Hazuki would show Mary how she does high speed with how quick she was in the match doing move after move like a Hurricanrana, Springboard Dropkick, Crossface, etc. and seemed like she had everything under control.
Hazuki would have Mary up to hit a kick to her face but Mary would duck it and hit Hazuki with a stiff Superkick for a two count. Mary would get her up as Hazuki fought back for a moment to slam Mary down for a two count as she went for the Hazukistral, but went the wrong way with the twist till she corrected herself as Mary kicked out of it. Hazuki would run towards Mary as she got caught in a Michinoku Driver to get her down and Mary hits an Axe Kick along with a Michinoku Driver ll to pin Hazuki and get the victory. Very solid match showing the consistency of Hazuki while also showcasing Mary to let us know that she can still go. I wonder if Mary is considered a heel since she's teamed up with Hana Kimura, but it doesn't appear to be that way since she didn't do heel tactics and the crowd was still behind her. Wonder if there will be more shown down the road.
Hazuki battles Mary Apache at Korakuen Hall, and it's on https://t.co/q8dHnF58vW now! pic.twitter.com/ldqaXFgVcd

— We Are Stardom (@we_are_stardom) October 24, 2018
Rating: Eric Bischoff
Goddesses Of Stardom Tag League Red Stars Match
Jungle Kyona & Natsuko Tora vs. Natsu Sumire & Martina
Review: This is our last tag league match for the night as we go to the Red Stars now with our current Goddesses of Stardom Champions, Jungle Kyona and Natsuko Tora taking on two members of Oedo Tai, Natsu Sumire and…Session Moth Martina…great, she's back. So if you've been aware from my earlier coverages, she's someone I'm really not a big fan of and find her incredibly annoying with her gimmick. But hey, it's been about five months since I last saw her, so maybe things will be different now and she does have chemistry with Sumire but I hope it turns out okay. Kyona also brings up a good point that if you're gonna drink alcohol in the ring, don't spit it out since it's just a waste. More drinking! Will it be JAN or Oedo Tai winning?
After seeing how Martina is now from the last time I saw her, I think it's safe to say that I am still not a big fan of her BUT she did show a slight bit of improvement despite the botch near the end of the match, and I will say that Martina and Sumire do work really well together to be entertaining, to say the least. It wasn't a great match by any means but it was still entertaining for the most part with Sumire and Martina being comical in the match but also knowing when to work. A lot of beer was spilled in the match and while I don't like beer, still a waste of alcohol. Martina and Sumire were gonna get ready to spit beer on them but JAN would cover their mouths when they ran towards them to make them swallow it and probably the best spot of the whole match. Martina was getting in the groove against Kyona with her elbows and very nice Lung blowers until she botched that Neckbreaker and gonna blame that she was drunk, but she held Kyona up while Sumire went to spit beer at her as Kyona ducked hitting Martina by accident. Kyona would hit the Jungle Bomb on Martina as JAN gets the victory.
Now on https://t.co/q8dHnF58vW! Jungle Kyona & Natsuko Tora meet Session Moth Martina & Natsu Sumire in Tag League action! pic.twitter.com/FWsxpFHXVT

— We Are Stardom (@we_are_stardom) October 25, 2018
Rating: Eric Bischoff and a quarter
Ten Woman Tag Team Elimination Match
Konami, AZM, Utami Hayashishita, Bea Priestley & Chardonnay vs. Shiki Shibusawa, Starlight Kid, Tam Nakano, Saki Kashima & Natsumi
Review: We have our last tag match for the night with an elimination style match between STARS and Queen's Quest. Utami Hayashishita is still not officially a member of Queen's Quest but since she's Momo's partner in the league, she's considered an honorary member for the time being and will help them out to fight against STARS while Momo focuses on her big match. We even got the return of Bea Priestley and Chardonnay since it's been a while since we've last seen them in Stardom. Will Utami help Queen's Quest win or will STARS get the victory?
The beginning of the match was all over the place and it makes sense in a way since all of them were in the ring for the majority of it and tried to put too much into it at once. STARS tried to eliminate AZM early when they threw her out of the ring but was caught by Queen's Quest before her feet would land so she could stay in the ring. I thought I saw someone else familiar as it looked like Natsumi came back to Stardom when her mom, Mary Apache came up with her. Been a while since I saw her but she still has a long way to go. The first elimination would be around eight minutes after Queen's Quest hit the five Suplex line and Dropkicked all of them down as AZM hits the La Magistral onto Natsumi to get her eliminated. AZM would get too cocky as Starlight Kid hits her with a Dropkick and a 619 to try and eliminate her, but AZM would kick her down and goes to the top rope but wait, Starlight pushes AZM off to make her fall outside and is eliminated also! Konami came rushing in to kick Starlight in the face soon as she turned around. Saki would get in to fight against Konami and I don't know what happened here but it looked like Konami was going for a German and Saki ducked leading to Bea kicking Konami in the face and it looked like a really botched roll up as Konami is now eliminated.
All of them would fight around the ring for a little bit as Bea would find an opening on Shiki as she hits her Curb Stomp correctly this time and eliminated Shiki. Chardonnay and Tam would be in the ring now as it looked like Chardonnay was gonna have control until Tam kicked her in the face to daze her and knees her head when Starlight held her up, leading to Saki doing a Double Stomp off the ropes, Starlight doing a Moonsault off the second rope, and Tam hitting a Running Knee Strike to get Chardonnay eliminated from the match. Utami came into the ring now as she was getting Starlight up for the Torture Rack but Starlight turned it into a DDT and went to pick her up only for Utami to turn it around into a Sleeper Hold to choke her out as she has her up for the Torture Rack and slams her down for the pinfall. Utami would throw Saki over the ropes and saw she was holding on tight as she ran towards Saki only for her to put the rope down as they're both eliminated, a good way to protect her without pinning her. It's not down to Tam and Bea as they would try to kick each other and block it but Tam would get the upper hand and go to the top rope only for Bea to push her off and is hanging on by the apron, Bea went to get her out but Tam flipped her over as the both of them are on the apron. Tam would attempt a Tiger Suplex only for Bea to fight out of it and kneed her in the face, she would have Tam on her as if she was giving her a piggyback ride and just sat down on the apron to knock Tam out of the ring as Queen's Quest wins the match.
Rating: Eric Bischoff and a quarter
No Disqualification World of Stardom Title Match
Kagetsu (c) vs. Hana Kimura
Review: The World of Stardom Championship first before the Wonder of Stardom Championship? Are they crazy? Well, they did have a vote to see who fans felt like should close the show in our double main event and this match was winning the polls, however, since it was now considered a No Disqualification Match, they would make this one the pre-main event. Why would they do that? Well, it's because Stardom is more focused on pure wrestling rather than hardcore style matches and the last time they had a hardcore match close the show (The Exploding Death Match), it really didn't go over too well with the fans, so they decided to make Momo and Mayu close while Kagetsu and Hana are next. Hana Kimura came back to Stardom after her excursion in Mexico and she would betray Kagetsu to cost her the Five Star Grand Prix, telling her that Stardom made her soft and decided to ride solo. This feud has gotten personal between the two and it's probably the best way to settle the score with a fight. Will Kagetsu retain the title or will we get a new champion?
Hana would waste no time as she ran up to the entrance to attack Kagetsu once she walked out of the curtain and the two would begin brawling to the outside with Oedo Tai and Mary Apache getting involved quite a lot in this match. I hate to say this but this match was really disappointing to watch and don't get me wrong, it was intense as hell and I'll get to that in a bit once I talk about the issues I've had with this match. My main problem with the match is that it was way overbooked meaning that there was too much going on that it would hurt the match and story rather than saving it. The majority of the match just had a bunch of interference from both sides to the point that it would become too much and wish that it would stop or just makes me lose interest. I don't mind the hardcore type stipulation but I think it would've been a lot better if nobody was involved and you would just let these two fight, which is what I was expecting since it would've been much better storytelling, but instead we just get a big clusterfuck and the fans being blueballed, glad it didn't the main event if this is what the outcome would be.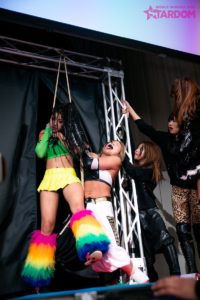 Anyway, now onto the positives of the match and one of them was that it was intense for the times that they needed to be in the match when it was just them, they showed that they did want to kill each other and even Kagetsu would have a rope around her neck to hang her by the entrance which didn't last too long. The would hit each other on the head with chairs to the point that they would even break but they would still keep fighting and not give up, Hana would even throw Kagetsu through a table and even that wasn't enough to put her away. Hana would have her in the Sickle Hold to try and make Kagetsu tap out but Kagetsu would put her in a submission of her own, choking her out while Hana struggled to break free until she would pass out to lose the match, but she didn't tap either to protect her a little bit. Kagetsu showed that the punishment for betraying the Prime Minister was death. Will Hana get revenge on them or is it a one and done?
No Disqualification! No Double Knockouts! No Time Limit! Intereference is allowed! It's Hana Kimura challenging Kagetsu for the World of Stardom title and it's on https://t.co/q8dHnF58vW now! pic.twitter.com/rNrZNQKe7A

— We Are Stardom (@we_are_stardom) October 26, 2018
Rating: Eric Bischoff and a quarter
Wonder of Stardom Title Match
Momo Watanabe (c) vs. Mayu Iwatani
Review: It's now time for our main event as we have Icon vs Ace for the Wonder of Stardom Championship. The last time Mayu and Momo fought was at the Five Star Grand Prix, it would end in a time limit draw but Mayu still came out the winner due to having more points and even went to win the whole thing while Momo won nothing. Momo also had a title for title match against Kagetsu and had her chance to win the World of Stardom Championship but she would again fail due to a double knockout. After that match though, she would call out Mayu to challenge her to a match with her title on the line to fix her mistake by not beating her. Will the Icon win the belt and have another double title match against Kagetsu or will our future Ace finally get a big win?
Soon as the bell rang, the two would Dropkick each other right away and got up to go blow for blow with each other to show how much the match meant to them and the match is considered a big deal by many, especially Momo. This was a much better match to close the show with these two since they gave us a pure wrestling match with an important story next to it. Momo's progression with the title from May to now has shown how much of a big player she has been in these past few months climbing up to the ranks, stepping up against some of their best women, and having the look of an ace of a company. Mayu has also shown that she's still the last big icon of Stardom with Io Shirai and Kairi Sane (Hojo) gone from the company and the only one holding onto the boat along with Kagetsu.
The two of them worked very well together in the ring and while if we're going by in-ring quality, then their encounter at the Grand Prix was better but this one was better in a story standpoint while still giving us a great match. This was more of a test to Momo Watanabe to see if she is worthy of having the title as the new ace since she defeated Io Shirai and while she tied against Mayu and Kagetsu, she has a second chance against Mayu to solidify herself in that top position and even stay there also. Mayu was throwing everything she had at Momo with her kicks, dirty tactic with the Paradise Lock after countering Momo's Package Driver as she held the bottom rope with Natsumi distracting the referee. Momo looked to be out of it as Mayu looks to finisher her with her Dragon Suplex Hold and she connected it to show we could have a new champion, but Momo barely kicked out of it! Mayu would go for it again but Momo countered out of it to hit two Somato's off the top rope, a Package Driver, and she picked Mayu up for a Half-and-Half Suplex and instead of going for the pin, Momo rolled her up to hit the Peach Sunrise which is what she calls the move now instead of Tequila Sunrise as Mayu still kicked out! Momo didn't leave Mayu with any breathing room as she quickly picked her back up for another Peach Sunrise and she hits it to get the win, Momo retains!
After the match, Momo talked about how she won her seventh main event here at the Korakuen Hall this year and how she and Utami will also win the Tag League. Momo would tell Mayu that she is stubborn but Mayu would take the microphone to tell her that she did lose the match, but Mayu Iwatani is still immortal and her new goal is to take that belt away from her. Arisa Hoshiki came out to take the microphone now and announced that she'll be wrestling again on November 23rd for her return match and called out Momo, telling her that her kicks are weak while she has Brazilian kicks. Momo didn't look impressed with her and said that she'll see her on November 23rd and it looks like we got our first match announced, wonder if it'll be for the title.
Now on https://t.co/q8dHnF58vW ! Momo Watanabe defends the Wonder of Stardom title versus the Stardom Icon, Mayu Iwatani! pic.twitter.com/QrtVxLtTh3

— We Are Stardom (@we_are_stardom) October 26, 2018
Rating: Bruce Prichard and a quarter
As a valued member of Prime Minister Kagetsu's cabinet, @SMR_sptmber_luv has taken an interest in the nutrition of @doranyanpa, @0929_hazuki and @mothfromdaflats. #StardomWorld #スターダム

➡️ https://t.co/jniqaHpQ5A pic.twitter.com/42CUBif5q9

— TDE Wrestling (@totaldivaseps) October 25, 2018
Overall: This show was solid for the most part, but the majority of it was either weak or borderline average aside from the main event and they all can't be winners. Have a feeling the November 23rd show will give us a stacked card with one match announced so far. Keep an eye out for it.
Favorite Match: Momo Watanabe vs. Mayu Iwatani
Least Favorite Match: Hanan & Leo Onozaki vs. Kaori Yoneyama & Ruaka
Score: 7/10