Takeshi Morishima: Traces To Nowhere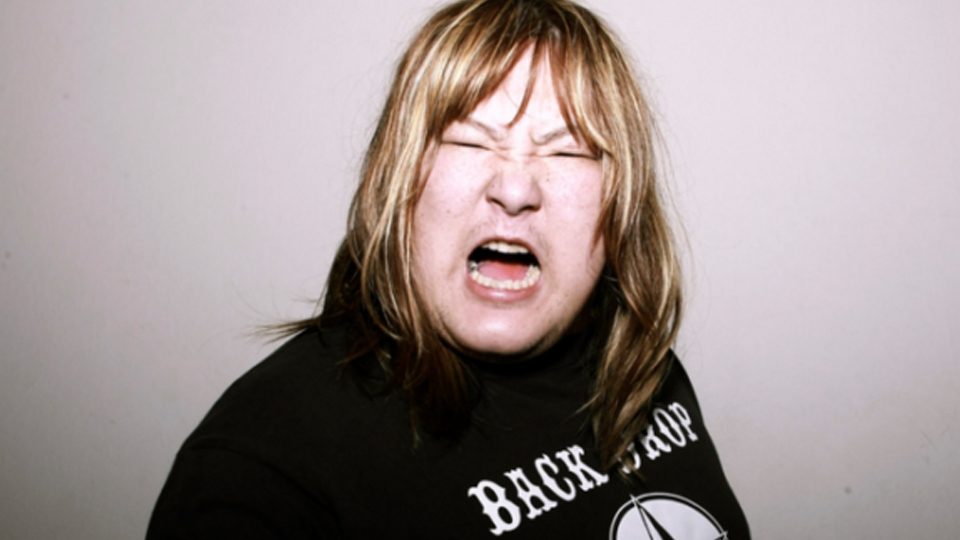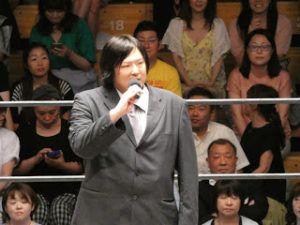 Takeshi Morishima was arrested on November 4th in Kabukichō, Tokyo for punching a taxi driver and breaking his cheekbones, in a row over fare.
Fare he didn't have by the way, which came to about 18,000 yen. It wasn't just a case of him leaving his wallet at home, he had deliberately gotten a cab without it.
Details later emerged about Morishima's disturbing state of mind and sequence of behavior leading up to the event, but we need to look further back to see the roots of the problem.
The majority of wrestlers enter the dojo system very young; usually about seventeen or eighteen. The rules are they must be healthy in body and mind, and have a High School Diploma. They usually go from the closed world of High School sports, into the cloistered world of the dojo. They go straight from their parents houses too. In the dojo they devote themselves to training, and they are only allowed out perhaps for an hour or so on a Saturday, and then perhaps only to a local convenience store, and if there are enough people to wait in the dojo on the seniors, they may even be allowed out to the cinema.
Nightlife, drinking, women, socializing, are all forbidden, and in many ways they are like Geisha, they wait on their elders and the people of their own age they do meet, they find they have little in common with, unless they too are in wrestling.
In the dojo their days are regimented, and even when they make their debuts and are allowed a little more freedom, their lives are still controlled and although they don't have the cooking\cleaning\waiting on senior in the dojo schedule anymore or knocking on doors in the morning in hotels to get hungover, bruised, battered, and exhausted wrestlers out of bed, they have tours and promotional duties, and people are on hand to tell them where they should be. The same thing happens with touring bands, some people get so used to it, they wind up taking their families shopping at 4am; some people go from tour to tour, never going home.
The lucky ones (and this is most of them) adjust well to their freedom, some marry and have a support network of partners and children or else family, others leave and still stay in the wrestling business in some way, they become trainers, start their own promotions, promote events, open restaurants, write books.
Others do not adjust (although it is rare), and very sadly Takeshi Morishima seems to have been one of these people, who did not, although he did try to get some experience for life after wrestling, it doesn't seem to have lasted long (and the company no longer exists).
It also didn't help that he seemed to be pathologically lonely, and came from a small fragmented family, who he didn't seem particularly close to, which is why in later years he clung to Kenoh, whom he used to call at midnight to chat. Kenoh always said that Morishima was a generous person, who never let him pay for anything. Morishima's kindness was such that when he made his debut, he bought young Hitoshi Kumano a steak dinner.
Kenoh credits him with teaching him how to live as a wrestler, and it is a shame that Morishima could not ultimately take his own advice.
In 2016, Takeshi Morishima started his downward spiral, probably caused by a depressive condition and burnout (he was an active wrestler and had corporate duties as well following the shake up after Misawa's death), but maybe there was an underlying condition as well that emerged at that time. His diagnosis of diabetes hit him hard its true (and Kenoh said he cried bitterly, both in the ring and outside of it), and his mental health deteriorated under the shock of being advised to retire, but at the same time he was posting odd things on social media, like rambling crazy statements about things which made no sense. Wrestling was all he had ever known, aside from High School Judo.
He left NOAH under a cloud, and vanished for three years. In the three years he was missing he bounced from job to job, concert security, bouncer, bartender, pizza maker, deliveryman for fast food, luggage porter, flower-shop employee, the list goes on.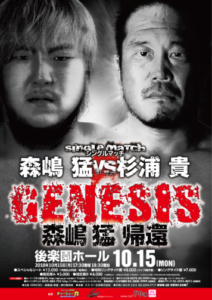 In July 2018 he announced out of the blue that he was returning to wrestling, and he would hold his comeback event at Korakuen Hall in October on his 40th birthday, which he would call "GENESIS". It was later announced that the main event would be himself versus Takashi Sugiura (NOAH's GHC Heavyweight Champion). He didn't look comfortable being there, his body language showed how nervous he was, he spoke with his eyes shut and brushed hair out of his face, he mumbled. Afterwards he practically fled the arena and got into a waiting car and collapsed against the seats. A feature with BATTLEMEN served to highlight how fragile he was.
"GENESIS" was never going to happen, and maybe that was for the best.
On the 10th September, Morishima was rushed to hospital after suffering severe pain in his feet, which was later diagnosed as "septic arthritis" (a condition diabetics are susceptible to) and he underwent emergency surgery. The event was called off and it was announced it would be rescheduled at a later date.
No replacement date was ever announced, as it seemed Morishima's behavior was becoming not just erratic, but dangerous. When he appeared at "Flight" a few weeks before his hospitalization, fans expressed concern at his behavior, Kenoh (it seemed) was also worried by it, but Takashi Sugiura was angered by it and blasted him for being rude as to go so far to plug his own event, make a challenge to him and then leave.
It's sadly true. Morishima, didn't stay around for the aftershow party (although Kenoh had hoped he would), but left to drink with Takeshi Rikio and post comments like "I am not interested in Uchida's NOAH, I am only interested in Misawa's NOAH".
An odd comment to make for a man who had been invited to a 20th anniversary for someone he had a rocky relationship with about a promotion he had arranged to fight the champion of.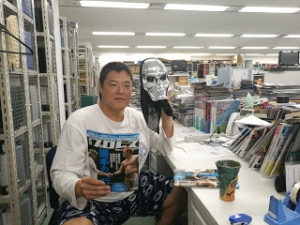 After the cancellation of the event, everything went quiet on Morishima, and people assumed that aside from the "naked drinking with DDT" (usual wrestler antics that no one takes much notice of), that he had gone back to training for his eventual return and rehabbing from surgery.
His odd behavior of turning up at Puro Weekly unannounced and in a Halloween Mask, and then posing with an issue, raised eyebrows, but the people of Kabukichō told a different story.
After his arrest it was discovered that Morishima had spent the days, not training, but drunk and wandering around the district, telling everyone he was "a star". It was later revealed that he would take a taxi to the district, and then ask people in the bars and any wrestlers he recognized who where there, for money for the taxi. This led to several establishments banning him due to the harassment of their patrons, and, as his behavior was less than exemplary, he soon gained a reputation as a mean drunk.
Housing also appeared to be an issue for him at this time (he used to have a beautiful apartment during his NOAH days and he kept a box of candy when he settled down to watch films), but now it seemed he was virtually homeless, sleeping at the homes of people he had known for a few hours, one time even as a live in employee in a restaurant he worked in. He also used to go and visit indie promotions and beg money from the younger wrestlers, at one time making them collectively cough up 500 yen for his taxi, whom he had left waiting outside while he sat and watched the show.
There were days when he couldn't even change his clothes.
On the night in question, he came into "The Stanley Bar" which is run by professional wrestler, Naoshi Sano, and tried to borrow money from him. The store manager told him that Mr. Sano wasn't there, and as he cleaned the store, Morishima made strange comments to him like "I'm a pro wrestler, and your sweeping the floor", playing with his phone, playing with the mail that had come to the store and eating sweets. In the past he had begged for drinks, only having what amounted to £10.00 or $12.00 in his pocket.
He left saying something like he had a few sweets left, and would be back with friends. During his visit, he apparently grabbed the managers arm, and left a huge bruise.
It is proposed that Morishima took a taxi, and drove around looking for people who he could beg fare off. The driver, realizing that the fare was already very high, stopped the cab and told him to pay, and that is when the row broke out.
Morishima claims he was not drinking; but his reputation is against him, and the manager of "The Stanley Bar" says he has never seen him sober.
News on Morishima has gone very quiet since his arrest, but I don't think that prison would be the right choice, and neither would giving him his freedom. Morishima needs to be court ordered somewhere to deal with his issues. NOAH offered to help him once, and he wouldn't take it.
He is only going to get help if he has no other choice, left to his own devices, he is like Takashi Sugiura says, "a child".
The reaction from the puro world has been one of disappointment, on NOAH's side, Naomichi Marufuji has said that for his own sake and that of society, Morishima needs to sort himself out. Old friend, Makoto Hashi (long retired and making a good living as a physiotherapist), said that Morishima needs to make a choice as to what he wants to do, he needs to grow as a person, and not as a wrestler.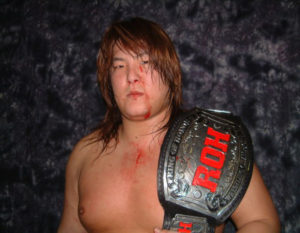 And that has been Morishima's problem; he has never managed to escape his own celebrity. It would have been far better for him that when he came back, he announced that he was returning as a trainer, any number of promotions would have snapped him up immediately, who wouldn't want to say that they had been trained by Takeshi Morishima, who was once known as "NOAH's Monster" and was one of the greatest and most memorable Ring of Honor champions, who holds the distinction of being the only Japanese one? It would have given him an income, he could have lived at the dojo, his food would have been prepared for him by the trainees, he would have eaten healthily (another bonus as the trainees are fed on dishes high in protein) and he would have had a support network in place of old friends, and people to talk to and importantly, look out for and after him.
But now sadly with this assault charge and odd behavior, who is going to want to be in the ring with him, let alone be trained by him, if he is capable of bouts of temper which seriously injure members of the public?
Steve Cook's Top 5 Worst Tag Team Names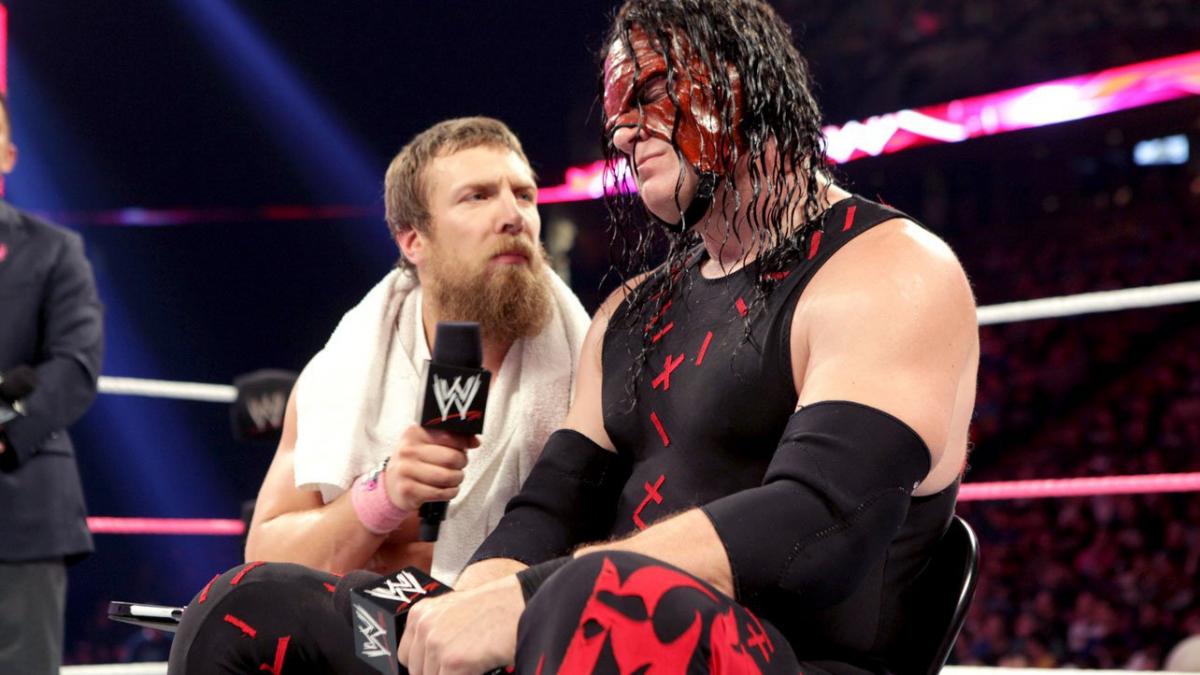 Truly inspired by The Viking Exprience, Steve Cook takes a look back at the Worst Tag Team Names in his latest Top
 

5!

The Superstar Shakeup brought some new faces to Monday Night Raw & SmackDown Live. In what was considered a bit of a surprise as they're currently NXT Tag Team Champions, Hanson & Rowe made their debut on Raw. Only they weren't Hanson & Rowe, they were Ivar & Erik. They also weren't the War Raiders. Instead, they were The Viking Experience. A week later they've changed to the Viking Raiders, which is slightly less horrible but brings back memories of the NFL during World War II when we had the Phil-Pitt Steagles.

The only solace fans can take is that Ivar & Erik won't be sunk on the main roster because they're known as the Viking Experience or the Viking Raiders or whatever else. They'll be sunk on the main roster because they're a tag team. And hey, it's not like they're the only tag team ever to have a crappy name. Here's five others!
5. Team Hell No (Daniel Bryan & Kane)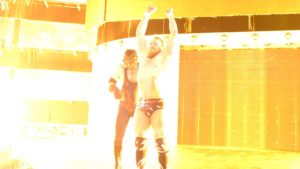 Don't get me wrong, I loved the dynamic between Bryan & Kane. If there are two wrestlers I would like to see/hear do a talk show, it would be the newly Trumpian Glen Jacobs & The New Daniel Bryan. They have amazing chemistry as a unit, though they couldn't be further apart as wrestlers or on the political spectrum.
The name though…the WWE Universe screwed this one up. Team Friendship was right there for the taking. It would have been the perfect name for Kane & Bryan based on the counseling they had gone through with Dr. Shelby. It was one of those names that would have been stupid and awesome at the same time. Instead, they went with the lazy mish-mash. Which made even less sense when they reunited years later with Bryan firmly in Yes Mode.
4. The Gangstanators (New Jack & John Kronus)
I am kinder to mish-mash names than most. I see a lot of hate out there for names like Jeri-Show, Jeri-Miz, Rated-RKO, Rybaxel and other names that wrestling writers obsessed with Brangelina gave tag teams. For me, the best part of Ryback & Curtis Axel as a tag team was their name.
A team that came along before Brangelina was a much worse example of this fad than anybody that came along after. Kronus was part of the Eliminators, and his partner Perry Saturn decided to get some work with WCW. New Jack was part of the Gangstas. I don't know what happened to his partner Mustafa, but nobody else seemed to care.
So New Jack & Kronus decided to team based off of mutual respect. Nothing wrong with that. The name was terrible though. If they had plans for this duo, they really should have come up with something new, instead of something that reminded us of two tag teams that we liked more.
---
Elisa looks great in her Chairshot gear.
You can, too!
Be like Elisa and get yours at:
https://www.prowrestlingtees.com/related/thechairshot.html
---
3. TM-61 (Nick Miller & Shane Thorne)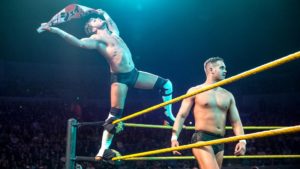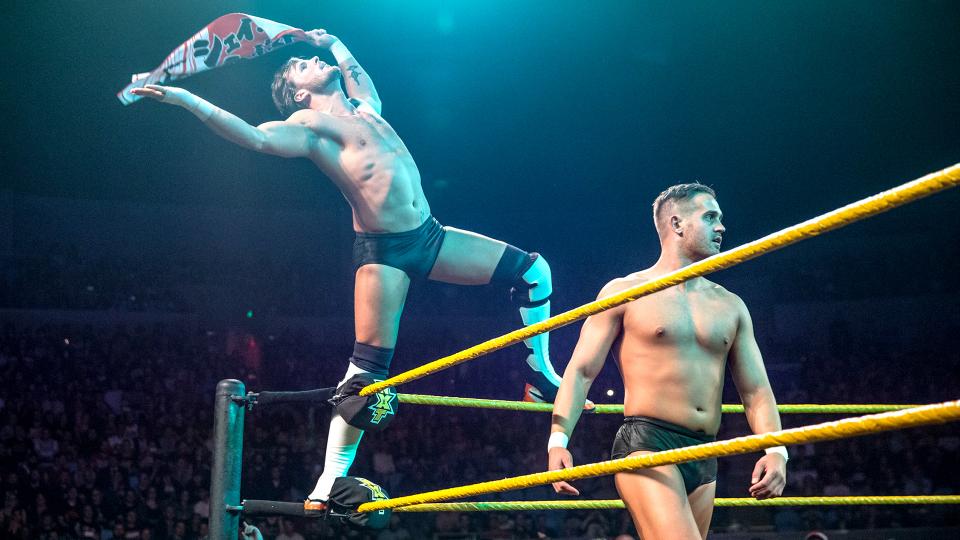 Miller & Thorne were known as The Mighty Don't Kneel, or TMDK for short, during their run throughout Australia, Japan & the American independent scene. WWE likes to change these things up, for obvious reason. So Shane Thorne got to keep his name, but Mikey Nicholls became Nick Miller, which gives us the TM part. 61 is the dialing code for Australia. So it's kind of clever.
Here's the hitch in the getty-up: No good tag team name needs this much of an explanation. You see Ax & Smash, and you understand why they're called Demolition. Bret Hart & Jim Neidhart walk out accompanied by Jimmy Hart, and The Hart Foundation sounds apt. Heck, Honky Tonk Man comes down with black-haired Greg Valentine and you get Rhythm & Blues right away. This thing…well, there's a reason they changed it to The Mighty once they turned heel.
2. The New (fill in the blank)
New anything is bad news. Especially in pro wrestling, with the exception of the original New World Order. Remember the New Blackjacks? The New Rockers? The New Midnight Express? If you're my age, you're probably trying to forget these teams, as they were nothing but a pale imitation of the original teams.
The New Blackjacks were Blackjack Bradshaw & Blackjack Windham. Marty Jannetty brought along his buddy Leif Cassidy to form the New Rockers. The New Midnight Express were Bodacious Bob & Bombastic Bart. I might be mixing those up, but I don't care enough to look it up. It was that bad. I'm pretty sure Ricky Morton & Robert Gibson have never retired because they're afraid somebody will try to make a New Rock N Roll Express.
People are learning, though. When Konnan put Santana & Ortiz together as a new tag team for him to manage in Impact Wrestling, he was smart enough not to call them The New LAX. They got to be LAX while Homicide & Hernandez had to be The OGz during their feud.
1. Air Devils (Fast Eddie & Matt Sydal)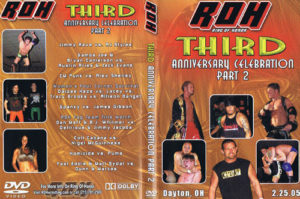 This may require some explanation. Matt Sydal was a young up & comer in the Midwest indies back in 2005. The boy had all the high-flying moves you could ask for, and a look that any babyface would love to have. He was ready to take ROH by storm, but he needed a partner! It seemed like it would be Joey Matthews for a minute, but Matthews had other business at hand with Johnny Nitro & Melina. Hardly an opportunity a wrestler would turn down. So Fast Eddie got the nod, as he'd had some ROH appearances in the past.
The ROH message board got the opportunity to vote on a name for Matt & Eddie, and I can't tell you what the other options were, but I can tell you what won. The Air Devils. See, daredevils, air devils, haw haw. A name so bad that the ROH commentators crapped on it during their debut match in Dayton, Ohio, which happened to be the very first ROH show I saw live. It was the Air Devils' first & last match together, as Fast Eddie turned on Matt Sydal and joined Prince Nana's Embassy.
Just a terrible piece of business, though it worked out in the long run for Sydal. He got over with ROH fans and had a pretty good run there. Fast Eddie…well, I'd be lying if I said I remembered a thing he did with the Embassy. When that faction won a Trios Tournament at another Dayton show I attended, they were represented by Alex Shelley, Jimmy Rave & Abyss. No Fast Eddie. He never saw his dismissal coming.
Did anybody else notice that fans chose two of these names? It goes to show that even if "The Viking Experience" is a terrible name, there's no guarantee that we would have done better.
Joe's Lucha Libre Weekly: News & Analysis (4/22/19)
The world of Lucha Libre can be insane and overwhelming–but you have Joe Dinan here to help you make sense of it all!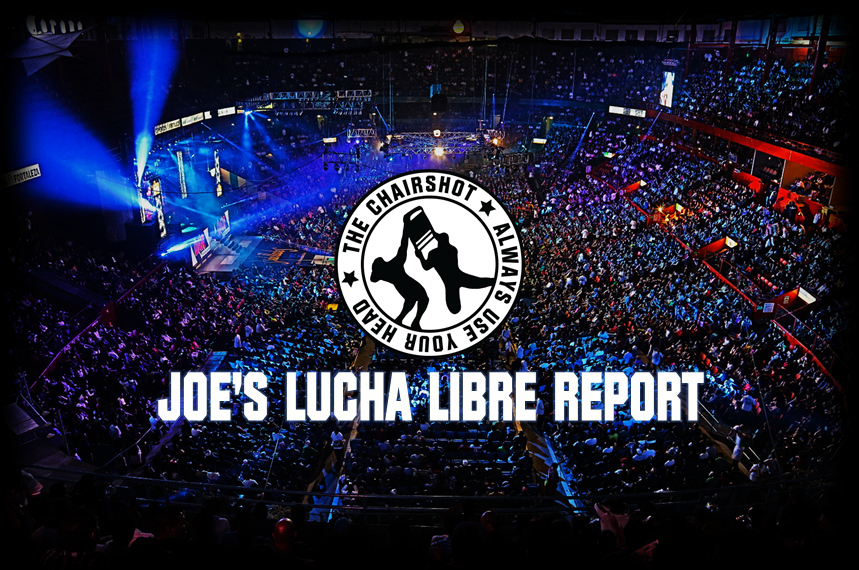 The world of Lucha Libre can be insane and overwhelming–but you have Joe Dinan here to help you make sense of it all!
CMLL
Arena Puebla and Arena Mexico Tuesday
I did not watch either of these shows, truth be told on weeks that I'm too busy I'll probably skip Tuesday at least. Not that I plan on always skipping them but sometimes duty calls in life and Friday is really the only televised show CMLL cares about. CMLL current has what I call WWE syndrome, in the sense that they have a comfortable business right now. They were struggling a little last year until LA Park and the Lucha Brothers came in for a summer tour basically. Cibernetico, El Zorro, and Charley Manson coming in helped to an extent too but not the same. So ever since then CMLL has enjoyed very nice attendance so they don't feel the need to put in a desperate effort. Which is what happens sometimes. Wrestling companies all go through that period once in a while so I'm sure they'll eventually be back to high quality things. But right now it's AAA giving high quality. So on the Monday Puebla show they set up a Police Man vs King Jaguar hair vs hair match which will be this Monday. I can't imagine most are interested but these guys probably wanna do something. And nothing of significance happened on Tuesday. Nothing usually ever does.
Arena Mexico Friday
Volador and Ultimo Guerrero successfully won Block B and will face Titan and Cavernario next week. Or this week. Depends when this drops. It will be a good match. Block B was definitely a step down from Block A as far as quality wrestling goes. There was a lot of brawling and similar finishes here in Block B. That's really all that's going on.
AAA
So some of this AAA news involves MLW and Impact so I'm going to put it all here because there's no point of typing it twice.
AAA has two shows this week, one on 4/26 and 4/28. I won't be watching the one on 4/26 live because Avengers Endgame is calling. But the line ups look like this for 4/26, Psycho Clown, La Parka, and Puma King vs Rey Escorpion, Texano jr, and Chessman. Laredo Kid and Brian Cage vs Taurus and Daga. Poder de Norte vs Sammy Guevara, Jack Evans, and Australian Suicide. 4 way match with Golden Magic vs Hijo Del Vikingo vs Villano III Jr vs Flamita. Taya and Faby Apache vs Chik Tormenta and Luchadora surprise. Lady Maravilla and Black Danger vs Big Mami and Nino Hamburguesa.
For the 4/28 show it looks like, Psycho Clown, Laredo Kid, and Puma King v Rey Escorpion, Texano Jr, and Taurus. La Parka, Golden Magic, and Nino Hamburguesa vs Chessman, Averno, and Dave the Clown. Hijo Del Vikingo, Flamita, and Villano III Jr vs Poder de Norte. Sammy Guevara vs Jack Evans vs Australian Suicide. Faby Apache and La Hiedra vs Lady Maravilla and Chik Tormenta.
So AAA also has shows coming up on May 3rd and May 5th, Cinco de Mayo. But they also have some joint show which I'm not sure if it's going to be on just TV Azteca or on Twitch too. There's no way of knowing until the day approaches cause it's AAA but it's some tournament gimmick between 5 "companies". I use quotes because Konnan is quite literally on creative for all the companies. One company isn't technically even a company anymore. Lucha Libre Elite is a defunct company propped up by AAA to do invasion angles. The other is Aro Lucha which isn't even like, it's own company. The Harris brothers run it with Konnan and they basically use AAA talent and Mexican independent talent. So it's again, basically AAA. Then we have AAA proper, whatever that entails. Then we have Impact and MLW. So at least in theory those two will use their own talent. It's some tournament format supposed to happen on May 2nd. I'll see if I have more information next week before it all happens. Maybe Konnan will reveal more on Keeping it 100 this week.