The Good, Bad and Ugly: WWE Crown Jewel Post Show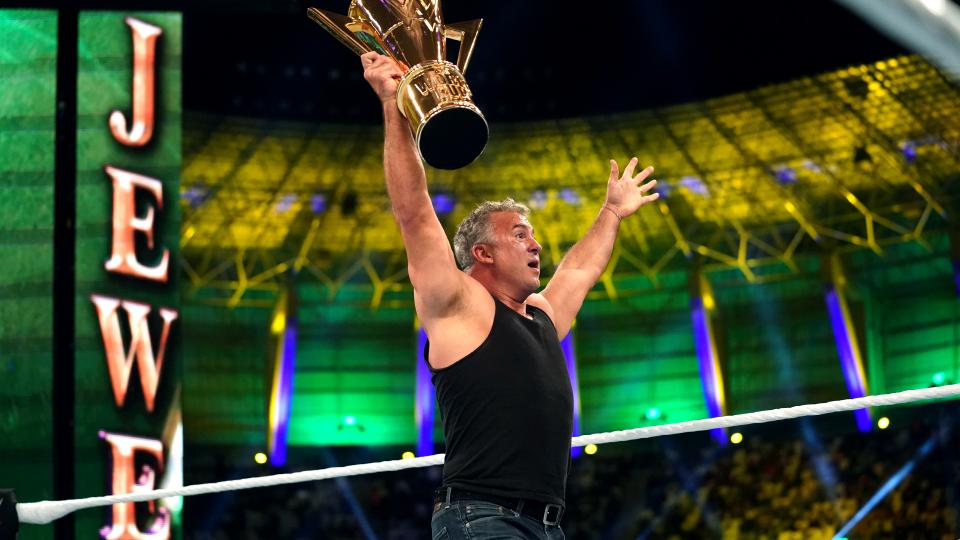 Here we go, highly anticipated by all the WWE Crown Jewel event in Saudi Arabia.  I won't waste any time, as I'm sure you have already opened and drank your entire bottle of hateraid.  Let's Begin! 
THE GOOD
Well you know something Hulkamaniacs, Hulk Hogan being a part of WWE is all GOOD!  I loved seeing the Red and Yellow back and the fans greeted him correctly!  Not the first time we got fireworks for Hogan, and from what I saw, this will not be the last.  Welcome Back Hulk Hogan!
Equally important in this section is Renee Young, sitting ringside and providing commentary in a very much overlooked aspect of this show that represents one small bit of change that WWE was able to accomplish in its second trip to the Kingdom of Saudi Arabia. They accomplished something with this!
United States Championship – Shinsuke Nakamura (c) vs. Rusev:   I notoriously hate the Pre-Show Matches, thinking they are a sad waste of talent.  Well this time the talent outweighed the situation.  This was a hot match with two of the very best WWE has to offer.  They delivered on all levels and showed their worth and waste.  I want a lot more Rusev and Nakamura, in fact as much as the WWE can give us.  This was back and forth highlighting the skill set of both.  It looked like Rusev had it closed up and was leaving with the belt, but then low blow, and a knee to the face, Nakamura Retains the US Title.
World Cup Round 1 – Rey Mysterio vs. Randy Orton: With talent at this level, I mean straight legends, I have extremely high expectations for this match.  I really enjoyed the vignettes prior to the matches, it was different and very old school.  Nice touch.  The Randy Orton dropkick was textbook, and I'm happy the announce team sold it correctly! The 619 into the DDT off the 2nd rope looked great.  Classic heel vs Babyface, Rey Mysterio and Orton did a great job in their roles and looked comfortable in their elements.  Good Match, Rey Mysterio Wins!  However Orton beat the hell out of Rey Mysterio post-match.  I hope Randy Orton stays this crazy, it suits him well.
World Cup Round 1 – Jeff Hardy vs. The Miz: Okay, I don't dislike Wrestler Face paint, and I am certainly Pro Hardy Boyz, but do I hate Jeff Hardy's face paint.   Next point, The Miz doesn't get enough love, hence why I picked him to win the whole thing.  His achievements are outstanding.  Another classic, textbook old school match.  Like the previous match, everything was tight, and clear.  The guys could do this type of match in their sleep.  I'm not saying that the crowd was great, but they definitely reacted when things got interesting, especially the way Jeff Hardy does things.  They are veterans.  Nothing that I found standout but still Good work.  Miz reverses the Twist of Fate with a Skull Crushing Finale for the victory and moves on to face Rey Mysterio in Round 2 of the World Cup Tournament.   
World Cup Round 1 – Kurt Angle vs. Dolph Ziggler: What we have here is a True Wrestling Match, reflecting both of the competitor's decorated mat wrestling backgrounds.  Pittsburgh vs Cleveland, both guys sharp, and comfortable playing off each other's move.  This match was very physical, and gave us a lot of "Wrestling" in its purest form.  Even something as simple as a sleeper spot looks good and was done well.   Very slow and careful pace but still a Good Match!  Dolph Zigger hit the Zig Zag for the win to face Seth Rollins in the Semi-Finals.
WWE Championship – AJ Styles (c) vs. Samoa Joe: This felt like a real Championship level match.  The Crowd was excited, the posture and presence of both Joe and AJ we felt.  Working a body part, this was also a textbook match.  However at a different level than the others.  The match had a great flow, and worked well.  Very physical and active.  Samoa Joe's suicide dive was sick!  It really looked stiff and made impact.   It finally was like the show opened up!  The submissions and counters were great, and as a whole, this was a Good title match.  AJ Styles retains the Title!  I cannot wait to see what is next, but I bet it will be "Awesome."
THE BAD
DX vs. The Brothers of Destruction:  I love DX's energy however HBK was very awkward and almost comical especially about his hair or lack of it.  Both Kane and the Undertaker's Entrance was just mesmerizing.  It is always a treat to see the Undertaker and the pageantry that comes with it.  The Legend, the Phenom coming through the darkness to retrieve yet another soul.  It will never get old to me even if The Undertaker does.  Legends, with epic stories, accomplishments and history repping WWE to the fullest.  The crowd was beside themselves cheering back and forth as both groups are loved by the masses.  We got all we were looking for, but then things got Ugly.  Michael collapsed, although I'm not sure why, then a very rare botch with HHH and the Undertaker made for some real awkwardness.  The crowd didn't even blink and stayed into it for the most part.  I don't feel like it ever recovered.  It could be the age or something bigger but the air was let out and it just kind of went through the motions.  Then HBK gave himself a facelift landing directly on his face from a moonsault to the outside that went wrong.  Sweet Chin Music and a Pedigree to Kane, DX Wins!
World Cup Round 1 – Seth Rollins vs. Bobby Lashley w/ Lio Rush:  I cannot stand listening to Lio Rush, but I guess that is the point. Luckily he was toned down a bit today.  Lio Rush does wrestle well though from what I have seen.  Seth Rollins is consistent and although injuries have occurred to both him and his opponents, he has had great matches.  Bobby Lashley is a Monster!  He might not be perfect, but a great athlete and Professional Wrestler.    The trend of the night so far continued. However this one was a little too plain for me.  Bad is a little harsh for the work put in but it certainly wasn't good.  Rollins wins with the Curb Stomp.  Onto the Semi-Finals against the Winner of Angle vs. Ziggler.  (R1 Winner:  Ziggler)
World Cup Semifinal – Rey Mysterio vs. The Miz: I will spare you again from hearing that this was another safe play match, but very physical as well.  Another somewhat slow paced match.  They played off of Rey Mysterio's pain from getting beaten by Randy Orton earlier in the night.  There were a few good moments in the match but overall I wasn't pulled in.  Kind of bad because the two involved are tremendous at what they do.  Miz wins off of a double knee counter to a weak frog splash.  Miz moves on to the Finals.  *Rey Mysterio is amazing, and I am very happy as a fan to have him back home in the WWE, I cannot wait for his next move. 
World Cup Semifinal – Seth Rollins vs. Dolph Ziggler: Continuing their rivalry, these two guys know each other very well.  This match was as safe as a car seat.  I wonder if the booking team told them to tone it down a bit, play the injuries, and go slower.  The action was okay, just again, very plain.  No surprises, nothing that we haven't seen a million times.  Luckily the fans have those plush chairs.  Then some high-spots, Superplex into a Falcon Arrow broken up into a Zig Zag.  Ziggler wins in true Heel fashion with outside interference by Drew McIntyre.  The Show Off heads to the Final's vs The Miz.
THE UGLY
SmackDown Tag Team Championship – The Bar (c) vs. New Day:  New Day's Entrance took forever. Corey Graves was on point with his pure hate of the Magic Carpet ride.   When The Bar and Big Show come down the aisle it is like the Power Rangers becoming Megazord.  I would say like most of the matches, the talent was meticulously paired together, and New Day and The Bar have worked each other many times, and have had great, entertaining matches.  The crowd seemed to enjoy the match.  The Bar's Back Body Drop into a jackhammer was fantastic.  I hope WWE has some big plans for Big E, he brings a great energy and power to the ring.  The Double Stomp to the Back spot with New Day was just weird.  But then even worse, The Knock Out Punch by the Big Show was weak.  Cheap ending, The Bar holds on to their Gold.   
Universal Championship – Brock Lesnar vs. Braun Strowman: Beast vs Monster for the most coveted prize in the industry.  F5, then F5, then F5.  What else can you do?    This was crap, and the wrong guy is Champion again.  We see John Cena who is invisible more than we see Brock Lesnar.  Gross, ugly, and a shame.
World Cup Finals – The Miz vs. Dolph Ziggler/Shane McMahon vs. Dolph Zigger: Heel vs. Heel, and a ton of history, I hoped it would be Good!  Then Pop!  Miz is out due to injury and cannot compete.  So, in comes Shame O' Mac, The Prince of WWE!  What?  Drew McIntyre gone, Baron Corbin gone, now we have a match, or so I thought, this was just nuts, made no sense and was ugly.  Shane McMahon wins the Best in the World Cup 2018, I guess.  This is going to be interesting in the coming weeks.
This show was a mixed bag.  Overall, I would say Crown Jewel wasn't as Good as it needed to be.  Luckily the WWE fans are loyal even when they "hate" the product they watched.  I enjoy the show for what it is, but this historic night, would be better left forgotten.  Please share and comment, see you on the next one!
WWE NXT 2021 Year in Review: Best Matches Of The Year
Bradley Jay takes a look back at 2021 for NXT as he ranks the best matches of the year!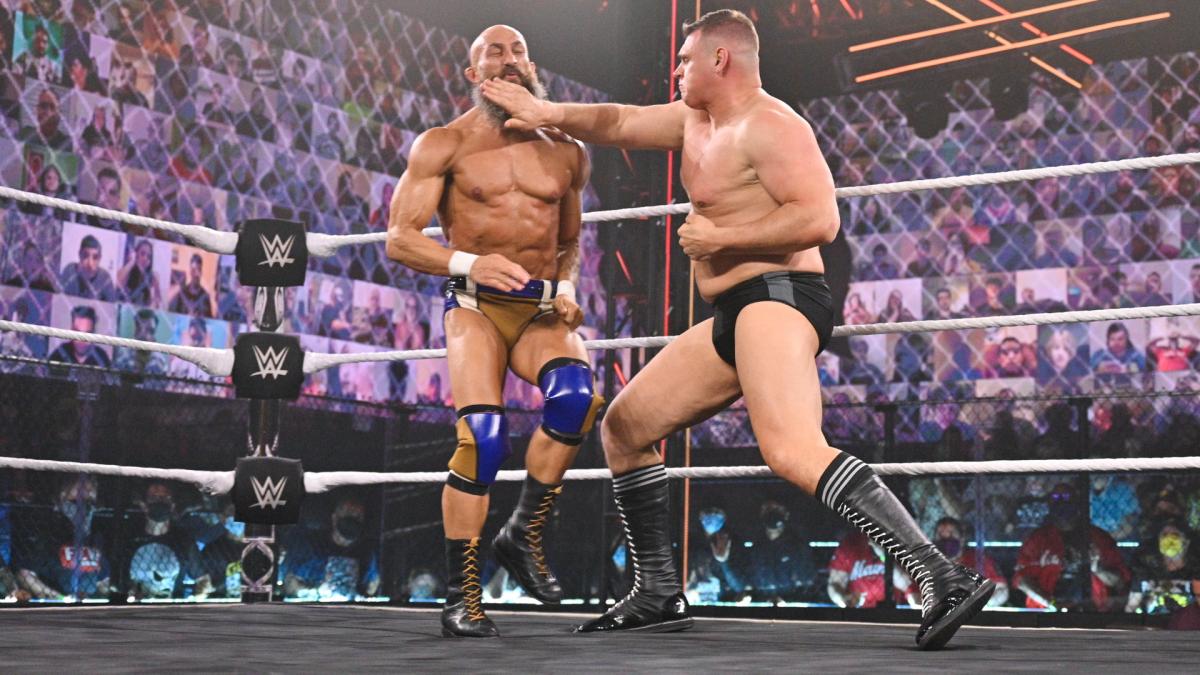 Bradley Jay takes a look back at 2021 for NXT as he ranks the best matches of the year!
Better late than never. Here are the best NXT matches of 2021.
Honorable Mentions
Ilja Dragunov versus Rampage Brown versus Joe Coffey 4.5 stars
Swerve Scott versus Leon Ruff, NXT TV, 5-4-21, 4.6 stars
KUSHIDA versus Johnny Gargano, NXT Vengeance Day, 4.6 stars
Timothy Thatcher and Tommaso Ciampa versus GYV, NXT TV, June 17, 4.7 stars
Subculture versus Eddie Dennis & Primate, NXT UK TV, 1-11, 4.7 stars
A-Kid versus Nathan Frazer versus Rampage Brown, tv 09-24 4.7 stars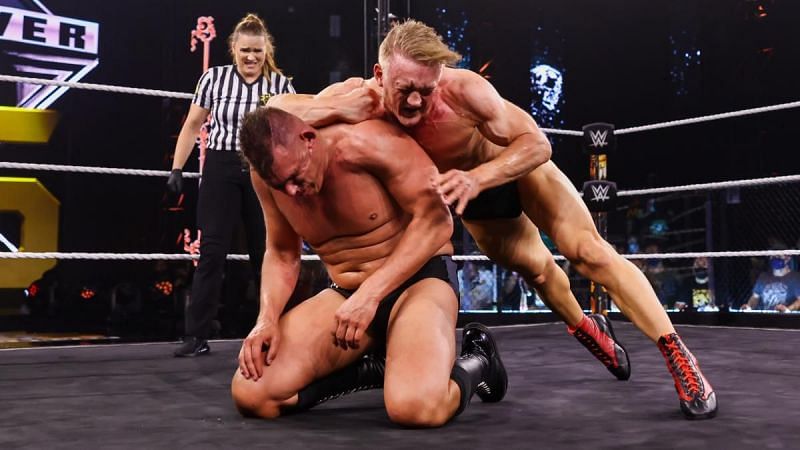 7. WALTER versus Ilja Dragunov, Takeover 36, 4.7 stars
When you are talking about the best match of the year, you have to split some hairs. Yes, this match was brutal and lived up to the hype, but the end left a sour taste in my mouth. Dragunov is standing tall, belt held high, with his foot on a prone WALTER's chest. WALTER has been too good for too long to deserve this kind of disrespect. Dragunov had a million reasons to celebrate his victory, and that gesture was forced and unnecessary. Great means great from start to finish.  
6. WALTER versus Tommaso Ciampa Takeover, Stand & Deliver,  4.7 stars
I gave Ciampa a 1% chance of winning. Despite the lack of drama, these two told a masterful story with near flawless execution. Something about WALTER brings out the best in whoever he faces. He did it with Tyler Bate and Ilja Dragunov. He did it with Ciampa. This was easily his best performance since his return from neck surgery. People say he's a brawler, while guys like Johnny Gargano and Roderick Strong are known for their gas tank. Ciampa showed he can run with the best of them. He earned the respect of Imperium and my #1 Star of the Night.
5. KLR versus Meiko Satomura, NXT UK TV, 3-4-21, 4.8 stars
Kay Lee Ray versus Meiko Satomura was brilliant. Near flawless. Oh how these two deserved a live crowd. I was worried because the build was rushed and forced. Silly me. After 25 years of bumps, Satomura is still quick as a blink. I can only imagine what she looked like in her prime. I'll be honest. The post-match show of respect from KLR was so genuine, I shed a tear.
4. KLR versus Meiko Satomura II, NXT UK TV, 6-9-21, 4.8 stars
How would they top their first MOTY contender match-up? By delivering another MOTY candidate. I would have liked to see Satomura with more rage & anger throughout. And it would have been better if I watched on mute instead of enduring Nigel McGuiness's incessant yapping. Satomura's post-match reaction was priceless. She's been wrestling for two decades and still looked like she just won her first title. If you tell me either is the best women's wrestler in the world, I will not argue with you. 
3. Grizzled Young Veterans versus MSK, Vengeance Day, 4.8 stars
It's my favorite cliche in all of wrestling: the tag team match will steal the show at Takeover. I wanted to see MSK deliver in a longer match. Wow. I got what I asked for. I loved the end when Nash Carter flipped the switch from goofy skater boi to a guy who can get angry and kick some ass. As for Wes Lee? Shades of Ricochet! And I'm already looking forward to GYV in the finals of next year's Dusty Cup Classic. 
2. Rhea Ripley versus Raquel Gonzalez, New Year's Evil, 01-06, 4.9 stars
First, one tiny grievance. I was hoping for more with the finger tattoos. Someone should have tried to tear a digit off. That would have sealed the deal and made this 5 stars. Despite that missed opportunity, I loved this match. Both women looked like absolute destroyers. I'm sorry to see this rivalry end. Any other night, including Takeover, this would have been MOTN by a miracle mile. Wednesday night was not any other night… 
1. Finn Balor versus Kyle O'Reilly, New Year's Evil, 01-06, 4.9 stars
Call me bitter, petty, a mark. If O'Reilly had won this would have been 5 stars, maybe more. There are few wrestlers in NXT more universally loved and appreciated than O'Reilly. Everyone wanted to see him win. I was certain we were getting his Daniel Bryan WrestleMania 30 moment. I felt O'Reilly's anguish when he lost. Heartbreaking. As it is, we got what could be the 2021 MOTY, and it's the first week of January! It will be a very good year watching everyone else try to top this.
The year didn't end as strong as it started, but let's be thankful for what we had. Thanks for reading, and always remember: Good things happen when you let wrestlers wrestle.  
POD is WAR & Peacemaker: Episodes 1-3 Review
DC needs some love too! It's not just all about Marvel! So POD is WAR, decides to cover some Peace-maker. John Cena, 80s hair metal, dumb jokes…is there anything more on brand?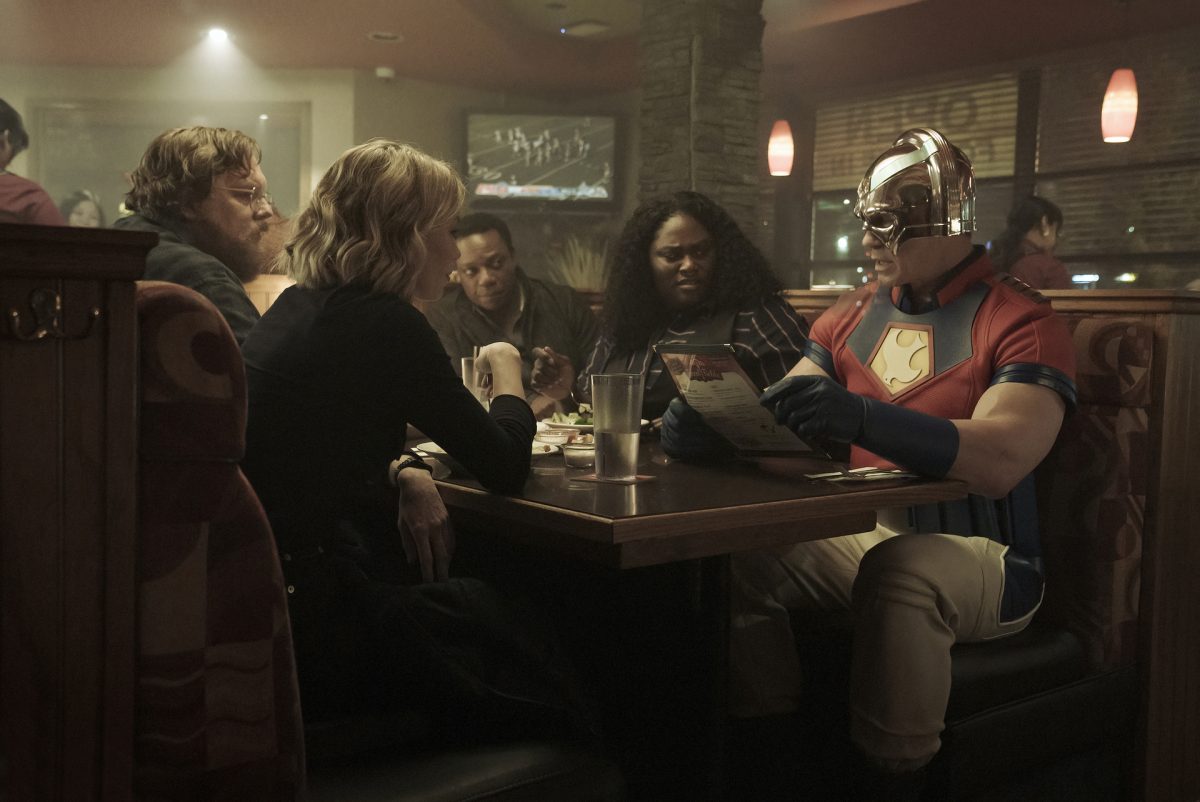 Well since the Bandwagon Nerds are buried in other shows, the tumultuous triple triad decided this show's title just goes too well with our show name. So as a cheap excuse for a literary reference, and to spread the good word of hair metal and John Cena, POD is WAR will be reviewing Peacemaker!
Show: Peacemaker
Streaming Service: HBO Max
IMDB: 8.4/10
Rotten Tomatoes: Critics – 94% / Audience – 85%
WAR & Peacemaker Review: Episodes 1-3
Andrew: It was the best of shows…it was the worst of shows. What? Have you heard the podcast? If you expect serious this is the wrong article and definitely the wrong series to be watching.
The show picks up after the events of The Suicide Squad with Peacemaker (John Cena) being told he can leave the hospital and immediately conferring with a janitor whom he smoked a little weed with during his rehab. A comedic back and forth about being trustworthy and if Peacemaker is really a Superhero and not a racist Super Villain sparks up (a pretty consistent theme through the first few episodes as well) as Peacemaker decides he'll leave but he has to be careful.
So he first heads to what I'm assuming was his place, an American flag painted trailer. We get a small hint at his crime fighting buddy Vigilante (Freddie Stroma) who left him a ton of messages because his dad (Robert Patrick) never shut off the cell service. Just as Peacemaker thinks he'll have normal situations to take care of, he's ambushed by a group of people claiming to be a detachment from A.R.G.U.S. and are employing his help on Project Butterfly. Peacemaker realize that since Amanda Waller is involved, he's not gonna be able to get out of this; even though they won't explain what the hell Project Butterfly is.
With the main story catalyst established, we then meet his father, in an unassuming house with an upside down American Flag waving in the front yard. Fast forwarding a little through the setup, his dad is a racist hard ass but also a tech genius and has created a pocket dimension in a closet to store all of Peacemaker's helmets. So an awkward attempt at Peacemaker trying to reconnect with his dad, leads us to the best eagle in a streaming show…Eagley; obviously Peacemaker's side kick and best friend.
The rest of the first episode is a lot of Peacemaker trying to live a somewhat normal life and drop the Super Villain implications. After going home with a hair metal groupie looking chick at a bar, he clumsily leaves the file on Butterflies and potential targets on the bed they just had sex on. Turns out, she's a Butterfly. So John Cena in his tighty whities is fighting this woman straight out of 1985 with Quireboys playing in the background. Peacemaker manages to get to his car (A Ford Comet with the American Flag painted on it) to get to a helmet that blows the attacking woman to literal pieces.
From there we find out that basically everyone in this squad is straight out of F Troop. The tech guy switches registration but uses Peacemaker's dad cause he was "stressed", the conversations tend to just be awkward and it comes down to Emilia Harcourt (Jennifer Holland) needing to tranquilize a good portion of police officers to get Peacemaker out of that exploded body situation.
Vigilante's actual introduction is amusing and we go through a buddy montage of shooting things and playing with grenades. Which is beneficial because when it comes down to their first Butterfly target, Peacemaker chokes because he doesn't have a reason to kill them and two targets are children. Thankfully, Vigilante is a psychopath and takes out three targets before their meta-human bodyguard Judomaster breaks up the sniper's nest. After a funny torture scene (I know what I said), we bumble our way into Judomaster getting hit by a truck to be captured and Peacemaker manages to take out the target. During all of this we see that Peacemaker's father does get arrested for the situation with the 80s looking woman, and when he enters prison, he immediately intimidates a black inmate with many of the white inmates reacting to his return. The episode ends with the Aryan Nation bowing and calling him the White Dragon.
So while Peacemaker is having a crisis of character since he doesn't feel he's a bad person, his father is a racist Nazi Super Villain. Fun times right? Reminds me of my childhood – not the point though! Since they batched the first 3 and the rest will be one episode a week, this definitely leaves enough to be intriguing. Sophomoric Deadpool style humor, with Cena's ignorant deadpan delivery of a lot of it, is pretty great so far. I personally need to see things evolve a little to really chalk this up as a great series, but the first 3 episodes had enough things to keep me intrigued. Also…the opening is…unskippable. It's a work of art.
Andrew's Rating: 4.1/5
PC Tunney: Due to an unfortunate golfing accident he is only a floating head with the ability to speak and not write. Dragon Speech technology has not reached the Tunney Mansion yet. For his thoughts tune in to the show!
PC Tunney's Rating: 4.5/5

AJ Balaz: Okay, I'm not going to lie, wasn't expecting this to be as good as it was from the start but the intro instantly had me sold from the start with the near cringe worthy, stone face dancing as Wig Wam's 'Do You Wanna Taste It Plays' to give us the joy that we are about to have in this series. The first episode give us a recap of what happened in the last Suicide Squad movie with Project Starfish and what is going on for Christopher Smith aka Peacemaker. He is tapped to do more work for the ragtag group of people who were against Amanda Waller in The Suicide Squad and are now Black Ops for a new Project that is going on, Project Butterfly. Of course being the jock like imbecile that they portray Peacemaker, they don't tell him what it is and rightfully so… he's kind of an imbecile. We are introduced to his father, who has a past we will get to later and his partner-in-crime, his best friend, Eagley. In the meantime, the ragtag group mentioned before has a file for Peacemaker involving the Project and the only thing Peacemaker is thinking of is… who he's going to have sex with now that he is a "free man". Striking out to one of the group mates, he finds a stereotypical 80's punk rock girl and goes with that. Peacemaker, does the deed and we learn that the easy strange is actually a butterfly. After Cena sings one of the softest songs in the history of songs, he gets destroyed in the fight but after jumping out of a window, grabbing his helmet from his 1968 Ford Comet in American Flag print, he uses a sonic blast to kill the Butterfly, everything in about a 5 mile radius and we get Love Bomb Baby by Tigertailz as the outro to make light of the mood.
Following that, we get the group trying to get Peacemaker out. I haven't mentioned the other main character of this story yet in, Leota who has been added to the group along with Peacemaker for this Black Ops mission. It's unclear, very sketchy as to why she is in the group but she is an absolute delight and deterrent from the super serious thought process of the rest of the group. This is where more of the comedic side comes in where Peacemaker is running up the stairs to grab things from the butterfly's room once Harcourt is telling him to stay put they are coming and he is confused as to how and asks if they can see him doing "other things" (It's very dude bro, locker room humor. You'll be desensitized from it very quickly. It's few and far between). Peacemaker runs from any potential problem, the tech guy of the group changes things over that is slightly… going to make more problems after. They group escapes normally and the problem that they did was switch the records of Car Title and fingerprints from Peacemaker's name to his father's. At the end, we see that Peacemaker's father that is now in jail, is a Supervillain, neo Nazi that has the name of "White Dragon".
The third episode starts with the group going to get rid of the politician that was in the folder from episode one and Peacemaker's sidekick comes into the fold, Vigilante. He's more of the friend that tries to impress the group more and after Peacemaker's rifle doesn't have a 'Dove of Peace' to make him feel better of killing people, Vigilante has to step in to do the job. Peacemaker freezes up until the bodyguard of the politician attacks them, Judomaster, and kidnap Vigilante and Peacemaker. After the group tries to get in the house to save them, Judomaster is incapacitated, Peacemaker manages to break free, kill the politician and a Butterfly leaves the body, trying to escape. "Oh… Project Butterfly."
AJ's Rating: 4.3/5
POD is WAR Consensus Rating on Peacemaker Episodes 1-3:  4.3/5