The Good, Bad and Ugly: WWE Crown Jewel Post Show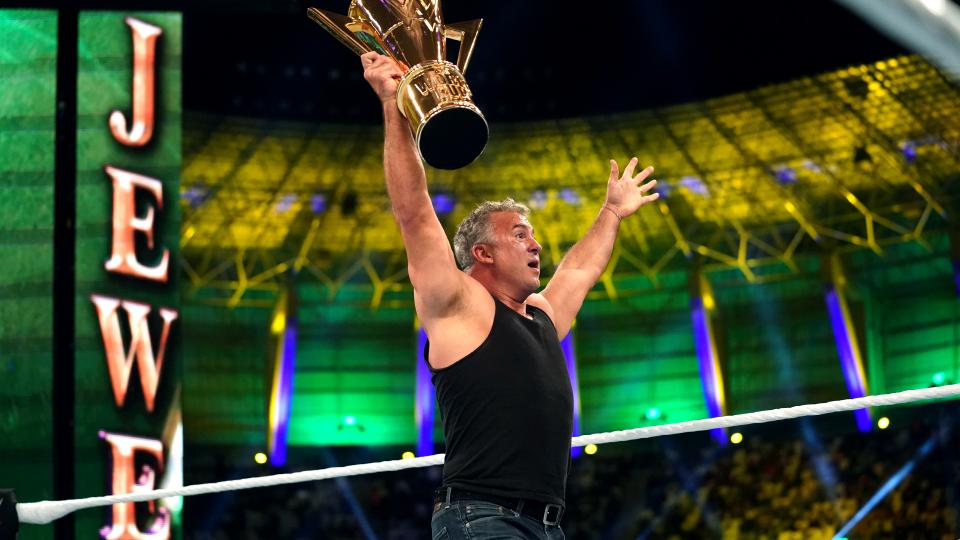 Here we go, highly anticipated by all the WWE Crown Jewel event in Saudi Arabia.  I won't waste any time, as I'm sure you have already opened and drank your entire bottle of hateraid.  Let's Begin! 
THE GOOD
Well you know something Hulkamaniacs, Hulk Hogan being a part of WWE is all GOOD!  I loved seeing the Red and Yellow back and the fans greeted him correctly!  Not the first time we got fireworks for Hogan, and from what I saw, this will not be the last.  Welcome Back Hulk Hogan!
Equally important in this section is Renee Young, sitting ringside and providing commentary in a very much overlooked aspect of this show that represents one small bit of change that WWE was able to accomplish in its second trip to the Kingdom of Saudi Arabia. They accomplished something with this!
United States Championship – Shinsuke Nakamura (c) vs. Rusev:   I notoriously hate the Pre-Show Matches, thinking they are a sad waste of talent.  Well this time the talent outweighed the situation.  This was a hot match with two of the very best WWE has to offer.  They delivered on all levels and showed their worth and waste.  I want a lot more Rusev and Nakamura, in fact as much as the WWE can give us.  This was back and forth highlighting the skill set of both.  It looked like Rusev had it closed up and was leaving with the belt, but then low blow, and a knee to the face, Nakamura Retains the US Title.
World Cup Round 1 – Rey Mysterio vs. Randy Orton: With talent at this level, I mean straight legends, I have extremely high expectations for this match.  I really enjoyed the vignettes prior to the matches, it was different and very old school.  Nice touch.  The Randy Orton dropkick was textbook, and I'm happy the announce team sold it correctly! The 619 into the DDT off the 2nd rope looked great.  Classic heel vs Babyface, Rey Mysterio and Orton did a great job in their roles and looked comfortable in their elements.  Good Match, Rey Mysterio Wins!  However Orton beat the hell out of Rey Mysterio post-match.  I hope Randy Orton stays this crazy, it suits him well.
World Cup Round 1 – Jeff Hardy vs. The Miz: Okay, I don't dislike Wrestler Face paint, and I am certainly Pro Hardy Boyz, but do I hate Jeff Hardy's face paint.   Next point, The Miz doesn't get enough love, hence why I picked him to win the whole thing.  His achievements are outstanding.  Another classic, textbook old school match.  Like the previous match, everything was tight, and clear.  The guys could do this type of match in their sleep.  I'm not saying that the crowd was great, but they definitely reacted when things got interesting, especially the way Jeff Hardy does things.  They are veterans.  Nothing that I found standout but still Good work.  Miz reverses the Twist of Fate with a Skull Crushing Finale for the victory and moves on to face Rey Mysterio in Round 2 of the World Cup Tournament.   
World Cup Round 1 – Kurt Angle vs. Dolph Ziggler: What we have here is a True Wrestling Match, reflecting both of the competitor's decorated mat wrestling backgrounds.  Pittsburgh vs Cleveland, both guys sharp, and comfortable playing off each other's move.  This match was very physical, and gave us a lot of "Wrestling" in its purest form.  Even something as simple as a sleeper spot looks good and was done well.   Very slow and careful pace but still a Good Match!  Dolph Zigger hit the Zig Zag for the win to face Seth Rollins in the Semi-Finals.
WWE Championship – AJ Styles (c) vs. Samoa Joe: This felt like a real Championship level match.  The Crowd was excited, the posture and presence of both Joe and AJ we felt.  Working a body part, this was also a textbook match.  However at a different level than the others.  The match had a great flow, and worked well.  Very physical and active.  Samoa Joe's suicide dive was sick!  It really looked stiff and made impact.   It finally was like the show opened up!  The submissions and counters were great, and as a whole, this was a Good title match.  AJ Styles retains the Title!  I cannot wait to see what is next, but I bet it will be "Awesome."
THE BAD
DX vs. The Brothers of Destruction:  I love DX's energy however HBK was very awkward and almost comical especially about his hair or lack of it.  Both Kane and the Undertaker's Entrance was just mesmerizing.  It is always a treat to see the Undertaker and the pageantry that comes with it.  The Legend, the Phenom coming through the darkness to retrieve yet another soul.  It will never get old to me even if The Undertaker does.  Legends, with epic stories, accomplishments and history repping WWE to the fullest.  The crowd was beside themselves cheering back and forth as both groups are loved by the masses.  We got all we were looking for, but then things got Ugly.  Michael collapsed, although I'm not sure why, then a very rare botch with HHH and the Undertaker made for some real awkwardness.  The crowd didn't even blink and stayed into it for the most part.  I don't feel like it ever recovered.  It could be the age or something bigger but the air was let out and it just kind of went through the motions.  Then HBK gave himself a facelift landing directly on his face from a moonsault to the outside that went wrong.  Sweet Chin Music and a Pedigree to Kane, DX Wins!
World Cup Round 1 – Seth Rollins vs. Bobby Lashley w/ Lio Rush:  I cannot stand listening to Lio Rush, but I guess that is the point. Luckily he was toned down a bit today.  Lio Rush does wrestle well though from what I have seen.  Seth Rollins is consistent and although injuries have occurred to both him and his opponents, he has had great matches.  Bobby Lashley is a Monster!  He might not be perfect, but a great athlete and Professional Wrestler.    The trend of the night so far continued. However this one was a little too plain for me.  Bad is a little harsh for the work put in but it certainly wasn't good.  Rollins wins with the Curb Stomp.  Onto the Semi-Finals against the Winner of Angle vs. Ziggler.  (R1 Winner:  Ziggler)
World Cup Semifinal – Rey Mysterio vs. The Miz: I will spare you again from hearing that this was another safe play match, but very physical as well.  Another somewhat slow paced match.  They played off of Rey Mysterio's pain from getting beaten by Randy Orton earlier in the night.  There were a few good moments in the match but overall I wasn't pulled in.  Kind of bad because the two involved are tremendous at what they do.  Miz wins off of a double knee counter to a weak frog splash.  Miz moves on to the Finals.  *Rey Mysterio is amazing, and I am very happy as a fan to have him back home in the WWE, I cannot wait for his next move. 
World Cup Semifinal – Seth Rollins vs. Dolph Ziggler: Continuing their rivalry, these two guys know each other very well.  This match was as safe as a car seat.  I wonder if the booking team told them to tone it down a bit, play the injuries, and go slower.  The action was okay, just again, very plain.  No surprises, nothing that we haven't seen a million times.  Luckily the fans have those plush chairs.  Then some high-spots, Superplex into a Falcon Arrow broken up into a Zig Zag.  Ziggler wins in true Heel fashion with outside interference by Drew McIntyre.  The Show Off heads to the Final's vs The Miz.
THE UGLY
SmackDown Tag Team Championship – The Bar (c) vs. New Day:  New Day's Entrance took forever. Corey Graves was on point with his pure hate of the Magic Carpet ride.   When The Bar and Big Show come down the aisle it is like the Power Rangers becoming Megazord.  I would say like most of the matches, the talent was meticulously paired together, and New Day and The Bar have worked each other many times, and have had great, entertaining matches.  The crowd seemed to enjoy the match.  The Bar's Back Body Drop into a jackhammer was fantastic.  I hope WWE has some big plans for Big E, he brings a great energy and power to the ring.  The Double Stomp to the Back spot with New Day was just weird.  But then even worse, The Knock Out Punch by the Big Show was weak.  Cheap ending, The Bar holds on to their Gold.   
Universal Championship – Brock Lesnar vs. Braun Strowman: Beast vs Monster for the most coveted prize in the industry.  F5, then F5, then F5.  What else can you do?    This was crap, and the wrong guy is Champion again.  We see John Cena who is invisible more than we see Brock Lesnar.  Gross, ugly, and a shame.
World Cup Finals – The Miz vs. Dolph Ziggler/Shane McMahon vs. Dolph Zigger: Heel vs. Heel, and a ton of history, I hoped it would be Good!  Then Pop!  Miz is out due to injury and cannot compete.  So, in comes Shame O' Mac, The Prince of WWE!  What?  Drew McIntyre gone, Baron Corbin gone, now we have a match, or so I thought, this was just nuts, made no sense and was ugly.  Shane McMahon wins the Best in the World Cup 2018, I guess.  This is going to be interesting in the coming weeks.
This show was a mixed bag.  Overall, I would say Crown Jewel wasn't as Good as it needed to be.  Luckily the WWE fans are loyal even when they "hate" the product they watched.  I enjoy the show for what it is, but this historic night, would be better left forgotten.  Please share and comment, see you on the next one!
King's WrestleMania Rewind: Charlotte Flair vs. Asuka from WrestleMania 34
Chris king is back with one of the most underrated matches in WrestleMania history–Charlotte Flair vs. Asuka!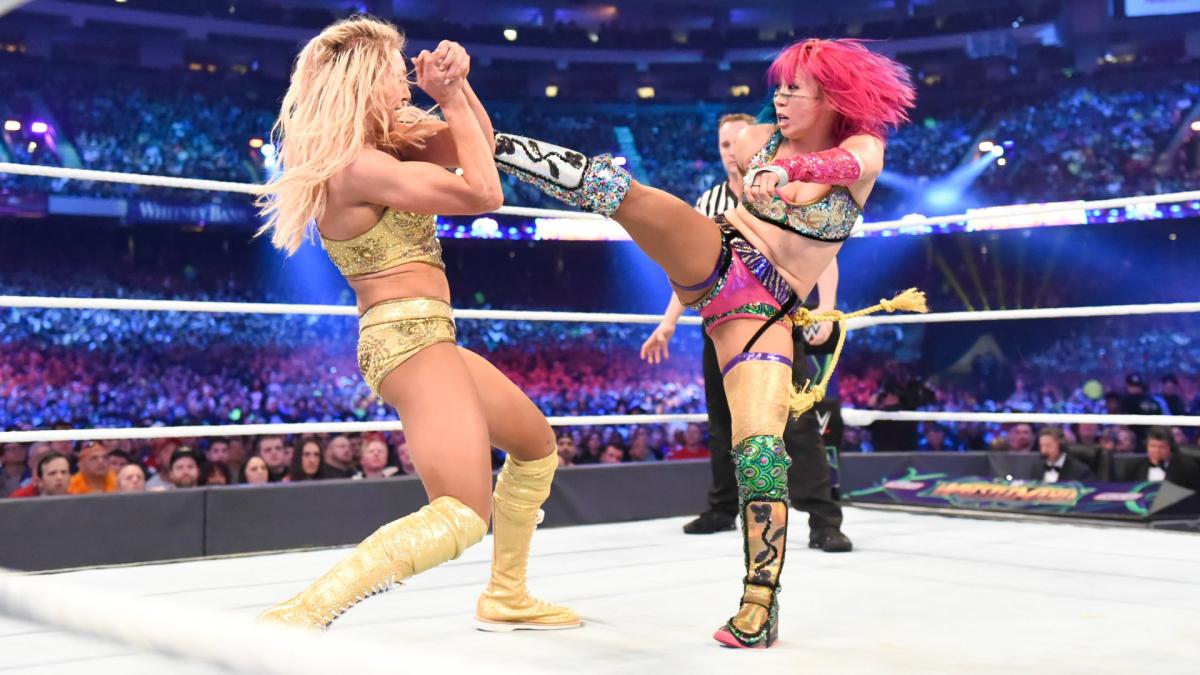 Chris king is back with one of the most underrated matches in WrestleMania history–Charlotte Flair vs. Asuka!
We look back at Charlotte Flair vs. Asuka at WWE WrestleMania 34. 'The Empress of Tomorrow' put her unprecedented and historic undefeated streak of 914 days on the line against 'The Queen's' SmackDown Women's Championship.
For years, this was considered a dream match while Asuka dominated the roster in NXT, while Flair won numerous championships on the main roster on both Raw and SmackDown. The Empress made her long-awaited debut on the September 11th episode of Raw and began to tear through the competition.
Asuka outlasted all twenty-nine other women in the historic first-ever Women's Royal Rumble match to challenge for the title of her choosing. At Fastlane, she made her choice.
The WWE Universe was so excited for this match myself included. Both superstars delivered a fantastic performance on the Grandest Stage of Them All executing counter after counter. Asuka showed off some nasty-looking kicks to her opponent, and Flair hit a thunderous Spanish Fly off the top rope. Flair was seconds away from defeat at the hands of The Empress but she locked in Figure Eight and Asuka was forced to tap out.
I can't even begin to explain how shocked I was at this outcome, as nearly everyone expected The Empress to continue her undefeated streak and walk away with the women's title. This controversial decision was the downfall of Asuka's momentum. She would ultimately win the SmackDown Women's Championship at the 2018 TLC pay-per-view in the triple-threat ladder match.
Fast forward to this year when Asuka has recently returned with her Japanese-inspired persona Kana. Kana is dangerous and ruthless and is heading into a championship with Bianca Belair at WrestleMania 39. The Empress has regained all her momentum and is highly favored to walk away with the Raw Women's Championship. Let's hope that Asuka and Belair can tear the house down and deliver an A+ grade match both women are fully capable of.
King: Dominik Mysterio Needs To Do This At WrestleMania
Chris King is here with what WWE should do with Dominik Mysterio at WrestleMania in his long-awaited match against his father Rey Mysterio Jr.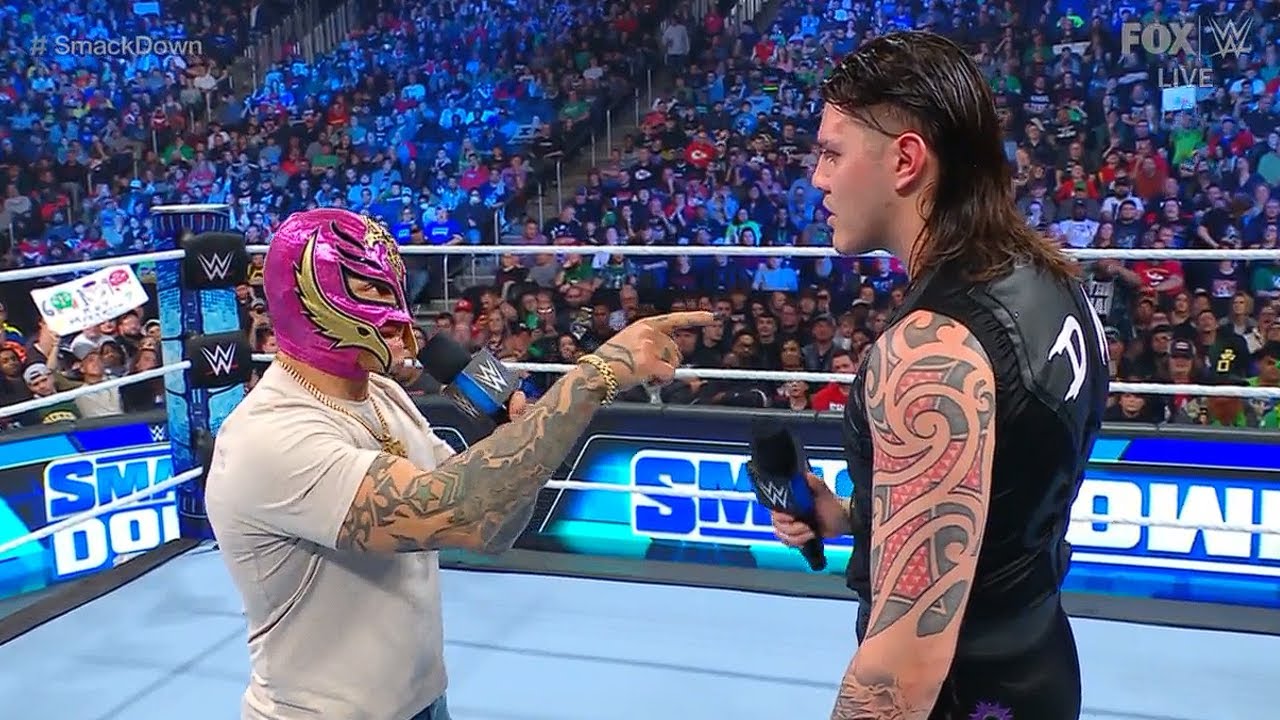 Chris King is here with what WWE should do with Dominik Mysterio at WrestleMania in his long-awaited match against his father Rey Mysterio Jr. 
On this week's episode of Friday Night SmackDown, Rey Mysterio finally snapped and beat some sense into his disrespectful punk-ass kid Dominik. The member of the Judgement Day came out to push his father again for a match on the Grandest Stage of Them All, this time with his mother and sister at ringside. The ungrateful punk told his mom to "Shut Up," as a father even I wanted to jump through the screen and whoop his ass.
Back in October of last year, Mysterio made the emotional decision to possibly quit the company but, instead, Triple H persuaded the Lucha libre superstar to move over to SmackDown to avoid his son. This came after Dominik shockingly turned on his father at Clash at the Castle. Mysterio did everything he could to refuse his despicable son's challenge for Mania but, a man can only be pushed so far. Mysterio will be inducted into the 2023 WWE Hall of Fame and I expect Dominik to embarrass his father during his speech to further this personal feud.
Yes, the WWE Universe hates Dominik and wants to see him get the ever-loving crap kicked out of him but, this feud is missing a special ingredient to capitalize on the biggest heat possible. Throughout this feud, Dominik has made mention of the legendary Eddie Guerrero on several occasions going back to the "iconic" 2005 feud.
I know WWE might not want to go this route but, Dominik MUST come out to Eddie Guerrero's theme at Mania. The disrespectful punk needs to come out in a lowrider to garner nuclear heat. It doesn't matter if The Judgement Day comes out and causes interference for Dominik to get the win, all that matters is that both superstars get the biggest payoff of this nearly year-long feud. Just imagine the Roman Reigns heat after he defeated The Undertaker and multiply that by ten. Dominik portrays the perfect heel and he truly is the missing ingredient that The Judgement Day needed to grow and evolve into a top faction.