The Good, Bad and Ugly: WWE Crown Jewel Post Show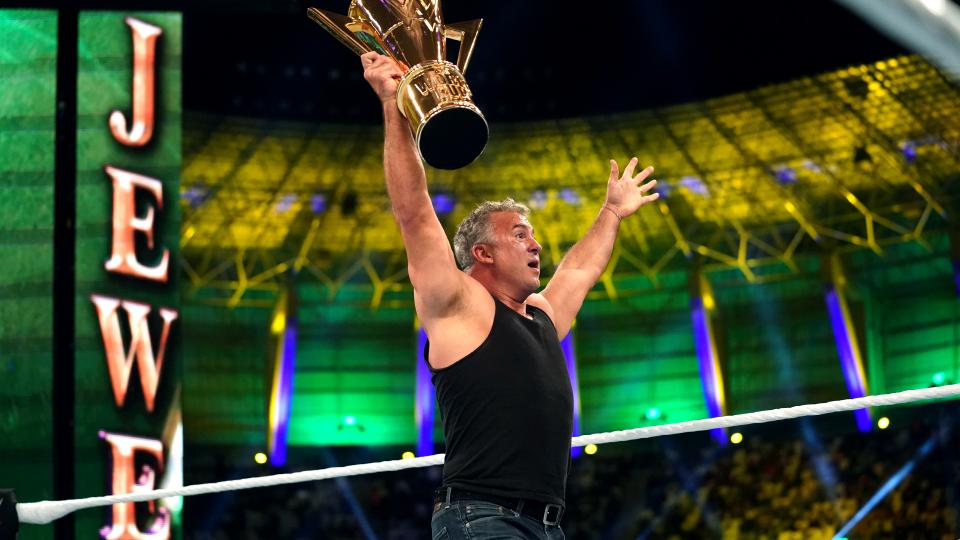 Here we go, highly anticipated by all the WWE Crown Jewel event in Saudi Arabia.  I won't waste any time, as I'm sure you have already opened and drank your entire bottle of hateraid.  Let's Begin! 
THE GOOD
Well you know something Hulkamaniacs, Hulk Hogan being a part of WWE is all GOOD!  I loved seeing the Red and Yellow back and the fans greeted him correctly!  Not the first time we got fireworks for Hogan, and from what I saw, this will not be the last.  Welcome Back Hulk Hogan!
Equally important in this section is Renee Young, sitting ringside and providing commentary in a very much overlooked aspect of this show that represents one small bit of change that WWE was able to accomplish in its second trip to the Kingdom of Saudi Arabia. They accomplished something with this!
United States Championship – Shinsuke Nakamura (c) vs. Rusev:   I notoriously hate the Pre-Show Matches, thinking they are a sad waste of talent.  Well this time the talent outweighed the situation.  This was a hot match with two of the very best WWE has to offer.  They delivered on all levels and showed their worth and waste.  I want a lot more Rusev and Nakamura, in fact as much as the WWE can give us.  This was back and forth highlighting the skill set of both.  It looked like Rusev had it closed up and was leaving with the belt, but then low blow, and a knee to the face, Nakamura Retains the US Title.
World Cup Round 1 – Rey Mysterio vs. Randy Orton: With talent at this level, I mean straight legends, I have extremely high expectations for this match.  I really enjoyed the vignettes prior to the matches, it was different and very old school.  Nice touch.  The Randy Orton dropkick was textbook, and I'm happy the announce team sold it correctly! The 619 into the DDT off the 2nd rope looked great.  Classic heel vs Babyface, Rey Mysterio and Orton did a great job in their roles and looked comfortable in their elements.  Good Match, Rey Mysterio Wins!  However Orton beat the hell out of Rey Mysterio post-match.  I hope Randy Orton stays this crazy, it suits him well.
World Cup Round 1 – Jeff Hardy vs. The Miz: Okay, I don't dislike Wrestler Face paint, and I am certainly Pro Hardy Boyz, but do I hate Jeff Hardy's face paint.   Next point, The Miz doesn't get enough love, hence why I picked him to win the whole thing.  His achievements are outstanding.  Another classic, textbook old school match.  Like the previous match, everything was tight, and clear.  The guys could do this type of match in their sleep.  I'm not saying that the crowd was great, but they definitely reacted when things got interesting, especially the way Jeff Hardy does things.  They are veterans.  Nothing that I found standout but still Good work.  Miz reverses the Twist of Fate with a Skull Crushing Finale for the victory and moves on to face Rey Mysterio in Round 2 of the World Cup Tournament.   
World Cup Round 1 – Kurt Angle vs. Dolph Ziggler: What we have here is a True Wrestling Match, reflecting both of the competitor's decorated mat wrestling backgrounds.  Pittsburgh vs Cleveland, both guys sharp, and comfortable playing off each other's move.  This match was very physical, and gave us a lot of "Wrestling" in its purest form.  Even something as simple as a sleeper spot looks good and was done well.   Very slow and careful pace but still a Good Match!  Dolph Zigger hit the Zig Zag for the win to face Seth Rollins in the Semi-Finals.
WWE Championship – AJ Styles (c) vs. Samoa Joe: This felt like a real Championship level match.  The Crowd was excited, the posture and presence of both Joe and AJ we felt.  Working a body part, this was also a textbook match.  However at a different level than the others.  The match had a great flow, and worked well.  Very physical and active.  Samoa Joe's suicide dive was sick!  It really looked stiff and made impact.   It finally was like the show opened up!  The submissions and counters were great, and as a whole, this was a Good title match.  AJ Styles retains the Title!  I cannot wait to see what is next, but I bet it will be "Awesome."
THE BAD
DX vs. The Brothers of Destruction:  I love DX's energy however HBK was very awkward and almost comical especially about his hair or lack of it.  Both Kane and the Undertaker's Entrance was just mesmerizing.  It is always a treat to see the Undertaker and the pageantry that comes with it.  The Legend, the Phenom coming through the darkness to retrieve yet another soul.  It will never get old to me even if The Undertaker does.  Legends, with epic stories, accomplishments and history repping WWE to the fullest.  The crowd was beside themselves cheering back and forth as both groups are loved by the masses.  We got all we were looking for, but then things got Ugly.  Michael collapsed, although I'm not sure why, then a very rare botch with HHH and the Undertaker made for some real awkwardness.  The crowd didn't even blink and stayed into it for the most part.  I don't feel like it ever recovered.  It could be the age or something bigger but the air was let out and it just kind of went through the motions.  Then HBK gave himself a facelift landing directly on his face from a moonsault to the outside that went wrong.  Sweet Chin Music and a Pedigree to Kane, DX Wins!
World Cup Round 1 – Seth Rollins vs. Bobby Lashley w/ Lio Rush:  I cannot stand listening to Lio Rush, but I guess that is the point. Luckily he was toned down a bit today.  Lio Rush does wrestle well though from what I have seen.  Seth Rollins is consistent and although injuries have occurred to both him and his opponents, he has had great matches.  Bobby Lashley is a Monster!  He might not be perfect, but a great athlete and Professional Wrestler.    The trend of the night so far continued. However this one was a little too plain for me.  Bad is a little harsh for the work put in but it certainly wasn't good.  Rollins wins with the Curb Stomp.  Onto the Semi-Finals against the Winner of Angle vs. Ziggler.  (R1 Winner:  Ziggler)
World Cup Semifinal – Rey Mysterio vs. The Miz: I will spare you again from hearing that this was another safe play match, but very physical as well.  Another somewhat slow paced match.  They played off of Rey Mysterio's pain from getting beaten by Randy Orton earlier in the night.  There were a few good moments in the match but overall I wasn't pulled in.  Kind of bad because the two involved are tremendous at what they do.  Miz wins off of a double knee counter to a weak frog splash.  Miz moves on to the Finals.  *Rey Mysterio is amazing, and I am very happy as a fan to have him back home in the WWE, I cannot wait for his next move. 
World Cup Semifinal – Seth Rollins vs. Dolph Ziggler: Continuing their rivalry, these two guys know each other very well.  This match was as safe as a car seat.  I wonder if the booking team told them to tone it down a bit, play the injuries, and go slower.  The action was okay, just again, very plain.  No surprises, nothing that we haven't seen a million times.  Luckily the fans have those plush chairs.  Then some high-spots, Superplex into a Falcon Arrow broken up into a Zig Zag.  Ziggler wins in true Heel fashion with outside interference by Drew McIntyre.  The Show Off heads to the Final's vs The Miz.
THE UGLY
SmackDown Tag Team Championship – The Bar (c) vs. New Day:  New Day's Entrance took forever. Corey Graves was on point with his pure hate of the Magic Carpet ride.   When The Bar and Big Show come down the aisle it is like the Power Rangers becoming Megazord.  I would say like most of the matches, the talent was meticulously paired together, and New Day and The Bar have worked each other many times, and have had great, entertaining matches.  The crowd seemed to enjoy the match.  The Bar's Back Body Drop into a jackhammer was fantastic.  I hope WWE has some big plans for Big E, he brings a great energy and power to the ring.  The Double Stomp to the Back spot with New Day was just weird.  But then even worse, The Knock Out Punch by the Big Show was weak.  Cheap ending, The Bar holds on to their Gold.   
Universal Championship – Brock Lesnar vs. Braun Strowman: Beast vs Monster for the most coveted prize in the industry.  F5, then F5, then F5.  What else can you do?    This was crap, and the wrong guy is Champion again.  We see John Cena who is invisible more than we see Brock Lesnar.  Gross, ugly, and a shame.
World Cup Finals – The Miz vs. Dolph Ziggler/Shane McMahon vs. Dolph Zigger: Heel vs. Heel, and a ton of history, I hoped it would be Good!  Then Pop!  Miz is out due to injury and cannot compete.  So, in comes Shame O' Mac, The Prince of WWE!  What?  Drew McIntyre gone, Baron Corbin gone, now we have a match, or so I thought, this was just nuts, made no sense and was ugly.  Shane McMahon wins the Best in the World Cup 2018, I guess.  This is going to be interesting in the coming weeks.
This show was a mixed bag.  Overall, I would say Crown Jewel wasn't as Good as it needed to be.  Luckily the WWE fans are loyal even when they "hate" the product they watched.  I enjoy the show for what it is, but this historic night, would be better left forgotten.  Please share and comment, see you on the next one!
Rob: Has Pro Wrestling Become Too Soft?
The Undertaker took the online wrestling community by storm with his comments on the current product, and Rob offers some perspective!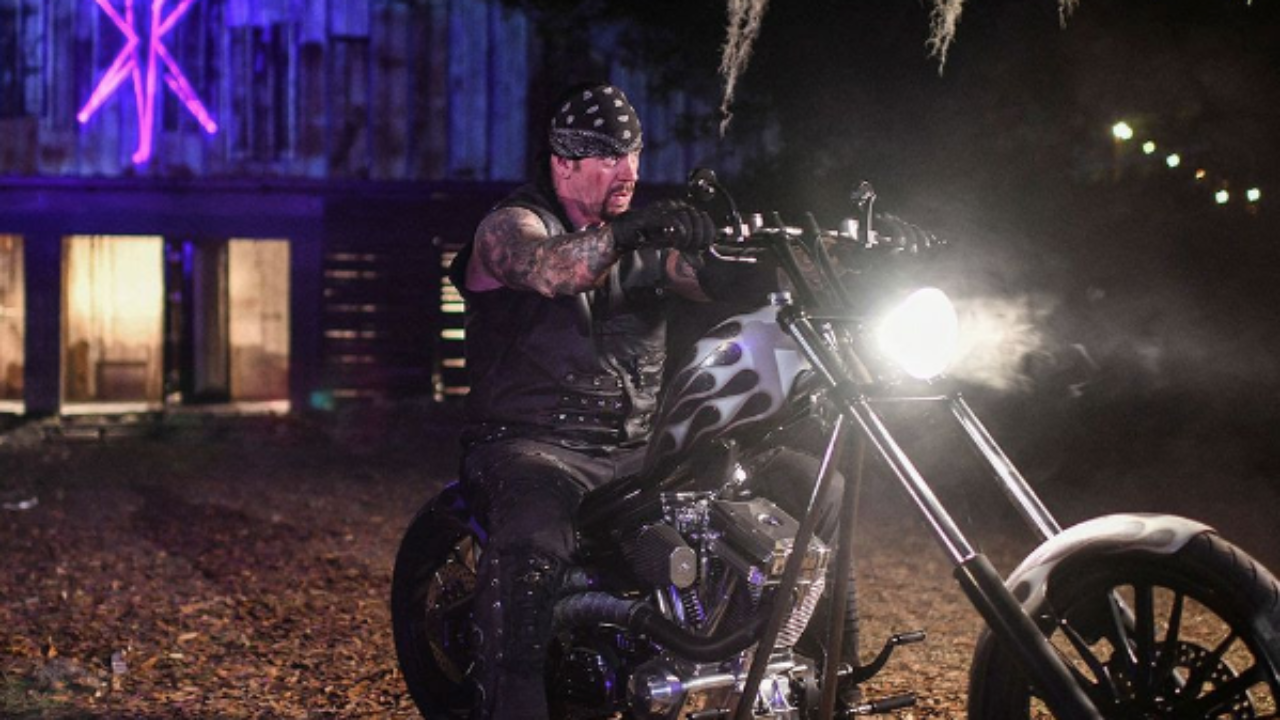 The Undertaker took the online wrestling community by storm with his comments on the current product, and Rob offers some perspective!
So……the Undertaker had some things to say about how the kids today just aren't doing it the way they did back in his day, and that it's hurting the product.  In short he said it was harder to watch now because it was soft, and the guys weren't real enough men – they spend too much time trying to look good and do things like play video games instead of packing heat.  Uhh………yeah………ok, Mr Callaway.
Now look, we can talk about the ring work – I for one think that there are way too many matches that look more like a gymnastics floor routine than what's supposed to be a fight, from the indies all the way up to the WWE.  If he wants to stick to that than I think he's worth listening to.  But that's not what he focused on.  No, he spoke about how guys used to carry guns and knives in their bags, and that guys 'handled stuff' back in the day, and weren't so occupied with grooming or playing video games with each other.  And that the changed behavior over the last few years has made the overall wrestling product harder to enjoy.  Help me out here but I don't see how playing video games with each other and paying more attention to how you look, smell, etc makes for a worse wrestling product.  The ring action, sure.  The promos, which I didn't see mentioned in the quotes I saw, sure.  Whether or not you do your hair…..really?  Does he not remember the many male wrestlers of days gone by who were sold to women fans as good looking men they'd want to go home with?  The Von Erich boys, the Rock on Roll Express, Ravishing Rick Rude, the Fantastics, Magnum TA?  Does he not remember commentary damn near yelling out loud 'HEY LADIES, AREN"T THESE DUDES HOT?' when those guys and many others were in the ring?  Does he not remember guys like 'Gorgeous' Jimmy Garvin, who was a proverbial man's man but also had his valet (his real life wife Precious) spraying his hair while he was cutting promos?
But I got another question:
What kind of locker room does he think should exist? 
One where guys are dropping dead before the age of 50 or are concussed into oblivion?  Or one where they can work longer and not look pathetic if they so chose, or move on early if they want?
One where guys like Darren Young and Jake Atlas have to stay in the closet or where they can be out and accepted, where a guy like Randy Orton with his own checkered history will come up to them and say 'if anyone gives you any crap, let me know?'
One where guys mostly keep each other out of trouble by doing things like……playing video games together or one where they're out closing down the bar every night, getting into it with the police, etc.?
One where the men engage in all kinds of trifling behavior towards the women on the roster or one where they get along well enough for there to be genuine friendships where people look out for each other and even form some lasting romantic relationships?
And lastly in regards to guys carrying knives and guns instead of video games, do you want a locker room where guys work things out in a more civilized manner or one like where Bruiser Brody was stabbed to death?
Now he's not the only one who says this kind of stuff.  A lot of guys from his generation have offered similar sentiments and there are a lot of podcasters who pine for the days when things felt more real and what not.  Well if we're gonna keep it 100 a lot of those gave off more gravitas and sounded more real because they were legit living hard, messed up lives.  Drug problems.  Alcoholism.  Multiple marriages and divorces.  Bad relationships with their children.  Broken homes and childhoods that they were still traumatized over.  Failed careers in other professions.  I don't know about you but I think it's a plus that more of the guys seem to be living and working in such a way that they're able to avoid those things.  I'll take hearing Kofi and Xavier talk about their kids on the New Day Pod than a bunch of stories about how they were out boozing and cheating on their spouses in between shows.  The latter can be romanticized by guys who tell good stories and all, but the reality is a lot more grim (for good reference take a look at the ESPN documentary on Ric Flair).
And this goes beyond pro wrestling.  A lot of those old guys in our lives who say the same kind of things have suffered the same fates as their counterparts in the wrestling business.  It's not healthy, full stop.  Just because you can't relate with the guys who aren't living and playing like you did 10, 20 years ago doesn't mean that they're doing it wrong.  As for the guys being 'too pretty' now…..it's a lot easier to get opportunities to do things outside of wrestling if you look good, are well groomed, etc.  Acting gigs, TV gigs, magazine covers….you think Xavier Woods would have gotten a hosting job on the relaunched G4 network if he looked and groomed himself like Abdullah the Butcher?  Do you honestly think New Day would be more popular if they looked and acted more like what you consider to be real men?  I don't see it.  And in an entertainment industry where women have to look damn near perfect just to get an interview I don't think that men choosing to look as good as they possibly can is a negative.  And let's not pretend that any of New Day can't put their ring work alongside any guys from any era.  The video games, the gear colors and everything else don't mean a damn thing as far as their abilities go.
Look man, time stops for no one.  Things change, and in this case I think they've changed for the better.  That he can't see a trail several miles long of broken families, broken bodies, and premature death behind the 'right way' that he speaks of is kinda sad.
NXT Minus 6: Anatomy of a Wrestling Match
Bradley Jay digs into the HISTORY MAKING night of WWE NXT. HISTORY! (And Timothy Thatcher is the only person to ever win in Fight Pit.)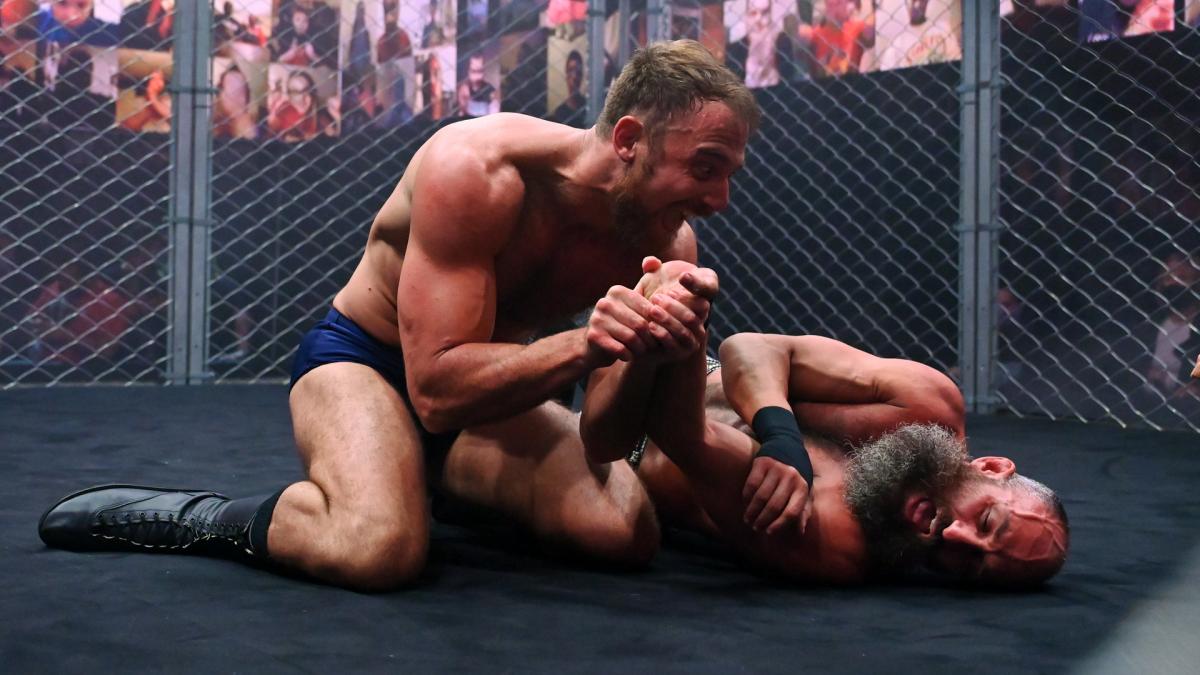 Bradley Jay digs into the HISTORY MAKING night of WWE NXT. HISTORY! (And Timothy Thatcher is the only person to ever win in Fight Pit.)
Other than in-ring action, there are a lot of factors that can make or break a match.
6. I'm running a new feature for the Dusty Rhodes Tag Team Classic: the History-O-Meter! How many times can lazy announcers reference making history in one show? This week, TWELVE!!! Every ten minutes that gaggle of human of microphone stands reminded us we are witnessing HISTORY MAKERS MAKING HISTORY EXCLAMATION POINT!!!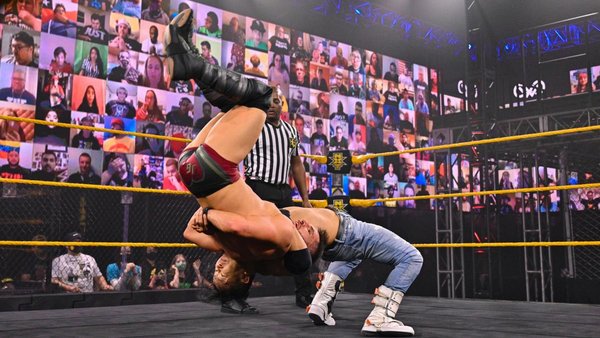 5. I have dubbed this year's DRTTC "3.5 Live." Most of the matches have been solid, nothing great. The best so far? The Way versus KUSHIDA and Leon Ruff. KUSHIDA gets an extra ½ star by himself. He hits an armbar suplex into a bridge for the 1-2-3. I've never seen that. It's too much fun watching him figure out how to twist his opponent into a pretzel. 
4. Pete Dunne cut a scorching promo this week. Clearly the Bruiserweight didn't spend all his time away getting shredded beyond belief. Finn Balor isn't going to pass the torch so much as Dunne will break his fingers and rip it out of his hand. Speaking of Balor…
3. The Prince needs a tag team partner to face the Brit-Am Brawlers. Of course he calls in a favor from Kyle O'Reilly. Everybody's favorite Canadian accepts but clearly isn't excited about it. Are they letting bygones be bygones? Oh Hell no. I've never been so happy to see two guys not shake hands. Gonna be some tense teammates Wednesday night. The little details take it from good to great. Balor and O'Reilly are two of the best. 
2. First and foremost, wrestling is about the story being told in the ring. However, it takes more than that to create a great match. One of those elements is production. We're having a nice Fight Pit match. Tommaso Ciampa is whomping Timothy Thatcher on the platform above the ring. Then we go to a commercial. When we get back, the two men are in the ring?!?! No explanation. No split screen with "Here's what happened during the break." The production crew could not have screwed that up any worse. It was like reading a 10-chapter book that's missing chapters 3-6. Awful.
1. Announcing is another element that can make or break a match. I can almost forgive Wade Barrett for screaming like he's watching his mom die in a house fire. Here's what I won't forgive. Did you know there's only been one other Fight Pit in history? And Timothy Thatcher is undefeated in the Fight Pit?? Did I mention that this was only the second Fight Pit in history? The second one! In history! And Thatcher is undefeated in the Fight Pit? Because this is only the second one in history! AND THATCHER WON THE FIRST AND ONLY OTHER FIGHT PIT!!!  I spent half the match wishing Ciampa and Thatcher would join forces to kick the crap out of the announce team. Better announcing and better production could have made this the match it deserved to be.