The Good, Bad and Ugly: WWE Raw 11/19/2018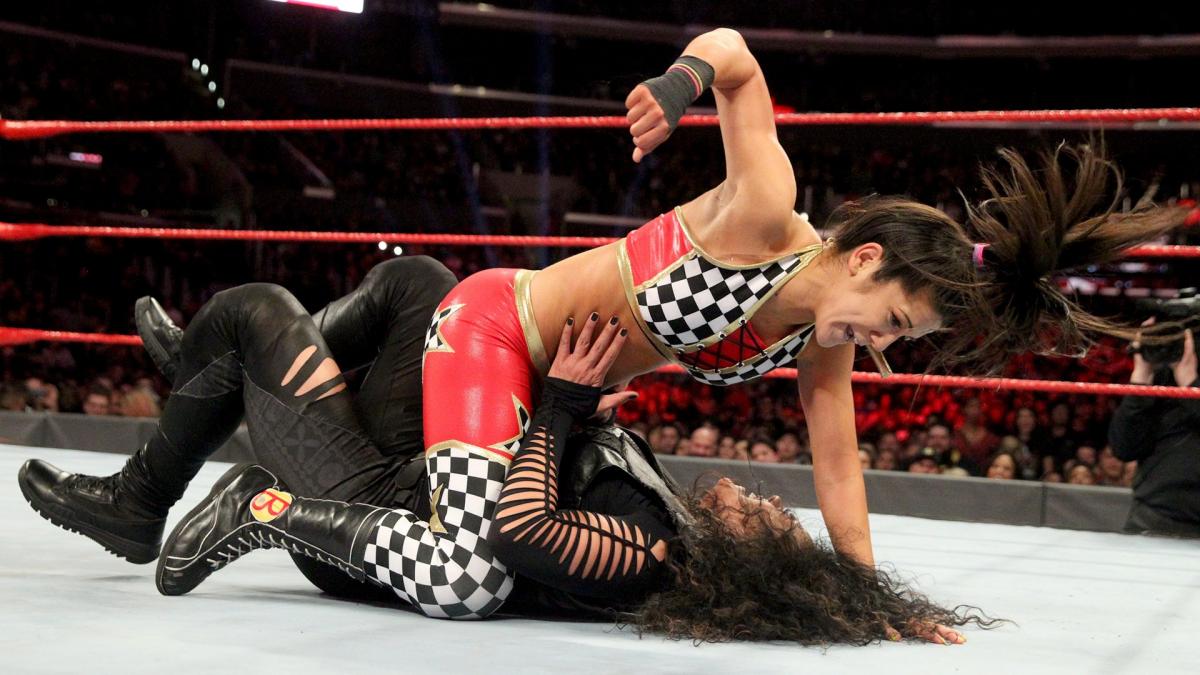 The Chairshot's resident post-show review is expanding as WWE Raw gets the Good/Bad/Ugly assessment!
Well it was bound to happen, let's start giving the Good, Bad and Ugly treatment to Monday Night Raw!  Honestly, my cynical side may be prevalent tonight, if it is anything like the usual post PPV Raw!  But things happen sometimes, let's see if tonight's the night.
First off, I hate the opening promo 90% of the time.  So I never look forward to it, even though it technically sets the pace for the night.  Baron Corbin doesn't help this matter what so ever, and as much as I love Stephanie McMahon, promos are not her strong suit.  Apparently Braun Strowman agreed and came down to settle the score with Baron Corbin.    Braun has some good stuff ahead, after he kills Baron Corbin in a TLC Match he gets Lesnar at the Rumble.  Wow!  "Welcome to Monday Night Braun!"
THE GOOD
Bobby Lashley, Drew McIntyre and Baron Corbin vs. Braun Strowman, Elias, and Finn Balor (Elimination Match)
Bobby Lashley is impressive as a heel.  It suits him well.  I also have become a big Drew McIntyre fan.  There are some top caliber talent opening up the action tonight.  Hell we even got to walk with Elias!  Our broadcast had an insane amount of commercials which really killed the vibe.  I wasn't hating what I saw of the action early on.  McIntyre continues to impress me, Balor worked very well with him.  Bobby Lashley's new found aggression is refreshing.  This was a Good showcase of some of the Top Prospects to make a title run.  I like the moxie.
Elias really came out hot, and people just love him.  McIntyre Claymores Balor out of the match!  Elias then took a ton of punishment by his opponents.  Great action, Elias really works hard out there, it's no wonder he is popular.  Also have to love the heel move of isolating and beating down Strowman outside the ring keeping him out of action.  Lio Rush added some flash to the pan as well.  Elias was counted out by a Bobby Lashley Spear.  3 on 1 Braun Strowman vs Everyone Else, and would we have it any other way.
Strowman really got pounded and just when he gained he was beaten by McIntyre with a chair.  Braun was helplessly beaten.  No one saw that coming.  He was a bloody mess.  The beating was overkill but overall I liked it.  It was almost an hour long, but overall Good Opening.  No winner really.  But Corbin, McIntyre and Lashley raised their arms in victory.
Sasha Banks and Bayley vs. Tamina Snuka and Nia Jax
This match is exactly what the Good, Bad and Ugly are all about.  It's always good to see Bayley, Nia Jax is such a bad guy (girl) right now, and anytime Tamina wrestles, it is just Ugly in there.  She is just not WWE caliber talent.  I respect her background and family but for real, she is tough to watch wrestle.  The match itself was good.  Alexa Bliss is always a great addition, on broadcast or otherwise.
Sasha and Bayley were sharp tonight.  I also will never get sick of the crowd booing Nia Jax.  It seems that she is loving it also.  Even after putting up a good fight, Nia Jax ended up being to much picking up the win.  This match didn't blow anyone away but it was enjoyable.  In this age, enjoyable is Good.
Lucha House Party vs. The Revival (Lucha House Rules 3 vs. 2)
We have some major talent on here.  Fast high flying lucha antics versus pure grit and hammering power of the Revival.  The Revival is very entertaining and I hope to see a push coming up.  They would be great Tag Team Champions.  It was a quick match, but did the job. It wasn't perfect but Good enough, and certainly not bad.  Lucha House Party Wins.
Natalya vs. Ruby Riott w The Riott Squad
Natalya had some swagger tonight and it was noticed.  Ruby Riott is immensely talented, and I would love to see her have more and more air time. They told a decent story, and it was pretty textbook overall.  Not bad.  Except for the excessively long ridiculous amounts of commercials now and throughout the night.  The match had it's moments and again overall it was not Bad.  Ruby Riott did some unique moves that got my attention.  Natalya wins with a reverse roll up!
THE BAD
Seth Rollins/Dean Ambrose Promos
Seth Rollins vs Ambrose is fantastic for business and of course you have to hype it on Raw.  Both guys are extremely over.  Overall this promo was predictable and nothing spectacular.  Some plugs, some heat. The crowd was pretty much over it with "What" Chants.  And after a lot of talking and a typical Let's Go Right Now deal, we got nothing.  Just a pre-taped video and a flat disappointment.
Rollins put on the chase to bring up a to be continued type of feeling and some fake-o tough guy fighting with Rollins.  Man these promos can be Bad.  This continued on throughout the night not impressing anyone no matter how "funny" the Lunatic is.  We finally at the end of the night had Ambrose in the ring.  Nothing unexpected came of this as we thought Seth Rollins left, said no one ever.  Of course he didn't leave.  They fought, Ambrose Wins! The End, fade to Black.   I enjoyed the Piss jokes a lot more.  What is that smell? It's this promo.
Rowdy Ronda Rousey Promo
I am enjoying the mixed reaction to her.  She isn't as over as she once was but that makes me like her more.  She got killed yesterday, and came out tonight shows some guts.  You know she is hurt.  Becky Lynch is so over that Ronda Rousey is getting hated on!  I liked the Fire behind her words.  She had a lot of heart and feeling.  It was one of her better promos.  Then, it just went to far to long.
We had some awkwardness.  Some weird stuff about sickness and in health.  This lead to an open challenge which Baron Corbin ruined because that is what he does.  This somewhat waste of time was Bad.  I will not "in good conscience" sit here and tell you otherwise.  This will lead to a match tonight with Rousey, which is interesting depending on who gets the shot.
Non Title Match:  Bobby Roode and Chad Gable vs. Raw Tag Team Champions AOP w Drake Maverick
Bobby Roode is so freaking talented.  I am not happy with his current situation.  Taking nothing away from Gable, Roode shouldn't be in a tag team currently and should be a more serious singles contender.  AOP is really tough to watch.  They are pure brutes and I respect that, but they are sloppy sometimes in there.  "AOPeePee" is pretty good, for a cheesy chant.  The high spots were Roode's involvement which lead to a genuine upset Gable picks up the roll up Win!  The ramifications of winning against the champs mean something great is to come for them.  However the match was Bad no matter the outcome.
THE UGLY
Raw Women's Championship Match Rowdy Ronda Rousey (c) vs. Mickie James
Although Mickie James has a long impressive history she doesn't always do very well out there.  We have seen some pretty awkward situations with her work.  Rousey has her fair share of botches as well.  The striking in this match were horrendous.  They just kept on going, miscues, more horrible striking.  This was a train-wreck.  Ugly waste of a time, Ronda Rousey Wins!  Anyone surprised?  Then to make matters worse a worthless standoff leading to nowhere to finish this piece of work between Tamina, Nia and Rousey.
To be honest, and I always am, it wasn't all bad, in fact it was a better Raw than there has been in recent memory.  I will be for the foreseeable future telling you my Good, Bad and Ugly for both Raw and Smackdown so come back tomorrow and see how Smackdown fairs.  Thank you for reading, please comment, like, and share!
Final Tally
Good – 4
Bad – 3
Ugly – 1
What did you think of this week's edition of WWE Monday Night Raw? Let us know on social media @theCHAIRSHOTcom and always remember to use the hashtag #UseYourHead!