Top 5: Best WWE Survivor Series Teams
Did your favorite team make the list?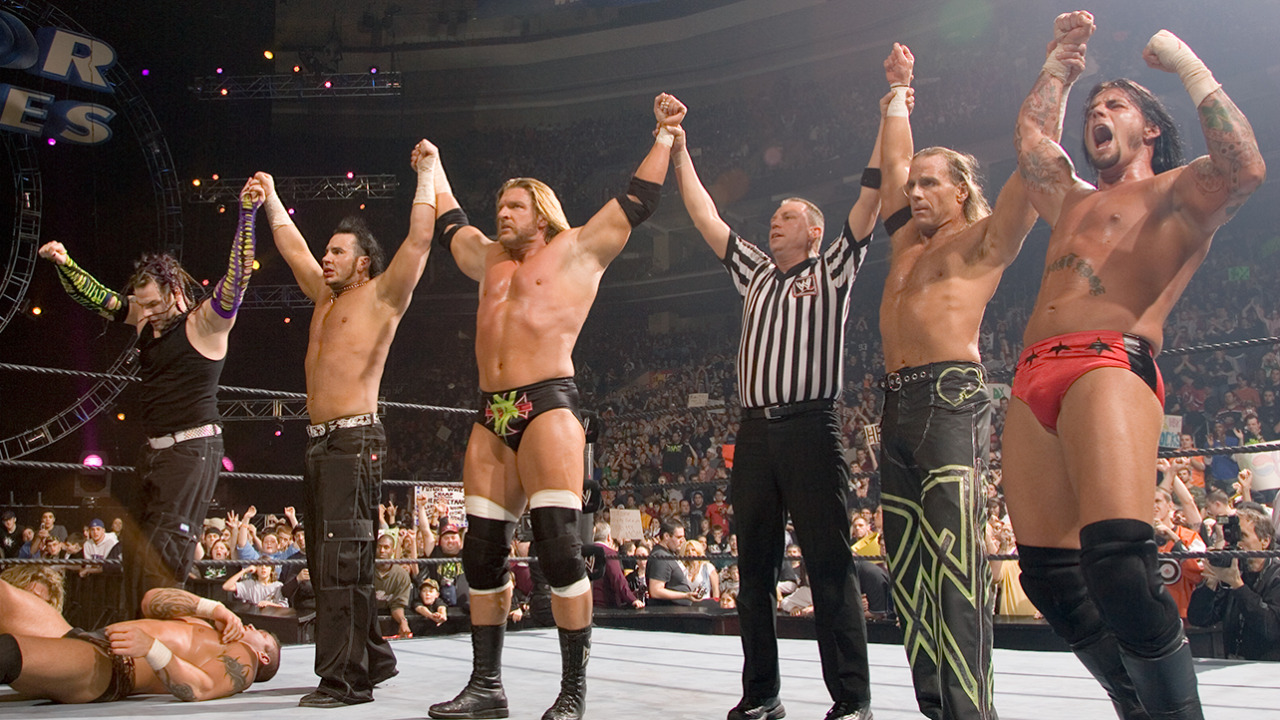 Steve Cook takes a look at the Top 5 Survivor Series teams in WWE history!
Last week, we started our look at Survivor Series by ranking the five worst teams in the history of the event. Since we suffered through that together, it's only fair that we set aside some time this week to look at the best of the best. These are the teams that stand the test of time & were truly awesome collections of talent. The teams you can't believe happened, and would go crazy if you saw them today.
These are the Top 5 Best Survivor Series Teams.
5. Bobby Heenan, Andre the Giant, Haku, Arn Anderson (1989)
Early editions of the Survivor Series featured a lot of talent managed by Bobby "The Brain" Heenan. At the time, pretty much every single heel wrestler had somebody managing them. WWF was a manager-heavy promotion until Vince Russo decided that the only managers could be women low on talent & high on sillicone enhancements. For my money, the best version of the Heenan Family that appeared in the Survivor Series was this one. Andre the Giant, Arn Anderson & Haku are all legends of the business in their own way. Heenan was the greatest manager of all time.
The only thing keeping this team from ranking higher was Tully Blanchard's drug test.
4. Eddie Guerrero, Big Show, John Cena & Rob Van Dam (2004)
Eddie Guerrero & Kurt Angle had issues with each other throughout the year of 2004, so it only made sense for them to pick teams to meet at Survivor Series. While Kurt was wasting his time with the likes of Luther Reigns & Mark Jindrak, with Carlito thrown in because why not, Eddie actually found some talented guys to stand with him. John Cena wasn't BIG MATCH JOHN yet, but he was well on his way. RVD's credentials speak for themselves, as do Big Show's. A team with this much firepower behind it should beat anybody in its path, and Team Guerrero ended up with three survivors in their match with Team Angle.
They would have had four if Kurt didn't use the ropes on a rollup to eliminate RVD. Which was foolish on his part because Eddie took that as a challenge & used the ropes on a rollup to eliminate Jindrak. You couldn't out-cheat Eddie Guerrero.
3. Ultimate Warrior, Texas Tornado & Legion of Doom (1990)
Wrestling had a ton of warriors running around during the late 80s. The Road Warriors were ruling the tag team scene. Kerry Von Erich was known as the Modern Day Warrior, due to his World Class theme song provided by Rush. Ultimate Warrior started out as the Dingo Warrior, but changed to Ultimate because Vince McMahon wanted the best Warrior of all.
All of wrestling's best-known warriors would eventually join forces at the 1990 Survivor Series. Sure, Von Erich was known as the Texas Tornado during his WWF stint, and Hawk & Animal had adopted their other moniker as their tag team name. But we all knew that these men were Warriors.
2. Randy Savage, Ricky Steamboat, Jake Roberts, Jim Duggan & Brutus Beefcake (1987)
As we noted while ranking the Top 5 Worst Survivor Series Teams, Honky Tonk Man wasn't exactly the best when it came to putting teams together. He was a master, however, of getting people that otherwise might not get along to be on the same page. Savage & Steamboat had one of the legendary feuds of all time earlier in 1987. Roberts had been a thorn in both Savage & Steamboat's side, and had more issues with Savage a few years later. There's only one thing that could have possibly brought these three men together…a mutual hatred of the Honky Tonk Man.
Steamboat had lost the Intercontinental Championship to Honky not long after WrestleMania III. Savage wanted the title back no matter who had it, and ended up getting cheered by the fans due to various interactions with Honky & his buddies in Jimmy Hart's camp. Roberts had neck problems for years thanks to Honky's guitar going upside his head in the Snake Pit. Even if these three guys didn't like each other, there was at least some level of respect there. Nobody respected the Honky Tonk Man.
Add in two perpetually over babyfaces in Hacksaw & the Barber, and Savage's team was quite the force to be reckoned with.
1. Shawn Michaels, Triple H, CM Punk, Jeff & Matt Hardy (2006)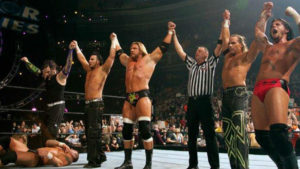 Edge & Randy Orton had formed the team of Rated-RKO to challenge DX for supremacy on Raw soon after Michaels & Triple H were done fooling around with the McMahon family & their various associates. DX & Rated-RKO formed teams for Survivor Series, and it's still amazing how one-sided the endeavor was. You would have thought that Edge & Orton could have found three guys to put up some kind of fight, and maybe Johnny Nitro, Mike Knox & Gregory Helms could have been better help on most nights.
DX brought the big guns. The Hardy Boyz were long-standing rivals of Edge & their brand of extreme went along fine with DX's degenerate antics. Young CM Punk was part of ECW & catching the attention of the WWE Universe. It was a collection of talent that was sure to run over anybody in its path.
Of course, years into the future it would be hilarious to think of Punk palling around with anybody on Team DX.
Did your favorite team make the list? Did Steve leave someone out? Let us know on social media @theCHAIRSHOTcom and always remember to use the hashtag #UseYourHead!