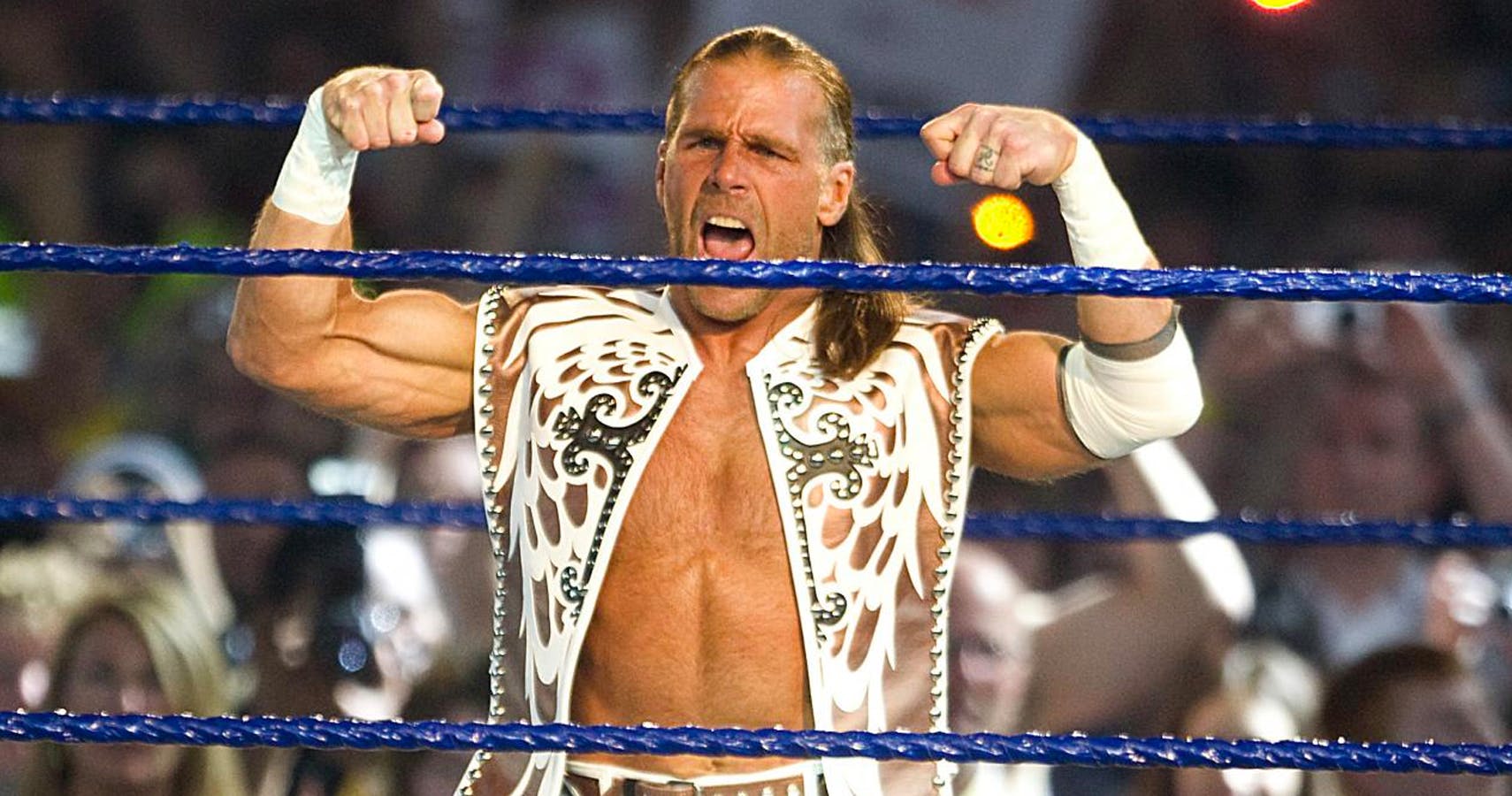 Hell has frozen over! It's 2018 – Shawn Michaels came out of retirement, had a match against The Undertaker again. Hulk Hogan makes his triumphant return. Brock Lesnar is back and he's the Universal Champion again. Oh, and Shane McMahon is the best in the world. Let's talk about why the IT FACTOR is a big part of this.
And I can already hear the ground rumbling. For everyone that's excited about HBK's return, there's an equal amount of guys saying it all:
"Hey… what about the current guys?"
"Why do they keep going back to the veterans and nostalgia acts?"
"Why is Brock back?! He's a part timer!!!!"
"Shane McMahon is the best in the world?!?!?! This doesn't make sense! What about (anyone else)???
This is not to knock HBK's return – that's not to knock Brock being the Champion, that's not to knock Shane winning the tournament. As a matter of fact, I see the logic and agree with all of it. I was actually having a hard time coming up with exactly what to focus on here, because there's so much good stuff to choose from here.
So in this article, what do you say we do something different? What if we go through a little bit of the main arguments about Crown Jewel, and then I'll let you behind the curtain back just a little bit and let you in on what it actually means to be a top level performer in 2018?
Shane McMahon – Best In the World?
I remember watching Shane's big return at WrestleMania a few years back with a friend of mine. And we had this sudden realization. Shane McMahon is really good. Like… next level good. It was the first time we watched one of his matches after being involved in the business for some time, because his heyday was when we were teenage fans.
But there he is, wrestling Undertaker in Hell in a Cell, and it hit us.
He looks like a grown adult man. He sells tremendously. He takes his time. He can tell a story. He can hit all the emotional notes. He's having a classic at Mania with Undertaker.
I looked to my friend, "Dude… I kind of feel bad for Shane McMahon."
My friend goes, "Well, what do you mean?"
I say, "Because the fans will NEVER appreciate really how great he is, because his last name is McMahon, and it's going to taint it for people in the average persons eyes."
My whole point was Shane McMahon is every bit as good as any of our childhood favorites as far as being able to tell an emotional story in the ring.
There was a story somewhere that said when Shane was a child, he would wake up on a Saturday morning, go downstairs, and listen to his Dad, George Scott, and Pat Patterson book things like WrestleMania 3 and all the psychology and reasons why things were going to happen.
He got a wrestling business PHD from early childhood.
And it hit me – people are going to just discount how great he is because of the "McMahon Name."
If he were anyone else, people would rank him right up there with one of the most iconic talents of all time. He'd be in all the Legends of Wrestling Video Games, he's got a certain timelessness to him.
So when he won the Best in the World Tournament, part of me was like, "Good! Finally, the guy got his due a little bit!"
And the reason why I'm so adamant about how good he is is because of something we're going to talk a lot about today. He has Raw Presence.
Brock Lesnar's Back, So is HBK and Undertaker – What Gives?
There are absolutely people out there who wonder why they keep "holding the young guys back" and going with tried and true talent like Brock and other legends like HBK and Undertaker.
And the truth is – the legends all have what we talked about above. Raw presence. They made such an impression that people still want to see them to this day. And I think a large part of why that happens is because for as many talent that are currently stepping up, like a Braun Strowman, or a Roman Reigns in WWE's case (among others), there are also a LOT who are still yet to develop it.
So what is "It?"
I've spent the past few years studying some of the top people in the business and interviewing some of the top up and coming talents who are actually finding success, as well as talent agents and scouts of various major promotions. And in all cases, it all boils down to a few key features.
And I'm going to give you the cliff notes, because this is enough to fill up an entire encyclopedia if I were to really dive in to each one. (If you'd like, you can get weekly advice where we dive into topics like this by joining the Inner Squared Circle Facebook Group and following us on Instagram, @InnerSquaredCircle)
---
KEYS TO THE IT FACTOR
1. Raw Presence
Whether it's size, look, charisma, there has GOT to be an intangible that makes people magnetically drawn to you. There's something called the Airport Test, which is if you were to walk into an airport, do people turn their heads and say, "Who is that guy, he must be something?"
2. True Confidence & Charisma and They Connect Emotionally
Not the manufactured kind. The perfect, prime example of this is The Rock. Look at him in real life. He's calm, confident, present, radiates charisma – and none of it ever seems forced. This comes in different forms. Brock Lesnar oozes true confidence. So does an AJ Styles. There's a certain inner certainty that can't ever be shaken. They also elicit a strong emotional reaction – either by their mere presence, or because they're great storytellers.
3. They Step Up and Own Themselves & Their Spot
The guys that have the It Factor aren't the ones who hang back and wait for the opportunity. They step up and take it. Cody Rhodes and the Young Bucks are a great example. They find the opportunity in any situation. They take any situation and make it work for them. They believe they deserve their spot, rather than just hoping for it to come to them.
4. They Are Massively Flexible and Constantly Evolving
Something doesn't work – they try something else. That doesn't work, they try something else. Or another way to put this – they're constantly evolving. Look at the Undertaker. If he stayed the SAME Undertaker he was in 1992, he would have faded quickly. But he always did something different. He changed his hair, his makeup, his colors, or radically changed the character. He was always new. Look at Shawn Michaels. He came back with a shaved head – some of it cosmetically, I bet there was a bit of it to remind the fans he's a different guy than he was 10 years ago. He's evolved. The ones that constantly are flexible and constantly evolve usually are the ones who find the way to win.
5. They Take Control of Their Own Lives
You hear these stories of guys who are mega stars, and that they're tough to work with. I don't think it's that they're tough to work with in all cases. In some, sure, there might be prima donna attitudes. But when you're successful at a very high level, you're successful because you know what works, and most importantly, they know what works FOR THEM. They realize that they're in charge of their own success or failure, so they take it very seriously.
They speak up for themselves not because they're politicking, but because they realize if they're not getting themselves over, the spots not going to be handed to them. The common trait amongst the guys on the lower ends of the card, or even struggling on the independent level, is they leave way too much up to hope, chance, and happenstance thinking that "loving wrestling" is going to be enough to get them there. When the real successful people are the ones who make their own luck.
These are the 5 things that those legends, who keep getting brought back, time and time again, have, that the rest are still developing. That's why people will still willingly pay for those guys. That's why fans are still in love with them. They have raw presence and they make them feel things emotionally.
By the way, if you want a full breakdown of this, I'm considering putting together a booklet about what it takes for independent wrestlers to become massively successful and what sets apart those who are successful verses those who aren't. You can be put on the list for when it gets released by going here https://innersquaredcircle.lpages.co/book-launch-list/.
---
Two guys, who are athletically gifted, who do moves to each other, already exist. It's called Olympic Wrestling. There's a reason it's not selling out tens of thousands of seats in stadiums. Even in MMA – the fighters with the CONNECTION and the PRESENCE are the ones that become mega stars. So in wrestling, it's not enough to just be gifted technically.
And that's why they keep going back to the guys who are tried and true, time and time again. They're going with a sure thing. And in some cases, you can't blame them.
Jared Ganem is a veteran of the pro wrestling business, both in front of the camera and behind the scenes. Today he is one of the most sought after production leads, working with companies such as Ring Of Honor and events like Starrcast. Jared is also the leading advisor and developer or talent in the world of wrestling.
If you're interested in learning more, check us out on our free Facebook group for talent and for daily memes, posts, quotes, vidoes, etc, check out @InnerSquaredCircleon Instagram now!
NXT Minus 6: Moving Forward
What does the next era of NXT hold?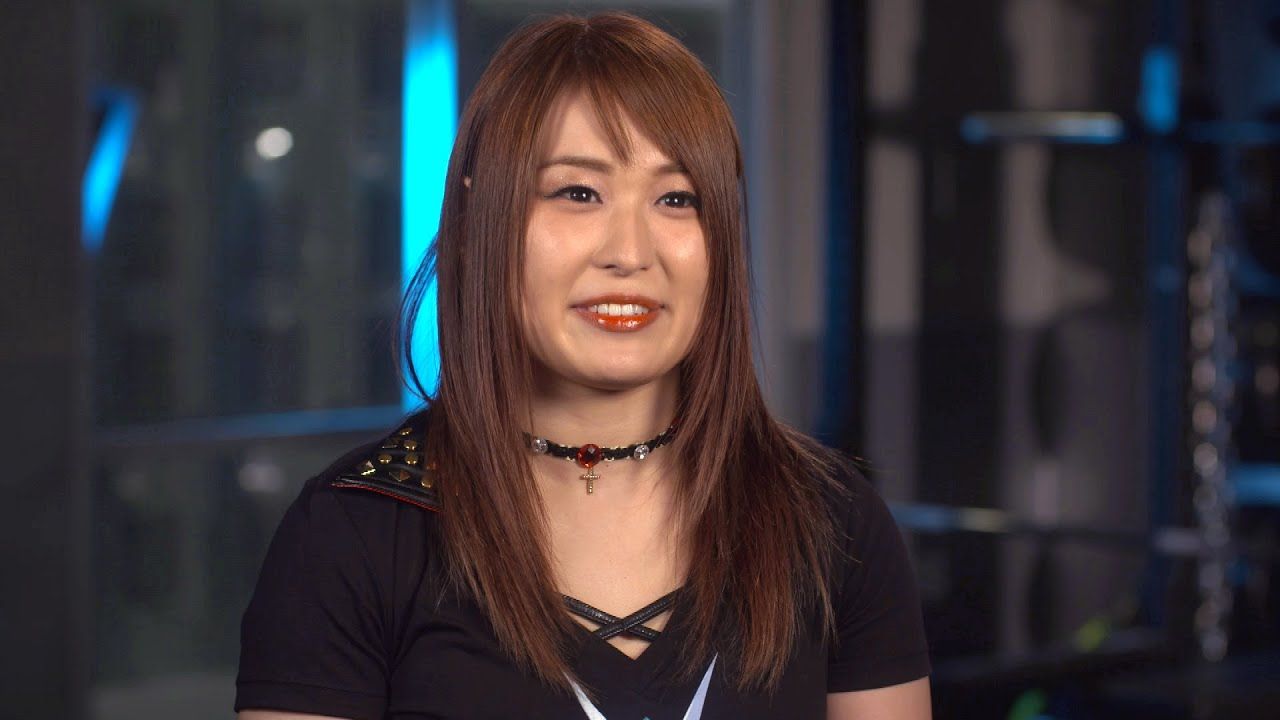 It's WWE NXT: We're moving on. We're not bitter. We're happy with what we have.
6. The WWE reeeeeally loves to screw with us. They spend weeks dumping on NXT then kick off a show with a 4.7 star banger?!?!?! Buddy Murphy is a big league striker. He packs a punch far above his weight class. Meanwhile, Velveteen Dream steals another victory. I like where they're going with him. Shades of the Ultimate Opportunist. Living on the Edge of a Dream?
5. "Charlie Brown finally kicked the football." Oh Mauro, sometimes you are just too good.
4. Dominik Dijakovic is in desperate need of a save. I have no idea what that promo was. Ancient Wicca prayer? Medieval magnet poetry? He is world class in ring and absolutely floundering on the mic. He's so bad, it would be an upgrade if Io Shirai was his manager.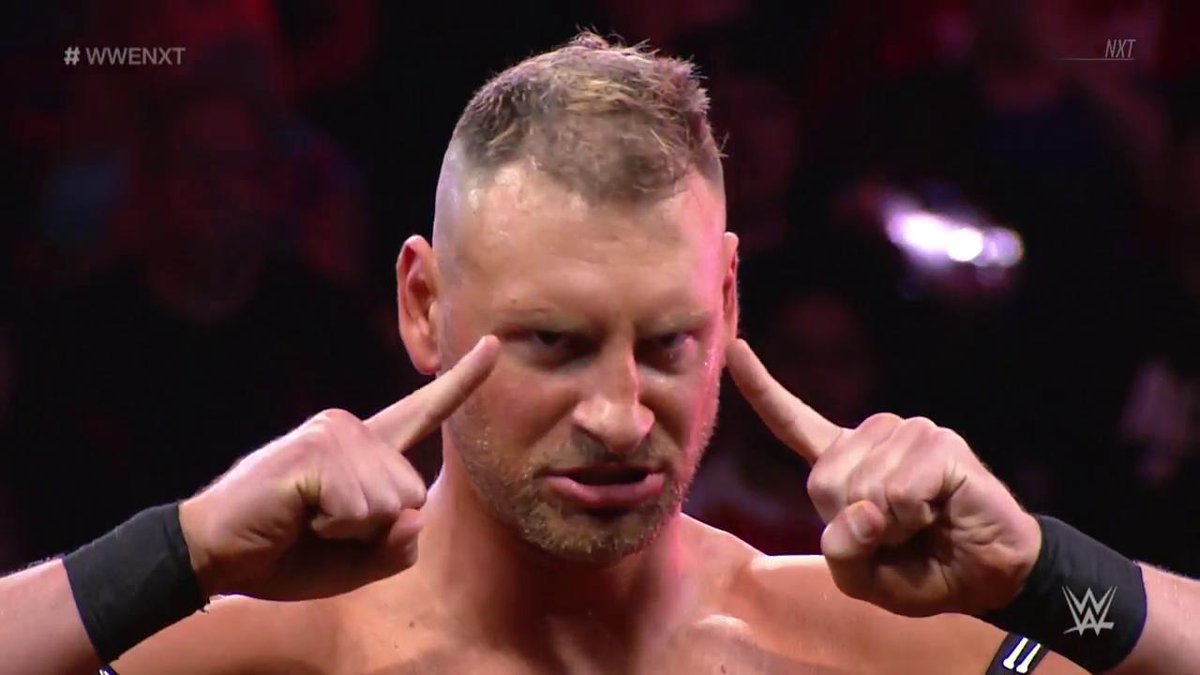 3. Speaking of promos, Johnny Champion adds another layer to his story. Johnny Smartass absolutely crushed Adam Cole on the mic. I know they said 2-out-of-3 would be definitive, but if we get Johnny Gargano-Adam Cole part 2 in HIAC or falls count anywhere, I'd find it in my heart to forgive them.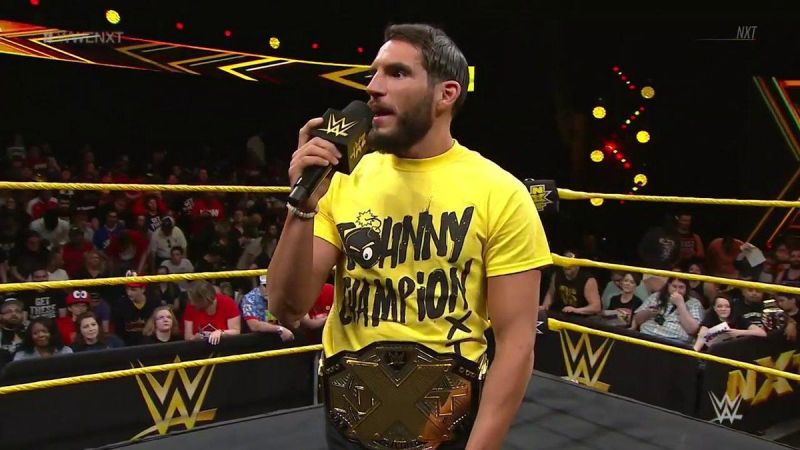 2. Shayna Baszler watches Dark Side of the Ring. She thinks it's a comedy. She is PURE EVIL. She is as pure of a heel as there is. She is the anti-Ricky Steamboat.
1. I'm trying to overlook how poorly WWE handled Kairi Sane's last NXT match. Instead, I am focusing on how much it adds to the inevitable Baszler-Io Shirai matchup. Shirai has improved in ring every time out, but she's still anime nicey nice. It will be exciting to see her turn up the emotion and intensity and really look to hurt Baszler as payback for her best friend. This one could steal the show at the next Takeover.
That's right…I said it.        


Mcleod: Will We Ever Get The Lee vs. Dijakovic Rematch?
Will we ever see the anticipated rematch?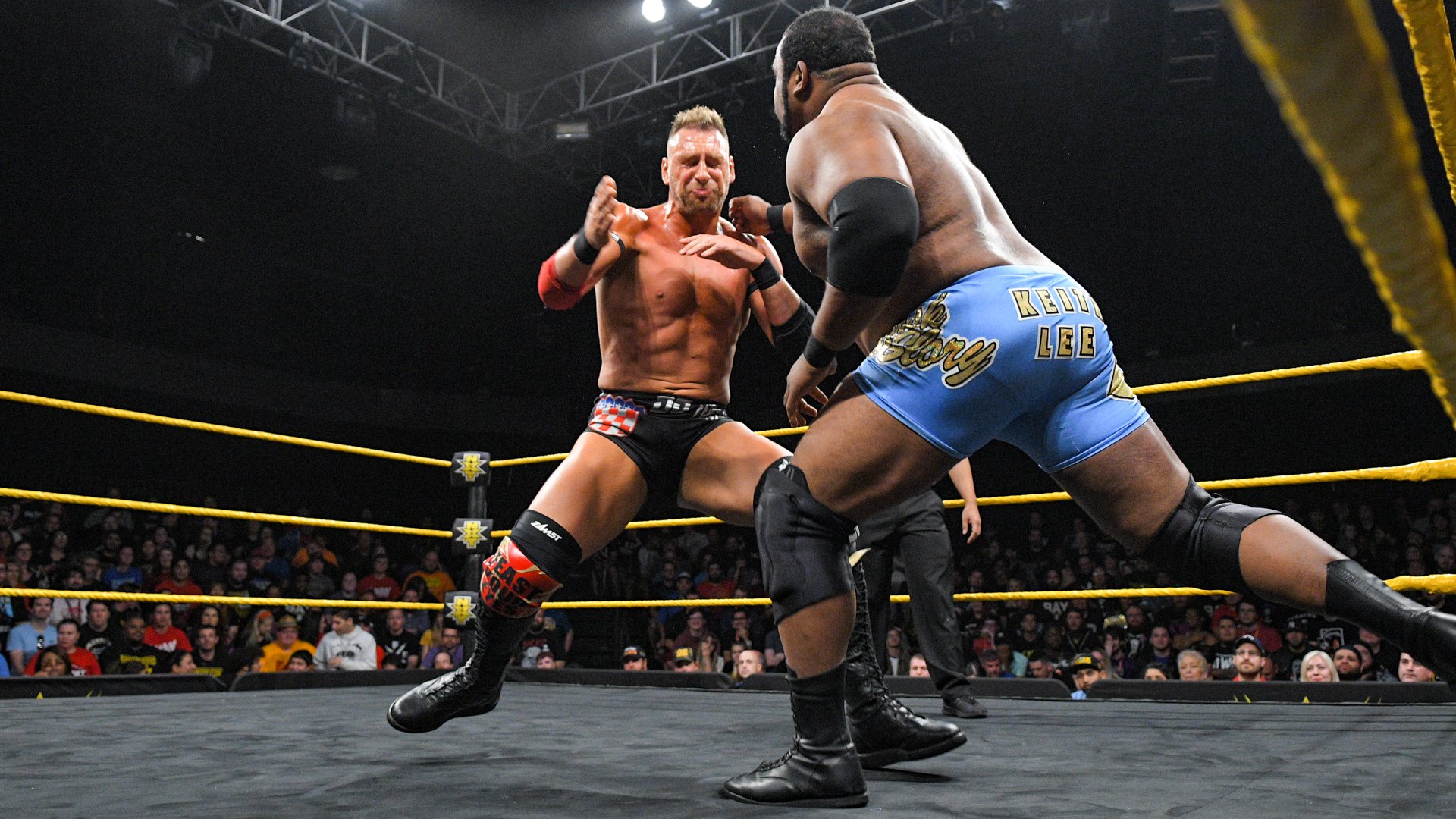 Keith Lee and Dominik Dijakovic tore the house down in their first WWE NXT encounter, and Scott Mcleod is eagerly awaiting the rematch–just like the rest of us!
Cast your minds back several weeks when we saw a short but physically impressive match between Keith Lee & Dominik Dijakovic. We saw Lee get monkey flipped only to land on his feet and Dijakovic hit a corkscrew plancha to the outside. The match unfortunately ended in a double count out but we were lead to believe this wasn't over as they continue to brawl while refs try to pull them apart.
They were scheduled to face off on the episode where the 5 way to face Gargano took place and that was the focus of that episode. A week or so later Lee said they would settle their differences in two weeks time.Two weeks should have this week but Lee was nowhere to be seen. Dijakovic came out and beat an enhancement in record time before declaring his intentions to challenge for the North American Championship. Judging from this week it looks like they're feud is done which is just a shame.
They teased us with what could be with that match several weeks ago. Two guys who have the size but can pull out incredible displays of athleticism. Put that on a takeover give them around 10 minutes between two title matches and they would tear the house down. It would be a shame to not see this match at least one more time in NXT. If a few weeks ago didn't convince you then check out their match from the PWG Battle of Los Angeles 2017 which was rated 5 stars.
It would be something different to everything else on the card. If Dijakovic is set to challenge Velveteen Dream can we not not add Lee and make it a triple threat. Think of how good Dijakovic vs Lee was and add the Dream. Don't tell me you don't want to see that on a Takeover. They could have a good build as well. You have the charisma of Lee & Dream along with the intensity of Dijakovic. I need to see that now.