Why Are You Really Mad At Nia Jax?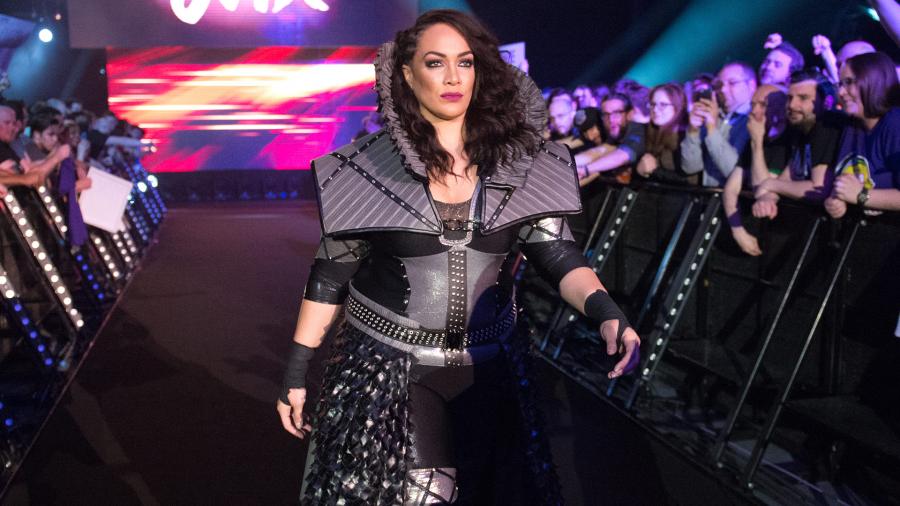 Was it the 'Facebreakers' target that bothered you, or are you really that concerned with wrestler's safety?





It's sequel time everybody!  A few weeks I asked the same question about Brie Bella and after what happened this past Monday we find ourselves once again with an injured lady wrestler, this time Becky Lynch, and another angry mob coming for the woman who inflicted that upon her.  This time that woman is Nia Jax and you can't help but notice some similarities in the way that she's being treated by some corners of wrestling fandom in the aftermath.  Instead of acknowledging that yes, she did mess up here and that yes, accidents do happen in there the sustained vitriol several days after the fact just raises a red flag for me like it did with Brie.   In a lot of cases you can read between the lines of what some people are saying and come to the conclusion that they're not really that mad about what happened so much as they are mad about who it happened to and who did it.
As you know Becky is the hottest thing going in WWE right now and was all set to take on Ronda Rousey this Sunday at Survivor Series before she was injured.  When she came out on Monday night Wrestling Twitter and the arena totally lit up, and the YouTube clip of her entire performance put up Roman Reigns level viewing numbers.  She's also been sparking some shall we say special invigoration in certain fans as you can see by a lot of the tweets out there about her every week.  So by sidelining her Nia didn't just injure someone she took the hottest act in the company out of a big match and damaged the object of a lot of fans desire as well.  Which means the capes are getting put on, the torches are being lit, and the keyboard are getting overworked.  Nia didn't just cause an injury she hurt our Becky and now she deserves to be punished for it because when you hurt our warrior queen who makes us feel all tingly inside you hurt us, too!
But it's not just about that.  It's also about who did it.  Like Nikki and Brie, Nia is a frequent target of some wrestling fans who can't stand her even without anything to criticize because in both their cases these fans believe they are being told they have to like and respect all of them as women and wrestlers or else they are terrible people.  Nikki and Brie came from the now vilified Divas era where women were hired to look good more than wrestle good, while they see Nia as a PR campaign about body positivity dressed up in wrestling attire.  They're tired of feeling like they can't tell the "truth" about these women without being labeled haters or sexists or something else.  As with Brie we're seeing:
Complaints that she only has a job because of connections and not talent.  In her case it's being part of the Rock's cousin as opposed to Brie being married to Daniel Bryan.  (One day we're going to have that conversation about whose nepotism is heartwarming and whose is an outrage)
On the spot recounting of every time she's botched a move during a match or hurt someone, complete with gif threads on Twitter to reinforce just how awful she must be (they did trust her in a singles match with Ronda Rousey so she can't be that terrible, though).
Insinuations that it wasn't an accident at all, that she deliberately cold cocked Becky like a few tinfoil hat wearers claimed that Brie might have shoot kicked Liv Morgan in the face.  (Right………)
Calls for her to be fired or sent back to developmental until she gets it together, punctuated with a whole lot of 'she's not a rookie so at this point why is she even in there if she can't do it right?' takes.  (Given Daniel Bryan's recounting of the times he injured people when he came out to defend his wife maybe he should go back, too….)
Complaints that she's taking a spot from someone more deserving – Brie and Nikki got in the main event at Evolution and Nia got a RAW Women's Title run while Sasha Banks, Bayley, Ruby Riot and Ember Moon all got relegated to tag matches and multiwoman matches all year.  (Yeah I'm sure you would have really loved any of the 'more deserving' ladies to essentially serve as a plot device to get the RAW Women's Title to Ronda like Nia did or tapping out clean to Ronda at Evolution like Nikki did.)
Now from where I'm sitting yes, Nia messed up on Monday and isn't immune from some admonishing over it.  But as a fan once you get that out then let it go.  Even if you have video evidence of her hurting people, that doesn't make her the destroyer of women wrestlers like you're saying.  She's no more that than Owen Hart was the man who almost ended the Attitude Era before it started.  Owen did not have contrived reputation for being unsafe and yet had an accident that could have brought about an entirely different ending to the Monday Night Wars and changed the entire landscape of wrestling as a whole.  However things shake out with Nia Jax has not put Becky Lynch, the WWE or the wrestling business in that kind of jeopardy.  And they sold T-Shirts with 'I just broke your neck' for Owen so don't be surprised if Shooter Nia becomes a thing now.
And lastly, if she'd done this to Lana or Dana Brooke or Alicia Fox I guarantee none of you riding to Becky's rescue now would be doing the same,  Likewise if Bayley had done this to Becky y'all wouldn't be as mad either.  Selective outrage rules the day as always.  After all Brock straight blasted Braun Strowman last January with a stiff punch to the head and we laughed about it.  Guys like Vader were known for punching guys for real, on purpose, and we treat them like stories from around the campfire.  How giddy were a lot of us at the mere idea that Brock may have gone into business for himself against Randy Orton at Summerslam 2016, and later on thought it was the coolest thing ever that even Jericho didn't know it was a work and went off backstage?  We live for this stuff…..until someone we like catches it.  Or someone we don't like delivers it.  Then it's a problem.
Now as a fan of Becky's I hope she recovers without missing a lot of time, but as a fan of Nia's I'm hoping she gets through this without taking stupid tweets or comments to heart.  And as with all things wrestling, it's going to get both of them more buzz and put some more heat on the eventual Becky-Nia confrontation, and it saved Becky a possible defeat at Survivor Series while possibly getting her a main event at WrestleMania.  So as long as she's ok healthwise, I'd call that a win.
So tell me again, just why are you so mad?






What is it exactly that bothers you about this situation? Let us know on social media @theCHAIRSHOTcom and always remember to use the hashtag #UseYourHead!
King's WrestleMania Rewind: Charlotte Flair vs. Asuka from WrestleMania 34
Chris king is back with one of the most underrated matches in WrestleMania history–Charlotte Flair vs. Asuka!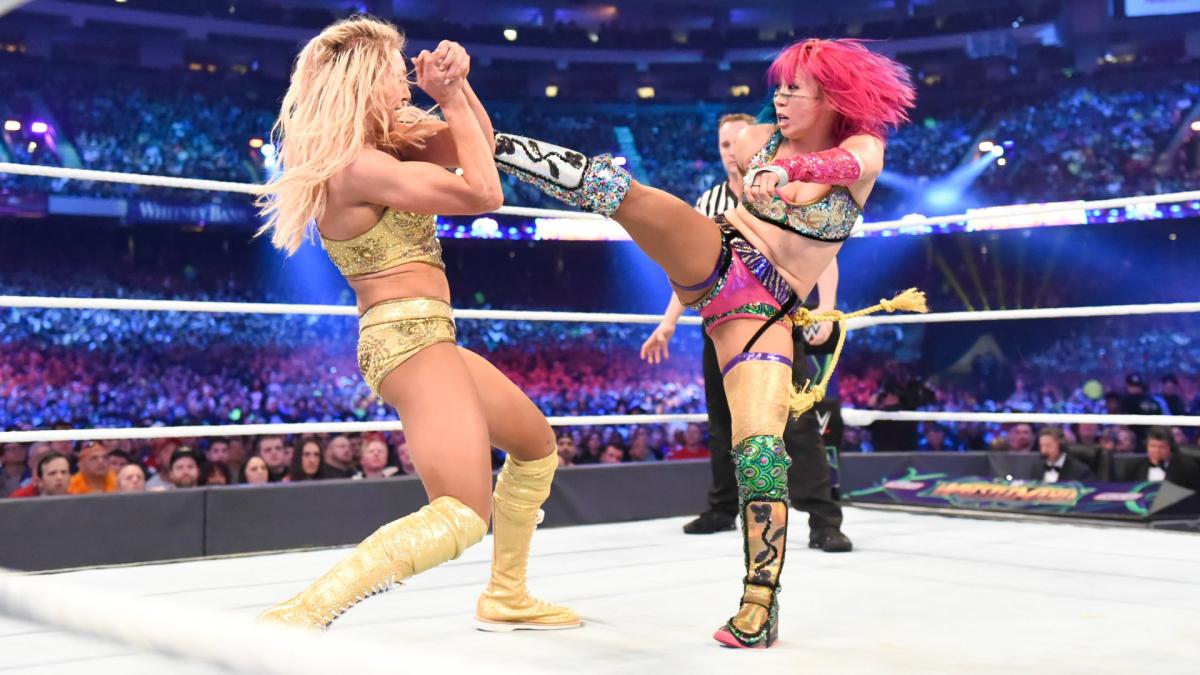 Chris king is back with one of the most underrated matches in WrestleMania history–Charlotte Flair vs. Asuka!
We look back at Charlotte Flair vs. Asuka at WWE WrestleMania 34. 'The Empress of Tomorrow' put her unprecedented and historic undefeated streak of 914 days on the line against 'The Queen's' SmackDown Women's Championship.
For years, this was considered a dream match while Asuka dominated the roster in NXT, while Flair won numerous championships on the main roster on both Raw and SmackDown. The Empress made her long-awaited debut on the September 11th episode of Raw and began to tear through the competition.
Asuka outlasted all twenty-nine other women in the historic first-ever Women's Royal Rumble match to challenge for the title of her choosing. At Fastlane, she made her choice.
The WWE Universe was so excited for this match myself included. Both superstars delivered a fantastic performance on the Grandest Stage of Them All executing counter after counter. Asuka showed off some nasty-looking kicks to her opponent, and Flair hit a thunderous Spanish Fly off the top rope. Flair was seconds away from defeat at the hands of The Empress but she locked in Figure Eight and Asuka was forced to tap out.
I can't even begin to explain how shocked I was at this outcome, as nearly everyone expected The Empress to continue her undefeated streak and walk away with the women's title. This controversial decision was the downfall of Asuka's momentum. She would ultimately win the SmackDown Women's Championship at the 2018 TLC pay-per-view in the triple-threat ladder match.
Fast forward to this year when Asuka has recently returned with her Japanese-inspired persona Kana. Kana is dangerous and ruthless and is heading into a championship with Bianca Belair at WrestleMania 39. The Empress has regained all her momentum and is highly favored to walk away with the Raw Women's Championship. Let's hope that Asuka and Belair can tear the house down and deliver an A+ grade match both women are fully capable of.
King: Dominik Mysterio Needs To Do This At WrestleMania
Chris King is here with what WWE should do with Dominik Mysterio at WrestleMania in his long-awaited match against his father Rey Mysterio Jr.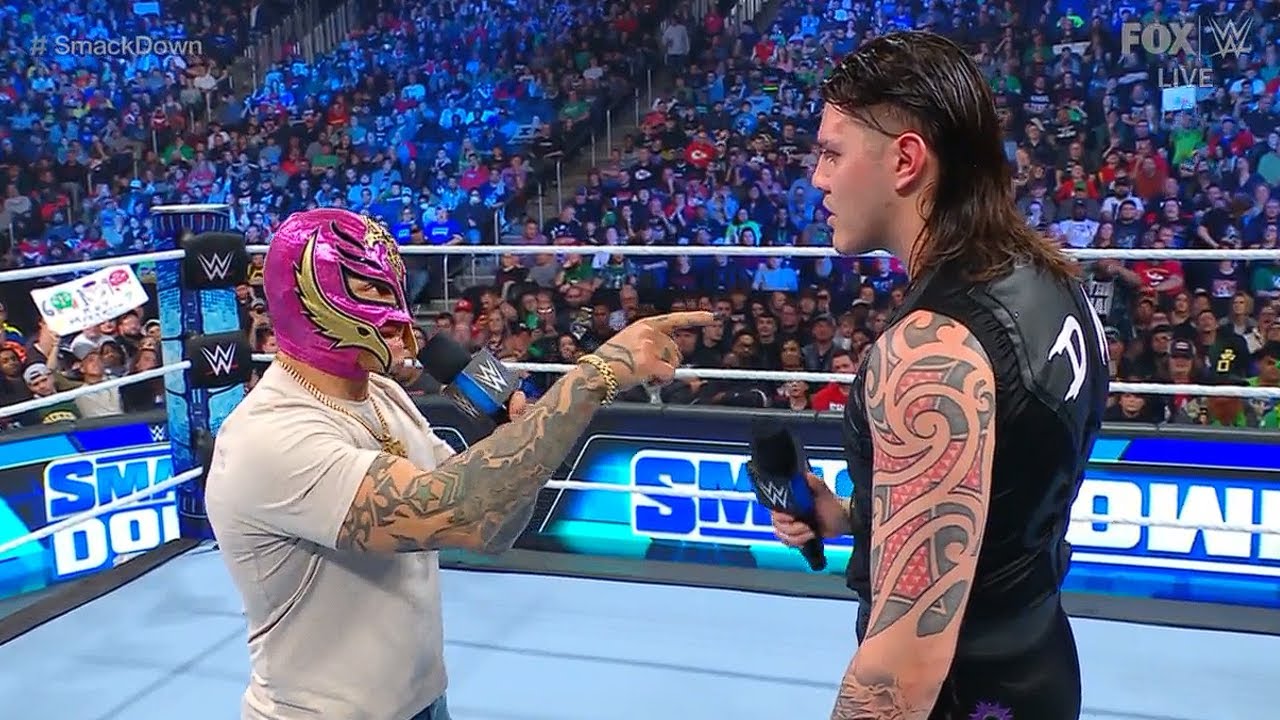 Chris King is here with what WWE should do with Dominik Mysterio at WrestleMania in his long-awaited match against his father Rey Mysterio Jr. 
On this week's episode of Friday Night SmackDown, Rey Mysterio finally snapped and beat some sense into his disrespectful punk-ass kid Dominik. The member of the Judgement Day came out to push his father again for a match on the Grandest Stage of Them All, this time with his mother and sister at ringside. The ungrateful punk told his mom to "Shut Up," as a father even I wanted to jump through the screen and whoop his ass.
Back in October of last year, Mysterio made the emotional decision to possibly quit the company but, instead, Triple H persuaded the Lucha libre superstar to move over to SmackDown to avoid his son. This came after Dominik shockingly turned on his father at Clash at the Castle. Mysterio did everything he could to refuse his despicable son's challenge for Mania but, a man can only be pushed so far. Mysterio will be inducted into the 2023 WWE Hall of Fame and I expect Dominik to embarrass his father during his speech to further this personal feud.
Yes, the WWE Universe hates Dominik and wants to see him get the ever-loving crap kicked out of him but, this feud is missing a special ingredient to capitalize on the biggest heat possible. Throughout this feud, Dominik has made mention of the legendary Eddie Guerrero on several occasions going back to the "iconic" 2005 feud.
I know WWE might not want to go this route but, Dominik MUST come out to Eddie Guerrero's theme at Mania. The disrespectful punk needs to come out in a lowrider to garner nuclear heat. It doesn't matter if The Judgement Day comes out and causes interference for Dominik to get the win, all that matters is that both superstars get the biggest payoff of this nearly year-long feud. Just imagine the Roman Reigns heat after he defeated The Undertaker and multiply that by ten. Dominik portrays the perfect heel and he truly is the missing ingredient that The Judgement Day needed to grow and evolve into a top faction.