Does The Becky Lynch & Ronda Rousey Picture Bother You?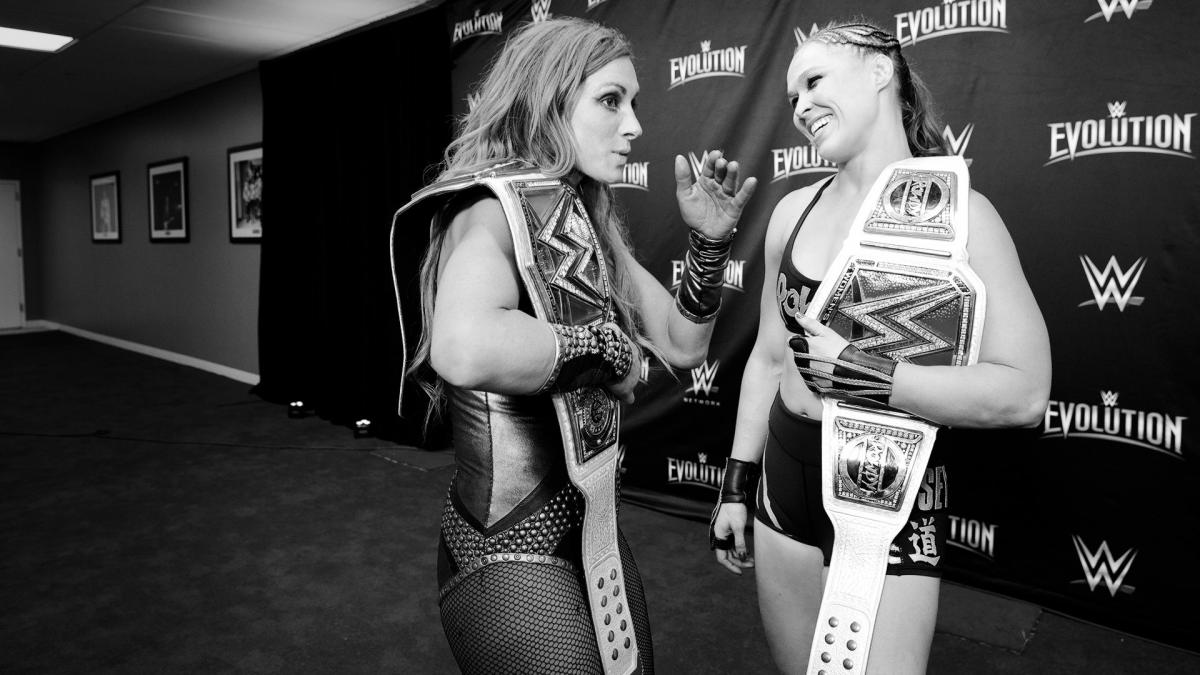 WWE released backstage photos from Evolution, the first all-women's pay-per-view in company history. A moment shared by Becky Lynch and Ronda Rousey has people talking.
October 28 was a historic day for WWE. The company produced its first ever all-women's pay-per-event, titled Evolution. The card brought together talents from different eras, with most of the focus being on the stars of today.
And the night delivered in a huge way.
On this week's edition of The Greg DeMarco Show, Patrick O'Dowd and I were left wondering if the women of WWE need their own show, a stage upon which they can truly shine. This would need to accompany more of a focus on the other pay-per-view events throughout the year, especially WrestleMania.
But for one night, any other PPV–including WrestleMania–was inconsequential. For one night, nothing compared to Evolution.
WWE gave this event special treatment, and it was more than well-deserved. One such way was to provide behind-the-scenes photos, which are a unique touch usually reserved for WrestleMania events. The black-and-white style of many of the photos usually takes them out of the company's normal vibrant, high-definition element.
One such picture, though, takes you out of more than element:
Innocent enough, it features the champion of each television brand–Raw's Ronda Rousey and Smackdown's Becky Lynch–spending time together before each defends their championship against a heated rival.
This was captured before Evolution, as Ronda doesn't have her soon-to-be-trademark eye makeup, and Becky obviously hasn't yet suffered the effects of her Last Woman Standing Match.
Here are some of the headlines that I have seen in association with this picture:
"New backstage photo of Becky Lynch & Ronda Rousey is a real buzzkill"
~CagesideSeats
"Backstage WWE Evolution Photos Kill Any Hype For Becky Lynch vs Ronda Rousey"
~WrestleZone
Soon after the event, Lynch would take to Twitter to bash Rousey and her inability to follow the Smackdown Champion's performance.
She tried. pic.twitter.com/roO56ylSAJ

— The Man (@BeckyLynchWWE) October 29, 2018
Yes, the picture completely contradicts the tweet seen above. It also contracts this match announcement:
GET. READY. FOR. THIS.#RAW #WomensChampion @RondaRousey squares off against #SDLive #WomensChampion @BeckyLynchWWE at #SurvivorSeries! pic.twitter.com/ICHLsATWj8

— WWE (@WWE) October 30, 2018
Becky Lynch has never been hotter (an 11 on a scale of 1-10, if you ask her), and she is likely headed to the most anticipated match on the entire Survivor Series card.
Seth Rollins vs. Shinsuke Nakamura? Great, but not Becky vs. Ronda.
AJ vs. Braun or Brock? Seen one, and the other will be fun, but not Becky vs. Ronda.
I know it's popular to say that Ronda Rousey and Charlotte Flair may main event WrestleMania 35, and I for one would love to see it. But I think we need to make the argument for Becky Lynch and Ronda Rousey to main event Survivor Series. And for once, it's not because of Ronda.
But what about that black and white picture? I mean, kayfabe, right?
Wrong.
You'd never see that picture come out of Ring Of Honor, New Japan, IMPACT Wrestling, or even Lucha Underground. MLW isn't going to produce such a photo. Hell, Ring Warriors and Championship Wrestling from Hollywood won't do it.
And they shouldn't.
Does that make it right for WWE to do it? YES, it does.
WWE isn't professional wrestling, and it hasn't been for a long, long time. Sports Entertainment is a bad word to many pro wrestling fans, but to the majority of the WWE audience (of which we online are the minority) it's exactly why they watch.
Bruce Prichard, who hasn't worked for WWE since 2008, often quotes a three word phrase used by Vince McMahon for probably two decades now to describe the WWE product:
"We make movies."
That's right, we make movies. Another famous Vince quote is "we put smiles on people's faces."
I love the Marvel Cinematic Universe. Absolutely love it. If Disney puts out a backstage picture of Chris Hemsworth (Thor) and Josh Brolin (Thanos) in costume and sharing a moment, does it ruin the experience?
Of course not–that would be moronic. It doesn't ruin anything because people know exactly what they're watching.
But here we have the WWE Women's Division's hero (Ronda Rousey) and anti-hero (Becky Lynch) sharing a behind-the-scenes picture, and suddenly the hype for their Survivor Series match has been killed for some guy at WrestleZone.
Internet wrestling fans watching WWE literally have no clue what they're watching.
Yet they bitch about it, and in doing so they further prove their willful ignorance of what the product is. And then, instead of turning their attention to a product that actually presents what they want, they bitch more about how WWE isn't what they want.
"We make movies" will never become "we make pro wrestling" again. But companies begging for your attention, like MLW, IMPACT Wrestling, and Ring Of Honor, are busy making pro wrestling and you won't even give them a fraction of the emotional energy that you give WWE.
Me? I like the picture.
But I also know what I'm watching.
---
Disagree? Don't @ me!
Actually, you can @ me! Continue the discussion on social media @ChairshotGreg and @theCHAIRSHOTcom using the hashtag #UseYourHead!
King's WrestleMania Rewind: Stone Cold VS. Scott Hall (WrestleMania X8)
Chris King is back with another WrestleMania Rewind, looking at the NWO's Scott Hall battling Stone Cold Steve Austin at WWE WrestleMania X8 from Toronto!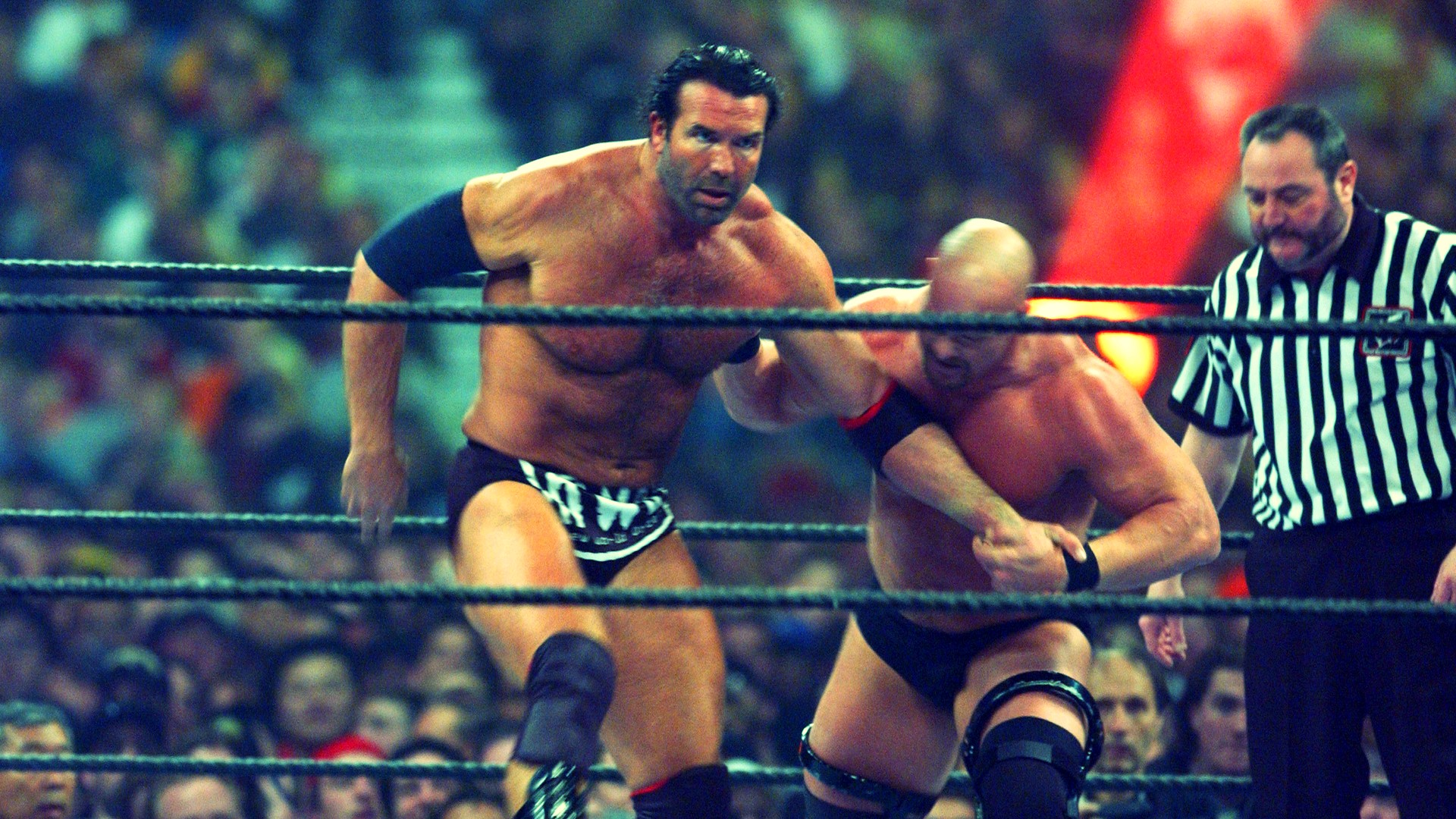 Chris King is back with another WrestleMania Rewind, looking at the NWO's Scott Hall battling Stone Cold Steve Austin at WWE WrestleMania X8 from Toronto!
Chris King is back this week with another edition of WrestleMania Rewind, where he is rewatching all the past Mania matches and feuds. This week you're in for a treat as we look back at 'Stone Cold' Steve Austin vs. Scott Hall at WrestleMania X8.
In late 2001, Vince McMahon bought out his competition WCW and acquired the rights to a plethora of talent including Booker T, Eddie Guerrero, Chris Benoit, and the iconic trio known as NWO. Hulk Hogan; Kevin Nash, and Scott Hall were hell raisers, and what better way to make a name for yourself than take out the two top superstars in the WWE The Rock, and Stone Cold?
The NWO cost Austin his chance at becoming the Undisputed Champion at No Way Out during his match with Chris Jericho. Adding insult to injury, the NWO spray-painted 'The Texas Rattlesnake' with their brand logo just like they did in WCW. As you can imagine, Austin was pissed and out for revenge against the group and primarily Scott Hall.
Hall would challenge Stone Cold to a match at WrestleMania 18. Both superstars beat the living hell out of each other leading up to this highly-anticipated match for who runs the WWE.
The glass broke and Stone Cold made his iconic entrance, and black and white NWO covered Halls' entrance alongside Kevin Nash. With the odds stacked against 'The Toughest S.O.B' could Austin or NWO prove their dominance? Sadly the NWO  broke up that very night when Hulk Hogan came to the aid of his adversary The Rock after their 'iconic' dream match. Stone Cold would ensure the victory with the Stunner. Hall would perform an Oscar-worthy sell over the finisher.
What a time to be a wrestling fan in the 2000s when nothing was impossible for WWE. Who would've thought WCW would go out of business and Hogan would make his long-awaited return to WWE?
King's WrestleMania Rewind: Seth Rollins vs. Kevin Owens (WWE WrestleMania 36)
Chris King takes a look at the most underrated WWE WrestleMania matches, and starts off with Seth Rollins battling Kevin Owens at WrestleMania 36!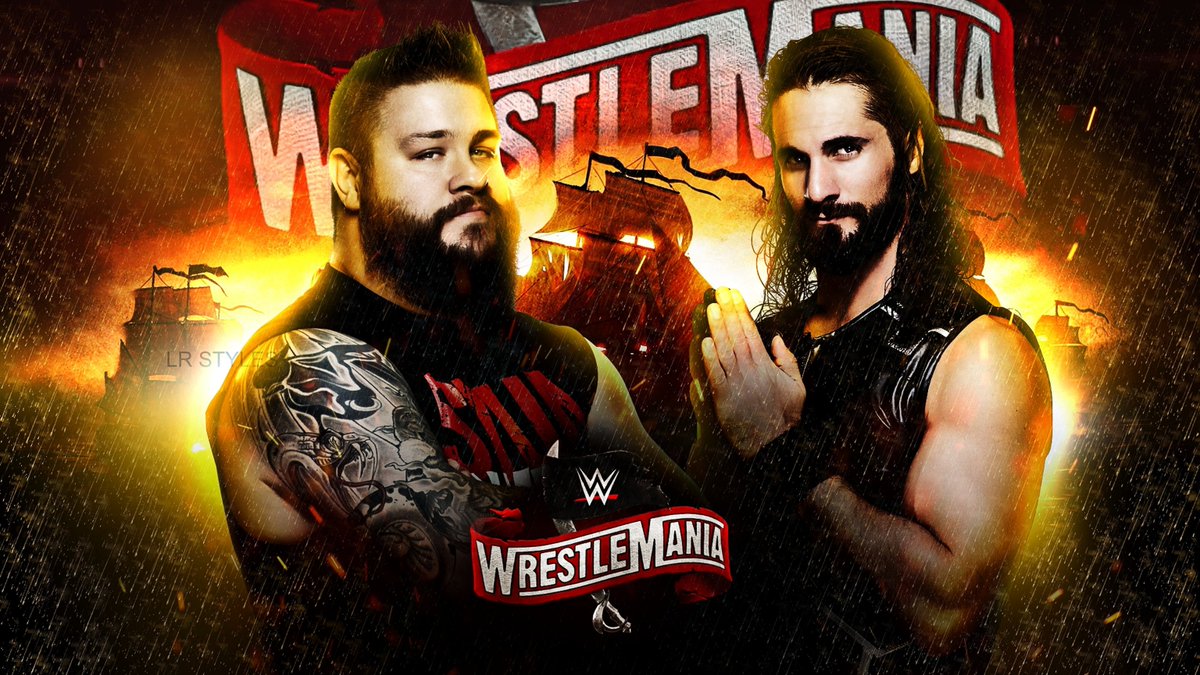 Chris King takes a look at the most underrated WWE WrestleMania matches, and starts off with Seth Rollins battling Kevin Owens in the WWE Performance Center at WrestleMania 36!
Chris King is starting a new series heading into WrestleMania season dubbed WrestleMania Rewind. Each week he'll be going back and sharing his insight over underrated matches at the Show of Shows. First up, is Kevin Owens vs. "The Monday Night Messiah" Seth Rollins at WrestleMania 36.
At the 2019 edition of Survivor Series, Rollins sacrificed himself during the men's traditional match allowing SmackDown to ultimately gain the victory. The following night the self-proclaimed Messiah, berated the whole roster but KO was not having any part of it. Owens quickly became a huge barrier in Rollins' cause for the greater good. The Authors of Pain attacked Owens with Rollins' character in question.
Owens finally had enough of his rival's mind games and torment and challenged Rollins to a match on the Grandest Stage Of Them All. Rollins mockingly accepted his challenge and the match was made official for night one of WrestleMania. Owens came out of the gate beating the holy hell out of the Monday Night Messiah trying to achieve his long-awaited moment at Mania but, Rollins tried to steal a disqualification victory by using the ring bell.
Owens hellbent on revenge provoked Rollins into turning their encounter into a no-disqualification contest where the fight could be taken all over the empty arena. The highlight of the match, was when KO used the WrestleMania sign to deliver a thunderous senton bomb through the announce table. Owens would secure the victory with a Stunner in an incredible match. Despite having no crowd during the pandemic era, both KO and Rollins put on an intense performance under the brightest lights.
In my personal opinion, this was a great feud that helped both superstars in their transformation as compelling characters for years to come.