WWE Week in Review: November 19-25, 2018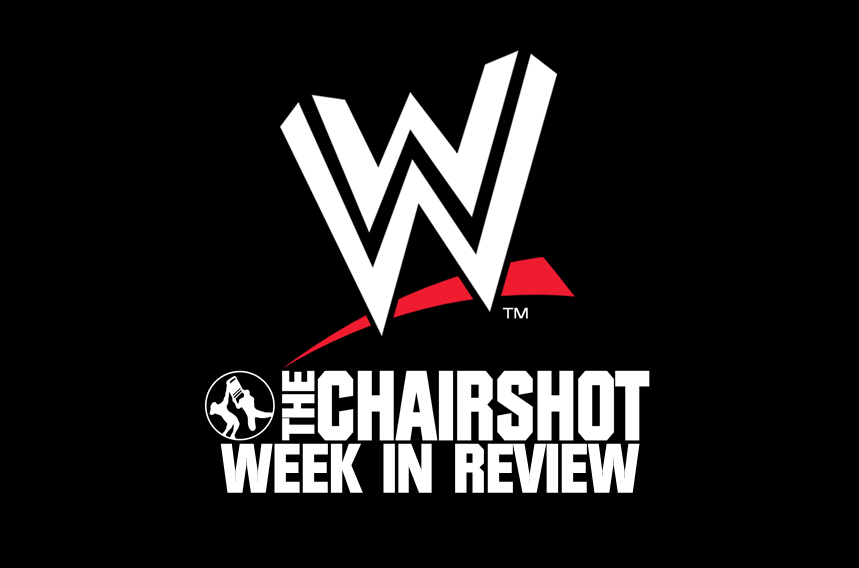 This week in WWE, as Survivor Series is put in the rearview, the fallout continues to make ripples.
On RAW, Strowman's bid to collect his prize for Survivor Series hits several big snags. Ambrose's mind games get physical. Maverick's humiliation continues, with serious consequences for AoP. Rousey looks to bounce back from her beating at the hands of Charlotte Flair, and the Revival looks for revenge on the Lucha House Party.
On Smackdown, Charlotte faces some serious consequences for her actions. The New Day and the Bar face off in an epic food fight. The issues between Mandy Rose and Sonya Deville grow, and Daniel Bryan explains his actions.
On NXT UK, the tournament to crown the first Women's Champion comes down to the final four. Jordan Devlin shuts up the haters when he takes on Ligero in match that has to be seen be believed and the jockeying for position in the upcoming Tag Title picture continues with some surprising results.
On 205, the fallout from Survivor Series continues. Noam Dar returns to 205, Brian Kendrick and Akira Tozawa look to iron out some of the kinks in their team, and the Lucha House Party brace themselves for the master plan of Maria Kanellis.
On NXT, Candice LeRae finally gets her hands on Nikki Cross and shows a side of herself that no one expected. Lars Sullivan's reign of terror continues, and Keith Lee continues his streak of dominance. So what happened? Let's find out!
RAW
Braun Strowman vs Baron Corbin: Ever since his actions at Crown Jewel, Baron Corbin has been dodging a confrontation with Braun Strowman. Stephanie McMahon bought him a little time by offering Corbin to Strowman if Strowman lead RAW to victory at Survivor Series. Strowman was successful, so it was time to pay up.
Corbin didn't seem concerned by this problem when he introduced Stephanie, who wasted no time in crowing about RAW's 'clean sweep', despite the fact that the Usos won the Traditional Survivor Series math. Unfortunately for Corbin, his hope that Stephanie would forget about her deal with Strowman was destroyed when Strowman came out to collect his prize after Corbin made the mistake of mentioning that Stephanie had made some promises, implying that Strowman wasn't the only person Stephanie had made promises to.
Fortunately for Corbin, Stephanie was ready for Strowman. Her terms were simple: Strowman would get Brock Lesnar at the Royal Rumble, IF he beat Corbin at TLC. To give Corbin a real dog in this fight, she also declares that Corbin's job as RAW GM is on the line.
Strowman agrees and points out that part of the deal was that he got to pick the match and he wants it to be a TLC match. Stephanie agrees, but when Strowman vows to dismember Corbin, Stephanie tells him that she's still trying to clear that one with the attorneys.
Corbin isn't thrilled with any of this and decides to make the most of his possibly dwindling job prospects, puts Strowman in a handicap match against Bobby Lashley and Drew McIntyre. Stephanie likes that idea, but trumps Corbin. She makes a six-man tag match and puts Corbin in against Strowman, Elias, and Finn Balor. Before the match got underway, Corbin changed it to an elimination match.
The match was a big tease for a couple of brewing rivalries, but the ultimate aim seemed to be building Strowman as a monster babyface. Balor and Elias were eliminated, leaving Strowman to take on Corbin, Lashley, and McIntyre on his own.
Strowman would get a DQ win after McIntyre hit him with a chair, but that was a hollow victory when the heels descended on Strowman like jackals. To Strowman's credit, he put up a good fight, but the team of giant heels overwhelmed him. Corbin gained some momentum for himself by smashing Strowman arm with the steel ring steps. A move we later found out had shattered Strowman's elbow.
Seth Rollins and Dean Ambrose: For a month, the re-ignited feud between Seth Rollins and Dean Ambrose had been brewing, distracting Seth from his Survivor Series match against Shinsuke Nakamura, to Nakamura's distress and disappointment. Fortunately for Rollins, he was a quick study and was able to put Nakamura away in an amazing match.
Fresh off his victory, Rollins turned his attention back to Ambrose and their issues. He's been waiting for weeks for Ambrose to answer his questions, but has gotten almost nothing but an ass-kicking.
In the ring, Rollins reflected on the fact that it's been six years to the day that the Shield debuted at Survivor Series and all the ups and downs they've been through. Rollins claimed that he hadn't known about Ambrose's life-threatening illness, but then blamed Ambrose, who was trying to NOT die of a life-threatening illness, for not calling him.
Rollins then pondered Ambrose's assertion that he loved wrestling, stating that he'd known Ambrose for almost ten years and had never heard Ambrose say he loved anything, even stated that he didn't think that Ambrose, who is happily married, was capable of loving anything. Whatever Ambrose's reasons, Rollins wanted to fight and called out Ambrose.
Ambrose did appear…on the video board. He chided Rollins for being desperate and won't come out. He repeated that things had changed and Rollins hadn't seen it. Apparently, Ambrose's near-death experience gave him some perspective on the Shield's impact on WWE and said that the Shield was rotten from the start and did more harm than good, all the troubles they've had was them getting what they deserved.
Going for the outrage, Ambrose said that Roman Reigns was answering to the Man Upstairs for his sins, but that Seth had to answer to him and challenged Seth to find him. Enraged, Rollins took the bait and stormed backstage to hunt Ambrose, even attacked two security guards who couldn't tell him where Ambrose was.
Cole and Graves tried to get some answers from Renee Young, who resented being dragged into it after she'd made clear that she was as in the dark as everyone else, though she did seem to be on her husband's side, and warned everyone that Ambrose was more cerebral than he was ever given credit for.
A little while later, Charly Caruso was preparing to give an interview when Ambrose, who is well known for not being great with technology, managed to hijack the TV monitor and told Charly to find Rollins and tell him that if he wanted to find Ambrose, he needed to head to where the Shield did their infamous promos, the boiler room.
Rollins apparently got the message and headed for the boiler room area, but found nothing after a rather dramatic kick in of the door. As he looked around, he found a door spray painted with the words 'Burn it Down'. Rollins hit the still wet paint in frustration, not noticing, or caring, about getting the paint on his face.
Later on, Rollins was STILL looking for Ambrose and having no luck. When Charly Caruso asked him about what was going on, Rollins admitted that he hadn't found Ambrose yet, but that when he did find his former friend, he was going to make him pay for his comments.
As Rollins was talking, Ambrose walked behind him and almost seemed to be contemplating attacking Rollins. Titus O'Neill, clearly trying to help, told Rollins that Ambrose had just been there and pointed him in the right direction, so the hunt continued.
Rollins must have been really bad at hide-and-seek as a child, because much later in the show, Ambrose was STILL waiting on him and he was getting impatient. He informed the WWE Universe that, despite Rollins' assertions to the contrary, he's not playing games, though he said watching Seth run around like a lunatic had been fun.
However, Rollins and the fans had been spoiling Ambrose's fun with all the whining they'd been doing. Despite his inflammatory comments about Roman Reigns, Ambrose claimed that the whole situation had nothing to do with the Big Dog. This is about their broken brotherhood, and broken is what is going to Seth Rollins when Ambrose is done with him.
Ambrose has another complaint, on top of Rollins and the fans, the smell! Something stinks and Ambrose is getting fed up with it, even wiping his nose with a handkerchief. Ambrose seemed to realize what the smell was, and it wasn't the wildfires destroying California, it was LA, more specifically the LA fans, stink to high heaven. That aside, Ambrose promises that when Rollins does find him, there's not going to be any apologies or explanations, he was just going to burn it down.
So, where was Seth? Well, apparently, the Architect had given up his fruitless search for Ambrose. Kayla Braxton discovered Rollins leaving the arena with his stuff.
Rollins' explanation was that he had a flight to catch and since Ambrose didn't want to be found, he was heading home for Thanksgiving. He promised to get his hands on Ambrose at TLC and when he does, Ambrose's bandana won't save him.
Once it seemed that Rollins had left the building, Ambrose made his way to the ring, with his hanky. He seemed to find the anger of the LA crowd amusing and mocked them, calling them dirty.
Ambrose claimed to be completely justified in his actions, stating that the fans would've done the same as he did and chastised the fans for being too emotional. Apparently, the smell was still bothering Ambrose, especially when he realized that it was the phony fans that were stinking the place up.
Suddenly, the cameras reveal that Seth didn't leave, in fact, he was running towards through the building. Ambrose was quite amused by the running, until he realized that Rollins was running towards the ring. In a mirror of their 2014 feud, Rollins took Ambrose down and the fight was on!
They fought all over the ringside area and through the crowd. Rollins got Ambrose back in the ring and nailed the superkick, but Ambrose proved much wilier than Rollins expected and ducked the Curb Stomp and nailed Rollins with a low blow.
Now extremely angry, Ambrose grabbed Rollins that and said that he was trying to talk and berating Rollins for interrupting him and warning him to never do that again. Getting to his feet, Ambrose nailed Dirty Deeds and stormed away, but Rollins' had made him so mad, he ran back to the ring and hit Dirty Deeds one more time before grabbing Rollins mouth and making the Architect's mouth move in a puppet-esque was, asking if he still wanted to talk.
RAW Women's Division: To say that Nia Jax is not liked by the WWE Universe after taking out Becky Lynch the week before Survivor Series, is an understatement, but the Irresistible Force has a couple of supporters: Tamina Snuka and Alexa Bliss.
Nia and Tamina faced the VERY angry team of Bayley and Sasha Banks, Sasha looking for revenge on Nia after Nia double crossed her in the Women's Survivor Series match.
The match was incredibly good. Banks and Bayley really took it to Snuka and Jax and seemed to have the number of the Samoan Cousins, and seemed to be trying to exact some revenge on Jax for what happened to Becky, if the stiff shots were anything to go by. Jax and Snuka would be able to pull out a win but it was only by sheer luck of getting a cheap shot in, and were put on notice that Legit Huggers aren't a team to take lightly.
*-*-*-*-*-*-*-*-*-*-*-*-*-*-*-*-*-*-*-*-*-*-*-*-*-*
Ronda Rousey may have won at Survivor Series, but she got the crap beat out her by an enraged Charlotte Flair, who got herself DQ'd by beating Rousey to a pulp with a kendo stick. Rousey was still all smiles as she made her way to the ring on Monday to address her RAW Women's Championship.
Rousey announced that she'd just been told that she would be facing Nia Jax at TLC. Rousey stated that she was fully aware of how dangerous Jax was, considering what she'd done to Becky Lynch, but asserted that she wasn't afraid of Jax and would make her tap out.
Turning her attention to Charlotte Flair, she vowed to find Flair and finish what they started at Survivor Series. However, Rousey claimed that she didn't want sympathy because she was a true champion and champions don't pick and choose their challengers.
In that spirit, and probably to redeem herself after the holy ass-kicking Flair gave her, Rousey laid out an open challenge to whichever woman in the back wanted it.
Corbin came out and tried to deny the challenge, citing the injuries Rousey had sustained at Survivor Series. Rousey made it clear that she didn't give a damn what Corbin thought, telling to go find someone for her to fight or get in the ring himself. Realizing that she wasn't kidding, Corbin relented and headed for the back.  After a few minutes, Rousey's opponent was revealed to be Mickie James.
RAW Women's Championship Match – Ronda Rousey vs Mickie James: Mickie James has always been fearless and up for a fight, and she has a history of pulling upset victories from seemingly unstoppable opponents, but that didn't happen in this match. Mickie showed how little she feared Rousey by throwing her jacket at her, but that was about as much offense as she got, outside of a few cheap shots. Rousey dominated the match from the start and quickly pulled out a submission win, seeming to redeem herself for being Flair's batting tee.
As Rousey was celebrating, Tamina and Nia came out. Nia was proudly brushing off her fist, but all they did to Rousey was laugh at her. Rousey is certainly going to have her hands full at TLC.
*-*-*-*-*-*-*-*-*-*-*-*-*-*-*-*-*-*-*-*-*-*-*-**–
Nattie vs Ruby Riott: The issues between Nattie and the Riott Squad has been brewing for weeks and Nattie's rage at Riott's disrespect towards Nattie's late father cost both fo them a chance to be part of the Women's Survivor Series Team.
This match was a fight. Riott had her Squad in her corner and they did a lot to help her, but Nattie had righteousness on her side and kept battling back after a Senton back drop from the top turnbuckle.
The Riott Squad nearly helped Riott steal one by helping her get out of a Sharpshooter, but Nattie would steal her own victory by reversing a roll up attempt by Riott into a roll up of her own for the pinfall. The Riott Squad were furious, which can only mean trouble for the Queen of Harts.
RAW Tag Team Division: Throughout the history of professional wrestling, it has been well-documented that heel managers would do just about anything to help their charge win a match, especially when gold was on the line. Well, at Survivor Series, Drake Maverick topped them all by helping AoP beat the Bar by peeing his pants.
Unfortunately, Maverick's calculated humiliation didn't win him much respect from the other wrestlers. Many wrestlers, including Slater and Rhyno had a lot of fun at Maverick's expense with a lot of urine and wet jokes. When Chad Gable and Bobby Roode joined in the teasing, Maverick snapped and challenged Roode and Gable to a match, making an…unfortunate pun in the process.
Maverick's rage was still in full effect when AoP and Team Glorious Alpha clashed, which the audience aggravated by chanting AoPee at Maverick throughout the match. Strangely, AoP didn't seem all that bothered by their manager's rage.
Unlike their usual brutal matches, AoP found themselves having some trouble with Team Glorious Alpha, including Gable hitting an armbar on one member of AoP over the top rope. Roode was able to put his veteran's experience to good use by outsmarting and fighting AoP.
Team Glorious Alpha would pull out a shocking victory with Chad Gable hitting a slightly sloppy moonsault/sunset flip for the pinfall. Maverick was hopping mad, but he did manage to control his bladder.
*-*-*-*-*-*-*-*-*-*-*-*-*-*-*-*-*-*-*-*-*-*-*-**-
Lucha House Party vs Revival: Throughout their WWE run, the Revival had promoted themselves as harkening back to the badass heel tag teams of the 80s. However, they seemed to have really met their match in the Lucha House Party, who are the exact opposite of the Revival. In their first encounter, the Lucha House Party got the better of the Revival, but the Revival vowed to get even.
How did it go? Well, much like last time, the Lucha House Party, who are being allowed to wrestle under Lucha House Rules, which doesn't mean what whoever booked the match thought it did, got the better of the Revival. Though, to their credit, the Revival had the LHP's number several times, but the 3 on 2 advantage definitely worked in LHP's favor and they pulled out a win, with some help from Penelope the Pinata. If the Revival was angry before, they are furious now, at being outsmarted by a team they may have taken a little too lightly.
SmackDown Live
WWE Championship: Last week, Daniel Bryan had stunned the WWE Universe by turning heel and stealing the WWE Championship from AJ Styles. On top of that, he nearly made Brock Lesnar tap out.
This week, Bryan addressed his change of attitude. Referring to himself in the third person, Bryan chided the fans for being fickle and said that they weren't there for him during his struggle to get back to the ring.
Bryan claimed that his betrayal hadn't begun last week, it began when he'd been forced to retire. Daniel Bryan doesn't accept failure. He fought for his dreams and spent hours in a hyperbaric chamber to get back to the ring.
Bryan then claimed that if anyone betrayed anyone, it was the fans that betrayed him by moving on to AJ Styles and chanting for him, even when Bryan came back to the ring. Bryan didn't give up though, he fought for his dream and his dream kicked AJ Styles in the balls. The Yes! Movement is dead and this is a new Daniel Bryan, which he demands the ring announcer announce. There might be a new Daniel Bryan, but his old problems haven't gone away, and the biggest one is AJ Styles.
SmackDown Women's Division: At Survivor Series, Charlotte Flair stepped in to help former friend, Becky Lynch, when Lynch couldn't get cleared to wrestle and took on Ronda Rousey. To everyone's shock, the normally unflappable Queen snapped and beat the holy hell out of Rousey with a kendo stick before hitting Natural Selection while Rousey had a steel chair around her neck.
If anyone expected Charlotte to be remorseful for her actions, they were sadly disappointed. Charlotte was quite proud of herself for she did and said that she enjoyed destroying Ronda Rousey and that she'd struck a blow for the SmackDown women's locker room…and for Becky.
General Manager Paige came out and praised Charlotte for her actions, and stated that everyone had enjoyed watching her destroy Rousey. However, she reminded Charlotte of Rousey's promise to make her pay, but Charlotte wasn't concerned. She'd deal with Rousey if Rousey stuck her nose where it didn't belong.
Paige had more pressing matters on her mind, namely the fact that during the fight at Survivor Series, Charlotte had also put her hands on five WWE referees. Charlotte's defense was that they were in her way, but Paige was not impressed. She fined Charlotte $100k, basically $20k per referee. Charlotte was flabbergasted by the fine, but Paige's message was clear: No one was above the rules, not even the Queen.
The IIconics came out and claimed that Paige was playing favorites, though how fining someone $100k is playing favorites is a little beyond me. Charlotte, understandably angry now that she's $100k poorer, wasn't in the mood for the IIconics and challenged one of them to a fight.
Charlotte vs Billie Kay: This wasn't much of a match, sadly. Billie Kay is very talented, but the match was more about building Charlotte as a heel more than anything else. Peyton Royce tried to help Billie but nothing was going to stop Charlotte, who won the match with Natural Selection.
As Peyton tended to her friend, Charlotte decided that she wasn't done. She got on the mic and challenged Royce to a match for getting in a cheap shot on her during the match. Royce hesitated, more concerned with Kay's well being than taking on Charlotte, but the crowd, and Billie encouraged her to go for it.
Charlotte vs Peyton Royce: Royce proved to be a little wiser than Kay and kept bailing out until Charlotte got tired of it and went after her. Charlotte would pick up another win, but it would be by DQ after Kay attacked her save Royce. The IIconics tried to give Charlotte a taste of her own medicine by getting a chair, but a ring guy refused to give them one, which gave Charlotte the opening to hit a double spear on them and beat them up before the refs intervened.
*-*-*-*-*-*-*-*-*-*-*-*-*-*-*-*-*-*-*-*-*-*-*-*-*-*-*-*-*-*-*-*
Naomi and Asuka vs Mandy Rose and Sonya Deville: Pro-wrestling can have a devastating affect on personal relationships and that's certainly proving true for Mandy Rose and Sonya Deville. Rose's ambition has started to reveal cracks in their friendship, which was revealed shortly before Survivor Series.
This week, the friends had a chance to repair their friendship by taking on another pair of besties, Naomi and Asuka. The match was really good, Rose has come a long way from her early days, but the ongoing issues between her and Deville would prove the deciding factor when a miscue by Rose nearly caused her to clothesline Deville, which left an opening for Asuka to tap Deville out.
Later on, Rose and Deville were commenting on their year anniversary of being a team and Deville commented that last year, she trusted Rose more than anything, now, she doesn't, so the issues continue.
Miz and Shane McMahon: Miz has been called a lot of things, many of them not repeatable, but he's always been a schmoozer. He will suck up to any authority figure to get some advantage. Miz hosted an episode of MizTV with his special guest being Shane McMahon, who was the last person eliminated from Team SmackDown.
Miz wasted no time, or dignity, in sucking up to Shane, even trying to do Shane's trademark dance, and looking like a total douchebag in the process. He praised Shane and tried to ingratiate himself to the boss by suggesting, despite Shane's bemusement, and the fact that Shane wasn't dressed to wrestle, that they be tag team partners and take on a team of jobbers. The proposed victims came out before Shane could really refuse.
Shane McMahon and Miz vs Bryant Brothers: The Bryant Brothers don't really look like brothers, but they seem eager and excited. Shane insisted that Miz start and when Miz tried to tag in, refused to tag in, which left Miz vulnerable to a hilarious defeat by roll up by one of the Bryant Brothers. Guess this new team needs work.
SmackDown Tag Team Division: At Survivor Series, the plans of the Bar to use Big Show as a counter to Drake Maverick was upended by Maverick's total lack of dignity. To make up for this humiliating defeat, the Bar took on New Day in a Thanksgiving Food Fight.
New Day, who were dressed as pilgrims, and with Woods wearing a 6-1 monogram, reminding us of the correct Survivor Series score, mocked the Bar for their defeat, but the Bar fired back with the understandable excuse about Drake Maverick and his bladder.
The match was about what you'd expect from a food fight. The New Day would pick up the win by NAILING Sheamus with a turkey that I sincerely hope was completely thawed. When Cesaro tried to help his partner, he was beaten to unconsciousness with pies in a spot straight out of an old slapstick comedy. So the Bar was robbed of their dignity a second time, but New Day may not have the last laugh at the end of it.
Randy Orton vs Rey Mysterio: For whatever reason, Orton has been determined to destroy the myth of the legends who are more beloved than he is. First, it was Jeff Hardy, now it's Rey Mysterio.
The match had a quick start with Orton constantly going for Mysterio's mask. Orton dominated most of the match, but Mysterio showed that fighting spirit that has endeared him to wrestling fans for more than 20 years. The end came when Mysterio went for his head first slide and slid straight into an RKO, which allowed Orton to get the pinfall.
Not satisfied with his work, Orton partially pulled off Mysterio's mask before horse collaring with a steel chair and ramming him into a the post, which allowed him to take the mask off all the way.
NXT UK
Episode 9
NXT UK Women's Division: The march towards crowning the first NXT UK Women's Champion took another step forward in this episode as we whittled our way down to the final four.
Xia Brookside vs Rhea Ripley: Xia Brookside is a relative newcomer to wrestling, despite being a second generation star, but she made quite an impression in the Mae Young Classic, she took on the Australian Badass, Rhea Ripley.
The outcome of this match was never a question, Ripley towered over Brookside and completely outmatched her in power, but that didn't stop Brookside, who came close to putting Ripley away, showing a lot of skill and spunk. Unfortunately, Ripley's power proved the deciding factor as she was able to catch Brookside's cross body attempt into a slam and a pin.
Toni Storm vs Isla Dawn: Toni Storm has been setting the WWE Universe on fire since her amazing win at Evolution in the Mae Young Classic Finals. This week, she looked to put her name in the final four of the Women's Championship Tournament by taking on the Scottish Witch, Isla Dawn.
This wasn't a great showing for Storm. Dawn got the jump on her from the start and dominated the match from the start. However, Storm battled back, but the surprising start had thrown her off her game and she had trouble getting her offense in.
Unfortunately for Dawn, her frustration with not being able to put Storm away caused her to lose focus on the prize, wasting time with trash talk, giving Storm the opening for Storm Zero and the win.
Even though she was victorious, Storm showed a great streak of sportsmanship, helping the distraught Dawn to her feet after the match.
NXT UK Tag Team Division: With the tag team titles coming closer every day, lots of pairings are forming and jockeying for position. Zach Gibson, who hasn't been making a lot of friends in NXT UK, got some unexpected help from former partner, James Drake, last week against Trent Seven of Moustache Mountain.
When asked about the help, Gibson dismissed the question as typical jealous nonsense, claiming that Drake helping him was no big deal, just something any friend would do. However the tag titles are coming, and the Grizzled Young Veterans are ready to take them.
Eddie Dennis vs Jack Starz, and the World: Eddie Dennis' anger and aggression at being left behind by his friends ten years ago resulted in a vicious beating for Sid Scala last week and a winning debut for Dennis. This week, Dennis took on Jack Starz, who didn't seem to be very fearful of a man who looks more like the creepy guy outside a bar at closing time, than a schoolteacher.
Dennis dominated the match, but Starz was able to get in some offense and even seemed to be close to victory, but Dennis hit the Ruler's Edge into the turnbuckle and then a cradle suplex for the win.
Later on, Dennis was giving an interview, touting his 2-0 undefeated streak when he was approached by Ashton Smith. Smith informed Dennis that he'd watched the match but didn't see anything he couldn't handle. Dennis was outraged by Smith's words and the fact that Smith touched him.
Mark Andrews vs Mike Hitchman: Hitchman dominated the start of this match, easily outweighing Andrews, but Andrews used his quickness to stay in the match, but that quickness came back to haunt him several times, when Hitchman dodged a moonsault and hit a back senton on the apron.
Andrews didn't give up, taking it to Hitchman, but the big man proved a tough tree to chop down, showing surprising skill and agility. It would take a thunderous Stun Gun Millionaire and a Shooting Star press that looked like it hurt Andrews more than Hitchman, to give Andrews the victory.
Jordan Devlin vs Ligero: Jordan Devlin hasn't been making many friends in the NXT UK locker room, calling out the locker room for their laziness, including Ligero, claiming that Ligero couldn't be a Luchador because he was from Leeds.
This week, the Leeds Luchador took on the loudmouthed Irish Ace in an amazing match that really can't be described on paper, or computer. Ligero's gear might look a little ridiculous, but he's not someone to take lightly and took everything Devlin could dish out and then some.
Devlin, for his part, proved that he was more than Finn Balor's protégé and could back up his words.  Ultimately, it was Devlin that would pick up the win and received a standing ovation from the crowd that had been booing him earlier.
Episode 10
NXT UK Championship: After his amazing win against Ligero in the last episode, Jordan Devlin had let the world know that he considered himself the #1 Contender to Pete Dunne's NXT UK Championship. Hearing his boasts, and being impressed with Devlin's work in the ring, Johnny Saint announced on Twitter that Devlin would face Pete Dunne next week.
NXT UK Women's Division: We are in the Final Four in this episode. The finalists for the NXT UK Women's Championship will be decided. It will be Dakota Kai vs Rhea Ripley and Toni Storm vs Jinny.
Rhea Ripley vs Dakota Kai: This match is a rematch from the 2017 Mae Young Classic where Kai beat Ripley in the second round, which prompted Ripley's change of attitude.
The match closely resembled their Mae Young Classic match from last year. Ripley had size and power, but Kai had her quickness and her kicks to level the playing field. However, all of Kai's kicks, including two Around the Worlds could stop a determined Ripley, who landed a thunderous Riptide to get the win. She will face the winner of Toni Storm vs Jinny
Toni Storm vs Jinny: These ladies have met before in the 2018 Mae Young Classic, but the stakes are much higher.
The ladies were evenly matched, and Storm seemed to have learned from the match with Isla Dawn to get her pre-match ritual over quickly.
The match was really good, but Storm again didn't have a great showing. Jinny dominated much of the match, though Storm was able to get in more offense since Jinny wasn't able to get the jump on her.
Storm would get the victory, but it was close, especially after Jinny hit a rope aided face buster that was dangerously close to being a piledriver. Unfortunately, Jinny ran her mouth a little too much which allowed Storm to hit the Storm Zero for the win.
Flush with her victory, Storm was congratulated by Johnny Saint, and confronted by Rhea Ripley. The two Aussies exchanged trash talk before being separated. It's going to be a barn burner in the finals.
Sid Scala: Sid Scala has been gaining a following as a plucky underdog was seen talking to GM Johnny Saint. Scala explained that he'd been talking to Saint about getting an opportunity. Scala hasn't been cleared after the vicious beating he'd suffered at the hands of Eddie Dennis, but if he can get cleared in two weeks, he'll have a match against the nasty Joe Coffey. It's a big challenge, but Scala is determined to make the most of it.
Flash Morgan Webster and Mark Andrews vs Saxon Huxley and Joseph Conners: There was some more jockeying for position in the tag team division in this episode. The mentor/protégé team of Mark Andrews and Flash Morgan Webster took on the nastily stoic Saxon Huxley and Joseph Conners.
Huxley and Conners dominated the match from the start, though Andrews and Webster put up a heck of a fight. The end would come when Huxley, thinking that he had the situation well in hand, chose to not tag in Conners, leaving him open to attack by Webster and Andrews, with Andrews getting the pin after a shooting star press.
To add insult to defeat, Conner attacked Huxley and beat him rather severely for costing them the match, though it's not clear whether or not Conners would've fared much better.
Dave Mastiff vs Tyson T-Bone: Last week, the King of the Travelers had been thoroughly unimpressed with the talent in the NXT UK locker room and made comments that got under the skin of Dave Mastiff, who was undefeated in NXT UK, which lead to this week's match.
Surprisingly, T-Bone dominated much of the match, actually knocking Mastiff off his feet and not letting the huge man get in much offense. However, Mastiff was able to turn the tides when T-Bone tried to hit a sunset flip. Still it would take a German Suplex and a cannonball before Mastiff could unseat the King and walk away with the win.
205 Live
WWE Cruiserweight Championship: Buddy Murphy kicked off the show, very pleased with himself for retaining his Cruiserweight Championship at Survivor Series. Murphy mocked the fans for believing that Ali would win, stating that their opinions meant nothing to him, you can't stop the unstoppable. His friend, Tony Nese, came out for his match and Murphy was determined to be in his corner.
Later on, after being informed of the dream tag match next week, Nese and Murphy were confident to the point of being cocky. Murphy stated that he'd beat Alexander and Ali, so beating them with Nese should be no problem.
Tony Nese vs Noam Dar: Noam Dar is back from his brief stint in NXT UK and was looking to re-establish himself in 205 going up against Tony Nese.
The match was pretty good. Nese had a slight strength advantage, but Dar is quick and was able to keep the Body Guy off his game for most of the match. However, having the Cruiserweight champion as a friend proved to be the deciding factor for Nese. Murphy was able to distract Dar, though he paid for it with a nasty kick to the head, letting Nese get in a knee and a NASTY German Suplex into the turnbuckles for the win
Mustafa Ali: The Heart of 205 came up short at Survivor Series, and that hurts, physically, mentally, and emotionally. However, Ali is a survivor and vowed to turn that pain into fuel to keep him going during his fight to be Cruiserweight Champion.
Drake Maverick: Fortunately for Drake Maverick, no one on 205 Live seemed to have watched his humiliation at Survivor Series, and he had more important things to worry about, namely the threat of Mr. and Mrs. Kanellis, who have been teaming with TJP. He made sure the head ref was aware of the threat and was ready.
After that was settled, Maverick turned his attention to Cedric Alexander, congratulating him on his victory over Lio Rush last week and getting back to his winning ways. In celebration, Maverick proposes a dream match: Cedric Alexander and Mustafa Ali vs the Body Guys. Alexander agrees and the match is set!
The Brian Kendrick and Akira Tozawa vs Fidel Bravo and Mr. Jobber: The unlikely duo of Brian Kendrick and Akira Tozawa have been having a little trouble gelling, especially against mutual enemies, Drew Gulak and Jack Gallagher. This week, Kendrick and Tozawa took on Fidel Bravo and an unnamed partner, but that didn't stop the Party of Gulak from making snide comments about the duo or predicting victory in their next encounter.
The match was quick, though Bravo and Mr. Jobber put up a fight, but Kendrick and Tozawa were able to gel enough to put them away with a combination of Sliced Bread #1 and a super senton for the pin. Look out, Party of Gulak.
Gran Metalik (with Kalisto and Lince Dorado) vs TJP (with Mike Kanellis): This whole thing started with TJP showing blatant disrespect to the luchador tradition of masks, absconding with them whenever he could. The Kanellises got involved for reasons only known to themselves. Last week, Maria had promised that her plan for the Lucha House Party was just getting started and would come to pass this week, and here we are.
TJP and Mike Kanellis came out, adding further insult to the situation by wearing the masks they'd stolen in weeks previously. Maverick was ready for trouble, barring everyone BUT TJP and Metalik from the ring.
The match was really good. Metalik definitely had anger fueling him, but TJP didn't make things easy for him, even resorting to trying to steal Penelope the Pinata. However, Metalik battled through and was able to put TJP away with a sunset flip.
Afterwards, Maria comes out, pitching an absolute fit over how not fair it was and that Mike had a family to support, but her tantrum was a ruse to give Kanellis and TJP time to attack the Lucha House Party from behind, leaving the Party laid out in the ring while the Kanellises and TJP mocked the Lucha! Lucha! Chant as the show closed.
NXT
NXT Women's Division: Shayna Baszler, who stole another victory from Kairi Sane thanks to her friends, was all confidence in her post match interview. Baszler didn't seem to think that needing her friends' help to beat Sane made her any less the dominant force she claimed to be. No, she's dominant because she has her friends and they work together. I have a feeling the enraged Kairi Sane is going to respond with her own backup.
Nikki Cross vs Candice LeRae: Ever since Nikki Cross let the cat out of the bag about Johnny Gargano being the one to take out Aleister Black before TakeOver: Brooklynn, Candice LeRae has been trying to get her hands on the Twisted Sister of NXT. Not seeming to accept that Gargano not only attacked Black, but took full credit for the attack, LeRae blamed Cross for interfering in her and Gargano's lives and demanded a match from GM Regal.
The match was fantastic! Nikki Cross is always fun to watch, but Candice not only showed off her amazing ability, but she showed a surprising nasty streak towards Cross, even kicking out of the Purge, to Cross' surprise. LeRae nearly had Cross' number when she locked in the GargNo Escape, but Cross was able to get into the ropes and catch LeRae in a draping Purge for the win.
Nikki Cross may have had gotten the better of Ms. LeRae, but LeRae's nasty side showed and it's doubtful that she'll take this loss sitting down.
Keith Lee vs Fidel Bravo: Survivor Series weekend was a busy one for Fidel Bravo. He teamed up with Mr. Jobber against Brian Kendrick and Akira Tozawa on 205 Live, but also met the UnLimited Keith Lee on NXT.
Unfortunately for Mr. Bravo, his luck against Keith Lee wasn't any better than it was against Kendrick and Tozawa. Lee, powered by the fans, made quick work of Bravo, finishing him off with a Death Valley Jackhammer.
Lars Sullivan vs Kita Murray: Lars Sullivan has been on an unholy tear through NXT and took on Kita Murray this week. It wasn't much of a match, Sullivan basically tore Kita apart and then got bored with the quick job. He got on the mic and vowed to keep destroying people until he got the NXT Championship match he deserved.
Before he could do more damage to the hapless Murray, Keith Lee runs in to make the save. Lee and Sullivan duke it out, Lee proving to be more than a match for the monstrous Sullivan. Looks like Sullivan has a major hurdle to that title match after all.
Starrcade

Elias and Ric Flair: Elias decided to serenade the residents of Cincinnati with a song, as usual. What could be better? Well, the king of Starrcade, Ric Flair, of course. Flair is eager to walk with Elias and is ready to sing, may God save our eardrums.
But what is a singer if he doesn't have backup singers? Enter Nia Jax, Alicia Fox, Tamina, and Mickie James. Elias isn't quite sure what to make of this, but plays along, until it becomes clear that Mickie is the only one with any real singing ability, though Nia insists she was offered a record deal before becoming a WWE Superstar. Elias doesn't believe her and brings out some friends to shut Nia's mouth for him.
Eight Woman Tag Match – Sasha Banks, Bayley, Dana Brooke, and Ember Moon vs Nia Jax, Tamina, Alicia Fox, and Mickie James: This was a really great match for all the women it had. Everyone looked really good and we got some intriguing face offs, such as Mickie James vs Ember Moon, which would be an amazing feud. Dana Brooke, who hasn't gotten much TV love since leaving Titus Worldwide showed how far she'd come in terms of wrestling skill since her Ultimate Diva days in NXT.
It has to be said that the heels didn't make things easy, especially Jax and Tamina, who are tough customers at any time. However, Sasha Banks would be the won to pick up the win for the babyfaces, transitioning Alicia Fox's roll up attempt into a Banks Statement and getting the submission.
MizTV: MizTV is back and Miz's guests are United States Champion Shinsuke Nakamura and Rey Mysterio, Mysterio was in a neck brace after the beating he received at the hands of Randy Orton on SmackDown on Tuesday.
Miz questions the severity of Mysterio's injuries, questioning why Mysterio wasn't at home. Mysterio explained that Starrcade was always special to him because of all the heroes he watched there: Flair, Rhodes, Sting…and Eddie Guerrero. Mysterio fully planned to battle through the pain to become the NEW US Champion at Starrcade.
Miz wasn't happy with Mysterio's name dropping and stirred the pot. Nakamura stated that he didn't care about Starrcade or Mysterio, though watching Orton beat Mysterio up was a lot of fun, which Miz agreed with. Mysterio warned Miz to shut his mouth, which lead Miz to blame Mysterio for Team SmackDown's loss, which Mysterio, rightly pointed out, was Miz's fault since he was team captain. As for Nakamura, if he thought seeing Mysterio get beat up was such fun, let's have this match now!
A petulant Miz distracted Mysterio so Nakamura could get a cheap shot in and the match started.
United States Championship Match – Shinsuke Nakamura vs Rey Mysterio: This match was really quick. Nakamura ripped off the neck brace pretty quickly, but Mysterio fought back every pin attempt. Miz tried to help Nakamura but quickly discovered that Nakamura wouldn't hesitate to throw him to Mysterio, which resulted in Miz taking a senton meant for Nakamura.
Undeterred, Miz would save the match for Nakamura by getting him DQ'd by dragging Mysterio out of the ring when Mysterio had the match won. Once the DQ was announced, Nakamura and Miz double team Mysterio, which brings out Rusev and Lana. Lana asks Cincinnati if they want a tag match, which is thunderously agreed to and we're underway.
Rusev (with Lana) and Rey Mysterio vs Shinsuke Nakamura and Miz: This match was slightly longer than the previous match, but still very good. Miz paid Nakamura back for letting him get squashed by Mysterio by bailing of the ring. Nakamura went to follow, but were forced back by Rusev and Mysterio.
Nakamura and Miz did manage to get the upperhand, but Miz failed to take Rusev as seriously as he should have and he and Nakamura paid for it. Mysterio would hit a double 619, which left Miz vulnerable to a Machka kick, which gave Rusev and Mysterio the win.
Steel Cage Match – AJ Styles vs Samoa Joe: AJ Styles has to be in a bad mood. Not only did he gets robbed of the WWE Championship by a man he used to respect, but he's still dealing with the sick mind games of Samoa Joe, who had cut a promo earlier in the night about repeating the same thing over and over being and expecting different results being the definition of insanity.
Joe would've done well to remember that comment because the steel cage match showed just how insane it was to push the buttons of AJ Styles. Not that Joe was a pushover, but Styles was pissed off and Joe was the poor bastard locked in a steel cage with him. In repeat of their Crown Jewel match, Styles made Joe tap like a drum to the Calf Crusher, getting some measure of revenge on one of his enemies.
Tiff's Thoughts: Overall this was a really good week for WWE. They managed to put together some really good shows despite a mediocre Survivor Series and a major holiday week.
RAW: The Ambrose/Rollins feud as the major storyline for RAW is a lot of fun and gives everyone time to warm up to a heel!Ambrose, though some of Rollins' comments blur the line of who the true heel is.
I'm not happy about WWE continuing to push Nia Jax after the incident with Becky. I realize that things go wrong in wrestling, but Jax has been unsafe with several people without facing any consequences, which make WWE appear to not really care about the safety of their employees. I'm afraid she's going to have to seriously injure someone before they do anything about it and then it'll be too late.
The tag divisions on RAW and SD are stagnating, which is sad, though Maverick's peeing incident was good for a laugh.
I'm over the Nattie/Ruby Riott feud.
SmackDown: Daniel Bryan's third person promo was extremely creepy and I hope he never does that again.
Charlotte as an out of control heel is a lot of fun and begs the question of what will happen when Becky finally gets cleared.
The tease of issues between Rose and Deville was fun.
The food fight was fun.
NXT UK: I'll be so happy when the backlog of NXT UK is over. I like the show but two episodes a week on top of 205 Live and NXT is a little much.
Xia Brookside is going to be a STAR in a few years.
I want to like Toni Storm, but she can't seem to put her opponents over without making herself look terrible.
Isla Dawn looked amazing this week, as did Jinny.
Jordan Devlin vs Pete Dunne is going to be fantastic!
205 Live: I'm betting that the big tag match is going to tease Alexander turning heel.
I HATE this Lucha House Party vs TJP and Kanellis storyline.
NXT: Nikki Cross vs Candice LeRae is a feud that needs to keep going.
Lars Sullivan vs Keith Lee should be interesting.
Starrcade: I was very disappointed with Starrcade. Instead of giving us something really special, we got matches that we'd either seen already or had no meaning, and sometimes both. The Styles/Joe steel cage match was supposed to be for the Championship, but with Styles not being champion, the point of the cage was lost. Not much of a special, in my opinion.
What did you think of this week in WWE?
Let us know on social media @theCHAIRSHOTcom and always remember to use the hashtag #UseYourHead!
Chris's WWE 205 Live Grades & Analysis 7/16/19
At Extreme Rules, The New Drew Gulak successfully retained his Cruiserweight Championship against The Premier Athlete Tony Nese. Who will be his next victim and challenger for his title?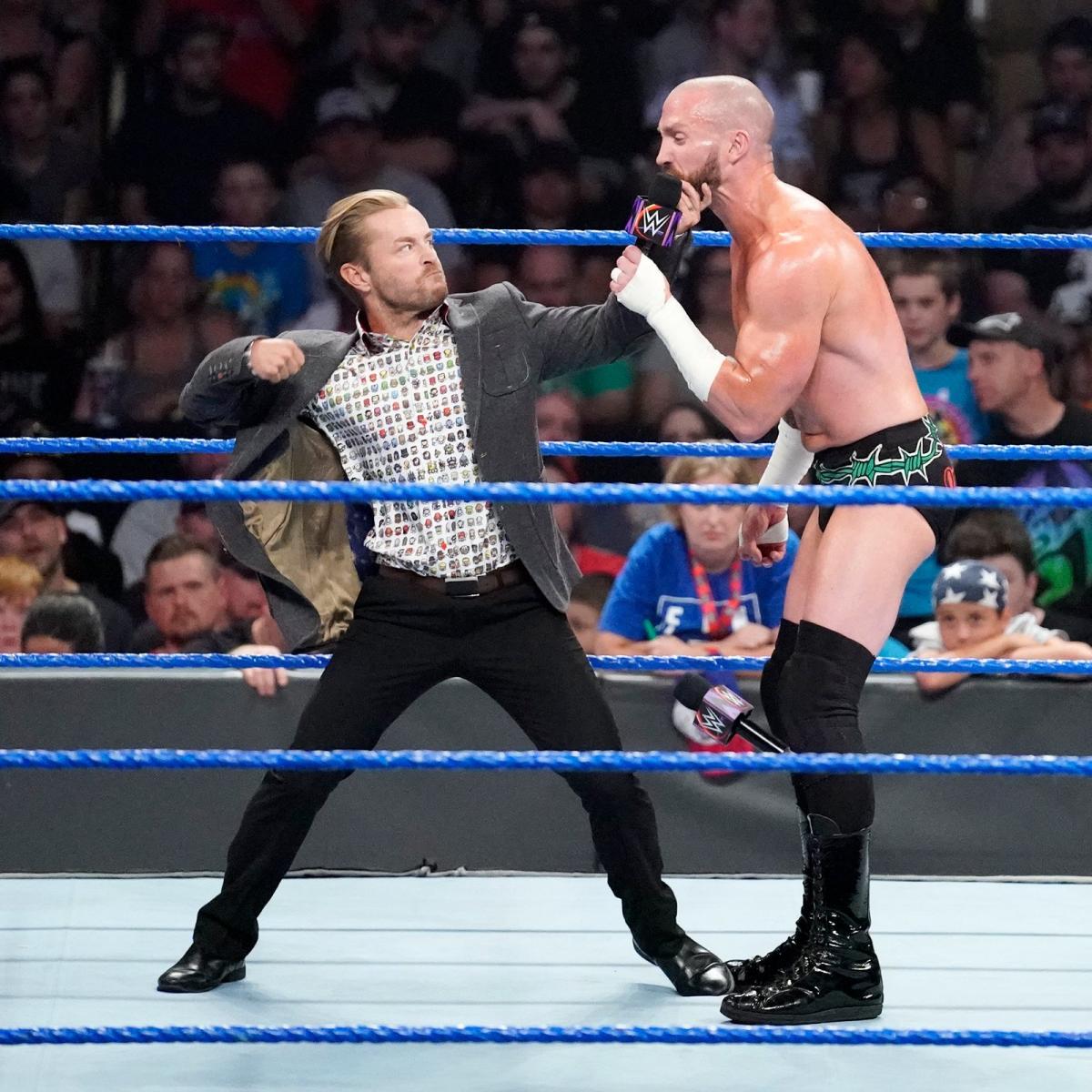 At Extreme Rules, The New Drew Gulak successfully retained his Cruiserweight Championship against The Premier Athlete Tony Nese. Who will be his next victim and challenger for his title? 
Chris's Grades For 205 Live:
Akira Tozawa vs. Samir Singh
Winner: Akira Tozawa–C
Mike Kanellis vs. Jackson James Winner: Mike Kanellis–B
Chad Gable vs. Jack Gallagher II Winner: Chad Gable–A+
Analysis: 
The show opens with a bone-chilling promo from the ruthless Drew Gulak in a dark room. He claims Tony Nese may be The Premier Athlete, but he lacked the killer instinct to take his championship. Nese could never lead 205 Live, it ends with a stern warning to all the roster. "Now that everyone knows what pain and punishment await them", who will step up next?
We go live as Vic Joseph, Nigel McGuinness and Aiden English welcome us to Westchester, MA. Akira Tozawa flanked by The Brian Kendrick make their entrances. Tozawa will be in one-on-one action against…Samir Singh.
The Bollywood Bozo's make their entrance dancing per usual. The bell rings and Samir goes right on the attack with kicks and punches. Tozawa now delivers a hard chop, followed by a fakeout straight right! Samir turns things around as he shoves Tozawa into the turnbuckle, followed by a hard Irish Whip into the corner… first count of the match. Headlock is applied now to keep him grounded…Tozawa hits another monstrous fireman's carry over the shoulders!
Samir rolls outside and Tozawa blast him with his Flying Senton in the barricade. Tozawa up top, Sunil looks to interfere and Kendrick prevents it. Samir runs head-first into the turnbuckle, Tozawa with the surprise roll-up 1-2-3. Kendrick climbs on the apron and gets dropped face-first by Sunil. Now a post-match attack from The Bollywood Boyz to Tozawa. Before Sunil get blast Tozawa with the Boscar award, Kendrick makes the save, and the babyfaces stand tall with Tozawa holding up the award!
Last week it was Tozawa coming to Kendrick's aid, this time the roles were reversed. This all leading to a tag team match I'm pretty sure next week! Decent match with Tozawa able to show-off his exhilarating high-octane offense and Samir with aggressive heel tactics.
Tonight we get another stellar video package of Humberto Carrillo, where he gives an in-depth look into achieving his childhood dreams by making it to the WWE. When he first arrived since goals were to carry on his Lucha libre wrestling style. The video referenced two of the all-time great Latino superstars, the late Eddie Guerrero and Rey Mysterio. He owes it all to where he comes from and his nature. Carillo has been here a year and now the only thing on his mind is the WWE Cruiserweight Championship.
WWE needs to utilize these on Raw and SmackDown Live. Instead of not giving talent tv time, they could use this time to reintroduce them to the WWE Universe so when they return they have a reason to care… commercial.
We're back live as poor Mike Kanellis is making his entrance void of his wife Maria Kanellis, who's watching on backstage. Jackson James is already in the ring. The bell rings and James gets blasted with a devasting big boot, hard knife edge chops in the corner. Mike is unloading all his frustrations on this young man. He hits a massive Spinebuster!
Maria gives a smirk…James's chest is red now as he gets a breather in the corner. Mike with a running clothesline…James collapses to the mat. Mike's not through, back-to-back Ferocious Lariats… Power of Love 1-2-3! Mike tosses James out of the ring like a sack of laundry.
An angry Mike grabs the mic and proclaims "Did you think that is what I was going to get fined over?!" That wasn't it at all! He summons the GM Drake Maverick to the ring. Maverick wastes no time telling him they could have settled this in his office. He needs to share this with the WWE Universe. He said "Two months his contract expired and he could've gone anywhere and you know it, Drake! But I chose to stay here in WWE for two reasons: to prove to his wife that he's as good as he says he is by becoming WWE Cruiserweight Champion and to KICK YOUR ASS!"
Maverick then apologizes for his foul mood and told him to look in the mirror, he's not where he wants to be because of himself. He asks Mike if he feels he's more deserving of the 205 Live roster who's been busting their ass since it's inception in 2016? Maverick brings up Mike's humiliating loss to Zack Ryder from Raw.
Mike throws a jab at Maverick's lackluster sex life with his wife. He continues to push his buttons until Maverick snaps! Mike should know not to call anyone's wife's names or he's going to get his ass kicked, and that's exactly what happened! Mike suckered him, hook, line and sinker, Maverick looks both pissed and disappointed in himself for fighting as the GM, Mike is smiling on the ramp… commercial.
We return and the commentary team is hyping Next Week's Monday Night Raw with a star-studded list of Hall of Famers and legends return in Tampa, FL. Now we get a recap of last week's brutal main event last week, where Ariya Daivari and Oney Lorcan obliterated each other in the first-ever Anything Goes Match!
Hell Yeah, it's main event time and ladies and gentlemen what a main event we have! Jack Gallagher is out first, we get a recap of  Jack Gallagher/Chad Gable last month that ended in a countout. Chad Gable makes his entrance with the good ole American Alpha music, man good memories. If you don't what I'm talking about, Gable and Jason Jordan were a terrific tag team down in NXT go check it out!
The bell rings and a handshake from both competitors, tie-up, Gable drop toe hold and cartwheels over Gallagher to bring him back up. Gallagher utilizes an armlock…counter, Gable with a snapmare into a headlock. Gallagher back up now… armlock again, then it's reversed, cartwheels out. Gallagher matrixes his way out of a headlock, fireman's carry to the mat. Gallagher headscissors to a stand-off. Gallagher now uses the same offense on his opponent, Gable counters into a slam position… arm-drag by Gallagher! A stalemate as the WWE Universe cheers!
Gable takedown into a headlock, Gallagher off the ropes… Shoulder tackle, he sends Gable crashing into the ropes and flips over to stack Gable up for the first two-count of the match. Gallagher back to the arm, both men back up…off the ropes, Gable with a stunning arm-drag, followed by a schoolboy pin for a two. Gable hits another arm-drag and back to isolating the arm. Gallagher flips him over his back and locks in a leg submission. Back-to-back pinfall attempts to break the hold… nope. Gable deadlifts Gallagher over his shoulders and drops him with one arm, what a way to break the hold!
Gable with stiff uppercuts and strikes that rocks Gallagher. Gable's focus has turned to the ankle so he can eventually lock in the Ankle Lock. Gable with a hard Irish Whip to Gallagher, a second time…nope, up and over…off the ropes, Gable with a massive Overhead Belly-to-belly, two! Gable is methodically injuring the knee now, hits a deep dragon screw.
Gable like a shark smelling blood is relentless on the attack of the ankle. Now with more torque and Gallagher is writhing in pain. Back up now…Gable with more uppercuts goes to the well too many times and Gallagher gets the backslide pin, two!. Gallagher hits a stellar dropkick and is finally showing signs of life. Gallagher is throwing bombs now, he delivers a magnificent hanging Suplex, two! Gallagher runs, Gable sidesteps…German lock into a roll-up, and a Suplex…nope Gallagher reverses into an armlock, and then the Kimura. Gable counters into a pin, two!
Gallagher up top and hits a missile dropkick, Gable runs toward the ropes and Gallagher pulls the rope down. Gallagher runs to hit a flying maneuver, Gable back on the apron gets knocked back down…One more attempt by Gallagher baseball slides under the ropes. Gable gets driven into the barricade. Here's the nasty side of Gallagher. Third time's a charm with the suicide dive attempt…nope Gable catches him and lands a Devastating Release German Suplex on the hard floor!
The official is on the eight-count and Gable doesn't want a repeat of their last encounter. So he brings him back, Gallagher with a surprise cradle roll-up for a long-two! Gallagher wants a half Nelson slam…nope Gallagher right back into the double-arm lock, Gable reverses into a tiger driver for a two! He transitions into the Ankle Lock as Gallagher gets close to the ropes…nope now Gable locks it in while on the mat!
Gallagher is writhing in pain but cleverly reverses with hard right hands. Gable throat chops him, off the ropes with a rolling flip kick… Gallagher off the momentum drills him with the Extraordinary Headbutt, and drapes his arm for a two! Both competitors slap back and forth to their feet, followed by stiff right hands. Gallagher is blasting Gable in the corner… Gallagher runs the corner and misses a dropkick, Gable catches him and delivers a Canadian Rack for a two and he is stunned! Gable up top moonsault…nope, knees. Gallagher a dropkick in the corner 1-2…feet on the rope!
Gallagher positions Gable on the turnbuckle for a massive back body drop…floats over crossbody, Gable running on fumes with the O'Conner roll into a Ferocious German Suplex Pin 1-2-3! Gable offers his hand in good sportsmanship and Gallagher looks like he wants more, but Gable pounds his chest to show respect!
Wow…Just Wow, what a freaking match! Gallagher always impresses me, he needs to be in the running for a title shot in the near future. Since arriving on the main roster, I never felt Gable never truly reached his full potential until now. Gable has had only two matches on 205 Live, but he's already proven that this is the platform for him. Two back-to-back physical encounters with one of the toughest competitors on the brand and Gable is headed for great things in the future!
Saint Louis Anarchy Circus Maximus Preview
July 19th is fast approaching which means that Saint Louis Anarchy's Circus Maximus is just days away. Circus Maximus is the biggest show of the year for the promotion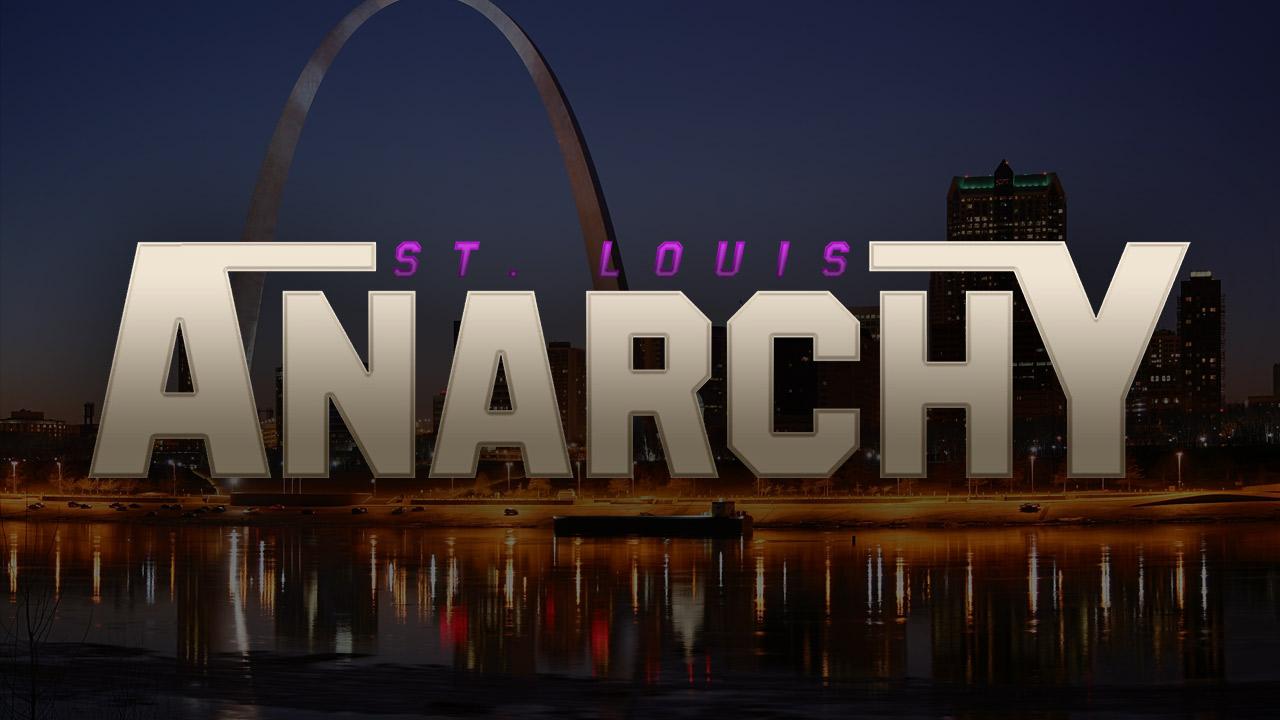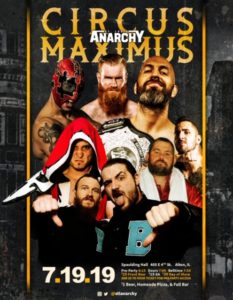 July 19th is fast approaching which means that Saint Louis Anarchy's Circus Maximus is just days away. Circus Maximus is the biggest show of the year for the promotion. Last years Circus Maximus was the return of Anarchy and it blew every expectation out of the water so this year a lot of hype around it and has a lot of lead up to it.
Every Anarchy show has a pre-party and if you're going to an event its best not to miss these. Every pre-party is unique and memorable. We've had beer pong, a rap battle, a magic show, and even a bear paternity test (which was a lot cooler than it sounds). Circus Maximus's preparty event sees Everett Connors reading fortunes and a scramble that includes the likes of Slade Porter, Sage Phillips, Brad Mercury, Sean Orleans, Briar Mercury, and Victor Analog. You don't want to miss this as the antics of the pre-party usually are what set the tone for the entire show.
Everett Connors was set to face Chuck Mambo who unfortunately had to pull out of the show but, make no mistake, whatever match Connors ends up with will be memorable. Connors has spent the last year being one the most charismatic members of the Anarchy roster and leaves every show looking more like the star he is. Plus, who knows what antics he and Raul will get up to.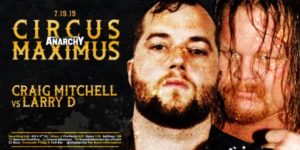 Chicago standout Craig Mitchell is set to face the veteran Larry D in what should be a violent fight. Mitchell has spent the last year carving out his name within the wrestling scene and has been at Anarchy since the beginning of 2019 where he has been able to show everyone that not only can he wrestle but he can fight. Larry D is easily one of the most respected men within Anarchy and indie wrestling overall. Watch any of his matches and you'll see they are not for the weak of heart. This should be interesting because if there's anyone who can step up to Larry it is Mitchell.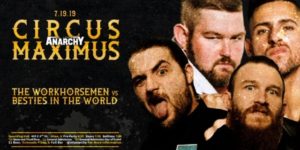 In what is being billed as a tag team dream match, we see the Besties in the World take on the debuting Workhorsemen (Anthony Henry and James Drake). If you haven't seen The Workhorsemen then you are in for a treat. I've been lucky enough to see them many times and they are always improving their teamwork. This match is should prove to be fun and hard hitting as Henry & Drake are not of the joking kind.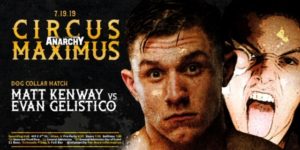 Matt Kenway has been on a tear of the Saint Louis Scene since late 2017. He's proven time and time again that when given the opportunity he will knock it out of the park. Evan Gelistico made a surprise return in May to avenge Buddy Shepherd and to finally take down Kenway who has been antagonizing him since last July. These two men are set to meet in a dog collar match. Expect this to be violent as neither man is looking to back down from proving they are the one to end the other.
Circus Maximus is a diverse show as we are not only getting tag team action, but we are also getting trios action. The most hated men within Anarchy, Jake Dirden, Christian Rose, and Thomas Shire (who I am not sure is still hated but we'll see) are set to meet The Gym Nasty Boys and Gnarls Garvin. Garvin is replacing Mikey who is out with a knee injury. Make no mistake, this match will be an all-out war as Shire, Dirden, and Rose attempt to continue the hot streak their team has been on since last July when they formed their alliance and to prove that they are in fact the most dominant men within Anarchy.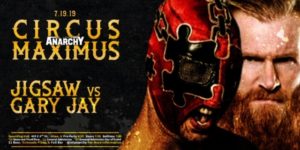 Gary Jay is one of "the" men of Anarchy (we've been over this) and at Circus Maximus he takes on the debuting Jigsaw. Jigsaw is one of the best wrestlers anywhere in the world and his debut being against Gary shows how highly thought of he is. I don't know what to expect out of this but if it's anything like the rest of Gary's matches this year, be prepared to spend the next few months talking about it.
Kody Lane has been quietly making a name for himself within Anarchy and the Midwest wrestling scene overall. Jaden Newman is the uncrowned king of Chattanooga and southern wrestling as a whole. This match will be two young up and comers trying to prove just how far they've come and trying to get the Anarchy faithful invested in them.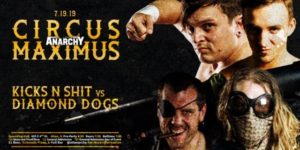 Kicks n Shit (Chip Day and Logan James) look to make an example out of Diamond Dogs (Luke Langley and Graham Bell). Kicks n Shit have been jiving and gelling but not winning and that can't be. Diamond Dogs on the other hand won their last match at Anarchy (it was the dark match with Billie Starkz in May). Expect both teams to show out as they want to be at the top of the tag team division of Anarchy.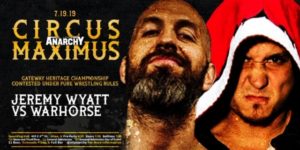 Finally, the main event sees Warhorse Jake Parnell take on the Monarch Jeremy Wyatt for the Gateway Heritage Championship. Parnell and Wyatt each have a win over each other, so this match is anyone's for the taking. Wyatt is coming into this as confident as ever while Parnell is as a determined as ever. You won't want to miss it.
Watch it live in person at Spaulding Hall in Alton Il or on IWTV. Either way, this show will be memorable and in year when its Circus Maximus 2020 will have a new bar set as this is the year show of the year.