2018 Was The Year of The Heels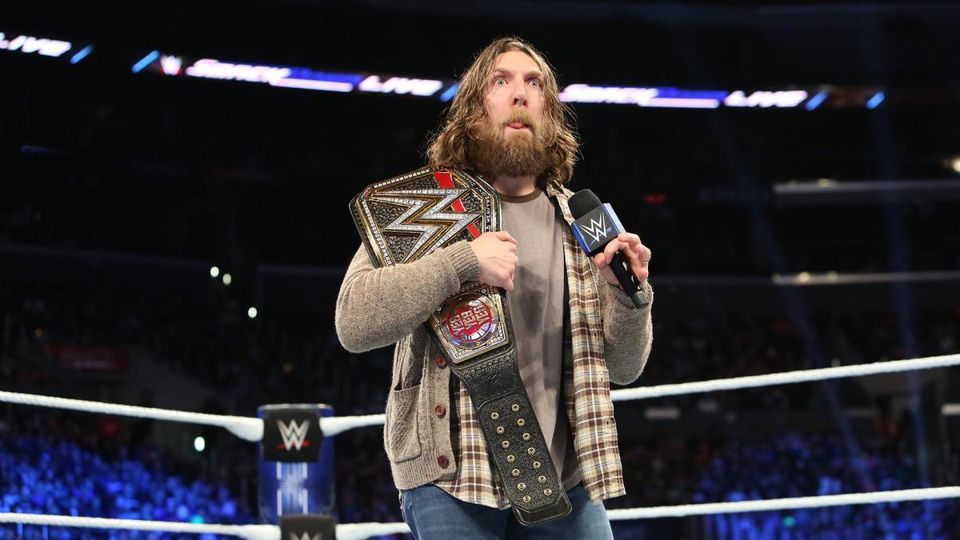 With everything that happened this year, was either side of the face/heel dynamic favored? Carol let's us know how she saw the year shake out.
As 2018 comes to a close, I began thinking about everything that happened in WWE the past year. There was a lot of moments that sent shockwaves through the WWE Universe. Most of those moments consisted of heel turns.
First, we there was Shinsuke Nakamura who became a villain after he attacked AJ Styles following their WrestleMania 34 match. While Nakamura didn't win the WWE Championship, he did go on to capture the United States Championship and become a cowardly heel.
Then there was NXT good guy Johnny Gargano, who showed his dark side when it was revealed he was Aleister Black's attacker. Gargano has fully embraced his new role as a heel now that he's teamed up with his former partner Tommaso Ciampa.
But today's post focuses on the three heel turns that sent shockwaves through the WWE Universe.
3. Dean Ambrose's heel turn was coming, but fans didn't know when. Original plans called for him to turn during Survivor Series, but after Roman Reigns' leukemia announcement, WWE decided have Ambrose turn that night.
After winning the tag team titles with Seth Rollins, Ambrose unleashed a vicious attack on his former friend. Footage of the crowd, showed their shock and sadness of the destruction of The Shield.
Ambrose's heel turn has gotten off to a rough start thanks to silly germophobe skits. But now it looks like those are gone and Dean's gained a cocky attitude that makes the audience hate him.
2. Daniel Bryan was always WWE's underdog. After fighting against The Authority, he finally become WWE Champion in a momentous WrestleMania match. However, a series of injuries forced Bryan into early retirement. But that didn't stop him from his dream of returning to the ring, after undergoing treatments; Bryan was cleared to wrestle.
In March of this year, he had his first match in two years, a moment that had the WWE Universe cheering. Yet, the audience would go on to boo Daniel Bryan when he delivered a low blow to AJ Styles to win the WWE Championship.
Much like he is during his early days in WWE, Bryan is embracing his heel role. He's already got the audience hating him as he cuts promos admonishing the audience for their fickle behavior.
1.Becky Lynch was made to be a heel, although the star has garnered more babyface reactions since her push. For years, Becky has been the underappreciated star of the women's division, but this year she proved that she's a top star.
After her best friend Charlotte Flair stole her spotlight and championship at SummerSlam, Becky attacked her friend. Lynch flourished in her new role as she cut promos declaring how she felt underappreciated and the fans didn't care about her. Becky become so popular that she impressed WWE officials and won the coveted SmackDown Women's Championship.
Dean Ambrose, Daniel Bryan, and Becky Lynch definitely delivered shocking moments with their heel turns. They've had a big year and if WWE continues to write good material for the stars, they'll have more success in 2019.
Steve Cook's Fave Five: October 2021
From the Head Of The Table to the Future Head Of The Table, and more, Steve Cook has his Fave Five for October!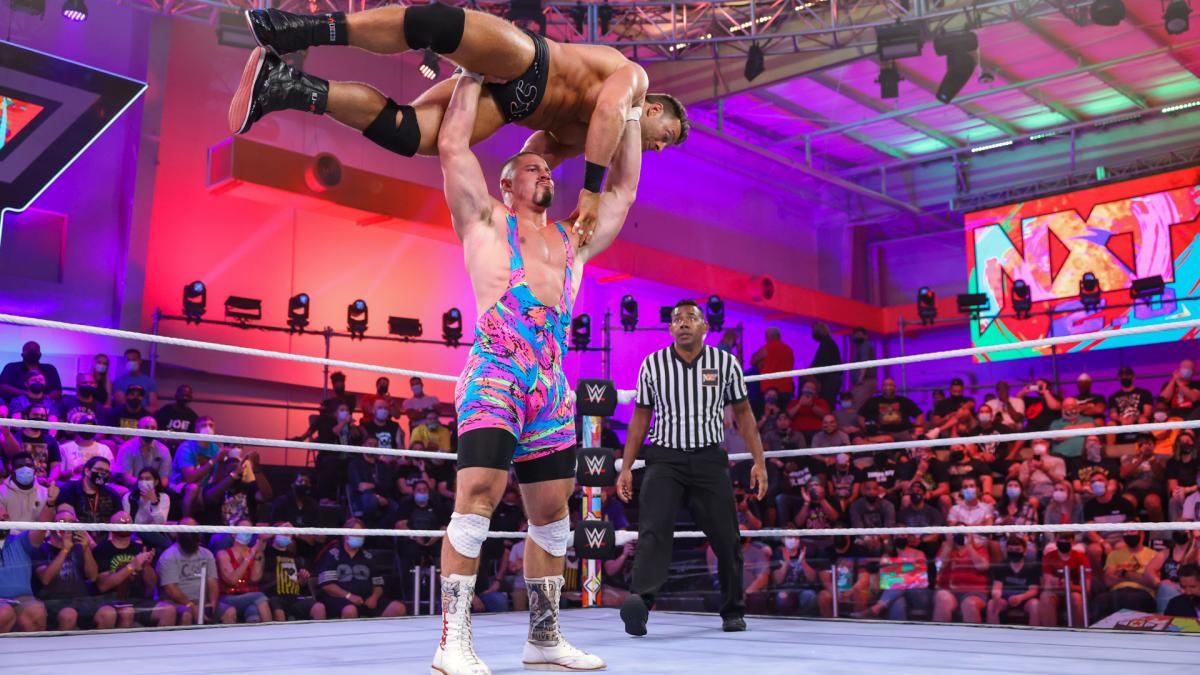 From the Head Of The Table to the Future Head Of The Table, and more, Steve Cook has his Fave Five for October!
We're more than halfway through October, and you know what that means! It's time to make a list of my five favorite wrestlers! It's either do this or write about the latest wrestling news, and as fun as it is to talk about television ratings, this seems more productive at the moment.
5. Mercedes Martinez
This trophy is a reminder to EVERYONE that I'm here to win.
The REAL prize is the @IMPACTWRESTLING knockouts title!!
Soon mi gente….SOON.#RUGGEDandTHUGGED #BRASSCITYOG #TheRealDeal pic.twitter.com/qsTt1spTxs

— Mercedes Martinez (@RealMMartinez) October 15, 2021
It's considered impolite to discuss age. At least it used to be. I'm not sure anything's considered impolite anymore based off of what I read on the Internet & see on television. People have pitched manners out the window as they've become accustomed to not worrying about getting punched in the face. There's a point I'm trying to get to here, and that point is that it's nice that women's wrestling has arrived at a place where I can write about somebody that's been wrestling about as long as I've been an online wrestling journalist, and they're kicking ass & taking names. Makes me feel a bit less creepy.
Martinez's return to the indies & emergence in Impact Wrestling has gone well. What Impact is doing with her isn't exactly rocket science: have Mercedes Martinez destroy everybody in her path to a title shot, and make people believe that whoever the champion will be between Mickie James & Deonna Purrazzo will have a difficult test on their hands. Simple, right? Throw in the incoming debut of the IInspiration, and it's pretty easy to get excited about the Knockouts Division & where it's headed.
4. Bron Breakker
Yes, the name is pretty awful. Yes, NXT 2.0 isn't exactly setting the world on fire after a few weeks. But it's tough to deny the talent of the son of Rick Steiner. Dude has the physicality & the speaking tone of his father & uncle. Not quite the size of Rick or Scott in later years, but if genetics are any indication he'll get there. It won't be long before he's NXT Champion, heck, I'm kind of surprised he didn't get drafted to Raw or SmackDown already. He's got money written all over him.
As for that pesky name issue…names aren't as big of an issue as we like to think they are. Dolph Ziggler would have been future endeavored years ago if bad names held talent back. You also have to keep in mind that WWE will probably change his name before he gets to the main roster. No need to sweat the small stuff here. This guy will be a star somewhere under some name. Probably for the best the longer he holds off using the Steiner name, given how the wrestling business works.
3. Junior Dos Santos
Junior dos Santos' first moments as a pro wrestler pic.twitter.com/KIhpYZOsCi

— Ariel Helwani (@arielhelwani) October 16, 2021
If you've followed mixed martial arts for any length of time, you know that most fighters' careers don't end in a blaze of glory. Fighters want to keep fighting, and even if the losses keep stacking up they still think they're one win away from getting back to the top. Young fighters are looking to make their names, and beating the brakes off of fighters with track records is a good way to do that. At age 37, JDS has entered that phase of his MMA career. He's lost four straight fights, all via TKO, all to younger fighters looking to make a name. He could keep doing that, or he could move on to something else while his name still has value.
Why not pro wrestling? Granted, I seem to be one of the few people writing words on wrestling websites that actually like AEW's angle with American Top Team & Dan Lambert, but JDS is the perfect fit for something like this. He's a large human being, wrestling fans by & large know who he is, and he has the type of athletic ability that should transition well to pro wrestling. He's lost a few fights, but the people he lost to are doing pretty well in UFC's heavyweight division. I'm willing to give it a chance. Also, when the inevitable AEW vs. WWE shootfight rumble happens, AEW's going to need him around.
2. Roman Reigns
CM Punk exists:

Roman Reigns: pic.twitter.com/ue88BFYlVh

— Public Enemies Podcast (@TheEnemiesPE3) October 15, 2021
It's like we said years & years ago: Turn Roman Reigns heel and people will start to like him. I don't know why the idea took so long to enact, but WWE finally turned Roman Reigns heel and people have started liking him. How about that? Amazing how these things happen. Roman's charisma has become much more apparent in his role as the Tribal Chief, Head of the Table, Big Dog, Island of Relevancy or whatever else they're calling him this week. The interactions between Roman & Brock Lesnar have made for good television, so good that I think even Patrick O'Dowd is on the Paul Heyman bandwagon these days.
That all being said, I think I'm enjoying his off-screen character more than his on-screen character these days. Reigns has taken the baton from Seth Rollins & become Mr. WWE Defender, and does it in a way that's less whiny than what Seth used to do. Perhaps a bit delusional, but much more convincing. Who would win in a shootfight between Roman & CM Punk is completely irrelevant, as last I checked none of these people were shooting in WWE or AEW rings, but he managed to make people care about it somehow. Don't hate the player, hate the game.
1. Bryan Danielson
What a BATTLE right now between @bryandanielson & @suzuki_D_minoru – Watch it NOW on a Special #AEW #BuyInLIVE on YouTube FREE: https://t.co/8ztcFqpsoN pic.twitter.com/C02HaZXFTB

— All Elite Wrestling (@AEW) October 16, 2021
I know we're supposed to care first & foremost about what company somebody works for these days. So I'm sure there are some of you out there that have decided that the man formerly known as Daniel Bryan has to be washed up and no longer one of the best wrestlers in the world. Or he's unfairly putting his life on the line outside of the welcoming bosom of WWE. Nah, it's probably just the easy "B+ player" talking point that most of the same folks went with when Bryan was still with WWE.
Me, I just care about what's going on in the ring. Whether other people like it or not has never been one of my main problems. As I've pointed out before: I don't get paid by any of these companies, and I don't get paid by other people to shill for them. All I know is that it's a joy to have Bryan Danielson back on my television, and his matches have been as good as expected. It really doesn't take all that much to make me happy, just good wrestlers doing good things.
Random NXT Stuff: Joe Biden Gacy & Cle'Shay
It's not an official T-Minus, but Brad jots down some NXT brand thoughts!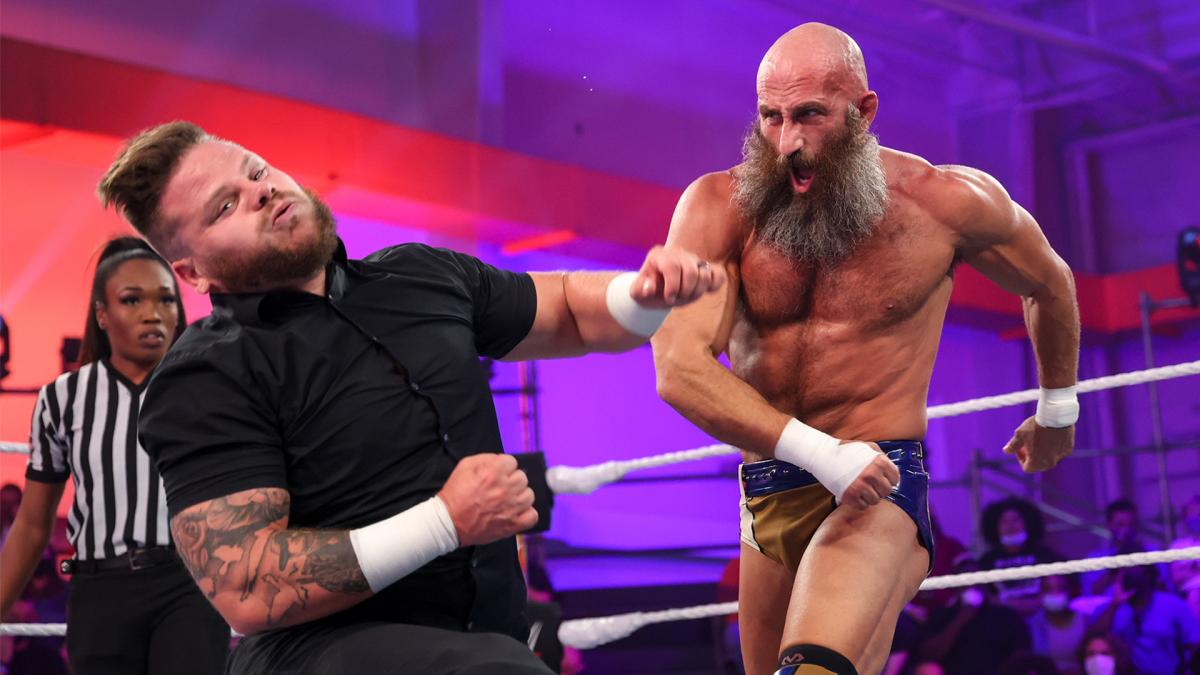 It's not an official T-Minus, but Brad jots down some NXT brand thoughts!
6. Joe Gacy was the most complete and interesting character in the 2021 Breakout Stars tournament. That's why his new character sucks so bad. It's not because he's a boring stereotype. It's because all I think about is what should have been. I was willing to believe Gacy was an angry loner whose favorite hobby was hurting strangers. There is not a single cell in my brain that believes he is any part of his new character. This is 100% bitter vince taking shots at liberals. Stick to demanding a recount, you old goat.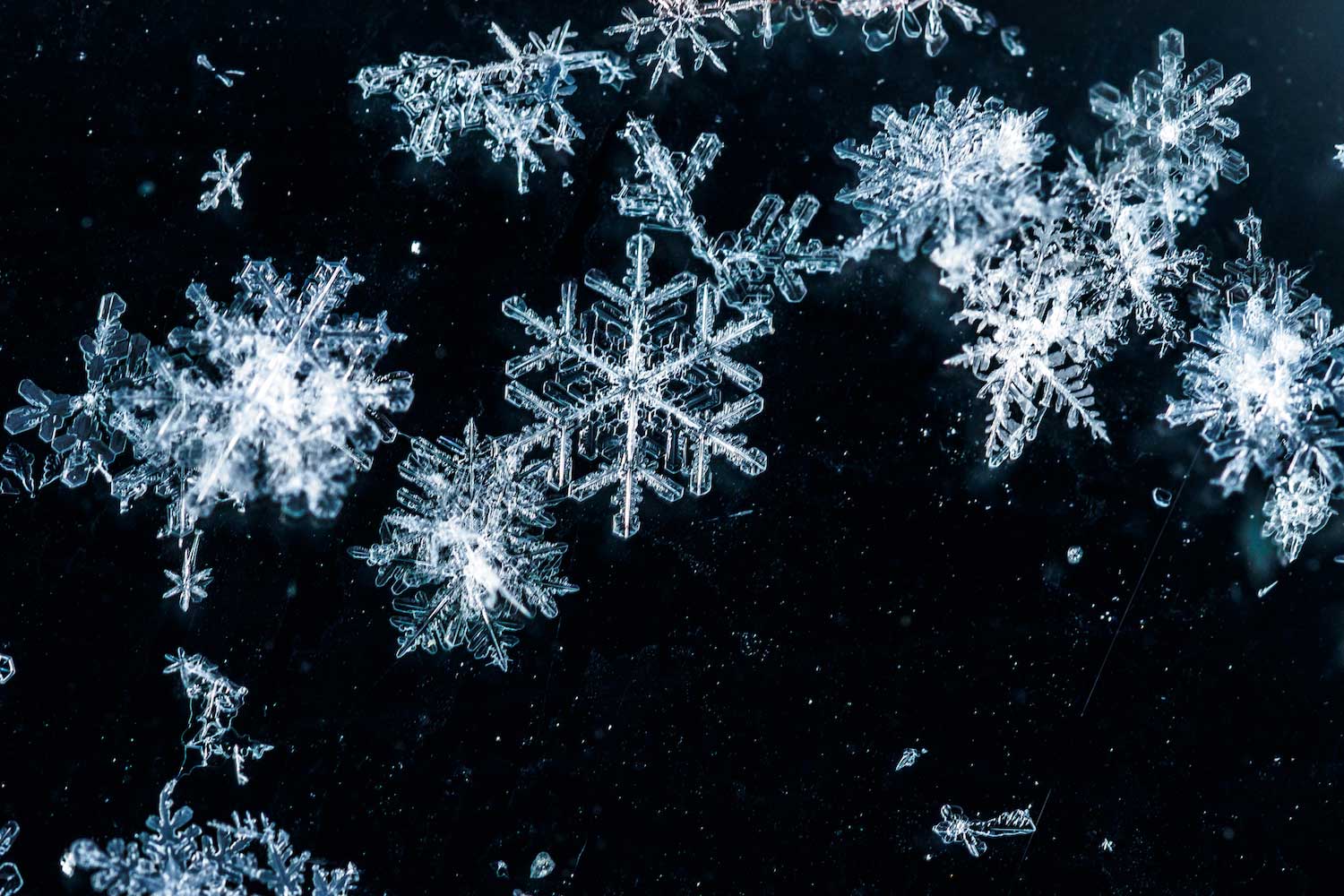 5. Wrestling fans once had a reputation for being racist, sexist, bloodthirsty gorillas. If we're being honest, there was a lot of truth to that. Thankfully, we have evolved. We support womens' wrestling. We support Darren Young and Nyla Rose. We reject the sexism and racism that once stained our beloved sport. If the E wants to take shots at half their audience, that's their choice. Wrestling fans have evolved. Vince has not. 
4. Dear Joe Biden Gacy, you aren't the worst new character. That honor goes to Lash Legend. She is what some old white guy thinks every black woman is. Her character is the opposite of fresh and edgy. From now on, she is Cle'Shay Hoover, because she sucks so hard. Go drink your tea and MYOB, homeslice.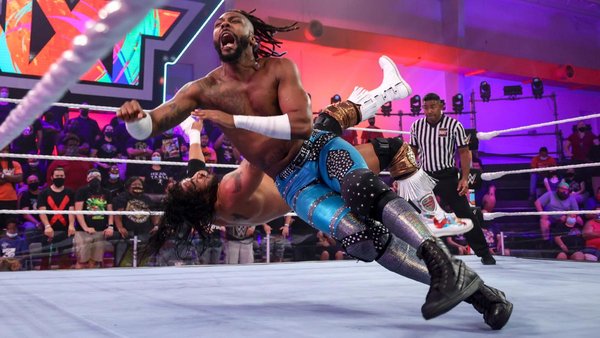 3. Despite being given barely 8 minutes and a bloated ending, there's a reason Swerve Scott versus Santos Escobar is the best match of the 2.0 era. They have interesting personalities they've been allowed to develop, and they're both great in ring. WWE doesn't have to convince me they are awesome. Every chance they get, Swerve and Escobar show me they are top shelf talents. NXT can keep insisting that Bbrronn Brreakkerr is a steak, but I know he's elementary school cafeteria food.
2. Duke Hudson already has a great presence, great physique and solid in-ring skills. CURSE WORD ALERT. Who the fuck thinks he needs a poker room? What the fuck purpose does this serve? It's like putting a kitchen sink in the back seat of your car. Who the fuck is running this shit show? Duke Hudson doesn't need fluff. He needs the opportunity to develop.   
1. I care so little about Poochy the dancing, daredevil, ladies man boxer, I'm not even going to look up his name. Chandler, could this goober be more things? I have no idea where he came from, where he's going and why I should care. He isn't even a proper character. He's an improv exercise. Pull some shit out of a hat and see if it works. You are a dancing wrestling boxer. You are a medieval librarian who hand cuts jigsaw puzzles. You are a singing veterinarian is an actual war vet. No go entertain the masses!!!