AJPW Real World Tag League 2018 Results & Review Part 4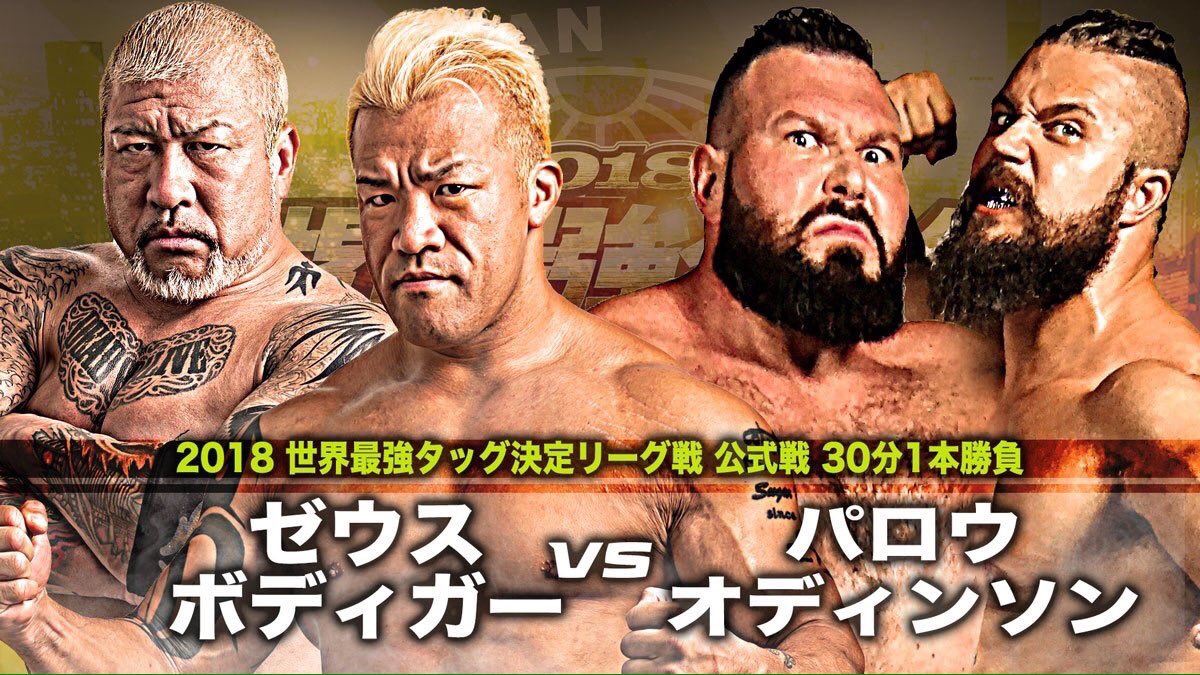 If you've missed the previous installments, click here. But either way, enjoy Mathew's assessments of AJPW's Real World Tag League, the only Tag League worth your time.
Welcome to part 4 of the AJPW Real World Tag League 2018 as we're now at the halfway point after the writing of this article since I've done eight shows so far and about to do three more as I'm writing this one up.
The last three shows have been great with a bunch of tag team action to keep the viewers interested to wanna finish this tournament up and I hope the next three will do just that.
We only have one team left that's undefeated and it's time to see how they'll pay off as we…dive right in.
11/27/2018
Real World Tag League 2018 Match
TAJIRI & Gianni Valletta vs. Odinson & Parrow
Review: Our first match for this show is TAJIRI and Gianni Valletta kicking things off as they take on Odinson and Parrow from The End. The End has had a bit of a rocky start after losing their previous two matches and only having one win under their belt. The End could have a chance here but you also shouldn't sleep on TAJIRI and Gianni because they could steal a win when you least expect it as they did to Yoshiken and The Bomber. Which of these two will get the win?
It was expected to have a mediocre match after having a series of really good matches at the previous shows as this match was just sloppy and lackluster, even the crowd wasn't really invested into it. Gianni and Parrow started the match off and just wasn't interesting at all since they would just test their strength with the Clotheslines together or just shoulder tackling each other. Nothing really interesting happened in the match until near the end of the match with Odinson hitting Gianni with a Pounce when TAJIRI tried to throw Gianni into Parrow. The End would pick them up for a Powerbomb and slams them into each other and now it's starting to get a little bit of fun now. Parrow picked up TAJIRI up to go for the Doomsday Device and TAJIRI spits the green mist into Odinson's eyes to make him get out of the ring and kicked Parrow before he went for a Sunset Flip, but Parrow caught him for a pinfall and The End gets their second victory.
Rating: Tony Schiavone and a quarter
Real World Tag League 2018 Match
Dylan James & Joe Doering vs. Manabu Soya & Takao Omori
Review: Our next match is between The Bomber and Get Wild. Both of these teams are in second place as of the current standing and a win here would help the both of them into a solid position in the standings. But will it belong to Bomber or Get Wild?
This one was slightly better than the previous match since both teams seemed like they knew how to match off their styles together and rolling with that ball. It is though still a rather basic match with that same basic feeling with the majority of the match mostly doing strikes at an oddly slow paced. Dylan still has some of the loudest chops and I'm not sure if they're that loud just because they're in a smaller crowd than most arena's but he also makes them look really impactful with that loud sound when he chops his opponents or even hits them with a Lariat. Get Wild did their job as well with this match as well to try and outmatch the big gaijin team with their strength as well. Joe would hit a Diving Body Press onto the both of them as Dylan had Manabu into a corner for a Lariat onto the turnbuckle, Joe hitting a shoulder tackle, and then Dylan picks Manabu up for a Sidewalk Slam while Joe drops an elbow for a cover and Manabu kicked out at two. Joe would call for the end as they hit their Double Piledriver and The Bomber now ties up for first place.
Rating: Tony Schiavone and a half
Real World Tag League 2018 Match
Shuji Ishikawa & Suwama vs. Jake Lee & Ryouji Sai
Review: Our main event for this show involves The Sweeper taking on the Violent Giants. Shuji and Suwama are the only team that remains to be undefeated in this tournament with only four wins. Jake Lee and Ryouji Sai only have one win under their belt and a win here would be huge to ruin the streak. Will Sweeper be able to get it or will Violent Giants still remain undefeated?
Ryouji and Shuji would start the match off for a little bit and things seem to be pretty even until they both tagged in their respective partners. Jake and Suwama also have a bit of a thing going on here with Jake trying to rise up in the ranks while Suwama being the former ace, wants Jake to prove his worth every time they're in the ring together so he can see if he has what it takes since Jake still fails to defeat Kento. Despite me being overly excited for this match, I honestly thought while it was still solid, there have been a couple of moments in the match that felt like it would either drag or just a bit sloppy, I gotta admit that this day in the league has been rather lackluster but there's always that one show.
Violent Giants are still kicking ass with their dominance as the both of them do a number on both Ryouji and Jake with their size and strength, but they would use their resiliency to counteract them as much as they could. Jake and Shuji are in the ring now as Shuji would deliver a knee strike onto him after Suwama gave Jake a Belly-to-Belly Suplex as Ryouji broke the count. Shuji would pick Jake up to go for the Fire Thunder Driver but Jake would power out of it so he could Deliver a German Suplex and a knee to the face to try and get the victory, but Suwama would break the pin. Shuji would go for another knee to the face for a two count before he went to go for the Powerbomb this time but Jake is still fighting it as he hits another knee to his chest to knock him down and a knee to the face for a one count. Jake doesn't give Shuji a chance to breathe as he delivered a second knee strike for a two count before quickly getting up to hit one more to him as he gets the three count and Violent Giants winning streak is over!
Rating: Eric Bischoff and a half
11/29/2018
Real World Tag League 2018 Match
TAJIRI & Gianni Valletta vs. Manabu Soya & Takao Omori
Review: We're now onto our next show and time to see what they'll deliver to us today. TAJIRI and Gianni Valletta will once again start off this tournament for the night as they now take on Get Wild. Get Wild is around the middle since most of the teams have about six points at this point in time but if they get a win here, they'll be tied for first place with both Violent Giants and The Bomber. Gianni and TAJIRI still only have four points and are most likely eliminated from the tournament, but they could still use this chance to play the spoiler. Will things Get Wild or will we have a spoiler?
TAJIRI and Gianni are mostly doing heel tactics in this match once again as they should but they were less comedic about it than usual, think it's because they wanted to try and get some points on the board while ruining other peoples chances. I think they also started to become cannibals today since they would mostly bite their opponent's heads, especially Gianni and I guess he forgot to each before the match and wanted to eat something wild…did you get that? Huh? Huh? Did you get it? I'll let myself out. Anyway, the match was much better than their previous matches from the last show since this one seemed to have a better flow rather than being clustered since there was hardly any mess-ups in this one and just worked out better for them. Manabu started to hulk up a little bit after getting the hot tag and would hit Gianni with the Wild Bomber on the back of his head and before he could do it again, TAJIRI would drag him down to make him lose his momentum. Gianni would distract the referee by grabbing his chain and while the referee wasn't looking, TAJIRI would go for a kendo stick to try and hit Manabu but he caught it and makes it so he hits his partner by accident. Takao would hit Gianni with a Lariat before Manabu hits his Wild Bomber this time and gets the pinfall to tie for first place.
Rating: Eric Bischoff
Real World Tag League 2018 Match
Zeus & The Bodyguard vs. Odinson & Parrow
Review: Nine shows later, The Big Guns are back in action in this tournament as they have a good spot right now since they only have one loss since it's the only match they did, so Zeus and The Bodyguard are in a pretty good position to try and stack up on some wins. They would first have to take on The End who also came back recently and even picked up a win over TAJIRI and Gianni. Will The Big Guns start to get some momentum this time around or will it be The End for them?
The End would take it to the Big Guns outside of the ring right away as the two teams would start fighting around the arena. Zeus and Odinson would even fight up to the bleachers where they would have a chop battle and when they made it back down to the floor, it looks like The End has the advantage as they started to attack them on their corners but looked pretty weak and slow when they did it. So far I think this is Odinson and Parrow's better match so far out of the matches they've had but at the same time, it looks like they're still getting used to their style of wrestling and it clearly shows here in their matches. It's good to see Zeus and The Bodyguard back into the swing of things since despite how I feel about Bodyguard solo, they really are a great tag team and just have amazing chemistry. I really like Odinson's European Uppercuts and how he presents himself like when he does it to the back of their head or when he does them in a double team move with Parrow. Zeus would get Parrow up for a Stalling Suplex before he tagged in Bodyguard as he goes in red hot with his Lariats and even hits Parrow with his Diving Elbow for a two count. The Big Guns were looking like they were going for their own type of Doomsday Device but Odinson broke it up before it could happen and The End now picks them up to hit their Double Powerbomb onto each other, but Parrow held Bodyguard up still so Odinson could hit the Lungblower combo as Parrow pinned Bodyguard to get the upset victory!
Rating: Eric Bischoff
Real World Tag League 2018 Match
Jake Lee & Ryouji Sai vs. Daisuke Sekimoto & Jun Akiyama
Review: Our main event for this show is The Sweeper going at it again as they now set to face off against Daisuke Sekimoto and Jun Akiyama. The Sweeper picked up the surprise victory over Violent Giants and are now looking to get the ball rolling as they take on two of the top vets right now. Jun and Daisuke also showed that they're quite the pair in this tournament and now look like they could take the rest of it home. Will The Sweeper get another surprise victory or will the old school team..well, school them?
I think this is one of those matches that the story outshines the actual wrestling while still being great at both aspects. Sure, Daisuke and Ryouji would start the match off but the crowd would get red hot once Jun and Jake got into the ring. If you remember at the Oudou Tournament, both Jun and Jake had a match in the first round where Jun would injure his elbow in the process while Jake picked up the win as well, so you can see a bit of anger in Jun from this ordeal. Uncle Jun would get some stiff shot onto Jake while Jake doing some in return as it made Jun so enraged that he would remove his elbow pad from his injured shoulder and get into bitch gonna learn mode. The two would keep going back and forth a little bit longer and Jake had him onto the apron as he went for a kick which Jun moved out of the way for a stalemate and the crowd gave them a round of applause.
Poor Ryouji here would be the punching bag for the majority of the bout, especially to Daisuke when they were in the ring together from mat ability and just stiff strikes. I thought this match was very physical in terms of the impact and technical aspect of wrestling, but as I said before that the story between Jun and Jake is what sold it the most of me here and I really do hope we get another match with them soon because there's definitely unfinished business here. Jun had Ryouji where he wanted him with a Ko-Oh for a two count but would pick him up for the Wrist-Clutch Exploder and Daisuke would attempt the German for the assist, but Jake would Big Boot Daisuke out and hit Jun with the German Suplex while Ryouji hits Jun with the PK for a two count. Ryouji would have Jun on the corner for the Sky Kick as it connects and he pinned Jun to get another upset victory! What a match and more to be told here down the road between Jake and Jun.
Rating: Bruce Prichard and a quarter
【AJPW TV】
You can watch all matches of The Real World Tag league 2018 on #ajpwtv !
Your register is ¥900 per a month!
Settlement can be done with credit card,PayPal.
Watch&Register⇨ https://t.co/frk8rvC07K#ajpw pic.twitter.com/pZnQKis9tM

— AJPW TV/全日本プロレスTV (@AjpwTv) December 1, 2018
11/30/2018
Real World Tag League 2018 Match
Dylan James & Joe Doering vs. Jake Lee & Ryouji Sai
Review: After main eventing the last two shows, Jake Lee and Ryouji Sai would now start off the league on this show as they take on Dylan James and Joe Doering. The Bomber is currently tied for first place with eight points and if they do get the win here, they would surpass Violent Giants and Get Wild for the top spot with ten points. The Sweeper will also be tied with all three of these teams if they do somehow get another victory here as they won the last two matches in a row to get this comeback. Will The Bomber move to first place or will The Sweepers sweep them under the rug?
It appears that Joe Doering seems to have suffered some sort of injury as you can see his left shoulder all bandaged up. I don't know the severity of the injury but I guess it's not bad for right now since they're still able to do the match with Dylan doing most of the work at least, so we'll see what happens as the league continues on. After The Sweeper having two solid matches back to back, they would have a rather short and average bout with The Bomber. Joe wouldn't be in the ring much at all due to the injury and wanting to play it safe and Ryouji wasn't in the match much either as it felt like it was Dylan and Jake taking each other one, which makes sense since Dylan did leave The Sweeper to team up with Joe in the first place. After a couple of Lariats from Dylan, Jake would start to get some kicks in with him and Ryouji hitting him with a double knee and Jake hitting one in the face for a two count. Jake would put his kneepad down to go for the Ko-Oh but Joe would club him in the back of the head for a distraction for Dylan to hit another Lariat and a Chokeslam to get the pin and first place victory as of right now.
Rating: Tony Schiavone and a half
Real World Tag League 2018 Match
Odinson & Parrow vs. Daisuke Sekimoto & Jun Akiyama
Review: Uncle Jun and Daisuke are back in action after suffering a loss at their previous match, the veterans look to take on The End for their next bout. As of right now, The End has gotten two wins back to back to get six points but they could keep the ball rolling by taking out Jun and Daisuke, and what a win that would be for them if they could pull it off. Will The End somehow get three wins in a row or will Uncle Jun and Daisuke get some points under their belt again?
The End did better this time around again as they had two vets to help guide them into this match a bit more. I'm usually more impressed with Odinson during these matches but I gotta say that Parrow did seem to step up a little bit and probably the best I've seen him work in this tournament so far, especially how he handled himself with Daisuke and matching him in the strength department of things. The End getting most of the control in the match over Daisuke to see part of their heel work a little and their aggression showed that it's not a lost cause for them and if they did tour outside of the league, I think they could flourish a little bit in the Japanese scene. Daisuke finally gets the hot tag to Jun as Jun starts to go at it and applies the Guillotine while Daisuke applies the Torture Rack for the both of them to get a submission into the mix until they broke it up. Parrow hits a Pop-up Powerbomb onto Daisuke and as the two tried to pick them up for the Double Powerbomb, it looked like Odinson had a hard time picking Daisuke up and Jun did a botched Hurricanrana onto Parrow to make them collide into each other which looked horrible. Daisuke would be able to get the win for his team as he hits the Spear onto Parrow for the pinfall.
Rating: Eric Bischoff
Real World Tag League 2018 Match
Zeus & The Bodyguard vs. Naoya Nomura & Yumi Ayoyagi
Review: We're now down to our main event for the show as NEXTREAM is now back in action after being involved on almost all of the shows as they take on The Big Guns. Zeus and The Bodyguard are currently in last place with zero wins and two losses while NEXTREAM only have one win under their belt with five losses, so while they have no chance of winning they could at least prevent Big Guns from winning by giving them their third loss in a row. Will The Big Guns get their first victory or does NEXTREAM get an upset?
I knew there was something these last three days were missing and one of them was NEXTREAM and I say this because almost all of their matches had them performing at a high level against all of their opponents and there was always a different level of excitement in those types of matches, which we get here. Much like it was with Jake and Jun, can feel a bit of a story with Naoya and Zeus since a few months ago, Naoya would get a couple of surprise victories over Zeus while he was the Triple Crown Champion at that time and Zeus defeated him at the Oudou Tournament. I liked that Big Guns were able to shine more once again and now we can see them for the remainder of the shows to eventually bounce back into the title picture. I thought the match was nicely executed with both teams and definitely one of NEXTREAM's best in this tournament.
Look at Bodyguard stepping up his game more and I wish he could do that without the need of a tag team or Zeus, but I think we all know that won't happen since he needs him. Zeus is still a beast in the ring and already solidified himself as a main event ever since he won that Triple Crown Championship and his match with Kento when he lost the belt in October, he's still loved by the fans and is still amazing, people should follow him more. Naoya is probably one of the highlights on this match too with his energy in the ring when he makes his comebacks and the crowd getting behind him and Yuma, I keep saying this kid is special and I will still stand by that statement until more people see him.
Naoya would be able to hit a few splashes onto Zeus to try and put him away since he's a bigger guy but Zeus would kick out of it at two. Naoya would pick Zeus up for the Death Valley Driver while Zeus got off of him to try and go for a German and Naoya turned it around, but Bodyguard would hit Naoya with a Lariat and then hits Yuma with a Roundhouse kick to the head, leaving Noaya and Zeus alone. Naoya would hit the Spear finally and rolled with it to go for the pin but Zeus would still kick out of it. Zeus starts to get some offense in as he would hit Naoya with a few Lariats that look like he almost took his head off and would pin him for a two count before Zeus picked him up for the Jackhammer as The Big Guns get their first victory!
Rating: Bruce Prichard
Overall: Only three good matches in this one out of nine really give it that type of lackluster set for this series. The Sweeper were the highlights of this set of matches for the most part as they delivered in their main events on the first two nights. I hope the next three shows can make a comeback to make up for this one. Not all of them can be winners and I'm still enjoying this tournament so far.
Favorite Match: Jake Lee & Ryouji Sai vs. Daisuke Sekimoto & Jun Akiyama
Least Favorite Match: TAJIRI & Gianni Valletta vs. Odinson & Parrow
Score: 6.5/10
Current Standings
The Bomber: (5-2) (10 Points)
Violent Giants: (4-1) (8 Points)
Get Wild: (4-2) (8 Points)
Yoshiken: (3-4) (6 Points)
KAI/Kengo: (3-2) (6 Points)
Jun/Daisuke: (3-2) (6 Points)
The End: (3-3) (6 Points)
Sweeper: (3-4) (6 Points)
Gianni/TAJIRI: (2-4) (4 Points)
NEXTREAM: (1-6) (2 Points)
The Big Guns: (1-2) (2 Points)





Who do you think is going to win AJPW's Real World Tag League? Let us know on social media @theCHAIRSHOTcom and always remember to use the hashtag #UseYourHead!
Mitchell's WWE 205 Live Results & Report! (12/12/18)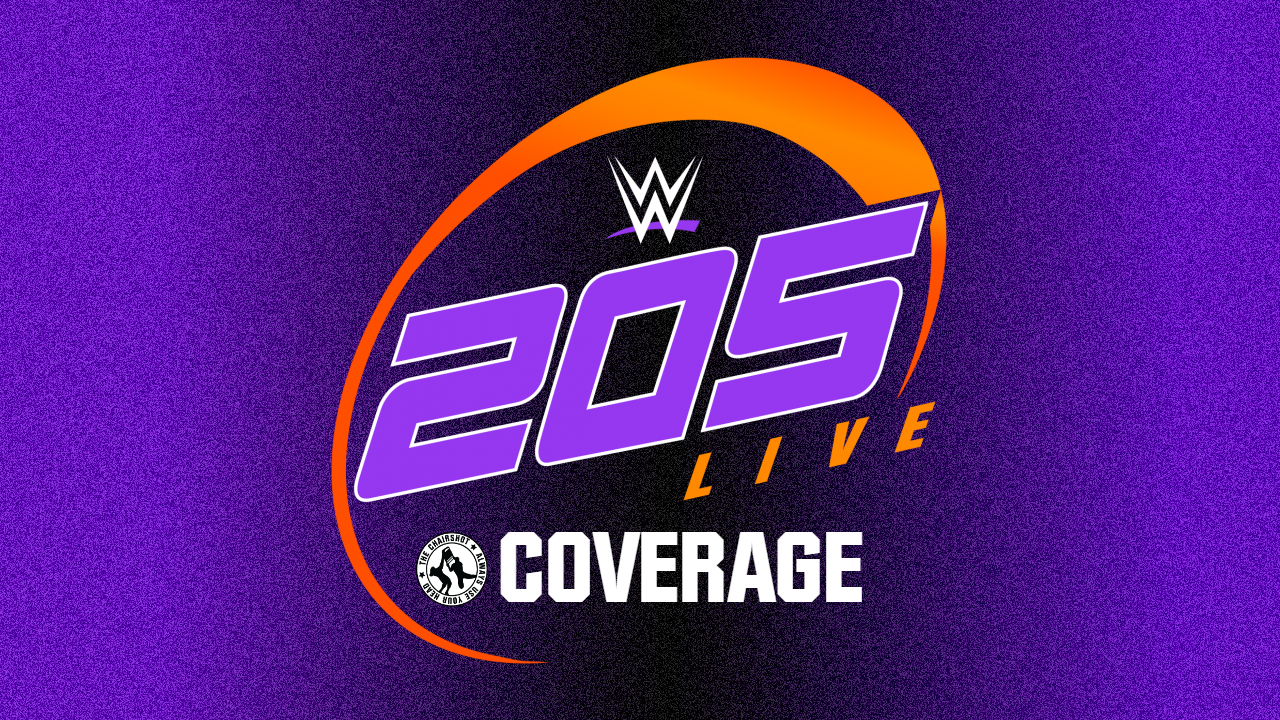 The Cruiserweight Champion and challenger are set to face off at TLC, but first warm-up in Vegas! Will Buddy Murphy or Cedric Alexander come out ahead?
OFFICIAL RESULTS
Buddy Murphy VS Noam Dar Gran Metalik; Murphy wins.
Cedric Alexander VS Tony Nese; Alexander wins.
PLAY BY PLAY
Drake Maverick sets the scene for tonight!
TLC will see Buddy Murphy defend the Cruiserweight Championship against Cedric Alexander in a long awaited rematch from Super Show-Down! The champion and challenger both have something to prove to the other, and allowed Maverick himself to choose their opponents for tonight. The Scottish Supernova was eager to step up and get back at Murphy for screwing him in a match with Tony Nese. But Noam Dar is unfortunately not cleared to compete. Therefore, it will be the Juggernaut taking on the King of the Ropes, Gran Metalik! Metalik himself is eager to show he can hang with the champion.
As for the Soul of 205 Live, he still gets his match with The Premier Athlete. Alexander and Nese have gone back and forth in their own rivalry that dates back to the beginning of this brand. Nese gave Alexander a defeat the 205 Live after Alexander lost the title, and wants to be a major road block to Alexander's rematch. "With such a small margin for error between Cedric Alexander and Buddy Murphy", who will make it to TLC riding high on a wave of momentum?
Buddy Murphy VS Gran Metalik!
The Juggernaut wants to show the tag team victory the Heart & Soul of 205 Live have over him means nothing by taking on anyone tonight. The King of the Ropes wants to ride the high his Lucha House Party amigos reached in their Tornado Tag victory last week. Murphy taking on this match is a huge gamble, but it is Las Vegas, after all. Will Murphy hit the jackpot or bust this close to TLC?
The bell rings and Murphy circles with Metalik. They tie up and Murphy powers Metalik to a corner. Murphy backs off but then pie faces Metalik. Metalik shoves Murphy then dodges to egg Murphy on. They circle again and Murphy waistlocks. Metalik standing switches but Murphy pries his way out to a wristlock. Fans chant "Lucha! Lucha!" for Metalik as Murphy yanks on his arm. Murphy brings Metalik to the mat and grinds an elbow into the shoulder. Metalik flips through and reverses, but Murphy reverses back, only for Metalik to reverse again, but Murphy wrangles him back to the mat. Metalik kips up but Murphy drives him back down, so Metalik headscissors. Murphy pops out but Metalik sweeps and covers. ONE and Murphy sweeps to cover, ONE. Metalik handsprings again and fans fire up.
The "Lucha! Lucha!" chants return but Murphy keeps his cool. Murphy and Metalik tie up again and Murphy kicks low. Murphy clubs Metalik then wrenches into a back suplex. Metalik slips out and speeds up to handspring past Murphy. Metalik headscissors and throws Murphy out. Now Metalik builds speed and FLIES! Direct hit on Murphy and the champ goes down! Fans chant for Metalik as he gets up and goes after Murphy. Murphy shoves him away then knees low, but Metalik sends him into barriers. Metalik stalks Murphy from the barrier's edge, to leap for another headscissor! The fans fire up as Metalik puts Murphy in the ring. Cover, TWO! Metalik keeps the fans going as he goes to Murphy. Murphy yanks Metalik into buckles!
Murphy gets up and puts Metalik on the top rope. He climbs up to join Metalik but Metalik fights back. Metalik shoves Murphy down but Murphy's right back up! Metalik shoves him away again, and boots him back. Murphy staggers, but catches Metalik's leap into a suplex! Both men are down but fans fire up. Murphy crawls to a cover, TWO! Metalik shows his toughness but Murphy keeps his cool. Murphy drags Metalik up to throw him out. He leaves Metalik for dead as the count climbs. Metalik crawls back at 6, and gets in at 8! Murphy stomps Metalik out, then throws a heavy right hand! Cover, TWO! Murphy grows frustrated but he puts Metalik in a grounded stretch.
Fans rally as Metalik endures the forearm in the face. Metalik pries his way out but Murphy drives in elbows to the chest! Cover, TWO! Murphy wraps Metalik up in a chinlock, but Metalik fights his way up. Metalik rams Murphy into buckles while throwing in body shots. Metalik gets free but walks into a boot! Murphy drags Metalik up and throws him out, but Metalik stays on the apron. Murphy is annoyed as he goes back over to Metalik. He brings Metalik up but Metalik swing kicks him away! Metalik aims and springboards, big crossbody! Cover, TWO! Metalik kicks Murphy's legs but Murphy shoves Metalik. Metalik springboards for the back elbow! He CHOPS Murphy then whips, but Murphy reverses. Metalik walks the ropes, and springboards for the missile dropkick! Cover, TWO!
Metalik keeps his cool, and starts up another "Lucha! Lucha!" He lifts Murphy in a fireman's carry, but Murphy slips out. Murphy fires off his strike fest, but misses the knee to get a SUPERKICK! Metalik gets another fireman's carry but Murphy slips out and shoves Metalik to the ropes, KNEE TRIGGER! Murphy runs, but into a fireman's carry, Metalik Driver!! TWO!! Metalik almost had the Cruiserweight Champion, but Murphy's tougher than that. Metalik drags Murphy to a drop zone, then climbs up top. Murphy revives and rolls out to the apron. Murphy goes for Metalik but Metalik shoves him down. Metalik goes after Murphy but Murphy drop toeholds him into the desk! Murphy then back suplexes Metalik right on the apron! Murphy puts Metalik in and climbs up top, for a flying meteora! Cover, TWO! Metalik shows he's tough, too, and Murphy can't believe it.
Both men slowly stir with the 10 count. Fans rally up as Murphy stands first. Murphy drags Metalik up but Metalik inside cradles! TWO and Metalik boots Murphy down! Metalik climbs but Murphy tucks him in, only for Metalik to pop out and mule kick Murphy away! Metalik finishes climbing, and moonsaults, onto boots! Murphy deadlifts to a sit-out bomb! TWO!? Metalik lives and Murphy is furious. But fans love this and bring back the "Lucha! Lucha!" Metalik gets to the ropes but Murphy grits his teeth. Murphy drags Metalik up and around, for the point blank knee trigger! Then, pumphandle to victory roll!? TWO! Metalik springboards, but into Murphy's Law! Cover, Murphy wins!
Winner: Buddy Murphy, by pinfall
The Cruiserweight Champion finally finishes it off and moves on to his title defense this Sunday! If the King of the Ropes put up such a great fight, how much more will the Age of Alexander do? And what shape will Alexander be after his match later tonight?
Akira Tozawa & THE Brian Kendrick meet with Drake Maverick.
The Stamina Monster helps The Man with a Plan with his collar as the GM walks in. Maverick approves their match with Drew Gulak & Jack Gallagher, under Street Fight rules. How ironic, really. How? Well, their Street Fight match against each other. And now they're working together in a Street Fight tag match. Yes, true. Kendrick admits he's changed since then. When he returned to the WWE, he manipulated and cheated because he was desperate. Kendrick was doing whatever he had to in order to keep his dream, and Tozawa was one of the main targets. So Kendrick should thank Gallager & Gulak for beating that out of him. What Kendrick needs to do now is lift this Division up. Kendrick's a changed man.
Tozawa agrees and supports Kendrick. But the problem now is that Kendrick still looks the same. Tozawa has an idea. Well, okay… What kind of makeover will Tozawa give Kendrick? And Tozawa thanks Maverick for his time, but reminds Maverick he lost those Raw Tag Team Championships. "So, you're FIRED!" Tozawa can't fire people, he's not the GM or anything. But can he and Kendrick fire up and melt the cruel winter?
Drew Gulak & Jack Gallagher respond.
"A Street Fight is the perfect place to end the career of THE Brian Kendrick." And what Kendrick needs to understand that the beating they gave him wasn't to humiliate but to redeem Kendrick. Kendrick was fired once, twice, so maybe this isn't for him. Gallagher & Gulak didn't go far enough, because if they had, the team of Tozawa & Kendrick wouldn't have existed. And that's why a Street Fight Tag is perfect: they can go as far as they want, and anything is legal. So when they face off for the final time, you WILL tap out. Who will survive this gritty grudge match?
Backstage interview with Ariya Daivari.
The Persian Lion has beaten down local competitors two weeks in a row, what is the reason behind that? Wrestling used to be simple: find two of the toughest men, put them in a ring, and let them battle it out until only one was left standing. It was never meant to be flashy or pretty. "What's happened to this business?" All anyone seems to care about is dressing up like their favorite superheroes or retweeting compliments. Daivari was out with an injured neck, and he watched 205 Live have a lot of flash, but no fight.
Hideo Itami walks over, and says he was watching last week. "Good job." The two shake hands, and there seems to be mutual respect for their mean streaks. Daivari says Itami is one of the last true men in the Cruiserweight Division, and the only one worthy of respect. Will Daivari and Itami bring 205 Live back to a rougher and more "respectful" time of wrestling?
Cedric Alexander VS Tony Nese!
The Soul of 205 Live wants to rebuild his legacy starting with TLC, but the Premier Athlete says he's not worthy. The Juggernaut already goes in tired but victorious, will Alexander be able to do the same?
The bell rings and Nese flexes on Alexander. Alexander ignores it as he circles with Nese. Fans rally up as the two tie up. Alexander pushes Nese back to a corner but backs off at 4. Alexander flexes back and circles with him again. Vegas is on Alexander's side and that annoys Nese. Nese and Alexander tie up and Nese gets a waistlock. Alexander tries to break out but Nese rolls him. Nese flexes again but Alexander shrugs it off. Alexander and Nese tie up again and Alexander gets the wristlock. Nese pulls hair and gets the reversal. Alexander rolls and handsprings to reverse back then get a takedown. Nese shoves Alexander back and gets his own takedown, but Alexander pushes him away. Alexander rolls, handsprings and headscissors but Nese handsprings through!
Alexander runs into Nese's back elbow, but Alexander gets under Nese's moonsault! Nese goes Matrix to dodge Alexander, but Alexander hits the dropkick! Fans fire up as Alexander covers, TWO! Alexander checks his teeth while catching his breath before going back to Nese. He bumps Nese off buckles and then CHOPS. Alexander CHOPS again, then follows Nese to ropes. Nese mule kicks and then goes to backslide, but Alexander hooks ropes to stay grounded. Alexander reels Nese in to toss him out! Fans fire up as Alexander builds speed, but Nese slides in! Alexander barely grabs the rope in time to stop himself, and he manages to shoulder Nese back. Nese rolls as Alexander springboards to SHORYUKEN! Cover, TWO!
Nese keeps on Alexander with stomps, then he flexes again. Fans boo as Nese clubs Alexander. Alexander chops back, but Nese kciks him to a corner. Nese whips corner to corner hard, then covers, TWO! Nese keeps his cool as fans duel. Alexander chops back again, then boots from a corner. Alexander runs into a throat chop! Nese runs and hotshots Alexander down! Then triangle jump moonsault! Cover, TWO! Nese argues the count but the ref says it was two. Nese stomps away on Alexander then brings him up for a scoop slam. Cover, TWO! Nese sits Alexander up for the body scissor squeeze. Fans rally while Alexander endures. Nese grabs for an arm but Alexander resists, so Nese clubs him. Nese gets the arm and CHOPS Alexander. Alexander punches back and breaks free!
Alexander throws more hands, then runs, but into a big clothesline! Cover, TWO! Alexander survives and Nese is surprised, but Nese keeps his cool. Nese wraps on a chinlock and drives a knee into Alexander's back. Fans rally and Alexander feeds off the energy. Alexander gets up but Nese throws him to the apron. Alexander boots Nese back, then springboards. He fakes out the uppercut to step-springboard for a complete shot! Nese gets to a corner and fans rally up. Alexander takes off the elbow pads and rallies on Nese. He gives Nese an uppercut now, but msises in the corner. Nese runs into the dropkick and hits buckles. Alexander goes to the apron to kick Nese back in! Nese staggers, Alexander springboards, flying lariat hits! Cover, TWO! Nese is dazed but he survives.
Alexander fires up with the fans as he stalks Nese. He brings Nese up but Nese mule kicks and knee lifts. Nese roundhouses but misses the sweep to get a buzzsaw! Cover, TWO! Alexander grows frustrated and gets a wild look in his eyes. Alexander goes back to Nese and brings him up. Nese clutches ropes and Alexander has no choice but to let go. Alexander walks into a gutbuster! Cover, TWO! Nese keeps on Alexander with a shove and a back elbow. Then Nese runs for big forearms! Cover, TWO!! Alexander barely gets out and Nese grows frustrated. Nese drags Alexander up, saying "I'm better than you!" He slaps Alexander as he repeats that, but Alexander slaps back!
Alexander blocks the kick to give an elbow, then runs to handspring. Nese catches the Neuralizer into a Samoan Drop! But Nese can't cover, he's too exhausted. Nese forces himself to stand and bring Alexander up. He whips but Alexander reverses. Nese grabs ropes then dumps Alexander out. Nese runs to FLY! Direct hit folds Alexander up! The referee checks on both men, but they're both okay to continue. Nese drags Alexander up and in, then goes to a corner. Nese climbs up, leaps, but his 450 flops! Alexander goes to cradle but Nese blocks it, TWO!! Michinoku Driver outta nowhere! TWO!! Alexander can't believe Nese survives, but fans are fired up!
Vegas cheers Alexander on as he stalks Nese. Alexander brings Nese up but Nese sprawls to block. Nese elbows Alexander but walks into a roundhouse. Alexander lifts but Nese slips out to a cover, TWO! Neuralizer! Then Lumbar Check!! Cover, Alexander wins!!
Winner: Cedric Alexander, by pinfall
The Premier Athlete pushed Alexander to his limits but it wasn't enough, the challenger keeps pace with the champion. Speaking of, Buddy Murphy returns to stare Alexander down. Alexander dares Murphy to bring the fight, there's nothing but "space and opportunity" between them! Murphy takes a look at his belt, and puts it down so he can rush the ring! Murphy gets in but Alexander gets him down! The champion and challenger brawl on the mat, but then Murphy bails out. Alexander doesn't let him go as he FLIES out! Fans fire up as Alexander gets back in the ring. Alexander dares Murphy to keep the fight going, but Murphy reconsiders. The Soul of 205 Live is fired up, but will he be able to reclaim his throne? Or will he be stopped by the unstoppable?
---
My Thoughts:
A great go-home for 205 Live that also feeds a bit into next week's episode. I do like the full circle Kendrick is going through having another Street Fight based match for a blow-off. I just hope Tozawa's new wardrobe ideas don't make Kendrick reconsider the partnership. We still need more teams for the potential Cruiserweight Tag Team Division. And in which case, Daivari's promo about joining forces with Itami started to sound more like a reason he'd join up with Gulak & Gallagher. But I suppose more than one Heel team can have the motivation of wanting a more brutal and less flashy style of wrestling to prevail. But where Gulak & Gallagher love ground game and grapples, Itami & Daivari can be about strikes and drivers. A match between those four might be pretty good, too.
The two matches we got tonight were the only matches we needed. It's a shame Noam Dar didn't get to go against Buddy Murphy, but Murphy VS Metalik was still an incredible opener. The styles went well together, and Metalik still looks really strong in losing. Alexander VS Nese was incredible again, even after the many other times we've seen it. I was curious as to why it wasn't Alexander VS Ali, but not only would it be too soon, we know now Ali VS Bryan was in the works. I was surprised Murphy agreed to brawl against Alexander for even that little bit. As the Heel, he should've just stayed back rather than fight to retreat. It still got the fans fired up, but maybe this is so Alexander can stand tall and give the math to Murphy.
My Score: 8.8/10
Mitchell's WWE NXT Results & Report! (12/12/18)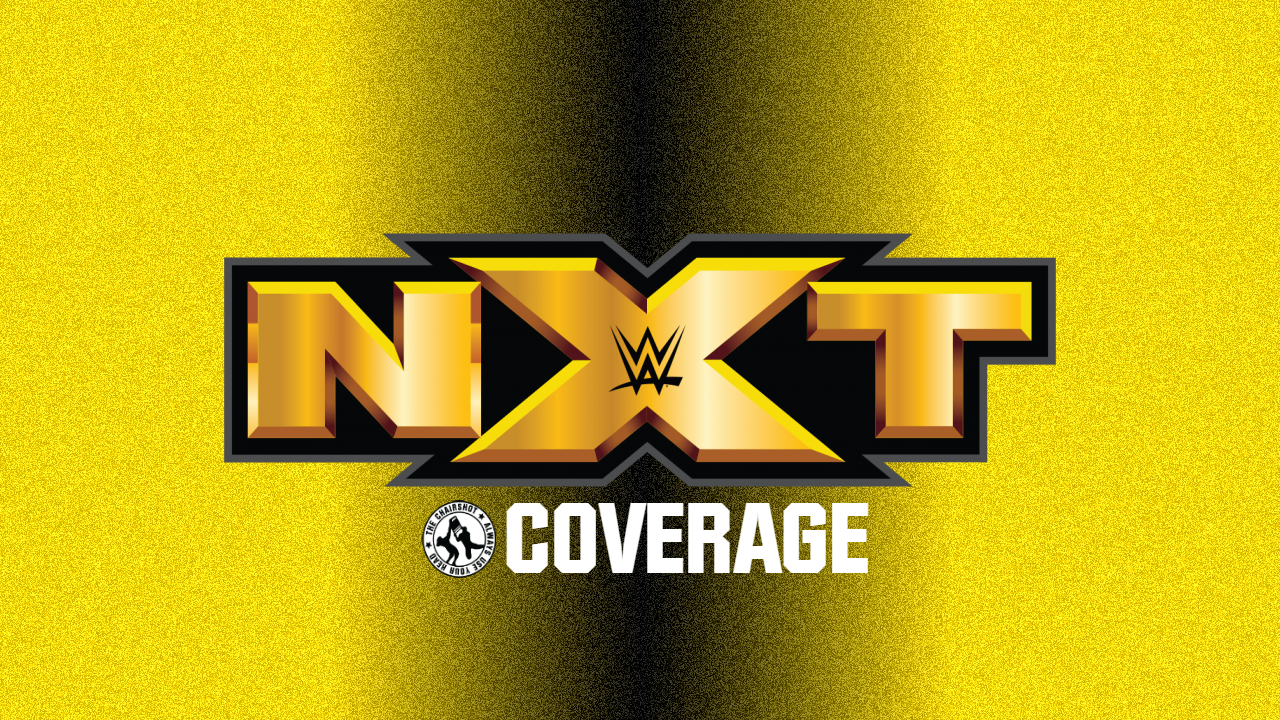 Ricochet puts up his NXT North American Championship on the line, but against who? Plus, EC3 wants payback on Bobby Fish for that vicious chair attack!
OFFICIAL RESULTS
EC3 VS Bobby Fish w/ The Undisputed Era; EC3 wins.
Oney Lorcan & Danny Burch VS The Mighty; Lorcan & Burch win.
NXT Women's Championship #1 Contender Fatal 4 Way Qualifier: Mia Yim VS Reina Gonzalez; Yim wins and joins the NXT Women's Championship #1 Contender Fatal 4 Way.
NXT North American Championship: Ricochet VS ???; Ricochet wins and retains the NXT North American Championship.
PLAY BY PLAY
EC3 VS Bobby Fish w/ The Undisputed Era!
The Top One Percent looks to keep it 100 as he goes for payback against the Infamous One for what he did weeks before TakeOver: WarGames II. But Fish has his friends by his side as always, will EC3 be able to win with Kyle O'Reilly, Roderick Strong and Adam Cole lurking?
Adam Cole says the holidays have come early because now Fish gets to humiliate the "Top One Percent of Morons". EC3 was dumb enough to think he'd elevate his career to new heights. But with the help of a chair, Fish showed EC3 that NXT is their world! The Undisputed Era is the center of the NXT Universe, and everything revolves around her. This has been a career year and is just the beginning of an entire decade! And in 2019, the four of them will be "draped in gold". That's not a threat, "that is Undisputed." But EC3 makes his entrance and we begin this grudge match!
Fish and EC3 are ready to go with the bell. Fish moves around but EC3 corners him, so Fish bails out. The Undisputed Era cheer Fish's mind games on, and so do some fans. Fish returns but wants EC3 to stay back. EC3 doesn't and he hip tosses Fish in! Fish scrambles to a corner and EC3 fires off hands and stomps! EC3 whips corner to corner but Fish ducks down to go after the leg. EC3 powers Fish off and hits a BIG powerbomb! Fish staggers about and EC3 clotheslines him right out! EC3 goes out with him, but gets back in the ring, all fired up! Fish is reeling and the Era coach him up, but EC3 comes out. EC3 fetches Fish into the ring and puts on a half nelson. Fish gets up but EC3 makes it a nerve hold to keep him down.
Fish gets up and powers EC3 to a corner, but EC3 turns it around. EC3 CHOPS Fish, and again! Then he biels Fish across the way. Roddy and Kyle distract, and Fish chop blocks the bad leg! Fish rains down rights but EC3 pushes him off. Fish stomps EC3, then kicks him. The Era is rabid as Fish throws hands and puts EC3 in a corner. Fish throws body shots and forearms, then kicks away at the back leg. Dragon screw throws EC3 for a loop! Fish grabs the bad leg and pulls on it, standing on the other leg to keep him down. Fans rally and EC3 pushes Fish off! EC3 runs in but misses, and then turns around into an exploder! Cover, TWO! Fish is furious, but he goes back for more.
Fish brings EC3 up but it's EC3 who hits the suplex! EC3 grits his teeth as he gets up, and he counter punches Fish. He fires off lefts and rights then whips, but Fish snaps against the ropes awkwardly. EC3 takes advantage with a scoop slam, then wants Fish to "Say My Name!" Name Drop elbow hits! Roddy and Kyle distract again but EC3 hits them for it. But Fish still gets the chop block! Fish goes for a leg but EC3 cradles! EC3 WINS!
Winners: EC3, by pinfall
But The Era attack! All four of them stomp away like rabid dogs, but here come Heavy Machinery! Tucker Knight & Otis Dozovic use size to even up the numbers! Dozer clobbers Cole and Strong while Tucky gets rid of reDRagon! Kyle tries to escape but Heavy Machinery drag him back in. EC3 gets Kyle up for the One Percenter! Fans are thunderous for this trio as EC3 gets Dozer pumping up. Dozer gets going with the Caterpillar elbow! Will Heavy Machinery help the Top One Percent end this Undisputed Era once and for all?
NXT Media catches up to Dakota Kai and Io Shirai.
They fought together to stop The Horsewomen from ganging up on Captain Kick. Jessamyn Duke & Marina Shafir keep sticking their noses in Shayna Baszler's matches, so these two are going to stop that personally. The Genius of the Sky don't want her friends getting bullied, so all that's left is a match. That'll happen next week, who takes a victory in this Women's Division war?
Oney Lorcan & Danny Burch VS The Mighty!
The One Two Combination defeated Shane Thorne & Nick Miller already, but this is about the sore loser sneak attack after the match! Will Thorne & Miller regret punking out this pair of pugilists? Or will Lorcan & Burch finally make The Mighty kneel?
Lorcan & Burch are raring to go but they still wait for the bell. Thorne starts with Lorcan and Lorcan fires off! Then Miller and Burch get in and it's a pair of brawls! Burch throws Miller out then Lorcan throws Thorne out. Burch goes out and Miller shoves him into the apron, but Lorcan FLIES! Lorcan wipes The Mighty out and fans fire up! Lorcan puts Thorne in and then runs into the corner for a big elbow. He gets moving but Thorne follows with a European Uppercut! Thorne runs but Lorcan follows to rock him back! Lorcan suckers Thorne into an elbow and a powerbomb! Then the Half Crab! Miller comes in but gets CHOPS! Thorne gets Lorcan with the saido suplex! Tag to Miller and he whips Lorcan. Miller hits a big corner clothesline, then whips into a SPINEBUSTER! Cover, TWO! Lorcan lives but Miller keeps on him.
Tag to Thorne, and Miller whips Thorne at Burch. Miller then whips Thorne back but Lorcan dodgse to tag Burch! The Governor rallies on The Mighty, and tackles Thorne with a Thesz Press! Burch rocks Miller with a right, then goes right at Thorne with a clothesline and kick. Miller runs but is sent into Thorne, and then Burch deals out more kicks! Burch hops up and leaps for a missile dropkick! And he kips up! Tag to Lorcan, and the One Two coordinate at a corner. Burch lifts Thorne but Thorne fights out. Thorne dodges Burch to SHORYUKEN Lorcan. Then he clobbers Burch. Miller returns and helps Thorne get up top quick. SUPERPLEX BOMB! Miller puts Thorne on top to cover, but Burch barrels through Miller to break it! Burch gets thrown out, and Thorne tags Miller in.
The Mighty go after Lorcan but Burch saves him from Thunder Valley. Miller tackles them both, and then scoops Lorcan. Powerslam, to Poetry in Motion cannonball! Cover on Lorcan, TWO!? The Mighty are shocked by this double toughness! Miller tags Thorne, and they again go after Lorcan. They lift Lorcan up, but get double DDT's! Lorcan has a wild look in his eye and fans rally behind it. Lorcan takes Miller's face and SLAPS away! Then he SLAPS away on Thorne! they BOTH slap Lorcan, but then he ducks and they slap each other!! Lorcan sends Miller into a post, then tags in Burch. Burch headbutts Thorne, and with Lorcan's help, London Tower! Cover, Lorcan & Burch win!
Winners: Oney Lorcan & Danny Burch, Burch pinning
They did it again! The Mighty fell to the One Two Combination, who continue their hot streak since returning to action. While the Undisputed Era has Heavy Machinery to worry about, will Lorcan & Burch move up the ranks towards those NXT Tag Team Championships?
NXT Media has another video from Johnny Gargano.
"Aleister, you thought our story ended in Los Angeles when you 'absolved' me of my sins." But Gargano never said he did nothing wrong. This is about the greater good. The ends justify the means. The end: becoming NXT Champion, and the world celebrating! So if the means meant beating someone up, Aleister was just in the wrong place at the wrong time. That's why their story continues. Gargano says Aleister can put Gargano in a cage with the devil himself, and he'll do whatever he has to to make sure the story ends the right way. Gargano won't just turn the page, he closes the book on Aleister Black. Will Gargano keep his word to end the Embodiment of the End? Or will his happy ending simply #FadeToBlack?
Dominic Dijakovic speaks.
"The bond of blood is sacred. The roots of our tree are unbreakable. They keep us grounded." He will fight for them, and die for them. This is "our vision", and you will #FeastYourEyes on his debut, next week.
Backstage interview with Shayna Baszler and the Horsewomen.
She, Jessamyn and Marina have heard about the Fatal 4 Way #1 Contenders match. But Shayna doesn't care, because it will always end the same way: she goes home with the title, her opponent goes home with nothing. As for the challenge issued by Dakota & Shirai, Marina & Jessamyn laugh it off. They're ready for the "challenge". The Horsewomen roll out, but who will have the last laugh when it's all said and done?
NXT Women's Championship #1 Contender Fatal 4 Way Qualifier: Mia Yim VS Reina Gonzalez!
The Queen of Spades awaits a challenger at TakeOver: Phoenix now that she's moved the Pirate Princess out of the way. The Un-De-Fea-Ted Bianca Belair is already one participant, and William Regal announces via Twitter that Lacey Evans will be the other. Both women have put together impressive wins, so it's up to the Blasian Baddie and the Daughter of the Desperado to impress the GM this week. Who joins the EST and the Lady of NXT in a fight for the right to challenge #ShaynaTwoTime and her reign of terror?
The bell rings and Mia ties up with Reina. Reina powers Mia to a corner, but Mia dodges the swing to jump on for a guillotine! Reina powers out but Mia slips away. Mia leaps back on for the guillotine! Reina powers out but Mia dropkicks her back. Mia goes for Sole Food but Reina pushes her away. Reina swings but Mia dodges, and puts the guillotine back on! Reina powers out again, but to a suplex! And she hangs Mia out to dry on the rope, before throwing her down! Reina stomps a mudhole into Mia, but backs off at 4. She drags Mia out to a cover, TWO! Reina grows frustrated but fans rally up for Mia. Mia hits back, but gets clobbered! Reina runs, and boots Mia right down! Cover, ONE! Reina tries again, TWO!
Reina grows frustrated but she talks trash in Spanish. She dares the Baddie to get up, then pulls her into a Canadian torture rack! Mia endures the stretch and Reina even fish hooks. Reina jumps around to add torque, but Mia fights out. Mia arm-drags Reina into ropes, then gets space. Reina staggers over but into CHOPS! Mia throws body shots and even more chops! Mia throws palm strikes and kicks, then knees and a Pele! Reina staggers, time to Eat Da Feet! Cover, Mia wins!
Winner: Mia Yim, by pinfall
Reina eats Sole Food and Mia now sits at the winner's table! Can the Baddie beat out the Model Soldier and EST? Who will join them as the fourth and final contender?
Aleister Black speaks.
"What I find interesting about the human race is that everything they do revolves around how they are feeling." Everyone keeps asking, "What do you feel about your match with Johnny Gargano?" How does he feel about a Steel Cage Match with Gargano? He doesn't feel anything. He just knows he has to win. "It's come to my attention that you are far, far beyond absolution. You are far beyond redemption. And the only thing left is the total annihilation." It will happen in that steel cage. There won't be any running or hiding, there will simply be Gargano and his sins, and they will all #FadeToBlack! Will Aleister leave Gargano for dead inside the steel?
NXT North American Championship: Ricochet VS ???
The One and Only is eager to prove he's a fighting champion and a worthy champion at that. He left it to NXT GM William Regal to choose his opponent, and Regal promised "something special" for this match. But who is it that answered this open contract challenge?
Ricochet makes his entrance and awaits his mystery challenger. The "something special" turns out to be… "Look everyone, it's Tyler!" Prince Pretty returns to NXT in a major way! Tyler Breeze brings back the selfie cam titantron feed, and looks to revitalize himself with a new belt! Will Breeze shock everyone by becoming the third-ever North American Champion? Or will Ricochet add Breeze to the highlight reel?
The belt is raised and fans chant "Welcome Back!" for the NXT alumni. The bell rings and fans are already dueling. Tyler and Ricochet take a moment to enjoy it before circling. They tie up and go around, and Breeze arm-drags Ricochet. Breeze backs off to lounge on the top rope. Ricochet nods respect as Breeze comes back. They tie up again, and Ricochet gets around to a headlock. Breeze powers out but Ricochet rolls and speeds things up. Ricochet rolls off the back then ducks under to handspring and headscissor and dropkick! Breeze bails out to catch his breath, but Ricochet comes out. Breeze hurries back in, but Ricochet doesn't give him time to rest. Ricochet and Breeze go around, Breeze goes for a Half Crab. Ricochet gets to ropes and pushes Breeze away. Breeze kicks Ricochet then runs, but into a somersault lariat!
Breeze bails out, but Ricochet fakes him out on the apron. Ricochet boots Breeze then leaps, into a dropkick! Both men are down, but fans are loving this! The fans still duel while Breeze checks his teeth. Breeze puts Ricochet into the ring, then into a corner. Breeze stomps a gorgeous mudhole into Ricochet, then shouts at the ref when he's pulled away. Ricochet flounders but Breeze is on him with a scoop. Breeze puts Ricochet on the top rope and climbs up, but Ricochet fights him off. Breeze falls back and Ricochet is on him, but Breeze shoves. Ricochet comes back to knee Breeze back. Ricochet then somersaults from a corner to dropkick Breeze! Breeze crawls to a corner and Ricochet runs in, for a big back elbow to back hand.
Ricochet throws Breeze into buckles but misses the tiger feint kick. Breeze German Suplexes but Ricochet lands on his feet! Ricochet sends Breeze into buckles again and hits the tiger feint! Ricochet springboards for a flying uppercut! Standing shooting star! Cover, TWO! Breeze survives, showing his toughness. Fans rally up as Ricochet gets back up. Ricochet puts Breeze in a drop zone, then climbs up top. Ricochet leaps, but has to roll through the Phoenix Splash when Breeze moves. Breeze hits back with haymakers, but so does Ricochet. They brawl back and forth, and fans are divided.
They hit each other at the same time, and same goes for kicks. Ricochet turns around but both men clothesline. Breeze blocks Ricochet's boot but Ricochet dodges Breeze's Super Model Kick. Both men run, and collide with double crossbodies! Fans fire up for "NXT! NXT!" while both men are down. A 10 count begins and the fans rally up. Breeze and Ricochet sit up slowly, and brawl on their knees. Ricochet gives an uppercut, but Breeze clubs him on the back. They continue as they stand up and Ricochet fires off forearms. Ricochet suplexes but Breeze resists. Breeze suplexes but Ricochet resists. They repeat the cycle but Ricochet slips out. Ricochet back suplexes but Breeze slips out. Breeze waistlocks but Ricochet elbows out.
Ricochet runs, springboards, but misses, SUPER MODEL KICK! And Reverse-Rana! Cover, TWO!! Ricochet survives and Breeze is shocked. Fans declare "This is Gorgeous!" rather than awesome, but it's still awesome, too! Ricochet and Breeze go to opposite corners, then approach. Ricochet says NXT is his now, but Breeze mule kicks. Breeze throws haymakers, then aims a kick, but Ricochet hits with a boot first! Ricochet walks over, into a jumping knee! And an enziguri! Breeze leaps but he's caught, into the fireman's carry, and Samoan Driver! Cover, Ricochet wins!
Winner: Ricochet, by pinfall; still NXT North American Champion
That wasn't just special, that was spectacular! Prince Pretty gives the King of Flight a fight he wasn't expecting, but Ricochet shows Breeze the respect he deserves, and the two handshake. Will Breeze stick around to give it another try? Will Ricochet's reign extend to be one of the most impressive in NXT history?
---
My Thoughts:
An incredible episode right here! We waste very little time getting into action and I am really impressed that EC3 pulls off another surprise win on an Undisputed Era member. He and Fish had a great match, and I really liked that it was Heavy Machinery backing EC3 up in that brawl. I think it should be a Six Man of EC3 & Heavy Machinery VS Roderick Strong & reDRagon while Adam Cole likely distracts or interferes. And while his story with the North American Championship likely isn't over, I don't know if NXT would want to create a secondary WarGames scenario where now it's just EC3 and Heavy Machinery standing in for Pete Dunne & War Raiders. Cole can hang about as the leader of Undisputed Era while waiting for title scenes to change.
I'm a touch disappointed we're only getting 2v2 next week, but Dakota & Shirai VS Jessamyn & Marina should be a great match for the last two MMA Horsewomen to make an in-ring debut with. Now in real-time, we have learned Dakota Kai is injured, but that shouldn't affect next week's match. Sadly it'll mean she won't get to be part of TakeOver: Phoenix or anything else after that, and we wish her a speedy recovery. Meanwhile, Mia and Reina have a great match. Reina having a bull rope and cowbell makes me want a Women's Bull Rope match for the hell of it. If Reina sticks around, she should be able to gain some ground once things clear up. As it stands, Mia looks like a front runner as the Face in that Fatal 4 Way. I wonder if they'll use a battle royal to determine the fourth participant.
That tag team match of Lorcan-Burch VS The Mighty was incredible! NXT Tag Team wrestling is getting back up there and the scrappy One Two Combo is a large part of that. Get those two on SmackDown AND 205 Live, they'll be great tag title contenders at least. Gargano and Aleister have great promos going towards their Steel Cage match, but I hope they use the cage in different ways of physicality than we usually see. Throwing the opponent into steel is one thing, but I think NXT can use these two for something really gritty.
For me, it's a bit of a mixed bag on Tyler Breeze's return. It's a bit sad that he was sent back, but it was a great surprise and Full Sail got behind him. The bottom line is this is the wrestling quality main roster should've given Breeze, but Vince just insisted on overemphasizing gimmick and comedy. Granted, Breeze does great with comedy, but if the Fashion Police were doing matches on this level, they'd be champions. Breeze gave Ricochet a hell of a match, and it really elevates Ricochet in winning. It'll really take something insane to dethrone Ricochet, if Breeze got to be this strong. As for Breeze, I'm not sure what he'll do now that he's back. I was hoping he'd go to 205 Live, but I know HHH will treat Breeze right either way.
My Score: 8.8/10